Following is the Top-65 list of country quotes on girls, life, love, music and songs. We've divided it into 2 parts: 1) popular country quotes and saying with images (E.g. "I love country boys") 2) popular country music quotes and country song sayings, lyrics.
Top Country Quotes On Life, Love, Music, Girls
---
"Keep calm and stay country."
---
"Country is the way you live. Not the way you look."
---
"Country music is good for the soul."
---
"You can't handle my level of country music addiction."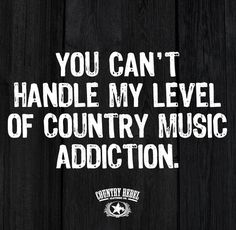 ---
"Country is in your blood not in your closet."
---
"I would choose country life over city life any day."
---
"Real men keep their pants up."
---
"I like my country music at the volume where I can't hear you complaining about it."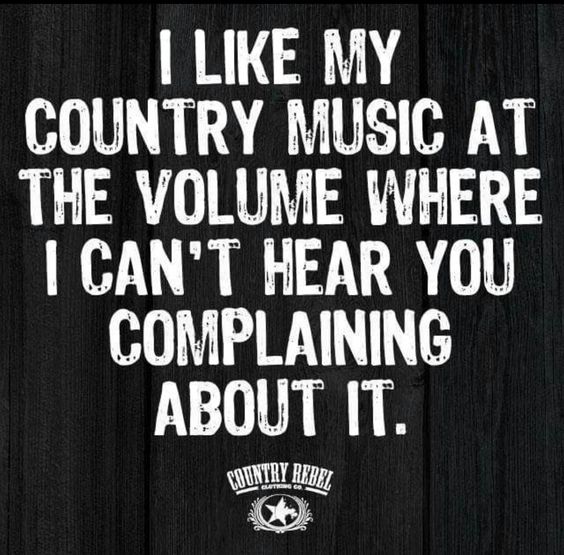 ---
"I would rather hear cows mooing and roosters crowing than horns honking."
---
"I was born with my heart on my sleeve, a fire in my soul and a mouth I can't control."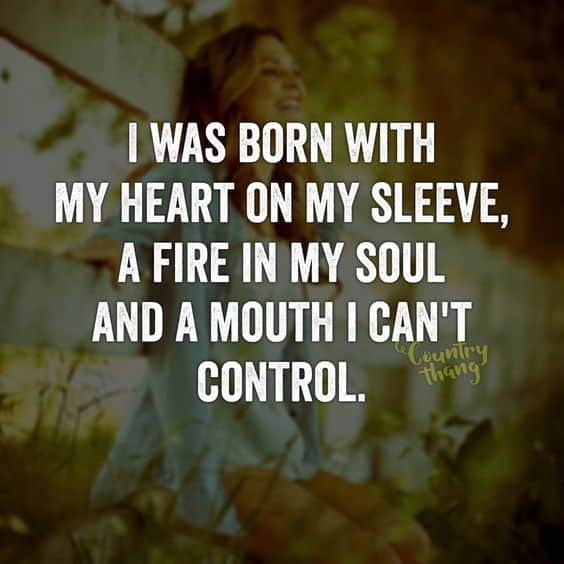 ---
"She's whiskey in a teacup."
---
"Country girls don't retreat. They reload."
---
"The reason girls want a country boy is because they are the only ones whose mamas taught them how to treat a lady."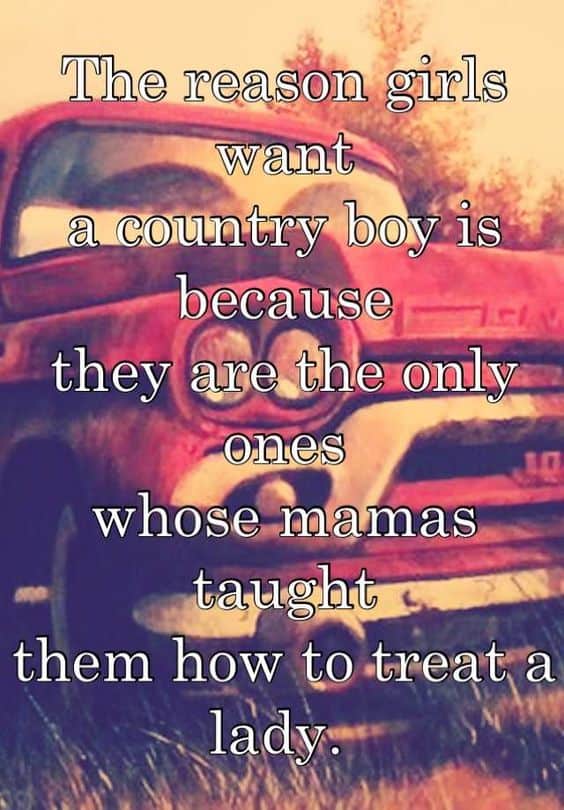 ---
"I'm the girl who is always there for people when they need a friend. I'm also the girl who faces many issues alone, but will still do anything to see someone else smile."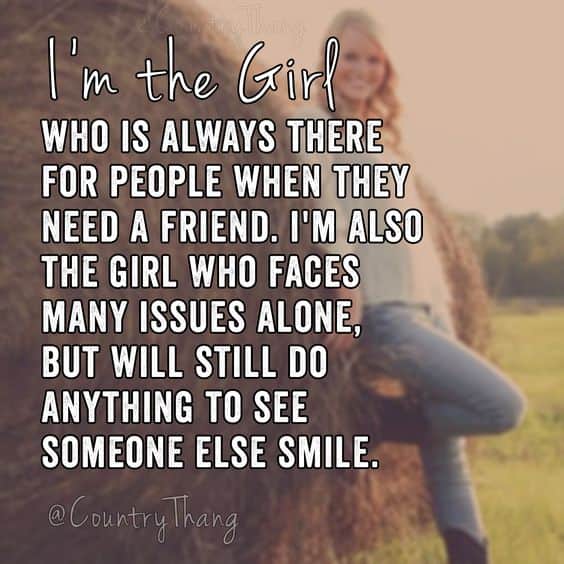 ---
"City lights got nothin' on country nights."
---
"I'm an odd combination of "really sweet" and "don't mess with me".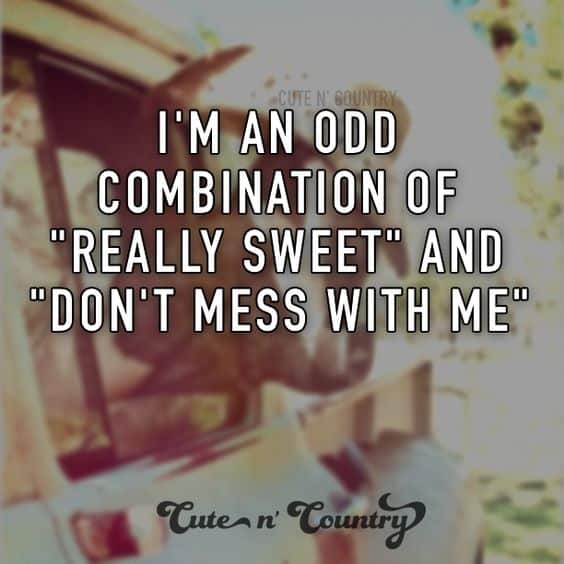 ---
"Never trust a guy that doesn't like to fish, can't shoot a gun or won't shake your daddy's hand."
---
"A pickup truck is her limousine, and her favorite dress is her faded blue jeans."
---
"My mama taught me never throw the first punch. But you can bet your sweet ass I WILL throw the last one!"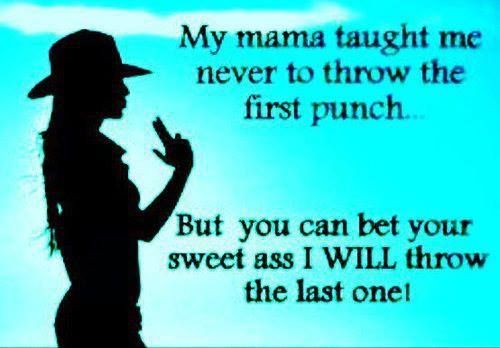 ---
"This world could use more "Yes sir and no ma'am" and less "swag and yolo."
---
"Cowgirls are god's wildest angels. They have cowboy hats for halos and horses for wings."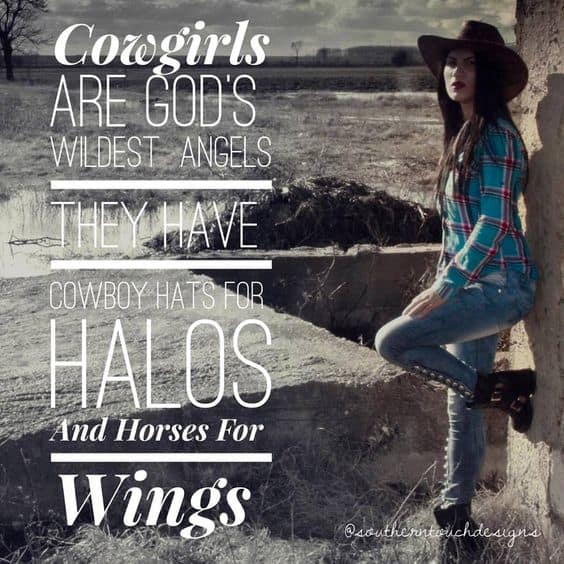 ---
"I can be as stubborn as a mule, sweet as tea, angry as a hornet, or loyal like a soldier. It all depends on you."
---
"Sunset skies, bonfire nights. I love the simple things. That's how I'll always be."
---
"A girl doesn't have to wear jeans, a plaid shirt or cowgirl boots to prove she is country. Her personality should be all the proof you need."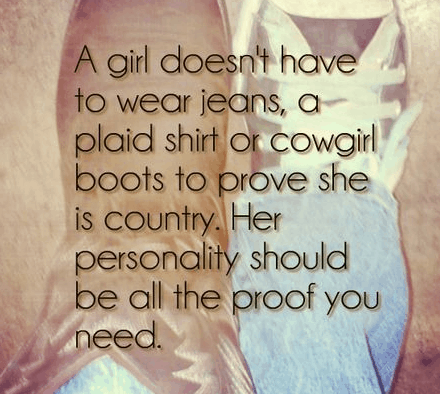 ---
"Country roads take me home to the place I belong."
---
"There is a name for girls who shoot guns, listen to country & ride fourwheelers… KEEPERS."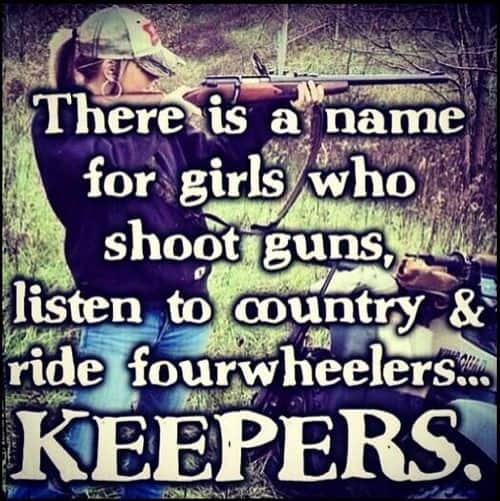 ---
"If you talk bad about country music, it's like saying bad things about my momma. Them's fightin' words." – Dolly Parton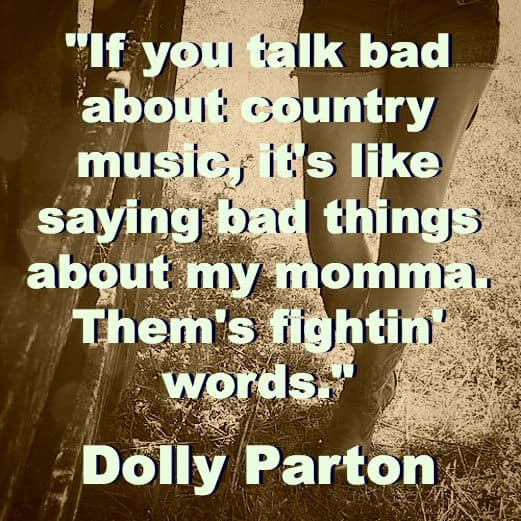 ---
"Roses are red, mud is brown. 'round here we party with the radio up and tailgate down." – Earl Dibbles Jr
---
"I was raised on country sunshine."
---
"I'd rather have a guy with jeans, boots, and truck than a guy with a suit, shiny shoes, and Ferrari any day."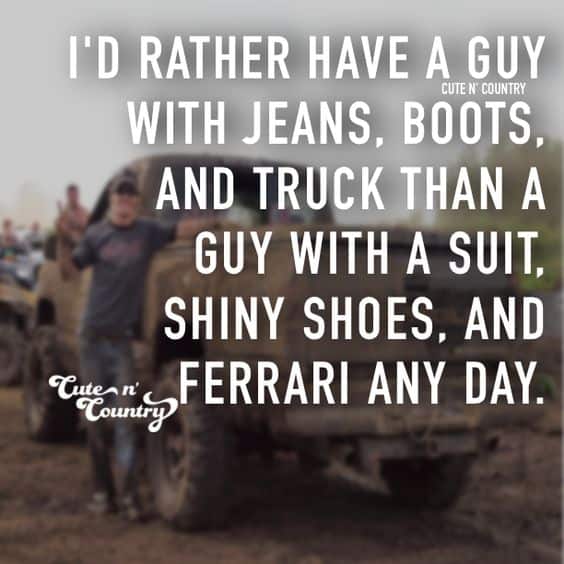 ---
"Any bad day can be fixed by driving country roads, windows down and country music up."
---
"Everything has beauty, but not everyone sees it."
---
"Forget glass slippers. This princess wears boots."
---
"I'm a strong girl even with tears falling down my wet cheek, I can still say those 2 words, I'm fine."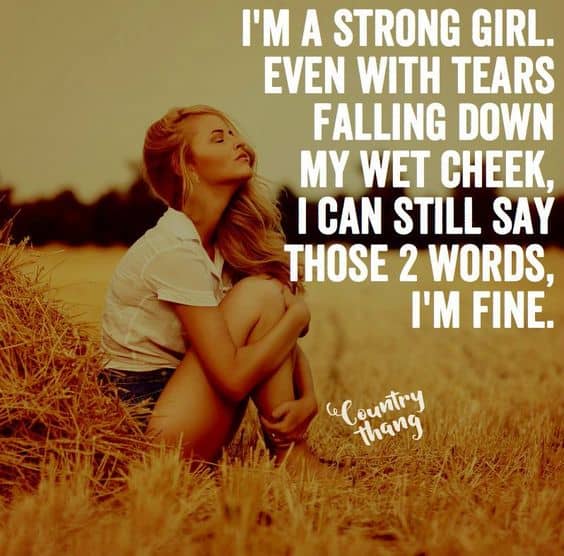 ---
"I have three sides: the quiet sweet side, the fun & crazy side, the side you never want to see."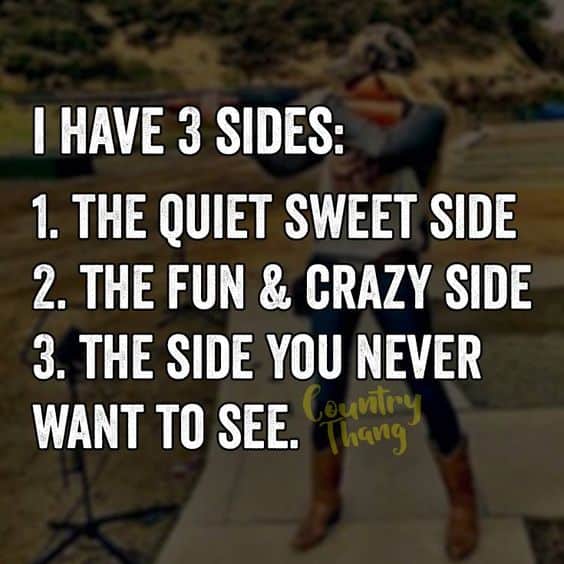 ---
"Keep your soul clean. And your boots dirty."
---
"Country music. 'cause I'd rather listen to songs about trucks and small towns than songs about swag and twerkin' around."
---
"Mama tried to raise a lady but daddy won. He raised a lady who doesn't take shit from anyone."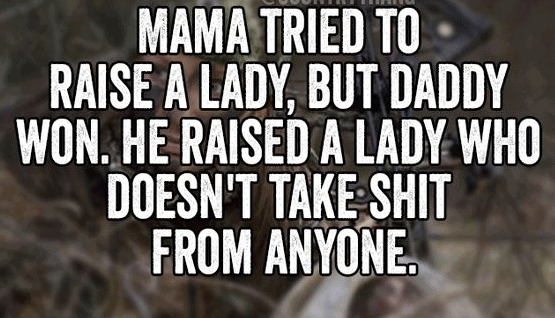 ---
"I'm a sassy talkin', sweet tea drinkin', jeans and t-shirt kind of girl."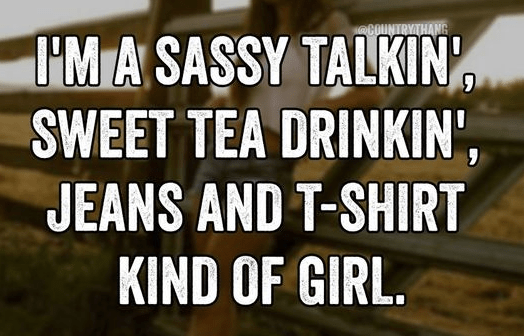 ---
"You can dress like a country girl. But can you work like one?"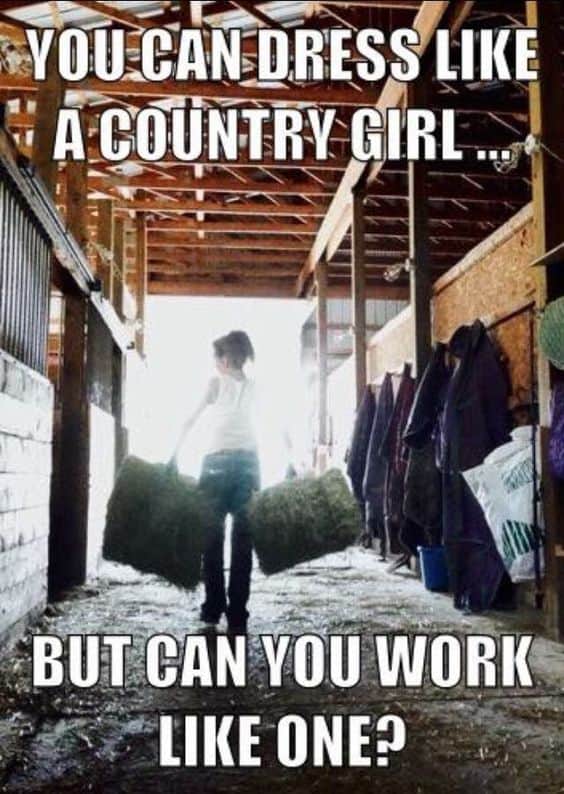 ---
"Don't flatter yourself cowboy. I was starin' at your truck."
---
"The higher the truck, the closer to God." – Earl Dibbles Jr
---
"Drink some coffee, get your boots on, turn up some George Strait, and get it done."
---
"Some girls dream of big weddings. I'm happy with a big ole' barn."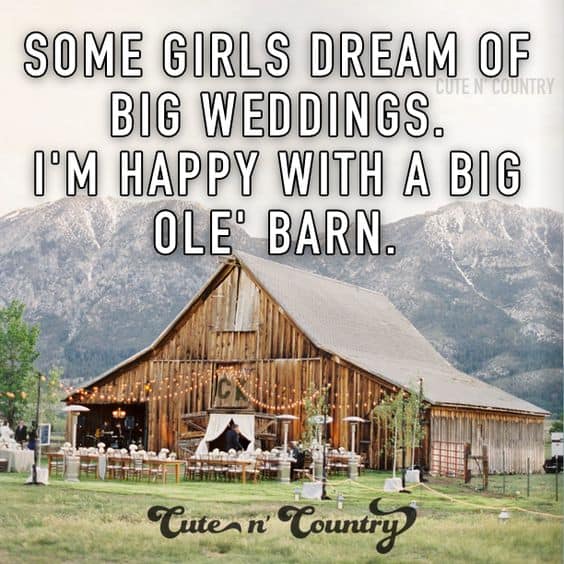 ---
"Country style dating doesn't require a lot of money because we enjoy the simple things in life. Things like picnics, fishing, BBQ's, bonfires, muddin, sunrises, sunsets and truck bed star gazing."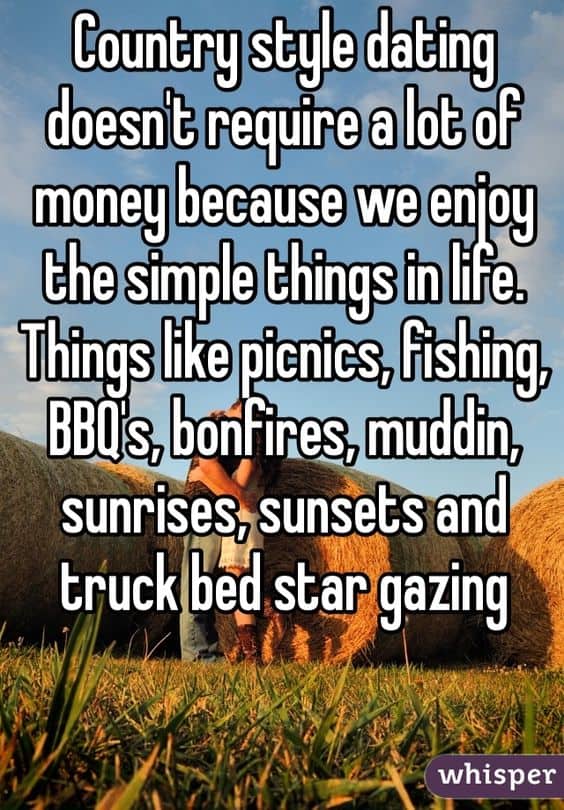 ---
"I'm in need of a country night with a bonfire, good music, great friends and a million stars."
---
"Embrace dirty boots and smelling like your horse."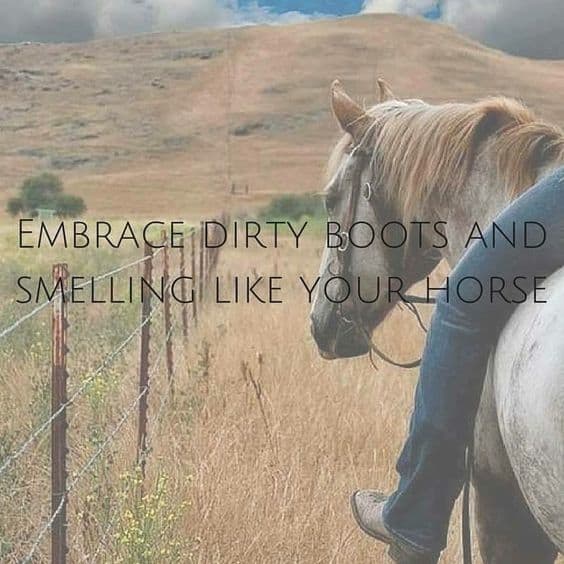 ---
"Most girls want a prince charming but what I want is a truck driving, boot wearing, southern rooted, sweet hearted country boy."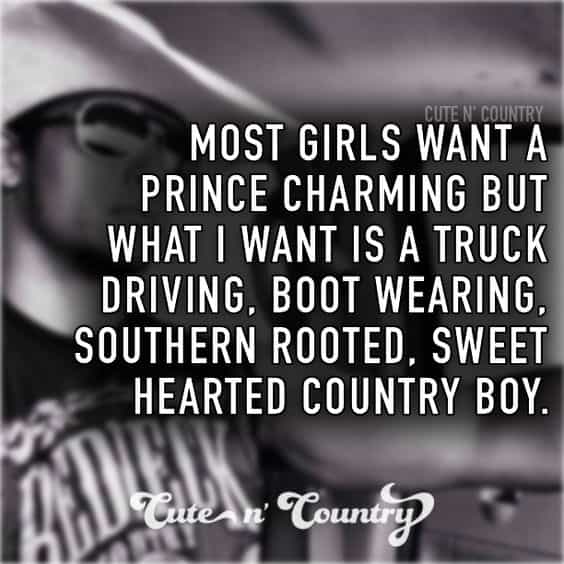 ---
"I love the smell of fresh hay bales."
---
"Girls are like country roads. The best ones got curves."
---
"You know you've got the keys to a country boy's heart when you have the keys to his truck."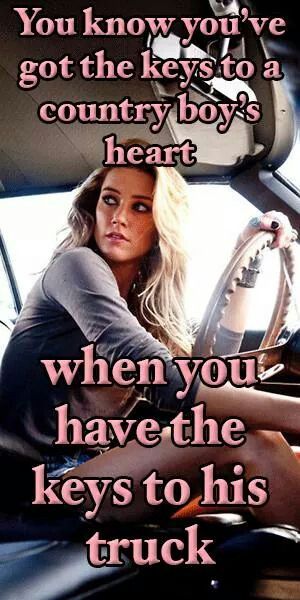 ---
"Country girls are just like normal girls. Only prettier. And more fun. And can shoot a gun. And like to fish. And look good in camo."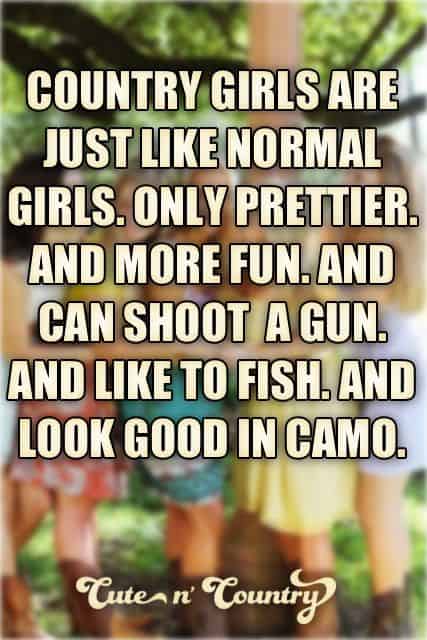 ---
"Life is better in boots. Even on Mondays."
---
"Sweet as sugar, hard as ice. Hurt me once, I'll shoot you twice!"
---
"I own too much Camo. Said no one ever."
---
"Your dream closet vs. my dream closet."
---
"I love country boys."
---
Country Music Quotes & Country Song Lyrics
---
"Let your dreams stay big and your worries stay small." – Rascal Flatts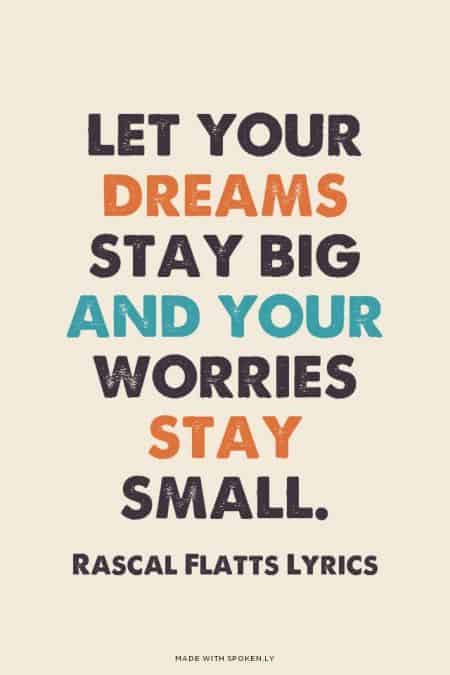 ---
"The day you stop lookin' back, is the day you start movin' on." – Thomas Rhett
---
"You're the rock in my roll. You're good for my soul. It's true. I'm head over boots for you." – Jon Pardi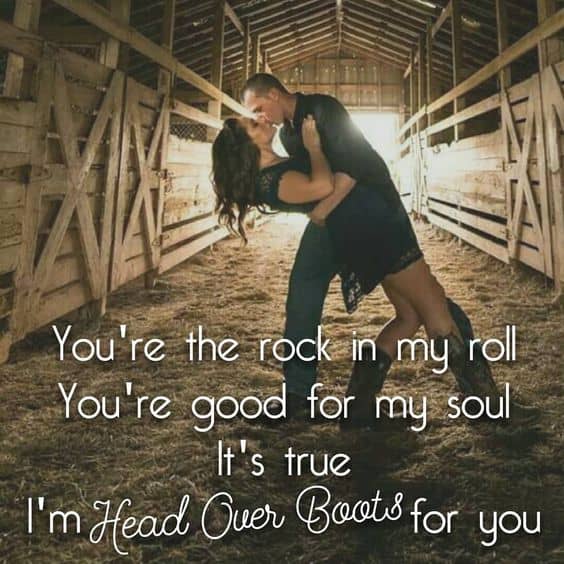 ---
"Hold the door, say please, say thank you. Don't steal, don't cheat, and don't lie. I know you got mountains to climb but always stay humble and kind." – Tim McGraw
---
"In all the world you'll never find a love as true as mine." – George Strait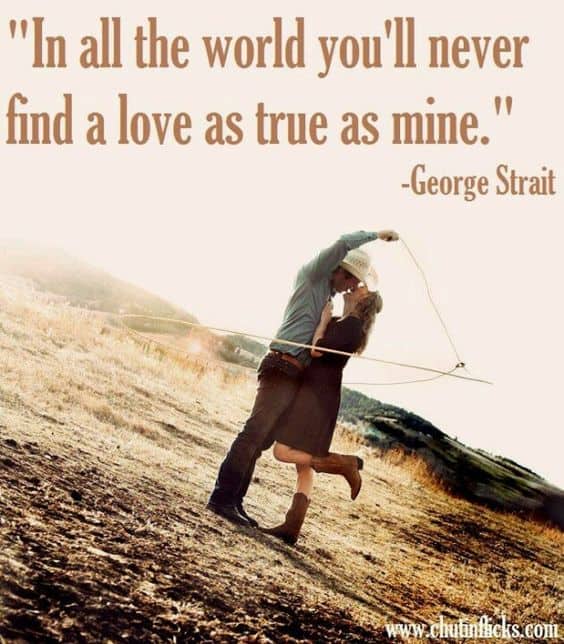 ---
"We're like fire and gasoline. I'm no good for you, you're no goof for me. We only bring each other tears and sorrow." – Chris Young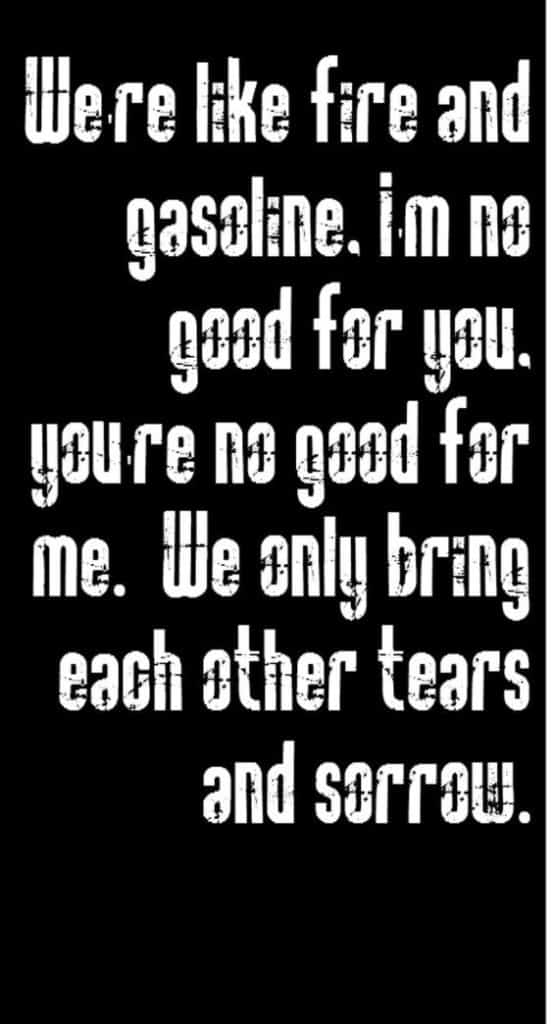 ---
"You get your hands in it, plant your roots in it. Dusty head lights dance with your boots in it." – Florida Georgia Line
---
"Might have a little mud on my boots but we're gonna dance the dust right off them tonight." – Jon Pardi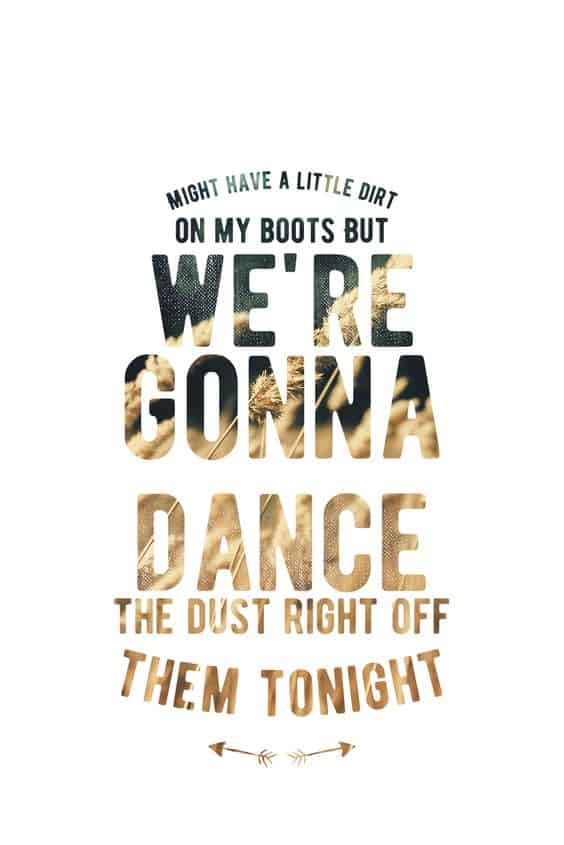 ---
"She was like oh my god this is my song. I've been listening to the radio all night long." – Luke Bryan
---
"So let your heart, sweetheart. Be your compass when you're lost and you should follow it wherever it may go."