Angel quotes are the best way to start your day and keep the positive energy going throughout the week!
Since we were young, our parents have told us stories of angels brought to us by God. They are winged creatures full of goodness and love tasked to take care of us and help us make the right decisions.
The existence of angels is still debated, but one thing is sure: someone out there is watching over you without your knowledge.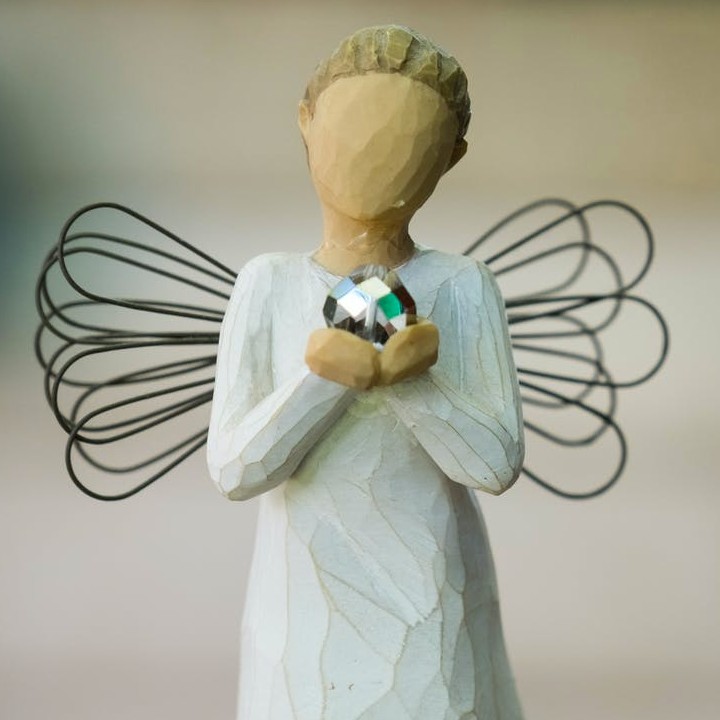 Here are some of our favorite quotes that will help you spread positivity, joy, and love to others.
Let's go!
And don't forget to check out these God quotes and prayer quotes.
Best Angel Quotes
1. "The more that you trust and believe in angels, the more they will pour their blessings upon you." – Denise Linn
2. "Angels are like diamonds. They can't be made, you have to find them. Each one is unique." – Jaclyn Smith
3. "For truly we are all angels temporarily hiding as humans." – Brian Weiss
4. "The magnitude of life is overwhelming. Angels are here to help us take it peace by peace." – Terri Guillemets
5. "All God's angels come to us disguised." – James Russell Lowell
6. "Angels are never too distant to hear you." – Anonymous
7. "Angels represent God's personal care for each one of us." – Andrew Greeley
8. "Be kind to strangers, because it's a loving thing to do. Also, you never know―they could be angels." – Scott Curran
9. "Be an angel to someone else whenever you can, as a way of thanking God for the help your angel has given you." – Eileen Elias Freeman
10. "If we were all like angels, the world would be a heavenly place." – Anonymous
11. "Angels understand our prayers even when we can't find the words to say them." – Anonymous
12. "Believers, look up―take courage. The angels are nearer than you think." – Billy Graham
13. "Make friends with the angels, who though invisible, are always with you." – St. Francis de Sales
14. "Angels are heralds of eternity sent to help mankind breakthrough when they cannot break out." – Graham Cooke
Famous Angel Quotes
15. "The very word 'angel' means messenger. Angels are messengers of love and of the divine." – Melanie Beckler
16. "God's angels often protect His servants from potential enemies." – Billy Graham
17. "There are people in our lives who are like angels to us." – Catherine Pulsifer
18. "Every man contemplates an angel in his future self." – Ralph Waldo Emerson
19. "Angels are all around us, all the time, in the very air we breathe." – Eileen Elias Freeman
20. "Sometimes angels are just ordinary people that help us believe in miracles again." – Anonymous
21. "Sometimes we are like an angel with one wing, and we necessarily need the other wing of a similar angel to keep flying." – M. K. Soni
22. "When angels visit us, we do not hear the rustle of wings, nor feel the feathery touch of the breast of a dove; but we know their presence by the love they create in our hearts." – Mary Baker Eddy
23. "Our guardian angels are closer to us than anything except the love of God." – Eileen Elias Freeman
24. "We are each of us angels with only one wing, and we can only fly by embracing one another." – Luciano de Crescenzo
25. "Angels are praising God and testifying in His name about all His mighty deeds." – Erol Woods
26. "It is impossible to see the angel unless you first have a notion of it." – James Hillman
27. "Angels mend our patchwork hearts with threads of love." – Terri Guillemets
28. "I have a thing about angels. I believe in them. I feel like I have a guardian angel. I think everybody has one." – Sheryl Lee
29. "Open your mind to listen and your eyes to see and let your angels guide you to where you should be." – Mary Jac
Also read: Famous Quotes, Inspirational Quotes
Inspiring Angel Quotes
30. "Angels can fly because they carry no burdens." – Eileen Elias Freeman
31. "Just because you can't see your angels it doesn't mean that they aren't there." – Anonymous
32. "When I look back on my life, I wonder how I survived—my mother said I had a guardian angel." – Micky Dolenz
33. "When you focus on the journey, you will be blessed with guardian angels to direct your path." – Lailah Gifty Akita
34. "When we are touched by something it's as if we're being brushed by an angel's wings." – Rita Dove
35. "Angels are spirits, flames of fire; they are higher than man, they have wider connections." – Matthew Simpson
36. "Whether we are filled with joy or grief, our angels are close to us, speaking to our hearts of God's love." – Eileen Elias Freeman
37. "Angels encourage us by guiding us onto a path that will lead to happiness and hope." – Andy Lakey
38. "I believe we are free, within limits, and yet there is an unseen hand, a guiding angel, that somehow, like a submerged propeller, drives us on." – Rabindranath Tagore
39. "We should pray to the angels, for they are given to us as guardians." – Saint Ambrose
40. "Make yourself familiar with the angels, and behold them frequently in spirit; for, without being seen, they are present with you." – St. Francis of Sales
41. "Not only has our Heavenly Father given us an advocate, the Holy Spirit, who will never leave us, but He has sent us our own personal honor guard of angels to guard us wherever we go." – Priscilla Doremus
42. "Angels can turn our darkness to light, help our dreams to come true, and our worries take flight, so pass them your burdens, give them your cares, they're waiting to help you, just trust they are there." – Mary Jac
Also read: Guardian Angel Quotes
Short Angel Quotes
43. "An angel of God never has wings." – Joseph Smith, Jr.
44. "If I got rid of my demons, I'd lose my angels." – Tennessee Williams
45. "Don't put wings on me; I am no angel." – Diego Costa
46. "Every angel is terrifying." – Rainer Maria Rilke
47. "Angels are bright still, though the brightest fell." – William Shakespeare
48. "I've lost a guardian angel and gained a muse." – Jae T. Jaggart
49. "The wings of angels are hope and faith." – Omar M Al-Aqeel
50. "Angels sail back to God on the sea of joy." – Terri Guillemets
51. "Angels can fly directly into the heart of the matter." – Anonymous
52. "Guardian angel pure and bright, guard me while I sleep tonight." – Angel Prayer
53. "Angels have no philosophy but love." – Terri Guillemets
Also read: Short Quotes, Life Quotes
Angel Quotes That Explain Their Significance in Our Lives
54. "Every visible thing in this world is put in the charge of an angel." – Saint Augustine
55. "Faith tells me that no matter what lies ahead of me, my angels are already there." – Anonymous
56. "Angels are the guardians of hope and wonder, the keeper of magic and dreams." –Anonymous
57. "Could we forbear disputes, and practice love? We should agree as angels do above." – Edmund Waller
58. "Angels aren't in heaven they are on earth but not everyone is able to see them." – Annabella
59. "Scripture states that God gives His angels charge over us, and the angels of little children stand before the presence of God." – Gerald Flurry
60. "Angels are forever because they are of a nature where they do not sin." – Barry Bowen
61. "The dreams which reveal the supernatural are promises and messages that God sends us directly: they are nothing but His angels, His ministering spirits, who usually appear to us when we are in a great predicament." – Paracelsus
62. "Angels have always been part of Christmas—from the first Christmas until today. They are the glorious beings who announced the miraculous arrival of God's Holy Son on earth in the form of a tiny baby." – Mary Hollingsworth
63. "Only very important angels get their wings on Christmas Eve. Angels earn their wings when they convince people to be especially good to each other if for no other reason than kindness and mercy." – Patricia Arnold
64. "Angels around us, angels beside us, angels within us. Angels are watching over you when times are good or stressed. Their wings wrap gently around you, whispering you are loved and blessed." – Angel Blessing
65. "The angels are the dispensers and administrators of the divine beneficence toward us. They regard our safety, undertake our defense, direct our ways, and exercise a constant solicitude that no evil befall us." – John Calvin
Angel Quotes That Will Make You Think and Reflect
66. "Sometimes angels sing to you in the wind. All you have to do is listen." – Anonymous
67. "The reason angels can fly is because they take themselves lightly." – G.K. Chesterton
68. "All the difference between men and angels is, men are passing through the day of trial that angels have already passed through." – Brigham Young
69. "Angels live among us. Sometimes they hide their wings, but there is no disguising the peace and hope they bring." – Anonymous
70. "An angel is a spiritual creature created by God without a body for the service of Christendom and the church." – Leo Rosten
71. "God always has an angel of help for those who are willing to do their duty." – T. L. Cuyler
72. "Angels don't know pain or touch, but they know the love of God and hear His voice singing as they watch the sunrise on all creation." – Alexander Powys
73. "An angel can illuminate the thought and mind of man by strengthening the power of vision, and by bringing within his reach some truth which the angel himself contemplates." – Thomas Aquinas
74. "He who does not see the angels and devils in the beauty and malice of life will be far removed from knowledge, and his spirit will be empty of affection." – Kahlil Gibran
75. "You'll meet more angels on a winding path than on a straight one." – Terri Guillemets
76. "If you gathered all the angels and demons together, and all of the physical creation, including man in his incredible potential, you would see just how wonderfully unique we how often do we thank God for our potential?" – Gerald Flurry
77. "The angels of Heaven watch in amazement, as the King of the universe takes on the lowly form of a human, to save people that may or may not want to be saved." – Rebecca Bryan
78. "This also is a part of the teaching of the Church, that there are certain angels of God, and certain good influences, which are His servants in accomplishing the salvation of men." – Origen
79. "Angels are beyond our understanding, but God created them and sent them to tell us important messages, for example, to the shepherds telling them about the birth of Jesus." – Catherine Pulsifer
80. "God not only sends special angels into our lives but sometimes He even sends them back again if we forget to take notes the first time!" – Eileen Elias Freeman
Angel Quotes to Give Insight Into Their Presence in Our Lives
81. "You can do something to change your life. Ask your angels to help." – Karen Borga
82. "The guardian angels of life sometimes fly so high as to be beyond our sight, but they are always looking down upon us." – Jean-Paul
83. "Your guardian angel is by your side helping you to be assertive and too assertive and to stand tall despite the stresses in your life." – Tanja Christine Jaeger
84. "Angels shine light into all areas of life. Helping you to see the light within all!" – Melanie Beckler
Angel Quotes for Her
85. "You are beautiful; your smile melts my heart. I can't resist dreaming about you. You are an angel." – Anonymous
86. "Beautiful girl, on top of the world. Don't fall down, because an angel should never touch the ground." – Broken Iris
87. "I'm pretty, but I'm not beautiful. I sin, but I'm not the devil. I'm good, but I'm not an angel." – Marilyn Monroe
88. "She believed in angels, and, because she believed, they existed." – Clarice Lispector
Angel Quotes to Fill Your Life With Love
89. "How wonderful it must be to speak the language of the angels, with no words for hate and a million words for love!" – Eileen Elias Freeman
90. "If a man expects a woman to be an angel in his life, he must first create heaven for her." – Anonymous
91. "You are my angel that I would love to keep for the rest of my life. I love you." – Anonymous
92. "You are my angel, my love, my life, my world, my everything. Let me be yours forever. I love you, my angel." – Anonymous
93. "May your guardian angel wrap you in love, protect, heal, and guide you from high above." – Mary Jac
94. "You are the one that makes my heart beat faster; you are the entire world that I want. I love you, my angel." – Anonymous
95. "I have seen how angels look like because I have you beside me. I love you, my angel." – Anonymous
Also read: Love Quotes, True Love Quotes
Angel Quotes That Highlight How They Are Similar to Our Best Friends
96. "I believe in angels, the kind that heaven sends. I'm surrounded by angels, and I call them my best friends." – Pamela Daranjo
97. "Angels are inseparable friends, who bring strength and consolation to those who include them in their lives. In truth, angels are our best friends." – Janice T. Connell
98. "Our guardian angels are our most faithful friends, because they are with us day and night, always and everywhere. We ought often to invoke them." – John Vianney
99. "Friends are angels sent by God for us to love and cherish. They make our life fun and full of happiness. Always remember I care for you because you are my angel." – Anonymous
100. "Angels are not any extraordinary beings with wings and a halo. They are ordinary people living ordinary lives. But they have special qualities that touch our hearts and soul in special ways. They are truly our best friends." – Aarti Khurana
Also read: Friendship Quotes, Relationship Quotes
Deep Angel Quotes to Ponder On
101. "I saw the angel in the marble and carved it until I set him free." – Michelangelo
102. "Fools rush in where angels fear to tread." – Alexander Pope
103. "I'm just looking for an angel with a broken wing." – Jimmy Page
104. "Angels have so much power that if I were to tell you everything I have seen, it would exceed belief." – Emanuel Swedenborg
105. "When someone dies, an angel is there to meet them at the gates of Heaven to let them know that their life has just begun." – Anonymous
106. "Children often have imaginary playmates. I suspect that half of them are really their guardian angels." – Eileen Elias Freeman
107. "Angels are direct creations of God, each one a unique master's piece." – Eileen EliasFreeman
108. "While angels and other heavenly beings were magnificently created, they were not created in God's image." – Henk Kruger
109. "For every angel fluttering through the skies, there is a divine counterpart here on Earth. Each of us has a golden celestial-self just waiting to be awakened." – Sue K.
110. "Sometimes the most productive thing you can do is rest and let your angels wrap you in their loving wings. They've got you covered." – Anna Taylor
111. "No, I never saw an angel, but it is irrelevant whether I saw one or not. I feel their presence around me." – Paulo Coel
Funny Angel Quotes That Will Make You Giggle
112. "It's too cold outside for angels to fly." – Ed Sheeran
113. "Never drive faster than your guardian angel can fly." – Anonymous
114. "Women are angels, and when someone breaks your wings. We simply continue to fly—on a broomstick. We are flexible like that." – Anonymous
115. "I am totally convinced my guardian angel is an addict because I can't find my Adderall and she is not talking." – Shannon L. Alder
116. "Oh, I am an angel, though sometimes I wish I was more of a devil." – Victoria Pendleton
117. "I believe most at-home accidents happen in the bathroom because our guardian angels give us our privacy." – Cathy L. Poulin
118. "Every night and every morning thank your own guardian angel for peace and for the regeneration of all the cells in your body, and for joy." – Dorie D'Angelo
119. "Your two guardian angels are always with you. The other angels come and go as we need them." – Doreen Virtue
120. "I had so many freckles that my mother used to say that they were kisses from the angels." – Lara Flynn Boyle
What Would You Say to an Angel if You Had the Opportunity?
Our childhood is filled with prayers and tales of these lovely beings. More than that, angels are symbols of heaven and God because they serve as God's messengers. Some may also argue that angels do exist, albeit in various ways and forms.
Some also believe that a deceased loved one can serve as their guardian angel, guiding and protecting them in difficult times. When you need them, keep the faith and believe that an angel will cover you with its wings, shielding you from life's negativities.
But, whether or not angels exist, you can be your own version of an angel by doing what angels do. You can be someone who listens, gives advice, and makes suggestions to cheer up your loved ones. We hope that these angel quotes were able to inspire you to love and care for others as if you were a true angel in their lives.
Which of these angel quotes made you believe they indeed exist? Please, share your opinions and thoughts in the comments area below.