These golf quotes will inspire you to focus on your goals tirelessly!
Golf is a sport that requires mental strength, patience, and discipline.
Playing it will show you that these qualities will give you what you need to conquer life. Honing your skills in this sport will indeed teach you more than you think.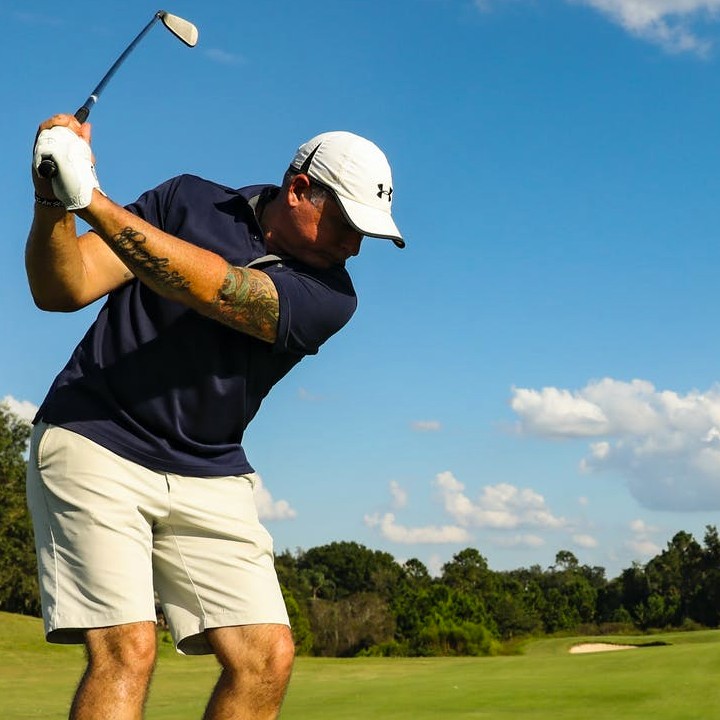 So, if you're interested in getting serious with golf, then add this to your must-read list! Browse through our collection below to learn more about how this sport is essential to life.
Let's get started.
And don't forget to check our baseball quotes and soccer quotes as well.
Best Golf Quotes
1. "Golf is a search for perfection, for balance. It's about meditation and concentration. You have to use your hands and brain." – Celine Dion
2. "The first thing golf teaches is humility. The second, empathy, and the third, patience." – Chris Wilson
3. "Success in golf depends less on strength of body than upon strength of mind and character." – Arnold Palmer
4. "The most important shot in golf is the next one." – Ben Hogan
5. "Golf is deceptively simple and endlessly complicated. It satisfies the soul and frustrates the intellect. It is at the same time rewarding and maddening, and it is without a doubt the greatest game mankind has ever invented." – Arnold Palmer
6. "Golf is about how well you accept, respond to, and score with your misses much more so than it is a game of your perfect shots." – Bob Rotella
7. "Golf is a game with morals. There's always an opportunity to be a scoundrel. That's why it's a gentleman's game." – Katt Williams
8. "If you watch a game, it's fun. If you play at it, it's recreation. If you work at it, it's golf." – Bob Hope
9. "Golf is assuredly a mystifying game. It would seem that if a person has hit a golf ball correctly a thousand times, he should be able to duplicate the performance at will, but such is certainly not the case." – Bobby Jones
10. "Golf is so popular simply because it is the best game in the world at which to be bad." – A.A. Milne
11. "The greatest single lesson to be learned from golf is mental discipline." – Louise Suggs
12. "Golf is a compromise between what your ego wants you to do, what experience tells you to do, and what your nerves let you do." – Bruce Crampton
13. "There are no absolutes in golf. Golf is such an individual game, and no two people swing alike." – Kathy Whitworth
14. "Golf can best be defined as an endless series of tragedies obscured by the occasional miracle." – Anonymous
15. "Golf gives you an insight into human nature, your own as well as your opponent's." – Grantland Rice
Famous Golf Quotes
16. "Achievements on the golf course are not what matters. Decency and honesty are what matter." – Tiger Woods
17. "A good golfer has the determination to win and the patience to wait for the breaks." – Gary Player
18. "To find a man's true character, play golf with him." – Pelham Grenville Wodehouse
19. "Golf is the infallible test. The man who can go into a patch of rough alone, with the knowledge that only God is watching him, and play his ball where it lies, is the man who will serve you faithfully and well." – Pelham Grenville Wodehouse
20. "Golf is a game of respect and sportsmanship. We have to respect its traditions and its rules." – Jack Nicklaus
21. "Golf is a science, the study of a lifetime, in which you can exhaust yourself but never your subject." – David Forgan
22. "Confidence in golf means being able to concentrate on the problem at hand with no outside interference." – Tom Watson
23. "Golf is a day spent in a round of strenuous idleness." – William Wordsworth
24. "Golf is a game of endless failure and frustration." – Michael E. Greenberg
25. "Golf, like the measles, should be caught young, for, if postponed to riper years, the results may be serious." – Pelham Grenville Wodehouse
26. "Golf is not, on the whole, a game for realists. By its exactitudes of measurements, it invites the attention of perfectionists." – Heywood Hale Broun
27. "Hit the shot you know you can hit, not the one you think you should." – Bob Rotella
28. "Playing golf is like learning a foreign language." – Henry Longhurst
29. "The object of golf is not just to win. It is to play like a gentleman, and win." – Phil Mickelson
30. "Golf is the most democratic game on earth. It punishes and exalts us all with splendid equal opportunity." – Arnold Palmer
Also read: Tin Cup Quotes, Caddyshack Quotes
Golf Quotes That Will Teach You About Life
31. "Golf is a lot like life. It will test your patience. It will dazzle and baffle you with highs and lows, successes and frustrations." – Amy Alcott
32. "Golf is the closest game to the game we call life. You get bad breaks from good shots. You get good breaks from bad shots, but you have to play the ball where it lies." – Bobby Jones
33. "One of the most fascinating things about golf is how it reflects the cycle of life. No matter what you shoot, the next day you have to go back to the first tee and begin all over again and make yourself into something." – Peter Jacobsen
34. "They say golf is like life, but don't believe them. Golf is more complicated than that." – Gardner Dickinson
35. "In golf as in life, it is the follow-through that makes the difference." – Anonymous
36. "Do your best, one shot at a time, and then move on. Remember that golf is just a game." – Nancy Lopez
37. "In your approach to golf, no one can tell you what to do. Just as in life, you are presented with options. It's up to you to decide which ones suit you best." – Sandra Haynie
38. "Keep your sense of humor. There's enough stress in the rest of your life not to let bad shots ruin a game you're supposed to enjoy." – Amy Alcott 
39. "We learn so many things from golf, how to suffer, for instance." – Bruce Lansky
40. "Golf puts a man's character on the anvil and his richest qualities—patience, poise, restraint, to the flame." – Billy Casper
41. "A kid grows up a lot faster on the golf course. Golf teaches you how to behave." – Jack Nicklaus
42. "The game of golf is fragile and I respect that. I think it's a mirror image of life itself." – Steve Stricker
Also read: Happy Gilmore Quotes
Great Quotes to Learn More About Golf
43. "Golfers who try to make everything perfect before taking the shot rarely make a perfect shot." – Anonymous
44. "Trust is one of the most important qualities in the game of golf. With trust, it feels like you and your golf club are partners dancing as one. Without trust, it feels like you and your golf club are on opposite sides of a tug-of-war." – Joseph Parent
45. "Golf is a game you can never get too good at. You can improve, but you can never get to where you master the game." – Gay Brewer
46. "The game has such a hold on golfers because they compete not only against an opponent, but also against the course, against par, and most surely, against themselves." – Arnold Palmer
47. "Reverse every natural instinct and do the opposite of what you are inclined to do, and you will probably come very close to having a perfect golf swing." – Ben Hogan
48. "Aggressive play is a vital asset of the world's greatest golfers. However, it's even more important to the average player. Attack this game in a bold, confident, and determined way, and you'll make a giant leap toward realizing your full potential as a player." – Greg Norman
49. "If you focus only on the target, you'll play darn good golf." – Bob Rotella
50. "No other game combines the wonder of nature with the discipline of sport in such carefully planned ways. A great golf course both frees and challenges a golfer's mind." – Tom Watson
51. "I've heard people say my swing's not perfect, and I know that. But golf's a natural sport, very sensitive. It's played a lot by feel. I don't care if my swing is too flat. If it works, I don't have to change it." – Sergio Garcia
52. "The swing is never learned. It's remembered." – Bagger Vance
53. "Golf is the hardest game in the world. There is no way you can ever get it. Just when you think you do, the game jumps up and puts you in your place." – Ben Crenshaw
54. "I have always had a drive that pushed me to try for perfection, and golf is a game that perfection stays just out of reach." – Betsy Rawls
55. "The golf swing is like a suitcase into which we are trying to pack one too many things." – John Updike
56. "Golf is like a love affair. If you don't take it seriously, it's no fun. If you do take it seriously, it breaks your heart." – Arthur Daley
57. "There is no such thing as a natural touch. Touch is something you create by hitting millions of golf balls." – Lee Trevino
Short Golf Quotes
58. "Golf is an easy game. It's just hard to play." – Anonymous
59. "Half of golf is fun. The other half is putting." – Peter Dobereiner
60. "Golf is 90% inspiration and 10% perspiration." – Johnny Miller
61. "A bad attitude is worse than a bad swing." – Payne Stewart
62. "The value of routine. Trusting your swing." – Lorii Myers
63. "You swing your best when you have the fewest things to think about." – Bobby Jones
64. "Golf is a game not just of manners but of morals." – Art Spander
65. "Life is better when you're golfing." – Arnold Palmer
66. "If you wish to hide your character, do not play golf." – Percy Boomer
67. "It's about hitting the ball in the center of the clubface and hitting it hard." – Bubba Watson
68. "One thing that golf teaches you is humility." – Robert Wagner
69. "The secret of golf is to turn three shots into two." – Bobby Jones
70. "Golf is 20% talent and 80% management." – Ben Hogan
71. "I regard golf as an expensive way of playing marbles." – Gilbert Keith Chesterton
72. "Golf is not a game of good shots. It's a game of bad shots." – Ben Hogan
Golf Quotes Packed With Meaning and Insights
73. "Golf is the loneliest sport. You're completely alone with every conceivable opportunity to defeat yourself. Golf brings out your assets and liabilities as a person. The longer you play, the more certain you are that a man's performance is the outward manifestation of who, in his heart, he really thinks he is." – Hale Irwin
74. "There's going to be places where you can attack the golf course, and there's going to be times where you've got to kind of bite your lip and play conservative and hit to certain spots on the green, get out of there with a par and move on." – Jim Furyk
75. "Golf is a good walk spoiled." – Mark Twain
76. "A good player who is a great putter is a match for any golfer. A great hitter who cannot putt is a match for no one." – Ben Sayers
77. "When you lip out several putts in a row, you should never think that means that you're putting well. When you're putting well, the only question is what part of the hole it's going to fall in, not if it's going in." – Jack Nicklaus
78. "I think it's more than whether or not you win or lose. It's having that opportunity on that final round, final nine, to come down the stretch with a chance to win." – Phil Mickelson
79. "Golf is the only sport I know of where a player pays for every mistake. A man can muff a serve in tennis, miss a strike in baseball, or throw an incomplete pass in football and still have another chance to square himself. In golf, every swing counts against you." – Lloyd Mangrum
80. "One reason golf is such an exasperating game is that a thing we learned is so easily forgotten, and we find ourselves struggling year after year with faults we had discovered and corrected time and again." – Bobby Jones
81. "Competitive golf is mainly played in a five and a half-inch course, the space between your ears." – Bobby Jones
82. "Two things I take very seriously in life: my golf game and my relationship with God. Neither one is simple." – Cheryl Ladd
83. "Forget the last shot. It takes so long to accept that you can't always replicate your swing. The only thing you can control is your attitude toward the next shot." – Mark McCumber
84. "Like chess, golf is a game that is forever challenging but can never be conquered." – Harvey Penick
85. "The worse you are performing, the more you must work mentally and emotionally. The greatest and toughest art in golf is playing badly well. All the true greats have been masters at it." – Jack Nicklaus
86. "But there is a difference between playing well and hitting the ball well. Hitting the ball well is about 30% of it. The rest is being comfortable with the different situations on the course." – Mickey Wright
87. "Golf is an awkward set of bodily contortions designed to produce a graceful result." – Tommy Armour
Quotes From Famous Golfers on Their Experiences
88. "You don't have the game you played last year or last week. You only have today's game. It may be far from your best, but that's all you've got. Harden your heart and make the best of it." – Walter Hagen
89. "Success depends almost entirely on how effectively you learn to manage the game's two ultimate adversaries: the course and yourself." – Jack Nicklaus
90. "First and foremost, you must have confidence. Your second mental problem is concentration. Think the shot through in advance before you address the ball. Draw a mental image of where you want it to go and then eliminate everything else from your mind, except how you are going to get the ball into that preferred spot." – Sam Snead
91. "I have a tip that can take five strokes off anyone's golf game, it's called an eraser." – Arnold Palmer
92. "For this game, you need, above all things, to be in a tranquil frame of mind." – Harry Vardon
93. "I get to play golf for a living. What more can you ask for, getting paid for doing what you love." – Tiger Woods
94. "Over the years, golf has evolved from a leisurely game of stick and ball into a competitive sport for highly skilled athletes. Players not only spend countless hours fine-tuning technique on the course, but also improving strength, stability, and endurance in the gym." – Paige Spiranac
95. "Grip the club as if you were holding a baby bird." – Sam Snead
96. "What separates great players from the good ones is not so much ability as brainpower and emotional equilibrium." – Arnold Palmer
97. "A hole in one is amazing when you think of the different universes this white mass of molecules has to pass through on its way to the hole." – Mac O'Grady
98. "It's not just enough to swing at the ball. You've got to loosen your girdle and really let the ball have it." – Babe Didrikson Zaharias
99. "If you are going to throw a club, it is important to throw it ahead of you, down the fairway, so you don't have to waste energy going back to pick it up." – Tommy Bolt
100. "Arnold's place in history will be as the man who took golf from being a game for the few to a sport for the masses. He was the catalyst who made that happen." – Jack Nicklaus
101. "A great shot is when you pull it off. A smart shot is when you don't have the guts to try it." – Phil Mickelson
102. "Tempo is the glue that sticks all elements of the golf swing together." – Nick Faldo
Funny Golf Quotes That Will Make You Laugh
103. "Golf is a game whose aim is to hit a very small ball into an even smaller hole, with weapons singularly ill-designed for the purpose." – Winston Churchill
104. "Golf is not a game. It's bondage. It was obviously devised by a man torn with guilt, eager to atone for his sins." – Jim Murray
105. "If you're caught on a golf course during a storm and are afraid of lightning, hold up a 1-iron. Not even God can hit a 1-iron." – Lee Trevino
106. "Pressure is when you play five dollars a hole with only two dollars in your pocket." – Lee Trevino
107. "Some of us worship in churches, some in synagogues, some on golf courses." – Adlai Stevenson
108. "The only time my prayers are never answered is on the golf course." – Billy Graham
109. "Golf is a game in which you yell 'fore,' shoot six, and write down five." – Paul Harvey
110. "If it goes right, it's a slice. If it goes left, it's a hook. If it goes straight, it's a miracle." – Anonymous
111. "The difference in golf and government is that in golf, you can't improve your lie." – George Deukmejian
112. "If a lot of people gripped a knife and fork, the way they do a golf club, they'd starve to death." – Sam Snead
113. "Swing hard in case you hit it." – Dan Marino
114. "I know I am getting better at golf because I am hitting fewer spectators." – Gerald Ford
115. "They call it golf because all the other four-letter words were taken." – Raymond Floyd
116. "This 90:10 rule holds true in almost anything financial. Take the game of golf, for example. Ten percent of the professional golfers make ninety percent of the money." – Robert Kiyosaki
117. "The ardent golfer would play Mount Everest if somebody put a flagstick on top." – Pete Dye
Hilarious Golf Quotes to Lighten Up Your Day
118. "A good golf partner is one who's always slightly worse than you are. That's why I get so many calls to play with friends." – Anonymous
119. "A shot that goes in the cup is pure luck, but a shot to within two feet of the flag is skill." – Ben Hogan
120. "I don't let birdies and pars get in the way of having a good time." – Angelo Spagnolo
121. "A perfectly straight shot with a big club is a fluke." – Jack Nicklaus
122. "My worst day at golf still beats my best day at work." – Anonymous
123. "The better you putt, the bolder you play." – Don January
124. "Keep a close count of your nickels and dimes, stay away from whiskey, and never concede a putt." – Sam Snead
125. "Golf tips are like Aspirin, one may do you good, but if you swallow the whole bottle, you'll be lucky to survive." – Harvey Penick
126. "Golf appeals to the idiot in us and the child. Just how childlike golfers become is proven by their frequent inability to count past five." – John Updike
127. "If I had cleared the trees and drove the green, it would've been a great shot." – Sam Snead 
128. "Golf is played by 20 million mature American men whose wives think they are out having fun." – Jim Bishop 
129. "If profanity had an influence on the flight of the ball, the game of golf would be played far better than it is." – Horace G. Hutchinson
130. "Golf is a puzzle without an answer. I've played the game for 50 years, and I still haven't the slightest idea of how to play." – Gary Player
131. "Golf combines two favorite American pastimes: taking long walks and hitting things with a stick." – P.J. O'Rourke
132. "Golf is a lot of walking, broken up by disappointment and bad arithmetic." – Earl Wilson
More Golf Quotes You'll Love
133. "I played with many golfers who were way better than me, but I won majors and they didn't. The swing is not the thing. The mind gets you out of a bind. Attitude and determination are more important than your swing." – Gary Player
134. "But in the end, it's still a game of golf, and if at the end of the day, you can't shake hands with your opponents and still be friends, then you've missed the point." – Payne Stewart
135. "Placing the ball in the right position for the next shot is 80% of winning golf." – Ben Hogan
136. "The best quick tip in golf is to focus on your rhythm and balance." – Hal Irwin
137. "It's emotional highs and lows in the game of golf." – Jason Day
138. "It's good sportsmanship to not pick up lost golf balls while they are still rolling." – Mark Twain 
139. "Golf will grow so long as it's fun." – Tom Watson
140. "The only thing a golfer needs is more daylight." – Ben Hogan 
Did These Quotes Motivate You to Keep Playing Golf?
Reaching your dreams is a lot like trying to win in golf. If you are easily discouraged by your mistakes and don't have the patience to work, you will never succeed.
So, remember that in golf, you will miss your shots, but you will get better as time goes by. Remember that even if you have failures in life, you must move on and redirect your focus on your goals. Like life, golf also helps us learn to let go of what we cannot control and concentrate on what we can do. 
We hope that these golf quotes were able to persuade you to continue working for your ambitions in life. Keep shooting your shot, do your best, and accept whatever happens.
Did you learn a lot from these golf quotes? Do you have your favorite golf quote? Share them with us in the comment section below!