These swimming quotes will give you more reasons to love the water even more!
Swimming is a fun activity that people of all ages can do, especially when summer begins and the heat is at its peak.
Whether you are a beginner or a professional swimmer, this sport is a refreshing and enjoyable way to stay healthy and move your body.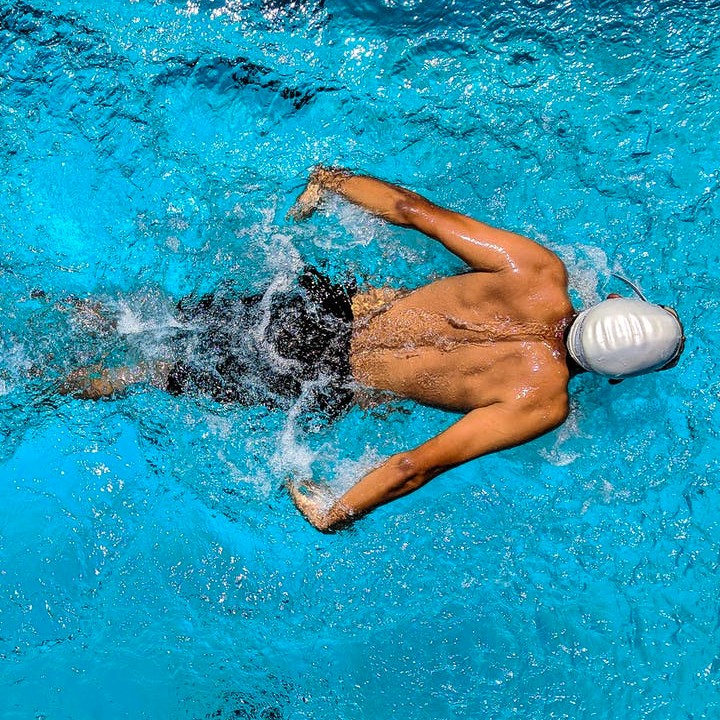 So, if you are one of the people who fell in love with swimming, then add this to your must-read list now! We're sure you'll be able to pick up a thing or two about swimming and what it means to many people.
Continue reading below to learn more about the sport.
And don't forget to check out these sports quotes.
Best Swimming Quotes
1. "Swimming has its educational value—mental, moral, and physical—in giving you a sense of mastery over an element, and of power of saving lives and in the development of wind and limb." – Robert Baden-Powell
2. "Enjoy swimming for swimming's sake. We have to spend far too much time in the water to not enjoy the process of challenging yourself of moving through the water." – Jeff Rouse
3. "Never worry about what anyone else is doing. Just swim your own race." – Dara Torres
4. "To have faith is to trust yourself to the water. When you swim, you don't grab hold of the water because if you do, you will sink and drown. Instead, you relax and float." – Alan Watts
5. "Success in swimming comes when you simply refuse to give up with goals so strong that obstacles, failure, and loss only act as motivation." – Anonymous
6. "If you want to learn to swim, jump into the water. On dry land, no frame of mind is ever going to help you." – Bruce Lee
7. "Swimming is about the mind too. To find rhythm in the water is to discover a new way of being in the world, through flow." – Bonnie Tsui
8. "Swimming is simply moving meditation." – Cesar Nikko Caharian
9. "Believe in yourself. Not only in swimming, but in life itself." – Debbie Meyer
10. "I can't control what everyone else swims, but if all goes well, I know there are no limits." – Leisel Jones
11. "Somehow, I kept my head above water. I relied on the discipline, character, and strength that I had started to develop as that little girl in her first swimming pool." – Esther Williams
12. "If you want me to swim fast, you have to let me enjoy my life." – Amanda Beard
13. "When your body gets tired, swim with your heart." – Anonymous
14. "By swimming with the current, one can emerge from the gyre and live to see a new day." – Marshall McLuhan
Famous Swimming Quotes
15. "Swimming is a life-saving skill, so just the fact that the sport that I love can give so much back to other people and inspire them to join something that they never thought they could do or go after their dreams is something that is really special to me." – Simone Manuel
16. "Swimming is normal for me. I'm relaxed. I'm comfortable, and I know my surroundings. It's my home." – Michael Phelps
17. "I was so relaxed in the water, it felt amazing." – Pieter van den Hoogenband
18. "Tonight was not about winning. It was about focusing on myself and what I was aiming to do. It's the reason why I was able to swim so well." – Libby Lenton
19. "Swimming is great because there are levels of goals. First, when I was four, it was making it to the other end and overcoming the fear of standing up in front of everybody at a swim meet because I was such a shy kid." – Summer Sanders
20. "I want people to see the passion I have for swimming and become more involved in the sport." – Ryan Lochte
21. "I do keep moving. But I should start swimming more. Great exercise." – Marv Levy
22. "It's always great to see young swimmers and their excitement and the joy that they have in the water." – Katie Ledecky
23. "Swimming isn't everything, winning is." – Mark Spitz
24. "I want to test my maximum and see how much I can do, and I want to change the world of swimming." – Michael Phelps
Also read: Famous Quotes, Inspirational Quotes
Inspirational Swimming Quotes to Encourage You to Keep Going
25. "Quitters don't swim. Swimmers don't quit." – Anonymous
26. "The best swimmers are the ones that almost don't try the most. It's just about relaxing and enjoying it." – Cate Campbell
27. "When you are learning swimming, try to swim like a fish! Target the best so that you can always easily reach good and better!" – Mehmet Murat İldan 
28. "The act of swimming can be one of healing, and health, a way to well-being." – Bonnie Tsui
29. "To me, the sea is like a person, like a child that I've known a long time. It sounds crazy, I know, but when I swim in the sea, I talk to it. I never feel alone when I'm out there." – Gertrude Ederle
30. "I concentrate on preparing to swim my race and let the other swimmers think me, not me about them." – Amanda Beard
Also read: Encouraging Quotes
Motivational Swimming Quotes That Are Full of Meaning
31. "It's been told that swimming is a wimp sport, but I don't see it. We don't get timeouts. In the middle of a race, we can't stop and catch our breath, we can't roll on our stomachs and lie there, and we can't ask for a substitution." – Dusty Hicks
32. "Mainly, I like to have fun. Swimming is all about having fun, and I am a firm believer that you should keep swimming as long as you are having fun, but I can say that it becomes much more fun as you get older and learn more about the sport, life, and especially more about yourself." – Scott Goldblatt
33. "The reason swimming is one of the hardest sports is because you have to be in the pool by yourself every day making that sacrifice." – Chad le Clos 
34. "A huge part of swimming for me is I love it, and it is so much fun." – Missy Franklin
35. "For myself, losing is not coming second. It's getting out of the water knowing you could have done better. For myself, I have won every race I've been in." – Ian Thorpe
36. "I've swum for my country. I decided this time I was going to swim for myself." – Janet Evans
37. "I swam the race like I trained to swim it. It is not mathematical. I just let my body do it. It is a lot easier if you let your body do what it is trained for." – Ian Thorpe
38. "No matter how much I complain, I will always love swimming with a passion so strong nobody can me I quit." – Anonymous
39. "The key to success—keep swimming. Even when they tap you on the shoulder to say the pool has been drained, just keep swimming." – Richelle E. Goodrich
Also read: Motivational Quotes
Short but Profound Swimming Quotes
40. "Swimming is a sport, everything else is just a game." – Anonymous 
41. "Swimming—what real men do while boys play football." – Anonymous
42. "Water for me is so essential, like swimming." – Nastassja Kinski
43. "It's unbelievable, I'm swimming so fast." – Jade Edmistone
44. "I love to swim for miles. I could just go back and forth." – Jill Clayburgh
45. "I actually love swimming, but I just hate jumping in the water." – Natalie Coughlin
46. "Swimming is probably the ultimate of burnout sports." – Diana Nyad
47. "Well, me don't swim too tough, so me don't go in the water too deep." – Bob Marley
48. "While I'm swimming, I sing songs in my mind." – Alexander Popov
49. "Seven days of no swimming makes one weak." – Anonymous
50. "I'm just a simple guy swimming in a sea of sharks." – Don Johnson
Also read: Short Quotes
Poetic Quotes on Swimming to Make You Think
51. "This life is like a swimming pool. You dive into the water, but you can't see how deep it is." – Dennis Rodman
52. "The man who is swimming against the stream knows the strength of it." – Woodrow Wilson
53. "When you prepare for something, it's like jumping into cold water, but you're prepared. You jump in, and you start swimming, or if you don't swim, you drown." – RZA
54. "Most of us swimming against the tides of trouble the world knows nothing about, need only a bit of praise or encouragement, and we will make the goal." – Jerry Fleishman
55. "Swimming, from the outside looking in, you can't understand it. From the inside looking out, you can't explain it." – Anonymous
56. "Water was something he loved, something he respected. He understood its beauty and its dangers. He talked about swimming as if it were a way of life." – Benjamin Alire Sáenz
57. "Swimming is my sport, the pool is my home, the water is my friend." – Anonymous
58. "People who swim very well in troubled waters are respected and celebrated than those who swim excellently in calm waters." – Israelmore Ayivor
59. "Swimming was the opposite of panic attack. Fluid and calm and quiet." – John Corey Whaley
60. "Don't wait for your ship to come in. Swim out to it." – Steve Southerland
61. "Remember, a dead fish can float downstream, but it takes a live one to swim upstream." – W.C. Fields
62. "It's a beautiful thing, diving into the cool crisp water and then just sort of being able to pull your body through the water and the water opening up for you." – Dawn Fraser
Swimming Quotes That Will Teach You More About This Sport
63. "Swimming is a confusing sport because sometimes you do it for fun, and other times you do it to not die. And when I'm swimming, sometimes I'm not sure which one it is." – Demetri Martin
64. "I enjoyed every bit of my swimming career. I think that's the most important advice—to enjoy what you do." – Summer Sanders 
65. "I love going to the beach and swimming in the ocean. I think it's so relaxing. It's also a great form of active recovery. It's perfect for those rest days when you still want to move a little bit." – Eugenie Bouchard
66. "Swimmers provide much healthier role models for teenagers than the catwalk." – Clare Balding
67. "In most sports, they have a physical effect on your performance. In swimming, only psychological. If you worry about what your rival is doing, you take your mind off what you are doing and so fail to concentrate on your performance." – Bill Bachrach
Deep Swimming Quotes
68. "On matters of style, swim with the current. On matters of principle, stand like a rock. I can't really do the running on hard ground that I used to do. Instead, I go swimming as often as possible." – Jamie Dornan
69. "Perhaps, swimming was dancing under the water, he thought. To swim under lily pads seeing their green slender stalks wavering as you passed. To swim under upraised logs past schools of sunfish and bluegills, to swim through reed beds past wriggling water snakes and miniature turtles, to swim in small lakes, big lakes." – Jim Harrison
70. "Swimming strengthens your character." – Asad Meah
71. "It's like swimming. Once you learn it, you never forget it." – Miguel de Cervantes 
72. "My preference is swimming in the sea. I find the sea is more liberating, wild, and good, fun rather than plodding up and down a pool." – Jo Brand
73. "No man drowns if he perseveres in praying to God and can swim." – Russian Proverb
74. "The sensation of drowning reminds you of everything you ever knew about swimming." – Frederick Weisel
75. "If you're a sailor, best not know how to swim. Swimming only prolongs the inevitable, if the sea wants you and your time has come." – James Clavell
76. "He wondered what kind of life it would be, having to keep swimming all the time to stay exactly in the same place. Pretty similar to his own, he decided." – Terry Pratchett 
77. "If I were dropped out of a plane into the ocean and told the nearest land was a thousand miles away, I'd still swim. And I'd despise the one who gave up." – Abraham Maslow
78. "The pictures achieve something rarely articulated about the metaphysical state of swimming: the body, immersed, feels amplified, heavier and lighter at the same time. Weightless yet stronger." – Leanne Shapton
Quotes on How Swimmers Balance Swimming and Their Personal Lives
79. "Remember to do the things you enjoy away from swimming, regularly." – Ian Thorpe
80. "The brilliant thing about swimming is that, while you're doing it, there's nothing else you could be getting on with, like the ironing or sorting out the children. My mind goes into free-float mode. Some of the best ideas for plots come into my head while I'm ploughing up and down the pool." – Sophie Hannah
81. "I always tell people I'm a better swimmer because I'm a mom, and a better mom because I'm a swimmer." – Amanda Beard
82. "Swimming took up so much of my faculties, and for so long, I was willing to give it everything." – Aaron Peirsol
83. "I try to separate my personal life from swimming." – Michael Phelps
Funny Swimming Quotes That Will Make Your Day
84. "Many people cycle or swim to keep trim. But if swimming is so good for the figure, how do you explain whales?" – Charles Saatchi
85. "When the earth floods from global warming, the swimmers will rule the world." – Anonymous
86. "Only when the tide goes out do you discover who's been swimming naked." – Warren Buffett
87. "We swim because we are too sexy for a sport that requires clothes." – Anonymous
88. "I have often wanted to drown my troubles, but I can't get my wife to go swimming." – Jimmy Carter
Swimming Quotes About the Experiences of Professional Athletes
89. "It's so hard to express yourself because swimmers are pretty much paying attention to a black line for hours out of a day." – Ryan Lochte
90. "Swimming is more than a once-every-four-years sport. My goal is to bring attention to swimming, to give it some personality." – Michael Phelps
91. "Traveling to swimming meets took me beyond my small-town existence, gave me a hint of the exciting world outside of my own home." – Esther Williams
92. "I have the opportunity to be part of swimming history. To take the sport to a new level would be an honor for me. There's no better time to try this than now." – Michael Phelps
93. "There are younger, stronger swimmers. I can't influence what they do. I know how greedy I am to defend my title." – Kirsty Coventry
94. "I've enjoyed training again, I've enjoyed pushing myself in the pool, and I'll keep on swimming until I feel I cannot get any more out of myself." – Ian Thorpe
95. "You are always racing against the other swimmers, but I always try to just focus on how I want to swim my races." – Katie Ledecky
96. "I can't imagine what I would be doing if I wasn't swimming. It is what I want to do now. It is what I want to do in the foreseeable future, and that is what I'm focusing on." – Cate Campbell
97. "There's just something about that cold rush that I know I hate and a lot of other swimmers hate." – Natalie Coughlin
98. "I was just swimming fast and racing everybody." – Laure Manaudou 
99. "My whole swimming career was about training to beat Michael Phelps in any race I possibly could." – Chad le Clos
100. "You are always surprised at what you can find sometimes, and maybe, I will find something deep within to find the desire to swim fast." – Leisel Jones
Which Quote Reminded You of Your Love of Water?
Swimming is very similar to living. It is an exciting and scary activity, no matter how many times you dive into it. And like life, it will test your abilities and willpower to succeed in your goals. 
Holding your breath and moving your whole body to go upstream will challenge your focus and mental strength. Once you dive into the water, you must only concentrate on controlling your movement to finish the race. It will be difficult and tiring but remember that doing your best will make it all worth it.
We hope that these swimming quotes were able to help you learn a thing or two about the similarities between sports and life. Moreover, let these quotes remind you of your passion and love for this water activity!
Did you enjoy this swimming quote collection? What are some of your favorite swimming quotes? We'd love to hear from you, so make sure to comment your answers below!