These boy mom quotes will make you smile, feel inspired, and motivated as you reminisce about the good old days of raising your sons.
Being a boy mom is one of the most rewarding and thrilling aspects of motherhood. By being by their side and giving them advice, we can shape them into better men that we can be proud of.
Raising a child is difficult, especially if you are a first-time parent with no idea how to raise a son. In fact, there are significant differences between raising a daughter and a son that may surprise you as a beginner.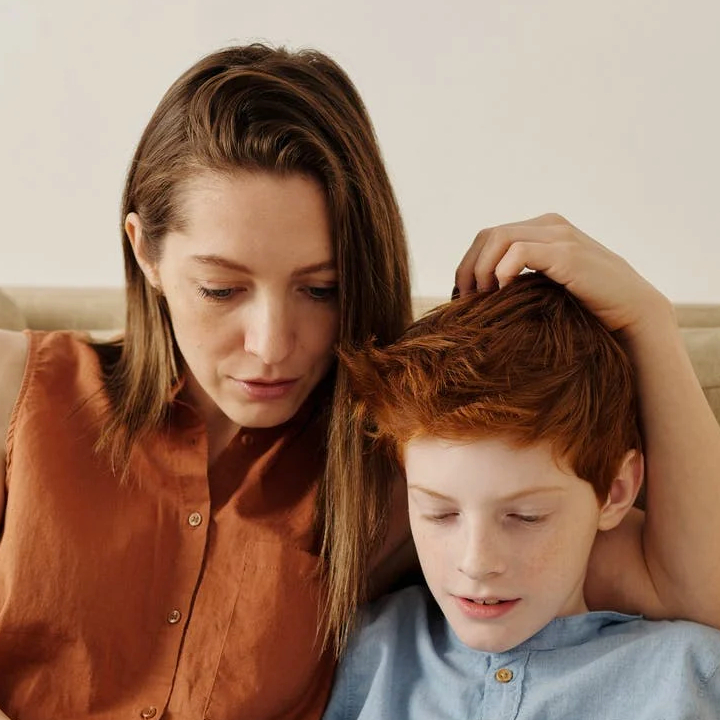 But, don't worry; we've got you covered with these boy mom quotes that will give you an idea of what it's like to be a boy mom on a daily basis. 
Let's go!
And make sure to read these mom quotes and baby boy quotes.
Best Boy Mom Quotes
1. "Being a boy mom isn't an easy job, but it is definitely the best job anyone could ever have." – Anonymous
2. "You will be his first kiss, his first love, his first friend. You're his momma and he is your whole world. He is your little boy." – Anonymous
3. "Little boys bring you just to the brink of insanity before gently easing you off the edge with a sweet kiss and laughter from a perfectly timed fart." – Anonymous
4. "A man loves his sweetheart the most, his wife the best, but his mother the longest." – Irish Proverb
5. "Sons are the anchors of a mother's life." – Sophocles
6. "Outnumbered by boys but surrounded with love." – Anonymous
7. "Happy is the son whose faith in his mother remains unchallenged." – Louisa May Alcott
8. "There is an enduring tenderness in the love of a mother to a son that transcends all other affections of the heart." – Washington Irving
9. "I have a son, who is my heart. A wonderful young man, daring and loving and strong and kind." – Maya Angelou
10. "The only man who has stolen my heart is my son." – Sandra Bullock
11. "They are not just sons to me. They are my life, my soul, my heart, and most of all, the reason for my existence." – Anonymous
12. "You're going to miss this someday—I whisper to myself as I'm shot in the butt with a Nerf gun while unclogging the toilet." – Anonymous
13. "'Boymom' is an experience, not a description." – Anonymous
14. "You know you're a boy mom when your entire world is coffee and chaos." – Anonymous
15. "It doesn't matter how old your sons are. Even big and strong they will always be your little boys." – Anonymous
Also read: Motherhood Quotes, Mother and Son Quotes
Famous Boy Mom Quotes
16. "There has never been, nor will there ever be, anything quite so special as the love between the mother and a son." – Anonymous
17. "And she loved a little boy very, very much—even more than she loved herself." – Shel Silverstein
18. "Having a child makes you realize the importance of life, narcissism goes out the window. Heaven on earth is looking at my little boy. The minute he was born, I knew if I never did anything other than being a mom, I'd be fine." – Jenny McCarthy
19. "I may not be perfect, but when I look at my boys I know that I got something in my life perfectly right." – Anonymous
20. "Sometimes when I need a miracle, I look into my son's eyes, and realize I've already created one." – Anonymous
21. "I love watching these boys grow into gentlemen." – Anonymous
22. "To my boys, you are more than I expected and better than I had ever imagined." – Anonymous
23. "To be a mother of a son is one of the most important things you can do to change the world. Raise them to respect women, raise them to stand up for others, raise them to be kind." – Shannon L. Alder
24. "If you would have your son to walk honorably through the world, you must not attempt to clear the stones from his path but teach him to walk firmly over them—not insist upon leading him by the hand, but let him learn to go alone." – Anne Brontë
25. "I am a boy mom, and I keep my eyes on the goal: raising the boy I love into a man who will make this world a better place." – Monica Swanson
26. "Raising boys is an honor and an adventure." – Anonymous
27. "A small son can charm himself into, and out of, most things." – Jenny de Vries
28. "Yet now in my arms, I was holding a helpless baby boy who would grow into a man. I cannot imagine that soft little face one-day having whiskers." – Rhonda Stoppe
29. "Moms of boys work from son up to son down." – Anonymous
30. "A mother's love doesn't make her son more dependent and timid; it actually makes him stronger and more independent." – Cheri Fuller
Also read: New Mom Quotes
Quotes About Being a Boy Mom That Will Motivate You to Be a Better Parent
31. "The love between a mom and her boys is unbreakable." – Anonymous
32. "Dirt, trucks, superheroes, dinosaurs—it's what being a boy mom is about." – Anonymous
33. "The most important mark I will leave on this world is my son." – Sarah Shahi
34. "You don't raise heroes, you raise sons. And if you treat them like sons, they'll turn out to be heroes, even if it's just in your own eyes." – Walter M. Schirra, Sr.
35. "There are these boys, who stole my heart, they call me Mom." – Anonymous
36. "Even when my soul is tired I will always find strength for my boys." – Anonymous
37. "In my practice, I've seen something extraordinary, almost spiritual, in the eyes of young mothers who hold their sons for the first time. It's as though we know we have to hold on tightly, while we can, because deep down, we realize that we can't keep them." – Meg Meeker
38. "Just when you think you know love, your precious little boys come along and remind you just how big it really is." – Anonymous
39. "Even more than the time when she gave birth, a mother feels her greatest joy when she hears others refer to her son as a wise learned one." – Thiruvalluvar
40. "Being a mother to a little boy and helping him discover the world is one of the greatest experiences in a woman's life, which makes objective goals dull in comparison. The connection between a mother and her son opens the gate to a new world of wonder and love." – Anonymous
41. "The bond between mother and son lasts a lifetime. The bond between mother and son is a special one. It remains unchanged by time or distance. It is the purest love, unconditional and true. It is understanding of any situation and forgiving of any mistake." – Anonymous
42. "Of course, my son has been the center of my life and will always be the center of my love. When he was young, I was the rock in his life. Now that I am old, he is the rock in my life." – Hyacinth Mottley
43. "Sometimes a mother wonders if her son could have a better mother, but she knows for sure that there doesn't exist a better son." – Anonymous
44. "Boys; less drama than girls but harder to keep alive." – Anonymous
45. "Our sons grow and change, sometimes before our eyes, and we can barely keep up with their active, inquisitive natures." – Dr. Gregory L. Jantz
Boy Mom Quotes on the Fun and Excitement of Raising Boys
46. "They are not just my boys, they are my whole life." – Anonymous
47. "My boys will outgrow my lap, but never my heart." – Anonymous
48. "There are no words or boy mom quotes that can express my ultimate love for you." – Anonymous
49. "I am not just his mom, I am his biggest fan." – Anonymous
50. "It doesn't matter how old a son is. Even when he is big and strong, he will always be a little boy to his mother." – Anonymous
51. "It's an honor to be a boy mom." – Anonymous
52. "Boy mom—the job I never knew I wanted." – Anonymous
53. "Planes, trains, trucks, and toys, there's nothing quite like little boys." – Anonymous
54. "When I was in great sadness from life's hardships, all I needed to see was my son's smile. Caring for him as my daily routine has helped me become a happy person and mother. My son is my hero." – Anonymous
55. "If boy puberty hired a marketing firm to design a logo, it would be an image of a closed door; if it were animated, the door would be slamming." – Cara Natterson
56. "Raising boys has made me a more generous woman than I really am. Undoubtedly, there are other routes to learning the wishes and dreams of the presumably opposite sex, but I know of none more direct, or more highly motivating, than being the mother of sons." – Mary Kay Blakely
57. "You know you're a boy mom when everything in your house is either lost, dirty or broken." – Anonymous
58. "But boys are different from girls and not just physically. Acknowledging, appreciating, and understanding that boys are boys is essential in raising a son." – Catherine Musco Garcia-Prats
Heartfelt Boy Mom Quotes and Messages for Your Son
59. "You've been a blessing from the start, I love you, son, with all my heart." – Anonymous
60. "To my son. Never forget that I love you. Life is filled with hard times and good times. Learn from everything you can. Be the man I know you can be." – Anonymous
61. "So there's this boy. He kinda stole my heart. He calls me 'mom.'" – Anonymous
62. "More than mother and son, they were accomplices in solitude." – Gabriel Garcia Marquez
63. "I want you to know that you can be anyone that you want to be. The world is your stage, and you have the whole world right in front of you. All you need to do is take that chance. Love you, son." – Anonymous
64. "When you were a toddler you made me smile. When you were a teenager you made me worry. But now you are a man and my son, I am so proud of you and all your accomplishments!" – Catherine Pulsifer
Simple Boy Mom Quotes on Having a Good Mother-Son Relationship
65. "Just a mom in love with her boys." – Anonymous
66. "Being a boy mom makes my life complete." – Anonymous
67. "My life is complete with my boys." – Anonymous
68. "Men are what their mothers made them." – Ralph Waldo Emerson
69. "This blessed life—mom of boys." – Anonymous
Short but Meaningful Quotes About a Boy Mom's Love for Her Son
70. "Excuse the noise, I'm raising boys." – Anonymous
71. "Busy raising sweet little boys." – Anonymous
72. "You can't scare me, I'm a boy mom!" – Anonymous
73. "They will always be my little boys." – Anonymous
74. "Killin' this boy mom thing." – Anonymous
Funny Quotes to Give You a Glimpse of How Thrilling It Is to Be a Boy Mom
75. "Raising boys is a walk in the park—Jurassic Park." – Anonymous
76. "With my boys you always know exactly where you stand—right in the path of a hurricane." – Anonymous
77. "Boy mom; like a regular mom but messier." – Anonymous
78. "I'm not yelling, this is my boy mom's voice." – Anonymous
79. "I'm a boy mom, more coffee please." – Anonymous
80. "Raising boys is an extreme sport, that's why I wear workout clothes every day." – Anonymous
Are You Excited to Have Your Own Child and Be a Boy Mom?
Raising a little boy can be demanding at times due to their boundless energy, but this little fellow can also be a source of long-lasting inspiration. They will perk you up and push you to stand up and be more active.
Our children may turn our lives upside down, and keeping them in one place is part of the challenge. Because raising boys is so much different from raising girls, they bring us to a whole other world we weren't even sure existed before they were born.
Being a boy mom is indeed a never-ending adventure and thrill. We hope that these quotes were able to help you build your mother-son relationship. And if you're a son reading these quotes, let these be a reminder of just how much your mother sacrificed because of her love and devotion to you.
Which of these boy mom quotes resonated with you the most? Do you have any experiences you'd like to share? Join the discussion below!