Treasure your moments with your furry companion with these dog mom quotes.
Dogs are a woman's best friend. They are the sweet and emotionally supporting warm beings who add more love to our life.
Having a furry companion is one of the best experiences we can have in our life. So, there is no doubt that many women love being an owner and taking care of dogs.
The collection below is full of quotes that will warm your heart, make you laugh, and deepen your love for your pup!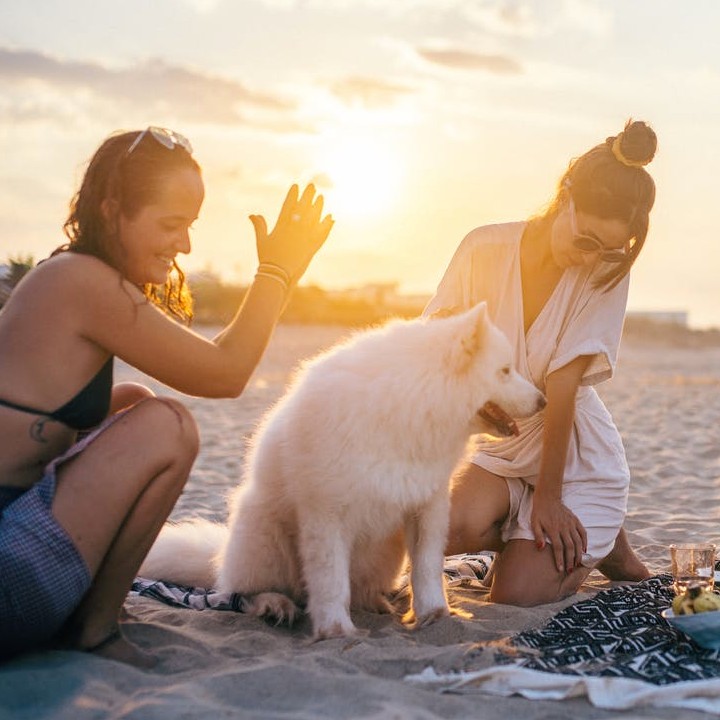 Read the complete list below.
And don't forget to check out these dog quotes.
Best Dog Mom Quotes
1. "Being a dog mom doesn't mean being related to someone by blood. It means loving someone unconditionally and with your whole heart." – Anonymous
2. "Being a dog mom is my happily ever after." – Anonymous
3. "Being a dog mom isn't an easy job, but it is definitely the best job anyone could ever have." – Anonymous
4. "How can I not be a proud fur mama with a dog like this?" – Anonymous
5. "Fall in love with a dog, and in many ways, you enter a new orbit—a universe that features not just new colors but new rituals, new rules, a new way of experiencing attachment." – Caroline Knapp
6. "Nothing in life will ever make you as happy, as sad, as exhausted, or as incredibly proud as dog motherhood." – Anonymous
7. "Whoever said that diamonds are a girl's best friend never had a dog." – Anonymous
8. "Once a dog mom, always a dog mom." – Anonymous
9. "Being a dog mom is a gift. My dog gives reasons to smile every day." – Anonymous
10. "Before you get a dog, you can't quite imagine what living with one might be like. Afterward, you can't imagine living any other way." – Caroline Knapp
11. "Every dog mom knows a dog's love has no end." – Anonymous
12. "I asked God for a life full of love and happiness and he made me a dog mom." – Anonymous
13. "Don't call me a dog owner. Call me a dog mother." – Anonymous
14. "Dog mom—recipient of unconditional love." – Anonymous
Cute Dog Mom Quotes That Will Warm Your Heart
15. "Don't say I'm not a mom just because my baby has four legs and fur! I feed him, bathe him, take him to the doctor, give him treats, buy him toys, protect him from danger, worry about him if he is ill, comfort him when he is scared, include him in family photos, and love him with all my heart. He is my baby, and I am his mom." – Anonymous
16. "If I can't bring my dog, I'm not going." – Anonymous
17. "Mama's little shadow. Wake up, hug the dog, have a great day." – Anonymous
18. "Dog mom—a person who works hard so her dog can have the best life. Snack giver. Walking companion. Pooper-scooper pro. Ultimate love-giver." – Anonymous
19. "You make me the happiest dog mom ever." – Anonymous
20. "Looking for the right person to raise my dog with." – Anonymous
21. "We are alone, absolutely alone on this chance planet, and amid all the forms of life that surround us, not one, excepting the dog, has made an alliance with us." – Maurice Maeterlinck
22. "If I trust you with my dog, I trust you with my life." – Anonymous
23. "My home is flooded with toys, filled with paw prints, always noisy, messed with fur, but there is always love and laughter." – Anonymous
24. "Dog mom—like a normal mom but way cooler." – Anonymous
Quotes About a Proud Dog Mom That You Can Relate To
25. "Rockin' the dog mom life." – Anonymous
26. "I am not a regular mom. I am a dog mom." – Anonymous
27. "Just busy being my dog's sugar mama." – Anonymous
28. "Never ever mess with a dog mom's dog." – Anonymous
29. "World's best dog mom!" – Anonymous
30. "Relationship status—dog mom." – Anonymous
31. "If your dog doesn't have at least five nicknames, are you even a dog mom?" – Anonymous
32. "'It's just a dog.' First of all, that's my child." – Anonymous
Funny Dog Mom Quotes to Fill You With Happiness
33. "If being a crazy dog mom is wrong. Then I don't want to be right." – Anonymous
34. "A woman cannot survive on wine alone, she must also own dogs." – Anonymous
35. "You know you're a dog mom when you can't go to the bathroom without an escort." – Anonymous
36. "My fashion philosophy is, if you're not covered in dog hair, your life is empty." – Elayne Boosler
37. "People think I'm crazy because I talk to my dogs. What am I supposed to do? Just ignore them when they ask me a question?" – Anonymous
38. "Everyone thinks they have the best dog, and none of them are wrong." – Anonymous
Short Quotes From Dog Moms
39. "This dog mom is more of a dog person than a people person." – Anonymous
40. "A dog mom always wants to make life richer for her dog." – Anonymous
41. "Be the person your dog thinks you are." – Anonymous
42. "I take insults to my dog more personally than insults to myself." – Anonymous
43. "Dogs before dudes." – Anonymous
44. "My dog only loves his food and his mama. I'm not sorry." – Anonymous
More Quotes on Being a Dog Mom
45. "I never dreamed I'd be this crazy dog mom with the cutest dog ever." – Anonymous
46. "Can I get a round of a-paws for my expert dog mom skills, please?" – Anonymous
47. "The rumors are true: I am a dog mom to the cutest pup in the world." – Anonymous
48. "I have a dog. He cuddles with me all night, so I don't really need a boyfriend." – Sara Sampaio
49. "Opening up your life to a dog who needs a home is one of the most fulfilling things you can do." – Emma Kenney
50. "I just want to be a stay-at-home dog mom. Is that too much to ask?" – Anonymous
Which Quote Made You Want to Hug Your Pup?
Being a dog mom can teach us a lot about life, loss, and love. Taking care of them will not be easy, but our furry friends will fill our homes with warmth, happiness, and sweet cuddles.
Dogs teach people about unconditional love and appreciation. Since their time here on earth is only limited, we should use our moments with them to show that they matter and are important to us. 
The endless distractions we have as humans sometimes stray us from the things that we value the most. It's a good thing that our furry companions remind us to live in the present and love endlessly and without regrets. So, as dog moms, be proud and treasure every moment with your loving friend!
Which dog mom quote is your favorite? Did you enjoy this dog mom quote collection? Share your thoughts with us in the comments section below!