These goals quotes will provide you with ideas on how to plan your objectives and what precautions you should take to avoid failure on your way to success.
People have different goals in life, but no matter what your targets are, achieving them is no walk in the park.
Setting goals is not enough to ensure success. It takes planning, hard work, dedication, perseverance, and other qualities to keep you going.
People fail and give up too soon because they lack a proper plan. That is why they are easily shaken when they face setbacks.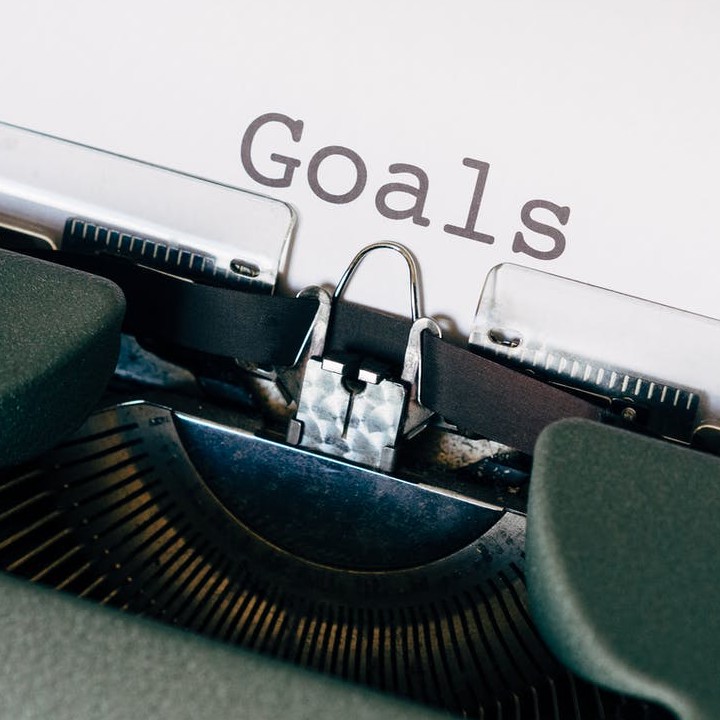 We've compiled these goals quotes to motivate you to stick to your aims and always have a plan to help move you forward.
Check the complete list here.
And make sure to read these success quotes and motivational quotes.
Best Goals Quotes
1. "Setting goals is the first step in turning the invisible into the visible." – Tony Robbins
2. "Great goals make great people. People cannot hit what they do not aim for." – Roy T. Bennett
3. "A goal properly set is halfway reached." – Zig Ziglar
4. "A person should set his goals as early as he can and devote all his energy and talent to getting there. With enough effort, he may achieve it." – Walt Disney
5. "You should set goals beyond your reach so you always have something to live for." – Ted Turner
6. "Set your goals high, and don't stop till you get there." – Bo Jackson
7. "Focus on your goals, not your fear. Focus like a laser beam on your goals." – Roy T. Bennett
8. "No matter how many goals you have achieved, you must set your sights on a higher one." – Jessica Savitch
9. "When it is obvious that the goals cannot be reached, don't adjust the goals, adjust the action steps." – Confucius
10. "Goals are not only absolutely necessary to motivate us. They are essential to really keep us alive." – Robert H. Schuller
11. "If you want to be happy, set a goal that commands your thoughts, liberates your energy, and inspires your hopes." – Andrew Carnegie
12. "Set realistic goals, keep re-evaluating, and be consistent." – Venus Williams
13. "What you get by achieving your goals is not as important as what you become by achieving your goals." – Zig Ziglar
14. "There's nothing better than achieving your goals, whatever they might be." – Paloma Faith
15. "Think little goals and expect little achievements. Think big goals and win big success." – David Joseph Schwartz
Famous Goals Quotes
16. "A goal is not just an object on a pitch; it is also a milestone on your journey of excellence." – Onyi Anyado
17. "I think goals should never be easy, they should force you to work, even if they are uncomfortable at the time." – Michael Phelps
18. "Decide whether or not the goal is worth the risks involved. If it is, stop worrying." – Amelia Earhart
19. "No desired achievement is gained without any goal setting." – Wayne Chirisa
20. "One way to keep momentum going is to have constantly greater goals." – Michael Korda
21. "If a goal is worth having, it's worth blocking out the time in your day-to-day life necessary to achieve it." – Jill Koenig
22. "If you want to live a happy life, tie it to a goal, not to people or things." – Albert Einstein
23. "The way to achieve your goals is step by step, you just need to build enough track, to be ahead of the train." – John Milton Lawrence
24. "The trouble with not having a goal is that you can spend your life running up and down the field and never score." – Bill Copeland
25. "Without some goals and some efforts to reach it, no man can live." – John Dewey
26. "Goals are the road maps that guide you to your destination. Cultivate the habit of setting clearly-defined written goals; they are the road maps that guide you to your destination." – Roy T. Bennett
27. "It is not enough to take steps which may someday lead to a goal; each step must be itself a goal and a step likewise." – Johann Wolfgang von Goethe
28. "One part at a time, one day at a time, we can accomplish any goal we set for ourselves." – Karen Casey
29. "If you set goals and go after them with all the determination you can muster, your gifts will take you places that will amaze you." – Les Brown
Also read: Famous Quotes, Hard Work Quotes
Inspirational Quotes About Goals
30. "A goal is not always meant to be reached; it often serves simply as something to aim at." – Bruce Lee
31. "Never quit. It is the easiest cop-out in the world. Set a goal and don't quit until you attain it. When you do attain it, set another goal, and don't quit until you reach it. Never quit." – Bear Bryant
32. "Take the challenge of your life. Reach out to your goals. There is no limit to what you can achieve." – Lailah Gifty Akita
33. "Greatness is not measured by what a man or woman accomplishes, but by the opposition, he or she has overcome to reach his goals." – Dorothy Height
34. "All who have accomplished great things have had a great aim, have fixed their gaze on a goal which was high, one which sometimes seemed impossible." – Orison Swett Marden
35. "Most 'impossible' goals can be met simply by breaking them down into bite-size chunks, writing them down, believing them, and then going full speed ahead as if they were routine." – Don Lancaster
Also read: Inspirational Quotes, Manifestation Quotes
Goals Quotes to Motivate You to Keep Pursuing Your Dreams
36. "Stay focused, go after your dreams and keep moving toward your goals." – LL Cool J
37. "You are never too old to set another goal or to dream a new dream." – C.S. Lewis
38. "The motivation is in my heart to work toward my goals and my dreams." – Nonito Donaire
39. "It really is never too late, it really is never too early to figure out your goals and dreams and what you love." – Garrett McNamara
40. "Life is short, fragile, and does not wait for anyone. There will never be a perfect time to pursue your dreams and goals." – Anonymous
41. "To live a fulfilled life, we need to keep creating the 'what is next,' of our lives. Without dreams and goals there is no living, only merely existing, and that is not why we are here." – Mark Twain
Also read: Money Quotes, Focus Quotes
Short Goals Quotes for Everyone Who Needs a Push
42. "What keeps me going is goals." – Muhammad Ali
43. "Goals are the fuel in the furnace of achievement." – Brian Tracy
44. "A goal is a dream with a deadline." – Napoleon Hill
45. "Goal setting is a life skill." – Richie Norton
46. "The going is the goal." – Horace Kallen
47. "Be visionary about your goals." – Sayam Asjad
48. "Your goal should be just out of reach, but not out of sight." – Denis Waitley and Remi Witt
Also read: Short Quotes, Priorities Quotes
Goals Quotes That Will Help You Improve Your Mindset
49. "It must be borne in mind that the tragedy of life doesn't lie in not reaching your goal. The tragedy lies in having no goals to reach." – Benjamin E. Mays
50. "Always remember the goals that we have achieved pale in comparison to the daily commitments it took to get there." – Dabo Swinney
51. "I believe in the saying, 'If you aim at nothing, you're going to hit nothing.' So if you don't set goals, then you have nowhere to go." – Taylor Lautner
52. "You must take action now that will move you towards your goals. Develop a sense of urgency in your life." – H. Jackson Brown, Jr.
53. "Some men give up their designs when they have almost reached the goal; while others, on the contrary, obtain a victory by exerting, at the last moment, more vigorous efforts than before." – Polybius
54. "You cannot expect to achieve new goals or move beyond your present circumstances unless you change." – Les Brown
55. "If you're bored with life—you don't get up every morning with a burning desire to do things—you don't have enough goals." – Lou Holtz
56. "Obstacles are those frightful things you see when you take your eyes off your goal." – Henry Ford
57. "I don't focus on what I'm up against. I focus on my goals and I try to ignore the rest." – Venus Williams
58. "People are not lazy, they simply have impotent goals, that is—goals that do not inspire them." – Anthony Robbins
59. "Give me a stock clerk with a goal and I'll give you a man who will make history. Give me a man with no goals and I'll give you a stock clerk." – J.C. Penney
Also read: Mindset Goals
Insightful Goals Quotes to Guide You on Your Path to Success
60. "Success is the progressive realization of a worthy goal or ideal." – Earl Nightingale
61. "If you set your goals ridiculously high and it's a failure, you will fail above everyone else's success." – James Cameron
62. "People with goals succeed because they know where they're going." – Earl Nightingale
63. "To dream of success is to set a goal of where you want to be; to wake up, take action, and achieve it is what true success is all about." – Idowu Koyenikan
64. "Our goals can only be reached through a vehicle of a plan, in which we must fervently believe, and upon which we must vigorously act. There is no other route to success." – Pablo Picasso
More Goals Quotes for You to Reflect On
65. "On the way to your goal, you can always stop, rest, go the opposite way for a while; but after a reasonable time you must set off again towards your goal!" – Mehmet Murat İldan
66. "Life can be pulled by goals just as surely as it can be pushed by drives." – Viktor Frankl
67. "Goals produce focus. Without a goal, there is no reason to focus on anything. Think of a goal as a target." – Bill Price
68. "The great secret about goals and visions is not the future they describe but the change in the present they engender." – David Allen
69. "Mindfulness helps us to focus on one goal at a time. It helps us to be more relaxed, patient and compassionate towards the goal." – Amit Ray
70. "Although goals are important, having a plan of action is vital to the success of those goals. Having a goal with no plan of action is like wanting to travel to a new destination without having a map." – Steve Maraboli
Did These Goals Quotes Motivate You to Set Your Own Life Goals?
Everyone has goals in life, whether they are short-term or long-term. Some people succeed, while others struggle or, in the worst-case scenario, give up on their dreams. The difference in outcomes can be attributed to proper planning and commitment to achieving their objectives.
Proper planning is necessary for achieving your goals, and it should be incorporated into your daily life. This will inspire you to work harder and persist in the face of numerous setbacks as you work toward your goal.
Every goal has a different timeframe and motivation for completion. Some will succeed sooner or later, and what matters, in the end, is that you never give up. On that note, we hope that these quotes were able to inspire you to never let go of your dreams!
Which of these goals quotes is your favorite? Do you have any other quotes you'd like to share? Please, add them in the comments section below!