Celebrate your accomplishments and embrace a new beginning by reading these graduation quotes that we've gathered for you!
Graduation marks the end of years of fruitful learning and making friends. It is the start of a path where we work for our passions and apply our knowledge. After this, it is life's turn to shape us into better persons that can change the world.
So, if you need a few words of wisdom to prepare you for what's next, then add this to your must-read list now.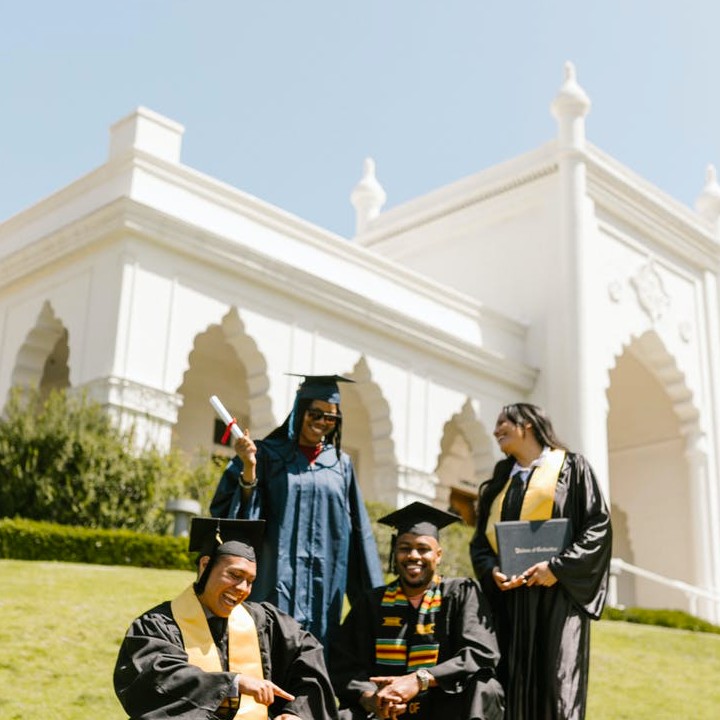 Read our complete collection below that gives eye-opening lessons and messages for new graduates like you!
Let's get started.
And don't forget to check out these knowledge quotes and education quotes.
Best Graduation Quotes
1. "Graduation is not the end. It's the beginning." – Orrin Hatch
2. "Graduation is just the spark to a fire. In order to keep it going, you have to build up a stack of knowledge logs." – Anonymous
3. "Graduates have immense power to make a better world simply by living their own lives better." – Anonymous
4. "Your certification is in your degree. You may think of it as the ticket to the good life. Let me ask you to think of an alternative. Think of it as your ticket to change the world." – Tom Brokaw
5. "Graduation is one of the biggest achievements in anyone's life. It is the culmination of one sweet chapter in your life and the beginning of another great chapter where you can write a new story." – Anonymous
6. "Graduation prepares you for a new stage of life. Walking in the path of your dreams, you are halfway through. Work harder and dream further. Never give up." – Anonymous
7. "Graduation is a major life event, something most folks will never forget. It is a milestone that will be embedded forever in your own memories and the memories of your loved one, and you will cherish it forever." – Anonymous
8. "Graduation is the beginning of knowing who you are, what you are, why you are, and always knowing where you are going." – Lydia Patton
9. "Graduates are proof that education can be life-changing in every way." – Anonymous
10. "Life is the most exciting opportunity we have. But we have one shot. You graduate from college once, and that's it. You're going out of that nest, and you have to find that courage that's deep, deep, deep in there every step of the way." – Andrew Shue
11. "Life is my college. May I graduate well and earn some honors." – Louisa May Alcott
12. "My dear terrified graduates, you are about to enter the most uncertain and thrilling period of your lives." – Lin-Manuel Miranda
13. "It's more than a diploma. It's more than graduation. It's knowledge." – Cardi B.
14. "Perspective is everything, particularly when it comes to navigating life's big changes, like graduation." – Anonymous
15. "Graduation is not the end but the beginning of our bigger life and bigger challenges in life to face." – May-Ann
Also read: Teacher Quotes
Inspirational Graduation Quotes
16. "Graduation isn't the closing of a door. It's the opening of a thousand." – Daniel Schultz
17. "Graduation isn't the end of a tough journey. It is the beginning of a beautiful one." – Anonymous
18. "Graduation is a time of completion, of finishing, of an ending. However, it is also a time of celebration of achievement and a beginning for the new graduate." – Catherine Pulsifer
19. "As you graduate, as you deal with your excitement and your doubts today, I urge you to try and create the world you want to live in." – Chimamanda Ngozi Adichie
20. "Graduates, we need you to save the world." – Pierce Brosnan
21. "Graduation is an exciting time. It marks both an ending and a beginning. It's warm memories of the past and big dreams for the future." – Anonymous
22. "Your graduation is a direct result of the way that you constantly strive for excellence." – Anonymous
23. "Graduation day is finally here, your dreams you did pursue. All your hard work has paid off. We are so very proud of you." – Catherine Pulsifer
24. "Graduation is only a concept. In real life, every day, you graduate. Graduation is a process that goes on until the last day of your life. If you can grasp that, you'll make a difference." – Arie Pencovici
25. "Graduating is a huge milestone in and of itself." – Anonymous
26. "Congrats on graduating, but remember, who you were, who you are, and who you will be are three different people!" – Anonymous
27. "Your new diploma is your ticket to a bright future!" – Anonymous
28. "Graduation is time for boldly looking into your future!" – Anonymous
29. "The fireworks begin today. Each diploma is a lighted match. Each one of you is a fuse." – Edward Koch
30. "When you think about the last four years, you'll probably remember that your greatest lessons came from outside the classroom. It's a good reminder that learning doesn't stop just because you received a diploma." – Anonymous
Also read: Famous Quotes, Inspirational Quotes
Meaningful Graduation Quotes That Will Make You Proud
31. "Graduation, the conclusion of one chapter, the beginning of another." – Catherine Pulsifer
32. "Your graduation is a milestone in your life." – Catherine Pulsifer
33. "Graduation is the end of theoretical knowledge and the start of practical life." – Geetha Laxman
34. "To the graduates, you might think your time in education is done, but after you leave here today, I am asking you to let your actions out there in the world fuel the demand for better education." – Pharrell Williams
35. "Graduation is like a bridge to the next part of your life, and everything that got you here, hard work, drive, and confidence, is going to carry you across to the future you deserve." – Anonymous
36. "Congratulations! You made it! It's time to celebrate all the hard work that led to this joyful occasion. The road to graduation is a long, steep climb, so take a moment at the summit to be proud of your accomplishments." – Sheryl Sandberg
37. "Graduation is the first step to becoming the great adult you'll be one day." – Anonymous
38. "Graduation is the first step to truly living. Graduation is also the first time you are able to do what you want with your life, without anyone holding you back or telling you no." – Michael Pipper
39. "Life brings the best only for those who are willing to put their best on the line. Finally, you've got the best reward for the time and energy you put on the line to become a graduate!" – Anonymous
40. "Every graduate here today has the training and the talent to succeed. But do you have the guts to fail?" – Denzel Washington
41. "The man who graduates today and stops learning tomorrow is uneducated the day after." – Newton D. Baker
42. "Now that you've graduated, take every chance to explore the world and make it a part of you." – Anonymous
43. "Today, you have completed one of the biggest dreams of all your life. You are going to graduate and with that, you will demonstrate that far away dreams can become true." – Anonymous
44. "Your graduation ceremony is a celebration of the fact that you are now ready to go out there and make the world a better place." – Anonymous
45. "Graduation is an exciting time in your life. Seize all opportunities that open up to you and make the most of each of them. Life is to be lived and explored!" – Anonymous
Motivational Graduation Quotes to Celebrate Your New Beginning
46. "Graduation day is not a victory to celebrate! But a day to start again another beginning!" – Mark Alonzo
47. "Graduation is the beginning of a lifetime of learning!" – Anonymous
48. "With the success of graduation comes more challenges and life opportunities." – Anonymous
49. "Although your graduation may mark the completion of your schooling, don't ever stop pursuing knowledge. Wishing you all the best on graduation!" – Anonymous
50. "You are no longer students. You are no longer a work in progress. You are now citizens of the real world. You have a responsibility to become a person worthy of joining and contributing to society. Because who you are today, that's who you are." – Shonda Rhimes
51. "Today is a milestone. It tells you how far you've come. Keep learning, keep trying, keep accomplishing, and keep venturing on through your journey. Congratulations!" – Anonymous
52. "The power of education can't be measured unless you count. It's a power to create a career, a life, provide for a family, and most importantly, pave the way for a better tomorrow. Congratulations on getting yours." – Anonymous
53. "You have prepared long and you have worked hard for this. Get ready to face the real challenges of the world as you leave the walls of the academe." – Anonymous
54. "That diploma you hold in your hands today is really just your learner's permit for the rest of the drive through life. Remember, you don't have to be smarter than the next person. All you have to do is be willing to work harder than the next person." – Jimmy Iovine
55. "The future holds no promises, but rather mysteries and surprises. What you've learned will prepare you for both. Congratulations and all the best for the future!" – Anonymous
56. "Graduation is a time to nod at the past and smile at the future, and we'd better smile at it because it's quite a bit bigger than us." – Noah MacDonald
57. "We're so happy that you've achieved this great milestone. Wishing you great success with your dreams and career!" – Anonymous
58. "All that stands between the graduate and the top of the ladder is the ladder." – ANonymous
59. "Many dreams, some try, but only a few achieve. You have achieved! Good luck and happy graduation!" – Anonymous
60. "Your graduation is a great achievement, but that's nothing compared to what life has in store for you next with even bigger challenges and opportunities." – Anonymous
Also read: Motivational Quotes
Short Graduation Quotes
61. "Graduation is the first step of the next chapter of your life." – Anonymous
62. "Your diploma is just the beginning of a successful life that you truly deserve." – Anonymous
63. "Your graduation is the result of God's blessings and your hard work." – Anonymous
64. "Caps off to you, graduate, well done!" – Anonymous
65. "We don't stop going to school when we graduate." – Carol Burnett
66. "May your degree unlock many doors for you." – Anonymous
67. "Your graduation is the first step towards all the triumphs to come!" – Anonymous
68. "Happy graduation day to someone who will continue breaking the boundaries!" – Anonymous
69. "By graduating, you have made your mom very proud." – Anonymous
70. "Your graduation has made me the happiest person on earth." – Anonymous
71. "Seeing you graduate fills me with pride and joy." – Anonymous
72. "Let the ceremony get through so that we all can go crazy and celebrate!" – Anonymous
73. "Guess what? Life's got just a little harder now that you've graduated!" – Anonymous
74. "Congratulations on your great success. Now that you've graduated, it's time to celebrate." – Anonymous
75. "Don't be too embarrassed if I hug you nice and tight on graduation day." – Anonymous
76. "The tassel is worth the hassle!" – Anonymous
77. "Go into the world and do well! But more importantly, go into the world and do good!" – Anonymous
Also read: Short Quotes
College Graduation Quotes That Will Guide You in the Work Field
78. "Now that you are out of college, you get to put your knowledge and skills to the true test. You'll have no more grades, but you will have challenges. I'm confident you will meet those challenges and be successful as you have in the past!" – Anonymous
79. "Maybe you're facing graduation. More than anything else, young adults want to work at a job that inspires them, that has meaning." – John Ortberg
80. "For some of you sitting here tonight, this has been an easy accomplishment, but for others, the road to graduation has been filled with hardships, yet here you all are today. And now, I want you to continue to work hard, follow your heart, and follow your dreams." – Tami Van Wort
81. "Having a college degree gave me the opportunity to be well-rounded. Also, the people I met at the university, most of them are still my colleagues now. People I've known for years are all in the industry together." – Jon Secada
82. "Struggling to decide what to do after graduation is, and always will be, a sort of rite of passage to the next phase of your life." – Gloria Davidson
83. "Your degree is not just a piece of paper. It is the set of wings that will help you fly away and burst out of the horizon into a new world called 'Your Life!'" – Anonymous
84. "You dreamed, you planned, you believed, you worked, and you conquered. Congratulations on achieving this milestone. Get ready for a whole new adventure." – Anonymous
85. "Now that college is over and you are officially graduated, life can be a little rocky. But always have faith in yourself! Good luck!" – Anonymous
86. "Today is a route marker. It tells you how far you've come, not that you have finished your journey. Keep learning, keep trying, and keep accomplishing." – Anonymous
87. "It's not your blue blood, your pedigree, or your college degree. It's what you do with your life that counts." – Anonymous
High School Graduation Quotes for a Fresh Start in College
88. "Students get diplomas when they graduate from high school, but I think they should also get diplomas for simply surviving the teen years." – Melanie Willard
89. "Then that same confident and mature high school graduate will be a very different person when they graduate college than when they entered. Four years can make a big difference in maturity." – Lee Binz
90. "We all ended up here today at the end of chapter one, high school. Chapter two is about to start, and though it hasn't been written yet, we all have a pen in our hands." – Lee Scully
91. "We pull the college slingshot back so far until finally, high school graduation comes, and we release it. We head off to four or five amazing years. Our parents needed 18 years to prepare for those, and it is all worth it." – Jon Acuff
92. "Graduating high school was only half the battle. Keep working hard and all the good things will keep coming your way." – Anonymous
93. "Your teachers loved you because you always strove for improvement. I have a feeling your college professors will feel the same. Thanks for making me proud." – Anonymous
94. "As you graduate from high school today, I want to wish you well in your future endeavors. Well done, graduate!" – Anonymous
95. "It's no small feat to graduate with honors. You've undoubtedly set yourself up for success in college." – Anonymous
96. "Dear graduate, your success today is the result of your hard work and dedication. I have no doubts that you'll continue to thrive in college." – Anonymous
97. "As you graduate from high school today, I wish you a successful future. Congratulations on your great achievement!" – Anonymous
98. "Eventually, you have finished with your college! It's time to put on that gown and cap!" – Anonymous
Eye-Opening Quotes for Graduating Seniors
99. "As a lot of us have found out, graduation only means that you are ready to keep learning, to keep your skills advanced and growing because you never know when you will find yourself out on the street." – Byron Pulsifer
100. "Graduation is like the day of reckoning! You will be judged based on what you have planted." – Anonymous
101. "The first of many graduations of life. From elementary school to senior school, each one holds successes for you to enjoy." – Catherine Pulsifer 
102. "The learning that starts in school and used to end at graduation is now a vital and continual proactive process." – Victor Hayek
103. "God wants us to know that life is a series of beginnings, not endings. Just as graduations are not terminations but commencements. Creation is an ongoing process, and when we create a perfect world where love and compassion are shared by all, suffering will cease." – Bernie S. Siegel
104. "I wish you a joyous and blissful future. Now that you've graduated, I'm sure that many wonderful opportunities are just around the corner for you." – Anonymous
105. "You no longer have to study against your will but always remember that learning is a never-ending process. So, learn as much as you can and be humble always!" – Anonymous
106. "The road to your success in your career continues as you achieve a new milestone in education. Congratulations for finally finishing this degree." – Anonymous
Hilarious Graduation Quotes to Share With Your Batchmates
107. "Graduating is a scam that you got pressured into by society." – Anonymous
108. "At graduation, you get to wear a cap and gown, but it's a good idea to also wear something underneath it." – Greg Tamblyn
109. "If you walk out of here with a diploma in your hand, you better walk out of here with something these professors put in your heads too. And retain it, or you're going to be in bad trouble." – Pearl Bailey
110. "You are graduating from college. That means that this is the first day of the last day of your life. No, that's wrong. This is the last day of the first day of school. Nope, that's worse. This is a day." – Andy Samberg
111. "At graduation, you wear your square-shaped mortarboards. My hope is that from time to time, you will let your mind be bold and wear sombreros." – Paul A. Freund
112. "Congratulations on your graduation. Education is the key to unlocking your potential. The diploma helps a little too." – Anonymous
113. "When I was going for my graduate degree, I decided I was going to make a feature film as my thesis, which was 'You're a Big Boy Now.'" – Francis Ford Coppola
114. "Congrats on making it through the easiest part of your adult life!" – Anonymous
115. "For many, graduation marks the end of formal student life, the end of long spring breaks and of thinking that a 10 a.m. class is far too early." – Alexa von Tobel
116. "I promise I won't ask what you're doing after graduation." – Anonymous
117. "A graduation ceremony is an event where the commencement speaker tells thousands of students dressed in identical caps and gowns that 'individuality' is the key to success." – Robert Orben
118. "Congratulations on fulfilling the minimum job requirement!" – Anonymous
119. "As you graduate, don't forget to thank those who helped you get here, Google, Wikipedia, coffee, and copy-paste." – Anonymous
120. "May your great college memories last longer than your student loans." – Anonymous
121. "You did it! You finally graduated. It's about time." – Anonymous
Funny Graduation Quotes That Will Make You Laugh
122. "Now that you've graduated, just remember, bosses don't usually accept notes from your mother." – Melanie White
123. "It is indeed ironic that we spend our school days yearning to graduate and our remaining days waxing nostalgic about our school days." – Isabel Waxman
124. "Be proud of yourself. Many people never even start college, and many who do, don't finish it. You did!" – Anonymous
125. "Every year, many, many stupid people graduate from college. And if they can do it, so can you." – John Green
126. "Graduation day is tough for adults. They go to the ceremony as parents. They come home as contemporaries. After 22 years of child-raising, they are unemployed." – Erma Bombeck
Graduation Quotes and Messages for the New Foundation of the Future
127. "Now go, and make interesting mistakes, make amazing mistakes, make glorious and fantastic mistakes. Break rules. Leave the world more interesting for your being here." – Neil Gaiman
128. "Your inexperience is an asset in that it will make you think in original, unconventional ways. Accept your lack of knowledge and use it as your asset." – Natalie Portman
129. "Be aware that even before you have reached your ultimate professional destination, if you always strive for excellence, you can and should have a substantial impact on the world in which you live." – Sandra Day O'Connor
130. "You don't have a job? Get one. Any job! Don't sit at home waiting for the magical opportunity. Do something until you can do something else." – Shonda Rhimes
131. "You have to be singular, inflexible, unyielding in your own work so that even the struggle, that very struggle to achieve becomes its own reward." – Martin Scorsese
132. "But there's always the knowledge, and this is from experience, that the work itself is the reward, and if I choose challenging work, it'll pay me back with interest. At least I'll be interested, even if nobody else is." – Meryl Streep
133. "As you navigate through the rest of your life, be open to collaboration. Other people and other people's ideas are often better than your own." – Amy Poehler
134. "No matter what you choose to do, no matter what direction you go, you will face a moment in your career where you have absolutely no idea what to do, and I hope at that moment that you'll be generous with yourself, but trust that inner voice." – Ronan Farrow
135. "Whatever the world looks like in 10 years and 20 years, part of that is up to you. I urge you to let this current moment push you to improve yourself in all areas of your life." – Beyoncé
136. "The unfortunate yet truly exciting thing about your life is that there is no core curriculum. The entire place is an elective." – Jon Stewart
More Graduation Quotes That You'll Learn From
137. "Graduation speeches force you to reflect. They are about consciousness. Nothing is better than consciousness." – Bruce Eric Kaplan
138. "You did it! A brand new start, a new beginning, a new life. Make it a successful one! Happy graduation! You have a bright future!" – Anonymous
139. "The best thing about graduation is that it gives you knowledge that you'll carry for the rest of your life." – Anonymous
140. "This is the day when you stopped being a student and entered professional life. We are so happy for you!" – Anonymous
What Are Some of the Most Unforgettable Lessons You've Learned in School?
Our school days are one of the things we will miss the most as we enter adulthood. Despite the stress and pressure of academics, the people we met and the wisdom we've picked up gave us the most fantastic memories of our youth.
The things we've learned are not only from the lessons from our class. More than that, the experiences we have with our friends and instructors taught us and shaped us into the adults we are today. Indeed, graduation is the celebration of the past and the welcoming of our future.
We hope that these graduation quotes were able to arm you with the lessons you need to move forward in life. Always remember that learning never stops, so keep dreaming and exploring!
Did you like these graduation quotes? Which graduation quotes did you resonate with the most? Comment down your thoughts below!