These inspirational grandchildren quotes are ideal for showing your grandkids how much you love them!
Having grandchildren is a true blessing. They are cute and lovely little angels that God sent us to make life a little bit sweeter. When your child gives birth to a new life, it's incredible how much love you feel. 
So, if you're a grandparent looking for the right words to express the unique bond you have with your grandchildren, this collection will make you smile and give you just what you need.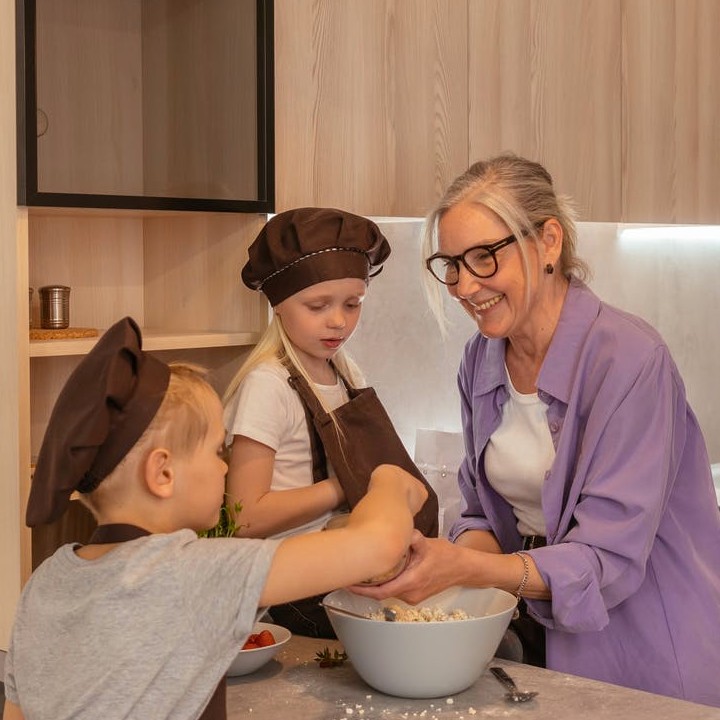 See the entire list below.
Start here.
And make sure to read these granddaughter quotes and grandson quotes.
Best Grandchildren Quotes
1. "Grandchildren are the dots that connect the lines from generation to generation." – Lois Wyse
2. "The grandchildren should not bear the debts of the grandparents." – Nassim Nicholas Taleb
3. "They say genes skip a generation. Maybe that's why grandparents find their grandchildren so likeable." – Joan Macintosh
4. "Happiness is when your grandchild comes and hugs you just because." – Anonymous
5. "Grandchildren are the greatest gifts your heart will ever know." – Anonymous
6. "Grandchildren fill a space in your heart that you never knew was empty." – Anonymous
7. "A mother becomes a true grandmother the day she stops noticing the terrible things her children do because she is so enchanted with the wonderful things her grandchildren do." – Lois Wyse
8. "Grandchildren give us a second chance to do things better because they bring out the best in us." – Anonymous
9. "Your sons weren't made to like you. That's what grandchildren are for." – Jane Smiley
10. "Your children are your rainbows and your grandchildren are your pot of gold." – Anonymous
11. "God gave us loving grandchildren as a reward for all our random acts of kindness." – Anonymous
12. "Perfect love sometimes does not come until grandchildren are born." – Welsh Proverb
13. "There's nothing like a grandchild to put a smile on your face, a lump in your throat, and a warm feeling in your heart." – Anonymous
14. "Grandchildren are God's way of compensating us for growing old." – Mary H. Waldrip
15. "Grandchildren make the world a little softer, a little warmer, a little kinder." – Anonymous
Also read: Grandpa Quotes, Grandma Quotes
Sweet and Thoughtful Quotes That'll Remind You of Your Grandkids
16. "When my arms can't reach my grandchildren, I hug them with my prayers." – Anonymous
17. "Grandchildren restore our zest for life and our faith in humanity." – Anonymous
18. "I wouldn't change my grandchildren for the world. But I wish I could change the world for my grandchildren." – Anonymous
19. "If I had known how wonderful it would be to have grandchildren, I'd have had them first." – Lois Wyse
20. "Distance will never decrease my love for my grandkids." – Anonymous
21. "Grandchildren complete life's circle of love." – Anonymous
22. "What a bargain grandchildren are! I give them my loose change, and they give me a million dollars' worth of pleasure." – Gene Perret
23. "Time with my grandkids is so precious. I will never take it for granted." – Anonymous
24. "A grandchild is a gift from above; one to cherish and love." – Anonymous
25. "Our grandchildren accept us for ourselves, without rebuke or effort to change us, as no one in our entire lives has ever done, not our parents, siblings, spouses, friends—and hardly ever our own grown children." – Ruth Goode
26. "Nothing brightens your day like spending time with your grandchildren." – Anonymous
27. "I love my grandkids beyond all reason. They may run me rugged and leave me feeling exhausted, but there is nothing I wouldn't do for them." – Anonymous
28. "Grandchildren make the hard times easier and the easy times more fun." – Anonymous
29. "The most precious jewels you'll have around your neck are the arms of your grandchildren." – Anonymous
30. "With your own children, you love them immediately—and with grandchildren, it's exactly the same." – Kevin Whately
Also read: Grandparents Quotes, Family Quotes
Quotes About Grandparents' Love for Their Grandchildren
31. "Even if I spend the whole day with my grandchildren, I still miss them the second they leave." – Anonymous
32. "My greatest wish is that my grandchildren always know how much I love them and that they walk through the rest of their life knowing I'll always be there for them anyway I can." – Anonymous
33. "I am so blessed to have grandchildren in my life. I will always be there to give them my unconditional love, comfort, and guidance whenever they need it." – Anonymous
34. "From the moment I first met them, I have loved my grandchild with every part of my being." – Anonymous
35. "Time spent with my grandchildren feels like bouts of sunshine on my rainy days." – Anonymous
36. "I may not see my grandchildren every day, but every day I think of them." – Anonymous
37. "Even when my grandchildren are not in my arms, on my lap, or in my home, they are in my heart and will stay there forever." – Anonymous
38. "No one prepared me for just how much love I would have for my grandchild." – Anonymous
39. "I love my grandchildren with all my heart. Nothing could ever change that." – Anonymous
40. "Do you ever just look at your grandchild and literally feel your heart melting because you love them so much?" – Anonymous
41. "My grandchildren are always in my heart, in my prayers, and in my mind." – Anonymous
42. "The highlight of my day is seeing my grandchildren laugh and smile." – Anonymous
43. "My grandkids are more than just my grandkids. They're the greatest blessing in my life." – Anonymous
44. "A grandparent thinks about their grandchild every day and night and will love them in a way they will never understand." – Anonymous
45. "No one could ever love my grandchildren the way I do." – Anonymous
Also read: Children Quotes
Wonderful Quotes on How Grandchildren Make Life Better
46. "Grandchildren are a wonderful way to get over the sadness of your kids growing up." – Anonymous
47. "Grandchildren have a special way of bringing joy to every day." – Anonymous
48. "The joy of grandchildren is measured in the heart." – Anonymous
49. "There is so much found in the touch of holding a grandchild's hand." – Anonymous
50. "A day with your grandchildren restores your soul." – Anonymous
51. "Grandchildren are precious gifts given to parents from their children." – Anonymous 
52. "While we try to teach our grandchildren about life, our grandchildren teach us what life is all about." – Anonymous
53. "A grandchild is someone who reaches for your hand but touches your heart." – Anonymous
54. "Grandchildren are angels without any wings, blessing our lives with the most precious things." – Anonymous
55. "Grandchildren are loving reminders of what we're really here for." – Janet Lanese
56. "A grandchild's laugh is sunshine in the house." – Anonymous
57. "Side by side or miles apart, grandchildren are always close to the heart." – Anonymous
58. "God's most precious work of art is the warmth and love of a grandchild's heart." – Anonymous
59. "If you think you can't love anyone more than you love your children, wait until you look into the eyes of your grandchildren and really fall in love." – Anonymous
60. "Surely, two of the most satisfying experiences in life must be those of being a grandchild or a grandparent." – Donald A. Norberg
Short Grandchildren Quotes That'll Pique Your Interest
61. "The only thing better than having kids, is having grandkids." – Anonymous
62. "Posterity is the patriotic name for grandchildren." – Art Linkletter
63. "My grandchild may outgrow my lap, but they will never outgrow my love." – Anonymous
64. "Grandchildren are called 'grand' for a reason." – Anonymous
65. "Happiness is having grandchildren to love." – Anonymous
66. "The secret of life is to skip having children and go directly to grandchildren." – Mell Lazarus
67. "Dearer than our children are the children of our children." – Anonymous
68. "You will never look back on life and think 'I spent too much time with my grandkids.'" – Anonymous
69. "Never have children, only grandchildren." – Gore Vidal
70. "We may not be rich and famous, but our grandchildren are priceless." – Anonymous
71. "Grandchildren are the hands by which we take hold of heaven." – Anonymous
72. "Grandchildren are like stars; they sparkle and shine." – Anonymous
73. "A grandchild's hug lasts long after they let go." – Anonymous
74. "Grandchildren are like snowflakes. Each one is beautifully unique." – Anonymous
75. "Grandchildren are the best part of getting old." – Anonymous
Also read: Short Quotes
Quotes About Grandkids That Every Grandparent Can Relate To
76. "A grandchild is like a fine jewel set in an old ring." – Anne Lamott
77. "You better arm yourselves to answer your children's and grandchildren's questions—no matter what the question is—without being judgmental." – Josh McDowell
78. "Grandchildren don't make a woman feel old; it's being married to a grandfather that bothers her." – Anonymous
79. "Grandchildren are like a warm blanket on a cold day. Just having one in your arms makes you feel great." – Anonymous
80. "You have got the whole world in your arms when you hold your grandchild." – Anonymous
81. "Our children and grandchildren are not merely statistics towards which we can be indifferent." – John F. Kennedy
82. "Grandchildren are like flowers; you never get tired of watching them grow." – Anonymous
83. "Grandchildren are the pieces of the heart." – Anonymous
84. "Just when you think you know all that love is—along come the grandchildren." – Anonymous
85. "After all, it takes a patient and caring heart to nurture equally loving and tender grandchildren." – Anonymous
86. "Having grandkids is a blessing. Helping to shape their lives is an honor." – Anonymous
87. "Simple moments with your grandchildren often become the most priceless memories." – Anonymous
88. "I have always enjoyed seeing the world through the eyes of my grandchildren." – Neil Sedaka
89. "When I count my blessings, I count my grandchildren twice." – Anonymous
90. "The only people interested in hearing about your grandchildren are other grandparents who want to tell you about theirs." – Bryna Nelson Paston
Funny Grandchildren Quotes That'll Make Your Day
91. "Few things are more delightful than grandchildren fighting over your lap." – Doug Larson
92. "An hour with your grandchildren can make you feel young again. Any longer than that, and you start to age too quickly." – Anonymous
93. "The reason grandchildren and grandparents get along so well is that they have a common enemy." – Sam Levenson
94. "Do you know why grandchildren are always so full of energy? They suck it out of their grandparents." – Gene Perret
95. "My grandkids believe I'm the oldest thing in the world. And after two or three hours with them, I believe it, too." – Gene Perret
96. "Grandchildren are the reward you get for keeping their parents alive." – Anonymous
97. "Grandchildren don't stay young forever, which is good because pop-pops have only so many horsey rides in them." – Gene Perret
98. "I like to do nice things for my grandchildren like buy them those toys I've always wanted to play with." – Gene Perret
99. "All grandchildren are brilliant and beautiful, and obviously take after their grandparents." – Anonymous
100. "The question is, are we happy to suppose that our grandchildren may never be able to see an elephant except in a picture book?" – David Attenborough
101. "I have 22 grandchildren and great-grandchildren, and they keep me young." – Jimmy Carter
102. "My wife, my daughters, even my grandchildren are funny. You've got to keep a sense of humor because anger destroys you." – Michael Caine
103. "Grandchildren are their grandparents' toys." – Mokokoma Mokhonoana
104. "My grandchild has taught me what true love means. It means watching Scooby-Doo cartoons while the basketball game is on another channel." – Gene Perret
Also read: Funny Family Quotes
Grandchildren Quotes From the Bible
105. "Grandchildren are the crown of the aged, and the glory of children is their fathers." – Proverbs 17:6
106. "You and your children and grandchildren must fear the Lord your God as long as you live. If you obey all his decrees and commands, you will enjoy a long life." – Deuteronomy 6:2
107. "Good people leave an inheritance to their grandchildren, but the sinner's wealth passes to the godly." – Proverbs 13:22
108. "They shall dwell in the land that I gave to my servant Jacob, where your fathers lived. They and their children and their children's children shall dwell there forever, and David my servant shall be their prince forever." – Ezekiel 37:25
109. "May the Lord continually bless you from Zion. May you see Jerusalem prosper as long as you live. May you live to enjoy your grandchildren. May Israel have peace!" – Psalm 128:5-6
Also read: God Quotes
More Grandchildren Quotes You'll Enjoy
110. "Dear grandkids, when I close my eyes I see you. When I open my eyes, I miss you." – Anonymous
111. "For the sake of our health, our children and grandchildren and even our economic well-being, we must make protecting the planet our top priority." – David Suzuki
112. "The idea that no one is perfect is a view most commonly held by people who do not have grandchildren." – Doug Larson
113. "If we care about the children, the grandchildren, the future generations, we need to make sure that they do not become the cannon fodder of the future." – Helen Thomas
114. "Only through love will we find our way to create a world worthy of our children and our grandchildren." – Laurence Overmire
115. "Being a mother and grandmother is the best of the best in my life. My grandchildren multiply the joy my daughters bring me." – Alexandra Stoddard
116. "There is no greater achievement than being a grandfather who tells fairy tales to grandchildren." – Eraldo Banovac
117. "Grandkids bring you into a sweeter, slower present. They show you the future at a time when a lot of your friends are thinking about the past. And they take you back to childhood—theirs, the parent's, your own: a three-time admittance to wonderland." – Adair Lara
118. "Grandparents enjoy the company of their grandchildren. For with them, they experience the miracle of being 10 again." – Meeta Ahluwalia
119. "Our faces will become works of art that our grandchildren will treasure." – Adriana Trigiani
120. "My mother said, 'Don't worry about what people think now. Think about whether your children and grandchildren will think you've done well.'" – Lord Mountbatten
What Lessons Did Your Grandchildren Teach You About Life and Love?
Grandchildren, without a doubt, hold a special place in the lives of grandparents. They are the apple of their eyes, bringing them so much joy, love, and happiness.
In fact, grandkids make every day a little brighter by indulging you with hugs, cuddles, and kisses. You'll make a new best friend out of them. You can even learn new things from each other and have fun together.
So, what are you holding out for? Give your grandkids your undivided attention and support! We hope that this collection was able to remind you of how vital grandchildren are in making life better.
What's your main takeaway from today's collection? Which of these quotes made you smile? Please, leave your comments below!