Do you want some inspirational quotes from the first female Vice President of the United States?
Here are 110 quotes from the 49th Vice President of the United States Kamala Harris, an American politician, attorney, and the first South Asian American to serve in the United States Senate.
She became vice president upon inauguration in January 2021 alongside President Joe Biden and continued her advocacy for human rights and equality.
Let's read some of her incredible quotes that will empower you to make a difference.
Read the full collection below.
And don't forget to check out these Donald Trump quotes and Barack Obama quotes too.
Best of Kamala Harris Quotes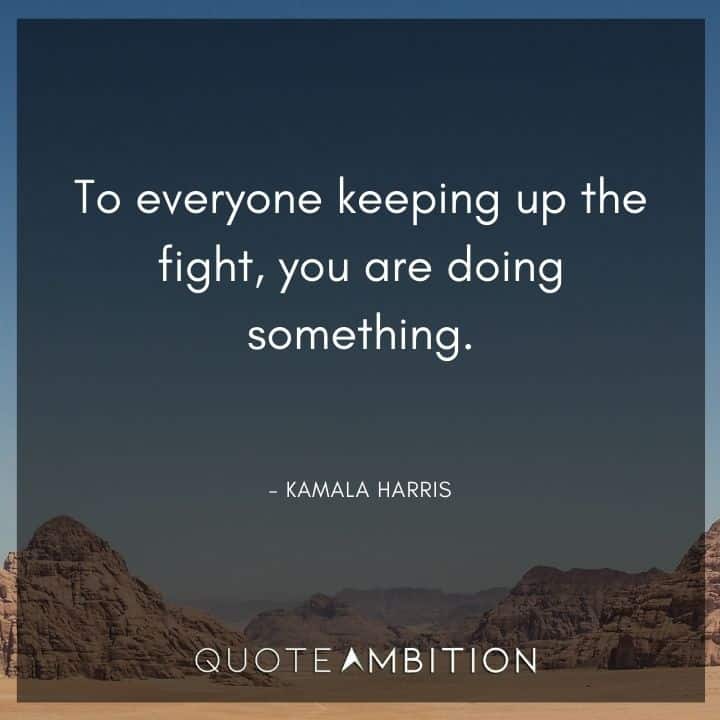 1. "To everyone keeping up the fight, you are doing something."
2. "Optimism is the fuel driving every fight I've been in."
3. "Do not let anyone ever tell you who you are."
4. "I was raised to be an independent woman, not the victim of anything."
5. "You have to see and smell and feel the circumstances of people to really understand them."
6. "I'll be judged on the body of work and not the popularity of any one decision."
7. "Our democracy is at its strongest and most powerful when everyone participates."
8. "We don't have to let extremists define us."
9. "Our country's wounds can be healed. We just have to have the political courage to act."
Related: Stacey Abrams Quotes
Famous Kamala Harris Quotes
10. "I hope that by being a first, I inspire young people to pursue their dreams."
11. "I'm one of the luckiest people on earth."
12. "We are fighting with you."
13. "Let's not throw up our hands when it's time to roll up our sleeves. Not now. Not tomorrow. Not ever."
14. "If we do not lift up women and families, everyone will fall short."
15. "I'm not good at talking about myself."
16. "The truth is that the vast majority of Americans are good, fair, and just, and they want their country to reflect those ideals."
17. "I think I have every piece of music Bob Marley ever made."
18. "Together, united, as one country we can be a force for change."
19. "The criminal justice system punishes people for their poverty."
Related: Ruth Bader Ginsburg Quotes
Kamala Harris Quotes on People Empowerment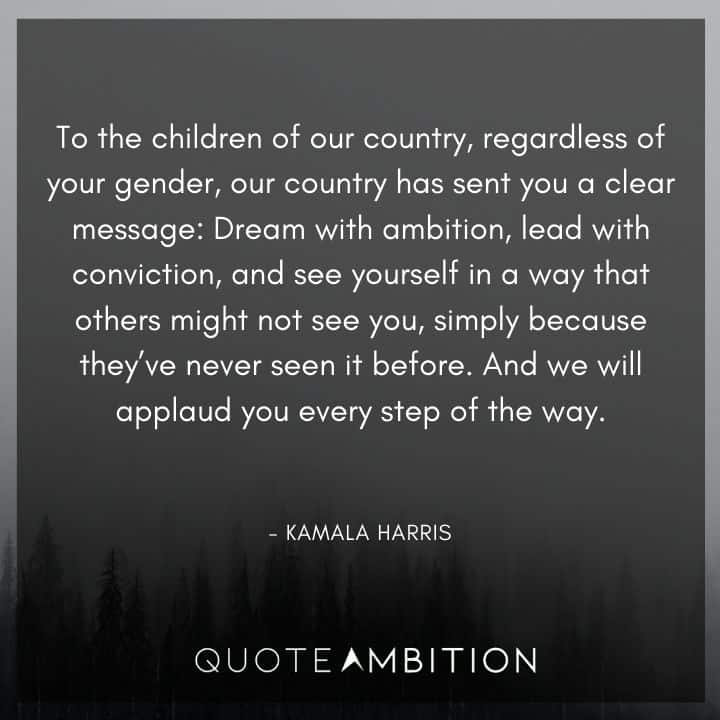 20. "To the children of our country, regardless of your gender, our country has sent you a clear message: Dream with ambition, lead with conviction, and see yourself in a way that others might not see you, simply because they've never seen it before. And we will applaud you every step of the way."
21. "You're going to walk into many rooms in your life and career where you may be the only one who looks like you or who has had the experiences you've had. But you remember that when you are in those rooms, you are not alone. We are all in that room with you applauding you on. Cheering your voice. And just so proud of you. So you use that voice and be strong."
22. "Even in dark times, we not only a dream, we do. We not only see what has been, we see what can be. We shoot for the moon, and then we plant our flag on it. We are bold, fearless, and ambitious. We are undaunted in our belief that we shall overcome; that we will rise up. This is American aspiration."
23. "We cannot tolerate a perspective that is about going backward and not understanding women have agency. Women have value. Women have the authority to make decisions about their own lives and their own bodies."
Related: Strong Women Quotes
24. "What I want young women and girls to know is: You are powerful and your voice matters. There was a little girl in California who was part of the second class to integrate her public schools, and she was bused to school every day. That little girl was me."
25. "I've fought for children and survivors of sexual assault. I've fought against transnational gangs. I took on the biggest banks and helped take down one of the biggest for-profit colleges. I know a predator when I see one."
26. "Throughout all of the recent events and the emotional roller coaster our country has been on, we cannot lose hope. And in order to have hope, one must first speak the truth."
27. "We cannot let up in the fight for equality, fairness, and justice. Even when, if not especially when, it is hard or uncomfortable to talk about."
28. "The time for outrage is now. The time for solidarity is now. The time for action is now. The time for change is now."
29. "I became an adult at Howard University. Howard very directly influenced and reinforced—equally important—my sense of being and meaning and reasons for being."
Kamala Harris Quotes on Racism and Equality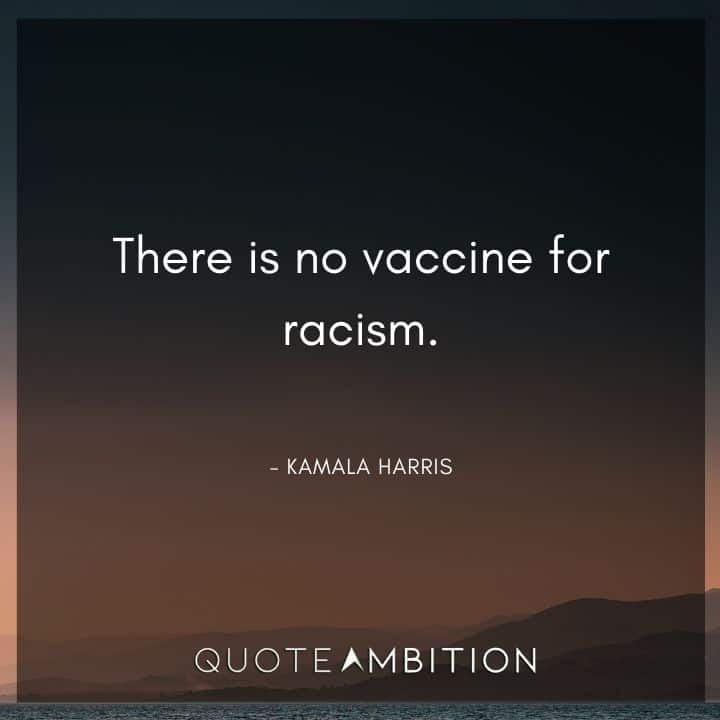 30. "There is no vaccine for racism."
31. "It is not a niche to be black in America."
32. "Every issue is a Black woman's issue. And Black women's issues are everyone's issues."
33. "Racism is real in this country."
34. "Hate crime is not new in the United States."
35. "I'm really sick of having to explain my experiences with racism to people for them to understand that it exists."
36. "Let's speak the truth: People are protesting because Black people have been treated as less than human in America. Because our country has never fully addressed the systemic racism that has plagued our country since its earliest days. It is the duty of every American to fix. No longer can some wait on the sidelines, hoping for incremental change. In times like this, silence is complicity."
37. "Women who fought and sacrificed so much for equality and liberty and justice for all, including the black women who are often too often overlooked, but so often prove they are the backbone of our democracy."
38. "It was more, for me, about the numerosity than it was the diversity. I grew up in a community where there were many representations of diversity. Going to Howard, there were so many [black people]! And they're all in your age group, in your phase of life."
39. "Every day, pregnant women walk into their doctor's office for checkups, advice, and treatment; but that experience is very different for Black women."
Kamala Harris Quotes About Love for Country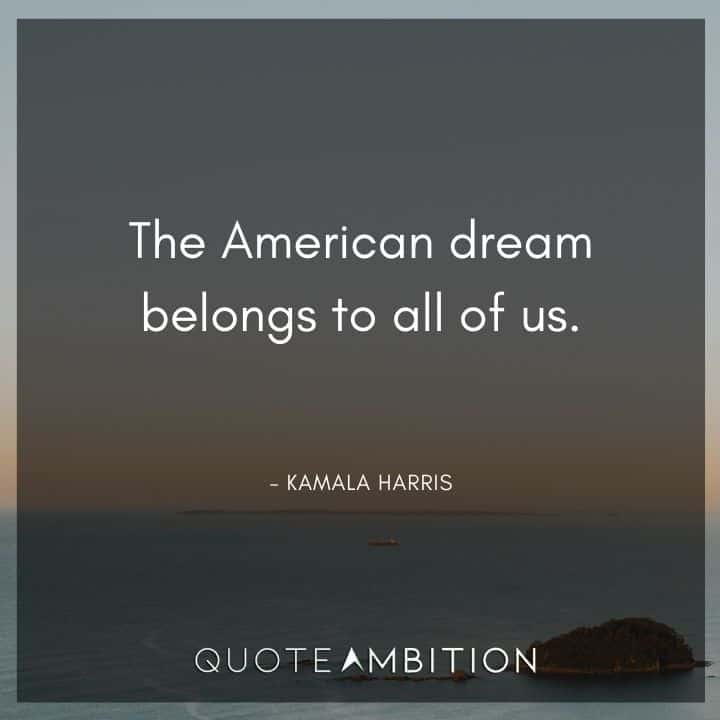 40. "The American dream belongs to all of us."
41. "Imperfect though we may be, I believe we are a great country."
42. "I will be thinking about all of the people who are counting on us to lead and are counting on us to see them and to address their needs and the things that keep them up at night. And I'll be thinking about the fact that we have to hit the ground running immediately to support the people of our country, to support the children of our country, and to help get us out of the crises that we're facing."
43. "Every little girl watching tonight sees that this is a country of possibilities."
44. "A patriot is not someone who condones the conduct of our country whatever it does. It is someone who fights every day for the ideals of the country, whatever it takes."
45. "I believe in that old adage that 'as goes California, so goes the country."
46. "Part of my focus on what we need to do around smart gun safety laws is recognized we have to have more enforcement around gun dealers."
47. "America's democracy is not guaranteed. It is only as strong as our willingness to fight for it. To guard it, and never take it for granted, and protecting our democracy takes struggle. It takes sacrifice. But there is joy in it. And there is progress. Because we the people have the power to build a better future."
48. "Part of what makes us great is our democratic institutions that protect our fundamental ideals—freedom of religion and the rule of law, protection from discrimination based on national origin, freedom of the press, and a 200-year history as a nation built by immigrants."
49. "Because now is when the real work begins, the hard work, the necessary work, the good work, the essential work to save lives and beat this epidemic. To rebuild our economy, so it works for working people. To root out systemic racism in our justice system and society. To combat the climate crisis. To unite our country and heal the soul of our nation."
Kamala Harris Quotes on Leadership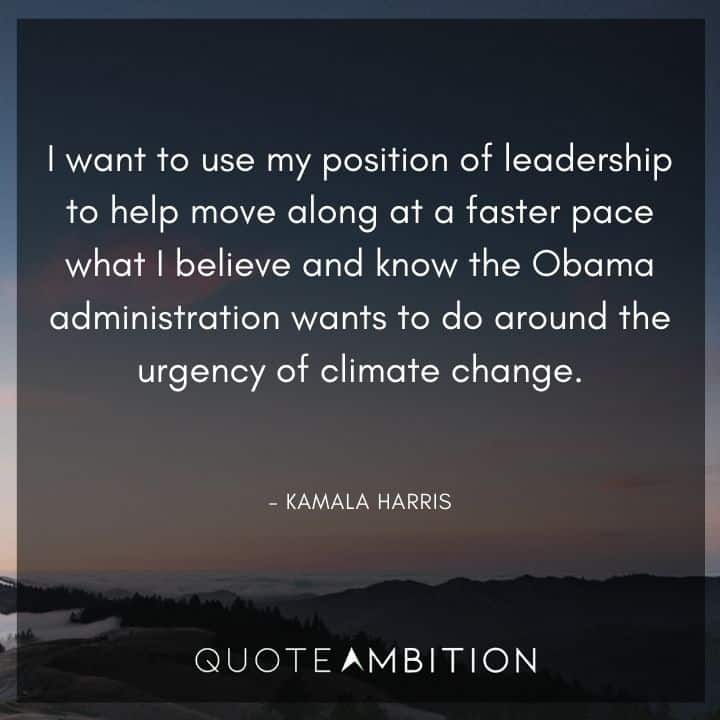 50. "I want to use my position of leadership to help move along at a faster pace what I believe and know the Obama administration wants to do around the urgency of climate change."
51. "Anyone who claims to be a leader must speak like a leader. That means speaking with integrity and truth."
52. "When they know that they can have a job that allows them to not only pay the bills by the end of the month but to have a sense of dignity, in terms of knowing they're providing for their families and creating a pathway for their future possibilities."
53. "When you lift up women, you lift up families, you lift up communities, you lift up economies—and you lift up America."
54. "What's important for my daughter to know is that… if you are fortunate to have opportunities, it is your duty to make sure other people have those opportunities as well."
55. "These days, children can text on their cell phones all night long, and no one else is seeing that phone. You don't know who is calling that child."
56. "What we all want is public safety. We don't want rhetoric that's framed through ideology."
57. "Every day there are homeowners in California who will either receive relief, so they can stay in their home, or will be in the foreclosure process and potentially lose their home. And that always weighed heavily on my mind."
58. "Getting smart on crime' does not mean reducing sentences or punishments for crimes. We're talking about in the Proposition 8 case fundamental rights, civil rights. I offer no apology for the position I took in Prop. 8."
59. "I strongly believe that for serious and violent criminals, we must absolutely hold them accountable for their crimes and send them to prison."
Kamala Harris Quotes on Politics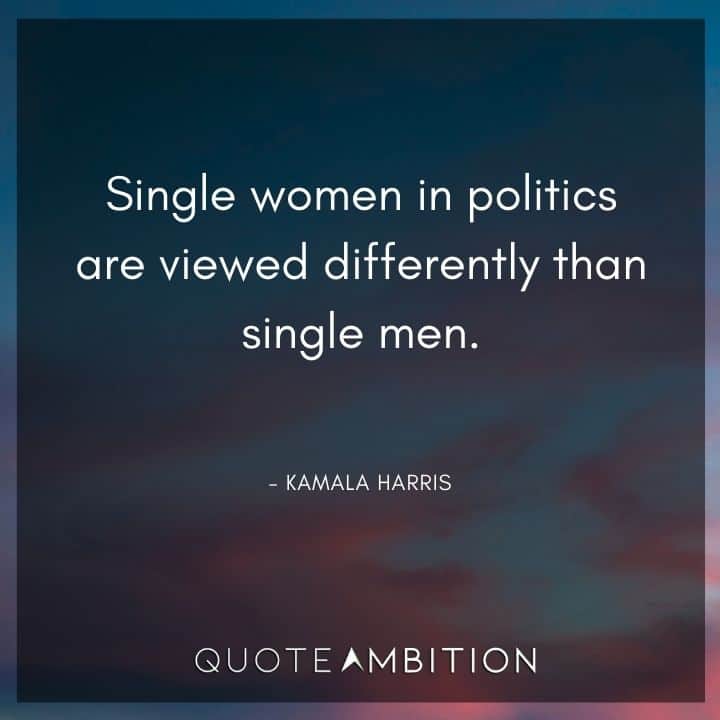 60. "Single women in politics are viewed differently than single men."
61. "The bottom line on the Hyde Amendment is that it is directly, in effect, targeting poor women and women who don't have money."
62. "And so I would not enforce a law that would reject people and turn them away without giving them fair and due process to determine if we should give them asylum and refuge."
63. "I think Hillary Clinton could do whatever she puts her mind to. I really do. She's incredibly dedicated to public service, she is smart as a whip, and she's effective."
64. "Instead of giving corporations a big tax cut, let's give the middle class a real, permanent tax cut."
65. "I disagree with any policy that would turn America's back on people who are fleeing harm. I frankly believe that it is contrary to everything that we have symbolically and actually said we stand for."
66. "We don't have to guess what Mitt Romney would have done if he were president. Because he told us. He said we should let foreclosures—and I quote—hit the bottom, so the market could—I quote—run its course."
67. "We've got to keep our eye on what's happening with Russia and North Korea. We cannot lose sight of domestic policy, either. Healthcare. Immigration. Climate change."
68. "I've had the honor of speaking at many commencements."
69. "In California, we have some of the strongest consumer protection laws in the country. While it is easy to conceive of innovation and regulation as mutually exclusive, California is proof that we can do both. We can innovate responsibly."
Kamala Harris Quotes on Justice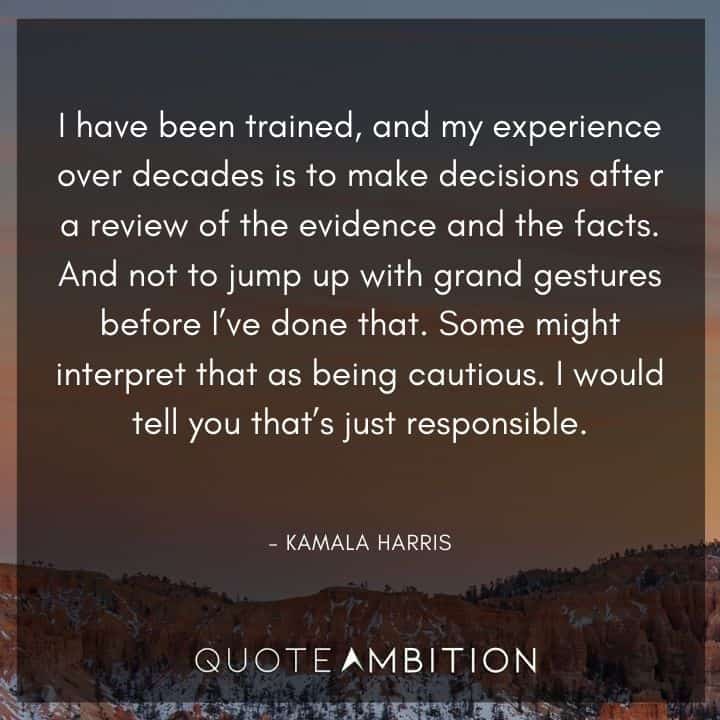 70. "I have been trained, and my experience over decades is to make decisions after a review of the evidence and the facts. And not to jump up with grand gestures before I've done that. Some might interpret that as being cautious. I would tell you that's just responsible."
71. "You can't deny. You can't look away. It's there. I do believe people are seeing the injustice of it all and are prepared to take action in a way that we've not seen before. And that gives me hope."
72. "We need to incorporate that age-old concept of redemption into the work that we do in the criminal justice system in California."
73. "Let's be clear about this, and let's be clear: we should not be creating incentives to house people in prison. We should be creating incentives instead to shut the revolving door into prison."
74. "I was standing on a ladder outside the Homestead juvenile immigrant detention center outside Miami, looking over the fence, and I saw children lined up like prisoners. They had been separated from their families and put in this private detention facility. It was horrible."
75. "To be smart on crime, we should not be in a position of constantly reacting to crime after it happens. We should be looking at preventing crime before it happens."
76. "Over the course of my career in law enforcement, I have witnessed over and over again the selflessness and sacrifice of law enforcement who lay their lives on the line every day to protect people who they will never meet and people who will never know their names."
77. "My daily challenge to myself is to be part of the solution, to be a joyful warrior in the battle to come."
78. "I was born realizing the flaws in the criminal justice system."
79. "To change criminal justice policy in any meaningful way means to propose changing a very longstanding system. It's not realistic to think you can do it overnight."
Kamala Harris Quotes on Unity
80. "Our unity is our strength, and our diversity is our power. We reject the myth of 'us' vs. 'them.' We are in this together."
81. "The constant chaos leaves us adrift. The incompetence makes us feel afraid. The callousness makes us feel alone. It's a lot. And here's the thing: We can do better and deserve so much more."
82. "I mentor a lot of people. I will say to them that you will often find that you are the only one who looks like you in the room, be it around the conference table or in a meeting, or wherever you are. But the thing to remember is you are never in that room alone. We are all in that room with you, expecting that you will use your voice, and use it with pride and use it in a way that represents all of those who are in the room with you but not physically there. It is part of the way that I approach my work and always have."
83. "I am a child of a community that was often on the not great end of law enforcement, in terms of profiling and abuse. And the decision I made was, I'm going to try and go inside the system, where I don't have to ask permission to change what needs to be changed."
84. "I know we are empowered. We are optimistic about our future. We know the strength of unity. We know the strength of America."
85. "We don't want to promote any system that treats the fact that an individual is LGBT as a personality disorder. And anything that perpetuates that perception is harmful not only to that member of the community but the entire community."
86. "We come from different backgrounds—but we were raised, with the same values. Hard work. Honesty. Decency. A belief that we all have a responsibility to look out for one another."
87. "For as long as ours has been a nation of immigrants, we have been a nation that fears immigrants. Fear of the other is woven into the fabric of our American culture, and unscrupulous people in power have exploited that fear in pursuit of political advantage."
88. "I had divided my to-do list into three categories: short, medium, and long-term. Short-term meant 'a couple of weeks,' medium-term meant 'a couple of years,' and long-term meant 'as long as it takes.' It was that far side of the ledger where I wrote down the most intractable problems we were facing—the ones you can't expect to solve on your own, over a term, perhaps even over a career. That's where the most important work is. That's where you take the bigger view—not of the political moment but of the historical one."
89. "We have to act with fierce urgency. Justice demands it."
Kamala Harris Quotes on Family Influence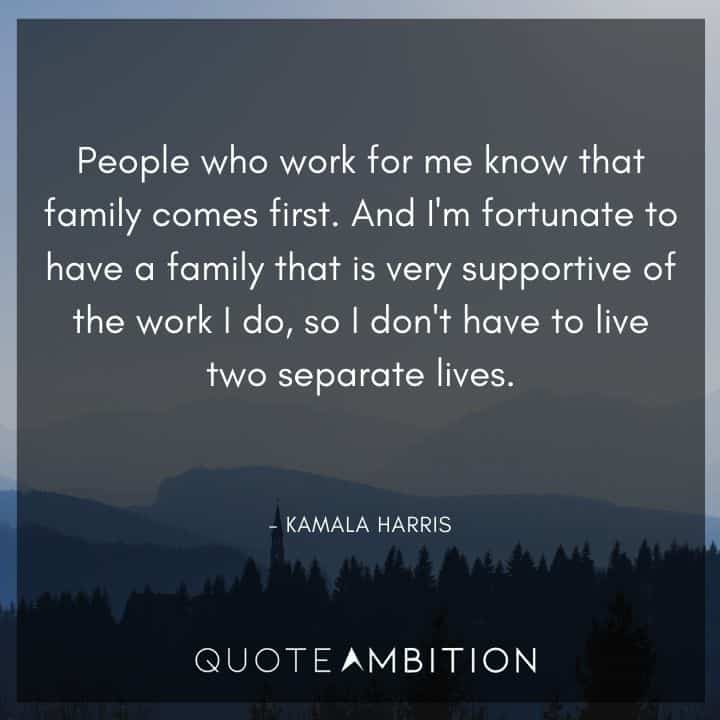 90. "People who work for me know that family comes first. And I'm fortunate to have a family that is very supportive of the work I do, so I don't have to live two separate lives."
Related: Family Quotes
91. "A family shares hardships and connected history."
92. "My parents would bring me to protests strapped tightly in my stroller, and my mother, Shyamala, raised my sister, Maya, and me to believe that it was up to us and every generation of Americans to keep on marching."
93. "My mother would look at me, and she'd say, 'Kamala, you may be the first to do many things, but make sure you are not the last."
94. "My mother would tell us, 'Don't just sit around and complain about things. Do something.' I have loved to cook since I was a child in my mother's kitchen. If I don't have time to cook, I'll just read a cookbook."
95. "I remember when my mother, Shyamala Harris, bought our first home. I was thirteen. She was so proud, and my sister and I were so excited. Millions of Americans know that feeling of walking through the front door of their own home for the first time – the feeling of reaching for the opportunity and finding it."
96. "My mother was and will always remain my greatest hero."
97. "When [my mother] came here from India at the age of 19, she maybe didn't quite imagine this moment. But she believed so deeply, and in America, where a moment like this is possible." 98. "My parents met when they were active in the Civil Rights Movement. I am a daughter of that movement. I grew up knowing about the disparities, inequities, and unfairness in the criminal justice system."
99. "My mother tells the story about how I'm fussing, and she's like, 'Baby, what do you want? What do you need?' And I just looked at her and I said, Fweedom."
Kamala Harris Quotes on Ambition and Success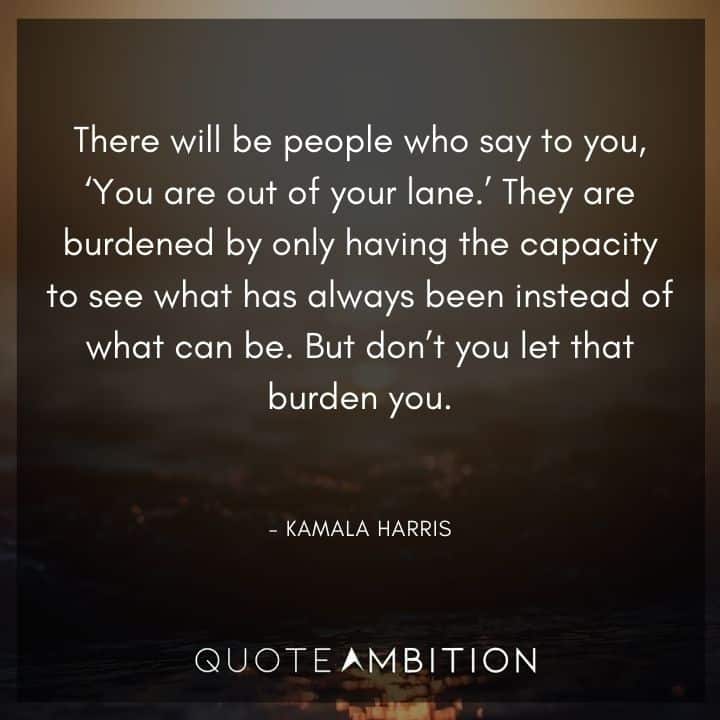 100. "There will be people who say to you, 'You are out of your lane.' They are burdened by only having the capacity to see what has always been instead of what can be. But don't you let that burden you."
101. "You are the reason I know we are going to bring our country closer to realizing its great promise."
102. "You marched and organized for equality and justice. For our lives, and for our planet. And then you voted. You delivered a clear message. You chose hope, unity, decency, science and yes, truth."
103. "At every step of the way, I've been guided by the words I spoke from the first time I stood in a courtroom: Kamala Harris, For the People."
104. "I often advocate that we look at many sides of an issue, walk in someone else's shoes, and identify and reject false choices."
105."When you can't sleep at night, how can you dream?"
106. "Here's the truth people need to understand: To tackle the challenges of the 21st century, we must empower women and families."
107. "In this great country, we celebrate success. We don't want to penalize those who have done well."
108. "Here's the thing: in every office, I've run for I was the first to win. First person of color. First woman. First woman of color. Every time."
109. "I've had a lot of titles over my career, and certainly 'vice president' will be great. But 'Momala' will always be the one that means the most."
110. "And so I'm thinking about her, and about the generations of women, black women, Asian, white, Latina Native American women who throughout our nation's history have paved the way for this moment tonight."
Did You Get the Boost You Needed Today From Kamala Harris?
Kamala Harris began her career in the Alameda County District Attorney's Office and served as a United States senator from California from 2017 to 2021. Harris gained a national profile for her pointed questioning of Trump administration officials during Senate hearings, including Trump's second Supreme Court nominee Brett Kavanaugh, who was accused of sexual assault.
She is a woman with integrity and has never been afraid to speak her mind to fight what is right and just.
Were you inspired by the dedication and perseverance of Kamala Harris? Leave your thoughts and opinions in the comment section below.