Find out the real meaning of love and apply it in your relationships using these romantic love quotes.
Love is one of the most used subjects in the field of art, from novels and poems to films and paintings.
Many have explained the meaning and feeling of what it's like to love and be loved.
Although each of us has different experiences in the matters of love, we can all agree on one thing—it is powerful and rooted in kindness.
So, if you want to know more about what love is, feel free to read the collection below.
Let's get started.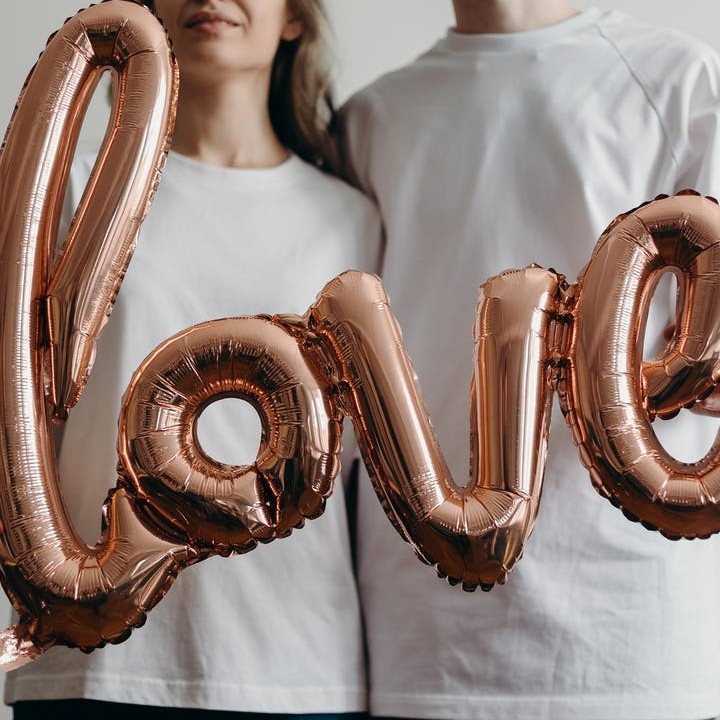 And make sure to check out these love quotes for him and love quotes for her.
Best Love Quotes
1. "Love is that condition in which the happiness of another person is essential to your own." – Robert A. Heinlein
2. "Love doesn't make the world go round. Love is what makes the ride worthwhile." – Franklin P. Jones
3. "When we love, we always strive to become better than we are. When we strive to become better than we are, everything around us becomes better too." – Paulo Coelho
4. "Love has nothing to do with what you are expected to get, only with what you are expecting to give, which is everything." – Katharine Hepburn
5. "One word frees us of all the weight and pain of life, that word is love." – Sophocles
6. "To feel the love of people whom we love is a fire that feeds our life." – Pablo Neruda
7. "Love does not consist in gazing at each other, but in looking outward together in the same direction." – Antoine de Saint-Exupéry
8. "Love planted a rose, and the world turned sweet." – Katharine Lee Bates
9. "When you love someone, you love the person as they are, and not as you'd like them to be." – Leo Tolstoy
10. "The greatest happiness of life is the conviction that we are loved. Loved for ourselves, or rather, loved in spite of ourselves." – Victor Hugo
11. "Love does not begin and end the way we seem to think it does. Love is a battle. Love is a war. Love is a growing up." – James Baldwin
12. "Love is such a powerful force. It's there for everyone to embrace that kind of unconditional love for all of humankind. That is the kind of love that impels people to go into the community and try to change conditions for others, to take risks for what they believe in." – Coretta Scott King
13. "Love cures people, both the ones who give it and the ones who receive it." – Karl Menninger
14. "Love makes your soul crawl out from its hiding place." – Zora Neale Hurston
15. "To love is to recognize yourself in another." – Eckhart Tolle
Romantic Love Quotes That Will Tug at Your Heartstrings
16. "Love is not only something you feel. It is something you do." – David Wilkerson
17. "When you realize you want to spend the rest of your life with somebody, you want the rest of your life to start as soon as possible." – Nora Ephron
18. "Love starts as a feeling, but to continue is a choice. And I find myself choosing you, more and more every day." – Justin Wetch
19. "The best love is the kind that awakens the soul, that makes us reach for more, that plants the fire in our hearts and brings peace to our minds. That's what I hope to give you forever." – Nicholas Sparks
20. "To love deeply in one direction makes us more loving in all others." – Sophie Swetchine 
21. "To be fully seen by somebody, then, and be loved anyhow, this is a human offering that can border on miraculous." – Elizabeth Gilbert
22. "There are no monuments dedicated to me, and my name will soon be forgotten, but I've loved another with all my heart and soul, and to me, this has always been enough." – Nicholas Sparks
23. "Loving you never was an option. It was a necessity." – Truth Devour
24. "You never lose by loving. You always lose by holding back." – Barbara De Angelis 
25. "The greatest thing you'll ever learn is to love and be loved in return." – Nat King Cole
26. "To love and be loved is to feel the sun from both sides." – David Viscott
27. "Love is composed of a single soul inhabiting two bodies." – Aristotle
28. "Love feels no burden, thinks nothing of trouble, attempts what is above its strength, pleads no excuse of impossibility, for it thinks all things lawful for itself, and all things possible." – Thomas a Kempis
29. "You only learn to love again when you fall in love again." – Adele
30. "Love is unpredictable, and it's frustrating, and it's tragic and it's beautiful." – Taylor Swift
Also read: Famous Quotes, Encouraging Quotes
Short Quotes to Understand What Love Is
31. "Love is an endless act of forgiveness." – Beyoncé
32. "Love recognizes no barriers." – Maya Angelou​
33. "Love does not dominate. It cultivates." – Johann Wolfgang von Goethe
34. "Love is shown more in deeds than in words." – Ignatius of Loyola
35. "In love, there are two things: bodies and words." – Joyce Carol Oates
36. "Love is the flower. You've got to let it grow." – John Lennon
37. "Love is the whole thing. We are only pieces." – Rumi
38. "There is only one happiness in this life, to love and be loved." – George Sand
39. "Love knows not distance. It hath no continent. Its eyes are for the stars." – Gilbert Parker
40. "Love is, above all, the gift of oneself." – Jean Anouilh
41. "Life without love is like a tree without blossoms or fruit." – Khalil Gibran
42. "Love is friendship that has caught fire." – Eppie Lederer
43. "Hate cannot drive out hate, only love can do that." – Martin Luther King Jr.
44. "You always gain by giving love." – Reese Witherspoon​
45. "A flower cannot blossom without sunshine, and man cannot live without love." – Max Muller
Also read: Short Quotes, Romantic Quotes
True Love Quotes That Will Stick With Us Forever
46. "True love is eternal, infinite, and always like itself. It is equal and pure, without violent demonstrations, it is seen with white hairs and is always young in the heart." – Honore de Balzac
47. "True love is rare, and it's the only thing that gives life real meaning." – Nicholas Sparks
48. "True love is putting someone else before yourself." – Frozen
49. "We're all a little weird. And life is a little weird. And when we find someone whose weirdness is compatible with ours, we join up with them and fall into mutually satisfying weirdness and call it love, true love." – Robert Fulghum
50. "True love cannot be found where it does not exist, nor can it be denied where it does." – Torquato Tasso
51. "But true love is a durable fire, in the mind ever burning. Never sick, never old, never dead from itself never turning." – Walter Ralegh
52. "True love stories never have endings." – Richard Bach
53. "True love comes quietly, without banners or flashing lights. If you hear bells, get your ears checked." – Erich Segal
54. "True love is never blind, but rather brings an added light." – Phoebe Cary
Also read: True Love Quotes, Soulmate Quotes
Quotes That Will Teach You About Unconditional Love
55. "To be brave is to love someone unconditionally, without expecting anything in return." – Madonna
56. "You don't love someone because they're perfect. You love them in spite of the fact that they're not." – Jodi Picoult
57. "I love you for all that you are, all that you have been, and all that you will be." – Anonymous
58. "Love, having no geography, knows no boundaries." – Truman Capote
59. "You know it's love when all you want is that person to be happy, even if you're not part of their happiness." – Julia Roberts
Also read: Unconditional Love Quotes
Wise Quotes About Love
60. "Love isn't something natural. Rather, it requires discipline, concentration, patience, faith, and the overcoming of narcissism. It isn't a feeling. It is a practice." – Erich Fromm
61. "There is never a time or place for true love. It happens accidentally, in a heartbeat, in a single flashing, throbbing moment." – Sarah Dessen
62. "You don't love someone for their looks or their clothes, or for their fancy car, but because they sing a song only you can hear." – Oscar Wilde
63. "At the touch of love, everyone becomes a poet." – Plato
64. "Love is a force more formidable than any other." – Barbara De Angelis
65. "People think a soulmate is your perfect fit, and that's what everyone wants. But a true soulmate is a mirror, the person who shows you everything that is holding you back, the person who brings you to your own attention so you can change your life." – Elizabeth Gilbert
66. "Romance is thinking about your significant other when you are supposed to be thinking about something else." – Nicholas Sparks
67. "Your task is not to seek for love, but merely to seek and find all the barriers within yourself that you have built against it." – Rumi
68. "It's easy to fall in love. The hard part is finding someone to catch you." – Bertrand Russell
69. "Some love stories aren't epic novels. Some are short stories, but that doesn't make them any less filled with love." – Sex and the City
70. "If you love somebody, let them go, for if they return, they were always yours. And if they don't, they never were." – Khalil Gibran
71. "Continue to share your heart with people even if it has been broken." – Amy Poehler
72. "The supreme happiness of life consists in the conviction that one is loved." – Victor Hugo
73. "'Tis better to have loved and lost, than never to have loved at all." – Alfred Lord Tennyson
74. "We are most alive when we're in love." – John Updike
Quotes to Highlight the Magic That Love Brings
75. "Love is a game that two can play, and both win." – Eva Gabor
76. "Where there is great love, there are always miracles." – Willa Cather
77. "Love is the ultimate expression of the will to live." – Thomas Wolfe
78. "The love we give away is the only love we keep." – Elbert Hubbard
79. "Love is a thing that is full of cares and fears." – Ovid
80. "A life lived in love will never be dull." – Leo Buscaglia
81. "Love is all we have, the only way that each can help the other." – Euripides
82. "They say when you meet the love of your life, time stops, and that's true." – Daniel Wallace
83. "To love someone is to see a miracle invisible to others." – Francois Mauriac
84. "Love is the expansion of two natures in such fashion that each includes the other, each is enriched by the other." – Felix Adler
85. "The chance to love and be loved exists no matter where you are." – Oprah Winfrey
86. "The need for love lies at the very foundation of human existence." – Dalai Lama
87. "Love is a great master. It teaches us to be what we never were." – Moliere
88. "For small creatures such as we, the vastness is bearable only through love." – Carl Sagan
89. "Love is the emblem of eternity. It confounds all notion of time. Effaces all memory of a beginning, all fear of an end." – Madame de Stael
Love Quotes for Him and Her
90. "I would rather spend one lifetime with you than face all the ages of this world alone." – J.R.R. Tolkien
91. "I love you directly without problems or pride. I love you like this because I don't know any other way to love." – Pablo Neruda
92. "I fell in love with her courage, her sincerity, and her flaming self-respect. And it's these things I'd believe in, even if the whole world indulged in wild suspicions that she wasn't all she should be. I love her, and it is the beginning of everything." – F. Scott Fitzgerald
93. "I swear I couldn't love you more than I do right now, and yet, I know I will tomorrow." – Leo Christopher
94. "You are my heart, my life, my one and only thought." – Arthur Conan Doyle
95. "If you live to be a hundred, I want to live to be a hundred minus one day, so I never have to live without you." – A.A. Milne
96. "I am in you and you in me, mutual in divine love." – William Blake
97. "Loved you yesterday, love you still, always have, always will." – Elaine Davis
98. "I love her, and that's the beginning and end of everything." – F. Scott Fitzgerald
99. "When I say I love you more, I don't mean I love you more than you love me. I mean, I love you more than the bad days ahead of us. I love you more than any fight we will ever have. I love you more than the distance between us. I love you more than any obstacle that could try and come between us. I love you the most." – Anonymous
100. "I saw that you were perfect, and so I loved you. Then I saw that you were not perfect, and I loved you even more." – Angelita Lim
101. "Each day I love you more, today more than yesterday and less than tomorrow." – Rosemonde Gerard
102. "I love you not only for what you are but for what I am when I am with you." – Roy Croft
103. "I fell in love the way you fall asleep: slowly, and then all at once." – John Green
104. "I want all of you, forever, you and me, every day." – Nicholas Sparks
Love Quotes to Strengthen the Marriage of Husband and Wife
105. "A successful marriage requires falling in love many times, always with the same person." – Mignon McLaughlin
106. "Happy marriages begin when we marry the ones we love, and they blossom when we love the ones we marry." – Tom Mullen
107. "A good marriage is one which allows for change and growth in the individuals and in the way they express their love." – Pearl S. Buck
108. "Love is not weakness. It is strong. Only the sacrament of marriage can contain it." – Boris Pasternak
109. "I love being married. It's so great to find one special person you want to annoy for the rest of your life." – Rita Rudner
110. "Marriage is not a noun. It's a verb. It isn't something you get. It's something you do. It's the way you love your partner every day." – Barbara De Angelis
Also read: Wife Quotes, Husband Quotes
Cute Love Quotes to Be Reminded of Your Lover
111. "It was love at first sight, at last sight, at ever and ever sight." – Vladimir Nabokov
112. "You are the finest, loveliest, tenderest, and most beautiful person I have ever known, and even that is an understatement." – F. Scott Fitzgerald
113. "I love that you are the last person I want to talk to before I go to sleep at night." – Nora Ephron
114. "If I had to choose between breathing and loving you, I would use my last breath to tell you I love you." – Deanna Anderson
115. "When you're lucky enough to meet your one person, then life takes a turn for the best. It can't get better than that." – John Krasinski
116. "If you find someone you love in your life, then hang on to that love." – Princess Diana
117. "Take my hand, take my whole life too. For I can't help falling in love with you." – Elvis Presley
118. "It is a curious thought, but it is only when you see people looking ridiculous that you realize just how much you love them." – Agatha Christie
119. "You know you're in love when you can't fall asleep because the reality is finally better than your dreams." – Dr. Seuss
120. "When you are missing someone, time seems to move slower, and when I'm falling in love with someone, time seems to be moving faster." – Taylor Swift
121. "Sometimes, it's a form of love just to talk to somebody that you have nothing in common with and still be fascinated by their presence." – David Byrne
122. "I've tried so many times to think of a new way to say it, and it's still I love you." – Zelda Fitzgerald
123. "I love you more than I have ever found a way to say to you." – Ben Folds
124. "Love is when you sit beside someone doing nothing, yet you feel perfectly happy." – Anonymous
125. "You are, and always have been, my dream." – Nicholas Sparks
Cheesy Love Quotes That Will Sweep You off Your Feet
126. "Love was made for me and you." – Nat King Cole
127. "Maybe I don't know that much, but I know this much is true, I was blessed because I was loved by you." – Celine Dion
128. "You're the closest to heaven that I'll ever be." – Goo Goo Dolls
129. "I like you very much just as you are." – Bridget Jones's Diary
130. "I'd never lived before your love." – Kelly Clarkson
131. "Whatever our souls are made of, his and mine are the same." – Emily Brontë
132. "Never love anyone who treats you like you're ordinary." – Oscar Wilde
133. "If I know what love is, it is because of you." – Hermann Hesse
134. "I am who I am because of you. You are every reason, every hope, and every dream I've ever had." – Nicholas Sparks
135. "There's nothing that I wouldn't do to make you feel my love." – Bob Dylan
136. "'I love you' begins by 'I,' but it ends up by 'you.'" – Charles de Leusse
137. "To be your friend was all I ever wanted. To be your lover was all I ever dreamed." – Valerie Lombardo
138. "My love for you has no depth. Its boundaries are ever-expanding." – Christina White
139. "I wasn't expecting you. I didn't think that we would end up together. The single most extraordinary thing I've ever done with my life is fall in love with you. I've never been seen so completely, loved so passionately, and protected so fiercely." – This Is Us
140. "I loved her against reason, against promise, against peace, against hope, against happiness, against all discouragement that could be." – Charles Dickens
Quotes to Help You Confess Your Love 
141. "I love you. You complete me." – Jerry Maguire
142. "I love you because the entire universe conspired to help me find you." – Paulo Coelho
143. "I love that you are my person and I am yours, that whatever door we come to, we will open it together." – A.R. Asher
144. "In all the world, there is no heart for me like yours. In all the world, there is no love for you like mine." – Maya Angelou
145. "I'm scared of walking out of this room and never feeling the rest of my whole life the way I feel when I'm with you." – Frances Houseman
146. "I've been in love with you since the very beginning. You asked why there isn't anyone else in my life, and the reason is you." – Julie James
147. "I promise to love you forever, every single day of forever." – Twilight
148. "Do I love you? My god, if your love were a grain of sand, mine would be a universe of beaches." – The Princess Bride
149. "Every time I see you, I fall in love all over again." – Anonymous
150. "I love you without knowing how, or when, or from where. I love you simply, without problems or pride. I love you in this way because I do not know any other way of loving but this, in which there is no I or you, so intimate that your hand upon my chest is my hand, so intimate that when I fall asleep, your eyes close." – Pablo Neruda
151. "I love you. I am at rest with you. I have come home." – Dorothy L. Sayers
Deep Quotes on Love
152. "Love is an untamed force. When we try to control it, it destroys us. When we try to imprison it, it enslaves us. When we try to understand it, it leaves us feeling lost and confused." – Paulo Coelho
153. "Love is a promise. Love is a souvenir. Once given never forgotten, never let it disappear." – John Lennon
154. "In the end, we discover that to love and let go can be the same thing." – Jack Kornfield
155. "Love is so short. Forgetting is so long." – Pablo Neruda
156. "Pleasure of love lasts but a moment. Pain of love lasts a lifetime." – Bette Davis
157. "Love is the strange bewilderment which overtakes one person on account of another person." – James Thurber
158. "It takes courage to love, but pain through love is the purifying fire which those who love generously know. We all know people who are so much afraid of pain that they shut themselves up like clams in a shell and, giving out nothing, receive nothing, and therefore, shrink until life is a mere living death." – Eleanor Roosevelt
159. "The best and most beautiful things in the world cannot be seen, nor touched but are felt in the heart." – Helen Keller
160. "Love is an act of endless forgiveness, a tender look which becomes a habit." – Peter Ustinov
161. "Love is the difficult realization that something other than oneself is real." – Iris Murdoch
162. "When one loves, one does not calculate." – Therese of Lisieux
163. "The highest function of love is that it makes the loved one a unique and irreplaceable being." – Tom Robbins
164. "Have you ever been in love? Horrible, isn't it? It makes you so vulnerable. It opens your chest, and it opens up your heart, and it means that someone can get inside you and mess you up." – Neil Gaiman
165. "If you wish to be loved, show more of your faults than your virtues." – Edward G. Bulwer-Lytton
Sweet Quotes That Will Encourage You to Love
166. "Our love is like the wind. I can't see it, but I can feel it." – Nicholas Sparks
167. "There is no remedy for love but to love more." – Henry David Thoreau
168. "Where there is love, there is life." – Mahatma Gandhi
169. "Have enough courage to trust love one more time and always one more time." – Maya Angelou
170. "Love is a friendship set to music." – Joseph Campbell
171. "When I saw you, I fell in love, and you smiled because you knew." – Arrigo Boito
172. "Love loves to love love." – James Joyce
173. "I think I'd miss you even if we never met." – The Wedding Date
174. "Love is never lost. If not reciprocated, it will flow back and soften and purify the heart." – Washington Irving
175. "Love is more than a noun. It is a verb. It is more than a feeling. It is caring, sharing, helping, sacrificing." – William Arthur Ward
176. "You call it madness, but I call it love." – Don Byas
177. "Love is a choice you make from moment to moment." – Barbara De Angelis
178. "In vain, have I struggled. It will not do. My feelings will not be repressed. You must allow me to tell you how ardently I admire and love you." – Jane Austen
179. "Being deeply loved by someone gives you strength while loving someone deeply gives you courage." – Lao Tzu
180. "Love is not love until love's vulnerable." – Theodore Roethke
Funny Love Quotes That Will Make You Chuckle
181. "True love is singing karaoke Under Pressure and letting the other person sing the Freddie Mercury part." – Mindy Kaling
182. "All you need is love, but a little chocolate now and then doesn't hurt." – Charles M. Schulz
183. "Love is something sent from heaven to worry the hell out of you." – Dolly Parton
184. "Love: a temporary insanity, curable by marriage." – Ambrose Bierce
185. "If love is the answer, could you rephrase the question?" – Lily Tomlin
186. "Love is like heaven, but it can hurt like hell." – Anonymous
187. "Love is being stupid together." – Paul Valery
188. "I believe in love. I think it just hits you and pulls the rug out from underneath you and, like a baby, demands your attention every minute of the day." – Jodi Picoult
189. "I love you more than coffee, but please don't make me prove it." – Elizabeth Evans
190. "A kiss is a lovely trick designed by nature to stop speech when words become superfluous." – Ingrid Bergman
Quotes About Love From the Bible
191. "Love is patient and kind. Love does not envy or boast. It is not arrogant or rude. It does not insist on its own way. It is not irritable or resentful. It does not rejoice at wrongdoing but rejoices with the truth." – 1 Corinthians 13:4-6
192. "A new command I give you: love one another. As I have loved you, so you must love one another." – John 13:34
193. "No one has ever seen God. If we love one another, God abides in us, and His love is perfected in us." – 1 John 4:12
194. "Above all, keep loving one another earnestly, since love covers a multitude of sins." – 1 Peter 4:8
195. "Love does no wrong to a neighbor. Therefore, love is the fulfilling of the law." – Romans 13:10
196. "Greater love has no one than this, that someone lay down his life for his friends." – John 15:13
197. "There is no fear in love, but perfect love casts out fear. For fear has to do with punishment, and whoever fears has not been perfected in love." – 1 John 4:18
198. "The Lord is merciful and gracious, slow to anger and abounding in steadfast love." – Psalm 103:8
199. "So we have come to know and to believe the love that God has for us. God is love, and whoever abides in love abides in God, and God abides in Him." – 1 John 4:16
200. "In this is love, it is not that we have loved God but that He loved us and sent His Son to be the propitiation for our sins." – 1 John 4:10
Also read: God Quotes
Quotes That Will Make You Believe in Love
201. "Love is passion, obsession, someone you can't live without. If you don't start with that, what are you going to end up with?" – William Parrish
202. "The only thing we never get enough of is love, and the only thing we never give enough of is love." – Henry Miller
203. "Love is an emotion experienced by the many and enjoyed by the few." – George Jean Nathan
204. "I believe there are some things in life you can't deny or rationalize, and love is one of them." – Cate Blanchett
205. "We loved with a love that was more than love." – Edgar Allan Poe
206. "If you remember me, then I don't care if everyone else forgets." – Haruki Murakami
207. "A soulmate is someone who understands you like no other, loves you like no other, will be there for you forever, no matter what." – P.S. I Love You
208. "The water shines only by the sun, and it is you who are my sun." – Charles de Leusse
209. "The very first moment I beheld him, my heart was irrevocably gone." – Jane Austen
210. "Take love, multiply it by infinity, and take it to the depths of forever, and you still have only a glimpse of how I feel for you." – Meet Joe Black
Poetic Quotes on Love
211. "To love is to burn, to be on fire." – Jane Austen
212. "Oh, how a quiet love can drown out every fear." – Jessica Katoff
213. "The purpose of human life, no matter who is controlling it, is to love whoever is around to be loved." – Kurt Vonnegut
214. "I have decided to stick to love. Hate is too great a burden to bear." – Martin Luther King Jr.
215. "The smile is the beginning of love." – Mother Teresa
216. "We can only learn to love by loving." – Iris Murdoch
217. "How do I love thee? Let me count the ways. I love thee to the depth and breadth and height my soul can reach." – Elizabeth Barrett Browning
218. "Love is the magician that pulls man out of his own hat." – Ben Hecht
219. "Love looks not with the eyes, but with the mind, and therefore is winged cupid painted blind." – William Shakespeare
220. "We accept the love we think we deserve." – Stephen Chbosky
Did These Quotes Make Your Love for Each Other Stronger and Deeper?
Love is beautiful and warm, and humans have struggled to put these feelings into paper ever since. But, even though letters aren't enough to translate what it is, we still want to express them to our loved ones using words.
With the start of the pandemic, many of us are isolated from our family, friends, and lover. We usually spend time using our devices to tell them what happened in our day. In these challenging times, we depend on our words to show other people how much we cherish them.
We hope that these love quotes were able to help you figure out what you feel. Put your emotions into words and let them know what you want to say.
Which love quote is your favorite? Will you send these to your loved ones? Share your comments with us in the section below.