If you thought you didn't need these Mike Tyson quotes in life, then let me tell you—think again.
Mike Tyson has seen it all. He knows what it's like to live poorly, but he also knows what it's like to live at the top of the world.
Though he came from a poor family and started his early years living a life of crime, he eventually rose to become one of the best and most revered heavyweight boxing champions in the world.
Here are his top 90 quotes that will help you navigate through life.
And make sure to read these Cus D'Amato quotes and Muhammad Ali quotes.
Best Mike Tyson Quotes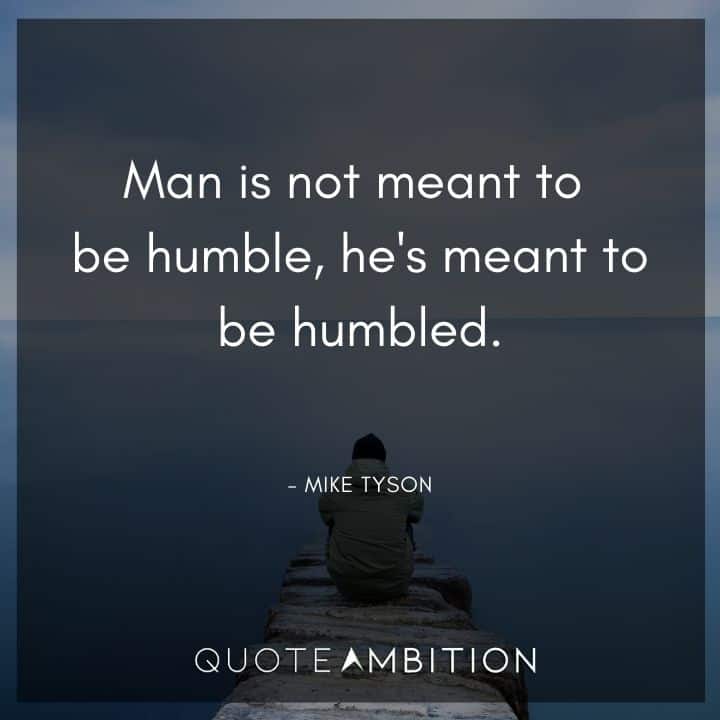 1. "Man is not meant to be humble, he's meant to be humbled."
2. "My style was impetuous, my defenses were impregnable, and I was ferocious."
3. "Another thing that freaks me out is time."
4. "Everyone has a plan 'till they get punched in the mouth."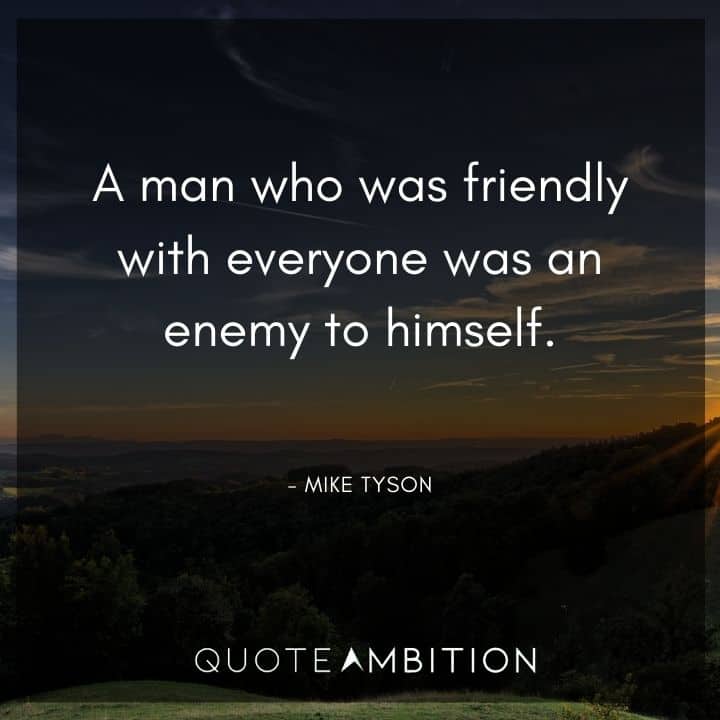 5. "A man who was friendly with everyone was an enemy to himself."
6. "One must never allow fear to develop and build up without having control over it, because if you don't, you won't be able to achieve your objective or save your life."
7. "Fear is the greatest obstacle to learning, but fear is your best friend."
8. "There is no difference between a hero and a coward in what they feel. It's what they do that makes them different."
9. "The ability to apply discipline, the ability to do what needs to be done no matter how he feels inside, in my opinion, is the definition of a true professional."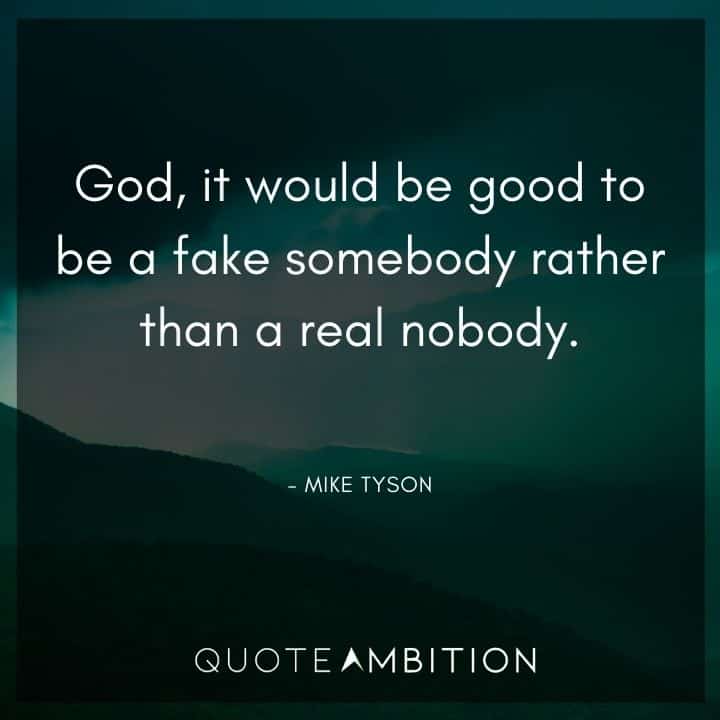 10. "God, it would be good to be a fake somebody rather than a real nobody."
11. "Everyone that you fight is not your enemy and everyone who helps you is not your friend."
12. "Everybody thinks this is a tough man's sport. This is not a tough man's sport. This is a thinking man's sport. A tough man is gonna get hurt real bad in this sport."
13. "Fear is like fire. If you learn to control it, you let it work for you."
14. "The hero and the coward feel exactly the same, but you have to have the discipline to do what a hero does and to keep yourself from doing what the coward does."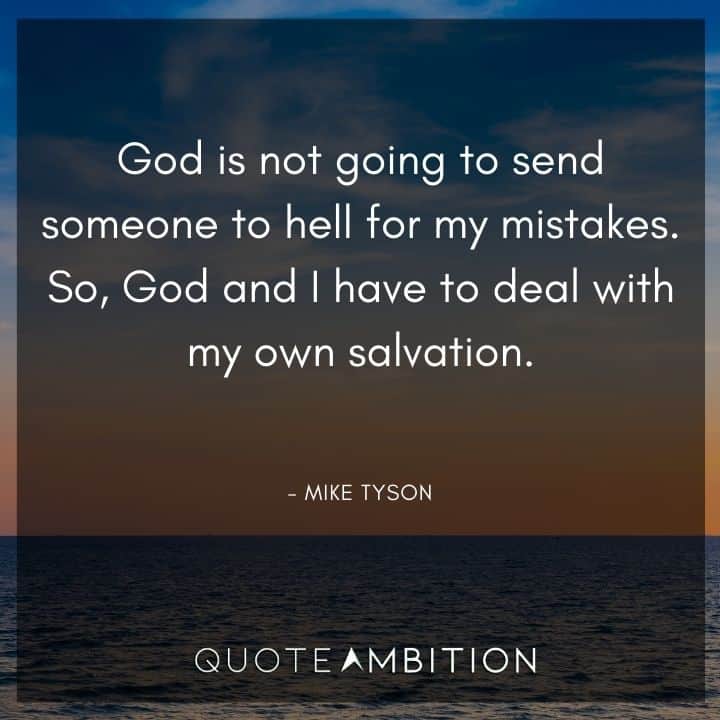 15. "God is not going to send someone to hell for my mistakes. So, God and I have to deal with my own salvation."
16. "In America, we're really good at blowing things up but not so good at knowing where the pieces will land."
17. "Boxing's the easy part. When you get into the ring to fight, that's the vacation."
18. "Time is like a book. You have a beginning, a middle, and an end. It's just a cycle."
19. "I was a titan, the reincarnation of Alexander the Great."
Mike Tyson Quotes on Insight, Knowledge, and Life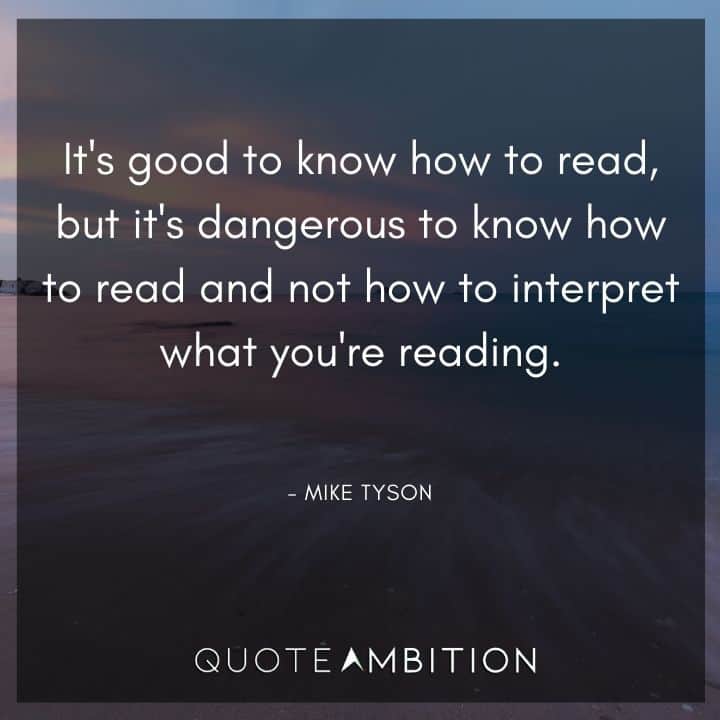 20. "It's good to know how to read, but it's dangerous to know how to read and not how to interpret what you're reading."
21. "Burning cocaine is the worst smell in the world. It smells like burning plastic and rat poison combined."
22. "A friend of mine once told me that when you want to know something about anything, put some fire under it."
23. "The fire brings out everything. You want to know something about a m*th*rf*ck*r? Put some fire under his *ss. Well, when you put some fire under that cocaine, you know what it's made out of."
24. "It's all a learning process, and you have to go from one level to another."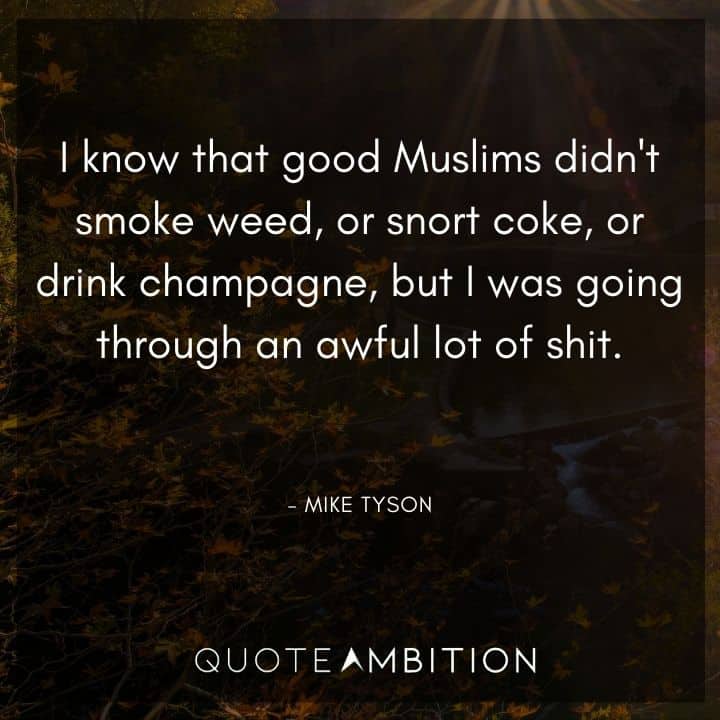 25. "I know that good Muslims didn't smoke weed, or snort coke, or drink champagne, but I was going through an awful lot of sh*t."
26. "What kind of bird don't fly? Jailbird! Jailbird!"
27. "There are animals disguised as human beings out here. You are not sophisticated enough to decipher the two."
28. "Cus told me that to be a great fighter, you had to get out of your head. He would have me sit down and he'd say, 'Transcend. Focus. Relax until you see yourself looking at yourself. Tell me when you get there.'"
29. "Cus was a strong believer that in your mind, you had to be the entity that you wanted to be."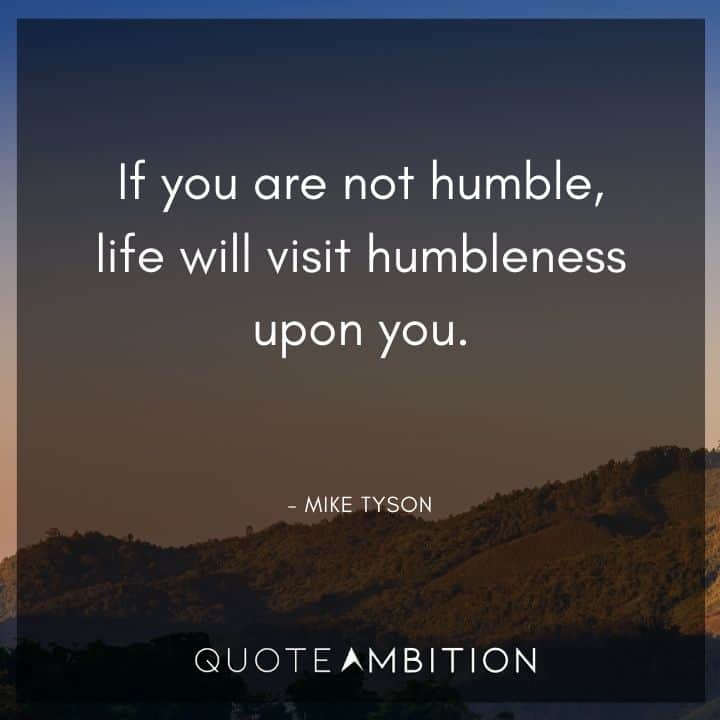 30. "If you are not humble, life will visit humbleness upon you."
31. "God lets everything happen for a reason."
32. "I could feel his muscle tissues collapse under my force. It's ludicrous these mortals even attempt to enter my realm."
33. "I don't understand why people would want to get rid of pigeons. They don't bother no one."
34. "When I fight someone, I want to break his will. I want to take his manhood. I want to rip out his heart and show it to him."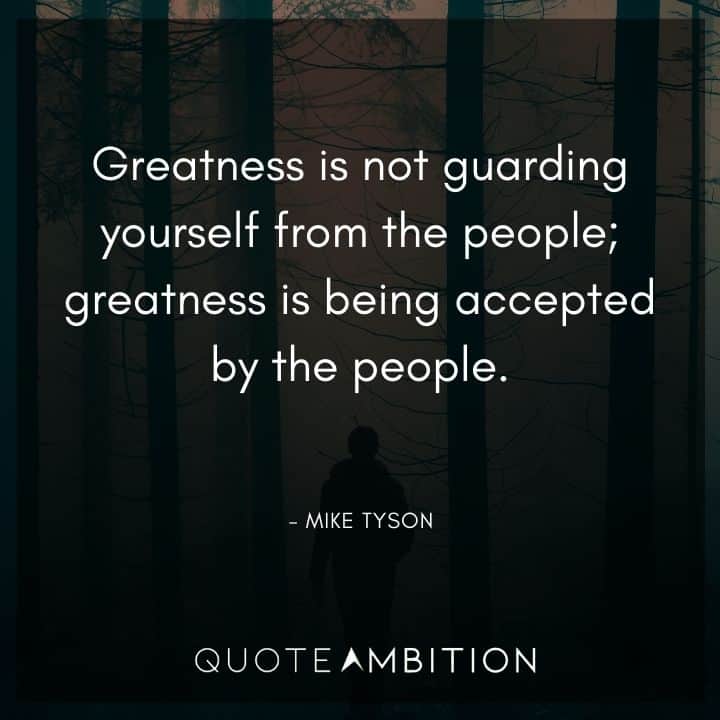 35. "Greatness is not guarding yourself from the people; greatness is being accepted by the people."
36. "My biggest weakness is my sensitivity. I am too sensitive a person."
37. "Real freedom is having nothing. I was freer when I didn't have a cent."
38. "I'm not much for talking. You know what I do. I put guys in body bags when I'm right."
39. "I feel like, sometimes, that I was not meant for this society."
Mike Tyson Quotes on Excitement, Enthusiasm, and Emotions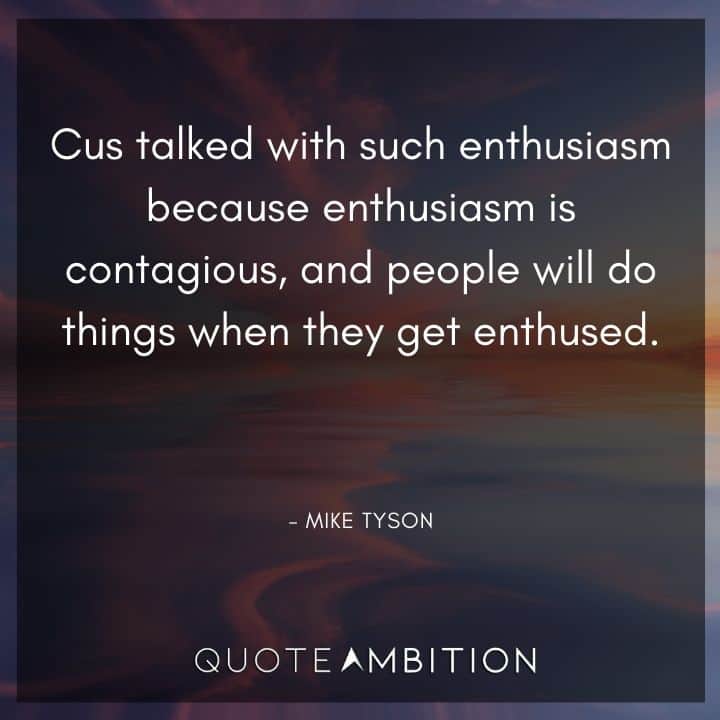 40. "Cus talked with such enthusiasm because enthusiasm is contagious, and people will do things when they get enthused."
41. "Some students would make fun of me, but nobody f*ck*d with me."
42. "Discipline is doing what you hate to do, but do it like you love it."
43. "It doesn't come from osmosis, out of the air. It comes from consistently going over the visualization in your mind to help you develop the confidence that you want to possess."
44. "Freedom is a very dangerous thing. We ration it very closely."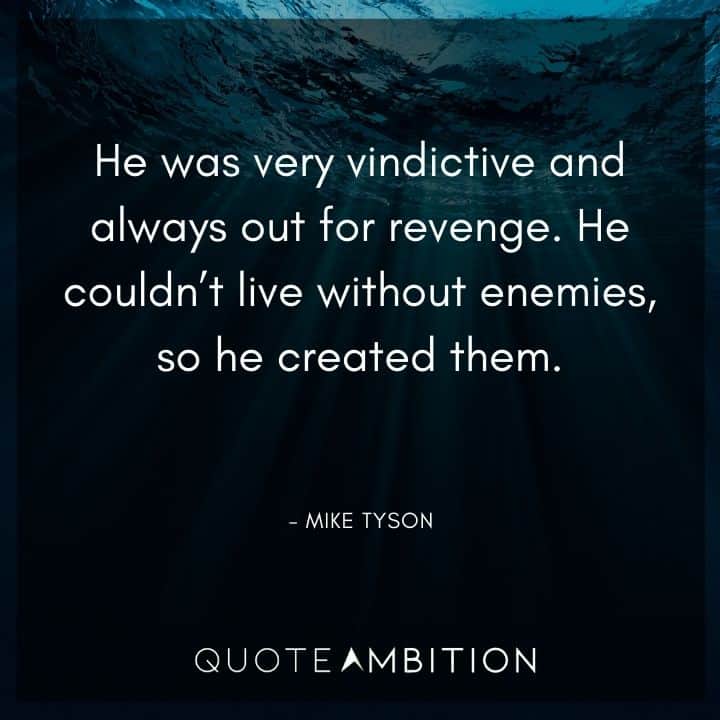 45. "He was very vindictive and always out for revenge. He couldn't live without enemies, so he created them."
46. "I wanted to impress Cus. I guess I had. When we got out of the ring, Cus's first words to Bobby were, 'That's the heavyweight champion of the world.'"
47. "The moment the bell rings, and you come in contact with each other, suddenly your opponent seems like everybody else, because now your imagination has dissipated."
48. "I want to rip out his heart and feed it to Lennox Lewis. I want to kill people. I want to rip their stomachs out and eat their children."
49. "I was never taught how to handle my celebrity status. I don't tell kids it's right to be Mike Tyson. Parents serve as better role models."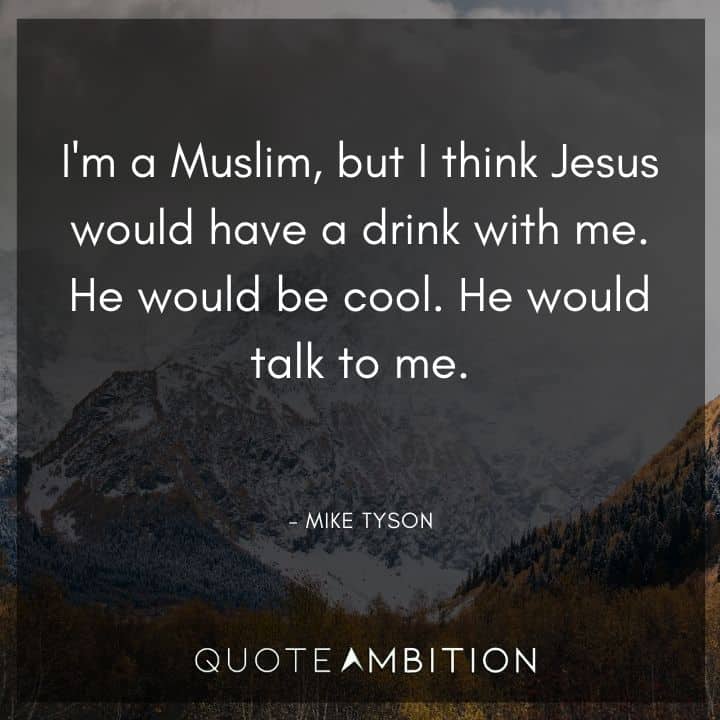 50. "I'm a Muslim, but I think Jesus would have a drink with me. He would be cool. He would talk to me."
51. "I'm not Mother Teresa, but I'm not Charles Manson, either."
52. "I ain't the same person I was when I bit that guy's ear off."
53. "I just want to do what I do best, and that's fight. I love it."
54. "I don't try to intimidate anybody before a fight. That's nonsense. I intimidate people by hitting them."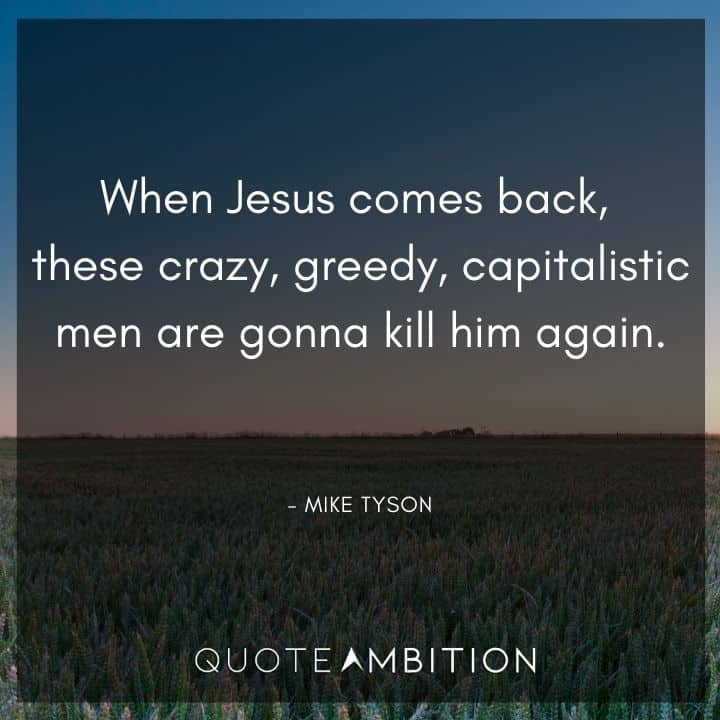 55. "When Jesus comes back, these crazy, greedy, capitalistic men are gonna kill him again."
56. "Some people try to get you out of slavery for you to be their slave."
57. "I'm in trouble because I'm normal and slightly arrogant. A lot of people don't like themselves, and I happen to be totally in love with myself."
58. "That's what people respect—the fact that I wasn't a chump that laid on his back and gave up."
59. "I just want to be humble at all times."
Mike Tyson Quotes on Drive and Determination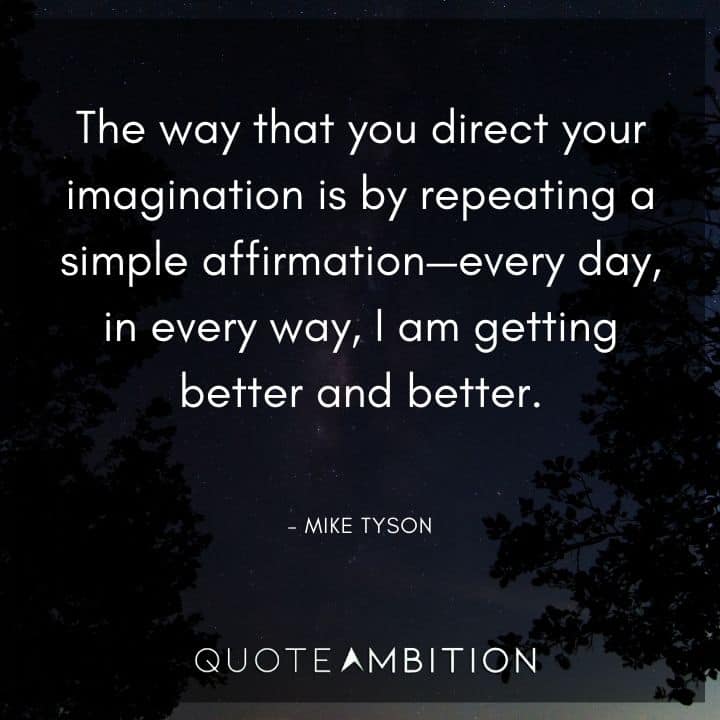 60. "The way that you direct your imagination is by repeating a simple affirmation—every day, in every way, I am getting better and better."
61. "What if I failed and lost? I had been in a million fights on the streets."
62. "Confidence was everything. But in order to possess that confidence, you had to test yourself and put yourself on the line."
63. "I'm sure Allah knew that my sh*t was just overwhelming and that I wasn't strong enough then to deal with it."
64. "You can't give kids a fighting chance if you don't give them a fighting mind."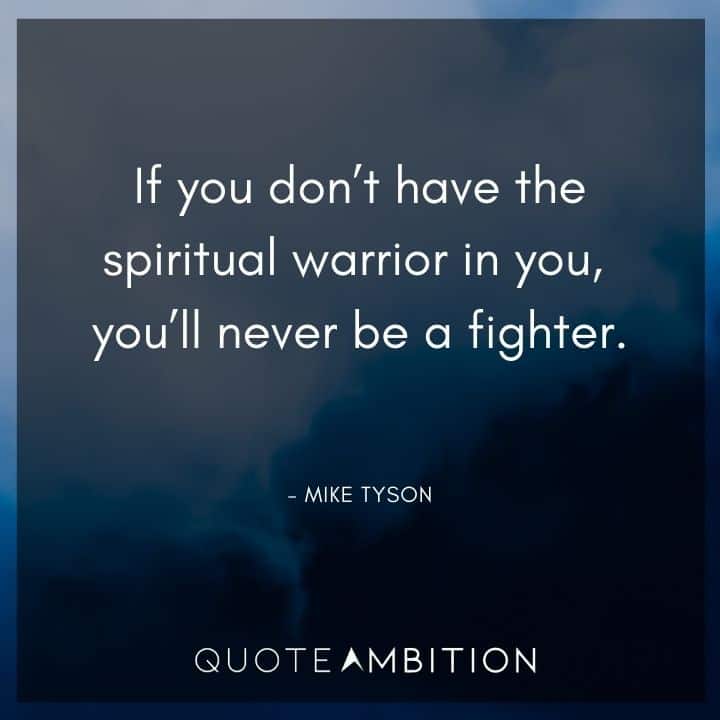 65. "If you don't have the spiritual warrior in you, you'll never be a fighter."
66. "The fight itself is the only reality that matters. You have to learn to impose your will and take control over that reality."
67. "If you wanted to be heavyweight champion of the world, you had to."
68. "Don't use that word, 'can't.' You can't say 'can't.'"
69. "Doing something you hate to do like you love it is good conditioning for someone aspiring towards greatness."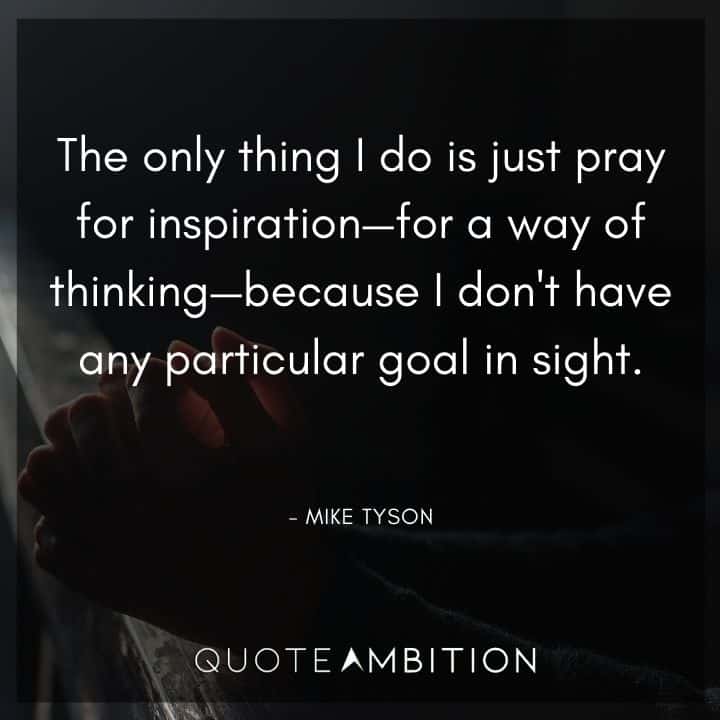 70. "The only thing I do is just pray for inspiration—for a way of thinking—because I don't have any particular goal in sight."
71. "Damn, why couldn't I have been with a non confrontational kind of white guy?"
72. "Well, I know what I am, and that's what counts more than anything else, because the people don't know what I go through."
73. "I'm a dreamer. I have to dream and reach for the stars, and if I miss a star, then I grab a handful of clouds."
74. "If a person gets up after the fall, it's not physics, but character."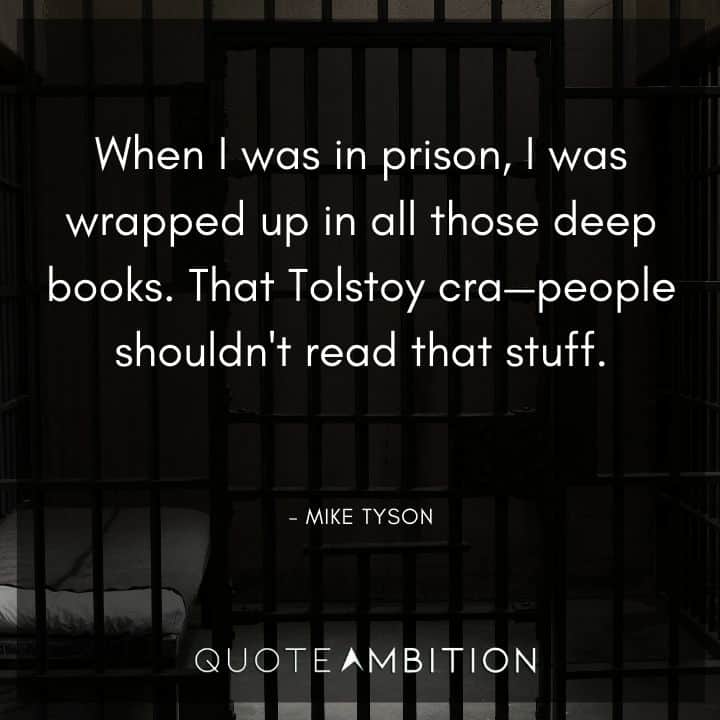 75. "When I was in prison, I was wrapped up in all those deep books. That Tolstoy cra—people shouldn't read that stuff."
76. "As long as I am breathing, your legacy will continue to live on."
77. "People who are only interested in having fun cannot accomplish anything. I thought I was stronger than people who were weak and partying."
78. "I had been reading Nietzsche and thought I was a Superman. I could barely spell my name, but I was a Superman."
79. "There's only one step from the limo to the gutter."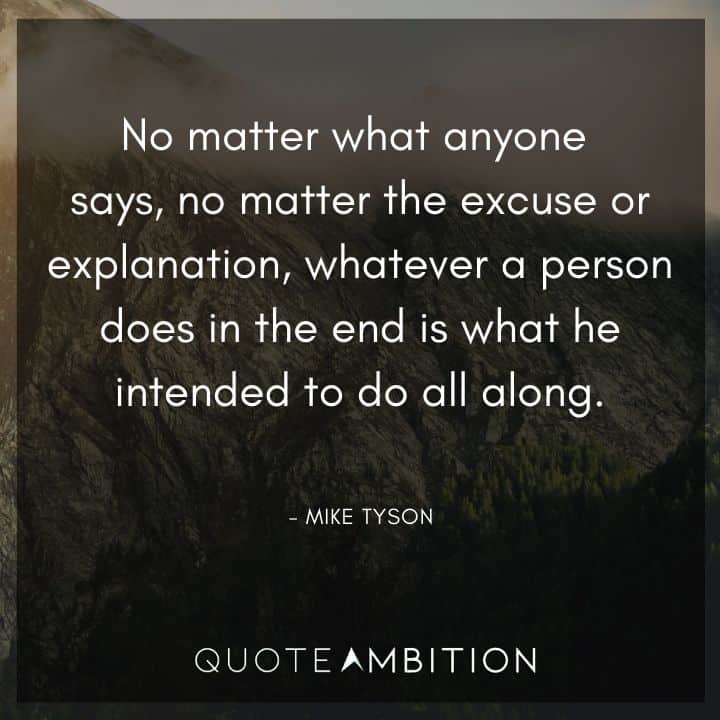 80. "No matter what anyone says, no matter the excuse or explanation, whatever a person does in the end is what he intended to do all along."
81. "I'm the biggest fighter in the history of the sport. If you don't believe it, check the cash register."
82. "I've lived in places these guys can't defecate in."
83. "I think the average person thinks I'm a nut and I deserve whatever happens to me."
84. "I know I'm going to blow one day. My life is doomed the way it is. I have no future."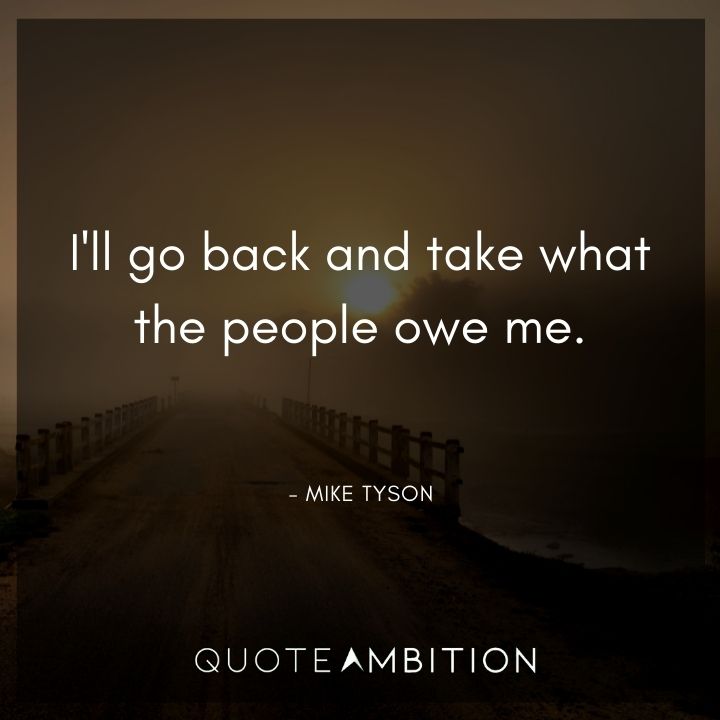 85. "I'll go back and take what the people owe me."
86. "I intend to fight and I want to win, but my priorities are basically to be a good brother and a strong one, and to try to be a good father one day."
87. "When you see me smash somebody's skull, you enjoy it."
88. "Our money is bait money, and bait money is not to be used."
89. "I have the same malice in my heart as far as the fight game is concerned, but outside the ring, I won't say anything a dignified man won't say."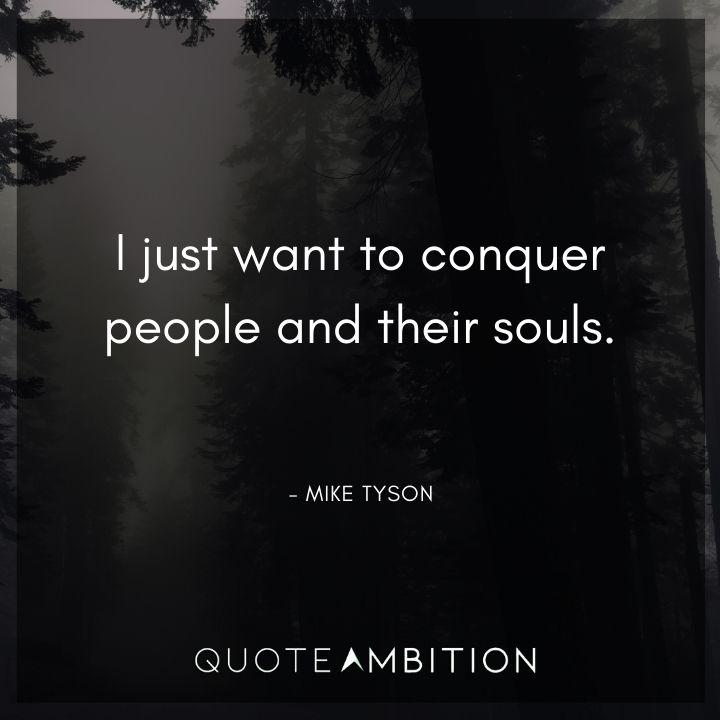 90. "I just want to conquer people and their souls."
Did These Mike Tyson Quotes Inspire You to Be the Champion of Your Own Life?
Who's to say that you can't accomplish much when you're still young? Mike Tyson proved all naysayers wrong when he became the youngest ever and most feared heavyweight champion when he was just 20 years old. He's a legend, not just in the ring, but in life too. In his many years under the spotlight, we've seen all his ups and downs. But the life lessons he was able to impart to us remain the same and remain relevant to this day. He taught us to acknowledge our flaws and our past—to use these as stepping stones to improve ourselves. With this acceptance, we gain confidence in ourselves and allow ourselves space to grow, improve, and triumph over every curve ball life throws at us.
Were you a Mike Tyson fan? Which of these quotes inspired you to live a fuller, more meaningful life? Comment down below.