To help you get a fresh start, we've compiled a list of our favorite new year quotes that'll motivate you to make your resolutions a reality.
The new year is when everyone thinks about their experiences of the past year and what they look forward to in the coming year. It is a special day for everyone, and people worldwide celebrate it in their own unique ways.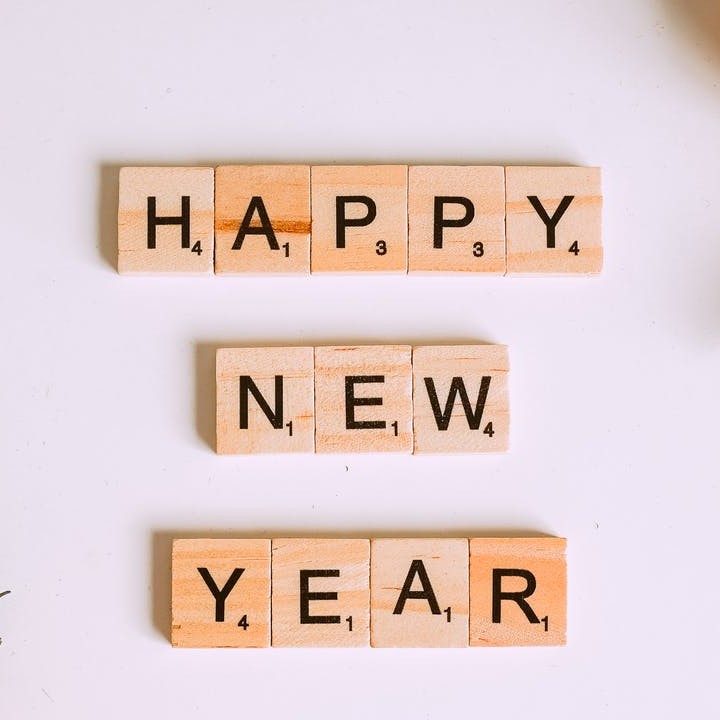 So, if you're looking for motivation to keep your resolutions as we enter 2022, these quotes about overcoming obstacles and welcoming new beginnings are sure to get you going.
Make sure you add this list to your must-reads!
Start here.
And don't forget to check out these December quotes and November quotes.
Best New Year Quotes
1. "New year is the glittering light to brighten the dream-lined pathway of the future." – Munia Khan 
2. "New year—a new chapter, new verse, or just the same old story? Ultimately we write it. The choice is ours." – Alex Morritt
3. "What the new year brings to you will depend a great deal on what you bring to the new year." – Vern McLellan
4. "Enter this new year with gratitude for this new chance to create your dreams." – Avina Celeste
5. "Each new year, we have before us a brand new book containing 365 blank pages. Let us fill them with all the forgotten things from last year—the words we forgot to say, the love we forgot to show, and the charity we forgot to offer." – Peggy Toney Horton
6. "Embrace the new year with a positive outlook and a determined spirit to make all your dreams come true." – Anonymous
7. "In the new year, never forget to thank your past years because they enabled you to reach today! Without the stairs of the past, you cannot arrive at the future!" – Mehmet Murat İldan
8. "We will open the book. Its pages are blank. We are going to put words on them ourselves. The book is called 'opportunity' and its first chapter is New Year's Day." – Edith Lovejoy Pierce
9. "Cheers to a new year and another chance for us to get it right." – Oprah Winfrey
10. "New year gives us an opportunity and power to begin the magical first day of the rest of our lives." – Debasish Mridha
11. "Each passing year sees changes in our world, our society, but we also change and grow up to appreciate the value of each day of every new year." – Anonymous
Inspirational Quotes to Spark a Happy New Year
12. "In our perfect ways. In the ways we are beautiful. In the ways we are human. We are here. Happy New Year. Let's make it ours." – Beyoncé Knowles
13. "Sometimes a year has been so disastrous and so terrible that entering a new year will automatically mean entering a wonderful year!" – Mehmet Murat İldan
14. "Time for another year to begin. The year will be gone and we will start again. As the new year begins, stay focused on your goals and let your attitude be happy, positive, and encouraging to others." – Anonymous
15. "Kindness, kindness, kindness. I want to make a New Year's prayer, not a resolution. I'm praying for courage." – Susan Sontag
16. "The object of a new year is not that we should have a new year. It is that we should have a new soul." – Gilbert K. Chesterton
17. "Tomorrow is the first black page of a 365-page book. Write a good one." – Brad Paisley
18. "The new year is a painting not yet painted; a path not yet stepped on; a wing not yet taken off! Things haven't happened yet! Before the clock strikes 12, remember that you are blessed with the ability to reshape your life!" – Mehmet Murat İldan
19. "As we begin a new year, let's discard what was jaded. Let's put on in its place, the beautiful garments of faith, hope, and love." – Anusha Atukorala
20. "When you see a new year, see realities and limit fantasies!" – Ernest Agyemang Yeboah
21. "What do you need in the new year? You need a dream; your dream needs an action, and your action needs right thinking! Without right thinking, you can have only unrealized dreams!" – Mehmet Murat İldan
22. "I hope that in this year to come, you make mistakes because if you are making mistakes, then you are making new things, trying new things, learning, living, pushing yourself, changing yourself, changing your world. You're doing things you've never done before, and more importantly, you're doing something." – Neil Gaiman
23. "This bright new year is given me to live each day with zest, to daily grow and try to be my highest and my best!" – William Arthur Ward
24. "A new year is a time for inspirational dreams but more importantly a time to set your goals to see the dreams turn into a reality." – Samuel Fixon
25. "The attraction of the new year is this: the year changes, and in that change, we believe that we can change with it. It is far more difficult, however, to change yourself than turn the calendar to a new page." – R. Joseph Hoffmann
Also read: Inspirational Quotes, Famous Quotes
Motivational Quotes to Get You Ready for the New Year
26. "In order to be successful in the new year, stay focused, develop a positive attitude, and be passionate about your dreams." – Bamigboye Olurotimi
27. "We spend January first walking through our lives, room by room, drawing up a list of work to be done, cracks to be patched. Maybe this year, to balance the list, we ought to walk through the rooms of our lives—not looking for flaws but for potential." – Ellen Goodman
28. "Let us be better human beings, better people, and better citizens. The new year is a time to better ourselves for a better world." – Anonymous
29. "The new year stands before us, like a chapter in a book, waiting to be written. We can help write that story by setting goals." – Melody Beattie
30. "For a change, don't add new things in your life as a New Year's resolution. Instead, do more of what's already working for you and stop doing things that are time-wasting." – Salil Jha
31. "Make New Year's goals. Dig within, and discover what you would like to have happened in your life this year. This helps you do your part. It is an affirmation that you're interested in fully living life in the year to come." – Melody Beattie
32. "New day—new start; new you, new year! It's never too late to start anew, merely throw out the old and bring in the new." – Jean Renee Porter
33. "New year; new life! Decide today who you will become, what you will give, and how you will live." – Anthony Robbins
34. "May the new year bring you warmth, love, and light to guide your path to a positive destination." – Anonymous
35. "How the new year will turn out is entirely up to you. The attitude you bring, the determination you have, the goals you set all will result in the type of year that you will have. So let your attitude be positive, your determination be strong!" – Theodore W. Higginsworth
36. "A great way to start the new year is to forgive yourself and others—hold no grudges; by doing this your new year will be free of excess baggage." – Anonymous
37. "The year gone by is now in the past, learn from it but don't dwell on it. Look forward to the new year with motivation and expectation. Expect a happy new year, find the good in each and every day no matter what the circumstances are. Do this and you will find a happy new year." – Anonymous
38. "The year is new, each day is new, may they be all filled with all that you are working towards." – Anonymous
39. "There are greater things to be achieved in every new year, and each and everyone must prepare themselves to be great, not by words of the mouth, but by a lot of sacrifices." – Michael Bassey Johnson
Also read: Motivational Quotes, Christmas Quotes
New Year Quotes That Bring New Beginnings
40. "This is a new year. A new beginning. And things will change." – Taylor Swift
41. "Like many beginnings, a new year brings hope and excitement." – Melissa Buyer
42. "A new year is the best time to make fresh new beginnings." – Anonymous
43. "As the year comes to a close, it is a time for reflection—a time to release old thoughts and beliefs and forgive old hurts. Whatever has happened in the past year, the new year brings fresh beginnings. Exciting new experiences and relationships await. Let us be thankful for the blessings of the past and the promise of the future." – Peggy Toney Horton
44. "The priceless lesson in the new year is that endings birth beginnings and beginnings birth endings. And in this elegantly choreographed dance of life, neither ever finds an end in the other." – Craig D. Lounsbrough
45. "For last year's words belong to last year's language and next year's words await another voice. And to make an end is to make a beginning." – T.S. Eliot
46. "The ending of the year is also a time when serious people want real changes in their lives. Change offers a fresh new start, a new beginning, and rightly so." – Boomy Tokan
47. "The new year symbolizes the ending of one year and the beginning of yet another. We celebrate this event, yet it is only a moment in time, like any other day. But it is also considered a time when new beginnings can happen. Be determined to have a Happy New Year!" – Anonymous
48. "The calendar is changing, a new year is beginning. And like all new beginnings, it is a time to reflect on what you want in your life. Let this new year be a time when you set your goals and achieve what you perhaps only once dreamed of." – Anonymous
Quotes on the New Year and Reaching for New Opportunities
49. "Approach the new year with resolve to find the opportunities hidden in each new day." – Michael Josephson
50. "And now we welcome the new year full of things that have never been." – Rainer Maria Rilke
51. "New year is another opportunity of seeing life with little more caring, compassion, maturity, and beauty." – Amit Ray
52. "There is always an opportunity to start again and again, if the old ways are not working last year, look for better ways of doing it in the new year and start again afresh." – Bamigboye Olurotimi
53. "No brooding over old worries, let's start a new series. Forget about all the negativities, think of new possibilities. Here to conquering a new frontier, that's all I wish in the upcoming new year." – Shon Mehta
54. "A new year is a time to get your options clear and to make a significant decision to do what it is that makes you really happy. The real issue here is that you must take each day as a new opportunity to keep moving towards what you want." – Anonymous
55. "Rather than saying, good luck and good fortune to you this new year, let me say work hard, laugh often, continue to learn, be kind, help others, pray for wisdom and then good fortune will see you this coming year." – Robert Rivers
New Year Quotes Packed With Wisdom
56. "Don't go into the new year holding a grudge from last year. Leave the hurts and disappointments behind." – Joel Osteen
57. "We all need a fresh start every year. It's important that we go into the new year with an open mind and a new way of thinking." – Tony A. Gaskins Jr
58. "A new year, a new day to live the purpose we were meant to live. Are you living your passion, are you loving each day? It is never too late to change, taking one step at a time." – Anonymous
59. "If you like the results you are getting, then, by all means, continue with your current behaviors. On the other hand, if you are open to a change in anything; consider starting your new year differently." – Sumner M. Davenport
60. "This is the new year, the new you. You can pass through another year, coasting on cruise control. Or you can step out of your comfort zone, trying things you have never done before." – Pablo
61. "Take a leap of faith and begin this wondrous new year by believing." – Sarah Ban Breathnach
62. "Let go of past years and as the new year begins let it be a year where you try new things, learn new things, and develop to the potential within you." – Theodore W. Higginsworth
63. "The new year has brought another chance for us to set things right and to open up a new chapter in our lives." – Anonymous
64. "This year, be structured enough for success and achievement and flexible enough for creativity and fun." – Taylor Duvall
65. "New years will keep coming in our lives as long as we live, but how do we manage to live with prosperity in that every new year and help others around us do the same. Isn't that what we should plan and celebrate? So, let's celebrate the inception of improved us, not the new year." – Mohith Agadi
66. "At precisely the moment you feel like giving up, victory is always within reach. Remember this moving into the new year." – Anonymous
67. "Harvest is real, but be wise to sow what you will love to reap in the new year because your day of harvest is fast approaching." – Bamigboye Olurotimi
Funny Quotes About New Year's Resolutions
68. "Many years ago, I made a New Year's resolution to never make New Year's resolutions. Hell, it's been the only resolution I've ever kept!" – D.S. Mixell
69. "May all your troubles last as long as your New Year's resolutions!" – Joey Adams
70. "I think I made too many New Year's resolutions this year. It took me almost a full day to break them all." – Anonymous
71. "My New Year's resolution is to stop lying to myself about making lifestyle changes." – Anonymous
72. "The problem with New Year's resolutions is that they tend to pile up until you're carrying a heavy load of unmet promises to yourself on your back like a rucksack full of rocks." – Anonymous
73. "A New Year's resolution is something that goes in one year and out the other." – Anonymous
74. "My New Year's resolution is to stop hanging out with people who ask me about my new year's resolutions." – Anonymous
75. "This year, I'm just making one New Year's resolution: stop making resolutions. My only other resolution is to quit breaking my resolutions." – Anonymous
76. "My New Year's resolution list usually starts with the desire to lose between 10 and 3,000 pounds." – Nia Vardalos
Beautiful New Year Quotes to Make You Grateful for Life
77. "We joyfully pray with grateful hearts to welcome blessings in the new year." – Lailah Gifty Akita
78. "Cheers to a gracious new year. May we uphold the fullness of God's grace, goodness, and goodwill." – Lailah Gifty Akita
79. "Hope smiles from the threshold of the year to come, whispering 'it will be happier.'" – Alfred Lord Tennyson
80. "As the old year retires and a new one is born, we commit into the hands of our Creator the happenings of the past year and ask for direction and guidance in the new one. May He grant us His grace, His tranquility, and His wisdom!" – Peggy Toney Horton
81. "In this new year, be grateful that God has given you victory over many things over the past year." – Steven M. Hitchcock
82. "Let our New Year's resolution be this: we will be there for one another as fellow members of humanity, in the finest sense of the word." – Göran Persson
83. "Each year's regrets are envelopes in which messages of hope are found for the new year." – John R. Dallas
84. "Well, we have a whole new year ahead of us. And wouldn't it be wonderful if we could all be a little more gentle with each other, a little more loving, and have a little more empathy, and maybe, next year at this time we'd like each other a little more." – Judy Garland
Interesting Quotes That Zoom in on New Year's Eve
85. "On New Year's Eve the whole world celebrates the fact that a date changes. Let us celebrate the dates on which we change the world." – Akilnathan Logeswaran
86. "I used to have this toy, a magic slate. You wrote or drew on it and then, just by pulling up the plastic cover, everything you did disappeared and you could start new. Maybe everyone feels that on New Year's Eve—they can pull up the magic sheet and rewrite their lives." – V.C. Andrews
87. "Midnight on New Year's Eve is a unique kind of magic where, just for a moment, the past and the future exist at once in the present. Whether we're aware of it or not, as we countdown together to it, we're sharing the burden of our history and committing to the promise of tomorrow." – Hillary DePiano
88. "If you wrote a book for each day of the year that has passed. And then reread it on New Year's Eve, what things would you change, what things would you cherish. Take the things that are cherished and vow to focus more on that in the coming new year." – Theodore W. Higginsworth
89. "Youth is when you're allowed to stay up late on New Year's Eve. Middle age is when you're forced to." – Bill Vaughan
New Year Quotes That Will Pique Your Interest
90. "For 11 months and maybe about 20 days each year, we concentrate upon the shortcomings of others, but for a few days at the turn of the new year, we look at our own. It is a good habit." – Arthur H. Sulzberger
91. "New Year's Day is every man's birthday." – Charles Lamb
92. "With the dawn of the new year on the horizon, I resolved to exert my will on the world." – Holly Black
93. "The last hours, minutes, and seconds for the old year to start a new year; it only can be beneficial and fruitful when each one of us also changes and starts a new and fair attitude and character that respects humanity and eliminates all sorts of distinctions to become an equal and peaceful planet." – Ehsan Sehgal
94. "Packaged inside of every mistake there lays a great lesson. And while I don't want to make the mistake into the new year, I most certainly want to take the lesson that's packaged inside of it." – Craig D. Lounsbrough
95. "Let the sky celebrate! Let it pour some rain to wash away the past years' grief. Let the fireworks speak, announcing a new year to break, displaying seasons of different flavors." – Noha Alaa El-Din
96. "A time to say goodbye and a time to say hello. A time to bid farewell and a time to look forward. A time to let go and a time to learn new things, that is what happens when the new year rings in." – Catherine Pulsifer 
97. "What a heavy net it is, indeed, carrying as it does all the births, deaths, tragedies, wars, love stories, inventions, transformations, and calamities that are destined for all of us this coming year." – Elizabeth Gilbert
98. "An optimist stays up until midnight to see the new year in. A pessimist stays up to make sure the old year leaves." – William E. Vaughan
99. "The freshness of the new year, its new enthusiasm; its wishes, colors, and desires are all new; promises and determination are new, with a definition of their own, the new year brings a new determination to keep one's resolutions." – Amitabh Bachchan
100. "Making resolutions is a cleansing ritual of self-assessment and repentance that demands personal honesty and, ultimately, reinforces humility. Breaking them is part of the cycle." – Eric Zorn
101. "A new year—a fresh, clean start. It's like having a big white sheet of paper to draw on." – Bill Watterson
102. "Be always at war with your vices, at peace with your neighbors, and let each new year find you a better man." – Benjamin Franklin
103. "May the new year bring you the courage to break your resolutions early! My own plan is to swear off every kind of virtue so that I triumph even when I fall!" – Aleister Crowley
New Year Quotes and Greetings to Get Into the Holiday Spirit
104. "The old year now away is fled, the new year it is entered, then let us now our sins down-tread and joyfully all appear. Let's merry be this holiday, and let us now both sport and play, hang sorrow, let's cast care away: I send you a Happy New Year!" – Anonymous
105. "May your new year be filled with joy and humor and that you find a smile for each day of the year. Reflect on your blessings, appreciate the beauty, and always be willing to help others. If you do these things your new year will be a good one!" – Anonymous
106. "Wishing you a Happy New Year with the hope that you will have many blessings in the year to come." – Anonymous
107. "It's believed that your behavior and actions on the first day of the year set a precedent for all the days that follow. So, wear brightly colored new clothes with circles on, and keep smiling to ensure you have a very Happy New Year!" – Paul K. Stevens
108. "Let the old year end and the new year begin with the warmest of aspirations. Happy New Year!" – Anonymous
109. "May this year bring new happiness, new goals, new achievements, and a lot of new inspirations on your life. Wishing you a year fully loaded with happiness." – Anonymous
110. "Out with the old, in with the new: may you be happy the whole year through. Happy New Year!" – Anonymous
111. "Wishing every day of the new year to be filled with success, happiness, and prosperity for you. Happy New Year." – Anonymous
More New Year Quotes and Messages That You Can Send to Your Loved Ones
112. "Another year of success and happiness has passed. With every new year comes greater challenges and obstacles in life. I wish you courage, hope, and faith to overcome all of the hurdles you may face. May you have a great year and a wonderful time ahead." – Anonymous
113. "Life changes, but my new year wish for you remains the same—I wish you happiness, good health, and well-being from the bottom of my heart!" – Anonymous
114. "I wish for you that, with every year, you achieve all of your dreams. May God pour love and care on you. Happy New Year." – Anonymous
115. "You made last year so special for me. It is my greatest wish that this coming year be special for you." – Anonymous
116. "Enjoy this special time of year with those you love, and may the Lord bless you all with a happy and healthy new year." – Anonymous
117. "Sending you well wishes and praying for you in the coming year!" – Anonymous
118. "Here's to a bright new year and a fond farewell to the old; here's to the things that are yet to come, and to the memories that we hold." – Anonymous
119. "May you fill your new year with new adventures, accomplishments, and learnings!" – Anonymous
120. "As the new year dawns, I hope it is filled with the promises of a brighter tomorrow. Happy New Year!" – Anonymous
What Are Your New Year's Resolutions and Goals?
Each new year symbolizes new opportunities and new beginnings. The significance of this celebration is to reflect on what we did in the previous year, whether we learned successfully or not, and to move forward with new hope.
On this day, you can see parties being held in various places to celebrate the joy of the holiday. It entertains through delicious dishes, enjoyable games, gift-giving, songs, and dances.
Though some might be hesitant to part with the previous year, we must all welcome the new year with great joy and enthusiasm. After all, it's what will bring us new opportunities to improve and better hone ourselves.
We hope this list was able to spark joy and excitement for the year to come. We wish you all a wonderful New Year!
Which quotes are your favorites? Were you able to find a quote that really inspired you? Drop them down in the comments section below.