Let these top pregnancy quotes prepare you for the nine months of growth, happiness, hardships, and love.
The process of carrying a child is a life-changing experience that can teach you a lot. It changes your views about yourself, and you learn more about unconditional love.
Although pregnancy is scary, it is a journey that gives us a newfound purpose. It also shows us the gift of bringing a new life into the world.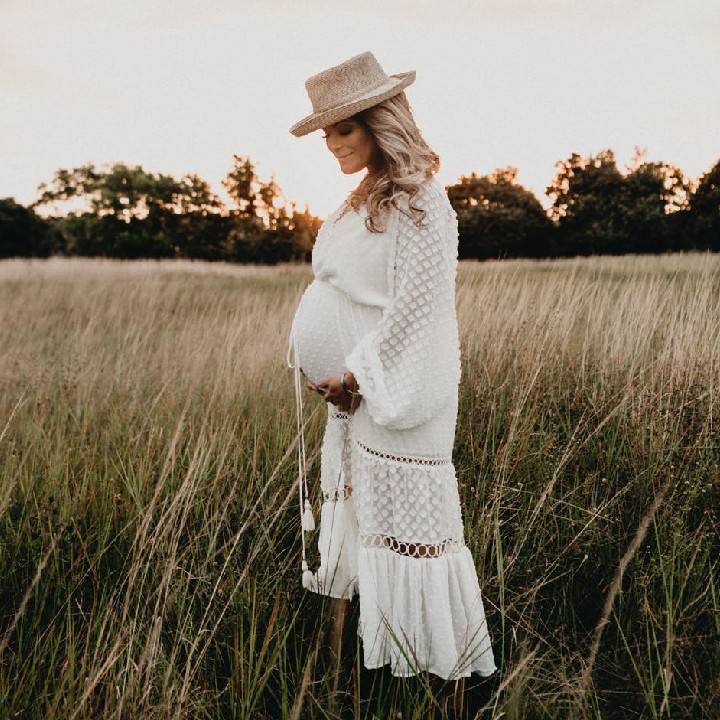 Continue reading below to learn more about pregnancy. 
Let's get started.
And don't forget to check out these baby boy quotes and baby girl quotes.
Best Pregnancy Quotes
1. "Pregnancy and motherhood are the most beautiful and significantly life-altering events that I have ever experienced." – Elisabeth Hasselbeck
2. "Let us make pregnancy an occasion when we appreciate our female bodies." – Merete Leonhardt-Lupa
3. "It is the most powerful creation to have life growing inside of you. There is no bigger gift." – Beyoncé Knowles
4. "Pregnancy is a uniquely intimate relationship between two people. All of us luxuriate in this relationship once, and half of us are lucky enough to be able to do it all over again a second time from the other side as it were." – David Bainbridge
5. "You are pregnant, and you are powerful. You are bold, and you are beautiful. Go forward in your boldness, in your beauty, and in your contentedness. Trust your body to birth and know that the collective power of women worldwide will be with you." – Anonymous
6. "A baby is something you carry inside you for nine months, in your arms for three years, and in your heart until the day you die." – Mary Mason
7. "Being pregnant means every day is another day closer to meeting the other love of my life." – Anonymous
8. "Pregnancy isn't always easy. The extra emotions, fatigue, morning sickness, and difficulty finding a comfortable position to sleep. But, just knowing your baby is growing inside of you is one of the most rewarding experiences a woman can enjoy." – Anonymous
9. "Pregnancy is getting company inside one's skin." – Maggie Scarf
10. "There is something very beautiful about being pregnant." – Chrissy Teigen
11. "Whether your pregnancy was meticulously planned, medically coaxed, or happened by surprise, one thing is certain—your life will never be the same." – Catherine Jones
12. "You never understand life until it grows inside of you." – Sandra Chami Kassis
13. "That first pregnancy is a long sea journey to a country where you don't know the language." – Emily Perkins
14. "Truthfully, being pregnant is changing me as a person." – Holly Madison
15. "Pregnancy is a process that invites you to surrender to the unseen force behind all life." – Judy Ford
Also read: Baby Smile Quotes
Inspirational Quotes About Being Pregnant
16. "To be pregnant is to be vitally alive, thoroughly woman, and distressingly inhabited." – Anne Christian Buchanan
17. "Soul and spirit are stretched, along with body, making pregnancy a time of transition, growth, and profound beginnings." – Anne Christian Buchanan
18. "In giving birth to our babies, we may find that we give birth to new possibilities within ourselves." – Myla Kabat-Zinn
19. "Going into a pregnancy is a really challenging time for a woman because it's forever-changing both mentally and physically." – Brooke Burke
20. "Everything grows rounder and wider and weirder, and I sit here in the middle of it all and wonder who in the world you will turn out to be." – Carrie Fisher 
21. "Pregnancy changes you as a person. It is this amazing journey that shifts your focus and pushes you to re-evaluate your life and priorities." – Anonymous
22. "Being pregnant shouldn't make you feel less of a woman, but more of a woman!" – Julia Restoin Roitfeld
23. "When you're pregnant, little hands pushing and tiny feet kicking remind you that you are never really alone." – Anonymous
24. "It makes me feel like a woman. It makes me feel that all the things about my body are suddenly there for a reason. It makes you feel round and supple, and to have a little life inside you is amazing." – Angelina Jolie 
25. "A mother's joy begins when new life is stirring inside, when a tiny heartbeat is heard for the very first time, and a playful kick reminds her that she is never alone." – Anonymous
26. "Birthing is the most profound initiation to spirituality a woman can have." – Robin Lim
27. "We have a secret in our culture, and it's not that birth is painful. It's that women are strong." – Laura Stavoe Harm
28. "It's amazing, the mentality shift that occurs in pregnancy. All of a sudden, you want to be good to yourself." – Elisabeth Hasselbeck
29. "Lucky is the woman who knows the pangs of birth, for she has held a star." – Larry Barretto
30. "Now, my belly is as noble as my heart." – Gabriela Mistral
Cute and Meaningful Pregnancy Quotes to Warm Your Heart
31. "The common perception is that when a woman is pregnant, she is most beautiful and radiates the perfection of her beauty and power." – Reena Kumarasingham
32. "A ship under sail and a big-bellied woman are the handsomest two things that can be seen common." – Benjamin Franklin
33. "If I had my life to live over, instead of wishing away nine months of pregnancy, I'd have cherished every moment and realized that the wonderment growing inside me was the only chance in life to assist God in a miracle." – Erma Bombeck
34. "Being pregnant finally helped me understand what my true relationship was with my body." – Amy Adams
35. "I find a pregnant body to be beautiful and an incredible reminder of what a woman's body is made to do." – Kourtney Kardashian
36. "I think the best thing about being pregnant would definitely have to be seeing just my belly grow and seeing like, wow, there is, you know, something inside of me." – Tia Mowry
37. "Feeling fat lasts nine months, but the joy of becoming a mom lasts forever." – Nikki Dalton
38. "Maternity is a glorious thing since all mankind has been conceived, born, and nourished of women." – Martin Luther
39. "I'm never as happy as when I'm pregnant. I literally would have 10 babies if I could!" – Tori Spelling
40. "Just as a woman's heart knows how and when to pump, her lungs to inhale, and her hand to pull back from fire, so she knows when and how to give birth." – Virginia Diorio
41. "I love being pregnant. I have such an incredible connection with myself and with my body that I've never had before." – Jessica Simpson
42. "When I was pregnant, I felt filled with life, and I felt really happy. I ate well, and I slept well. I felt much more useful than I'd ever felt before." – Suzanne Vega
43. "Pregnancy feels like an endless wait, but once your little one is here, it is a life of endless love." – Anonymous
44. "The changes that your body goes through while pregnant are beautiful. Yet, they can also be daunting. As your body changes, it is easy to feel fat or uncomfortable in your own skin. However, when you are holding your precious little baby in your arms, it makes it all worth it." – Anonymous
45. "A woman by her very nature is maternal. For every woman, whether married or unmarried, is called upon to be a biological, psychological, or spiritual mother." – Alice von Hildebrand
Short Pregnancy Quotes 
46. "I love babies. I love being pregnant, and I loved giving birth." – Sadie Frost
47. "The wonder of life begins in the womb of a woman." – Lailah Gifty Akita
48. "For you created my inmost being, you knit me together in my mother's womb." – Anonymous
49. "Think of stretch marks as pregnancy service stripes." – Joyce Armor
50. "Being pregnant is an occupational hazard of being a wife." – Queen Victoria
51. "You are proof that love before first sight does exist." – Araceli M. Ream
52. "Life is tough enough without having someone kick you from the inside." – Rita Rudner
53. "Your pregnant elephant ankles will return to normal. Just hang in there." – Adriel Booker
54. "For this child, I prayed, and the Lord has granted the desires of my heart." – 1 Samuel 1:27
55. "I think I enjoy being pregnant more than not being pregnant." – Chrissy Teigen
56. "By far, the most common craving of pregnant women is not to be pregnant." – Phyllis Diller
57. "From the moment I knew you were growing inside of me, I have loved you." – Anonymous
58. "Pregnancy is the happiest reason ever for feeling like crap." – Anonymous
59. "Unplanned pregnancy is an equal-opportunity affliction." – Ann McLane Kuster
60. "A mother continues to labor long after the baby is born." – Lisa-Jo Baker
Beautiful Quotes About Pregnancy
61. "When you're pregnant, you can think of nothing but having your own body to yourself again. Yet, after having given birth, you realize that the biggest part of you is now somehow external, subject to all sorts of dangers and disappearance, so you spend the rest of your life trying to figure out how to keep it close enough for comfort." – Jodi Picoult
62. "Making the decision to have a baby is momentous. It is to decide forever to have your heart go walking around outside your body." – Elizabeth Stone
63. "Being pregnant was the healthiest I've ever been in my life. Except for the cupcakes." – Ashlee Simpson
64. "I know some people find being pregnant so easy, but I can't relate. It's hard. It is incredibly beautiful, but it also challenges you in ways you never thought possible." – Anonymous
65. "No matter how bad my day's been, it takes one little kick to make everything feel alright." – Anonymous
66. "Pregnancy can be a time when you take tremendous pleasure in eating, not only because you may enjoy food more but also because you know that it is nourishing both you and your baby." – Martha Rose and Jane L. Davis
67. "In the pregnancy process, I have come to realize how much of the burden is on the female partner. She's got a construction zone going on in her belly." – Al Roker
68. "When your children arrive, the best you can hope for is that they break open everything about you. Your mind floods with oxygen. Your heart becomes a room with wide-open windows." – Amy Poehler
69. "You do a lot of growing up when you're pregnant. It's suddenly like, 'Yikes. Here it is, folks. Playtime is over.'" – Connie Fioretto
70. "We can't understand when we're pregnant, or when our siblings are expecting, how profound it is to have a shared history with a younger generation—blood, genes, humor. It means we were actually here, on Earth, for a time—like the Egyptians with their pyramids, only with children." – Anne Lamott
Sweet Pregnancy Quotes That Will Make You Excited About Meeting Your Baby
71. "Pregnancy has been a huge lesson in patience and in allowing myself to be open to whatever the day may hand me." – Anna Kaiser
72. "Birth is, without a doubt, one of the greatest self-expressive and creative processes we can embark upon in womanhood. I believe that a part of a woman's birthing heart center resides within the pelvis and hip area." – Maha Al Musa
73. "Pregnancy is really hard. After all, you're trying to grow a whole other person inside of you, which isn't easy. Yet, one of the hardest parts is actually realizing your life is about to change in a huge way but not knowing exactly how." – Anonymous
74. "In pregnancy, there are two bodies, one inside the other. Two people live under one skin. When so much of life is dedicated to maintaining our integrity as distinct beings, this bodily tandem is an uncanny fact." – Joan Raphael-Leff
75. "The funny thing about pregnancy is that you are not just creating a child, you are also creating a mother." – Anonymous
76. "Giving birth and being born brings us into the essence of creation where the human spirit is courageous and bold, and the body, a miracle of wisdom." – Harriette Hartigan
77. "No one else will ever know the strength of my love for you. After all, you're the only one who knows what my heart sounds like from the inside." – Anonymous
78. "Giving birth should be your greatest achievement, not your greatest fear." – Jane Weideman
79. "Having kids feel like that first seventh-grade crush that overwhelms every molecule in your body, but it's permanent." – Kristen Bell
80. "Life is always a rich and steady time when you are waiting for something to happen or to hatch." – Elwyn Brooks White
81. "Pregnancy was probably the best and the hardest thing I'll ever go through." – Mariah Carey
82. "The moment a child is born, the mother is also born. She never existed before. The woman existed, but the mother never. A mother is something absolutely new." – Osho
83. "Pregnant women! They had that weird frisson, an aura of magic that combined awkwardly with an earthy sense of duty. Mundane, because they were nothing unique on the suburban streets. Ethereal, because their attention was ever somewhere else." – Ruth Morgan
84. "It's fun being pregnant at the same time as someone as prominent as Kim Kardashian. Seeing her beautiful body change and morph makes me remember mine is doing the same, and although it may not always feel beautiful, it really is." – Ginger Zee
85. "Imagine what might happen if women emerged from their labor beds with a renewed sense of the strength and power of their bodies, and of their capacity for ecstasy through giving birth." – Christiane Northrup
Quotes to Celebrate Your Pregnancy
86. "Expecting a baby is just the beginning. There are so many precious moments to look forward to as your baby grows." – Anonymous
87. "Pregnancy is a wonderful miracle, and in nine months, your joys will double. Congratulations to the happy couple." – Anonymous
88. "Your pregnancy is as beautifully unique as you are. Congratulations on this one-of-a-kind celebration!" – Anonymous
89. "Pregnancy is the only time when you can do nothing at all and still be productive." – Evan Esar
90. "A new life is breathing inside of you, and nothing can be more exciting than this. Congratulations to you for expecting." – Anonymous
91. "Take our heartiest congratulation on this miraculous journey of yours. Pregnancy is a blessing, and you are the most blessed soul." – Anonymous
92. "May God bless you with a happy and safe pregnancy with a healthy and joyous baby. Accept our heartiest wishes on such an amazing time of your life." – Anonymous
93. "Being pregnant has all kinds of advantages. People keep telling you how beautiful you look. They do it over and over." – Caterina Fake
94. "It's a blessing being a woman because you get to experience the most magical moment of your life, giving life! Congratulations on your pregnancy!" – Anonymous
95. "A strong intention, a relaxed body, and an open mind are the main ingredients for an active birth." – Janet Balaskas
96. "You are bound to be one of the best parents in the world. Congratulations on being pregnant." – Anonymous
97. "A new journey starts and this is going to be an exciting one! I am happy for you." – Anonymous
98. "I usually claim that pregnant women should not read books about pregnancy and birth. Their time is too precious. They should, rather, watch the moon and sing to their baby in the womb." – Michel Odent
99. "Knowing someone else is going the bizarreness of pregnancy with you makes it feel a little less impossible." – Elisabeth Hasselbeck
100. "Part of being a parent is rolling with the punches, so consider an unexpected pregnancy the universe's way of helping you to learn to do that." – Heather Wittenberg
Pregnancy and Maternity Quotes to Read When You're Feeling Anxious
101. "The child grows inside you, and there is something mystical and mythical in that, but then you actually see that you are nothing more than the box in which they come. There is this total person, already formed themselves." – Glenda Jackson
102. "Maternity is a cosmic thing, and once it has come to pass, our conversation must not be permitted to blaspheme it." – Ben Lindsey
103. "It's an established fact. Some women can't stand being pregnant, getting big and bloated, and hauling around a giant stomach, and some women, for reasons probably understood by Darwin, love it." – Rich Cohen
104. "When I was pregnant, I was so huge, and people on the bus would get up for me. That made me feel so precious and valued and valuable. I try to treat everyone like they're pregnant." – Mariska Hargitay
105. "Mothers who prepare for a natural birth and write birth plans but end up with necessary interventions do not have to blame themselves for lack of preparation." – Natural Hospital Birth 2nd Edition
106. "Giving birth is not a matter of pushing, expelling the baby, but of yielding, surrendering to birth energy." – Marie Reid
107. "There is such a special sweetness in being able to participate in creation." – Pamela S. Nadav
108. "When you change the way you view birth, the way you birth will change." – Marie F. Mongan
109. "Love comes in all shapes and sizes. We can't wait to see what your little love looks like. Congratulations on your pregnancy!" – Anonymous
110. "I begin to love this little creature and to anticipate his birth as a fresh twist to know which I do not wish to unite." – Mary Wollstonecraft
111. "During my first pregnancy, the people I was around told me how great I looked, asked me how I was feeling, saved the comfiest chairs for me, and stocked the office with decaf tea. This time around, the person I spend the most time with, although she seems to think I'm swell, insists on eating my food and waking me up early every morning." – Emily Fisk
112. "The first pregnancy is the most self-indulgent thing in the world because you get massages and prenatal yoga and hypnotherapy CDs. During this one, I forget that I'm even pregnant. I'm hoisting my two-year-old around." – Emily Blunt
113. "Birth takes a woman's deepest fears about herself and shows her that she is stronger than them." – Anonymous
114. "Pregnancy and birth are a space between worlds, a liminal space, a place where you are no longer not a parent and not yet one either. This betwixt and between is sacred space within which powerful and profound events occur, often uninvited." – Britta Bushnell
115. "It's a really magical time, those first few weeks. It almost makes you wish you didn't have to tell anyone, ever. You could just watch your belly grow bigger, and no one would be allowed to ask you about it, and you would have your baby, and a year later, you would allow visitors to finally come and meet your little miracle." – Amy Poehler
Deep and Informative Quotes About Pregnancy and Giving Birth
116. "This is the most extraordinary thing about motherhood—finding a piece of yourself separate and apart, all the same, you could not live without." – Jodi Picoult
117. "A woman experiencing an unplanned pregnancy also deserves to experience unplanned joy." – Patricia Heaton
118. "We should recognize that women become mothers the moment they are pregnant." – Alveda King
119. "Birth is an opportunity to transcend. To rise above what we are accustomed to, reach deeper inside ourselves than we are familiar with, and to see not only what we are truly made of, but the strength we can access in and through birth." – Marcie Marcari
120. "The life of a mother is the life of a child. You are two blossoms on a single branch." – Karen Maezen Miller
121. "When I got pregnant, I had to concentrate on being pregnant for a whole nine months, even though I knew it was ruining my career at the time." – Yoko Ono
122. "There is no way out of the experience except through it because it is not really your experience at all, but the baby's. Your body is the child's instrument of birth." – Penelope Leach
123. "All pregnant women are warriors. It takes strength just to get up and go to work." – Camilla Luddington
124. "The wisdom and compassion a woman can intuitively experience in childbirth can make her a source of healing and understanding for other women." – Stephen Gaskin
125. "Birth is not only about making babies. Birth is about making mothers strong, competent, capable mothers who trust themselves and know their inner strength." – Barbara Katz Rothman
Hilarious Quotes That All Pregnant Moms Can Relate To
126. "People always say that pregnant women have a glow. And I say, it's because you're sweating to death." – Jessica Simpson
127. "Get comfortable. Have to pee. Get really thirsty after you pee. Drink an entire cup of water. Get comfortable. Have to pee again. I give up!" – Anonymous
128. "Of course I can do this. I'm pregnant, not brain-damaged. My condition doesn't change my personality." – Christine Feehan
129. "Every four weeks, I go up a bra size. It's worth being pregnant just for the breasts." – Natasha Hamilton
130. "It's a great thing about being pregnant—you don't need excuses to pee or eat." – Angelina Jolie
Did These Quotes Teach You About What to Expect During Pregnancy?
Pregnancy teaches us to be selfless and commit to something bigger than ourselves. We start doing things and surrendering our lives to our baby.
But at the same time, carrying a child also means that we need to learn self-love and self-compassion. It is a part of taking care of the baby to love our body and mind. Pregnancy also prepares us to be competent mothers once they part from our bellies.
Being pregnant is a process that changes our perspective in many things that allow us to grow and flourish. We hope that the collection was able to support you in this miraculous celebration of life.
Did you learn a lot about pregnancy from the collection? Comment your thoughts below!