If you need the motivation to keep going in life or something to lift your spirits, then these rapper quotes are for you!
Rap is a type of music that is usually fast and spoken rather than sung. These pieces will surely make you groove to their unique beat!
Rappers use their music to express their thoughts to their listeners as if they were speaking to them. Despite its casual facade, the lyrics are filled with powerful messages.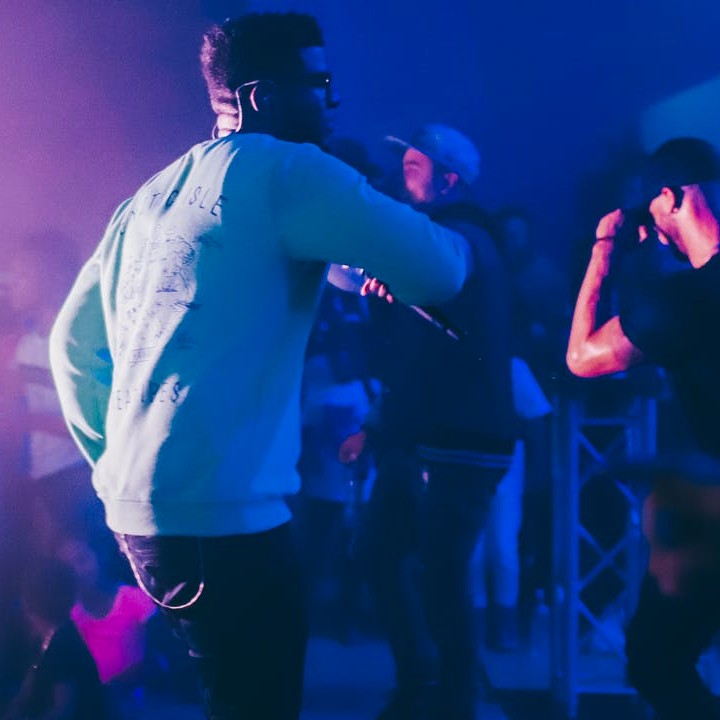 So, if you're curious about your favorite rappers' worldview, read through our list below!
Let's get started.
Best Rapper Quotes
1. "Hip hop is supposed to uplift and create, to educate people on a larger level and to make a change." – Doug E. Fresh
2. "Life without dreaming is a life without meaning." – Wale
3. "'Cause whatever you love can be taken away, so live like it's your dying day." – Machine Gun Kelly
4. "Never become so involved with something that it blinds you. Never forget where you are from; someone will remind you." – DMX
5. "People can try to reinvent themselves. I don't think you can really change who you are, though, because who you are is pretty much where you came from and what you've done up to now." – Eminem
6. "Next time you see a brother down, stop and pick him up, 'cause you might be the next one stuck." – Grand Puba
7. "Living life is a choice. Making a difference in someone else's isn't." – Kid Cudi
8. "Every day is a new opportunity to reach that goal." – Rick Ross
9. "Identity is a prison you can never escape, but the way to redeem your past is not to run from it, but to try to understand it, and use it as a foundation to grow." – Jay-Z
10. "The purpose of life is a life with a purpose. So I'd rather die for a cause than live a life that is worthless." – Immortal Technique
11. "You've got to realize that the world's a test. You can only do your best and let Him do the rest. You've got your life and got your health. So quit procrastinating and push it yourself." – Cee-Lo
12. "Even though you're fed up, you gotta keep ya head up." – Tupac Shakur
13. "Trust your own judgment, live with it and love it." – Nas
14. "Remind yourself. Nobody's built like you. You design yourself." – Jay-Z
15. "Remember one thing: through every dark night, there's a bright day after that. So no matter how hard it gets, stick your chest out. Keep your head up, and handle it." – Tupac Shakur
Famous Rapper Quotes
16. "Hip hop saved my life, man. It's the only thing I've ever been even decent at. I don't know how to do anything else." – Eminem
17. "I am obsessed with rap music—it's such a big part of my life." – Randall Park
18. "In the future, hip hop is going to be called American folklore." – KRS-One
19. "Rap has been a path between cultures in the best tradition of popular music." – Jay-Z
20. "Rap is something you do. Hip hop is something you live." – KRS-One
21. "Although rap is about boasting, it's also about honesty and expressing your emotions." – Keith Stanfield
22. "Sometimes I feel like rap music is almost the key to stopping racism." – Eminem
23. "When the ideas are coming, I don't stop until the ideas stop because that train doesn't come along all the time." – Dr. Dre
24. "Hip hop is what makes the world go around." – Snoop Dogg
25. "When the devil wants to dance with you, you better say never, because the dance with the devil might last you forever." – Immortal Technique
26. "What separates those who go under and those who rise above adversity is the strength of their will and their hunger for power." – 50 Cent 
27. "Living well eliminates the need for revenge." – Kanye West
28. "No matter where life takes me. Find me with a smile." – Mac Miller
29. "'Cause I think we can make it, in fact, I'm sure. And if you fall, stand tall and come back for more." – Tupac Shakur
30. "I've been hated by many, wanted by plenty, disliked by some, but confronted by none." – Drake
Rapper Quotes That Will Inspire You to Keep Going
31. "Keep on pushing the boundaries and reaching for higher heights." – Puff Daddy 
32. "Sky's the limit and you know that you can have. What you want, be what you want." – Notorious B.I.G.
33. "Once you really know yourself, can't nobody tell you nothing about you." – Megan Thee Stallion
34. "You have to keep your vision clear, 'cause only a coward lives in fear." – Nas
35. "I don't need a stage to perform. We just need something to stand on." – Travis Scott
36. "Sometimes it's the journey that teaches you a lot about your destination." – Drake
37. "The more time you spend contemplating what you should have done—you lose valuable time planning what you can and will do." – Lil Wayne
38. "Negative energy that comes at you in some form is energy that can be turned around to defeat an opponent and lift you up." – Curtis Jackson 
39. "If it's in your gut, your soul, there's nothing, no worldly possession that should come between you and your expression." – Kanye West
40. "You supposed to be able to do anything in this world. That's what Martin Luther King told me." – Lil Wayne
41. "Jump regardless of the consequence, 'cause even on the night of the apocalypse, everybody's an optimist." – Tonedeff
42. "I just always expect the best because I'm a competitor and if I'm competing, then obviously I'm trying to be better in everything." – Lil Wayne
43. "It happens all the time, they take your heart, and steal your life. And it's as though you feel you've died, 'cause you've been killed inside. But yet you're alive, which means you'll survive." – Eminem
Deep Rapper Quotes That Will Make You Admire Their Unique Perspectives
44. "Life is too short to live the same day twice. So each new day make sure you live your life." – Machine Gun Kelly
45. "Reality has its own power—you can turn your back on it, but it will find you in the end, and your inability to cope with it will be your ruin." – 50 Cent
46. "Never apologize for what you feel. It's like apologizing for being real." – Lil Wayne
47. "They're gonna try to tell you no, shatter all your dreams. But you gotta get up and go and think of better things." – Mac Miller
48. "Why do we try so hard to fit in, when we were born to stand out?" – Machine Gun Kelly
49. "Everything will eventually come to an end. So try to savor the moments, 'cause time flies, don't it? The beauty of life is to make it last for the better. 'Cause nothing lasts forever." – Nas
50. "Dealing with backstabbers, there was one thing I learned. They're only powerful when you get your back turned." – Eminem
51. "We came into a broken world. And we're the cleanup crew." – Kanye West
52. "Keep your nose out of the sky, keep your heart to God, and keep your face to the rising sun." – Kanye West
53. "We can't change the world unless we change ourselves." – Notorious B.I.G.
54. "Damn right I like the life I live because I went from negative to positive." – Notorious B.I.G.
55. "Be careful what you say to someone today. Because tomorrow they might not be here, and you can't take it back." – Wiz Khalifa
56. "You shouldn't throw stones if you live in a glass house and if you got a glass jaw, you should watch yo mouth: 'cause I'll break yo face." – 50 Cent
57. "Be more concerned with your character than your reputation. Because your character is what you really are. While your reputation is what others merely think you are." – Jay-Z
58. "My mama always used to tell me: if you can't find something to live for, you best find something to die for." – Tupac Shakur
Quotes About Rappers and Their Musical Careers That'll Change Your Perception of Rap
59. "I want to solidify as an artist and show that as I grow as a person and make mistakes and learn from them, I'm going to grow artistically." – Eminem
60. "I need drama in my life to keep making music." – Eminem
61. "I think music should be free. I think all communication should be free. I think people should respect artists, and there should be a certain respect for artists who give their music away for free." – KRS-One
62. "I feel that when you care about your music, taking risks is something you should do to keep things exciting." – Drake
63. "The art of rap is deceptive. It seems so straightforward and personal and real that people read it completely literally, as raw testimony or autobiography." – Jay-Z
64. "A poet's mission is to make words do more work than they normally do, to make them work on more than one level." – Jay-Z
65. "I'm big on diversity. My music is very diverse; I don't want it to ever be type casted." – Travis Scott
Rapper Quotes About Life and Reaching for Opportunity
66. "Live your life, live it right. Be different, do different things." – Kendrick Lamar
67. "Life can always change, you have to adjust." – Drake
68. "Forget yesterday, live for today. Tomorrow will take care of itself." – Rick Ross
69. "Sometimes it's hard to pick right from wrong. The best thing we can do is go with our heart, and hope it all goes well." – Mac Miller
70. "Life is a wheel of fortune and it's my turn to spin it." – Tupac Shakur
71. "If you have the opportunity to play this game of life you need to appreciate every moment. A lot of people don't appreciate the moment until it's passed." – Kanye West
72. "Take the first chance that you get, because you may never get another one." – Lil Wayne
73. "You can make something of your life, it just depends on your drive." – Eminem
74. "You see my tears, in the rain underneath it all, we're just the same." – Machine Gun Kelly
75. "99 Problems is almost a deliberate provocation to simpleminded listeners." – Jay-Z
76. "Life without knowledge is death in disguise." – Talib Kweli
77. "I will not lose, so even in defeat, there is a valuable lesson learned, so it evens up for me." – Jay-Z
78. "If you're scared to take chances, you'll never have the answers." – Nas
79. "The truth is you don't know what is going to happen tomorrow. Life is a crazy ride, and nothing is guaranteed." – Eminem
80. "You might not have a car or big gold chain, stay true to yourself and things will change." – Snoop Dogg
Short but Meaningful Rapper Quotes
81. "A normal life is boring." – Eminem
82. "Good things come in good time." – Wiz Khalifa
83. "A goal is just a dream with a deadline." – Drake
84. "For every dark night, there's a brighter day." – Tupac
85. "Nothing in life is promised except death." – Kanye West
86. "A lot of truth is said in jest." – Eminem
87. "I feel like I'm too busy writing history to read it." – Kanye West
88. "You gotta be able to smile through the bullshit." – Tupac Shakur
89. "You gotta dream like you never got obstacles." – J. Cole
90. "Tables turn, bridges burn, You live, you learn." – Drake
91. "Let the music diffuse all the tension." – Nas
Profound Rapper Quotes About Love and Relationships
92. "Jealousy is just love and hate at the same time." – Drake
93. "Wish you would learn to love people and use things, and not the other way around." – Drake
94. "Rather lose love than to move on never knowing what it felt like." – Wale
95. "Surround yourself with love, not friends." – Lil Wayne
96. "Everybody's at war with different things, I'm at war with my own heart sometimes." – Tupac Shakur
97. "I like the person that you are, but I'm in love with the person that you have potential to be." – Wale
98. "I am a hard person to love but when I love, I love really hard." – Tupac Shakur
99. "If you admire someone, you should go ahead and tell them. People never get the flowers while they can still smell them." – Kanye West
100. "Ice melts into rain, love turns into pain. Here I go again, falling in love again." – Wale
101. "Forgive but don't forget girl, keep ya head up. And when he tells you you ain't nothing don't believe him, and if he can't learn to love you, you should leave him." – Tupac Shakur
102. "We always ignore the ones who adore us, and adore the ones who ignore us." – Drake
103. "I live for the nights I can't remember with the people I can't forget." – Drake
104. "One day you're gonna remember me and how much I love you—then you're gonna hate yourself for letting me go." – Drake
Rapper Quotes on Their Success and Journey in the Music Industry
105. "You've got to always go back in time if you want to move forward." – Snoop Dogg
106. "How many people you bless is how you measure success." – Rick Ross
107. "Sometimes a loss is the best thing that can happen. It teaches you what you should have done next time." – Snoop Dogg
108. "Doing it your own way, not having to go exactly by the book to be successful." – Ice Cube
109. "Everybody has goals, aspirations or whatever, and everybody has been at a point in their life where nobody believed in them." – Eminem
Female Rapper Quotes That Never Miss a Beat
110. "I don't care about anyone not liking me. You b*tches barely like yourselves." – Cardi B
111. "You might win some, but you just lost one." – Lauryn Hill
112. "To me, hip hop will never be right until female rappers have a stronger voice in it." – Queen Latifah
113. "I'm also not going to explain something just because I said it in a rap. Take what you want from it." – Azealia Banks
114. "Beauty might bring happiness, but happiness always brings beauty." – Nicki Minaj.
115. "I want to see 10 female rappers getting regular rotation. It can't be all about a man's opinion." – Queen Latifah
116. "The women that inspire me, to be honest, are the women that struggle." – Cardi B
117. "My love for the female hip hop movement has always been genuine." – Lil' Kim
118. "I don't want my personality to overshadow my talent." – Cardi B
119. "People will love you and support you when it's beneficial." – Nicki Minaj
120. "Confidence literally starts from yourself. You have to go look in the mirror at yourself. If you don't like what you see, you're going to give off that energy." – Megan Thee Stallion
121. "Female rappers get it the hardest. You have to be a girl, yet you have to be just as hard as the guys. I think some female rappers get scared out of the business before they can make it." – Nicki Minaj
122. "There are things that I do that feminists don't like, and there are things that I do that they do like. I don't label myself. I just say the truth about what I feel: I feel like women can do anything that they put their minds to. That's really the truth—I started off with just a dream." – Nicki Minaj
Rapper Quotes That Zoom in on the Importance of Finding Genuine Friends
123. "I would have so many friends if I help back the truth and just gave out compliments." – Drake
124. "Trust is hard to come by. That's why my circle is small and tight. I'm kind of funny about making new friends." – Eminem
125. "Love your enemies and hate your friends, your enemies remain the same, your friends always change." – 50 Cent
126. "Don't fall for fake people. They're often disguised as people close to you." – Big Lez
127. "When you're a little kid, you don't see color, and the fact that my friends were Black never crossed my mind. It never became an issue until I was a teenager and started trying to rap." – Eminem
Interesting Rapper Quotes About Money Management
128. "Get rich or die tryin'." – 50 Cent
129. "Money is my b*tch." – Nas
130. "Money on my mind, money is all I think of." – Lil Wayne
131. "Money is something that keeps you alive and healthy and just keeps you focused. It's the drive. It's the passion." – Travis Scott
132. "Money will brainwash you and leave your *ss mindless snakes slither in the grass spineless." – Eminem
133. "Yes, money is important. But it's all about the creative process." – Travis Scott
134. "I try to treat all the money I'm making like it's the last time I'm going to make it." – Eminem
135. "I like when money makes a difference but doesn't make you different." – Drake
136. "Money and power don't change you, they just further expose your true self." – Jay-Z
Funny Rapper Quotes to Keep You Entertained
137. "Rappers wear diamonds to compensate for lack of fashion sense." – ASAP Rocky
138. "When your ex says, 'You'll never find anyone like me.' Reply with, 'That's the point.'" – Drake
139. "If a guy wants you for your breasts, thighs, and legs, send him to KFC." – Drake
140. "I'd shoot for the moon, but I'm too busy gazing at stars." – Eminem
What Is Your Favorite Rap Song, and How Did It Influence Your Worldview?
Rap music is thought to have originated in the 1970s by Black performers. If you're a hip hop fan, you'll know that most lyrics contain sound advice on topics such as life, love, and career, among others.
Listening to rap music will get you back on track in a flash as you enjoy every beat it comes with. Many rappers came from humble beginnings, which is why their music is not only about society's reality but also about their personal lives and how they achieved their life goals.
We hope these quotes by the world's most famous rappers were able to shed light on their unique approach to life. Allow these quotes to bring back rhythm into your life and guide you on your path to success.
Which of these rapper quotes is your favorite? Please, drop them in the comments area below.