Check out our collection of the best dirty quotes for him and her. Our list consists of two parts: the first part includes dirty phrases for him & her (with images) and the second part is a collection of popular quotes made by famous people.
Dirty And Funny Phrases
1. "Your pants, they bother me. Take them off!"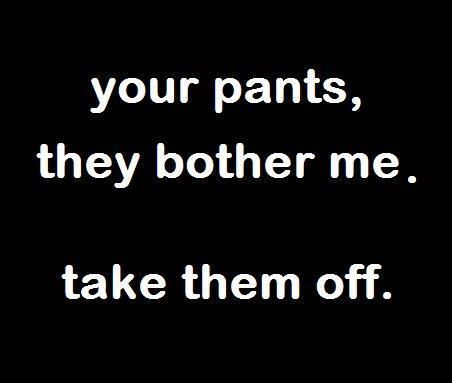 Pin
2. "I want you, all of you. I want to feel you inside me, deep inside me. I want you to tell me when you're going to cum, hear you moan my name and fuck me harder."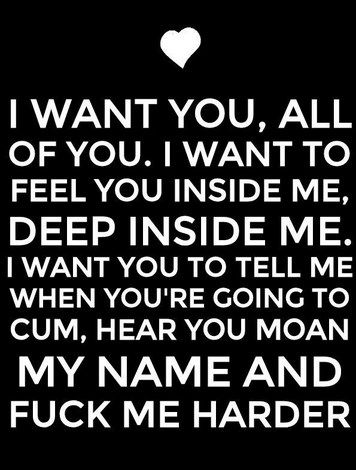 Pin
3. "Kiss me hard & fuck me harder!"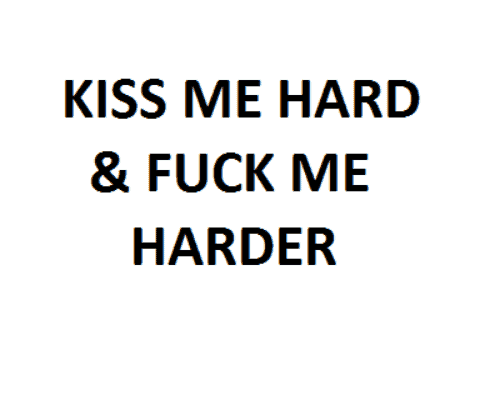 Pin
4. "WE SHOULD FUCK. Like right now, right here. Hard, fast. Pin me down, kiss me hard, look me in the eyes and fuck me like you've never fucked someone before."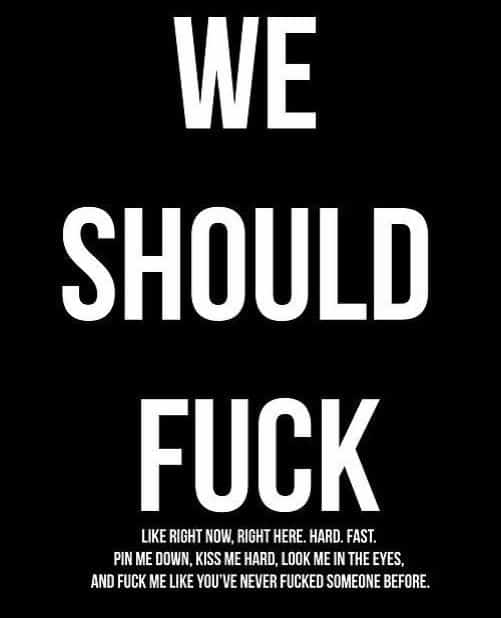 Pin
5. "Moanday. Tongueday. Wetday. Thirstday. Freakday. Sexday. Suckday."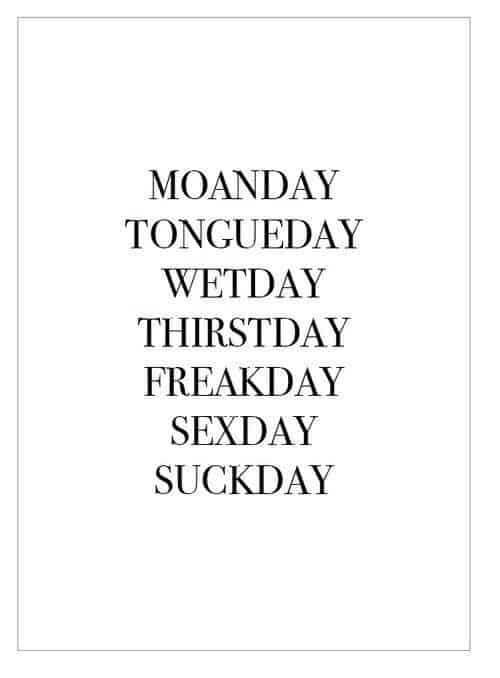 Pin
6. "Your face would look better between my legs."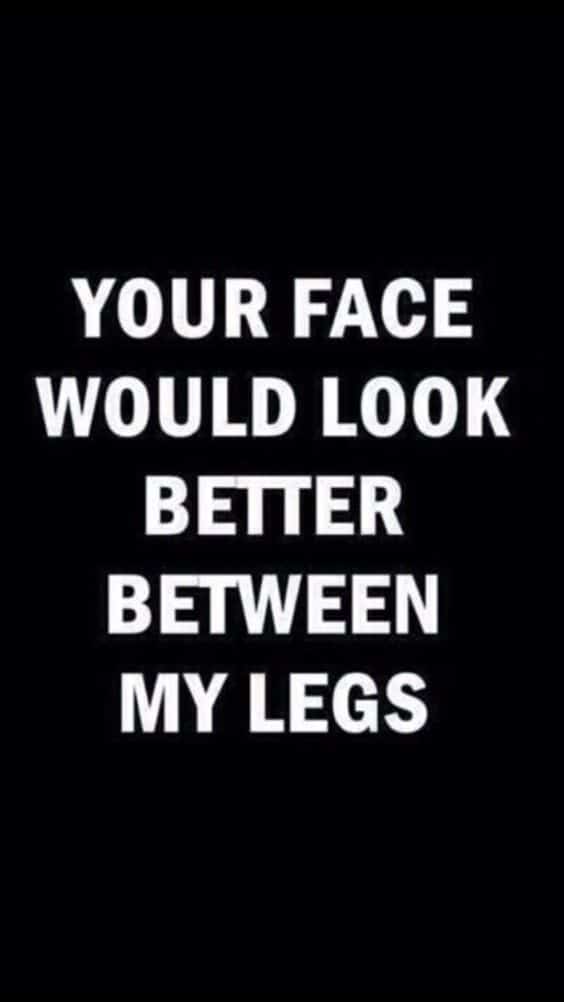 Pin
7. "I swear to God I won't stop until you're shaking."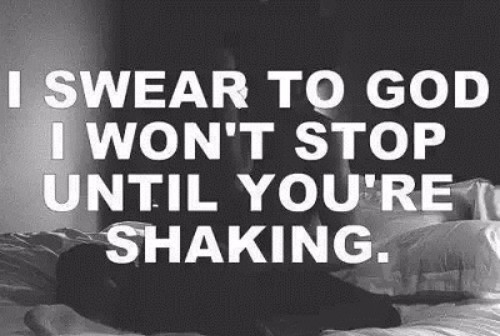 Pin
8. "Get your ass in my bed"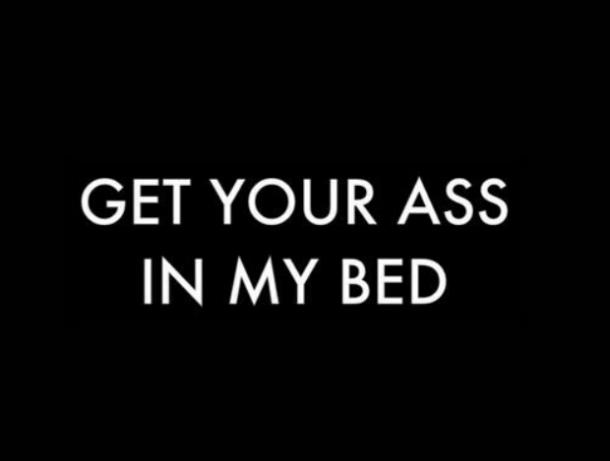 Pin
9. "Nice pants. Can I test the zipper?"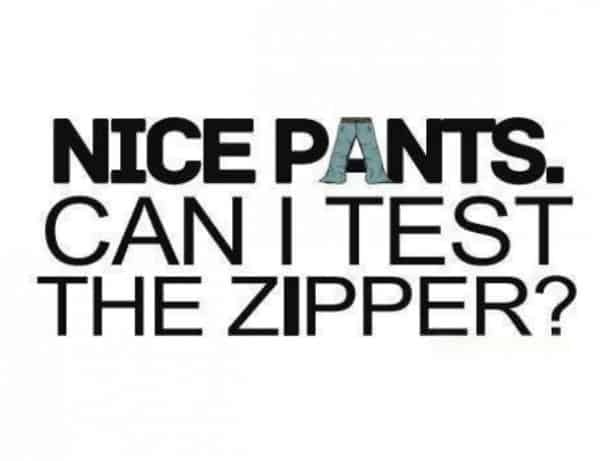 Pin
10. "Tease me until I'm begging for it"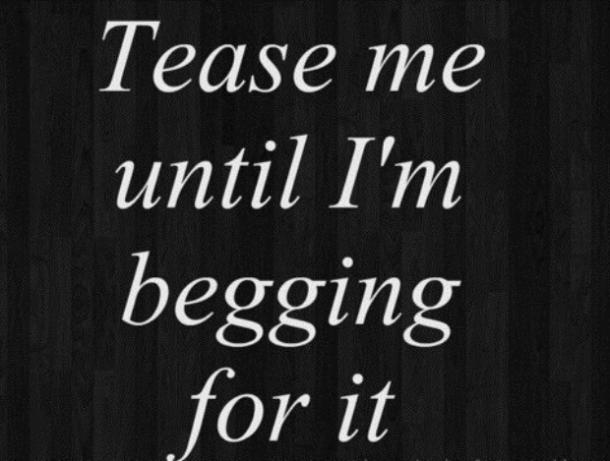 Pin
11. "Your clothes would look nice on my bedroom floor."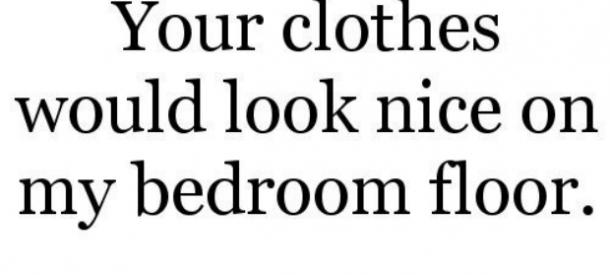 Pin
12. "Be naked when I come home."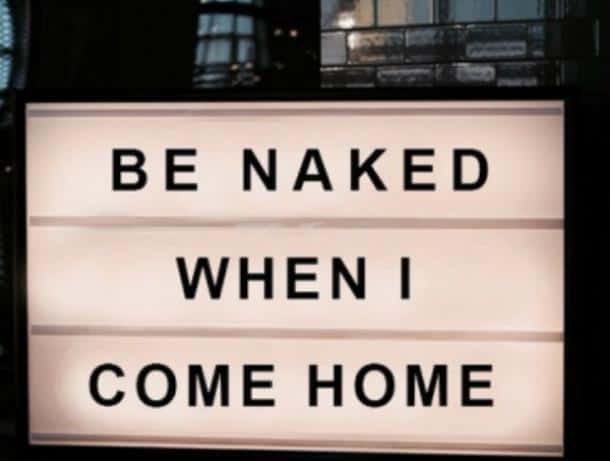 Pin
13. "Lets makeout, have sex, cuddle and have a deep talk. Then lets have sex again, go out to eat, then go back home, watch a movie and have sex again."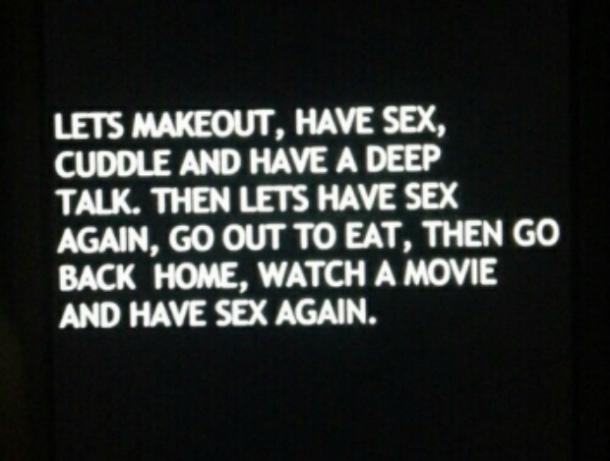 Pin
14. "I wanna do bad things to you"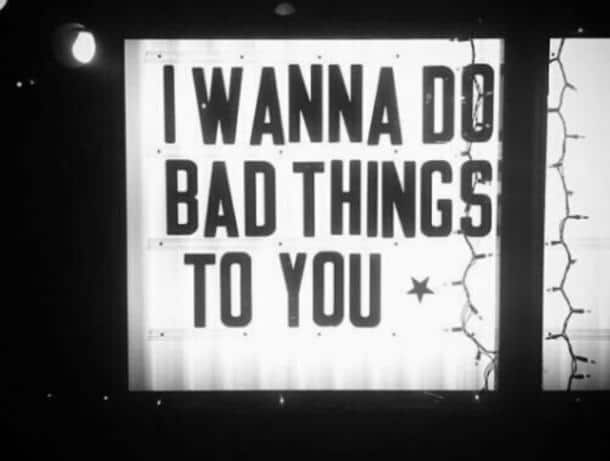 Pin
15. "I swear to you I won't stop until your legs are shaking and the neighbors know my name."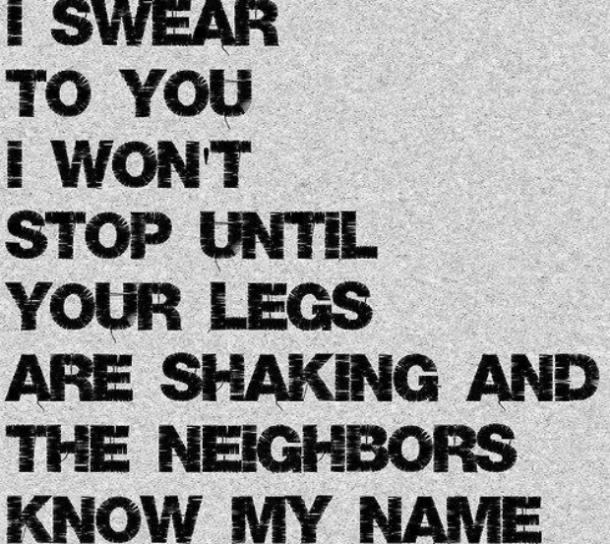 Pin
16. "I just want you to be happy. And naked."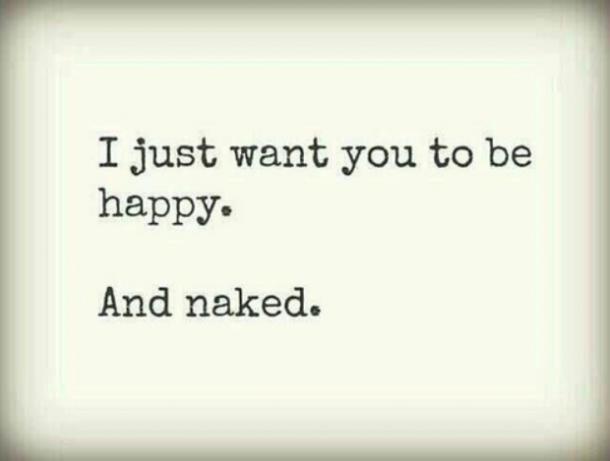 Pin
17. "I'm a lip bitter"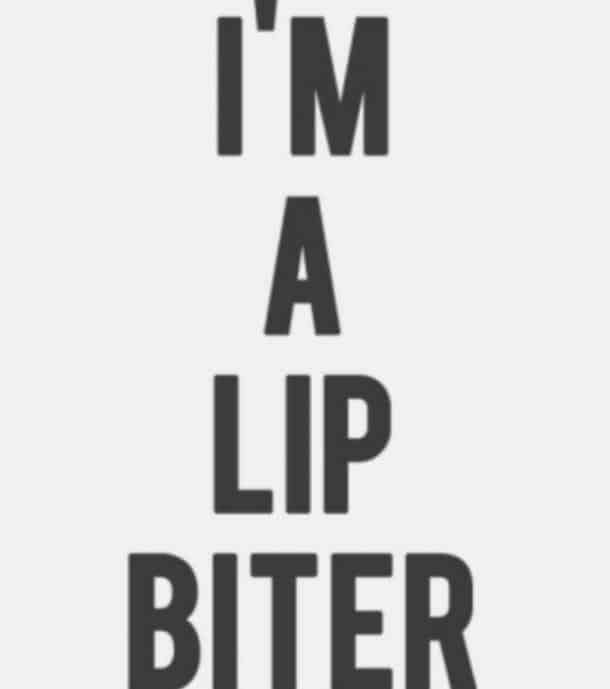 Pin
18. "I'm in my bed, you're in yours. One of us is obviously in the wrong place."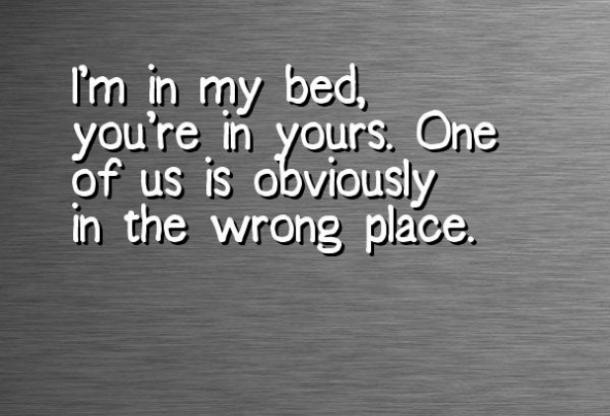 Pin
19. "We should have lots of sex"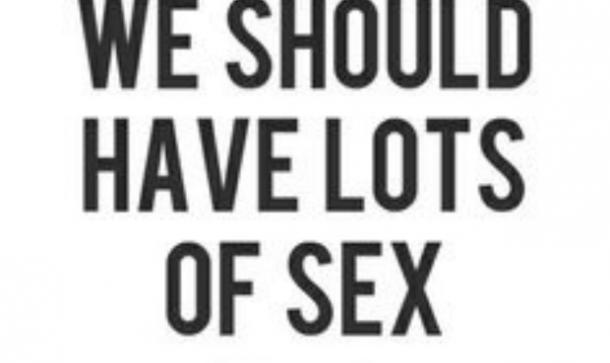 Pin
20. "I love the way you fuck me"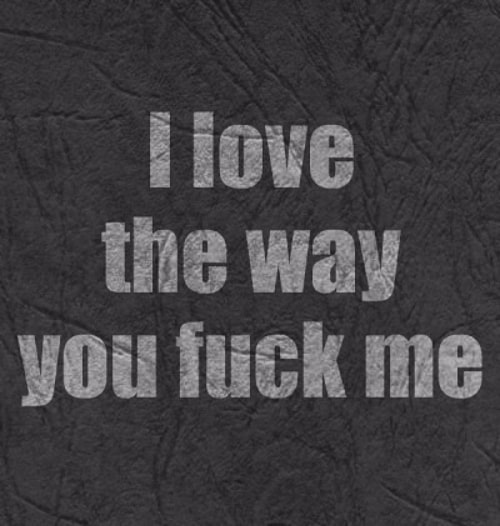 Pin
21. "I licked it, so it's mine!"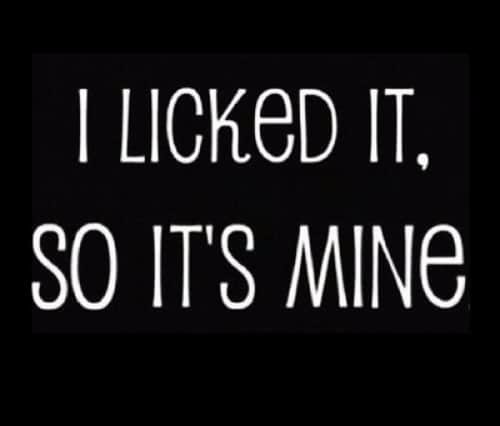 Pin
22. "If you bite my pis or kiss my neck, I promise to rip your fucking clothes off."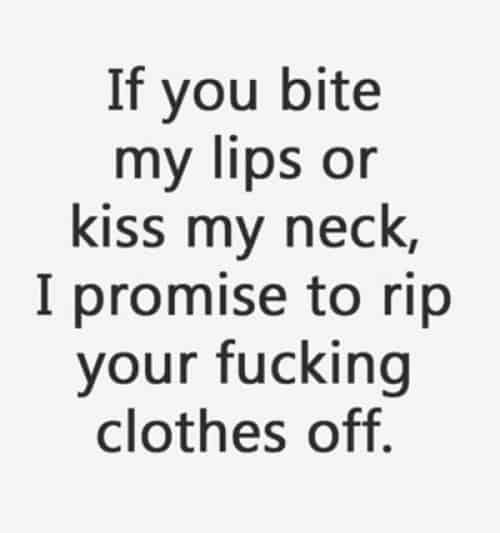 Pin
23. "Shut up and kiss me."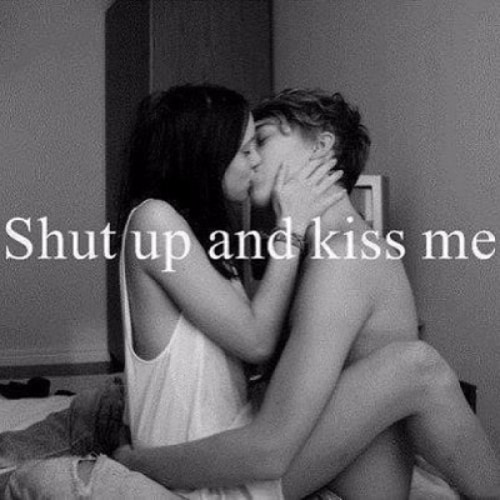 Pin
24. "Be gentle with me. Be sweet ad kind, oh hell! Who am I kidding? Flip me over, ride my ass and pull my hair!"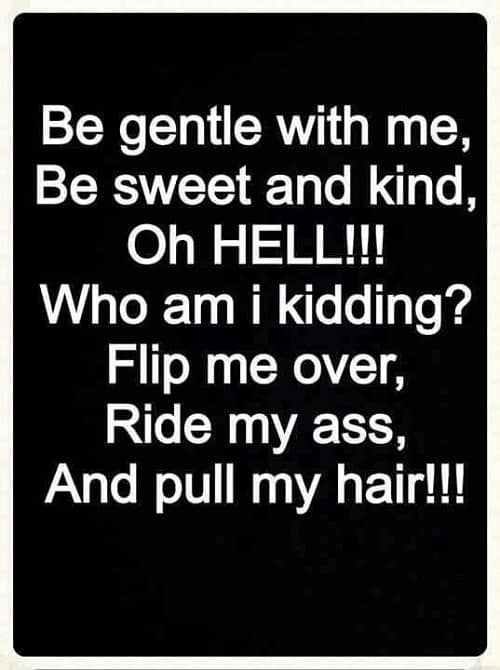 Pin
25. "Go ahead. Touch it"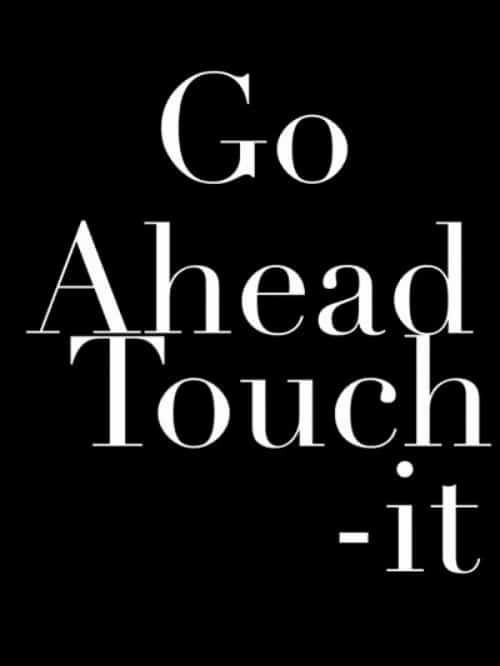 Pin
26. "I want to capture you, like this, and freeze it forever."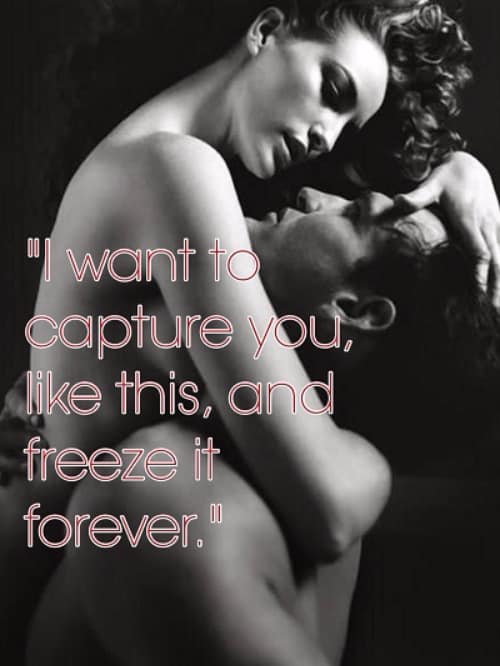 Pin
27. "Eyes on me, baby. Always on me!"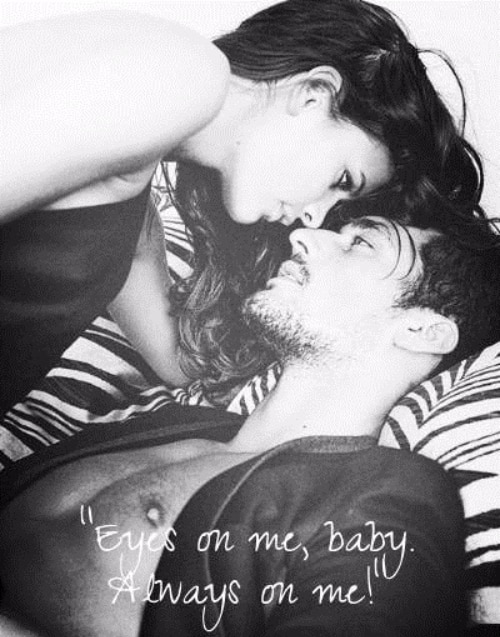 Pin
28. "I want you inside me"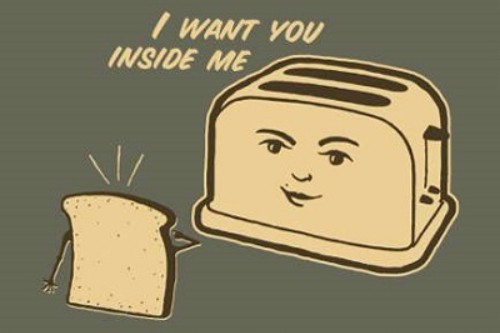 Pin
29. "Spank me. It's the only way I learn."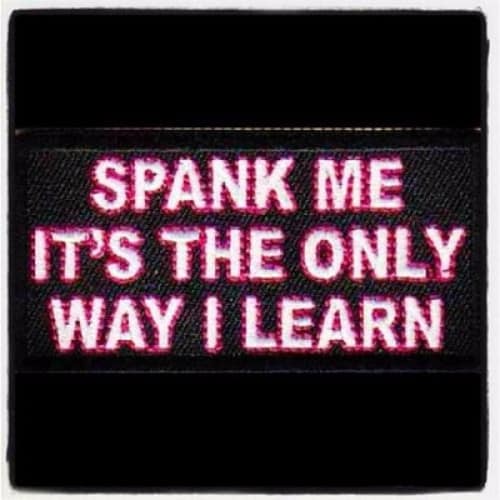 Pin
30. "Push me up against the wall and do dirty things to me."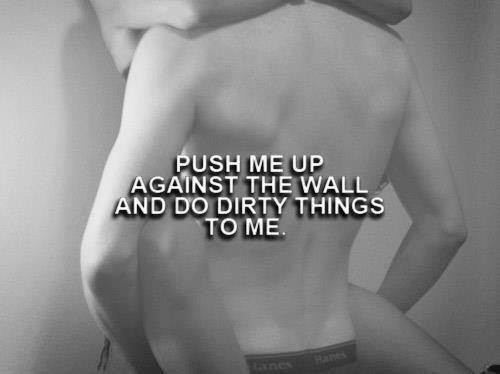 Pin
31. "It's not that I'm horny all the time.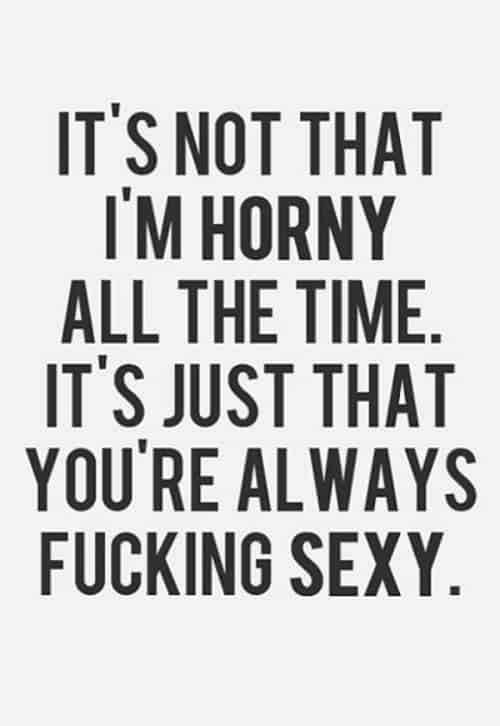 Pin
Popular Dirty Quotes
32. "No woman gets an orgasm from shining the kitchen floor." – Betty Friedan
33. "I don't know the question, but sex is definitely the answer." – Woody Allen
34. "Everything in the world is about sex except sex. Sex is about power." – Oscar Wilde
35. "Good sex is like good bridge. If you don't have a good partner, you'd better have a good hand." – Mae West
36. "The difference between sex and love is that sex relieves tension and love causes it." – Woody Allen
37. "Sex without love is as hollow and ridiculous as love without sex." – Hunter S. Thompson
38. ""Sex is kicking death in the ass while singing." – Charles Bukowski
39. "Is sex dirty? Only when it's being done right." – Woody Allen
40. "Sex is an emotion in motion." – Mae West
41. "Books are finite, sexual encounters are finite, but the desire to read and to fuck is infinite; it surpasses our own deaths, our fears, our hopes for peace." – Roberto Bolaño
42. "Love is the answer, but while you are waiting for the answer, sex raises some pretty good questions." – Woody Allen
43. "Sex is the most fun you can have without laughing." – Woody Allen
44. "Instead of being presented with stereotypes by age, sex, color, class, or religion, children must have the opportunity to learn that within each range, some people are loathsome and some are delightful." – Margaret Mead
45. "I never realized until lately that women were supposed to be the inferior sex." – Katharine Hepburn
46. "I haven't had sex in eight months. To be honest, I now prefer to go bowling." – Lil' Kim
47. "I talk so much about sex that girls just want to meet me." – Joe Rogan
48. "Sex is a momentary itch, love never lets you go." – Kingsley Amis
49. "I've enjoyed the opposite sex a lot. Always have. Always will." – Betty White
50. "To succeed with the opposite sex, tell her you're impotent. She can't wait to disprove it." – Cary Grant
51. "Love is an ice cream sundae, with all the marvelous coverings. Sex is the cherry on top." – Jimmy Dean
52. "Sex is more exciting on the screen and between the pages than between the sheets." – Andy Warhol
53. "Sex is like washing your face – just something you do because you have to. Sex without love is absolutely ridiculous. Sex follows love, it never precedes it." – Sophia Loren
54. "I need more sex, ok? Before I die I wanna taste everyone in the world." – Angelina Jolie
55. "Sex appeal is the keynote of our civilization." – Henri Bergson
56. "Software is like sex: it's better when it's free." – Linus Torvalds
57. "Sex is a bad thing because it rumples the clothes." – Jackie Kennedy
58. "The only burning passion I'm sure I have, is the passion for sex." – Robert Crumb
59. "I got great sex education, and I always knew that if I wanted to be sexually active, I had to have safe sex." – Jenny Slate
60. "I admit, I have a tremendous sex drive. My boyfriend lives forty miles away." – Phyllis Diller