Whenever you're feeling down, read through these top 110 sunflower quotes that will remind you of the happy and joyful days that are yet to come!
There are hundreds of thousands of flowering plants in the world. Though there are a lot, each flower is unique in its own way. They come in thousands of shapes, color combinations, sizes, and scents!
However, one of the most common and popular flowers globally is the sunflower. With its distinct yellow color and tall appearance, there's no doubt that you'll spot one from far away!
Sunflowers mean many different things for different people and cultures. For example, based on the tales about Apollo and Clytie, they symbolize loyalty and adoration. Then, sunflowers are recognized as symbols of vitality, long life, and good luck for other cultures like China.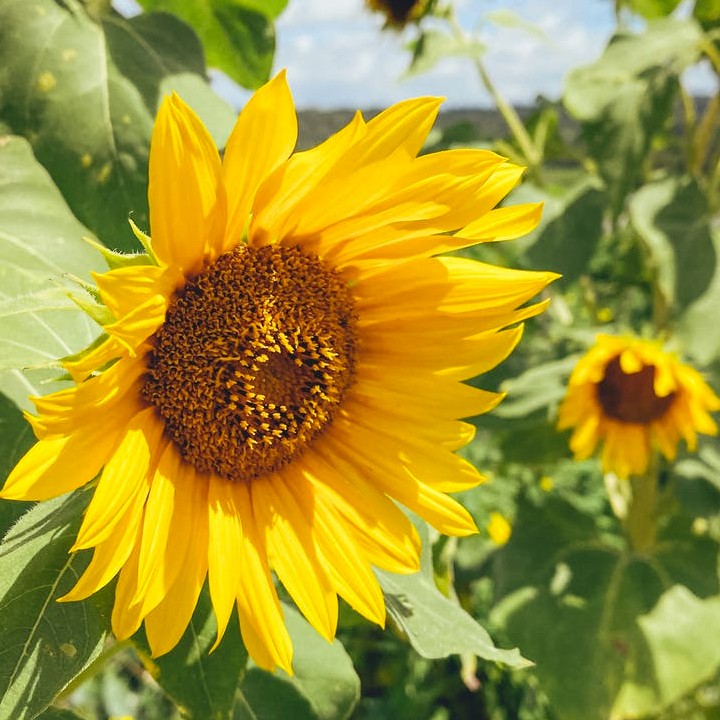 Indeed, sunflowers are unique and hold deep and touching meanings for different people. But, most of all, they are reminders of the brighter and more positive side of life.
To give you an idea of what sunflowers mean for people worldwide, we've gathered our favorite quotes! We're optimistic that you'll be able to take away a lesson or two on how sunflowers can positively influence your life and mindset. So, if you want to know more, make sure you read the entire list below!
Continue reading here.
And make sure to check out these flower quotes and wildflower quotes.
Best Sunflower Quotes
1. "Who knows what may lie around the next corner? There may be a window somewhere ahead. It may look out on a field of sunflowers." – Joe Hill
2. "Keep your face to the sunshine and you cannot see the shadow. It's what sunflowers do." – Helen Keller
3. "If roses tried to be sunflowers, they would lose their beauty; and if sunflowers tried to be roses, they would lose their strength." – Matshona Dhliwayo
4. "Fame is the scentless sunflower, with gaudy crown of gold; but friendship is the breathing rose, with sweets in every fold." – Oliver Wendell Holmes
5. "True friends are like bright sunflowers that never fade away, even over distance and time." – Marie Williams Johnstone
6. "The sunflower is mine, in a way." – Vincent van Gogh
7. "If I were a flower, I would be a sunflower. To always follow the sun, turn my back to darkness; stand proud, tall, and straight even with my head full of seeds." – Pam Stewart
8. "I want to encourage women to embrace their own uniqueness. Because just like a rose is beautiful, so is a sunflower, so is a peony. I mean, all flowers are beautiful in their own way, and that's like women too." – Miranda Kerr
9. "My work is the world. Here the sunflowers, there the hummingbird—equal seekers of sweetness. Here the quickening yeast; there the blue plums." – Mary Oliver
10. "And here the sunflower of the spring burns bright in the morning's beam." – Ebenezer Elliott
Famous Sunflower Quotes
11. "Which way will the sunflower turn surrounded by millions of suns?" – Allen Ginsberg
12. "Flowers have an expression of countenance as much as men or animals. Some seem to smile some have a sad expression some are pensive and diffident others again are plain, honest and upright, like the broad-faced sunflower and hollyhock." – Henry Ward Beecher
13. "Every friend is to the other a sun, and a sunflower also. He attracts and follows." – Jean-Paul
14. "The sunflower is a favorite emblem of constancy." – Thomas Bulfinch
15. "I can't feel bad about being who I am, just like the girl next to me can't feel bad about being who she is. Because a rose can never be a sunflower, and a sunflower can never be a rose." – Miranda Kerr
16. "I am working with the enthusiasm of a man from Marseilles eating bouillabaisse, which shouldn't come as a surprise to you because I am busy painting huge sunflowers." – Vincent van Gogh
Quotes That Will Inspire You to Embody the Qualities of a Sunflower
17. "I want to be like a sunflower; so that even on the darkest days I will stand tall and find the sunlight." – Anonymous
18. "She is a sunflower—strong and bold, and true to herself." – Anonymous
19. "Advice from a sunflower—be bright sunny and positive. Know your roots. Spread seeds of happiness. Rise, shine, and hold your head up high. Keep on growing. Even on the darkest days, stand tall and find the sunlight." – Anonymous
20. "I chose a sunflower because when darkness descends they close up to regenerate." – Halle Berry
21. "Sunflowers end up facing the sun, but they go through a lot of dirt to find their way there." – J.R. Rim
22. "Does she realize she looks like a sunflower, ready to rain sunlight on all who look down upon her?" – Simone Elkeles
23. "Always look at the brighter side of life, just like the sunflower, which looks upon the sun, not the dark clouds." – Anonymous
24. "I don't think there's anything on this planet that more trumpets life than the sunflower. For me, that's because of the reason behind its name. Not because it looks like the sun but because it follows the sun. During the course of the day, the head tracks the journey of the sun across the sky. A satellite dish for sunshine. Wherever light is, no matter how weak, these flowers will find it. And that's such an admirable thing. And such a lesson in life." – Tim Firth
25. "The morning glories and the sunflowers turn naturally toward the light, but we have to be taught, it seems." – Richard Rohr
Short Sunflower Quotes
26. "The road to freedom is bordered with sunflowers." – Martin Firrell
27. "Make it like a sunflower." – Steve Jobs
28. "Advice from a sunflower—be outstanding in your field." – Anonymous
29. "Sunflowers are like people to me." – Joan Mitchell
30. "A sunflower field is like a sky with a thousand suns." – Corina Abdulahm-Negura
31. "We're all golden sunflowers inside." – Allen Ginsberg
32. "Never look directly at the sun. Instead, look at the sunflower." – Vera Nazarian
33. "Her smile put the sunflower to shame." – Jerry Spinelli
34. "A sunflower teaches us so much about love." – Samrah Ahmad
35. "Be a Sunflower in a field of roses." – T.F. Fox
36. "And the yellow sunflower by the brook, in autumn beauty stood." – William Cullen Bryant
37. "A sunflower is always sun-kissed." – Anonymous
38. "Sunflowers are my friends." – Laynni Locke
39. "You are touching so many people's lives. You are a sunflower." – Avijeet Das
Beautiful Sunflower Quotes That Will Fill You With Happiness and Positivity
40. "Smile to the world and smile to the people you love, like a sunflower smiles at the sun." – Remez Sasson
41. "The sunflower is the most joyous of all of nature's flowers." – Laynni Locke
42. "I plant sunflowers and get back daily joy." – Nadine Locke
43. "To just have one sunflower would make me happy." – Anonymous
44. "She is a sunflower! She brings hope to people." – Avijeet Das
45. "Life is like a sunflower—beautiful and radiant at every stage." – Anonymous
46. "Despite knowing they won't be here for long, they still choose to live their brightest life—sunflowers." – Rupi Kaur
47. "Yellow is my favorite summer color—it makes me feel like a sunflower." – Bria Vinaite
48. "Space for the sunflower, bright with a yellow glow, to court the sky." – Anonymous
49. "Sunflowers in spring, they're just like you. Sunflower, wipe away your tears, all your doubts and fears, you were born to fly, so high." – Alice Peacock
50. "A perfect beauty of a sunflower! A perfect excellent lovely sunflower existence! A sweet natural eye to the new hip moon woke up alive and excited grasping in the sunset shadow sunrise golden monthly breeze!" – Allen Ginsberg
Sunflower Quotes and Its Connection to Life
51. "Like sunflowers, galaxies, and fingerprints, your life is an intricately designed spiral." – Kristen Lee
52. "Do you know where the sunflowers' lights go when they die?" – Adriani Putri
53. "If this beautiful sunflower can survive winter, so can I." – Anonymous
54. "A sunflower for my sunflower. To brighten the dark October days you hate so much. Plant some more, and be safe in the knowledge a warm and bright summer awaits." – Cecelia Ahern
55. "Because somehow, the sun rises each day. Emerging from the horizon, brighter and more beautiful than the previous day. You'll rise from the horizon too, learning to trust again. Learning to love again. Learning to heal. You'll emerge so bright that the haters will be blinded. And darling, you'll be the sun then, bright and beautiful, but they won't be your sunflowers." – Minahil
Great Quotes to Highlight the Sunflower's Qualities
56. "In a crowd of roses, choose to be a sunflower. Thornless. Unwithering. Abundant in seeds." – JaTawny M. Chatmon
57. "Look at its shape—with vibrant yellows and oranges, a sunflower can brighten your day. It's as if it is smiling like a happy face painted on the sun. So, if you do only one thing all day, let it be to smile, so you can brighten the day of others around you, just like the sunflower." – Bodhi Smith
58. "Big doesn't necessarily mean better. Sunflowers aren't better than violets." – Edna Ferber
59. "One of the remarkable characteristics of young wild sunflowers, in addition to growing in soil that is not hospitable, is how the young flower bud follows the sun across the sky. In doing so, it receives life-sustaining energy before bursting forth in its glorious yellow color." – Quentin L. Cook
60. "The head of all flower heads is one flower; the sunflower in the sky, that gives the others vivid color stemming from the inside." – Curtis Tyrone Jones
61. "Bring me the sunflower crazed with the love of light." – Eugenio Montale
62. "Like a single sunbeam on a warm summer day, there is an exuberance and brilliance in a sunflower." – Anonymous
63. "Wherever the sun goes, the sunflower will follow—through all of the pain and all of the sorrow." – Londrelle
64. "Pick up a sunflower and count the florets running into its centre, or count the spiral scales of a pine cone or a pineapple, running from its bottom, up its sides to the top, and you will find an extraordinary truth: recurring numbers, ratios and proportions." – Charles Jencks
65. "I think it's something to do with the nurturing side of the psyche; tying up a sunflower or whatever and helping it grow, it is just some kind of core human experience." – Joe Lycett
Meaningful Sunflower Quotes Packed With Wisdom
66. "Sunflowers show us the beauty of staying connected with all that nourishes and sustains us." – Unknown
67. "Sunflowers growing through a crack in the sidewalk have what it takes to survive." – Bob Crewe
68. "Mom has a massive sunflower for a soul so big there's hardly any room in her for organs." – Jandy Nelson
69. "The earth paints a portrait of the sun at dawn with sunflowers in bloom. Unhappy with the portrait, she erases it and paints it again and again." – Rabindranath Tagore
70. "Someone was sitting in front of a sunflower, watching the sunflower, a cup of sun, and so I tried it too. It was wonderful; I felt the whole universe in the sunflower. That was my experience. Sunflower meditation. A wonderful confidence appeared. You can see the whole universe in a flower." – Shunryu Suzuki
Deep and Poetic Sunflower Quotes to Make You Think
71. "Ah! Sunflower, weary of time, who countest the steps of the sun, seeking after that sweet golden clime." – William Blake
72. "Her heart bloomed sunflowers so she would always face the light." – Gemma Troy
73. "To be nothing. Of all the ways the sunflower has of loving light, regret is the most beautiful shadow on the sundial." – Andre Breton and Paul Eluard
74. "Light-enchanted sunflower, thou who gazest ever true and tender on the sun's revolving splendor." – Pedro Calderon de la Barca
75. "My will broke at the sound of his voice, and my head turned with as much inevitability as a sunflower turning its face to the sun." – Patricia Briggs
76. "His eyes were the colour of gold, of sunflowers and butterscotch and lemons hanging heavy on their boughs." – Jest Marissa Meyer
77. "When I went out to work today and looked a tall sunflower in the face, it smiled at me with all of its seeds." – Vladimir Nabokov
78. "Sunflowers in the tall grass, we were born to thrive but not born to last, and I've been sleeping the rainy months away." – Andrew Capra
79. "A long time ago, in a kingdom by the sea, there lived a princess as tall and bright as a sunflower." – Jeanne Desy
Cute and Sweet Sunflower Quotes
80. "In the morning, the sunflower blossoms due to the sun's rays. This morning I just wanted to remind you that my heart blossoms with love for you every day I wake up and it is going to do that forever." – Sheila Carey
81. "Sunflowers to brighten your soul." – Anonymous
82. "Come with me into the field of sunflowers is a better line than anything you will find here, and the sunflowers themselves far more wonderful than any words about them." – Mary Oliver
83. "She may be a rose dipped in gold, be he prefers sunflowers." – Katrina Nutter
84. "You look beautiful as a sunflower and charming as a rose." – Avijeet Das
85. "I love you more than all the bees in a sunflower field." – H.C.
86. "A beautiful sunflower for a beautiful you." – Anonymous
87. "I love a sunflower and I believe in love power." – Tears for Fears
88. "She stood out like a sunflower in a field of wheat." – Jennifer L. Armentrout
89. "Every good day deserves a sunflower!" – Anonymous
Interesting and Witty Sunflower Quotes That Will Make You Giggle
90. ​​"What god does a sunflower believe in? That's the god I believe in." – Marty Rubin
91. "I took a photo of my sunflower, now it can photosynthesize." – Anonymous
92. "Perfecting my garden sunflower flower beds through a process of trowel and error." – Anonymous
93. "The sunflower was feeling lonely. He said he just wanted to get some-bud-y to love." – Anonymous
94. "I was going to organize all my dried sunflowers; then I realized I had more pressing problems to deal with." – Anonymous
95. "Sometimes, I drop sunflower seeds in my neighbor's garden; it sows cheeky of me." – Anonymous
Sunflower Quotes and Captions
96. "Sunflowers are nature's sun." – Anonymous
97. "April showers are bringing me May sunflowers." – Anonymous
98. "Spring has sprung and sunflowers have begun." – Anonymous
99. "Save space for sunflowers." – Anonymous
100. "I'm the type of girl that always has a sunflower beside me." – Anonymous
101. "Sunflowers radiate happiness." – Anonymous
102. "A kind word is like a sunflower." – Anonymous
103. "I've got sunflowers on a cloudy day." – Anonymous
More Sunflower Quotes You'll Love
104. "Like the young sunflower, when we follow the Savior of the world, the Son of God, we flourish and become glorious despite the many terrible circumstances that surround us. He truly is our light and life." – Quentin L. Cook
105. "As for marigolds, poppies, hollyhocks, and valorous sunflowers, we shall never have a garden without them, both for their own sake and for the sake of old-fashioned folks, who used to love them." – Henry Ward Beecher
106. "Sunflowers are the sun without the heat." – Anonymous
107. "There are not too many fables about man's misuse of sunflower seeds." – Richard Brautigan
108. "Attention shifted to him like sunflowers turning to the sun." – Khaled Hosseini
109. "Van Gogh's sunflowers, it seems, are wilting, just like their real-life counterparts did." – Kassia St. Clair
110. "Sunflower on the shoreline, shining brightly underneath the moonlight, caught me by surprise." – Audio Medic
Did These Sunflower Quotes Inspire You to Look at Life a Little Bit More Positively?
As seen in its name, sunflowers are closely related to the sun. Their outside characteristics feature bright yellow petals that remind you of the sun's warmth on summer days. Because of this, these flowers are considered to be flowers filled with happiness and joy.
Though, essentially, sunflowers mean different things to different cultures, one thing remains true: they are flowers that are centered on positivity. They serve as a reminder to always find the sun—the light in our lives.
Sunflowers always look for the sun. They stand tall and lean toward where the sun shines the brightest. This serves as an excellent metaphor for people trying to find something good to hold onto when facing life's difficulties.
Whenever you feel sad, and you feel like there's no hope left, instead of looking down and giving up, look for your sun—the one that can make you feel like there will always be light and hope in the world if you just keep the faith and continue holding on.
So, make sure you live your life as a sunflower does. Look up instead of down, and always find the light that will guide you toward your dreams.
We hope this list of the best sunflower quotes was able to enlighten you on the deeper purpose and meaning sunflowers have in our lives. May these quotes serve as a reminder that there's always something to look forward to, even on the darkest of days.
Did you learn something new from this collection? Are there any other sunflower quotes you'd like us to add? Please, join the discussion below!