These Thanksgiving quotes will remind you of the things you should be grateful for!
Thanksgiving Day is a day to celebrate the good things in life. Historically, it's a feast to give thanks for the year's plentiful harvest.
Aside from that, people also thank God for His blessings and express gratitude to loved ones for their love and support during this holiday.
So, if you've run out of words to express your gratitude, read the quotes below for inspiration. Remember, you have a lot to be thankful for!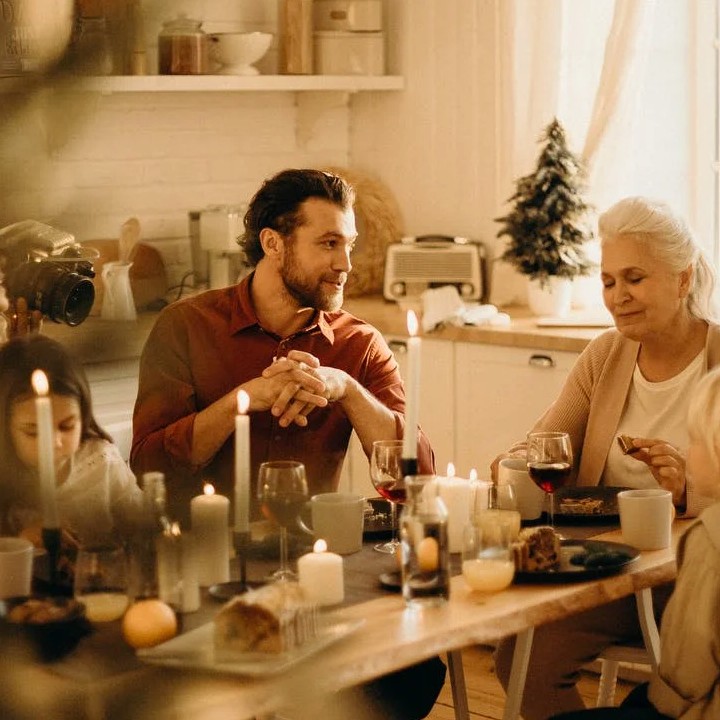 Start reading here.
And don't forget to check out these New Year quotes and gratitude quotes.
Best Thanksgiving Quotes
1. "Gratitude is the inward feeling of kindness received. Thankfulness is the natural impulse to express that feeling. Thanksgiving is the following of that impulse." – Henry Van Dyke
2. "Thanksgiving is a time of togetherness and gratitude." – Nigel Hamilton
3. "Thanksgiving comes to us out of the prehistoric dimness, universal to all ages and all faiths. At whatever straws we must grasp, there is always a time for gratitude and new beginnings." – J. Robert Moskin
4. "Thanksgiving is the meal we aspire for other meals to resemble." – Jonathan Safran Foer
5. "Thanksgiving Day is a good day to recommit our energies to giving thanks and just giving." – Amy Grant
6. "I awoke this morning with devout thanksgiving for my friends, the old and the new." – Ralph Waldo Emerson
7. "The greatest gift one can give is Thanksgiving. In giving gifts, we give what we can spare, but in giving thanks we give ourselves." – David Steindl-Rast
8. "Thanksgiving just gets me all warm and tingly and all kinds of wonderful inside." – Willard Scott
9. "Give thanks not just on Thanksgiving Day, but every day of your life. Appreciate and never take for granted all that you have." – Catherine Pulsifer
10. "Not what we say about our blessings, but how we use them, is the true measure of our Thanksgiving." – W.T. Purkiser
Thanksgiving Quotes That Will Inspire You to Be Grateful
11. "I do think that Thanksgiving is a very nice holiday because it's all about saying thank you; it's being thankful." – Jacob Tremblay
12. "The thankful receiver bears a plentiful harvest." – William Blake
13. "May you find a moment today, and every day, to feel grateful for all that we have. Happy Thanksgiving." – Anonymous
14. "A thankful heart is the parent of all virtues. This Thanksgiving, may you give thanks for everything you are blessed with." – Anonymous
15. "Although Thanksgiving comes once a year, every day should be a day of thanks." – Monique Hammond
16. "Thanksgiving is the holiday that encompasses all others. All of them, from Martin Luther King Day to Arbor Day to Christmas to Valentine's Day, are in one way or another about being thankful." – Jonathan Safran Foer
17. "What a good time to reflect on the many blessings we have! The delightful Thanksgiving is here again, with a lot more fun and reasons to be grateful for." – Anonymous
Also read: Inspirational Quotes, Positive Quotes
Great Thanksgiving Quotes to Live By
18. "Thanksgiving is the expression of an attitude or a philosophy of life. A thankful person is a person who looks at life from a unique perspective, and, therefore, sees what the ungrateful do not see." – Steve Pease
19. "Thanksgiving is coming to the life-altering understanding that truly precious things can't be owned anyway. And the wonder of it all is not only realizing that we can't own them, but it's realizing that we don't have to expend the energy in the maintenance of them in order to enjoy them." – Craig D. Lounsbrough
20. "Stand up, on this Thanksgiving Day, stand upon your feet. Believe in man. Soberly and with clear eyes, believe in your own time and place. There is not, and there never has been a better time, or a better place to live in." – Phillips Brooks
21. "Thanksgiving isn't just a day. It's a way we can live our lives every day." – Katrina Mayer
22. "Thanksgiving is more than 'one dinner.' Thanksgiving is a time for celebrating everything you love." – Robin Kite
23. "Thanksgiving is the end of all human conduct, whether observed in words or works." – J. B. Lightfoot
24. "Thanksgiving offers us an annual pause from the pace of life, returning to places we do not often visit and gathering with people we do not often see." – Jay Milbrandt
25. "To give thanks in solitude is enough. Thanksgiving has wings and goes where it must go. Your prayer knows much more about it than you do." – Victor Hugo
26. "Thanksgiving is a celebration of a harvest, and it is common all over the world." – Rodney Miles
27. "Thanksgiving was nothing more than a pilgrim-created obstacle in the way of Christmas; a dead bird in the street that forced a brief detour." – Augusten Burroughs
28. "Thanksgiving is a time to give, a time to love, and a time to reflect on the things that matter most in life." – Danielle Duckery
29. "There is no better opportunity to receive more than to be thankful for what you already have. Thanksgiving opens the windows of opportunity for ideas to flow your way." – Jim Rohn
30. "Thanksgiving is an act. Hence, it is not enough to have the feeling in our hearts; it is important to express it so that the party to whom we are giving thanks sees and knows that we are truly grateful for the good that we have received." – Joseph A. Iyongo
31. "A thought about Thanksgiving Day: once, there was this day—this one day when everyone realized they needed each other." – April Burns
32. "He who thanks but with the lips, thanks but in part; the full, the true Thanksgiving comes from the heart." – J. A. Shedd
Also read: Life Quotes
Thanksgiving Quotes to Make You Feel Blessed
33. "Thanksgiving is one of my favorite days of the year because it reminds us to give thanks and to count our blessings. Suddenly, so many things become so little when we realize how blessed and lucky we are." – Joyce Giraud
34. "Everyone should have a heart of thanksgiving as soon as they open their eyes. If being able to take another breath and having the ability to open your eyes in the morning isn't the biggest blessing, I don't know what is." – Moe Avodah
35. "Thanksgiving is a day to be thankful for all of our blessings, and may we never forget to give thanks for the freedom we enjoy." – Catherine Pulsifer
36. "The blessings of harvest time can be found at Thanksgiving." – Theodore W. Higginsworth
37. "Thanksgiving is about a lot of things. It's about being grateful for all of our blessings." – Arnie Lightning
Also read: November Quotes, October Quotes
Quotes on Thanksgiving and Gratitude
38. "Thanksgiving is a joyous invitation to shower the world with love and gratitude." – Amy Leigh Mercree
39. "Thanksgiving Day comes, by statute, once a year; to the honest man it comes as frequently as the heart of gratitude will allow." – Edward Sandford Martin
40. "Thanksgiving Day is a jewel, to set in the hearts of honest men; but be careful that you do not take the day, and leave out the gratitude." – E. P. Powell
41. "It is one thing to be grateful. It's another to give thanks. Gratitude is what you feel. Thanksgiving is what you do." – Tim Keller
42. "Express your gratitude on this Thanksgiving, not because you should, but because your life is complete and your heart is content." – Anonymous
Also read: Halloween Quotes
Quotes About Thanksgiving and Family
43. "What I love about Thanksgiving is that it's purely about getting together with friends or family and enjoying food. It's really for everybody, and it doesn't matter where you're from." – Daniel Humm
44. "I love Thanksgiving because it is a time of year when families come together. It is a time of year when the days are shorter, the nights are colder, but you feel warmed by the love of those around you." – Sarah Spencer
45. "On Thanksgiving, I will stop to give thanks that my family is safe and healthy, especially because I realize that, following the tragedies of this year, it is all too real a possibility that they might not have been." – Bobby Jindal
46. "I love Thanksgiving because it is a holiday centered around food and family, two things that are of utmost importance to me." – Marcus Samuelsson
47. "Thanksgiving is a fun, family holiday that is celebrated every year! Families get together and, in their own way, give thanks for the blessings that they enjoy." – Leanne Annett
48. "We've come to the time in the season when family and friends gather near to offer a prayer of Thanksgiving for blessings we've known through the year." – Johnny Cash
49. "Thanksgiving marks the beginning of the holiday season, and represents food, family and moments of sharing and professing gratitude." – Sarah Moore
50. "One of the most meaningful days of the year is Thanksgiving Day; a day full of gratitude and turkey surrounded by the love of family and friends." – Catherine Pulsifer
51. "Thanksgiving Day is a perfect day to share the love and companionship of family and friends at the Thanksgiving table." – Cheryl Leonard
52. "Many families begin the Thanksgiving meal by allowing each person at the table to list the reasons they are thankful. Every guest, young and old, takes a moment to give thanks." – Lou Pappas
Short Thanksgiving Quotes
53. "Thanksgiving, after all, is a word of action." – W. J. Cameron
54. "On Thanksgiving Day we acknowledge our dependence." – William Jennings Bryan
55. "Forever on Thanksgiving Day the heart will find the pathway home." – Wilbur D. Nesbit
56. "Thanksgiving creates abundance." – Ann Voskamp
57. "Thanksgiving was never meant to be shut up in a single day." – Robert Caspar Lintner
58. "On this Thanksgiving Day good friends, good food, good wine, and good Spanx!" – Anonymous
Thanksgiving Quotes That Everyone Can Agree On
59. "Thanksgiving is a season that is very much in accord with the themes and teachings of Jesus Christ." – John Clayton
60. "Thanksgiving is the holiday of peace, the celebration of work and the simple life—a true folk-festival that speaks of the poetry of the turn of the seasons, the beauty of seedtime and harvest, the ripe product of the year—and the deep, deep connection of all these things with God." – Ray Stannard Baker
61. "You shouldn't just give during Christmas and Thanksgiving, you should be giving all the time." – Alcurtis Turner
62. "We're getting ready to sit down at the table and have Thanksgiving, and there are people that are not with their families. There are people that are in dangerous areas, putting their lives on the line to keep our country free, and I think that's something we should all celebrate every day." – Guy Fieri
63. "This most of all is the message of Thanksgiving: everything really will be alright." – Sam Sifton
64. "For whoever comes into your home, whoever you invite, whoever invites himself, whoever needs to be invited, whoever's there: Thanksgiving ought to be the best holiday of the year." – Sam Sifton
65. "Thanksgiving is really a holiday that allows us all, if only for a day, to stop what we're doing and consider the wonderful people in our lives and the opportunities we have and have had." – Trish Regan
66. "The turkey. The sweet potatoes. The stuffing. The pumpkin pie. Is there anything else we all can agree so vehemently about? I don't think so." – Nora Ephron
67. "It has been an unchallengeable American doctrine that cranberry sauce, a pink goo with overtones of sugared tomatoes, is a delectable necessity of the Thanksgiving board and that turkey is uneatable without it." – Alistair Cooke
68. "Thanksgiving—fall's finale. Best damn holiday of the year in my worldly estimation." – Carew Papritz
69. "My most memorable meal is every Thanksgiving. I love the food: the turkey and stuffing; the sweet potatoes and rice, which come from my mother's Southern heritage; the mashed potatoes, which come from my wife's Midwestern roots; the Campbell's green-bean casserole; and of course, pumpkin pie." – Douglas Conant
Humorous Thanksgiving Quotes to Make You Giggle
70. "Overeating at Thanksgiving is a case in point. It's a national tradition." – Eric Samuel Timm
71. "It wouldn't be Thanksgiving without a little emotional scarring." – Kevin Rahm
72. "An optimist is a person who starts a new diet on Thanksgiving Day." – Irv Kupcinet
73. "Thanksgiving is a magical time of year when families across the country join together to raise America's obesity statistics." – Stephen Colbert
74. "Thanksgiving is a time to count your blessings, one by one, as each relative goes home." – Melanie White
75. "A lot of Thanksgiving days have been ruined by not carving the turkey in the kitchen." – Kin Hubbard
76. "Thanksgiving is an emotional holiday. People travel thousands of miles to be with people they only see once a year. And then discover once a year is way too often." – Johnny Carson
77. "I like football. I find it's an exciting strategic game. It's a great way to avoid conversation with your family at Thanksgiving." – Craig Ferguson
78. "Thanksgiving is so-called because we are all so thankful that it only comes once a year." – P. J. O'Rourke
79. "For those of you who cannot be with family this Thanksgiving, please resist the urge to brag." – Andy Borowitz
80. "Thanksgiving Day is the day that your kitchen is going to turn into the most wonderful, beautiful place in the world." – Polly Ann Lewis
81. "I can't cook a Thanksgiving dinner. All I can make is cold cereal and maybe toast." – Charlie Brown
82. "Thanksgiving—when the people who are the most thankful are the ones who didn't have to cook." – Melanie White
83. "If you think about a Thanksgiving dinner, it's really like making a large chicken." – Ina Garten
84. "My favorite meal is turkey and mashed potatoes. I love Thanksgiving, it's just my favorite. I can have Thanksgiving all year round." – Cindy Margolis
Thanksgiving Quotes Packed With Insights
85. "The Pilgrims made seven times more graves than huts. No Americans have been more impoverished than those who, nevertheless, set aside a day of Thanksgiving." – H. U. Westermayer
86. "Thanksgiving reminds us that no matter what befalls us in life, we can take the charred remnants and we can reconstruct a life unimaginably richer than that from which the shards and pieces fell." – Craig D. Lounsbrough
87. "Thanksgiving is America's favorite holiday because it's a time when we put aside our cares, much as the struggling Pilgrims did nearly four centuries ago, and eat a gut-busting meal without worrying about the 'out years.'" – David Ignatius
88. "We would worry less if we praised more. Thanksgiving is the enemy of discontent and dissatisfaction." – H.A. Ironside
89. "Thanksgiving is America's favorite holiday, and a brilliant piece of personal as well as patriotic calendrical invention." – Linda Colley
90. "Best of all is to preserve everything in a pure, still heart, and let there be for every pulse a thanksgiving, and for every breath a song." – Conrad Gessner
91. "Thanksgiving is America's national chow-down feast, the one occasion each year when gluttony becomes a patriotic duty." – Michael Dresser
92. "Thanksgiving dinners take 18 hours to prepare. They are consumed in 12 minutes. Half-times take 12 minutes. This is not a coincidence." – Erma Bombeck
93. "If you think Independence Day is America's defining holiday, think again. Thanksgiving deserves that title, hands-down." – Tony Snow
94. "Superficial social niceties are far different from the deep emotion of Thanksgiving." – Alexandra Katehakis
95. "A new survey found that 80% of men claim they help cook Thanksgiving dinner. Which makes sense, when you hear them consider saying 'That smells good' to be helping." – Jimmy Fallon
Sweet Thanksgiving Quotes and Greetings for Your Loved Ones
96. "Because today is a special day, I want to let you know that I appreciate you every single day. Happy Thanksgiving wishes!" – Anonymous
97. "Happy Thanksgiving. Here's hoping that whatever you do today brings you delight from morning until night. May the holiday bring you nothing but wonderful things in abundance." – Anonymous
98. "There have been times when I forgot to thank you for being there for me. I take this day to tell you how special you are and how great my life has become because of you. Have a memorable Thanksgiving!" – Anonymous
99. "May your blessings be multiplied this year and throughout all your life. Happy Thanksgiving wishes to you!" – Anonymous
100. "Hope your Thanksgiving is rich with delicious eats and hearty laughter with loved ones." – Anonymous
101. "Wishing you a harvest of health, happiness, and delicious eats. Happy Thanksgiving." – Anonymous
102. "Happy Thanksgiving. May the warm glow of autumn surround you as you celebrate the holiday with family and friends." – Anonymous
103. "May you enjoy a bountiful Thanksgiving with lots of cherished moments." – Anonymous
104. "Happy Thanksgiving. May the holiday bring you good things in abundance that stay with you all year long." – Anonymous
105. "Sending you heartwarming thanks for all that you do. Enjoy your Thanksgiving day." – Anonymous
106. "Happy Thanksgiving for a friend who's always been there, rain or shine. I know I can count on you and I'm so thankful for that." – Anonymous
107. "Thinking of you with love and gratitude, and wishing you the best on this Thanksgiving Day." – Anonymous
108. "May your heart and plate be full this Thanksgiving." – Anonymous
109. "May you celebrate thanksgiving day with love in your heart, prosperous vision in your mind, and gratitude in your being. Thanksgiving wishes to everyone!" – Anonymous
110. "Happy Turkey Day. This day is even better when I have you to feel grateful for." – Anonymous
Thanksgiving Quotes to Appreciate God's Blessings
111. "A day for Thanksgiving was set aside as a holiday so that we, as a nation, could collectively give thanks to God for all of His blessings—to express our gratitude for His love and protection and provision." – Warren B. Smith
112. "Thanksgiving is the expression of gratitude, an acknowledgment of favors or divine goodness. It is an act of appreciation, often directed to God for all He has done or is doing in our lives." – Joseph A. Iyongo
113. "Learn the lesson of Thanksgiving. It is due to God, it is due to ourselves. Thanksgiving for the past makes us trustful in the present and hopeful for the future. What He has done is the pledge of what He will do." – A. C. A. Hall
114. "God encourages us to let our requests be made known to Him in the spirit of Thanksgiving." – John Stange
115. "God makes us rich in every way so we can be generous on every occasion, which will result in thanksgiving to God. In other words, God doesn't bless us to provide for our own needs; He blesses us so we can be generous." – Rick Warren
116. "Thanksgiving—show appreciation for all God has given you." – Max Lucado
117. "Indeed, it is hard if not impossible to take God out of the picture when discussing the true meaning of Thanksgiving." – Stefan Saxin
118. "God is glorified, not by our groans, but by our thanksgivings." – Edwin Percy Whipple
119. "Thanksgiving—giving Him thanks for what He has done and how He has revealed Himself to you." – Tony Watson
120. "One of the ways we express our thanksgiving to God is by treating others with gratitude and kindness." – Dr. David Jeremiah
121. "Thanksgiving is a wonderful opportunity to express gratitude to God for allowing us to live and for everything He has provided us with in life." – Anonymous
Thanksgiving Quotes and Captions for Your Next Instagram Post
122. "Thanksgiving to-do list: eat, drink, nap, repeat." – Anonymous
123. "Thanksgiving dinner is a marathon, not a sprint." – Anonymous
124. "Come for the turkey, stay for the sides." – Anonymous
125. "Stuffing is the tur-key to my heart." – Anonymous
126. "Another Thanksgiving, another day of dressing up for the living room!" – Anonymous
127. "Every year I say I won't overdo it on Thanksgiving, yet here we are." – Anonymous
128. "Thanksgiving is plucking awesome." – Anonymous
129. "There's no time like turkey time." – Anonymous
130. "Turkey, wine, and feeling fine." – Anonymous
131. "Thankful, blessed, and mashed potato obsessed." – Anonymous
More Thanksgiving Quotes You'll Enjoy
132. "Coexistence: what the farmer does with the turkey—until Thanksgiving." – Mike Connolly
133. "Thanksgiving is a time when the world gets to see just how blessed and how workable the Christian system is." – John Clayton
134. "Sharing in God's blessings is at the heart of Thanksgiving and at the core of the American spirit." – Bill Clinton
135. "All across America, we gather this week with the people we love to give thanks to God for the blessings in our lives." – George W. Bush
136. "Pride slays thanksgiving, but a humble mind is the soil out of which thanks naturally grows. A proud man is seldom a grateful man, for he never thinks he gets as much as he deserves." – Henry Ward Beecher
137. "My Thanksgiving is perpetual. It is surprising how contented one can be with nothing definite—only a sense of existence." – Henry David Thoreau
138. "Thanksgiving, our eminent moral holiday, doesn't have much for children. At its heart are conversation, food, drink, and fellowship—all perks of adulthood." – Rosecrans Baldwin
139. "What we're really talking about is a wonderful day set aside on the fourth Thursday of November when no one diets. I mean, why else would they call it Thanksgiving?" – Erma Bombeck
140. "America has developed a pie tradition unequivocally and unapologetically at the sweet end of the scale, and at no time is this better demonstrated than at Thanksgiving." – Janet Clarkson
What Are Some of the Things You're Grateful For?
Thanksgiving is an annual holiday in both the United States and Canada. It's an excellent time to reflect on and express gratitude for the things you are grateful for. Aside from that, it's also great for spending time with your loved ones!
In fact, feasting with family and friends is an essential and enjoyable part of this celebration. Everyone in the family spends hours preparing the turkey, stuffing, pumpkin pie, and many other delicacies. At the end of the day, everyone's stuffed to the brim, laughing, and enjoying each others' company.
Moreover, this event allows us to reflect on the blessings that God has bestowed upon us. It serves as a reminder for everyone that we are nothing without the Lord's grace, love, and compassion. Remember that there are countless things to be grateful for, so give thanks even when it's not Thanksgiving Day!
Which quotes reminded you of your Thanksgiving Day traditions? What did you learn from today's collection? Share your thoughts with us by commenting below!