Reading these top 100 tree quotes is the first step that'll get you outside to spend time among nature, rebalance your life, and breathe in the fresh air.
Trees always provide us with solace when we are alone. Not only do they rebalance and refresh our souls, they are also necessary for our survival.
Trees are also a great example of strength, determination, and perseverance in nature.
It's clear that one of our most important missions on this earth is to save the trees and protect our forests.
But, sometimes, we get engrossed in other mundane things that we forget about nature and the gifts it gives us.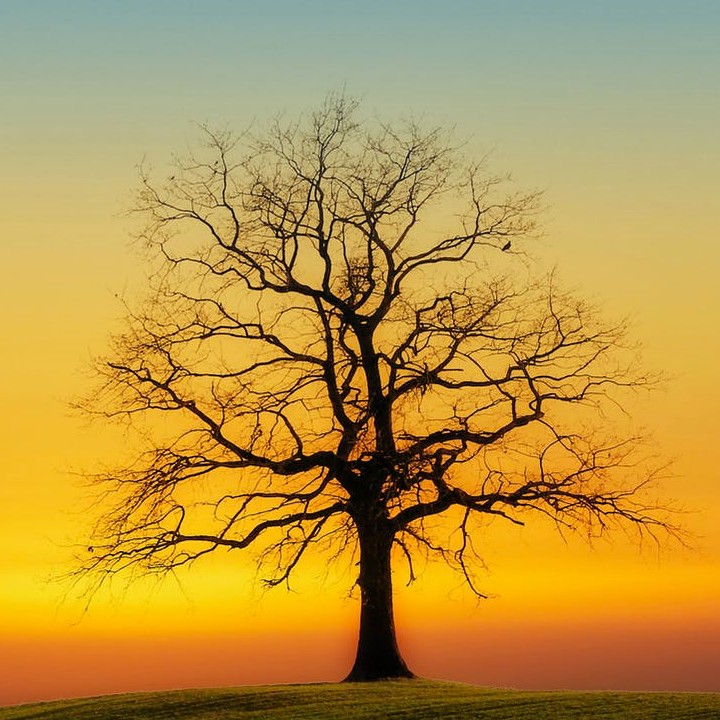 So, read through the quotes below if you need help reconnecting with nature and if you need a reminder of why we must take care of our trees.
Continue reading here.
And don't forget to check out these forest quotes and outdoor quotes.
Best Tree Quotes
1. "Trees exhale for us so that we can inhale them to stay alive. Can we ever forget that? Let us love trees with every breath we take until we perish." – Munia Khan
2. "Someone's sitting in the shade today because someone planted a tree a long time ago." – Warren Buffett
3. "Trees are sanctuaries. Whoever knows how to speak to them, whoever knows how to listen to them, can learn the truth." – Herman Hesse
4. "Never say there is nothing beautiful in the world anymore. There is always something to make you wonder in the shape of a tree, the trembling of a leaf." – Albert Schweitzer
5. "Trees are poems that the earth writes upon the sky." – Kahlil Gibran
6. "Learn character from trees, values from roots, and change from leaves." – Tasneem Harneed
7. "Live like a tree, giving, forgiving, and free." – Debasish Mridha
8. "To be without trees would, in the most literal way, to be without our roots." – Richard Mabey
9. "The trees will tell their secrets to those that tune in." – Steven Magee
10. "The best friend on earth of man is the tree. When we use the tree respectfully and economically, we have one of the greatest resources on the earth." – Frank Lloyd Wright
Inspirational Quotes About Trees
11. "It is not so much for its beauty that the forest makes a claim upon men's hearts, as for that subtle something, that quality of air that emanates from old trees, that so wonderfully changes and renews a weary spirit." – Robert Louis Stevenson
12. "The tree is more than first a seed, then a stem, then a living trunk, and then dead timber. The tree is a slow, enduring force straining to win the sky." – Antoine de Saint-Exupéry
13. "Be like a tree. The tree gives shade even to him who cuts off its boughs." – Sri Chaitanya
14. "Knowing trees, I understand the meaning of patience. Knowing grass, I can appreciate persistence." – Hal Borland
15. "Be as useful as a tree! Give life to others; be shelter to everyone; grant fruits to all! Be good like a tree!" – Mehmet Murat İldan
Also read: Famous Quotes, Inspirational Quotes
Short Tree Quotes Packed With Knowledge
16. "When trees burn, they leave the smell of heartbreak in the air." – Jodi Thomas
17. "On the last day of the world I would want to plant a tree." – W.S. Merwin 
18. "Trees are as close to immortality as the rest of us ever come." – Karen Joy Fowler
19. "He who plants a tree, plants a hope." – Lucy Larcom
20. "All our wisdom is stored in the trees." – Santosh Kalwar
21. "Trees give peace to the souls of men." – Nora Waln
22. "A tree is our most intimate contact with nature." – George Nakashima
23. "A tree falls the way it leans." – Bulgarian Proverb
24. "Storms make trees take deeper roots." – Dolly Parton
25. "Trees are always a relief, after people." – David Mitchell
Also read: Nature Quotes, Leaf Quotes
Quotes That Highlight How Significant Trees Are in Life
26. "Trees do not preach learning and precepts. They preach, undeterred by particulars, the ancient law of life." – Herman Hesse
27. "The true meaning of life is to plant trees, under whose shade you do not expect to sit." – Nelson Henderson
28. "Ancient trees are precious. There is little else on Earth that plays host to such a rich community of life within a single living organism." – Sir David Attenborough
29. "When we walk into a grove of trees or under an open sky the magic of nature takes over and the heaviness of life lifts a little." – Natassia Cassinero
30. "Between every two pine trees there is a door leading to a new way of life." – John Muir
31. "A tree has roots in the soil yet reaches to the sky. It tells us that in order to aspire we need to be grounded and that no matter how high we go it is from our roots that we draw sustenance." – Wangari Maathai
32. "Gold is a luxury. Trees are necessities. Man can live and thrive without gold, but we cannot survive without trees." – Paul Bamikole
33. "It is difficult to realize how great a part of all that is cheerful and delightful in the recollections of our own life is associated with trees." – Wilson Flagg
Also read: Plant Quotes
Quotes That Talk About How Trees Serve as Metaphors for Growth
34. "I feel a great regard for trees; they represent age and beauty and the miracles of life and growth." – Louise Dickinson Rich
35. "I'm like a tree. My leaves might change color, but my roots are the same." – Rose Namajunas
36. "The trees that are slow to grow bear the best fruit." – Moliere
37. "Solitary trees, if they grow at all, grow strong." – Winston Churchill
Beautiful Tree Quotes That'll Touch Your Heart
38. "Alone with myself, the trees bend to caress me. The shade hugs my heart." – Candy Polgar
39. "How could you not be hopeful if you've got a tree around?" – Ross Spears
40. "Time spent amongst trees is never wasted time." – Katrina Mayer
41. "There is always music amongst the trees in the garden, but our hearts must be very quiet to hear it." – Minnie Aumonier
42. "We can learn a lot from trees: they're always grounded but never stop reaching heavenward." – Everett Mamor
43. "In nature, nothing is perfect and everything is perfect. Trees can be contorted, bent in weird ways, and they're still beautiful." – Alice Walker
44. "When you are lost in the wilderness, a tree will always point you in the right direction." – Anthony T. Hincks
45. "Trees are the best monuments that a man can erect to his own memory. They speak his praises without flattery, and they are blessings to children yet unborn." – Lord Orrery
Profound Quotes on the Connection That Exists Between Trees and Love
46. "Love is like a tree, it grows of its own accord, it puts down deep roots into our whole being." – Victor Hugo
47. "Love the trees until their leaves fall off, then encourage them to try again next year." – Chad Sugg
48. "A tree is known by its fruit; a man by his deeds. A good deed is never lost; he who sows courtesy reaps friendship, and he who plants kindness gathers love." – Basil
Quotes to Shed Light on the Charm of Plants and Trees
49. "Look at a tree, a plant. How still they are, how deeply rooted in being. Allow nature to teach you stillness." – Eckhart Tolle
50. "Anyone who thinks fallen leaves are dead has never watched them dancing on a windy day." – Shira Tamir
51. "Listen to the trees as they sway in the wind. Their leaves are telling secrets." – Vera Nazarian
52. "Though a tree grows so high, the falling leaves return to the root." – Malay Proverb
53. "Every leaf speaks bliss to me, fluttering from the autumn tree." – Emily Bronte
Quotes That'll Encourage You to Plant Trees
54. "The best time to plant a tree was 20 years ago. The second best time is now." – Chinese Proverb
55. "Acts of creation are ordinarily reserved for gods and poets, but humbler folk may circumvent this restriction if they know how. To plant a pine, for example, one need be neither god nor poet; one need only own a shovel." – Aldo Leopold
56. "The symbolism―and the substantive significance―of planting a tree has universal power in every culture and every society on Earth, and it is a way for individual men, women, and children to participate in creating solutions for the environmental crisis." – Al Gore
57. "When we plant a tree, we are doing what we can to make our planet a more wholesome and happier dwelling-place for those who come after us if not for ourselves." – Oliver Wendell Holmes
58. "The next generation will never be able to understand the joy of planting a tree and watching it grow." – Nitya Prakash
59. "He that plants trees, loves others besides himself." – Thomas Fuller
60. "Reversing deforestation is complicated; planting a tree is simple." – Martin O'Malley
61. "If a tree dies, plant another in its place." – Carolus Linnaeus
62. "I'm planting a tree to teach me to gather strength from my deepest roots." – Andrea Koehle Jones
63. "When we plant trees, we plant the seeds of peace and the seeds of hope. We also secure the future for our children." – Wangari Maathai
Interesting Quotes on Trees and Forests
64. "A woodland in full color is awesome as a forest fire, in magnitude at least, but a single tree is like a dancing tongue of flame to warm the heart."– Hal Borland
65. "A tree can be only as strong as the forest that surrounds it." – Peter Wohlleben
66. "Even if one tree falls down it wouldn't affect the entire forest." – Chen Shui-bian
67. "In a forest of a hundred thousand trees, no two leaves are alike. And no two journeys along the same path are alike." – Paulo Coelho
68. "If a tree falls in the forest and nobody is there to hear it, doesn't it just lie there and rot?" – Chuck Palahniuk
69. "A forest does not grow on trees." – Anonymous
70. "If the forest has a day of fire and the heat of the flames does not consume a special tree, it will still be changed; charred, but still standing." – Dan Groat
71. "A forest of these trees is a spectacle too much for one man to see." – David Douglas
Insightful Tree Quotes to Keep You Entertained
72. "Of the infinite variety of fruits which spring from the bosom of the earth, the trees of the wood are the greatest in dignity." – Susan Fenimore Cooper
73. "I took a walk in the woods and came out taller than the trees." – Henry David Thoreau
74. "The trees are God's great alphabet: with them He writes in shining green across the world His thoughts serene." – Leonora Speyer
75. "I never saw a discontented tree. They grip the ground as though they liked it, and though fast rooted they travel about as far as we do." – John Muir
76. "For a tree without a past is like a man without roots; and unless we stand in rich soil, our leaves will blow like blossom into the night." – Richard Ayoade
77. "To exist as a nation, to prosper as a state, to live as a people, we must have trees." – Theodore Roosevelt
78. "People who will not sustain trees will soon live in a world that will not sustain people." – Bryce Nelson
79. "To be able to walk under the branches of a tree that you have planted is really to feel you have arrived with your garden. So far we are on the way: we can now stand beside ours." – Mirabel Osler
80. "Every living creature should be grateful to every living tree for giving us a habitable world!" – Mehmet Murat İldan
81. "I like trees because they seem more resigned to the way they have to live than other things do." – Willa Cather
82. "You must always know your roots if you are to know how sturdy the tree will grow." – Zoraida Córdova
83. "You know me, I think there ought to be a big old tree right there. And let's give him a friend. Everybody needs a friend." – Bob Ross
Tree Quotes That'll Make You Laugh
84. "Have you ever considered that paper cuts are a tree's last revenge?" – Anonymous
85. "Every family tree produces some lemons, some nuts, and a few bad apples." – Anonymous
86. "The problem with drinking and driving is that trees defend themselves very well." – Anonymous
87. "Some people are like trees—they take forever to grow up." – Leslie Hillman
More Tree Quotes You'll Love
88. "Consider a tree for a moment. As beautiful as trees are to look at, we don't see what goes on underground—as they grow roots." – Joyce Meyer
89. "A tree which has lost its head will never recover it again, and will survive only as a monument of the ignorance and folly of its tormentor." – George William Curtis
90. "Even if I knew that tomorrow the world would go to pieces, I would still plant my apple tree." – Martin Luther King, Jr.
91. "We're merely one tree with various types, shapes, and sizes of leaves that all wave differently in the breeze." – Rasheed Ogunlaru
92. "If you would know strength and patience, welcome the company of trees." – Hal Borland
93. "Whoever has learned how to listen to trees no longer wants to be a tree. He wants to be nothing except what he is. That is home. That is happiness." – Herman Hesse
94. "For in the true nature of things, if we rightly consider, every green tree is far more glorious than if it were made of gold and silver." – Martin Luther King, Jr.
95. "I think that if you shake the tree, you ought to be around when the fruit falls to pick it up." – Mary Cassatt
96. "Of all man's works of art, a cathedral is the greatest. A vast and majestic tree is greater than that." – Henry Ward Beecher
97. "A society grows great when old men plant trees whose shade they know they shall never sit in." – Greek Proverb
98. "Trees are the earth's endless effort to speak to the listening heaven." – Rabindranath Tagore
99. "A man doesn't plant a tree for himself. He plants it for posterity." – Alexander Smith
100. "Until you dig a hole, you plant a tree, you water it and make it survive, you haven't done a thing. You are just talking." – Wangari Maathai
What Did Trees Teach You About Perseverance and Determination?
Trees teach us to stay grounded even as we soar to greatness. It's no surprise, then, that they serve as a source of inspiration for people from all walks of life.
In fact, they provide us with clean air, shade, food, as well as essential habitats for the world's wildlife. Their power manifests itself solely as the air we breathe. Trees undoubtedly embody all the good things in the world.
But, aside from that, trees teach us a lot about life; they remind us to be thankful, making us realize that the things that truly matter are those that are right in front of us. No matter who you are, a tree will provide you with shade and respite whenever you need it. 
So, to save our lives, survive, and thrive, we must learn the value of trees. Remember that we would be nothing without trees and the nature surrounding us. 
How do you spend your time outdoors? Is there a quote in the collection that you could relate to? Join the discussion below!