Allow these water quotes to provide you with the motivation you need to keep going and flowing in the face of adversity.
Water is a basic necessity for all life forms on Earth to survive. Whether it's needed for mundane activities like brushing our teeth or enjoying the beach and the waves during a vacation, it is undoubtedly something we reach for.
In fact, we can go a week without food, but we can't even last three days without water.
Remember, water is required not only for our survival but also for a healthy and happy life.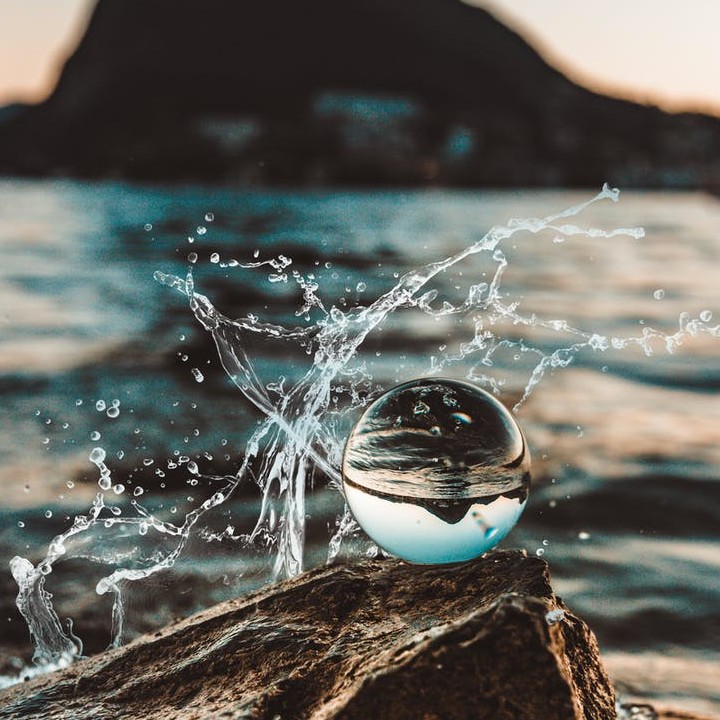 If you're curious and want to know more about the topic, make sure you browse our collection below to learn more about the value of water!
Start reading here.
And don't forget to check out these ocean quotes and sea quotes.
Best Water Quotes
1. "In one drop of water are found all the secrets of all the oceans; in one aspect of you are found all the aspects of existence." – Kahlil Gibran
2. "If there is magic on this planet, it is contained in water." – Loren Eiseley
3. "Thousands have lived without love, not one without water." – W. H. Auden
4. "A drop of water, if it could write out its own history, would explain the universe to us." – Lucy Larcom
5. "When life places stones in your path, be the water. A persistent drop of water will wear away even the hardest stone." – Autumn Morning Star
6. "Water, like religion and ideology, has the power to move millions of people—and all people, everywhere and every day, need it." – Mikhail Gorbachev
7. "Water is not a solid wall, it will not stop you." – Margaret Atwood
8. "All water has a perfect memory and is forever trying to get back to where it was. But water always goes where it wants to go, and nothing, in the end, can stand against it." – Toni Morrison
9. "Water is the lifeblood of our bodies, our economy, our nation, and our well-being." – Stephen Johnson
10. "We never know the worth of water till the well is dry." – Thomas Fuller
11. "Water, in all its forms, is what carries the knowledge of life throughout the universe." – Anthony T. Hincks
12. "Water is the most perfect traveler because when it travels it becomes the path itself!" – Mehmet Murat İldan
13. "The water is always deeper than what it reflects." – Marty Rubin
14. "Water is the most abundant metaphor on earth." – Pam Houston
15. "Water is soft and humble, but it is the most powerful and is the most endurable." – Debasish Mridha
Inspirational Quotes About Water
16. "Where the waters do agree, it is quite wonderful the relief they give." – Jane Austen
17. "Be like water making its way through cracks. Do not be assertive but adjust to the object and you shall find a way around or through it." – Bruce Lee
18. "You are water, I'm water, we're all water in different containers that's why it's so easy to meet someday we'll evaporate together." – Yoko Ono
19. "Always be like water. Float in the times of pain or dance like waves along the wind which touches its surface." – Santosh Kalwar
20. "Be like water, which is fluid, soft, and yielding, as, in time, water will overcome rock which is rigid and hard. Therefore, what is soft is strong." – Anonymous
21. "Make hope just like water in your life." – Khaled Ibrahim
22. "I am like the water that runs over me, immune to permanence, recycling endlessly. I am water; I am life. The form may change, but the substance stays the same. Strike me down and I will rise again. Vincit qui patitur." – Rick Yancey
23. "It's good to leave each day behind, like flowing water, free of sadness. Yesterday is gone and its tale told." – Rumi
Also read: Waterfall Quotes, Wave Quotes
Quotes That Will Show You the Beautiful Connection Between Water and Life
24. "There's plenty of water in the universe without life, but nowhere is there life without water." – Sylvia A. Earle
25. "For many of us, clean water is so plentiful and readily available that we rarely, if ever, pause to consider what life would be like without it." – Marcus Samuelsson
26. "This life is like a swimming pool. You dive into the water, but you can't see how deep it is." – Dennis Rodman
27. "They both listened silently to the water, which to them was not just water, but the voice of life, the voice of being, the voice of perpetual becoming." – Hermann Hesse
28. "Water is the driving force of all nature." – Leonardo da Vinci
29. "Life in us is like the water in a river." – Henry David Thoreau
30. "Without water, life would just be rock." – Anthony T. Hincks
31. "Water is life's matter and matrix, mother and medium. There is no life without water." – Albert Szent-Gyorgyi
32. "Life is water dancing to the tune of solids." – Albert Szent-Gyorgyi
33. "We forget that the water cycle and the life cycle are one." – Jacques Yves Cousteau
34. "Life depends on water, but the reservoir depends on you." – Anonymous
Also read: Nature Quotes, Rain Quotes
Short Water Quotes to Broaden Your Horizons
35. "The fall of dropping water wears away the stone." – Lucretius
36. "Human nature is like water. It takes the shape of its container." – Wallace Stevens
37. "Be like water. Flow, crash, fly!" – Md. Ziaul Haque
38. "No water, no life. No blue, no green." – Sylvia Earle
39. "In my life, water has had the character of punctuation." – Sue Ellen Campbell
40. "Clean water is inestimably precious to waste!" – Mohith Agadi
41. "The water tells none of its secrets." – Nikos Engonopoulos
42. "Water is always working, reorganizing the land." – Tim Palmer
43. "A calm water is like a still soul." – Lailah Gifty Akita
44. "When water falls, it flies." – Anthony T. Hincks
45. "Water is colourless like life." – Lailah Gifty Akita
46. "A man of wisdom delights in water." – Confucius
47. "Water is the soul of the Earth." – W. H. Auden
48. "The deeper the waters are, the more still they run." – Korean Proverb
49. "You don't drown by falling in the water; you drown by staying there." – Edwin Louis Cole
Also read: River Quotes, Desert Quotes
Quotes That Highlight the Importance of Water to Mankind
50. "Water is fundamental for life and health. The human right to water is indispensable for leading a healthy life in human dignity. It is a prerequisite to the realization of all other human rights." – The United Nations
51. "Water is sufficient—the spirit moves over water." – Friedrich Nietzsche
52. "Water is the most critical resource issue of our lifetime and our children's lifetime. The health of our waters is the principal measure of how we live on the land." – Luna Leopold
53. "Water is sacred to all human beings. If you do not have water, you cannot have life. I always remember to honor and pour the water because it is traditional." – Autumn Morning Star
54. "Pure water is the world's first and foremost medicine." – Slovakian Proverb
55. "Clean water, the essence of life and a birthright for everyone, must become available to all people now." – Jean-Michel Cousteau
56. "Water is such a lifesaver into which we cannot breathe but without taking it in to us we cannot live" – Munia Khan
57. "The cure for anything is saltwater: sweat, tears or the sea." – Isak Dinesen
58. "Water is the basis of life and the blue arteries of the earth! Everything in the non-marine environment depends on freshwater to survive." – Sandra Postel
59. "Drinking water is essential to a healthy lifestyle." – Stephen Curry
60. "Water flows from high in the mountains. Water runs deep in the Earth. Miraculously, water comes to us and sustains all life." – Thich Nhat Hanh
61. "Water is the reason for our birth; it is the healer, the destroyer, and the final consumer." – Neeraj Singhvi
62. "Drinking water is like washing out your insides. The water will cleanse the system, fill you up, decrease your caloric load and improve the function of all your tissues." – Kevin R. Stone
63. "Understanding plays a very crucial role in everyday life, just like water. Everyone should drink it because it is the antidote for contradictions and antagonism in every way." – Elijah Onyemmeri
64. "Water! You may not like it, but you have to drink it." – Anthony T. Hincks
Great Quotes to Help You See the Unbreakable Connection of Water and Nature
65. "Listen to the murmur of water and you'll hear Mother Nature." – Donald L. Hicks
66. "Fish live in water. Men die in it. Nature is diverse, and not all tastes are the same." – Zhuangzi
67. "Water is the most expressive element in nature. It responds to every mood from tranquility to turbulence." – Walter J. Phillips
68. "Water belongs to us all. Nature did not make the sun one person's property, nor air, nor water, cool and clear." – Michael Simpson
69. "Nature tops the list of potent tranquilizers and stress reducers. The mere sound of moving water has been shown to lower blood pressure." – Patch Adams
70. "To understand water is to understand the cosmos, the marvels of nature, and life itself." – Masaru Emoto
71. "Fire and water looked so lovely together. It was a pity they destroyed each other by nature." – R. F. Kuang
Water Quotes That Will Expound on Its Qualities and Characteristics
72. "Water is insipid, inodorous, colorless, and smooth." – Edmund Burke
73. "Water is patient. Dripping water wears away a stone. Remember that, my child." – Margaret Atwood
74. "Empty your mind, be formless. Shapeless, like water." – Bruce Lee
75. "Water does not resist. Water flows. When you plunge your hand into it, all you feel is a caress." – Margaret Atwood
76. "Water, thou hast no taste, no color, no odor; can't be defined, art relished while ever mysterious. Not necessary to life, but rather life itself, thou fillest us with a gratification that exceeds the delight of the senses." – Antoine de Saint-Exupéry
77. "Water used to be fresh, pure and drinkable, now the water has lots of focal matter and bacteria." – Claudine Sierra
78. "Nothing is softer or more flexible than water, yet nothing can resist it." – Lao Tzu
Quotes to Highlight How Water Serves as a Metaphor to Different Facets of Life
79. "The water in a vessel is sparkling; the water in the sea is dark. The small truth has words which are clear; the great truth has great silence." – Rabindranath Tagore
80. "Water is the mother of the vine, the nurse and fountain of fecundity, the adorner, and refresher of the world." – Charles Mackay
81. "The places where water comes together with other water. Those places stand out in my mind like holy places." – Raymond Carver
82. "I was still water, held by my surroundings. I am now a river, carving my own path." – Scott Stabile
83. "The water is a dark flower and a fisherman is a bee in the heart of her." – Annie Proulx
84. "Whoever thirst for the living water shall be quenched." – Lailah Gifty Akita
85. "Freshwater springs are a living embodiment of the fountain of youth." – Jessica Marie Baumgartner
86. "Only a fool tests the depth of the water with both feet." – African Proverb
87. "The water caresses in the glass, like love in the body." – Charles de Leusse
88. "As many raindrops join to form a great river of water, many souls join their highest intent to form the river of evolved consciousness." – Jonathan Lockwood Huie
89. "Like water, every moment is precious." – Michael Bassey Johnson
90. "Give water enough time and it will carve a tunnel through the thickest mountain." – Marty Rubin
91. "The sound of water is worth more than all the poets' words." – Octavio Paz
92. "The people are like water and the ruler a boat. Water can support a boat or overturn it." – William Shakespeare
93. "The face of the water, in time, became a wonderful book—a book that was a dead language to the uneducated passenger, but which told its mind to me without reserve, delivering its most cherished secrets as clearly as if it uttered them with a voice." – Mark Twain
Quotes That Will Help You Keep Going and Flowing Like Water
94. "Our lives are like water, always flowing forward in the streams of time. When we encounter what is unexpected, our best choice is to flow around the obstacle." – Ryan Kirk
95. "Like roots finding water, we always wind up moving towards what sustains us." – Mark Nepo
96. "On flowing water travels little paper boats; paper boats of forgiveness. Allow yourself to feel anger, allow your waters to flow, along with all the paper boats of forgiveness. Be human." – C. JoyBell C.
97. "You can't cross the sea merely by standing and staring at the water." – Rabindranath Tagore
98. "The idea is that flowing water never goes stale, so just keep on flowing." – Bruce Lee
Insightful Water Quotes
99. "Water is life, and clean water means health." – Audrey Hepburn
100. "We are all bodies of water, guarding the mystery of our depths, but some of us have more to guard than others." – Deborah Smith
101. "It is wise to bring some water when one goes out to look for water." – Arab Proverb
102. "Remember you are half water. If you can't go through an obstacle, go around it. Water does." – Margaret Atwood
103. "We must treat water as if it were the most precious thing in the world, the most valuable natural resource. Be economical with water! Don't waste it! We still have time to do something about this problem before it is too late." – Mikhail Gorbachev
104. "A drop of water is worth more than a sack of gold to a thirsty man." – Anonymous
105. "If you put water into a cup, it becomes the cup. You put water into a bottle and it becomes the bottle. You put it in a teapot and it becomes the teapot. Now, water can flow or it can crash. Be water, my friend." – Bruce Lee
106. "To have faith is to trust yourself to the water. When you swim you don't grab hold of the water, because if you do you will sink and drown. Instead, you relax, and float." – Alan Watts
107. "Water is the only drink for a wise man." – Henry David
108. "I am like water so to say, I will find my way!" – Md. Ziaul Haque
109. "In time and with water, everything changes." – Leonardo da Vinci
110. "Water is the best of all things." – Pindar
Quotes on the Beauty of Water
111. "Water links us to our neighbor in a way more profound and complex than any other." – John Thorson
112. "I love the sounds and the power of pounding water, whether it is the waves or a waterfall." – Mike May
113. "I believe that water is the closest thing to a God we have here on Earth. We are in awe of its power and majestic beauty. We are drawn to it as if it's a magical, healing force. We gestate in water, are made of water, and need to drink water to live. We are living in water." – Alex Z. Moores
114. "I love the water. Everything about it. Smelling the humidity in the air, seeing the mist rise in the morning, feeling the dew-wet grass on my bare feet." – Lori Foster
115. "Water was something he loved, something he respected. He understood its beauty and its dangers." – Benjamin Alire Sáenz
116. "Water its living strength first shows, when obstacles its course oppose." – Johann Wolfgang von Goethe
117. "With every drop of water you drink, every breath you take, you're connected to the sea. No matter where on Earth you live." – Sylvia Earle
118. "Heavy hearts, like heavy clouds in the sky, are best relieved by the letting of a little water." – Christopher Morley
119."In order to reflect, think, and plan, you must quiet yourself. You can't see your reflection in churning waters. Water must be still to see your reflection." – Karen Susman
120. "Water was liquid silver, water was gold. It was clarity—a sacred thing." – Aspen Matis
Water Quotes and Sayings That Will Make You Think
121. "When the water starts boiling it is foolish to turn off the heat." – Nelson Mandela
122. "Do not turn me into restless waters, you cannot promise to be my stream." – Sanober Khan
123. "The person who despises a drop of water is an utter ignorant who doesn't know that billions of tiny creatures in this world can live with one water drop for days!" – Mehmet Murat İldan
124. "When the water is calm, take as much distance as possible with your boat!" – Mehmet Murat İldan
125. "No one can see their reflection in running water. It is only in still water that we can see." – Taoist Proverb
126. "The earth, the air, the land, and the water are not an inheritance from our forefathers but on loan from our children. So we have to hand it over to them at least as it was handed over to us." – Mahatma Gandhi
127. "You can not hide on an island and expect that water will not find you." – Chuck Bridges
128. "Take counsel in wine, but resolve afterward in water." – Benjamin Franklin
129. "It is water, in every form and at every scale, that saturates the mind. All the water that will ever be is, right now." – National Geographic
130. "It is life, I think, to watch the water. A man can learn so many things." – Nicholas Sparks
131. "The water of the sea received by the clouds is always sweet." – Chanakya
132. "Anyone who can solve the problems of water will be worthy of two Nobel prizes, one for peace and one for science." – John F. Kennedy
133. "One cannot reflect in streaming water. Only those who know internal peace can give it to others." – Lao Tzu
134. "There is no small pleasure in pure water." – Ovid
135. "All water is holy water." – Rajiv Joseph
More Water Quotes You'll Enjoy
136. "Today, at any moment, more water rushes through the atmosphere than flows through all the world's rivers combined." – Cynthia Barnett
137. "The cold and crystal clear water, it falls gently on the sleeper, cleansing the mind and soothing the soul." – Anonymous
138. "Everything we do, even the slightest thing we do, can have a ripple effect and repercussions that emanate. If you throw a pebble into the water on one side of the ocean, it can create a tidal wave on the other side." – Victor Webster
139. "Therefore, just as water retains no constant shape, so in warfare, there are no constant conditions." – Sun Tzu
140. "When a stone is dropped into a pond, the water continues quivering even after the stone has sunk to the bottom." – Arthur Golden
141. "Water is to me, I confess, a phenomenon which continually awakens new feelings of wonder as often as I view it." – Michael Faraday
142. "Water is a very good servant, but it is a cruel master." – C.G.D. Roberts
143. "Like water which can clearly mirror the sky and the trees only so long as its surface is undisturbed, the mind can only reflect the true image of the self when it is tranquil and wholly relaxed." – Indra Devi
144. "Excitement is the drunkenness of the spirits. Only calm waters reflect heaven in their bosom." – Margaret of Valois
145. "In calm water, every ship has a good captain." – Grover Cleveland
146. "Water which is too pure has no fish." – Afghan Proverb
147. "Water should not be judged by its history, but by its quality." – Dr. Lucas Van Vuuren
148. "Water is a common heritage, the value of which must be recognized by all. Everyone has the duty to use water carefully and economically." – European Water Charter
149. "Water is the most basic of all resources. Civilizations grew or withered depending on its availability." – Dr. Nathan W. Snyder
150. "You can't trust water. Even a straight stick turns crooked in it." – W.C. Fields
What Do You Admire Most About Water?
Water is essential for survival. In other words, if there were no water on the planet, the human race would perish. The same can be said for all plants and animals.
Furthermore, our small, daily activities wouldn't be possible to complete without water. Besides that, industries use a lot of water on a large scale. It is required for the production of goods that we use every day.
Water not only gives life to the planet but also teaches us about life's realities. The sound of it gushing toward us soothes our discomfort and energizes us to carry on with our lives happily and content. It's a sign of life and a symbol of hope and perseverance that if we keep going, we will be refreshed and find peace no matter what.
So, when life throws troubles in your way, be like water and forge a new path that will lead you to your goals and dreams. We hope that our collection was able to help you realize the importance of water in our daily lives and what it makes us aspire to have.
Which quotes are your favorites? Please, leave a comment down below.