These Frederick Douglass quotes show how much faith and perseverance can free a people.
If you're looking for some everyday reminders that will put your thoughts into perspective, then you've come to the right place.
This collection of quotes gives us a sneak peek of how he, as a young man, fought and opposed the norm to free himself and his people from the chains that bound them into slavery.
Check out the full collection below.
And make sure to read these George Orwell quotes and Voltaire quotes.
Best Frederick Douglass Quotes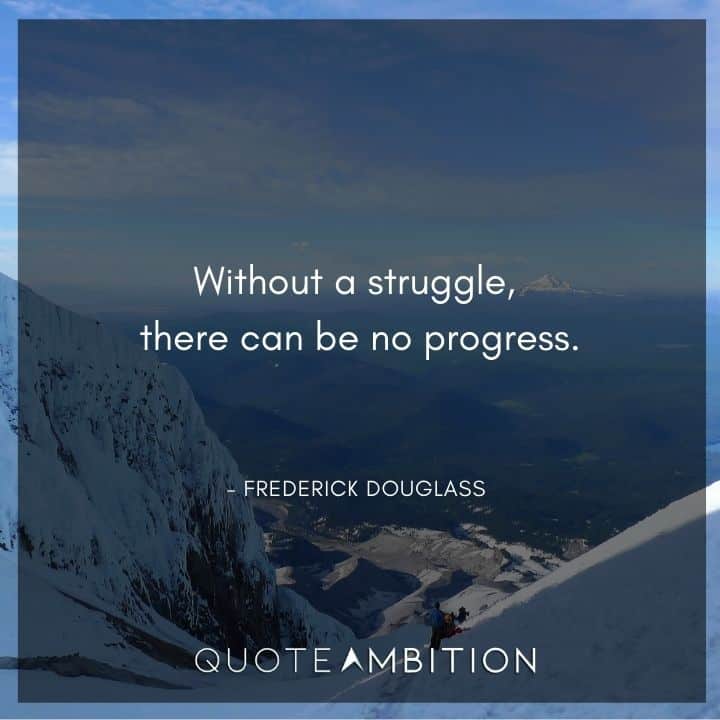 1. "Without a struggle, there can be no progress."
2. "It is easier to build strong children than to repair broken men."
3. "I prefer to be true to myself, even at the hazard of incurring the ridicule of others, rather than to be false, and to incur my own abhorrence."
4. "Power concedes nothing without a demand. It never did and it never will."
5. "Slaves are generally expected to sing as well as to work."
6. "Once you learn to read, you will be forever free."
7. "Knowledge makes a man unfit to be a slave."
8. "A gentleman will not insult me, and no man not a gentleman can insult me."
9. "No man can put a chain about the ankle of his fellow man without at last finding the other end fastened about his own neck."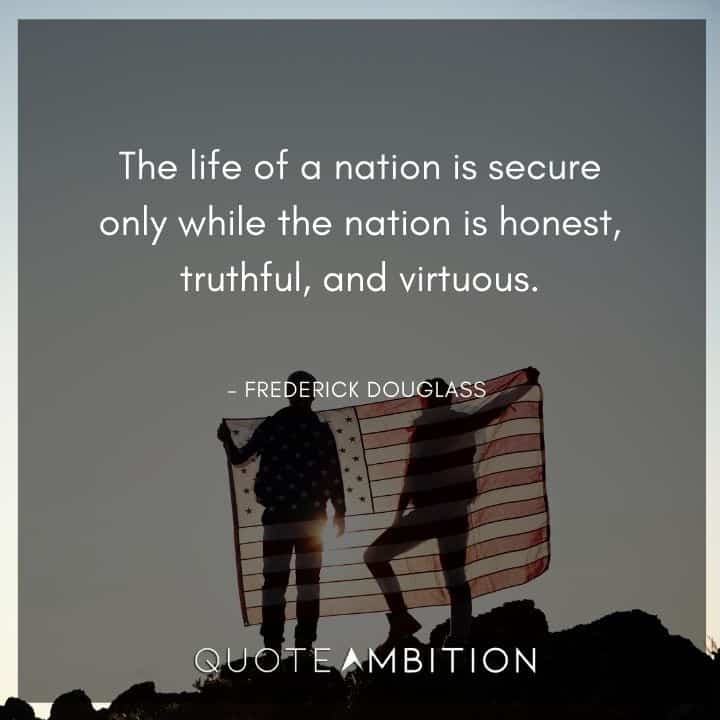 10. "The life of a nation is secure only while the nation is honest, truthful, and virtuous."
Famous Frederick Douglass Quotes
11. "I would unite with anybody to do right and with nobody to do wrong."
12. "Slaves sing most when they are most unhappy. The songs of the slave represent the sorrows of his heart; and he is relieved by them, only as an aching heart is relieved by its tears."
13. "In a composite nation like ours, as before the law, there should be no rich, no poor, no high, no low, no white, no black, but common country, common citizenship, equal rights and a common destiny."
14. "Where justice is denied, where poverty is enforced, where ignorance prevails, and where any one class is made to feel that society is an organized conspiracy to oppress, rob and degrade them, neither persons nor property will be safe."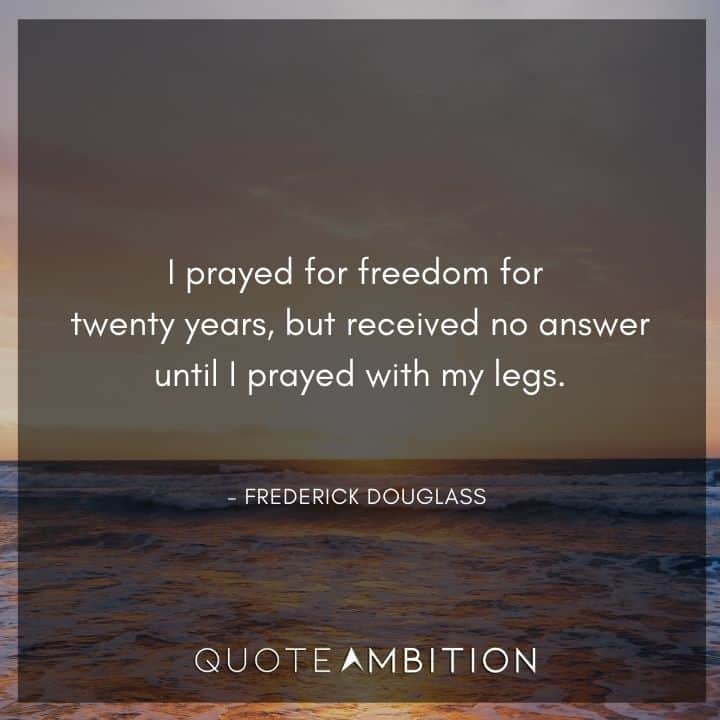 15. "I prayed for freedom for twenty years, but received no answer until I prayed with my legs."
16. "The white man's happiness cannot be purchased by the black man's misery."
17. "To suppress free speech is a double wrong. It violates the rights of the hearer as well as those of the speaker."
18. "I had as well be killed running as die standing."
19. "People might not get all they work for in this world, but they must certainly work for all they get."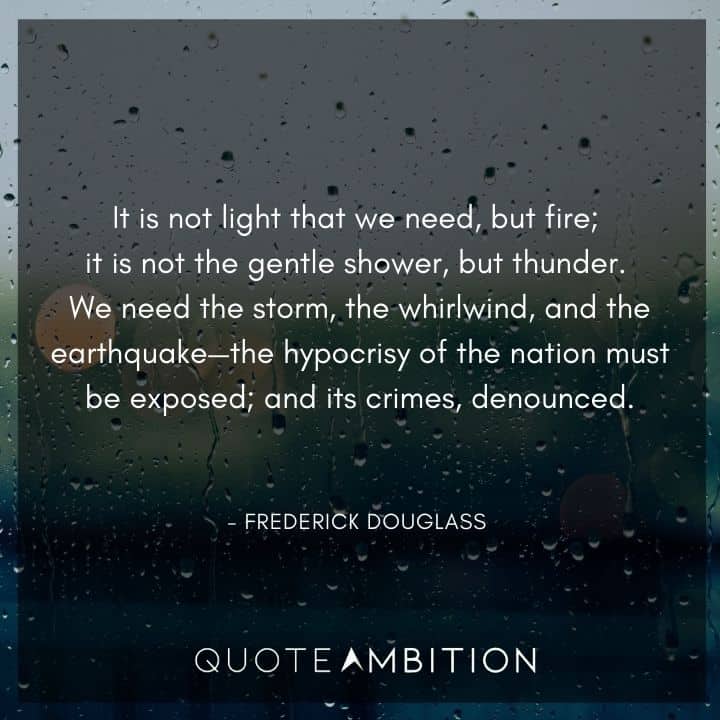 20. "It is not light that we need, but fire; it is not the gentle shower, but thunder. We need the storm, the whirlwind, and the earthquake—the hypocrisy of the nation must be exposed; and its crimes, denounced."
Frederick Douglass Quotes on Slavery and Freedom
21. "The limits of tyrants are prescribed by the endurance of those whom they oppress."
22. "A man's character always takes its hue, more or less, from the form and color of things about him."
23. "I expose slavery in this country, because to expose it is to kill it. Slavery is one of those monsters of darkness to whom the light of truth is death."
24. "Find out just what any people will quietly submit to and you have the exact measure of the injustice and wrong which will be imposed on them."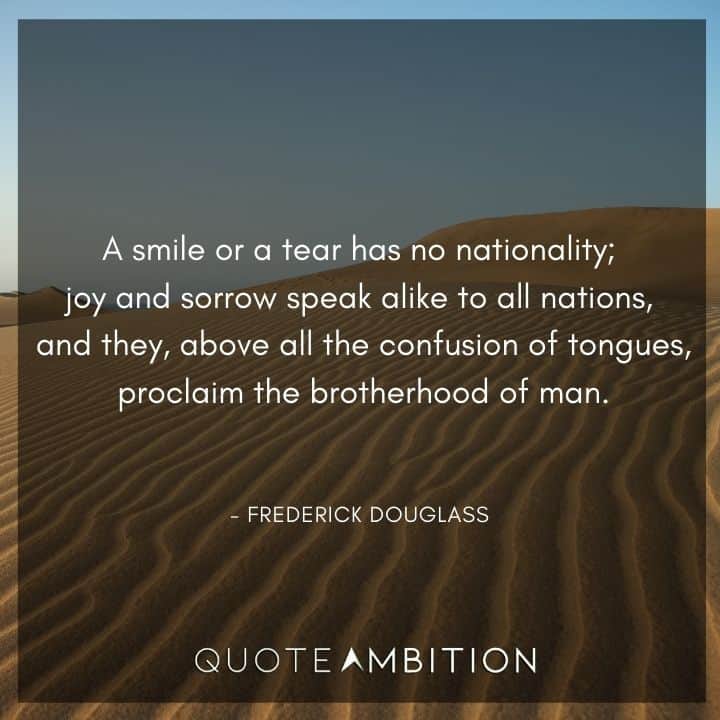 25. "A smile or a tear has no nationality; joy and sorrow speak alike to all nations, and they, above all the confusion of tongues, proclaim the brotherhood of man."
26. "You have seen how a man was made a slave; you shall see how a slave was made a man."
27. "The destiny of the colored American is the destiny of America."
28. "A man who will enslave his own blood, may not be safely relied on for magnanimity."
29. "The relation between the white and colored people of this country is the great, paramount, imperative, and all-commanding question for this age and nation to solve."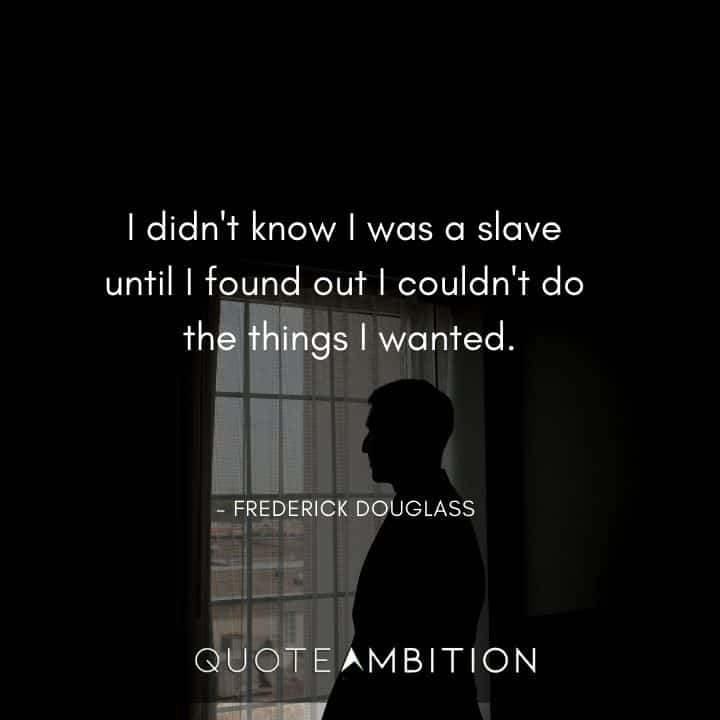 30. "I didn't know I was a slave until I found out I couldn't do the things I wanted."
Which of These Frederick Douglass Quotes Push You to Break Barriers and Go Beyond Borders?
Frederick Douglass is one of America's pioneering historic figures—fighting for his people's emancipation through the power of words, faith, and education.
As a person born into slavery, he witnessed firsthand what it meant to suffer under tyranny. And with this, he found strength to become one of the most notable abolitionists to combat racial prejudice.
Read Next: