Whether you have wavy, straight, curly, long, or short hair, you'll undoubtedly love these hair quotes we've gathered!
Our hair is one of the most defining features of both our physical looks and our personality. No matter how you look at it, it's one of the main things that speaks volumes about the kind of person we are!
After all, we have complete freedom over our looks and can do many things with our hair. We can cut it or let it grow longer; it's also up to us if we'd like to keep our natural hair color or dye it differently!
What's more, having a good hair day can also boost our confidence. In many ways, our hairstyle dictates how we approach the rest of the day.
So, if you're curious about your hair's importance, read on. We've rounded up the best hair quotes to help you out!
And don't forget to check out these fashion quotes.
Best Hair Quotes
1. "Straight, wavy, or curly—if it's healthy, it's beautiful." – Anonymous
2. "Life is too short to have boring hair." – Anonymous
3. "If my hair looks good, I can deal with anything." – Anonymous
4. "Invest in your hair; it's the crown you never take off." – Anonymous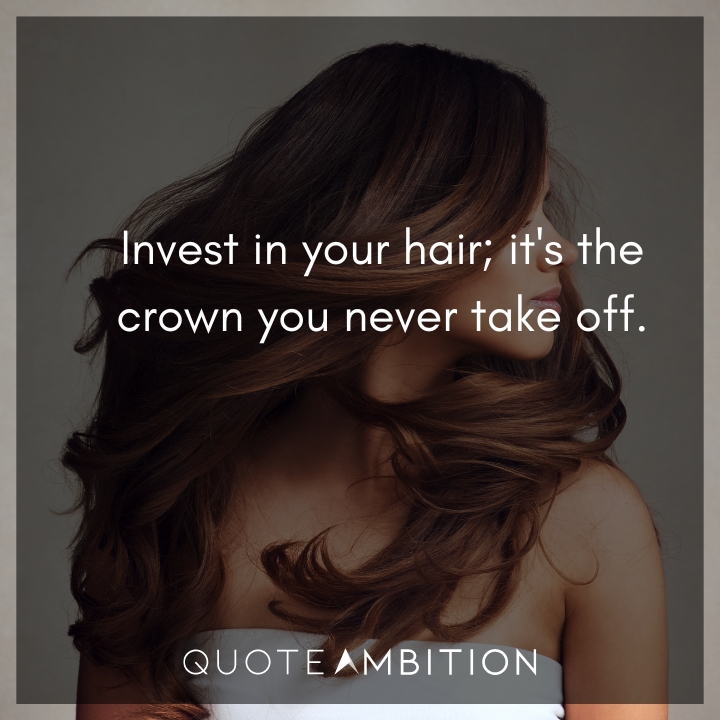 5. "Life is short. You might as well live it with really great hair." – Anonymous
6. "Good hair is your way to show the world how loving you can be; it is your way to tell the world that no matter what happens, you'll keep being happy, so take care of it." – Anonymous
7. "Your hair is your greatest ally. It protects you from the cold; it can change your mood no matter how bad it is, but overall it can make you feel beautiful and powerful. Never neglect it." – Anonymous
Quotes About Hair
8. "Hair doesn't make the woman, but good hair definitely helps." – Anonymous
9. "For me, hair is an accouterment. Hair is jewelry. It's an accessory." – Jill Scott
10. "Great hair doesn't happen by chance; it happens by appointment." – Anonymous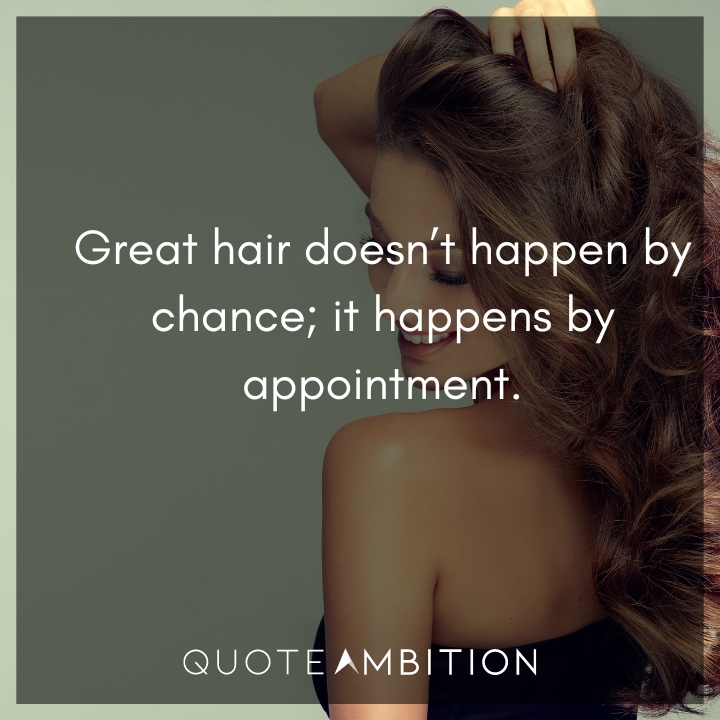 11. "Hair is the richest ornament of women." – Martin Luther
12. "Good hair is the best revenge and speaks louder than the world." – Anonymous
13. "To change your hair is to change yourself, so when life demands change and action, one must first change his or her hair. New hair means new horizons." – Anonymous
14. "Your hair is the crown that makes you the queen you are." – Anonymous
15. "Life isn't perfect, but your hair can be." – Anonymous
Hair Quotes for Girls
16. "It's your hair! Do whatever you want." – Anonymous
17. "Love is in the air. Let your hair down, and let's have fun." – Anonymous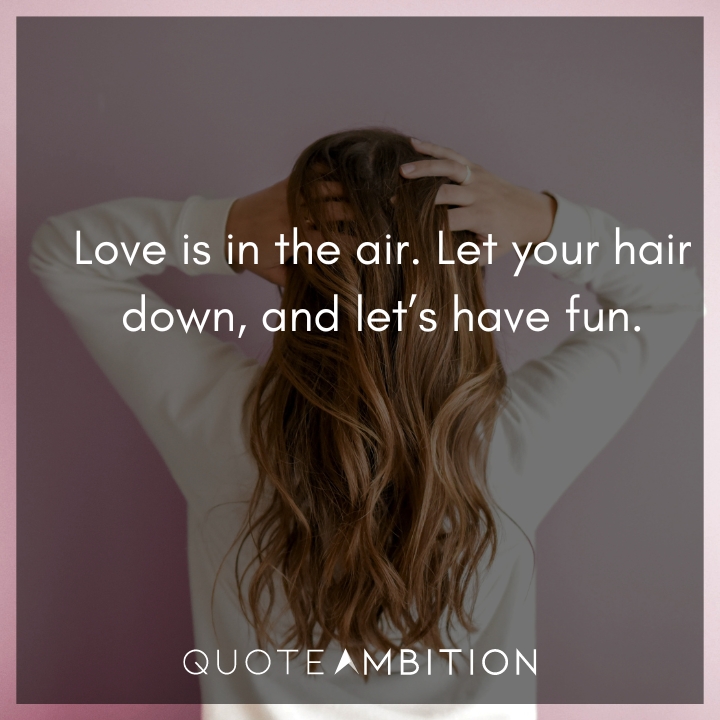 18. "Brush your messy hair, embrace a bun, and take on the world." – Anonymous
19. "A woman who cuts her hair is about to change her life." – Anonymous
Short Hair Quotes That Are Perfect Instagram Captions
20. "Your hair is 90% your selfie." – Anonymous
21. "Short hair, don't care." – Anonymous
22. "Transform your hair, transform your life." – Anonymous
23. "Happiness is a new haircut." – Anonymous
24. "Good hair days make me feel like I can rule the world." – Anonymous
Hairstyle Quotes to Boost Your Confidence
25. "The right hairstyle can make a plain woman beautiful, and a beautiful woman unforgettable." – Sophia Loren
26. "A great hairstyle is the best accessory." – Anonymous
27. "A new hairstyle is like a new relationship—it makes you giddy, confident, and excited." – Anonymous
28. "Your hairstyle speaks its own language; it can tell people to come toward you, or it can tell them to back away from you, so it can be your greatest ally if you want to meet people or keep them out." – Anonymous
29. "A good hairstyle can always bring you back from sorrow. Good hair heals you and transforms you, so maybe when you are sad, all you need is a new hairstyle." – Anonymous
30. "When a powerful hairstyle stands behind you, nothing can stop you—for people will look at you, they will respect you, and the world may bow to you." – Anonymous
Funny Hair Quotes for Some Giggles
31. "My mood depends on how good my hair looks." – Anonymous
32. "I make hair contact before I make eye contact." – Anonymous
33. "Beauty comes from the inside—inside the hair salon." – Anonymous
34. "It doesn't matter if your life is perfect as long as your hair color is." – Stacy Snapp Killian
35. "Thank you, hair, for only looking good when I'm not going anywhere." – Anonymous
What Do You Love the Most About Your Hair?
Our hair is usually the first thing people see when they look at us. And, for many, it's how they get an idea of what the other person's all about.
While a lot of people feel like changing one's hairstyle or dyeing it a different color means they're ashamed of a part of their looks, perhaps it's more than that. After all, it's through these things that we can express our creativity and imagination!
Hair is a canvas that allows us to show our true selves to the world. Moreover, your hairstyle can even expose your mood for the day!
So, no matter what transformation you allow your hair to go through, there's only one main thing you should keep in mind: always take care of your hair! Chemicals from dyes and other treatments can damage it, so you must always follow the correct after-care steps.
Let the hair quotes we've rounded up above encourage you to show your true self through your unique and beautiful locks! Remember, life is too short for dull hair!
Read Next: