Nothing beats brushing up on your fashion knowledge and finding your own unique style; that's why we've compiled this list of fashion quotes for you! 
Fashion is more than wearing trendy clothes, accessories, and shoes. It is also not just about wearing elegant dresses. Instead, it is how you express and carry yourself with confidence. 
Having your own fashion sense and confidence will set you apart from everyone else in the crowd. More than this, it'll also give you the boost you need to stay at the top of your game! So, don't let anyone tell you what you have to wear and go out there and show them your true self through your fashion!
Read the complete list of the best fashion quotes below!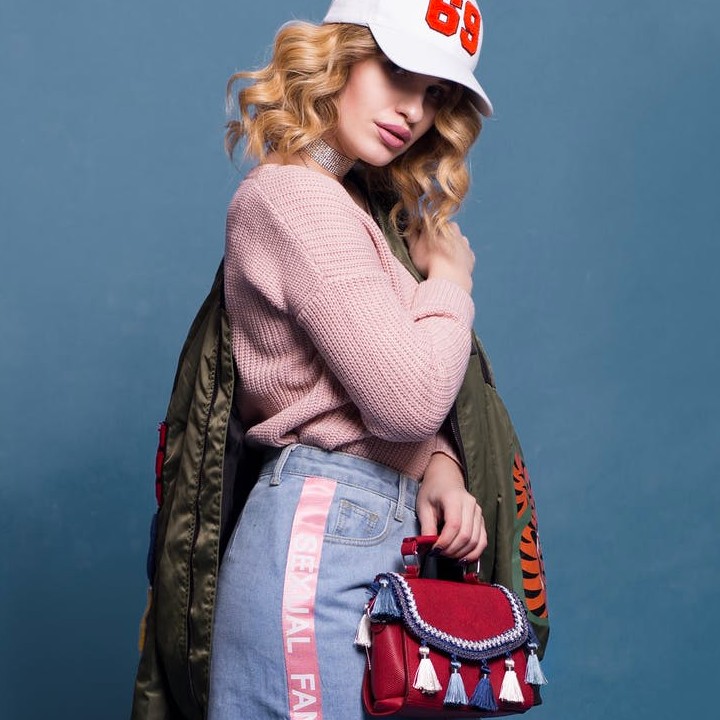 And don't forget to check out these hair quotes and eyes quotes.
Best Fashion Quotes
1. "Fashion is the armor to survive the reality of everyday life." – Bill Cunningham
2. "If you love something, wear it all the time. Find things that suit you. That's how you look extraordinary." – Vivienne Westwood
3. "Don't be afraid to express yourself through fashion!" – Chanel Iman
4. "Fashion is a language that creates itself in clothes to interpret reality." – Karl
5. "Don't be into trends. Don't make fashion own you, but you decide what you are, what you want to express by the way you dress and the way you live." – Gianni Versace
6. "Fashion is anything which is you and reflects your personality, and if you are comfortable with what you are wearing, you'll look trendy and fashionable for sure." – Yami Gautam
7. "What you wear is how you present yourself to the world, especially today when human contacts are so quick. Fashion is instant language." – Miuccia Prada
8. "I love fashion and there is no easier way to express yourself than through the clothes you wear." – Victoria Justice
9. "You can have anything you want in life if you dress for it." – Edith Head
10. "Fashion is not something that exists in dresses only. Fashion is in the sky, in the street. Fashion has to do with ideas, the way we live, what is happening." – Coco Chanel
11. "Fashion is chaotic, and it can be an aggravation, too, but it is at its best when it allows you to express yourself." – John Malkovich
12. "Clothes are just something you put on to cover yourself―fashion is a way to communicate." – Dries van Noten
13. "Fashion has always been a repetition of ideas, but what makes it new is the way you put it together." – Carolina Herrera
14. "Fashion's not about looking back. It's always about looking forward." – Anna Wintour
15. "Fashion is part of our culture, and it's about more than just a pretty dress." – Joan Smalls
Famous Fashion Quotes
16. "What I find most interesting in fashion is that it has to reflect our time. You have to witness your own moment." – Nicolas Ghesquière
17. "I firmly believe that with the right footwear one can rule the world." – Bette Midler
18. "Fashion is a weapon that you can use when you need it." – Donatella Versace
19. "One is never overdressed or underdressed with a little black dress." – Karl Lagerfeld
20. "Comfort and simplicity are two keys that I follow when it comes to fashion." – Fawad Khan
21. "Fashion has to reflect who you are, what you feel at the moment and where you're going." – Pharrell Williams
22. "Fashion is all about happiness. It's fun. It's important. But it's not medicine." – Donatella Versace
23. "The best fashion show is definitely on the street. Always has been, and always will be." – Bill Cunningham
24. "Fashion, somehow for me, is purely and happily irrational." – Hedi Slimane
25. "To me, fashion is ceaselessly fascinating because it is an expression of self." – Anna Wintour
26. "Fashion is part of the daily air and it changes all the time, with all the events. You can even see the approaching of a revolution in clothes. You can see and feel everything in clothes." – Diana Vreeland
Also read: Famous Quotes
Inspirational Fashion Quotes
27. "The great thing about fashion is that it always moves forward." – Oscar de la Renta
28. "The true essence of fashion is being able to reinvent yourself with what you have." – Melanie Fiona
29. "I love fashion and that's how I express myself." – Victoria Beckham
30. "I think fashion can do a lot. Fashion is very popular, so it can help broadcast a message and reach a new generation." – Maria Grazia Chiuri
31. "I have always believed that fashion was not only to make women more beautiful but also to reassure them, give them confidence." – Yves Saint Laurent
32. "The most important thing to remember is that you can wear all the greatest clothes and all the greatest shoes, but you've got to have a good spirit on the inside. That's what's really going to make you look like you're ready to rock the world." – Alicia Keys
Also read: Inspirational Quotes
Fashion Quotes Packed With Insights
33. "You make all the fashion statements just by dressing up your mind." – Jason Mraz
34. "Fashion is a form of ugliness so intolerable that we have to alter it every six months." – Oscar Wilde
35. "Fashion is a language. Some know it, some learn it, some never will—like an instinct." – Edith Head
36. "The hardest thing in fashion is not to be known for a logo, but to be known for a silhouette." – Giambattista Valli
37. "Fashion is about dreaming and making other people dream." – Donatella Versace
38. "Fashion should be a form of escapism and not a form of imprisonment." – Alexander McQueen
39. "What you wear is such an expression of who you are. That's like someone picking out who I'm going to date!" – Diane Kruger
40. "A little bad taste is like a nice splash of paprika. We all need a splash of bad taste—it's hearty, it's healthy, it's physical. I think we could use more of it. No taste is what I'm against." – Diana Vreeland
41. "Conformity is the only real fashion crime. To not dress like yourself and to sublimate your spirit to some kind of group identity is succumbing to fashion fascism." – Simon Doonan
42. "You can't be melancholy in fashion because people don't respond to it." – Isaac Mizrahi
43. "I don't have to choose between high fashion or streetwear. My brand reminds me that it doesn't have to fit in a box. It can just be in a gray area." – Virgil Abloh
44. "Fashion is what you adopt when you don't know who you are." – Quentin Crisp
45. "I want to remind people of a different kind of glamour, a different look, and breaking rules of fashion. I want to break the rules." – Dita Von Teese
46. "I don't believe in fashion. I believe in costume. Life is too short to be the same person every day." – Stephanie Perkins
47. "Fashion is to please your eye. Shapes and proportions are for your intellect." – Carolina Herrera
Meaningful Quotes About Fashion and Style 
48. "Fashions fade, style is eternal." – Yves Saint Laurent
49. "Fashion changes, but style endures." – Coco Chanel
50. "The difference between style and fashion is quality." – Giorgio Armani
51. "Fashion is about dressing according to what's fashionable. Style is more about being yourself." – Oscar de la Renta
52. "It's a new era in fashion—there are no rules. It's all about the individual and personal style, wearing high-end, low-end, classic labels, and up-and-coming designers all together." – Alexander McQueen
53. "Style, I think, is in your DNA. You can learn how to be more fashionable, you can learn how to be better dressed, but I don't think you can learn style." – Iris Apfel
54. "Fashion is a trend. Style lives within a person." – Oscar de la Renta
55. "Style is very personal. It has nothing to do with fashion. Fashion is over quickly. Style is forever." – Ralph Lauren
56. "Fashion is what you're offered four times a year by designers. And style is what you choose." – Lauren Hutton
57. "Fashion you can buy, but style you possess. The key to style is learning who you are, which takes years. There's no how-to road map to style. It's about self-expression and, above all, attitude." – Iris Apfel
58. "Style is the only thing you can't buy. It's not in a shopping bag, a label, or a price tag. It's something reflected from our soul to the outside world—an emotion." – Alber Elbaz
59. "What's my style is not your style, and I don't see how you can define it. It's something that expresses who you are in your own way." – Iris Apfel
60. "Style is knowing who you are, what you want to say and not giving a damn." – Orson Welles
61. "Fashion is okay for five days, one minute, six months, but style is for the rest of your life." – Stefano Gabbana
62. "Style is not about what you're wearing. Style is a combination of many other things: It's the way you move, your taste in books, your taste in a house. It's the things you do that are different when everybody else is doing the same thing." – Carolina Herrera
Also read: Meaningful Quotes
Fashion Quotes for Women to Boost Every Female's Confidence
63. "A woman is never sexier than when she is comfortable in her clothes." – Vera Wang 
64. "Give a girl the right shoes and she can conquer the world." – Marilyn Monroe
65. "There is no sound more feminine than a woman in a taffeta dress." – Oscar de la Renta
66. "You can never take too much care over the choice of your shoes. Too many women think that they are unimportant, but the real proof of an elegant woman is what is on her feet." – Christian Dior
67. "I've always admired a woman who can dress for all occasions―someone who is not fashion crazy, but you always want to look like her." – Ralph Lauren
68. "The dress must follow the body of a woman, not the body following the shape of the dress." – Hubert de Givenchy
69. "Over the years I have learned that what is important in a dress is the woman who's wearing it." – Yves Saint Laurent
70. "I want people to see the dress, but focus on the woman." – Vera Wang
71. "I make clothes, women make fashion." – Azzedine Alaïa
72. "Girls do not dress for boys. They dress for themselves, and of course, each other. If girls dressed for boys, they'd just walk around naked at all times." – Betsey Johnson
73. "I don't like women who follow fashion in the sense of becoming victims of it. I like women who have elegance, who have allure, who use fashion, rather than the other way around." – Giorgio Armani
74. "Dress shabbily and they remember the dress; dress impeccably and they notice the woman." – Coco Chanel
75. "As a woman gets older, it's more about style than fashion. A woman knowing herself more and more, and looking for new things, is getting into her own personal style, being more than just a fashion addict. I'm interested in that." – Nicolas Ghesquière
76. "I love black because it affirms, designs, and styles. A woman in a black dress is a pencil stroke." – Yves Saint Laurent
77. "It pains me physically to see a woman victimized, rendered pathetic by fashion." – Yves Saint Laurent
Fashion Quotes on the Importance of Dressing Well
78. "How can you live the high life if you do not wear the high heels?" – Sonia Rykiel
79. "Shoes transform your body language and attitude. They lift you physically and emotionally." – Christian Louboutin
80. "Being well-dressed hasn't much to do with having good clothes. It's a question of good balance and good common sense." – Oscar de la Renta
81. "You can wear black at any time. You can wear it at any age. You may wear it for almost any occasion." – Christian Dior
82. "Don't wear what fashion designers tell you to wear. Wear what they wear." – Tina Fey
83. "It is ever so much easier to be good if your clothes are fashionable." – L. M. Montgomery
84. "If you can't be better than your competition, just dress better." – Anna Wintour
Great Fashion Quotes to Help You Showcase Your True Beauty
85. "A great dress can make you remember what is beautiful about life." – Rachel Roy
86. "I always loved aesthetics. Not particularly fashion, but an idea of beauty." – Miuccia Prada
87. "My favorite thing about beauty and fashion in all seasons is that it's a way to reinvent ourselves." – Jeannie Mai
88. "Be sure what you want and be sure about yourself. Fashion is not just beauty, it's about a good attitude. You have to believe in yourself and be strong." – Adriana Lima
89. "Fashion should be genderless; how people perceive the idea of beauty can vary from one to another." – Alessandro Michele
90. "Fashion has two purposes: comfort and love. Beauty comes when fashion succeeds." – Coco Chanel
91. "I think there is beauty in everything. What 'normal' people perceive as ugly, I can usually see something of beauty in it." – Alexander McQueen
Powerful Quotes From Well-Known Fashion Designers
92. "I don't do fashion. I am fashion." – Coco Chanel
93. "I don't design clothes. I design dreams." – Ralph Lauren
94. "The joy of dressing is an art." – John Galliano
95. "Clothes mean nothing until someone lives in them." – Marc Jacobs
96. "When in doubt, wear red." – Bill Blass
97. "Fashion is not necessarily about labels. It's not about brands. It's about something else that comes from within you." – Ralph Lauren
98. "Fashion is very important. It is life-enhancing and, like everything that gives pleasure, it is worth doing well." – Vivienne Westwood
99. "Fashion is like eating, you shouldn't stick to the same menu." – Kenzo Takada
100. "We are witnessing a 'gender shift.' I, therefore, design fashion at the service of it." – Stefano Pilati
101. "In difficult times, fashion is always outrageous." – Elsa Schiaparelli
102. "The best things in life are free. The second best are very expensive." – Coco Chanel
103. "My style is not that big. I wear heels, tight pants, and I wear diamonds." – Donatella Versace
104. "In order to be irreplaceable one must always be different." – Coco Chanel
105. "What I really do believe is that anybody—and it really doesn't matter what shape your body is—can be seductive and sexy and gorgeous and beautiful. I use an extreme idea of beauty as a way of showing Céline, but I don't believe it has to be like that outside of the fashion show." – Phoebe Philo
106. "Anyone can get dressed up and be glamorous, but it is how people dress on their days off that are the most intriguing." – Alexander Wang
Quotes That Zoom in on the Correlation Between Fashion and Elegance
107. "Fashion anticipates—elegance is a state of mind." – Oleg Cassini
108. "Elegance isn't solely defined by what you wear. It's how you carry yourself, how you speak, what you read." – Carolina Herrera
109. "Isn't elegance forgetting what one is wearing?" – Yves Saint Laurent
110. "Elegance is a question of personality, more than one's clothing." – Jean Paul Gaultier
111. "Elegance is timeless. It withstands trend; It withstands the commercialization of what fashion and style have become." – Zac Posen
112. "Elegance is usually confused with superficiality, fashion, and lack of depth. This is a serious mistake: human beings need to have elegance in their actions and in their posture because this word is synonymous with good taste, amiability, equilibrium, and harmony." – Paulo Coelho
Short Fashion Quotes You'll Love
113. "Fashion is a reflection of the time." – Anna Wintour
114. "Fashion should be stylish and fun." – Twiggy
115. "You either know fashion or you don't." – Anna Wintour
116. "I can't concentrate in flats!" – Victoria Beckham
117. "Keep your heels, head, and standards high." – Coco Chanel
118. "Can you please spell Gabbana?" – Andrea Sachs
119. "I am more vintage than I am high fashion." – Kat Graham
120. "Fashion is a state of mind." – Sonia Rykiel
121. "The truly fashionable are beyond fashion." – Cecil Beaton
Also read: Short Quotes
Quotes About Fashion and Its Connection to the Arts
122. "Fashion is an art and you are the canvas." – Velvet Paper
123. "Fashion is more art than art is." – Andy Warhol
124. "Fashion is only the attempt to realize art in living forms and social intercourse." – Francis Bacon
125. "What's becoming very obvious to me is that fashion is art." – Lupita Nyong'o
Funny Fashion Quotes That Will Make Your Day Brighter
126. "I like my money right where I can see it―hanging in my closet." – Carrie Bradshaw
127. "Playing dress-up begins at age five and never truly ends." – Kate Spade
128. "If loving fashion is a crime, we plead guilty." – Anonymous
129. "Whoever said that money can't buy happiness, simply didn't know where to go shopping." – Bo Derek
130. "I may be a beginner at some things, but I've got a black belt in shopping." – Phyllis Nefler
131. "Always dress like you're going to see your worst enemy." – Kimora Lee
132. "I have married fashion and I think it has been a good wife." – Franco Moschino
133. "In the fashion industry, everything goes retro except the prices." – Criss Jami
More Fashion Quotes to Ponder On
134. "We don't need fashion to survive, we just desire it so much." – Marc Jacobs
135. "The way I dress depends on how I feel. I never have to psych myself up. Usually, it just feels like it works." – Rihanna
136. "If I can have any impact, I want women to feel good about themselves and have fun with fashion." – Michelle Obama
137. "Clothes are like a good meal, a good movie, great pieces of music." – Michael Kors
138. "Humor is a big part of my style. You have to be willing to fall on your face a bit, to be that fashion roadkill. I know so many people who are die-hard fashion people who are way more educated than I am, but I love fashion. It's so much more important than just material." – Zoë Kravitz
139. "Fashion is a religion in one sense. Once upon a time, our brand was considered the sanctum sanctorum of fashion. I want to produce things that people really want to buy." – Alessandro Michele
140. "I think the fashion is super serious and humor is suspect and people don't always know how to approach it. Sometimes people have questioned whether I was making fun of the industry or just at myself. I'm just trying to raise a smile. Clothes aren't meant to be worshipped at a church altar. I have a different approach to most designers." – Jeremy Scott
What Do You Usually Wear to Express Your Fashion Sense? 
Looking your best and dressing to impress don't have to be expensive. You don't need fashionable accessories or dresses to stand out. Sometimes, a simple white t-shirt and jeans can turn heads, while some extravagant clothing raises eyebrows. 
It is not always about what you wear; how you carry yourself will do the trick. If you always have an air of confidence around you, no matter what you wear, you will be the talk of the town!
Always remember that your true identity is reflected in your style and fashion. As long as you're expressing your true self, you can wear whatever you want. Don't let others control and dictate how you dress and let your fashion speak for itself.
Let these quotes remind everyone that everyone is unique, and fashion is how we define ourselves and separate ourselves from the rest. We hope that these fashion quotes were able to inspire you to walk your own runway and be your most genuine self!
Which of these fashion quotes is your favorite? Do you have any fashion tips to share? Please, share your thoughts with us in the comments section below.
Read Next: