There's nothing more eye-opening than these Toni Morrison quotes that tackle almost everything under the sun!
From self-discovery to cultural segregation, you're sure to find it here.
As a multi-awarded writer, she delved deep into the issues of the human psyche, making it the focus of her most well-known works.
We've rounded up some favorites for this collection.
Check out the full list below.
And make sure to read these James Baldwin quotes.
Best Toni Morrison Quotes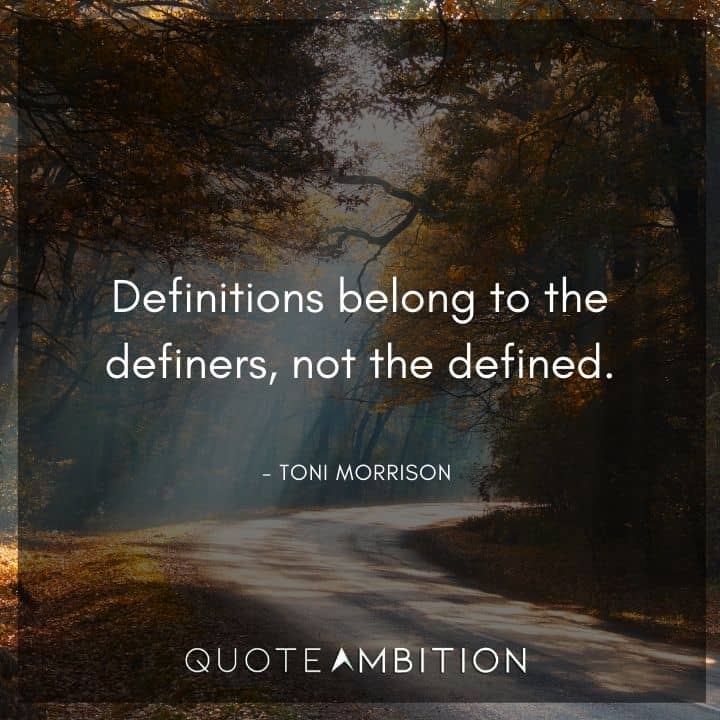 1. "Definitions belong to the definers, not the defined."
2. "Love is or it ain't. Thin love ain't love at all."
3. "You wanna fly, you got to give up the sh*t that weighs you down."
4. "I dream a dream that dreams back at me."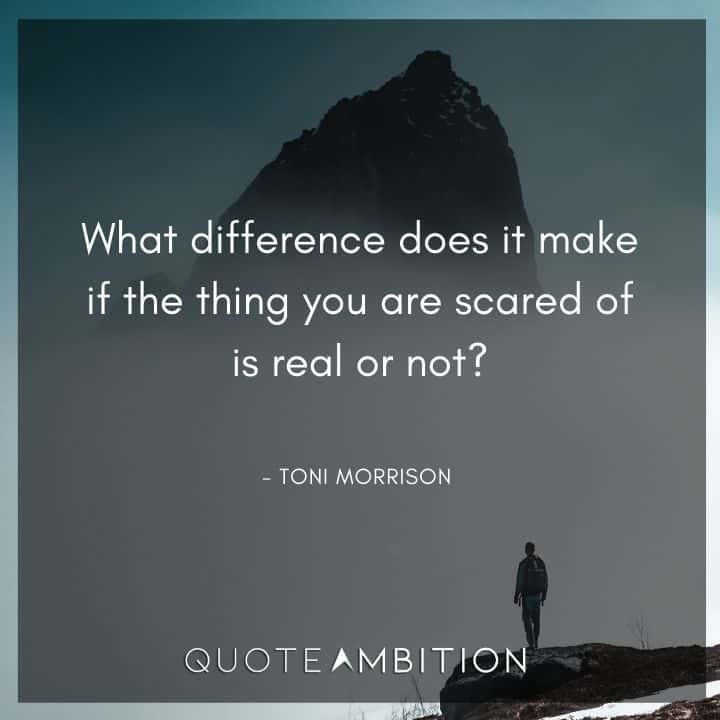 5. "What difference does it make if the thing you are scared of is real or not?"
6. "If you surrendered to the air, you could ride it."
7. "Me and you, we got more yesterday than anybody. We need some kind of tomorrow."
8. "The function of freedom is to free someone else."
9. "Not knowing it was hard; knowing it was harder."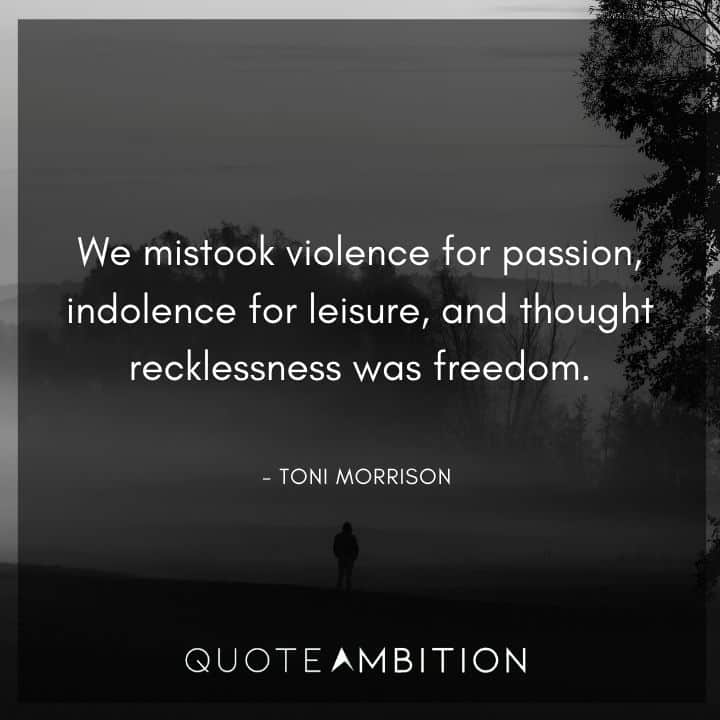 10. "We mistook violence for passion, indolence for leisure, and thought recklessness was freedom."
11. "It is sheer good fortune to miss somebody long before they leave you."
12. "As you enter positions of trust and power, dream a little before you think."
13. "Anything dead coming back to life hurts."
14. "Beauty was not simply something to behold; it was something one could do."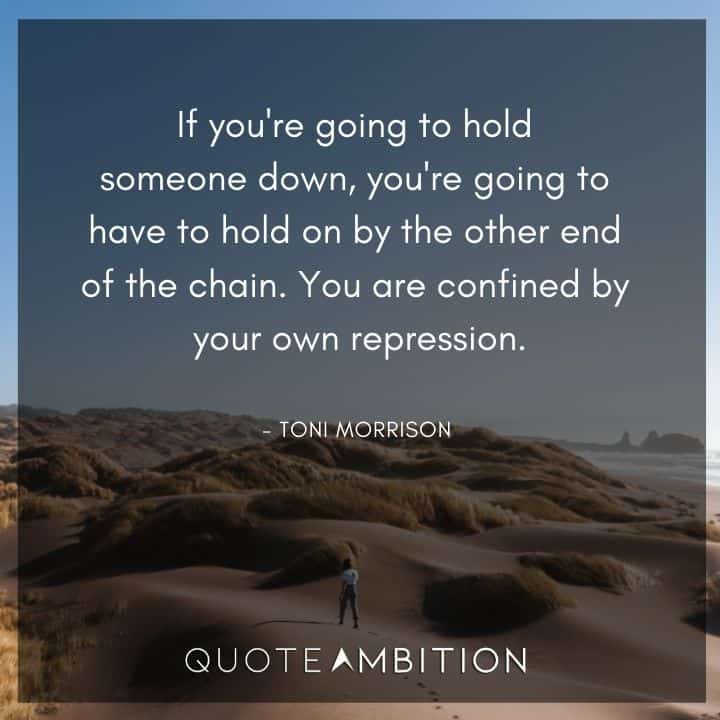 15. "If you're going to hold someone down, you're going to have to hold on by the other end of the chain. You are confined by your own repression."
16. "All water has a perfect memory and is forever trying to get back to where it was."
17. "What's the world for you if you can't make it up the way you want it?"
18. "I don't think a female running a house is a problem, a broken family. It's perceived as one because of the notion that a head is a man."
19. "Perhaps that's what all human relationships boil down to: Would you save my life? Or would you take it?"
Toni Morrison Quotes on the Road to Freedom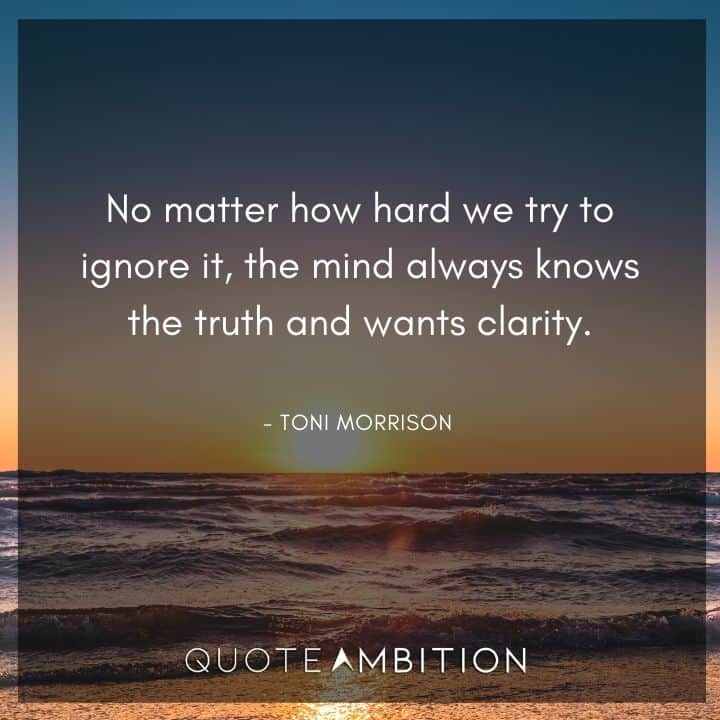 20. "No matter how hard we try to ignore it, the mind always knows the truth and wants clarity."
21. "When I woke up, I reminded myself that freedom is never free. You have to fight for it, work for it, and make sure you are able to handle it."
22. "Look to yourself. You are free. Nothing and nobody is obliged to save you but you. Somewhere inside you is that free person I'm talking about. Locate her and let her do some good in the world."
23. "How loose the silk. How fine and loose and free."
24. "Freeing yourself was one thing, claiming ownership of that freed self was another."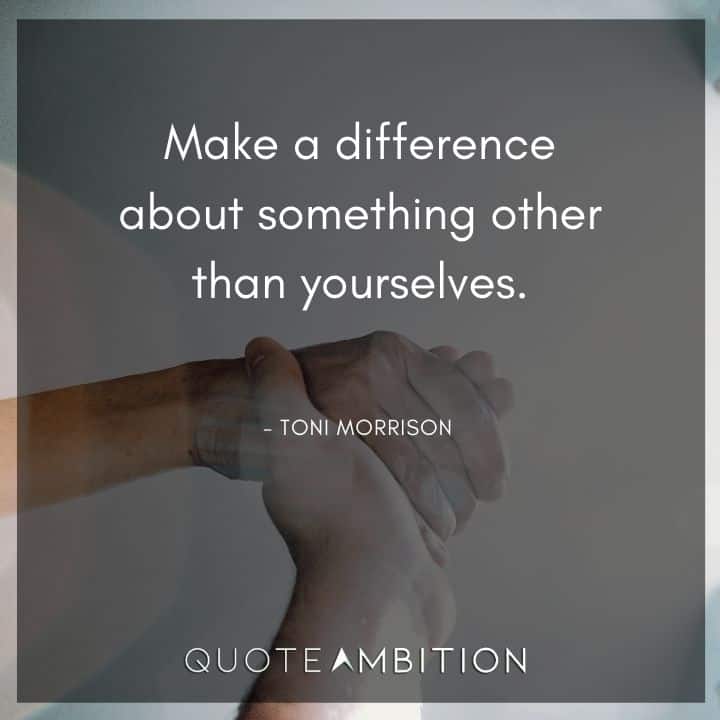 25. "Make a difference about something other than yourselves."
26. "Somebody has to take responsibility for being a leader."
27. "Don't tell us what to believe, what to fear. Show us belief's wide skirt and the stitch that unravels fear's caul."
28. "To get to a place where you could love anything you chose—not to need permission for desire—well, now that was freedom."
29. "There is really nothing more to say except why. But since why is difficult to handle, one must take refuge in how."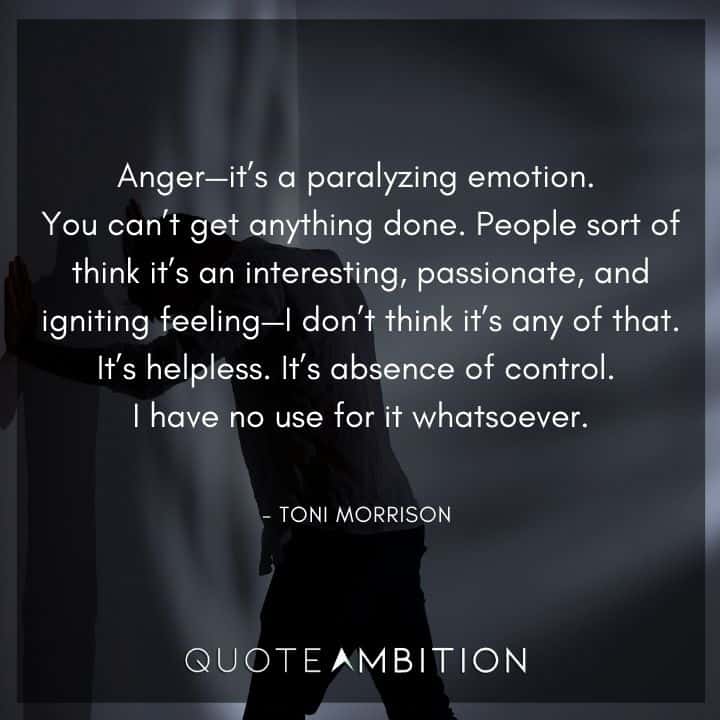 30. "Anger—it's a paralyzing emotion. You can't get anything done. People sort of think it's an interesting, passionate, and igniting feeling—I don't think it's any of that. It's helpless. It's absence of control. I have no use for it whatsoever."
Toni Morrison Quotes on Life and Existence
31. "But to find out the truth about how dreams die, one should never take the word of the dreamer."
32. "Being good to somebody is just like being mean to somebody. Risky. You don't get nothing for it."
33. "If you can't imagine it, you can't have it."
34. "Correct what you can; learn from what you can't."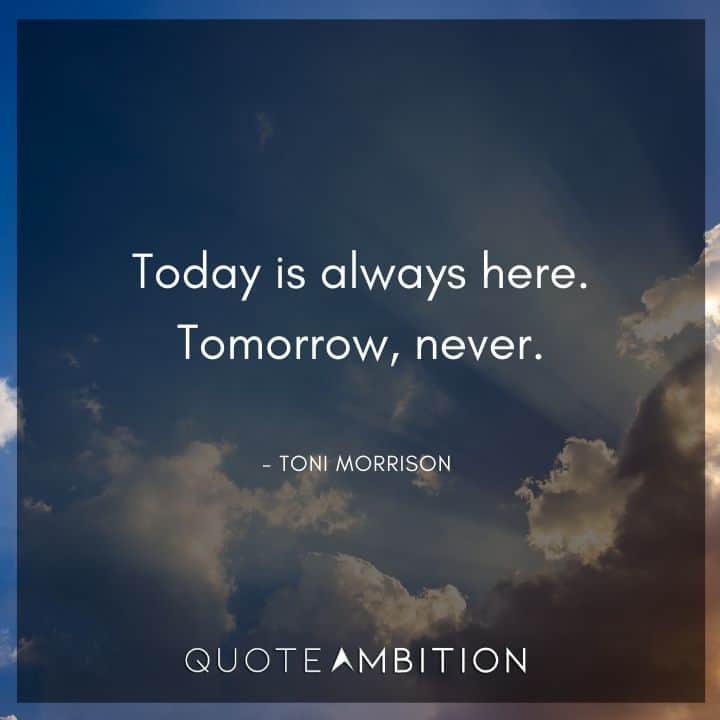 35. "Today is always here. Tomorrow, never."
36. "You couldn't learn age, but adulthood was there for all."
37. "They did not believe death was accidental—life might be, but death was deliberate."
38. "If you're open, you can rely on the lived wisdom of the elderly. It's not the book learning, it's the lived wisdom."
39. "I was happy, free in a way I had never been, ever. It was the oddest sensation. Not ecstasy, not satisfaction, not a surfeit of pleasure or accomplishment. It was a purer delight, a rogue anticipation with certainty."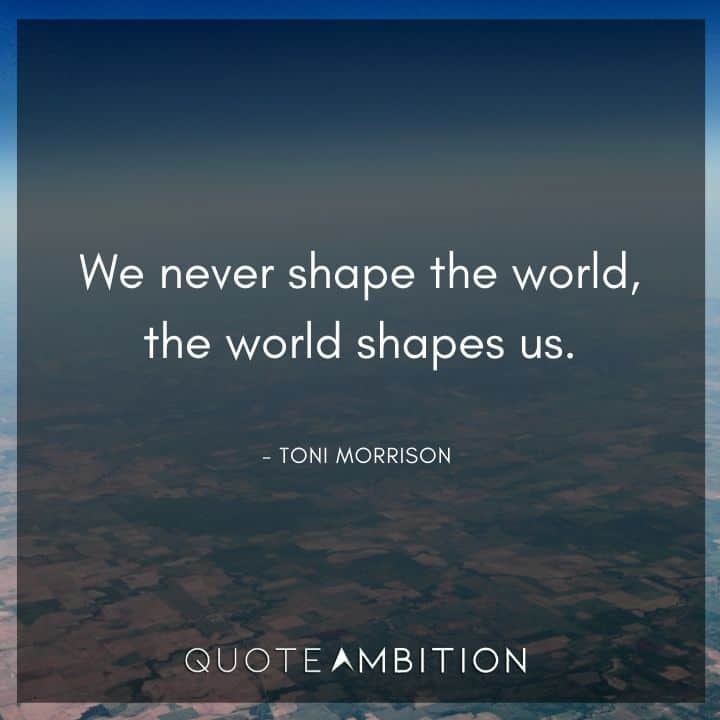 40. "We never shape the world, the world shapes us."
41. "Everything depends on knowing how much. Good is knowing when to stop."
42. "We must do all we can to imagine the other before we presume to solve the problems that work and life demands of us."
43. "Own things, and let the things you own own other things."
44. "Have a sense of humor; deliver something that somebody can use."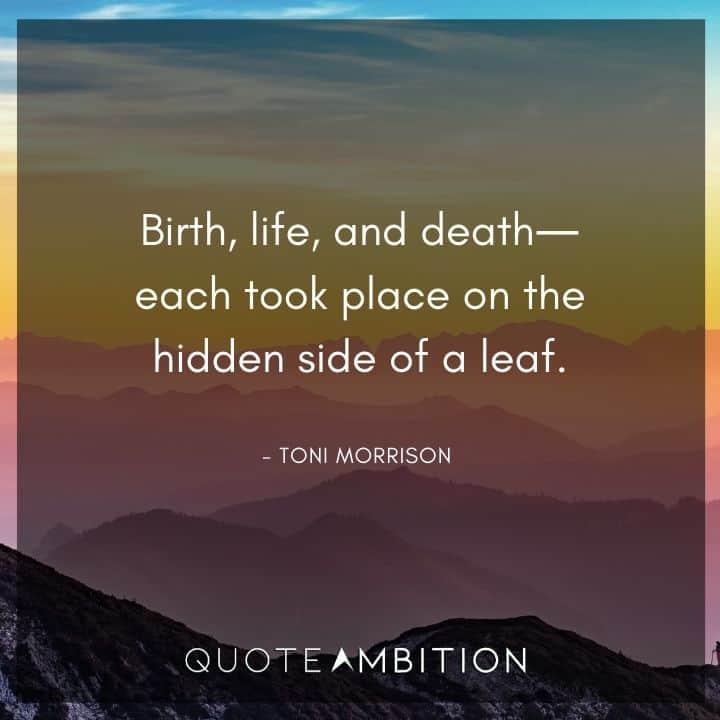 45. "Birth, life, and death―each took place on the hidden side of a leaf."
46. "Sifting daylight dissolves the memory, turns it into dust motes floating in light."
47. "How exquisitely human was the wish for permanent happiness, and how thin human imagination became trying to achieve it."
48. "You got a life? Live it! Live the motherf*ckin life!"
49. "He relished never knowing what lay in his path, who might approach with what intention."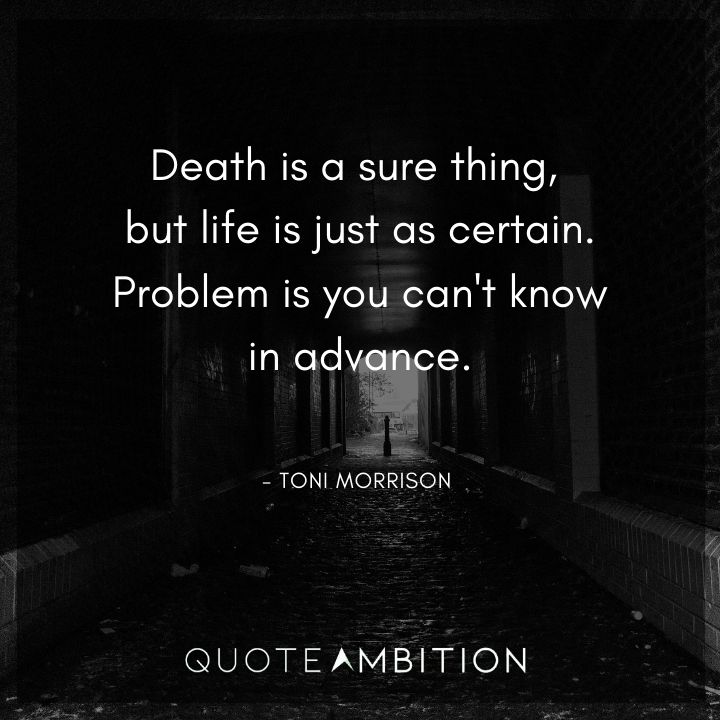 50. "Death is a sure thing, but life is just as certain. Problem is you can't know in advance."
Which Toni Morrison Quotes Speak Your Truth?
Throughout her life, Toni Morrison dedicated herself to putting lived human experiences into writing—through her poems, essays, and publications like Sula, the Song of Solomon, and The Bluest Eye.
Though she had already passed on, her legacy still lives on today, reminding us of the rampant racism that still occurs right in front of our eyes, and how we should move forward to stop it.
Which Toni Morrison quote struck you the most? Are there any other quotes you'd like us to include? List them down in the comments section below.
Read Next: