Check out these sweet and cute girlfriend quotes that'll show her how much you love her!
More than material gifts, your special someone will appreciate your loving words and messages more. So, whether there's an occasion to celebrate or not, you must make sure you remember to show your girlfriend how much you appreciate her presence in your life!
Moreover, communication is a big part of what makes a relationship work. Both you and your girlfriend must know how to openly discuss what you're feeling!
We understand that it's difficult for guys to do this. After all, most men aren't open with their emotions because they believe it exposes their vulnerability.
So, if you're someone who thinks the same way, don't worry! We've gathered the most swoon-worthy girlfriend quotes to help you out!
We're positive this collection of girlfriend quotes will be your perfect wingman when it comes to making your girl smile! Read on, and don't miss any of the quotes we've listed below!
And make sure to check out these husband quotes and famous quotes.
Best Girlfriend Quotes
1. "I am the luckiest man alive because I get to call you mine." – Anonymous
2. "I can't believe a girl like you exists and that I'm lucky enough to have found her." – Anonymous
3. "Some guys seek glory, while others seek money. But, girl, all I want is for you to be by my side." – Anonymous
4. "I knew the second I met you that there was something about you I needed. Turns out it wasn't something about you at all. It was just you." – Jamie McGuire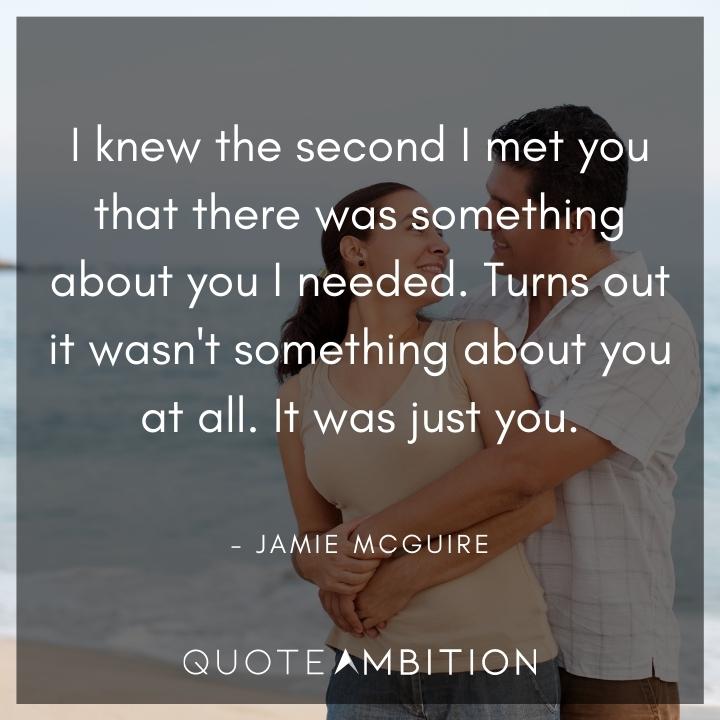 5. "I've never had a moment's doubt. I love you. I believe in you completely. You are my dearest one. My reason for life." – Ian McEwan
6. "You are the one girl that made me risk everything for a future worth having." – Simone Elkeles
7. "You make me happier than I ever thought I could be, and if you let me, I will spend the rest of my life trying to make you feel the same way." – Chandler Bing
8. "God is such a show-off. He sent you to make all of the other women in the world jealous." – Anonymous
Quotes for Your Girlfriend
9. "Do I love you? My god, if your love were a grain of sand, mine would be a universe of beaches." – William Goldman
10. "Because of you, I can feel myself slowly but surely becoming the me I have always dreamed of being." – Tyler Knott Gregson
11. "I love you, not only for what you are but for what I am when I am with you." – Roy Croft
12. "From the first moment that we touched, your arms felt like home." – John Green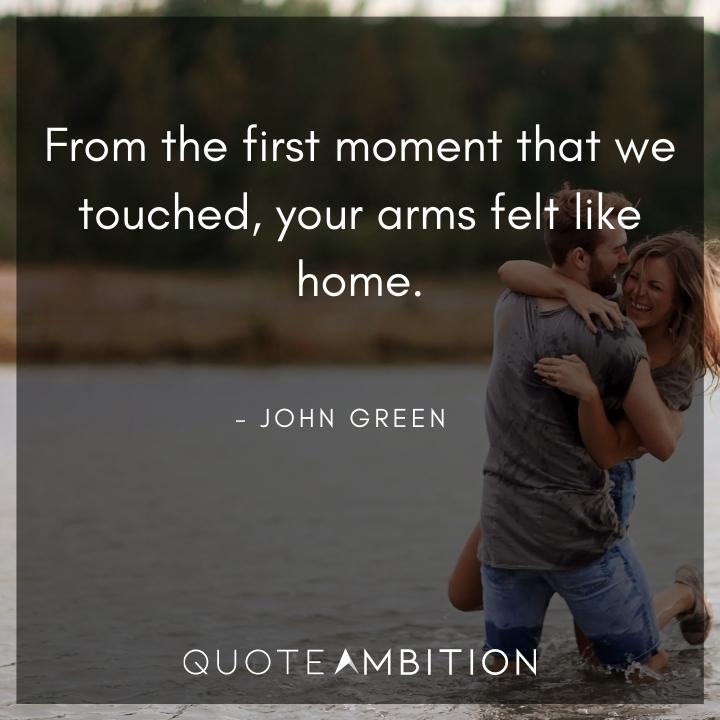 13. "Whatever happens tomorrow, or for the rest of my life, I'm happy now because I love you." – Phil Connors
14. "The day my life changed forever: the day I first saw you." – Nicholas Sparks
15. "Why, darling, I don't live at all when I'm not with you." – Ernest Hemingway
16. "The best part of being your boyfriend is that I get to walk with you in the street and be proud." – Anonymous
Love Quotes for Your Girlfriend
17. "I love you more than I can express, or can ever hope to express." – Jude Morgan
18. "I am so in love with you that there isn't anything else." – Ernest Hemingway
19. "I love you right up to the moon—and back." – Sam McBratney
20. "You have bewitched me, body and soul, and I love, I love, I love you. I never wish to be parted from you from this day on." – Mr. Darcy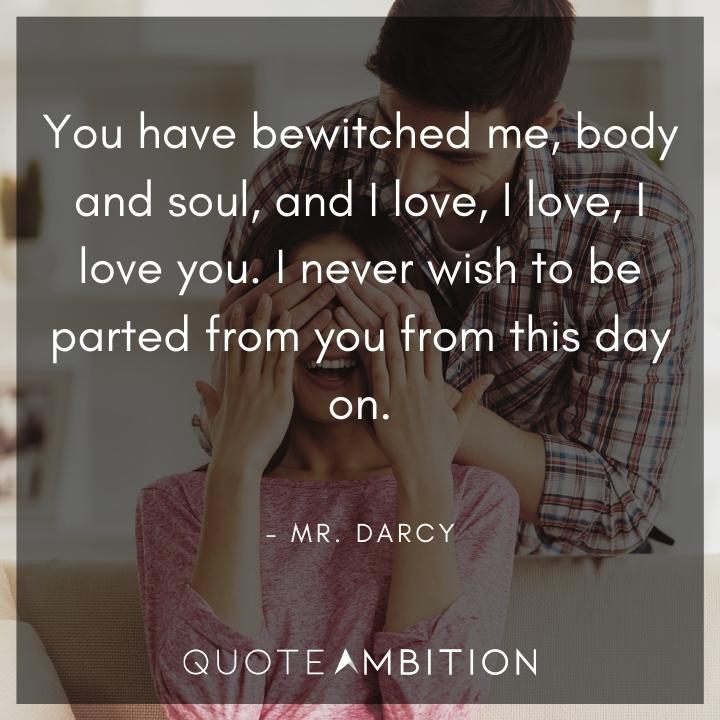 21. "I love you because the entire universe conspired to help me find you." – Paul Coelho
22. "I love you, and that's the beginning and end of everything." – F. Scott Fitzgerald
23. "I swear I couldn't love you more than I do right now, and yet I know I will tomorrow." – Leo Cristopher
24. "I feel like a part of my soul has loved you since the beginning of everything. Maybe we're from the same star." – Emery Allen
Romantic Quotes for Your Girlfriend
25. "You are whatever a moon has always meant and whatever a sun will always sing." – E.E. Cummings
26. "Yours is the light by which my spirit's born: yours is the darkness of my soul's return—you are my sun, my moon, and all my stars." – E.E. Cummings
27. "I could make you happy, make your dreams come true. Nothing that I wouldn't do. Go to the ends of the Earth for you to make you feel my love." – Bob Dylan
28. "A hundred hearts would be too few to carry all my love for you." – Henry Wadsworth Longfellow
29. "I still haven't figured out how to sit across from you, and not be madly in love with everything you do." – William C. Hannan
30. "I am in you and you in me, mutual in divine love." – William Blake
31. "I am who I am because of you. You are every reason, every hope, and every dream I've ever had." – Nicholas Sparks
Short Quotes for Your Girlfriend
32. "You're the woman I've always wished for." – Anonymous
33. "You make me want to be a better man." – Melvin Udall
34. "I never want to stop making memories with you." – Pierre Jeanty
35. "Grow old along with me; the best is yet to be." – Robert Browning
36. "When I saw you, I fell in love, and you smiled because you knew." – Arrigo Boito
37. "If I know what love is, it is because of you." – Herman Hesse
38. "A king only bows to his queen." – Anonymous
Cute Quotes for Your Girlfriend
39. "The only thing I want to change about you is that ringless finger on your left hand." – Anonymous
40. "You're the sail of my love boat; you're the captain and crew; you will always be my necessity—I'd be lost without you." – John Berger
41. "It's always better when we're together." – Jack Johnson
42. "The simple lack of her is more to me than others' presence." – George Thomas
43. "When you look at me, when you think of me, I am in paradise." – William Makepeace Thackeray
44. "Take love, multiply it by infinity, and take it to the depths of forever, and you still have only a glimpse of how I feel for you." – William Parrish
45. "For all the things my hands have held, the best by far is you." – Andrew McMahon
Beautiful Girlfriend Quotes to Butter Her Up
46. "Someone up there must be watching out for me because they sent heaven's most beautiful angel into my life." – Anonymous
47. "Diamonds, stars, rubies, and gold don't compare to your beauty and preciousness. You are such a treasure, such a girlfriend." – Anonymous
48. "I was going to buy you a flower, and then I realized that you're far more beautiful than any rose I could pick." – Anonymous
49. "Secretly, I fell in love with our midnight conversations, and your funny jokes, and the way you smile." – Anonymous
50. "My night has become a sunny dawn because of you." – Ibn Abbad
51. "If I had to dream up the perfect woman, she wouldn't even come close to you." – Cory Matthews
52. "You're a beautiful woman; you deserve a beautiful life. Nothing less." – Jacob Jankowski
53. "You are the finest, loveliest, tenderest, and most beautiful person I have ever known—and even that is an understatement." – F. Scott Fitzgerald
54. "If I could ask God one thing, it would be to stop the moon. Stop the moon and make this night and your beauty last forever." – William Thatcher
55. "I look at you, and I would rather look at you than all the portraits in the world." – Frank O'Hara
I Love My Girlfriend Quotes to Dedicate to Her
56. "It was love at first sight, at ever and ever sight." – Vladimir Nabokov
57. "I do know some things. I know I love you. I know you love me." – Jon Snow
58. "I love you more than I have ever found a way to say to you." – Ben Folds
59. "If the sun refused to shine, I would still be loving you. When mountains crumble to the sea, there will still be you and me." – Led Zeppelin
60. "I cannot exist without you. I am forgetful of everything, but seeing you again—my life seems to stop there—I see no further. You have absorbed me." – John Keats
Sweet Girlfriend Quotes and Captions for Instagram
61. "You are all of my today and all of my tomorrows." – Leo Christopher
62. "Come; live in my heart and pay no rent." – Samuel Lover
63. "The water shines only by the sun. And it is you who are my sun." – Charles De Leusse
64. "Ever thine. Ever mine. Ever ours." – Ludwig van Beethoven
65. "All of me loves all of you." – John Legend
66. "They asked him, 'How's your life' He smiled and answered, 'She is fine.'" – Anonymous
Funny Girlfriend Quotes
67. "Remember, we're madly in love, so it's alright to kiss me anytime you feel like it." – Peeta Mellark
68. "Yes, I'm drunk. And you're beautiful. And tomorrow morning, I'll be sober, but you'll still be beautiful." – The Dreamers
69. "I admire and love your courage, your strength, your smarts, and your laugh that sounds like a pig snorting." – Anonymous
70. "Tell me, where and how you became my girlfriend again? I swear I thought I was way out of your league." – Anonymous
71. "She is the only evidence of God I have seen, with the exception of the mysterious force that removes one sock from the dryer every time I do my laundry." – Anonymous
72. "Whenever I look at my girlfriend, I think, 'Damn; she is the luckiest of all the girls.'" – Anonymous
73. "When you became my girlfriend, I knew that I had to make you happy. I'll do anything for you—except the dishes." – Anonymous
74. "I feel for you and totally understand if you get jealous all the time. I'd feel the same way if I had such a hot boyfriend." – Anonymous
Girlfriend Quotes for Your Lovely and Caring Lady
75. "I never thought I could score a girlfriend like you." – Anonymous
76. "You're the best thing I never knew I needed. So now it's so clear I need you here always." – Ne-Yo
77. "When I first met my girlfriend, I was super intimidated. I wanted to impress her. I was thinking, Don't mess this up, man. You've gotta play your cards exactly right." – Henry Cavill
78. "I have a girlfriend, and she really keeps me grounded—makes me normal." – Ian Axel
79. "I know my girlfriend is free-spirited. I know she's so charming that it's disarming. I get it. And I know that every man is going to fall in love with her." – Wilmer Valderrama
80. "My girlfriend and I never let each other forget how much we love each other. It's all about reminding the other person how important and special she is to you." – Tyler Hoechlin
Which Quote Will You Be Sending Your Girlfriend Today?
Being in a loving relationship is one of life's most satisfying and comforting experiences. Imagine going through the world without someone to call your partner; wouldn't that be sad?
So, if you've found a caring and affectionate girlfriend who supports you with whatever endeavor you have, you should consider yourself lucky. It's not every day you find someone willing to love and accept all of you—including your flaws and shortcomings.
That's why you must show your girl how much you love and appreciate her, too. Relationships aren't one-sided; you should also make her feel secure and let her know that you'll be there to support her, come what may.
Be open and always communicate how you feel! Being vulnerable about your emotions can get awkward—and even downright embarrassing or scary.
However, remember that you're opening up to the one you love the most—not a random stranger on the street. So, be proud of your love!
Let the girlfriend quotes above inspire you about what you should say. Never let a day pass by without telling your girl how much you love her!
Read Next: