Wherever you may be, there's nothing like a great list of home quotes to make you feel the love of family and friends.
The term "home" has many definitions. It may be as straightforward as it seems—the place you permanently reside at the moment. Or, our homes can also be where you were originally from, and not necessarily where you live now.
You need love, comfort, happiness, and contentment to build a home. That's why a house, no matter how grand, can never be called a home if you don't find the comfort and love you're looking for whenever you're there.
Our home can be found in the people we love and cherish the most. After all, they are the ones who level up our houses into something more. Without them, these structures will just be four walls with a roof—void of any color and excitement that life may bring.
So, to help you figure out where your home is, we've compiled some of our favorite quotes about it!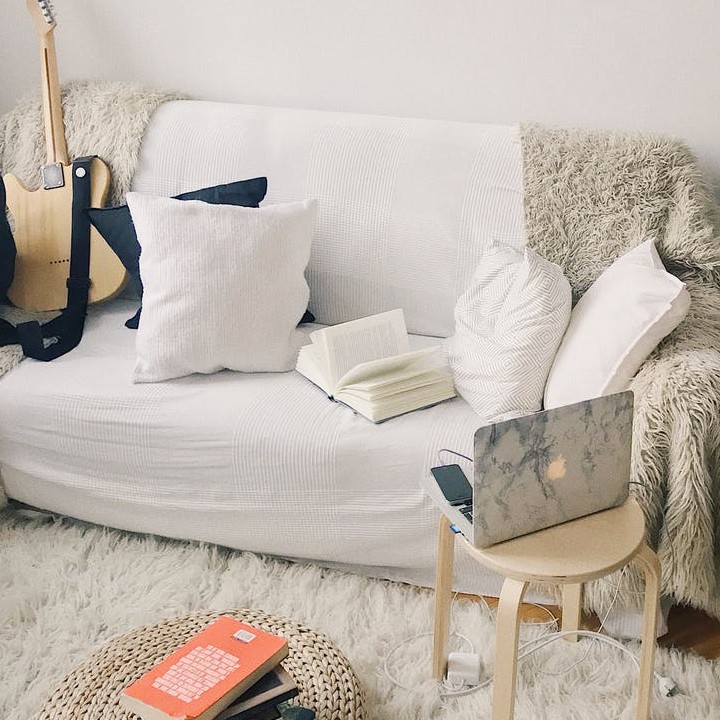 We're sure that aside from getting a better understanding of what it is, these quotes will also make you miss your loved ones, wherever they may be.
Don't miss out on the complete list below!
Start reading here.
Best Home Quotes
1. "Home sweet home. This is the place to find happiness. If one doesn't find it here, one doesn't find it anywhere." – M.K. Soni
2. "Home is the starting place of love, hope, and dreams." – Anonymous
3. "Be grateful for the home you have, knowing that at this moment, all you have is all you need." – Sarah Ban Breathnach
4. "Home is the most popular and will be the most enduring of all earthly establishments." – Channing Pollock
5. "Home is wherever you leave everything you love and never question that it will be there when you return." – Leo Christopher
6. "Perhaps home is not a place but simply an irrevocable condition." – James Baldwin
7. "No matter who you are or where you are, instinct tells you to go home." – Laura Marney
8. "The magic thing about home is that it feels good to leave, and it feels even better to come back." – Anonymous
9. "Home is people. Not a place. If you go back there after the people are gone, then all you can see is what is not there anymore." – Robin Hobb
Famous Home Quotes
10. "Every day is a journey, and the journey itself is home." – Matsuo Bashô
11. "There is a magic in that little world, home; it is a mystic circle that surrounds comforts and virtues never known beyond its hallowed limits." – Robert Southey
12. "There is nothing like staying at home for real comfort." – Jane Austen
13. "Home is where we should feel secure and comfortable." – Catherine Pulsifer
14. "Home is where you feel loved, appreciated, and safe." – Tracey Taylor
15. "Home interprets heaven. Home is heaven for beginners." – Charles Henry Parkhurst
16. "The light is what guides you home, the warmth is what keeps you there." – Ellie Rodriguez
17. "Home the blessed word, which opens to the human heart the most perfect glimpse of heaven, and helps to carry it thither, as on an angel's wings." – Lyda M. Child
18. "A man travels the world over in search of what he needs and returns home to find it." – George Moore
19. "Let your home be your mast and not your anchor." – Kahlil Gibran
Home Quotes to Inspire You
20. "If you know you're going home, the journey is never too hard." – Angela Wood
21. "Home isn't where you're from, it's where you find light when all grows dark." – Pierce Brown
22. "A house is made of walls and beams; a home is built with love and dreams." – Anonymous
23. "At the end of the day, it isn't where I came from. Maybe home is somewhere I'm going and never have been before." – Warsan Shire
24. "I believe that all of our lives, we're looking for home and if we're really lucky, we find it in someone's loving arms. I think that's what life is—coming home." – Anita Krizzan
25. "Home was not a perfect place. But it was the only home they had and they could hope to make it better." – Dean Koontz
Short Quotes About Home
26. "Home is where one starts from." – T. S. Eliot
27. "There is no place like home." – L. Frank Baum
28. "Love begins at home." – Mother Teresa
29. "Home isn't a place, it's a feeling." – Cecelia Ahern
30. "The sun at home warms better than the sun elsewhere." – Albania Proverb
31. "Home is where you feel at home and are treated well." – Dalai Lama
32. "The ache for home lives in all of us." – Maya Angelou
33. "Home is the nicest word there is." – Laura Ingalls Wilder​​
34. "The longest road out is the shortest road home." – Irish Proverb
35. "The thrill of coming home has never changed." – Anonymous
36. "The home should be the treasure chest of living." – Le Corbusier
37. "Seek home for rest, for home is best." – Thomas Tusser
38. "Peace—that was the other name for home." – Kathleen Norris
39. "If home is where the heart is then may your home be blessed." – John McLeod
Motivational Home Quotes to Help You Push Through the Day
40. "Home is a shelter from storms—all sorts of storms." – William J. Bennett
41. "The home is the one place where we can be ourselves and shut out negativity from the world outside. It's so important to have a place where we can go and feel protected from it all; it's something we all deserve." – Pia Edberg
42. "No matter where you are financially, quality time is always available and with just a bit of love and creativity, you can easily create a home." – Kendell Fox
43. "Your home is a physical and perhaps emotional comfort zone where you can heal and recover enough to address all your work problems the next morning." – Zak Khan
44. "There's nothing half so pleasant as coming home again." – Margaret Elizabeth Sangster
Home Quotes for Those Who Miss Their Family
45. "Home is where love resides, memories are created, friends and family belong, and laughter never ends." – Anonymous
46. "I don't care if we have our house, or a cliff ledge, or a cardboard box. Home is wherever we all are—together." – James Patterson
47. "No matter under what circumstances you leave it, home does not cease to be home. No matter how you lived there—well or poorly." – Joseph Brodsky
48. "Nothing can bring a real sense of security into the home except true love." – Billy Graham
49. "Where we love is home—home that our feet may leave, but not our hearts." – Anonymous
50. "Coming home to my family afterward makes the work richer, easier, and more fun." – Edie Falco
51. "Nothing is better than going home to family and eating good food and relaxing." – Irina Shayk
52. "Nothing else matters so much as long as you can come home and be with your family." – Patrick Dempsey
Positive Home Quotes to Give You Comfort
53. "People usually are the happiest at home." – William Shakespeare
54. "When I'm home, I like a cozy, comfortable, calming space." – Stacy Keibler
55. "There is no place more delightful than one's own fireside." – Cicero
56. "Home is where the heart can laugh without shyness. Home is where the heart's tears can dry at their own pace." – Vernon Baker
57. "Winter is the time for comfort, for good food and warmth, for the touch of a friendly hand, and for a talk beside the fire—it is the time for home." – Edith Sitwell
58. "Home is where my habits have a habitat." – Fiona Apple
59. "The power of finding beauty in the humblest things makes home happy and life lovely." – Louisa May Alcott
Home Quotes to Read When You Need a Boost
60. "Home is not where you live, but where they understand you." – Christian Morgenstern
61. "Home is what you take with you, not what you leave behind." – N.K. Jemisin
62. "They created a home where I felt safe. I could make mistakes. Failure wasn't punished." – Sarah Williams
63. "I've said it before and I'll say it again, gratitude is always possible, and feeling good starts at home." – Emma Wright
64. "Consciously leave all those behind, walk into your home in a manner that says you are truly happy to be home for the ones you love, who have missed you all day, and have so longed to have you back." – Grace Essen
Deep Home Quotes That Will Make You Think
65. "Home, the spot of earth supremely blest, a dearer, sweeter spot than all the rest." – Robert Montgomery
66. "You can have more than one home. You can carry your roots with you, and decide where they grow." – Henning Mankell
67. "The strength of a nation derives from the integrity of the home." – Confucius
68. "Home is the place where, when you have to go there, they have to take you in." – Robert Frost
69. "Is it possible for home to be a person and not a place?" – Stephanie Perkins
70. "Maybe the reason you can never go home again is that, once you're back, you can never leave." – Anonymous
71. "At the end of the day, it isn't where I came from. Maybe home is somewhere I'm going and never have been before." – Warsan Shire
72. "Home is where somebody notices when you are no longer there." – Aleksandar Hemon
73. "For the two of us, home isn't a place. It is a person. And we are finally home." – Stephanie Perkins
Home Quotes That Will Move You
74. "I think that when you invite people to your home, you invite them to yourself." – Oprah Winfrey
75. "I want my home to be that kind of place—a place of sustenance, a place of invitation, a place of welcome." – Mary DeMuth
76. "Maybe that's the best part of going away for a vacation—coming home again." – Madeleine L'Engle
77. "If you go anywhere—even paradise—you will miss your home." – Malala Yousafzai
78. "When I go home, it's an easy way to be grounded. You learn to realize what truly matters." – Tony Stewart
79. "He is happiest—be he king or peasant—who finds peace in his home." – Johann Wolfgang von Goethe
80. "Laughter is what makes a home warm, and what makes a workplace human." – Catherine Pulsifer
Home Quotes to Reflect On
81. "A home should be a stockade—a refuge from the flaming arrows of anxiety, tension, and worry." – Wilfred Peterson
82. "Yes, your home is your castle, but it is also your identity and your possibility to be open to others." – David Soul
83. "It's a funny thing, coming home. Nothing changes. Everything looks the same, feels the same, even smells the same. You realize what's changed is you." – F. Scott Fitzgerald
84. "Home is a place you grow up wanting to leave, and grow old wanting to get back to." – Anonymous
85. "For our home to be a refuge it needs to be a place where love, compassion, and patience prevail." – Allan Lokos
86. "Every traveler has a home of his own, and he learns to appreciate it the more from his wandering." – Charles Dickens
87. "We share our dwellings, and afterward, our dwellings shape us." – Winston Churchill
Funny Home Quotes to Make You Laugh
88. "Home is the place we love best and grumble the most." – Billy Sunday
89. "Home is where you can say anything you please because nobody pays any attention to you anyway." – Joe Moore
90. "When you're safe at home, you wish you were having an adventure; when you're having an adventure, you wish you were safe at home." – Thorton Wilder
91. "Home is everything you can walk to." – Rebecca Solnit
More Home Quotes and Sayings That You Will Love
92. "No one leaves home unless home is the mouth of a shark." – Warsan Shire
93. "Home is anywhere that you know all your friends and all your enemies." – Orson Scott Card
94. "Home is any four walls that enclose the right person." – Helen Rowland
95. "A home without books is a body without a soul." – Cicero
96. "Home's where you go when you run out of homes." – John le Carré
97. "The ornament of a house is the friends who frequent it." – Ralph Waldo Emerson
98. "You will fall in love with train rides, and sooner or later you will realize that nowhere seems like home anymore." – Shinji Moon
99. "A house is no home unless it contains food and fire for the mind as well as for the body." – Margaret Fuller
100. "Home can be a happy place with surety, knowledge, and security; but it can also be a place where people develop confusion, doubt, and a low self-image." – Christian Olsen
Have You Ever Wondered What Life Will Be Like Without a Place—or a Person—to Come Home To?
There may be countless instances that force you to move away from home—away from your loved ones and friends. But, no matter where you may go, remember that it is your home that centers and grounds you.
You may enjoy yourself in other countries, experience different cultures, and meet new friends. Yet, you'll still feel some sort of emptiness in your heart. This is because you're away from the place and the people that make you who you are.
Our homes are our safe places—our havens. No matter what we do and what mistake we commit, or how badly the world hurts us, our homes will always be there to offer protection and comfort through the love of our family and friends. Like they say, "Home is where the heart is."
So, whenever you feel lost, empty, or down, feel free to reread these home quotes to bring your energy level back up. With that, we hope these quotes were able to help you recognize where your home truly is. Make sure to fill it with love and laughter for a life full of happy memories!
What do you love most about your home? Did any of the quotes hit you right in the feels? Share your thoughts below!
Read Next: