Here are the best Persona 5 quotes to better understand the goals of the Phantom Thieves of Hearts!
Persona 5 is the fifth installment of the Persona game series under the Megami Tensei franchise. It's a game that follows a group of students led by the protagonist, Joker, as they struggle to create a new world free of injustice.
Joker and his companions realize they live in a corrupt world ruled by twisted adults. They didn't want to follow the system and live a life of oppression and slavery, so they took it upon themselves to change the world!
They took a second identity and dubbed themselves the Phantom Thieves of Hearts. This name is so apt since they use a smartphone application to enter the hearts and subconscious of corrupt adults to transform them and their way of thinking.
No matter what ending you get when you play the game, one thing's for sure: the very premise and goal of the group teaches us to fight to change the world for the better. Make sure you check the complete collection of Persona 5 quotes below to learn more about them!
And don't forget to read these Duke Nukem quotes.
Best Persona 5 Quotes
1. "Who're you livin' your life for?" – Ryuji Sakamoto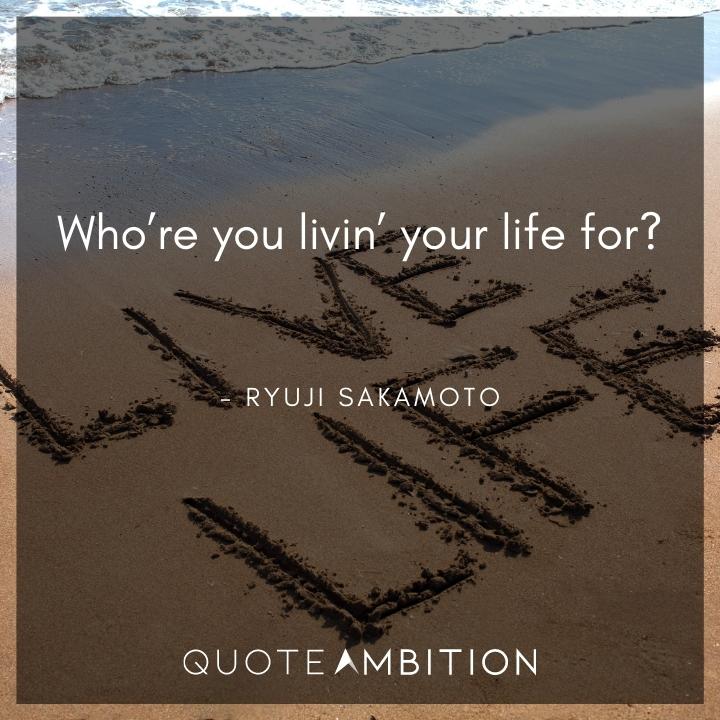 2. Takuto Maruki: "Sakamoto-kun! You dream of running—running would make life so much easier for your mother! I can make that dream your reality!"
Ryuji Sakamoto: "Yeah? Well, too bad for you—I'm done runnin' away from my problems!"
3. "How can you say people are free when they're chained up in prisons in this broken world?" – Morgana
4. "Give a man his mask, and he will become his true self!" – Joker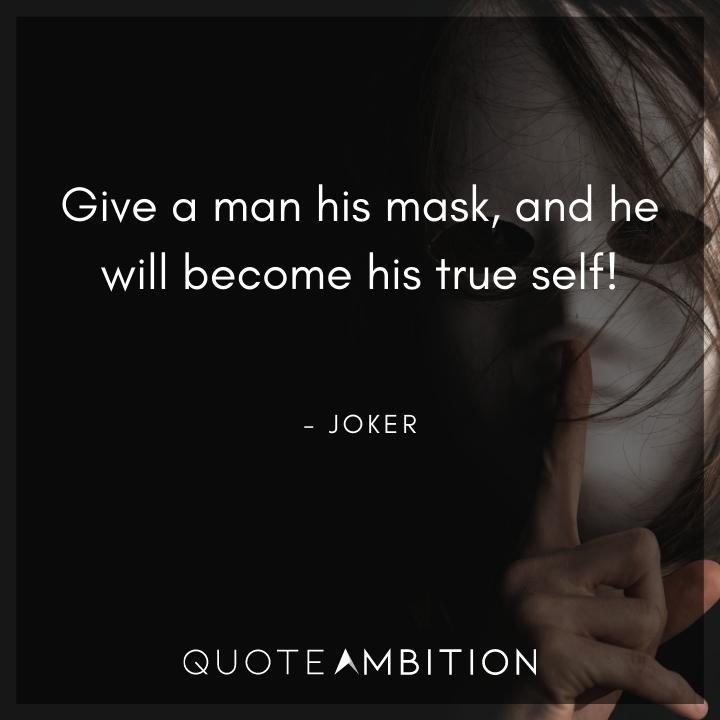 5. "The whole world is a product of cognition—not just the Metaverse. It can be freely re-made. The same goes for you, and everyone else. Soon a new world will come. One where mankind isn't held captive. The world will shine brightly as long as you hold hope in your hearts. Remember, there's no such thing as the 'real' world. What each person sees and feels—those are what shape reality. This is what gives the world infinite potential. Even if you feel that only darkness lies ahead, as long as you hold hands together, see it through as one, the world will never end! The world exists within all of you!" – Morgana
6. "You are held captive—a prisoner of fate to a future that has been sealed in advance. This is truly an unjust game. Your chances of winning are almost none. But if my voice is reaching you, there may yet be a possibility open to you. I beg you. Please overcome this game and save the world. The key to victory lies within the memories of your bonds—the truth that you and your friends grasped. It all began that day when the game was started half a year ago. For the sake of your world's future as well as your own, you must remember." – Lavenza
7. "The time has come. The time is finally at hand. I am the other you—dwelling in the realm of mankind's hearts." – Takuto Maruki
8. "No, that's what you are. All you think about is using people. You're the real scumbag, Kamoshida!" – Ryuji Sakamoto
9. "Being at the peak may mean you are mere moments from your downfall." – Igor
Inspirational Persona 5 Quotes
10. "But hangin' on to the past ain't gonna help anythin'." – Ryuji Sakamoto
11. "Your dreams are much more complex than you think." – Joker
12. "Wherever you decide to be, that's where you belong." – Ryuji Sakamoto
13. "The Phantom Thieves are the best thieves in the job." – Joker
14. "I think that helping people is a wonderful thing to be able to do. But, I can't really say that I like them. I don't believe the Phantom Thieves and their methods will reform the world or help others. In the end, I believe that is only something that you yourself can really solve." – Kasumi Yoshizawa
15. "I realized that personal relationships are something to be treasured. That's why I'm not going to run away anymore. I'll face myself head-on." – Ann Takamaki
16. "But I've realized now, as long as I'm bein' myself, I'll always have somewhere I can fit in." – Ryuji Sakamoto
17. "So adamant. Rather than accept life in cinders, you'd strive towards splendor. You know the risk. Well, if those really are the shoes you've chosen, then we'll dance to the end. I am thou, thou art I. Accept this contract—the spell cast upon you." – Kasumi Yoshizawa
18. "You gotta do stuff for people beyond just yourself if you wanna succeed." – Ryuji Sakamoto
Persona 5 Quotes to Revisit Your Favorite RPG Game
19. "Justice? Righteous!? Keep that shit to yourselves!" – Goro Akechi
20. "We have decided to steal away those desires and make you confess your sins. This will be done tomorrow, so we hope you will be ready." – Suguru Kamoshida
21. "People around me were the ones who kept it secret. Adults who want to share in my accomplishments, students who have the drive to become winners. They willingly protect it so we all may profit from it." – Suguru Kamoshida
22. "Stop lookin' down on me with that stupid smile on your face!" – Ruiji Sakamoto
Funny Persona 5 Quotes to Make You Laugh
23. "Don't take me too lightly! I can ruin your day in an instant." – Haru Okumura
24. "Don't get all cocky because I normally behave myself. I am done playing nice!" – Makoto Niijima
25. "I guess you really just need someone to laugh at you if you want to feel better. I mean, they always say laughter's the best medicine, right?" – Ann Takamaki
Is Persona 5 One of Your Go-to RPG Games?
Aside from the great graphics and impeccable storyline, Persona 5 is near and dear to many hearts because of its morals. As a game, it no doubt entertains you; however, more than that, it forces you to rethink the workings of the world.
For many, life is about fitting in and following society's standards. Yet, as we've learned from Joker and the other characters from Persona 5, you must sometimes stop and reflect on how the world works.
After all, even if everyone's doing the same thing, remember that the status quo might not always be suitable or beneficial for the majority. Something will always need improvement, and we must be open to that!
Through Persona 5, we realize that even if we're going against everyone, it's worth it if you fight for what's right. We should never let ourselves succumb to injustice and corruption; instead, we should make changes that will cause positive ripples in everyone's lives.
Joker, Morgana, and the rest of their friends all have something to teach us about life, and their influence goes beyond the game. So, watch out for them the next time you go through Persona 5's gameplay!
Read Next: