No man will ever succeed alone, and that's why we've gathered the most inspiring teamwork quotes for you!
There's a quote that says, "no man is an island," and that's definitely true in all aspects of life—may it be at home, work, or even in love.
Every day, we're surrounded by our loved ones, who bring us peace and ultimate joy.
At work, we're in an environment filled with many different types of people looking at the same goal—to succeed.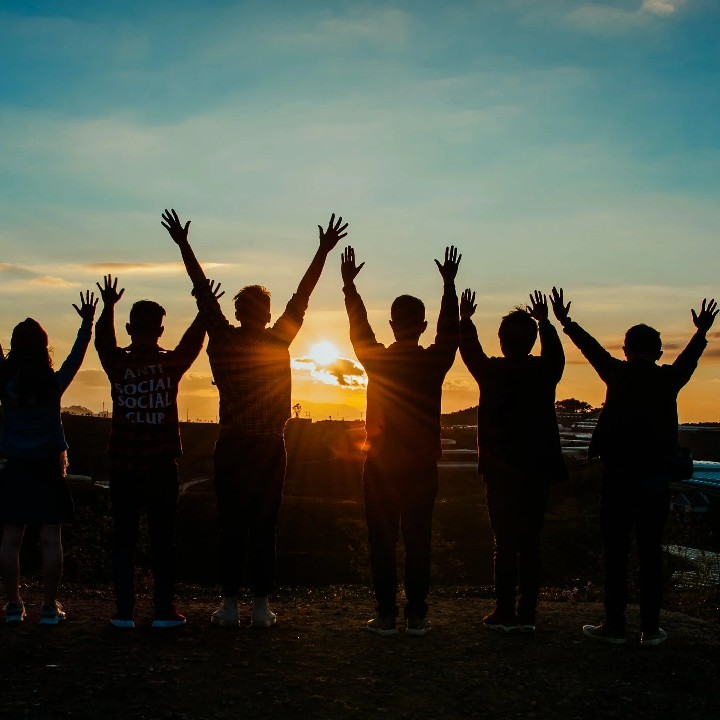 People are indeed social animals that need others to help them thrive and succeed in life, and that's why knowing how to work well with other people is a must.
If you want to know more about what teamwork means and what you should do to be a good member of a team, then read our entire list below!
Start reading here.
And don't forget to check out these success quotes and encouraging quotes.
Best Teamwork Quotes
1. "The best teamwork comes from men who are working independently toward one goal in unison." – James Cash Penney
2. "Teamwork is the quintessential contradiction of a society grounded in individual achievement." – Marvin Weisbord 
3. "Teamwork begins by building trust. And the only way to do that is to overcome our need for invulnerability." – Patrick Lencioni
4. "Teamwork is a make-or-break situation. Either you help make it or the lack of it will break you." – Kriss A. Hiatt
5. "Teamwork is the fuel that allows common people to attain uncommon results." – Andrew Carnegie
6. "It is great to do what you love but greater with a great team." – Lailah Gifty Akita
7. "I invite everyone to choose forgiveness rather than division, teamwork over personal ambition." – Jean-Francois Cope
8. "Teamwork—a few harmless flakes working together can unleash an avalanche of destruction." – Justin Sewell
Famous Quotes on Teamwork
9. "Teamwork is the ability to work together toward a common vision—the ability to direct individual accomplishments toward organizational objectives." – Andrew Carnegie
10. "Teamwork—simply stated, it is less 'me' and more 'we.'" – Anonymous
11. "It's not the quality of the man, it's the quality of the team." – Garth Stein
12. "Teamwork is really a form of trust. It's what happens when you surrender the mistaken idea that you can go it alone and realize that you won't achieve your individual goals without the support of your colleagues." – Pat Summit
13. "If you take out the 'team' in 'teamwork,' it's just 'work.' Now who wants that?" – Matthew Woodring Stover
14. "There is immense power when a group of people with similar interests gets together to work toward the same goals." – Idowu Koyenikan
15. "Not finance, not strategy, not technology. It is teamwork that remains the ultimate competitive advantage, both because it is so powerful and rare." – Patrick Lencioni
16. "A team is more than a collection of people. It is a process of give and take." – Barbara Glacel
17. "Teamwork divides the task and doubles the success." – Anonymous
18. "The truth is that teamwork is at the heart of great achievement." – John C. Maxwell
Also read: Famous Quotes, Unity Quotes
Inspirational Quotes That Will Lead to Better Teamwork
19. "A team is not a group of people who work together but it is a group of people who trust each other." – Simon Sinek
20. "No problem is insurmountable. With a little courage, teamwork, and determination a person can overcome anything." – B Dodge
21. "Strong and cohesive teams thrive when leaders highlight how much they all have in common, not how much he or she stands above from the crowd." – Moira Alexander
22. "Talent wins games, but teamwork and intelligence win championships." – Michael Jordan
23. "The power of one—if fearless and focused—is formidable, but the power of many working together is better." – Gloria Macapagal Arroyo
24. "Team spirit is knowing and living the belief that what a group of people can accomplish together is much larger, far greater, and will exceed that which an individual can accomplish alone." – Diane Arias
25. "Teamwork is not just working with each other, it is trusting each other." – Amit Kalantri
26. "The secret is to gang up on the problem, rather than each other." – Thomas Stallkamp
27. "Build for your team a feeling of oneness, of dependence on one another and of strength to be derived by unity." – Vince Lombardi
28. "Teamwork gives you the best opportunity to turn vision into reality." – John C. Maxwell
Quotes That Are Perfect for Team Building
29. "The strength of the team is each individual member. The strength of each member is the team." – Phil Jackson
30. "No team works out teamwork." – Dwyane Wade
31. "Without teamwork, there is no way that the company is going to experience success. In teams, individuals will work together and accomplish a lot more than what they do by themselves." – Michael Welton
32. "Don't aspire to be the best on the team. Aspire to be the best for the team." – Brian Tracy
33. "Individual commitment to a group effort—that's what makes a team work, a company work, a society work, a civilization work." – Vince Lencioni
34. "The smallest of contributions made collectively makes the biggest difference." – Shahenshah Hafeez Khan
35. "Teamwork does not come naturally. Let's face it. We are born with certain inclinations, but sharing isn't one of them." – Pat Summitt
36. "Surround yourself with a trusted and loyal team. It makes all the difference." – Alison Pincus
37. "The answers we seek will never be found by you or by me. They can only be found by us." – Sasha Kanthan
38. "With teamwork, we are able to multiply our output and minimize individual input." – Ogwo David Emenike
39. "The key to teamwork is to learn a role, accept a role, and strive to become excellent playing it." – Pat Riley
Motivational Teamwork Quotes to Push the Team to Greatness 
40. "Teams are incredible things. No task is too great, no accomplishment too grand, no dream too far-fetched for a team. It takes teamwork to make the dream work." – John Maxwell
41. "In business, nothing great can be done by one person alone—typically—but, with a team, great things can happen." – Steven Dunlop
42. "Coming together is a beginning, staying together is progress, and working together is success." – Henry Ford
43. "Ants are successful creatures; they are successful because they know very well that the mind of the team is superior to the mind of the individual!" – Mehmet Murat Ildan
44. "Teams do not seek consensus; they seek the best answer." – Jon Katzenbach
45. "Be fast, be first, but never be alone. Nothing can replace the value of teamwork." – Farshad Asl
46. "'We' multiplies the power of 'I.'" – Niekee Tochukwu Ezekiel
47. "Teamwork might make the dream work, but teammates make the team work." – Lance Loya
48. "By working together, pulling our resources, and building on our strengths, we can accomplish great things." – Ronald Reagan
Quotes to Encourage Teamwork and Collaboration
49. "No one can whistle a symphony. It takes a whole orchestra to play it." – H.E. Luccock
50. "The combined results of several people working together is often much more effective than could be that of an individual scientist working alone." – John Bardeen
51. "Great things in business are never done by one person; they're done by a team of people." – Steve Jobs
52. "Unity is strength. When there is teamwork and collaboration, wonderful things can be achieved." – Mattie Stepanek
53. "When you collaborate with individuals who push you to be your best, with no excuses, great things are bound to happen. You are only as extraordinary as the people around you and the desire within." – Liz Faublas
54. "Teamwork means that you are willing to compromise when it is best for the team to advance to reach their goals." – Byron Pulsifer
55. "If we work together, they are no match for us." – Harmony Wagner
56. "Overcoming barriers to performance is how groups become teams." – John Katzenbach
57. "Teamwork requires that everyone's efforts flow in a single direction. Feelings of significance happen when a team's energy takes on a life of its own." – Pat Riley
58. "When you need to innovate, you need collaboration." – Marissa Mayer
59. "In the long history of humankind—and animal kind, too—those who learned to collaborate and improvise most effectively have prevailed." – Charles Darwin
Quotes That Will Teach You the Value of Partnership in Teamwork
60. "Find a group of people who challenge and inspire you, spend a lot of time with them, and it will change your life." – Amy Poehler
61. "You don't win alone. That's just how it is." – Tobio Kageyama
62. "I'm not the smartest fellow in the world, but I sure can pick smart colleagues." – Franklin D. Roosevelt
63. "There is no such thing as a self-made man. You will reach your goals only with the help of others." – George Shinn
64. "A group becomes a team when each member is sure enough of himself and his contribution to praise the skills of others." – Norman Shidle
65. "A great team consists of great people who believe in the idea of its leader and align themselves with it until it is achieved." – Aiyaz Uddin
66. "Teamwork is the result of groups that have worked together to effectively and efficiently achieve organizational tasks and vision and mission." – Dr. Hiriyappa B 
67. "Strategy is not a solo sport, even if you're the CEO." – Max McKeown
Quotes That Will Help You Build Great Teams
68. "Great teamwork is the only way we create the breakthroughs that define our careers." – Pat Riley
69. "A successful team is a group of many hands and one mind." – Bill Bethel
70. "Regardless of differences, we strive shoulder to shoulder. Teamwork can be summed up in five short words—we believe in each other." – Anonymous
71. "To build a strong team, you must see someone else's strength as a complement to your weakness and not a threat to your position or authority." – Christine Caine
72. "Cooperation is the thorough conviction that nobody can get there unless everybody gets there." – Virginia Burden
73. "When a team outgrows individual performance and learns team confidence, excellence becomes a reality." – Joe Paterno
74. "The bigger the dream, the more important to the team." – Robin Sharma
75. "When you start out in a team, you have to get the teamwork going, and then you get something back." – Michael Schumacher
76. "Teamwork builds trust and trust builds growth." – Nazim Ambalath
77. "Great teams do not hold back with one another. They are unafraid to air their dirty laundry. They admit their mistakes, their weaknesses, and their concerns without fear of reprisal." – Patrick Lencioni
78. "It all starts with a great idea and teamwork." – Garrett Camp
Insightful Quotes to Bring Your Team Closer to Success
79. "If everyone is moving forward together, then success takes care of itself." – Henry Ford
80. "Teamwork is the lynchpin in our long term success." – Ned Lautenbach
81. "One man can be a crucial ingredient on a team, but one man cannot make a team." – Kareem Abdul-Jabbar
82. "No matter how brilliant your mind or strategy, if you're playing a solo game, you'll always lose out to a team." – Reid Hoffman
83. "The way a team plays as a whole determines its success. You may have the greatest bunch of individual stars in the world, but if they don't play together, the club won't be worth a dime." – Babe Ruth
84. "I've never scored a goal in my life without getting a pass from someone else." – Abby Wambach
85. "The speed of the boss is the speed of the team." – Lee Iacocca 
86. "Good teams incorporate teamwork into their culture, creating the building blocks for success." – Ted Sundquist
87. "A team is not made up of isolated individuals. Always stay in the game. Don't be passive. Football is a team game. No one plays alone. Success depends on your whole team being a single unit." – Pele
Teamwork Quotes That Will Drive Positivity at Work
88. "The nicest thing about teamwork is that you always have others on your side." – Margaret Carty
89. "A group is a bunch of people in an elevator. A team is a bunch of people in an elevator, but the elevator is broken." – Bonnie Edelstein
90. "The main ingredient of stardom is the rest of the team." – John Wooden
91. "Synergy—the bonus that is achieved when things work together harmoniously." – Mark Twain
92. "To me, teamwork is the beauty of our sport, where you have five acting as one. You become selfless." – Mike Krzyzewski
93. "A good team needs three things—the right people, the right spirit, and a couple of inside jokes." – Anonymous
94. "With an enthusiastic team, you can achieve almost anything." – Tahir Shah
Teamwork Quotes That Will Make Everyone Work Together
95. "The ratio of 'We's' to 'I's' is the best indicator of the development of a team." – Lewis B. Ergen
96. "People working together can overcome many obstacles, often within themselves, and by doing so can make the world a better place." – Mo Mowlam
97. "Team player is the one who unites others toward a shared destiny through sharing information and ideas, empowering others, and developing trust." – Dennis Kinlaw
98. "I am a member of a team, and I rely on the team, I defer to it and sacrifice for it, because the team, not the individual, is the ultimate champion." – Mia Hamm 
99. "A sustainable world means working together to create prosperity for all." – Jacqueline Novogratz
100. "The greater the loyalty of a group toward the group, the greater is the motivation among the members to achieve the goals of the group, and the greater the probability that the group will achieve its goals." – Rensis Likert
Short but Profound Teamwork Quotes
101. "Teamwork is a dance—engrossing to perform and exciting to watch." – Christopher Peterson
102. "The path to greatness is along with others." – Baltasar Gracian 
103. "If you can laugh together, you can work together." – Robert Orben
104. "Many hands make light work." – John Heywood 
105. "None of us is as smart as all of us." – Ken Blanchard
106. "Sticks in a bundle are unbreakable." – Kenyan Proverb
107. "The whole is greater than the sum of the parts." – Kurt Koffka
108. "Alone we can do so little; together we can do so much." – Helen Keller
109. "Bad attitudes will ruin your team." – Terry Bradshaw
110. "No individual can win a game by himself." – Pele
What New Heights Can You Reach Now That You're Able to Work Well With Different Types of People?
Though man is a social being, sometimes, interacting and working with others doesn't come to us that naturally. Some personality types work better with others, and some don't.
However, this is not an excuse to live your life alone and try to reach your goals on your own. Life is already hard as it is, and if you don't have people beside you working toward the same goals, it'll get even more challenging.
We hope the quotes we've gathered above were able to shed light on how essential teamwork is in reaching success. Let these quotes help you adapt as you meet different types of people you'll be working with in your lifetime.
What did you learn from today's collection? Are there any other teamwork quotes you'd like us to add? If so, don't forget to leave a comment down below!