Here are the most thought-provoking and eye-opening alone quotes to help you shift your perspective on life, self-love, and growth!
Humans are social beings. Because of this, we find it hard to journey through life alone.
However, sometimes, being with others isn't as helpful as we initially thought. There are, after all, people who don't genuinely want what's good for us.
If we're surrounded by people trying to tear us down, then it's much better to just sail through life's seas alone. Allowing them to remain in our lives will just be detrimental to our progress and might even cause our resolve to break and crumble.
Being alone isn't as sad or lonely as it sounds. Most of the time, it's a period of our lives when we figure out who we truly are.
So, read all the alone quotes we've gathered below to help you clear your mind. Find the inspiration you need to keep going through this collection we've created just for you!
And don't forget to check out these solitude quotes and relax quotes.
Most Thought-Provoking Alone Quotes
1. "You come into the world alone, and you go out of the world alone, yet it seems to me you are more alone while living than even going and coming." – Emily Carr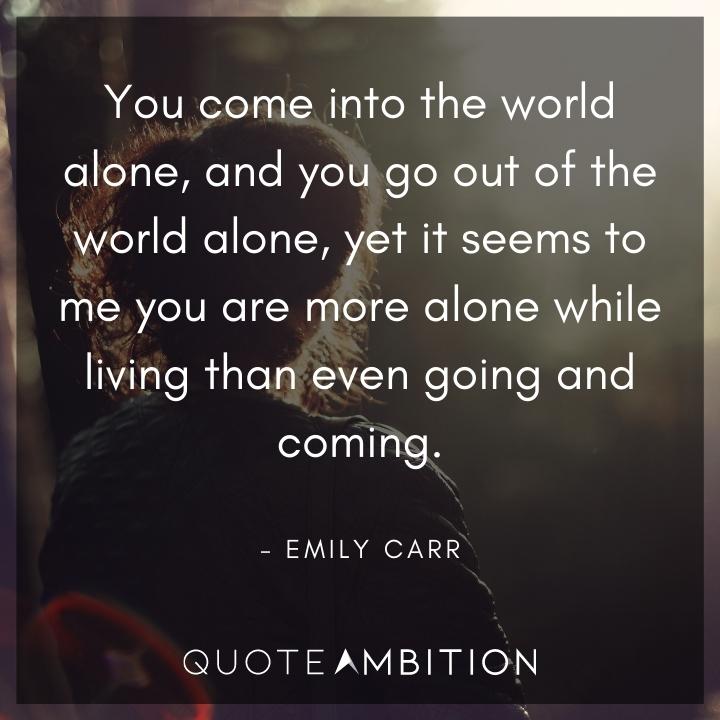 2. "What a lovely surprise to finally discover how unlonely being alone can be." – Ellen Burstyn
3. "We're born alone, we live alone, we die alone. Only through our love and friendship can we create the illusion for the moment that we're not alone." – Orson Welles
4. "Look at the sky. We are not alone. The whole universe is friendly to us and conspires only to give the best to those who dream and work." – A. P. J. Abdul Kalam
5. "He that can live alone resembles the brute beast in nothing, the sage in much, and God in everything." – Baltasar Gracian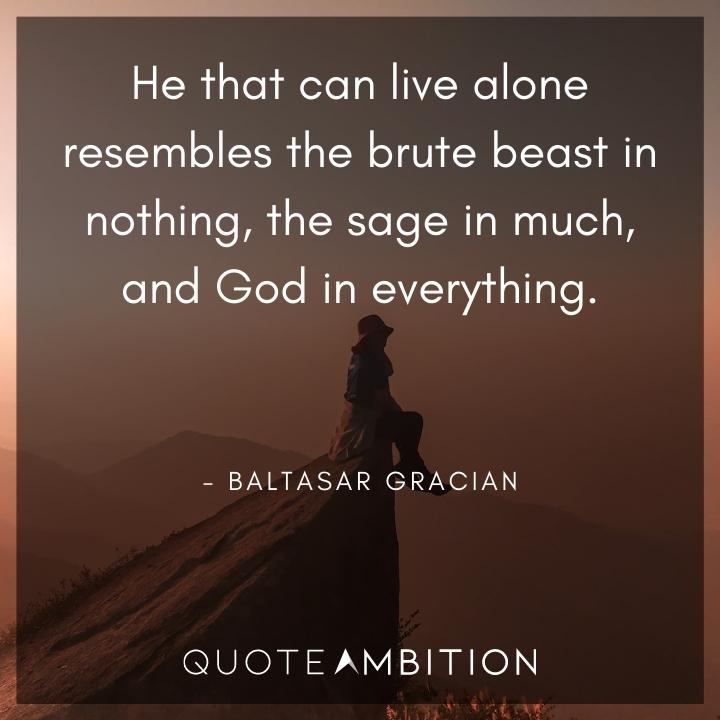 6. "Alone doesn't mean lonely. It just means alone. It just means that for now, you're on your own, and that's not a terrible thing." – Hemal Jhaveri
7. "Alone is a state of being or body, whereas loneliness is a state of mind." – Anonymous
8. "Sometimes life is too hard to be alone, and sometimes life is too good to be alone." – Elizabeth Gilbert
9. "We are all alone, born alone, die alone, and—in spite of True Romance magazines—we shall all someday look back on our lives and see that, in spite of our company, we were alone the whole way. I do not say lonely—at least, not all the time—but essentially, and finally, alone. This is what makes your self-respect so important, and I don't see how you can respect yourself if you must look in the hearts and minds of others for your happiness." – Hunter S. Thompson
10. "If you want to be happy, learn to be alone without being lonely. Learn that being alone does not mean being unhappy. The world is full of plenty of interesting and enjoyable things to do and people who can enrich your life." – Michael Josephson
Inspirational Alone Quotes
11. "The sun is alone too. And he's still shining." – Anonymous
12. "The longer one is alone, the easier it is to hear the song of the earth." – Robert Anton Wilson
13. "Standing alone doesn't mean I am alone. It means I'm strong enough to handle things all by myself." – Anonymous
14. "Inside myself is a place where I live all alone, and that is where I renew my springs that never dry up." – Pearl S. Buck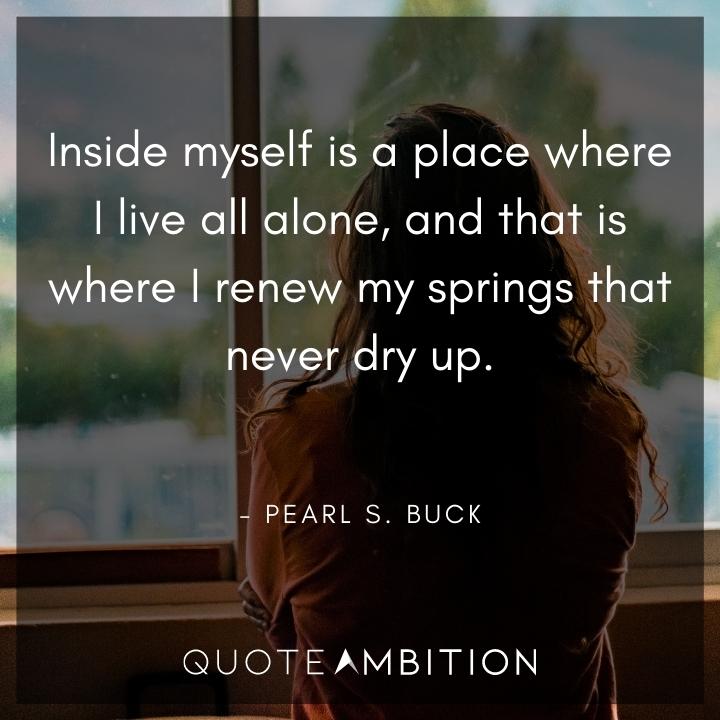 15. "Those who fly solo have the strongest wings." – Anonymous
16. "Some steps need to be taken alone. It's the only way to really figure out where you need to go and who you need to be." – Mandy Hale
17. "Being alone has a power that very few people can handle." – Steven Aitchison
18. "All of our unhappiness comes from our inability to be alone." – Jean de la Bruyere
19. "There are some places in life where you can only go alone. Embrace the beauty of your solo journey." – Mandy Hale
Being Alone Quotes That You'll Relate With
20. "It's better to be unhappy alone than unhappy with someone—so far." – Marilyn Monroe 
21. "If you are lonely when you're alone, you are in bad company." – Jean-Paul Sartre
22. "I finally faced the fact that it isn't a crime not having friends. Being alone means you have fewer problems." – Whitney Houston
23. "The thought of being on my own really terrified me. But then I realized being alone is really a cleansing thing." – Lindsey Buckingham
24. "I'm fascinated with myself and love hearing the sound of my own voice. I'd like to hear what I have to say. A lot of people don't like being alone because they truly don't like themselves, but I love me." – Gene Simmons
Feeling Alone Quotes to Comfort You
25. "Associate yourself with people of good quality, for it is better to be alone than in bad company." – Booker T. Washington
26. "The best part about being alone is that you really don't have to answer to anybody. You do what you want." – Justin Timberlake
27. "I used to think the worst thing in life was to end up all alone; it's not. The worst thing in life is to end up with people that make you feel all alone." – Robin Williams
28. "What has really happened when you feel alone is that you've abandoned yourself. You have stopped taking care of your own basic needs—you don't value yourself, you don't listen to your own thoughts, and you don't take care of your physical, emotional, or spiritual self. This is what is causing you to feel alone. You have abandoned you." – Gregg Michaelsen
29. "There's a tremendous difference between alone and lonely. You could be lonely in a group of people. I like being alone. I like eating by myself. I go home at night and just watch a movie or hang out with my dog. I have to exert myself and really say, 'Oh God, I've got to see my friends 'cause I'm too content being by myself.'" – Drew Barrymore
Quotes About Being Alone
30. "Solitude is the profoundest fact of the human condition. Man is the only being who knows he is alone." – Octavio Paz
31. "Fighting alone will make you stronger, and you will win over all the difficulties in your life very soon." – Muskaan Arora
32. "I think it's good for a person to spend time alone. It gives them an opportunity to discover who they are and to figure out why they are always alone." – Amy Sedaris
33. "Being alone and actually sitting with our own thoughts can lead to such growth and realizations that are rare in our everyday busy lives." – Kourtney Kardashian
34. "In order to be open to creativity, one must have the capacity for constructive use of solitude. One must overcome the fear of being alone." – Rollo May
Alone Quotes on Life and Self-Love
35. "To live alone is the fate of all great souls." – Arthur Schopenhauer
36. "You only grow when you are alone." – Paul Newman
37. "Sometimes you need to take a break from everyone and spend time alone, to experience, appreciate and love yourself." – Robert Tew
38. "Sometimes, you need to be alone. Not to be lonely, but to enjoy your free time being yourself." – Anonymous
39. "But there it is: everyone is alone, for life—and maybe that's not such a bad thing." – Julianna Baggott
40. "Life could be wonderful if people would leave you alone." – Charlie Chaplin
41. "If you are never alone, you cannot know yourself." – Paulo Coelho
42. "Nothing else so destroys the power to stand alone as the habit of leaning upon others. If you lean, you will never be strong or original. Stand alone or bury your ambition to be somebody in the world." – Orison Swett Marden
43. "We need quiet time to examine our lives openly and honestly—spending quiet time alone gives your mind an opportunity to renew itself and create order." – Susan L. Taylor
Sad Alone Quotes for Everyone Feeling Lonely
44. "A season of loneliness and isolation is when the caterpillar gets its wings. Remember that next time you feel alone." – Mandy Hale
45. "Loneliness is my least favorite thing about life. The thing that I'm most worried about is just being alone without anybody to care for or someone who will care for me." – Anne Hathaway
46. "When you learn how to be alone, you'll discover the difference between alone and lonely." – L.J. Vanier
47. "Loneliness adds beauty to life. It puts a special burn on sunsets and makes night air smell better." – Henry Rollins
Short Alone Quotes
48. "Make the time to be alone. Your best ideas live within solitude." – Robin Sharma
49. "All men's misfortunes spring from their hatred of being alone." – Jean de La Bruyere
50. "If you make friends with yourself, you will never be alone." – Maxwell Maltz
51. "If you smile when you are alone, then you really mean it." – Andy Rooney
52. "As I get older, I'm more and more comfortable being alone." – Sienna Miller
53. "The soul that sees beauty may sometimes walk alone." – Anonymous
54. "I restore myself when I'm alone." – Marilyn Monroe
Alone Quotes That Will Make You Feel Better
55. "Learn to stand alone for your value because, in the end, you will end up only being you." – Anonymous
56. "You are never alone. You are eternally connected with everyone." – Amit Ray
57. "If you wanted to do something absolutely honest, something true, it always turned out to be a thing that had to be done alone." – Richard Yates
More Alone Quotes for Girls and Boys
58. "It takes nothing to join the crowd. It takes everything to stand alone." – Hans F. Hansen
59. "And if you couldn't be loved, the next best thing was to be let alone." – L.M. Montgomery
60. "Until you get comfortable with being alone, you'll never know if you're choosing someone out of love or loneliness." – Mandy Hale
What Have You Learned During the Times When You Were Alone?
There's no contesting the fact that life is a scary place to be in when you're alone. After all, we aren't provided a map or a step-by-step guide on how to live it.
Even so, sometimes, you simply need to be alone to understand more about yourself. This is even more applicable for people surrounded by fake friends or people around them.
It's entirely better to be alone than to let yourself get tied down because of unauthentic relationships. Also, even if you're sure your friends are genuine, you need to remember that you also need to set aside some alone time for yourself.
Time alone is the only period to discover and rediscover more things about ourselves. In fact, having some alone time to get in tune with yourself is recommended!
Yes, it's scary to be alone; you might even feel lonely in your solitude. However, remember that self-growth and self-love are fostered through time alone with yourself!
With that, we hope we were able to bring you a sense of comfort through the alone quotes we've listed above. Move forward in life knowing that being alone is a gift, not a curse!
Read Next: