Here are the top J. Cole quotes that'll inspire you to follow your heart!
No matter where we are, people around us tend to give unsolicited opinions about what we should and shouldn't do. When you listen to their words, it's pretty easy to get demotivated.
So, instead of listening to their words, we must embed some of the best pieces of advice we can only get from J. Cole in our hearts. If you aren't familiar with him, J. Cole is an American rapper who gained popularity in 2007 with his mixtape debut, The Come Up.
Famous personalities are usually outgoing, but J. Cole is the opposite. He's an introvert whose main priority is establishing deep and meaningful connections with others; he's all about authenticity!
J. Cole also strives to be the best in whatever he does. For him, it's important to pour your heart into what you do so you don't do things half-baked.
We can learn many things from him when it comes to life, love, and success. If you want to know more about him, don't miss out on the most inspiring J. Cole quotes below.
And make sure to check out these Jhene Aiko quotes and Kendrick Lamar quotes.
Best J. Cole Quotes
1. "I feel like this: whatever is in your path and in your heart, you need to do."
2. "I'm here to spread a message of hope. Follow your heart. Don't follow what you've been told you're supposed to do."
3. "Anything I do, I want to do it well."
4. "Life can bring much pain. There are many ways to deal with this pain. Choose wisely."
5. "I put a lot of pressure on myself. I think something's not good enough, and I won't stop until I feel like I've made it. I'm never satisfied."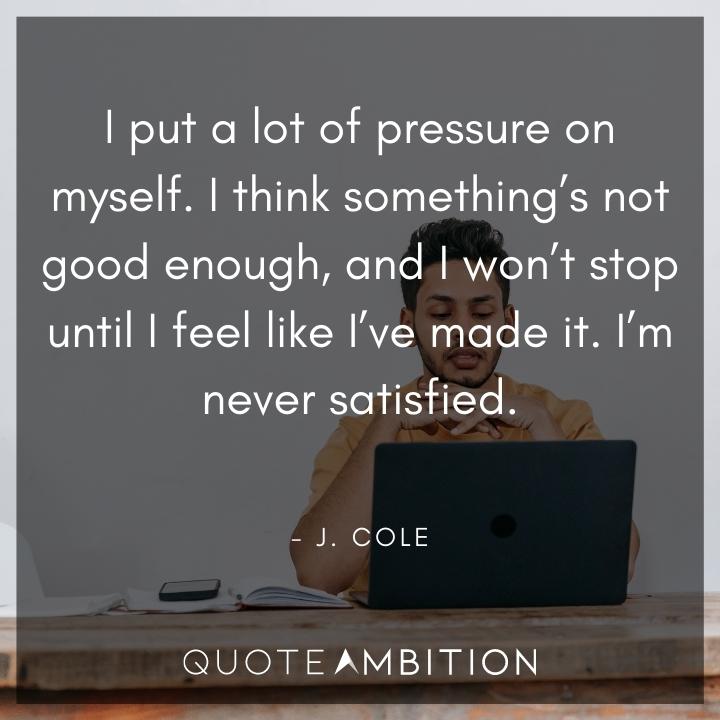 6. "Sometimes our dreams come true; sometimes our fears do, too."
7. "To appreciate the sun, you gotta know what rain is."
8. "Take a chance, because you never know how perfect something can turn out."
9. "Either you play the game, or you let the game play you."
10. "I always feel like it's two key ingredients when it comes to following your dreams, making something happen that the average person deems difficult. If you truly believe it, that's step one. Step two is, you know, the hard work that goes along with it."
Inspiring J. Cole Quotes About Life and Dreams
11. "They say time is money, but really, it's not. If we ever go broke, then time is all we got, and we can't make that back, no, you can't make that back."
12. "We got dreams, and we got the right to chase 'em."
13. "The truth is, we all the same. On different teams, but it's all a game."
14. "You have to hurt in order to know. Fall in order to grow. Lose in order to gain. Because most of life's lessons are learned in pain."
15. "If they don't know your dreams, they can't shoot them down."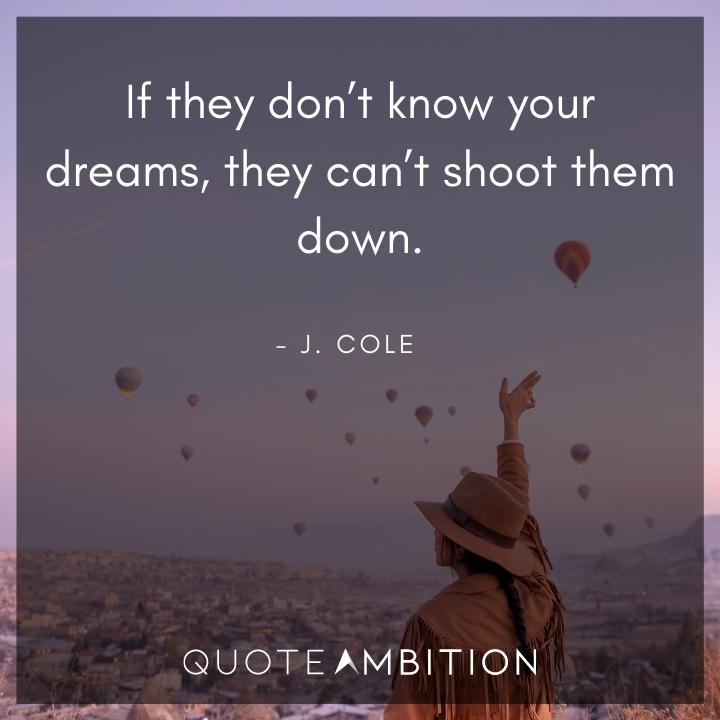 16. "You have no control over what somebody else feels about you, but you have 100% control over how you feel about yourself and how you feel about the people around you and how you handle life."
17. "Keep grinding, boy. Your life can change in one year, and even when it's dark out, the sun is shining somewhere."
18. "Anything's possible; you gotta dream like you've never seen obstacles."
19. "As we grow up, we realize it becomes less important to have a ton of friends and more important to have real ones."
20. "Never give up until you've given out all your very best. It's better to fail trying than wondering what could have happened if you tried."
21. "In this life, ain't no happy endings—only pure beginnings followed by years of sinning and fake repentance."
Meaningful J. Cole Quotes About Happiness and Self-Love
22. "I'd rather be happy being myself than sad trying to please everyone else."
23. "You are perfect exactly as you are. With all your flaws and problems, there's no need to change anything. All you need to change is the thought that you aren't good enough."
24. "My intuition is telling me there'll be better days."
25. "It's beauty in the struggle, ugliness in the success."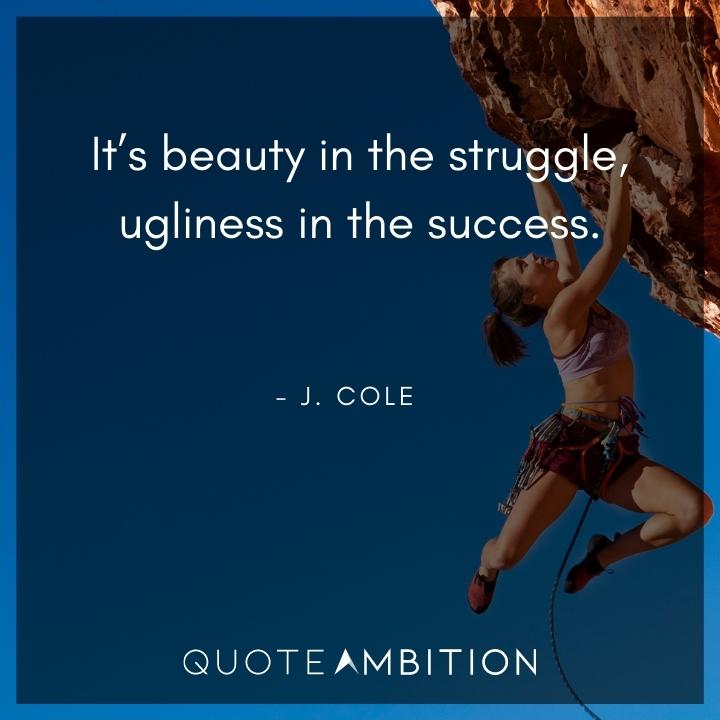 26. "There's a story behind every person, a reason why they are the way they are. So, think about that before you judge someone."
27. "Everything grows; it's destined to change."
28. "I'mma be here for a while. None of these clowns can hurt me."
29. "What's done in the dark will always find a way to shine."
30. "But see, I'm growing and getting stronger with every breath."
J. Cole Quotes on Love
31. "Catch me. I've fallen in love for the first time."
32. "Love is a drug—like the strongest stuff ever."
33. "If you place your importance on appreciation and love, that's enough."
34. "The same ones you love will bring you pain."
35. "Money can't buy you love 'cause it's overpriced."
J. Cole Quotes About His Success, Fame, and Career
36. "You can't reverse fame. You can lose all the money, but you'll never lose people knowing you."
37. "I've always been an underdog. I feel like I beat the odds."
38. "People think because I've got some success, I've made it, but in my eyes, it's like, 'How long has Jay Z been in the business? How many albums has he got?' Not that I'm trying to be Jay Z, but I am trying to be around for a long time."
39. "I had a lot of resistance, and not just to fame. I was always conscious of not changing."
40. "I still wanna rap better than everybody else, and I wanna say important things."
41. "I do put a lot of God in my music, but not because I'm super religious. There are a lot of demons in my music, too. I acknowledge both."
42. "I don't live for the accolades. I'm more so about music. Making it, and putting it out. Those are the two best feelings."
Short J. Cole Quotes and Lyrics That Are Perfect Instagram Captions
43. "Time will tell who is on my side."
44. "Time is short—that's what somebody told me."
45. "We ain't picture perfect, but we worth the pictures still."
46. "I know that vengeance is the Lord's, and it's not for me."
47. "You can dream, but don't neglect the execution."
Funny J. Cole Quotes to Make You Think Twice
48. "Life is a movie; pick your own role, climb your own ladder, or you dig your own hole."
49. "The bad news is nothing lasts forever; the good news is nothing lasts forever."
50. "I try to put all those positive things into a regular human character, which is myself."
Are You an Avid Fan of J. Cole and His Music?
Throughout his career, J. Cole has released more than 50 singles and has been in several interviews. Each piece he puts out and every word he utters gives fans meaningful lessons to live by.
However, one of the most notable ones is, "Follow your heart. Don't follow what you've been told you're supposed to do."
Often, we are held back by what society dictates. From a young age, we're told that we're supposed to go to school, start a career, and excel in our fields.
But, as we've learned from J. Cole, life is never linear. The road to your goals doesn't have to follow what society says; your idea of success and happiness could also differ from the majority.
Given that, you should never let others' opinions chain you down. Figure out what you want, exert effort and time, and enjoy every second of the journey.
Life is all about doing what makes you happy; it's about following the beat of your heart! Remember the lessons you've learned from these J. Cole quotes, and let yourself shine!
Read Next: