Here are 55 Rod Wave quotes to help you emerge triumphant over life's many challenges.
Whoever says that life is a breeze is lying. Every step and every turn we take in this world will lead to countless consequences; some of them will be good, and some will be bad.
Nonetheless, we must strive to keep going, no matter how hard life gets. This is something we can learn from Rod Wave, an American singer and rapper.
Rod Wave is someone we can turn to for life advice, especially since he's had a rough childhood. At a young age, his parents divorced, and his father was imprisoned, so Rod Wave took to the streets to earn money to survive.
Through this period, he was able to see the two sides of life. It was a hard time for him, but he didn't let this roadblock stop him from achieving his dreams!
These Rod Wave quotes will undoubtedly motivate you to keep going, no matter what kind of challenge you're currently facing. Read on and find the inspiration and encouragement you need to reach your biggest dreams!
And don't forget to check out these King Von quotes and Lil Durk quotes.
Best Rod Wave Quotes
1. "You only live one time. Don't spend it doing something you hate. Chase your dream, kid."
2. "What's the point of life if you can't enjoy it?"
3. "It's okay to start over. Let someone else love you the right way."
4. "Before it gets better, it's gon' get worse."
5. "Life is too short to tolerate stuff that doesn't make you happy."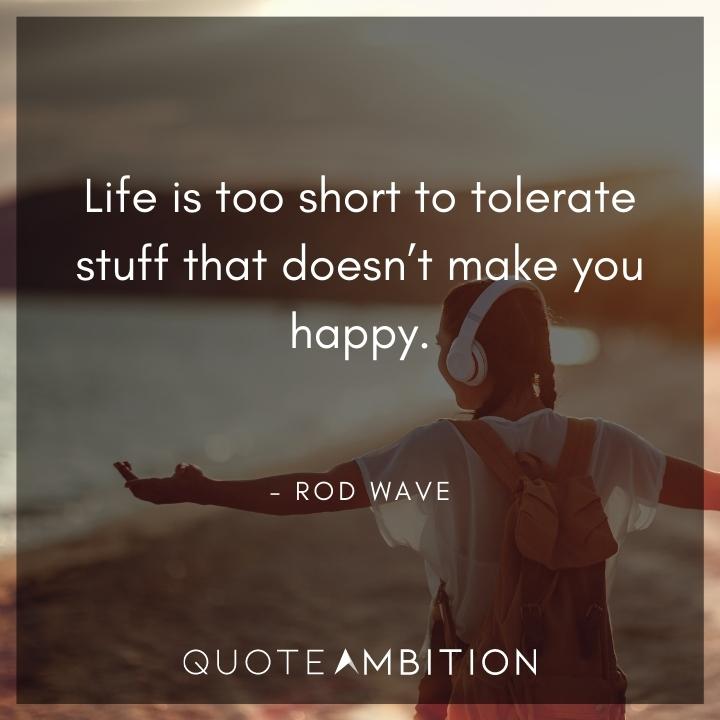 6. "Dreams come true; you gotta chase it."
7. "The only thing guaranteed is death, and the most valuable thing we have is time."
8. "Don't let nobody who gave up on their dreams talk you outta yours."
9. "Anybody can want you; it's different when someone actually values you."
10. "It takes a strong, strong heart to heal a broken soul."
Motivational Rod Wave Quotes About Life
11. "Get some money, travel, see the world; you'll feel way better."
12. "You want to be happy? You got to let sh*t go and let sh*t be what it is."
13. "Before you get one win, you gotta take a thousand losses."
14. "Just cause they couldn't do it doesn't mean you can't."
15. "Just know it's gon' get tough; it's gon' get rough. But when you've had enough, you can't give up."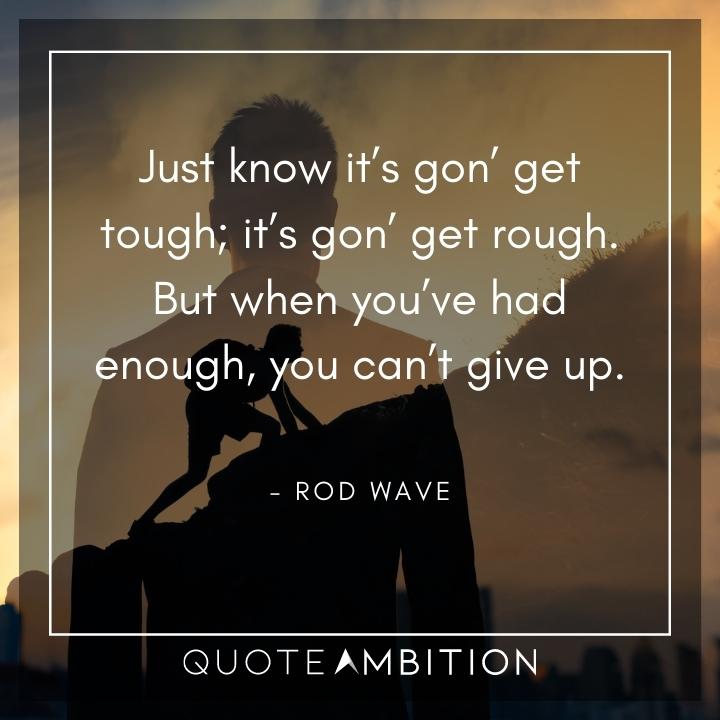 16. "Nobody told me the road would be easy. I can't believe I made it this far. My whole life, I've been working so hard."
17. "I'm moving on in life, so don't ask me about no old sh*t."
18. "Even if that sh*t is eating you up inside, you gotta keep it going and move on."
19. "I remember everything, the shine, and the struggle. I remember all the pain, all the grind, all the hustle."
Rod Wave Quotes on Death and One's Struggles
20. "Death gotta be easy 'cause life is f*ckin' hard."
21. "My darkest times taught me to shine."
22. "Nobody's perfect. Just admit you were wrong and get it right this time."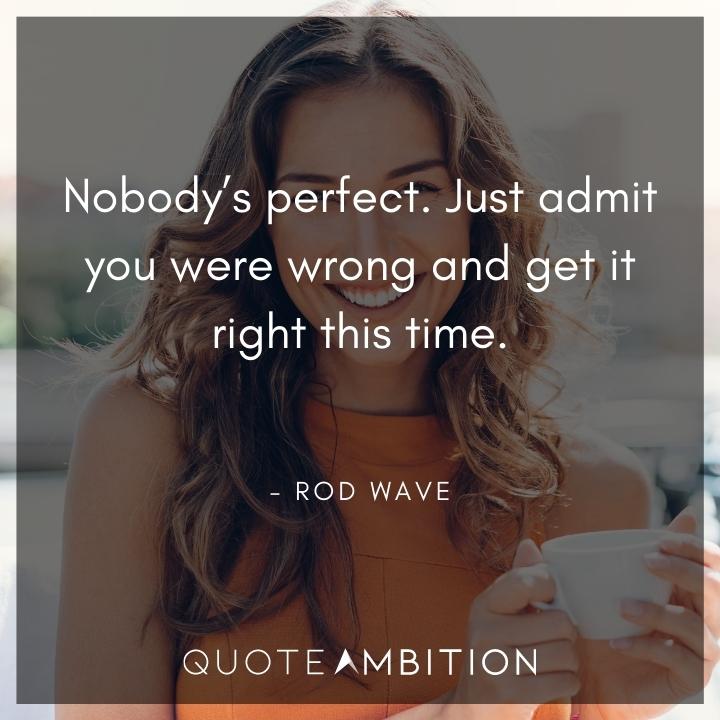 23. "I feel like I'm in this world alone, but this is the life I chose."
24. "It's like people focus on lookin' happy more than being happy."
Rod Wave Quotes About Love
25. "Tell me, how do I find love if I never seen it?"
26. "You may not be her first, her last, or her only. She's loved before she may love again, but if she loves you now, what else matters?"
27. "I don't want no more love. I feel it's poison."
28. "Ain't no love in this sh*t for real; they only love what you can do for 'em."
29. "I give my heart to whoever, they take it, and they ran."
30. "If your heart really all mine, why I gotta fight for it?"
31. "If you're looking for someone perfect on earth, you'll never find them."
32. "I got one more piece of my heart left, and I've been saving it for you."
Sad Rod Wave Quotes About Pain
33. "Life comes with pain."
34. "Sometimes, it's too late to make amends."
35. "I've been feeling pain for so long, I done become numb."
36. "Be scared to find out what's what. The ones that let you down be the ones you love so much."
37. "Sometimes, it feels like nobody understands me."
38. "No matter what I do, can't keep nobody happy."
39. "They turn their back, and they leave you; they gon' be back when they need you."
40. "We all wasted the best version of ourselves with someone who didn't give a f*ck."
41. "Me and my heart out of been touch all these years 'cause everything I touch with my heart, it disappears."
42. "I don't need another broken heart or sleepless night. God bless, guide me right."
43. "That's how I feel sometimes. I don't want to be around nobody. I just want to be alone."
Short Rod Wave Quotes and Captions for Instagram
44. "The wider my eyes open, the smaller the world gets."
45. "First, it hurts. Then it changes you."
46. "Distance is my new response."
47. "An apology without change is just manipulation."
48. "God bless the child that can hold his own."
49. "Got me on my knees; I'm askin' God what's my purpose."
50. "My soul ain't for this generation."
Rod Wave Quotes and Lyrics You Should Save in Your Memory
51. "Make every time feel like the first time. Out of my presence but still on my mind."
52. "Seen so many faces, been so many places, caught some cases."
53. "Straight from the bottom. And now we way, way up."
54. "They know that I'm the one; they waitin' on me to make it."
55. "Don't want me to prevail; you don't need him, so leave him."
How Did These Rod Wave Quotes Change Your Mindset?
Life is all about facing challenges and emerging victorious. However, at the same time, it's a known fact that you won't win every single battle in life.
Every once in a while, you'll encounter defeat that will leave you broken and in pain, especially when it has something to do with love. Even so, this is not enough of a reason to stop moving forward.
As we've learned from Rod Wave, it will always get more complicated and burdensome before it becomes easier. Keep in mind that success is always a matter of mindset and attitude!
If we don't believe we'll succeed, our efforts will be in vain. How we approach our problems makes or breaks us, so we must prepare ourselves and remember that our struggles will help hone our skills.
Remember the lessons you've gotten from the Rod Wave quotes above, and try to enjoy life! It won't always be an easy ride, but as long as you know how to transform your pain into something that'll teach you lessons, then the struggle is worth it!
Read Next: