These January quotes will inspire you to welcome your year with a fresh start and new beginning.
January is the perfect time to set new goals and work towards them with enthusiasm. It is a month that will unwrap experiences and surprises that will make us grow and power us throughout the year.
So, let this collection further motivate and inspire you to start your month right. These quotes are full of topics about change, closures, and resolutions.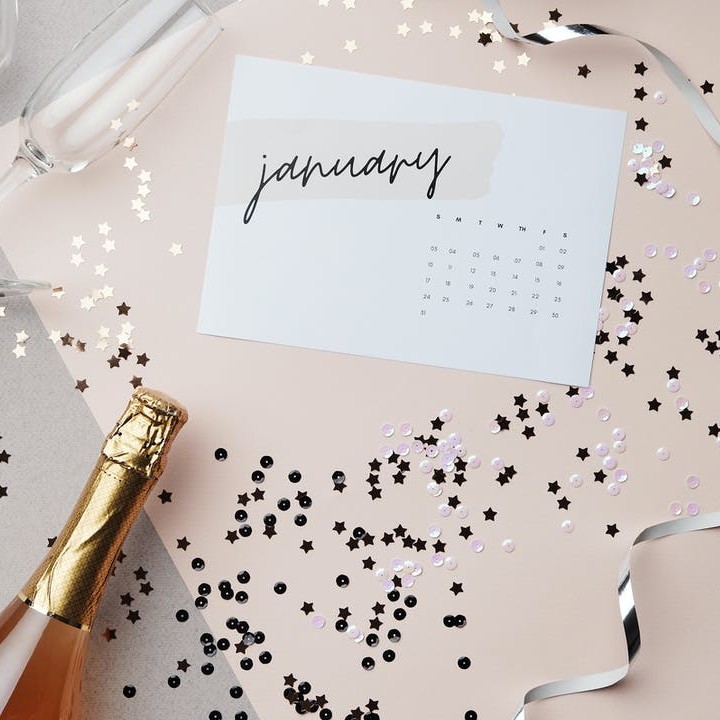 Don't miss out on these gems by reading the complete list below.
Let's get started.
And make sure to check out these February quotes and March quotes.
Best January Quotes
1. "January looks forward to the new year and back to the old year. He sees the past and future." – M.L. Stedman
2. "The first day of January always presents to my mind a train of very solemn and important reflections, and a question more easily asked than answered frequently occurs viz: how have I improved the past year and with what good intentions do I view the dawn of its successor?" – Charlotte Bronte
3. "January brings the snow, makes our feet and fingers glow." – Sara Coleridge
4. "I love beginnings. If I were in charge of calendars, every day would be January one." – Jerry Spinelli
5. "We spend January first walking through our lives, room by room, drawing up a list of work to be done, cracks to be patched. Maybe this year, to balance the list, we ought to walk through the rooms of our lives not looking for flaws, but for potential." – Ellen Goodman
6. "January is the month for dreaming." – Jean Hersey
7. "On the first of January, let every man gird himself once more with his face to the front, and take interest in the things that are and are to be, and not in the things that were and are past." – Henry Ward Beecher
8. "Let January open with the joy in the Lord, and December close with gladness in Jesus." – Charles Spurgeon
9. "Tomorrow is the first blank page of a 365-page book. Write a good one." – Brad Paisley
10. "New Year's Day. A fresh start. A new chapter waiting to be written." – Sarah Ban Breathnach
11. "I like starting projects in January. That's the best time to start something. It's so inward." – Carolyn Chute
12. "Every man should be born again on January first. Start with a fresh page." – Henry Ward Beecher
13. "Slow as molasses in January." – Anonymous
14. "If January is the month of change, February is the month of lasting change. January is for dreamers. February is for doers." – Marc Parent
15. "Feeling a little blue in January is normal." – Marilu Henner
Inspirational Quotes for January
16. "January is the quietest month in the garden. But just because it looks quiet, doesn't mean that nothing is happening." – Rosalie Muller Wright
17. "No one ever regarded the first of January with indifference." – Charles Lamb
18. "To read a poem in January is as lovely as to go for a walk in June." – Jean-Paul Sartre
19. "January, the first month of the year. A perfect time to start all over again. Changing energies and deserting old moods. New beginnings, new attitudes." – Charmaine J. Forde
20. "New year, new verse, a new chapter, or just the same old story? Ultimately, we write it. The choice is ours." – Alex Morritt
21. "Year's end is neither an end nor a beginning, but a going on with all the wisdom that experience can instill in us." – Hal Borland
22. "Cheers to a new year and another chance for us to get it right." – Oprah Winfrey
23. "January is my favorite month when the light is plainest, least colored. And I like the feeling of beginnings." – Anne Truitt
24. "Like January weather, the years will bite and smart and pull your bones together to wrap your chattering heart." – Dorothy Parker
25. "January is very powerful among other months. The reason it starts everything and sometimes ends them too." – Anonymous
26. "January is here with eyes that keenly glow, a frost-mailed warrior striding a shadowy steed of snow." – Edgar Fawcett
27. "January is the coolest month of the year for most of the Caribbean daytime highs are typically comfortably hot, while the nights remain warm." – Liz Osborn
28. "Thirty-one days of January are all about testing your stamina, patience, strength, and determination for the whole year." – Anonymous
29. "The first of January rolls around, like clockwork it appears. I find its timing most profound as it brings us each new year." – Stanley Cooper
30. "Drink a toast to January one for annual consistency. Its coming means the old year's done. Let's drink to its persistence." – Stanley Cooper
January Quotes to Happily Start Your Year 
31. "January—sparkling winter sunshine, face all aglow, making resolutions and angels in the snow, steaming cups of cocoa, a year that's fresh and new. All of this is magic unfolding just for you." – Anonymous
32. "A favorable January brings us a good year." – Anonymous
33. "January opens the box of the year and brings out days that are bright and clear, and brings out days that are cold and grey, and shouts, 'Come see what I brought today!'" – Leland Jacobs
34. "Frozen puddles, the crack of axes from four directions. January sun, puddle after puddle becomes mud." – Michael P. Garofalo
35. "I love the Mediterranean for the fact that winter is over in a minute, and the almond blossom arrives in January." – Jade Jagger
36. "We will open the book. Its pages are blank. We are going to put words on them ourselves. The book is called Opportunity, and its first chapter is New Year's Day." – Edith Lovejoy Pierce
37. "Welcome January. If anyone is in Christ, he is a new creation. Old things have passed away. Behold, all things have become new." – 2 Corinthians 5:17
38. "The spruces rough in the distant glitter of the January sun, and not to think of any misery in the sound of the wind." – Wallace Stevens
39. "If grain grows in January, there will be a year of great need." – Anonymous
40. "Welcome, January. January is a time of quiet and new beginnings, is the perfect time to reflect on how you want to live your life. January is the perfect time to refocus on your priorities and set goals." – Anonymous
41. "I always wait for January, as it brings hope and infuses some energy into me." – Anonymous
42. "January invokes a hope in a person and keeps it enlightened for the next 364 days." – Anonymous
43. "Hello January, so you are here with all your attitude and good lucks. I welcome you with the same zest as I have shown in previous years." – Anonymous
44. "What the new year brings to you will depend a great deal on what you bring to the new year." – Vern McLellan
45. "Hello January. This year, I will be stronger, braver, kinder, and unstoppable. This year, I will be fierce." – Anonymous
Short and Poetic January Quotes
46. "January is the Monday of months." – Anonymous
47. "Hello January, please be awesome!" – Anonymous
48. "I blink January's lashes and gush down December's cheeks." – Sanober Khan
49. "January—the month of empty pockets!" – Sidonie-Gabrielle Colette
50. "A New Year has tiptoed in. Let's go forward to meet it." – Anusha Atukorala
51. "January is the calendar's ingrown hair." – Stewart Stafford
52. "If birds begin to sing in January, frosts will come." – Anonymous
53. "January blossoms fill no man's cellar." – Anonymous
54. "Pale January lay in its cradle day by day. Dead or living, hard to say." – Alfred Austin
55. "A wet January, a wet spring. A warm January, a cold May." – Welsh Proverb
Funny January Quotes That Will Have You Giggling
56. "January is the best time of year for gym owners. You all come. It's great! And then, by Valentine's Day, you're not coming in anymore." – David Kirsch
57. "Lots of people go mad in January. January is the third most common month for madness." – Karen Joy Fowler
58. "I think it would be more sensible if resolutions began generally on January the second." – Helen Fielding
59. "There are two seasonal diversions that can ease the bite of any winter. One is the January thaw. The other is the seed catalogs." – Hal Borland
60. "You'd be so lean that the blast of January would blow you through and through." – William Shakespeare
61. "New Year's resolutions have always been something to beat myself up with by the second week of January. It seems perverse to set yourself up for failure right at the start of the year." – Romesh Ranganathan
62. "January is the garbage can of movies in America, directly after all the Oscar contenders have been out." – Michael Caine
63. "No one has ever achieved financial fitness with a resolution in January that's abandoned by February." – Suze Orman
64. "May all your troubles last as long as your New Year's resolutions!" – Joey Adams
65. "Somewhere along the way, I realized that the new year doesn't begin for me in January." – Betsy Cañas Garmon
Deep January Quotes That Will Make You Think
66. "I'll never understand why everybody puts so much emphasis on January first. There are 364 other days in the year that you can make a change." – Elizabeth Eulberg
67. "New Year ceremonies are designed to get rid of the past and to welcome the future. January is named after the Etruscan word, 'Janua' which means 'door.'" – Anonymous
68. "January was a two-faced month, jangling like jester's bells, crackling like snow crust, pure as any beginning, grim as an old man, mysteriously familiar yet unknown, like a word one can almost but not quite define." – Patricia Highsmith
69. "January is named after the Roman god Janus, who was always shown as having two heads. He looked back to the last year and forward to the new one. The Roman New Year festival was called the Calends, and people decorated their homes and gave each other gifts." – New Year's Day
70. "Every year is a chess game. New Year is a new chess game! You make the right moves, you win the game!" – Mehmet Murat İldan
71. "Bare branches of each tree on this chilly January morn look so cold, so forlorn. Gray skies dip ever so low, left from yesterday's dusting of snow. Yet in the heart of each tree waiting for each who wait to see new life as warm sun and breeze will blow, like magic, unlock springs sap to flow, buds, new leaves, then blooms will grow." – Nelda Hartmann
72. "The shortest day has passed, and whatever nastiness of weather we may look forward to in January and February. At least we notice that the days are getting longer." – Vita Sackville-West
73. "You are never too old to set another goal or to dream a new dream." – Clive Staples Lewis
74. "It is deep January. The sky is hard. The stalks are firmly rooted in ice." – Wallace Stevens
75. "New Year is a new morning, and a new morning is a new opportunity, and a new opportunity is a new path, and finally, a new path is a new richness!" – Mehmet Murat İldan
January Quotes to Welcome the New Year
76. "Leaving a bookstore is hard, especially on a day in January when the ice is treacherous, the wind is blowing, and the books inside seem to gather together in colorful warmth." – Jane Smiley
77. "Celebrate endings, for they precede new beginnings." – Jonathan Lockwood Huie
78. "The object of a new year is not that we should have a new year. It is that we should have a new soul." – Gilbert Keith Chesterton
79. "Through the chill of December, the early winter moans, but it's that January wind that rattles old bones." – John Facenda
80. "The first morning of January welcomes us like a husband welcomes his wife on the first day of marriage." – Anonymous
81. "January is always a good month for behavioral economics. Few things illustrate self-control as vividly as New Year's resolutions. February is even better, though, because it lets us study why so many of those resolutions are broken." – Sendhil Mullainathan
82. "It's January, and I'm kicking snow off the ground. I just threw out the flower you made me promise to water, handle with care because I was too careless, you said. Careless with things and people, around me and behind, and I remember being still for just a second or two, thinking that it's so much easier to leave and start anew than take care of what's already here." – Charlotte Eriksson
83. "Come, ye cold winds, at January's call, on whistling wings, and with white flakes bestrew the earth." – John Ruskin
84. "Every single year, we're a different person. I don't think we're the same person all of our lives." – Steven Spielberg
85. "There is always an opportunity to start again and again. If the old ways are not working last year, look for better ways of doing it in the new year and start again afresh." – Bamigboye Olurotimi
86. "The New Year is a painting not yet painted. A path not yet stepped on. A wing not yet taken off! Things haven't happened as yet! Before the clock strikes 12, remember that you are blessed with the ability to reshape your life!" – Mehmet Murat İldan
87. "And now we welcome the new year, full of things that have never been." – Rainer Maria Rilke
88. "On New Year's Eve, the whole world celebrates the fact that a date changes. Let us celebrate the dates on which we change the world." – Akilnathan Logeswaran
89. "We joyfully pray with grateful hearts to welcome blessings in New Year." – Lailah Gifty Akita
90. "For last year's words belong to last year's language, and next year's words await another voice." – Thomas Stearns Eliot
More Quotes to Feel the Fresh Start That January Brings
91. "In January, it's so nice while slipping on the sliding ice to sip hot chicken soup with rice. Sipping once. Sipping twice." – Maurice Sendak
92. "Tonight's December 31st, something is about to burst. The clock is crouching, dark and small, like a time bomb in the hall. Hark, it's midnight, children dear. Duck! Here comes another year!" – Ogden Nash
93. "I hope that in this year to come, you make mistakes. Because if you are making mistakes, then you are making new things, trying new things, learning, living, pushing yourself, changing yourself, changing your world. You're doing things you've never done before, and more importantly, you're doing something." – Neil Gaiman
94. "Take a leap of faith and begin this wondrous new year by believing." – Sarah Ban Breathnach
95. "Let us do something incredible this New Year. Let us try to see the world from the window of other cultures!" – Mehmet Murat İldan
96. "New Year's Day, now is the accepted time to make your regular annual good resolutions. Next week you can begin paving hell with them as usual." – Mark Twain
97. "Here is an unchanging truth valid for all the New Year's, the more you believe in luck, the less successful you will be!" – Mehmet Murat İldan
98. "New Year's Day is every man's birthday." – Charles Lamb
99. "Ring out the old, ring in the new. Ring, happy bells, across the snow. The year is going. Let him go. Ring out the false, ring in the true." – Alfred Lord Tennyson
100. "Dear world, I am excited to be alive in you, and I am thankful for another year." – Charlotte Eriksson
Did These January Quotes Inspire You to Work Harder Toward Your Goals?
January is a happy month for people to hope for the better and have a positive outlook on life. By setting new goals and habits for the year, many of us are focused on developing ourselves and dreaming of a bright future.
These are only a few reasons why many people are fond of celebrating New Year's Day. It is not an unordinary scene since the name of January came from the Roman god of new beginnings, Janus. This time is also a month where people are full of hope, love, and happiness, so make sure to enjoy and cherish it.
We hope that our collection was able to inspire you to welcome your January with a smile. Let this month change you and help you build a better future to come.
Which January quote is your favorite? Did these quotes make you excited for the new year? Comment your thoughts below!
Read Next: