If you're looking for quotes to help you get through the summer and welcome the breezy wind of the fall season, these September quotes are for you!
The ninth month of the year is September, and it marks the start of fall in the northern hemisphere. No matter where you are in the world, you start feeling all warm and cozy when this month begins.
Because the transition to fall occurs in September, the temperature isn't as scorching as in the summer, and the air is only starting to get cooler. There are many things to love and look forward to during this month.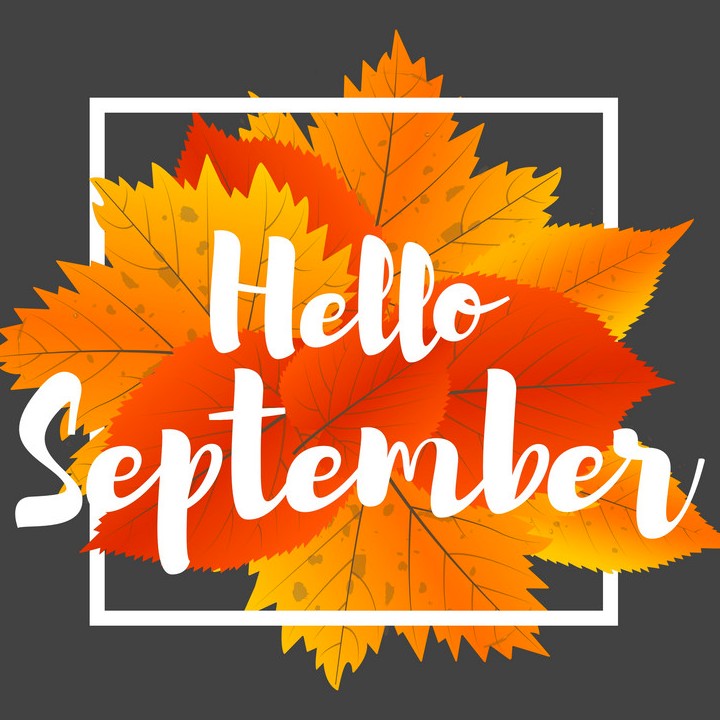 That's why we've gathered our favorite September quotes to get you ready for the upcoming season!
Start reading here.
And make sure to check out these August quotes and July quotes.
Best September Quotes
1. "September tries its best to have us forget summer." – Bernard Williams
2. "Make it a September to remember, thank Lord!" – Anonymous
3. "September has come, it is hers. Whose vitality leaps in the autumn, whose nature prefers trees without leaves and a fire in the fireplace." – Louis MacNeice
4. "September is the month of wonderful weather." – Anonymous
5. "Goodbye, August, you were better. Welcome September, I wish you to be the best." – Anonymous
6. "I love September, especially when we're in it." – Willie Stargell
7. "September! I never tire of turning it over and over in my mind. It has warmth, depth, and colour. It glows like old amber." – Patience Strong
8. "Let's strive to be better in September!" – Charmaine J. Forde
9. "Nostalgia―that's autumn, dreaming through September. Just a million lovely things I will always remember." – Jacqueline Kennedy Onassis
10. "New month, new day, new date, new chapter, new page, new wishes. Welcome September!" – Anonymous
11. "Hello September, you have arrived, and I am still stuck in the memories of last autumn." – Anonymous
12. "Special people are born in September and smile every day." – Anonymous
13. "September―the dearest month of all to pensive minds!" – Carlos Wilcox
14. "But now in September the garden has cooled, and with it my possessiveness. The sun warms my back instead of beating on my head. The harvest has dwindled, and I have grown apart from the intense midsummer relationship that brought it on." – Robert Finch
15. "Nobody can understand my love for falling leaves other than September. Welcome, September!" – Anonymous
Famous September Quotes
16. "September―where fall and summer meet." – Will Wallace Harney
17. "September comes, and summer thins away." – Hal Borland
18. "Never stop be-leaf-ing in the power of September." – Anonymous
19. "By all these lovely tokens, September days are here. With summer's best of weather and autumn's best of cheer." – Helen Hunt Jackson
20. "Welcome peace and cracking sounds of leaves. Welcome, September." – Anonymous
21. "It was September, and there was a crackly feeling to the air." – Carolyn Parkhurst
22. "Just like that, summer falls into September. Hello ninth." – Anonymous
23. "Hello, September! Thanks for the reminder that things can be beautiful." – Anonymous
24. "We know that in September, we will wander through the warm winds of summer's wreckage. We will welcome summer's ghost." – Henry Rollins
25. "I guess I'm just feeling September-ish. All the trees change color, the days get very clear―with a little smoke on the horizon from burning leaves. Pumpkins begin to come out." – George Selden
26. "O sweet September, thy first breezes bring. The dry leaf's rustle and the squirrel's laughter. The cool fresh air whence health and vigor spring. And the promise of exceeding joy hereafter." – George Arnold
27. "Tonight, I miss you like the sky misses his moon; a delicate epiphany growing on grass. I serenade the breeze into dancing the cha cha cha; the mountains echo in the background. September sky never looked more charming, or the sublime petals of the rose looked so graceful." – Avijeet Das
28. "All the months are crude experiments, out of which the perfect September is made." – Virginia Woolf
29. "There is a time in late September when the leaves are still green, and the days are still warm, but somehow you know that it is all about to end as if summer was holding its breath, and when it let it out again, it would be autumn." – Sharyn McCrumb
30. "September was a 30-day long goodbye to summer―to the season that left everybody both happy and weary of the warm, humid weather and the exhausting but thrilling adventures. It didn't feel like fresh air either, it made me suffocate. It was like the days would be dragging some kind of sickness, one that we knew wouldn't last, but made us uncomfortable anyway. The atmosphere felt dusty and stifling." – Lea Malot
Inspirational September Quotes to Lift Your Spirit
31. "May this first of September you rest but above all continue to fulfill your dream doing what you like." – Anonymous
32. "Autumn seemed to arrive suddenly that year. The morning of the first September was crisp and golden as an apple." – J.K. Rowling
33. "No matter how many losing seasons you might have had in the past with your marriage, the good thing is that all teams get a fresh start once September begins." – Shon Hyneman
34. "The old summer's-end melancholy nips at my heels. There's no school to go back to; no detail of my life will change come the onset of September; yet still, I feel the old trepidation." – Sara Baume
35. "There were many things in September, sweet and tender. Something like love, something like adventure. Something like childhood, something like the rain, like the water." – Hayet Ben Bada
36. "As the alluring song of September begins to whisper in my ear, my passionate spirit yearns for the splendor of its promise." – Peggy Toney Horton
37. "Your mission for this last day of September is whatever you continue to do or pick up to do, put your whole heart into it!" – Rajesh Goyal
38. "You were my September song. Summer lasted too long." – JP Cooper
39. "Autumn mornings―sunshine and crisp air, birds and calmness, year's end and day's beginnings." – Terri Guillemets
40. "September is more than a month, really; it is a season, an achievement in itself. It begins with August's leftovers and it ends with October's preparations." – Hal Borland
41. "Ah, September! You are the doorway to the season that awakens my soul, but I must confess that I love you only because you are a prelude to my beloved October." – Peggy Toney Horton
42. "The windows are open, admitting the September breeze―a month that smells like notepaper and pencil shavings, autumn leaves, and car oil. A month that smells like progress and moving on." – Lauren Oliver
Interesting Quotes on the Things to Be Thankful for in September
43. "Sweet September blessings! I am eternally grateful!" – Charmaine J. Forde
44. "Happy September! May this month be filled with sunny days, laughter, and lots of love." – Anonymous
45. "September is full of new adventures and new memories waiting to be made." – Anonymous
46. "Life is beautiful in July, gorgeous in August, and cheerful in September. Thank you, God!" – Anonymous
47. "Come September, the middle of September when the first frost comes, that's hunting season. Fishing poles are hung up and the hunting season starts. You've got to be careful if you're a hunter, that it doesn't become an obsession." – Bud Grant
48. "In many ways, September feels like the busiest time of the year―the kids go back to school, work piles up after the summer's dog days, and Thanksgiving is suddenly upon us." – Brene Brown
49. "The earth is so rich in September. Apples and quinces fall from heavy branches. Cabbage, squash, broccoli, peppers, tomatoes ripen in every garden. White and blue grapes hang heavy clusters on the vines." – Gladys Taber
Quotes That Zoom in on the Different Reasons One Should Be Happy in September
50. "Just like that, summer falls into September. Happy September!" – Anonymous
51. "Happily, we bask in this warm September sun, which illuminates all creatures." – Henry David Thoreau
52. "Happy girls are the best, and September is the month of happiest girls." – Anonymous
53. "I am happy because, finally, it's September. I am happy because the holiday is one month nearer." – Anonymous
54. "Good old days are the best days. Life is magical when you are happy. Being in September reminds me of those lovely days." – Anonymous
55. "Happy September is better than Happy December." – Anonymous
56. "Hey, September! Happy to you and happy to us, and happy to the whole humankind." – Anonymous
Beautiful September Quotes to Make You Fall in Love With the Month That Starts Autumn
57. "Hello September, the winds of change really can be beautiful." – Anonymous
58. "September―it was the most beautiful of words, he'd always felt, evoking orange-flowers, swallows, and regret." – Alexander Theroux
59. "September sweaters havin' me feeling gorgeous." – Anonymous
60. "Making your Christmas cake in September is perfect, as too fresh a cake crumbles when cut." – Mary Berry
61. "Some of the rarest days of the year come in September, days when it is comfortably cool but pulsing with life." – Hal Borland
Quotes That Make You Feel Wonderful in September
62. "September smiled at her wonderful friends in all their colors and bright eyes and gentle ways." – Catherynne M. Valente
63. "September is the last month before the festive season, so let's get ready for the upcoming thrill." – Anonymous
64. "It was a lovely afternoon—such an afternoon as only September can produce when summer has stolen back for one more day of dream and glamour." – L.M. Montgomery
65. "We awoke one morning in September, and the world lurched on its axis." – Jeb Bush
66. "That old September feeling, leftover from school days, of summer passing, vacation nearly done, obligations gathering, books and football in the air." – Wallace Stegner
67. "It must be September, July sun has disappeared." – Charmaine J. Forde
68. "September month is 30 days long and nurtures the life to the fall when it's all about celebration." – Anonymous
69. "September days have the warmth of summer in their briefer hours but in their lengthening evenings, a prophetic breath of autumn." – Rowland E. Robinson
70. "There is a clarity about September. The sun seems brighter, the sky more blue, the white clouds take on marvelous shapes; the moon is a wonderful apparition, rising gold, cooling to silver; and the stars are so big." – Faith Baldwin
September Quotes to Welcome the Beginning of the Fall Season
71. "Hello September! I am ready for more laughter, more sleep, less negativity, less stress, more love, more good stuff." – Anonymous
72. "Hello, September! Open our eyes to the beauty of the world." – Anonymous
73. "Let life breathe in the blessed month of September, happy new month!" – Anonymous
74. "For summer there, bear in mind, is a loitering gossip, that only begins to talk of leaving when September rises to go." – George Washington Cable
75. "Outside the leaves on the trees constricted slightly; they were the deep done green of the beginning of autumn. It was a Sunday in September." – Ali Smith
76. "Good Morning! Happy September. May it be filled with only showers of blessings." – Anonymous
77. "Hello, September, trust in the magic of a new beginning!" – Anonymous
78. "September is dressing herself in showy dahlias and splendid marigolds and starry zinnias." – Olive Wendell Holmes
79. "But when fall comes, kicking summer out on its treacherous ass as it always does one day sometime after the midpoint of September, it stays a while like an old friend that you have missed." – Stephen King
80. "September comes after August to let us know that summer has actually ended." – Anonymous
81. "Welcome a new month full of possibilities. Happy September!" – Anonymous
82. "It strikes me that the spirit of the Fourth, this year, was used up by September's end and fell like an early leaf." – William H. Gass
83. "Welcome, September! Wishing you a wonderful month filled with love and happiness." – Anonymous
September Quotes and Facts That'll Help You Appreciate the Season
84. "If any of you have ever lived down south of the Mason-Dixon line, you know that late September still means summer heat." – Scott Porter
85. "Louisiana in September was like an obscene phone call from nature. The air —moist, sultry, secretive, and far from fresh—felt as if it were being exhaled into one's face. Sometimes it even sounded like heavy breathing." – Tom Robbins
86. "The leaves of brown came tumbling down. Remember, in September, in the rain. The sun went out just like a dying amber." – Harry Warren
87. "For it's a long, long while from May to December. But the days grow short when you reach September." – Maxwell Anderson
88. "There comes a day each September when you wake up and know the summer is over and fall has arrived. The slant of the sun looks different and something is in the air―a coolness, a hint of frosty mornings to follow. I woke early on the morning of September 24 and reached for a warmer petticoat." – Ann Rinaldi
89. "When I flashback to the lovely days of September where I've kept some dreams and stories to remember, something like old streets and avenues to wander. Something like my toys when I was younger. I have a fond belief that September will stay forever. There were many things in September, sweet and tender. Something like love, something like adventure, something like childhood. Something like the rain, like the water." – Anonymous
90. "On the night of the first of September, we observed for the first time the signs of the natives being in the neighborhood. Fires were seen on the low land near Cape Frederick Henry, and at daylight, we saw the natives with our glasses." – William Bligh
91. "September's Baccalaureate―a combination is of crickets, crows, and retrospects. And a dissembling breeze that hints without assuming." – Emily Dickinson
92. "The September storms—the hurricane warnings far away, the sudden gales, the downpour of rain that we have so badly needed here for so long—are exhilarating, and there's a promise that what September starts, October will carry on, catching the torch flung into her hand." – Faith Baldwin
Funny September Quotes to Brighten Your Day
93. "Happy September! The world shall now transform into pumpkin everything." – Keith Wynn
94. "Wine is the divine juice of September." – Voltaire
95. "I used to love September, but now it just rhymes with 'remember.'" – Dominic Riccitello
96. "September showed up right on schedule, and lasted a whole month." – Jenny Wingfield
97. "My favorite poem is the one that starts, 'Thirty days hath September,' because it actually tells you something." – Groucho Marx
98. "Let's go insane this September but beware of falling down into the gutter." – Anonymous
99. "If you're a September-born kid, it means you have to step into some craziness this month, and I know you can do it because you are already crazy." – Anonymous
100. "If you're born in September, it's pretty safe to assume that your parents started their new year with a bang." – Anonymous
101. "Number one rule in September, If nobody sees you eating it, it doesn't contain any calories." – Anonymous
102. "When you're in the Halloween spirit, but it's only September." – Anonymous
Short September Quotes
103. "Let's all be nice to September." – Nitya Prakash
104. "September is the other January." – Gretchen Rubin
105. "Wishing everyone a blessed month of September. All the best!" – Anonymous
Birthday Quotes and Wishes for Everyone Born in September
106. "September―all the best to the people born in September." – Anonymous
107. "Today is your special day, my friend. Have a wonderful birthday in the wonderful month of September." – Anonymous
108. "Let's welcome September! Say hello to the cold breeze and happy birthday to our dear friend." – Anonymous
109. "Day one of September, everyone gets busy shopping. Me? I am busy planning your birthday." – Anonymous
110. "Hey, you! Yes, you! Are you a September-born kid? Happiest Birthday!" – Anonymous
What Are the Things You're Excited About in September?
September gets its name from the Latin word, "Septem," which means "seven," because it is the seventh month of the Roman calendar. Those born in this month are either Virgo or Libra and are believed to be gentle and approachable people. The sapphire is the month's birthstone.
While fall may seem gloomy to some, for others, witnessing the leaves change color and the cool air of the weather is delightful. Also, you can tell September is here when you start smelling candles and pumpkins everywhere.
Wherever you are in the world, we're sure you also have a lot of things you're looking forward to when September finally comes around. We hope that these September quotes were able to excite you with the coming of the new season.
Which of these September quotes is your favorite? Do you know anyone born in this month? Please, tell us in the comments thread below.
Read Next: