Learn about the value of hard work in success, life, and love through these Lil Baby quotes we've compiled!
Unless you lived your whole life under a rock, we're sure you know about Lil Baby. He's a rapper who rose from the streets of Atlanta, Georgia.
Lil Baby's real name is Dominique Armani Jones. According to him, his pen name was given to him by a fellow drug dealer because he's the youngest in the group.
It's no surprise, as Lil Baby was only in the ninth grade when he turned to the streets. For many, his decision to quit school is a bad one, and though that's true, have we ever thought of what led him to do so?
Lil Baby has had a hard life. Nonetheless, he's become one of the most famous rappers in the world today—all because of his hard work, perseverance, and commitment to the hustle.
If you want to learn more about him, read on. Scroll through the best Lil Baby quotes below!
And don't forget to check out these J. Cole quotes and Big Sean quotes.
Best Lil Baby Quotes
1. "I feel like whatever is meant is meant. I feel like this is already written."
2. "Whatever you do, don't lose yourself!"
3. "If we want to think about change, we have to start using the power we have."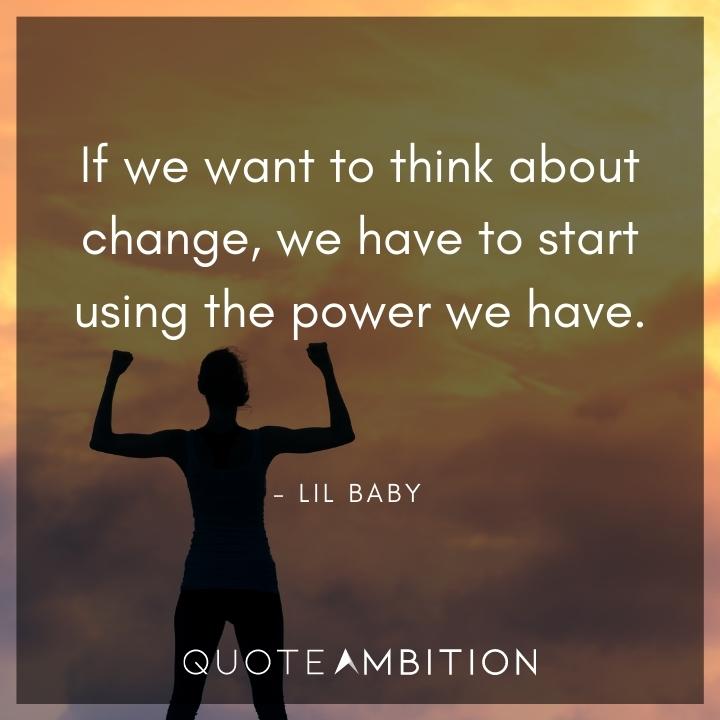 4. "No one gives you a chance. You have to take chances."
5. "My story is going to be completely different than someone else's story in terms of hard work. What I might feel like is hard work, another person is dying to do."
6. "Hopefully, the sacrifices we making today can change tomorrow."
7. "We can't never let 'em break our mind. We gotta stay strong, conquer, and don't divide."
Inspirational Lil Baby Quotes About Life
8. "If you learned a lesson, it wasn't a loss."
9. "Sometimes, it's the smallest things that count the most."
10. "Live life to the fullest. Nothing is promised."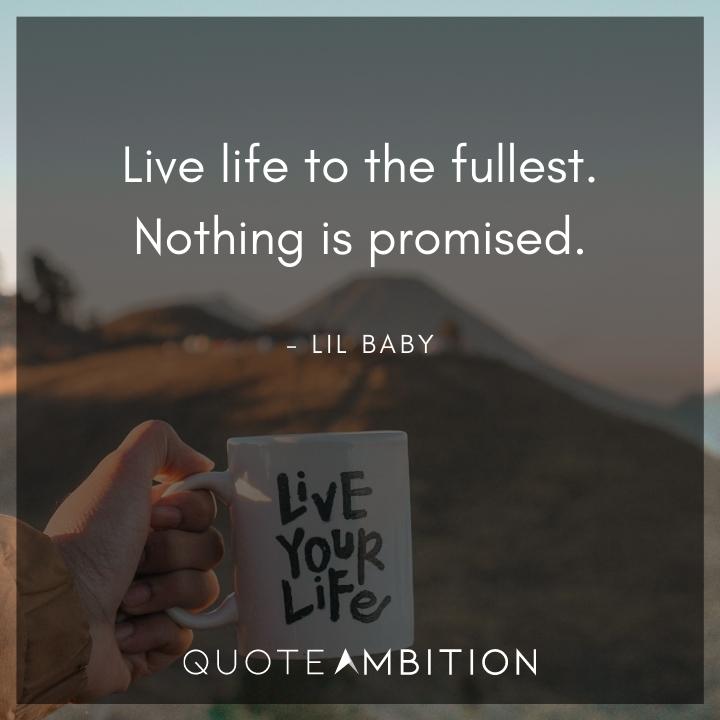 11. "Let my good outweigh my bad, and keep pushing!"
12. "No matter how difficult life becomes, I'll smile."
13. "Don't listen to them haters tryna fill your ears with salt."
14. "I'm just tryna live my life. They say I ain't living right."
Lil Baby Quotes About the Hustle
15. "Work hard and determine. It's safe to say I earned it."
16. "From the bottom, all I know is the struggle. Can't get no job, so all I know is the hustle."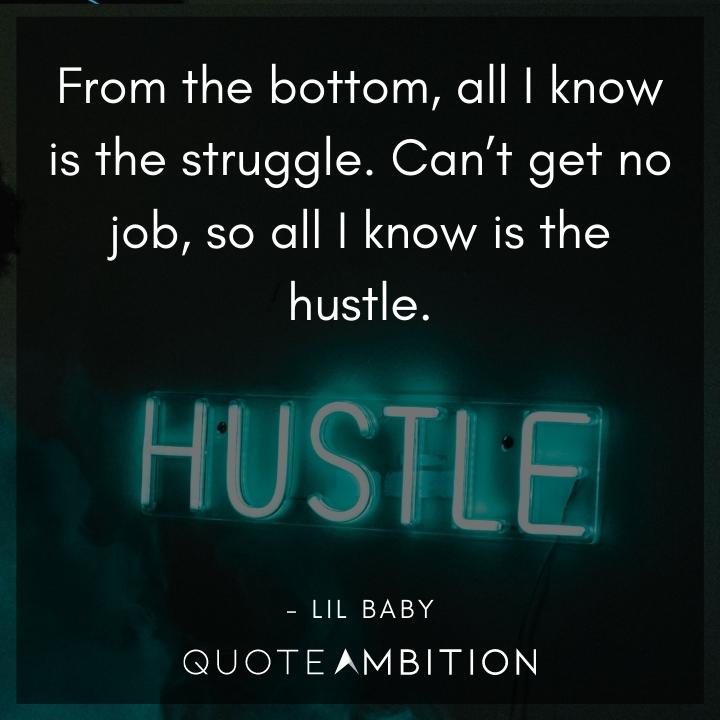 17. "Like you might love watching basketball, but that don't mean that you'll get on the court."
18. "I got a boss mentality."
19. "I'm a rapper, but I'm more of a hustler."
Lil Baby Quotes That Zoom in on Music and His Career
20. "I'm changing every day as far as this rap thing. I'm learning new things. I'm getting bigger by the day."
21. "The rap game is kinda crazy, so I go with the flow but make sure that I cover my bases and do whatever to make sure I'm good no matter what."
22. "Every day, I'm getting shaped and molded. Keepin' on, being a better artist, and improving on this, improving on that. The more I'm in it, the more I'm practicing and the more I'm advancing."
23. "I've grown, and my passion for music has grown. I've become more advanced, and I've enhanced my vocabulary. All-around artist development."
Motivational Lil Baby Quotes About Money and Success
24. "If you the richest in the room, you need a new room."
25. "I have an impact, and people look up to me now. It's more than the money."
26. "Having money is one thing, but having sense with the money is the key."
27. "Started with a penny; now, it's racked up to a million."
28. "I just save my money, man. I don't even try to enjoy it like these other rappers; they having fun, and they lit, but they gon' be broke later on. I be savin', I be chillin'. It feels good to know I got it, but it feels better to know I'ma keep it too."
Lil Baby Quotes on Love and Loyalty
29. "Everybody wants a piece of the winnings. They're never there when you're lost."
30. "Hey, I don't need no fake love. Fake love be the worst love."
31. "You ain't gotta love me; just don't lie, though. We gon' take them trips 'cause ain't nobody else as fly as us."
Lil Baby Quotes and Lyrics for Your Instagram Captions
32. "Moving different because I need different."
33. "I made a promise, I'm never gon' change."
34. "If you about that life, get out that casket."'
35. "I just like to hear laughter, tryna ease all this pain."
What's Your Favorite Lil Baby Quote, and What Did It Teach You?
Besides his famous albums like Harder Than Ever, Lil Baby is known to translate his experiences into his songs. Music is his platform to share lessons with the world and his outlet to free himself from his past struggles.
Lil Baby believes that his music speaks volumes about himself. He shares his past with his listeners through his work, and in turn, fans learn many things about his community, struggles with drugs and life on the streets, and more.
He might be a success now, but his childhood years were anything but easy. Nonetheless, Lil Baby never gave up, no matter how hard it was for him.
He believed in the power of hustling! Lil Baby knew that without the determination to persevere and without effort, he would never escape from the darkness that surrounded him when he was younger.
Now that he's earned millions, Lil Baby remains humble and knows when to reflect on his past. He uses his experiences as a reminder to save, invest, and secure his and his children's future.
With that, we hope we were able to give you a better understanding of Lil Baby, his music, and how his past affects his outlook on life. Keep this list of his best quotes in mind, as they will surely be helpful in life!
Read Next: