Read these top 50 King Von quotes that will empower you to stand firm and face life with a brave heart.
King Von was an American rapper known for hip hop, trap, drill, and gangsta rap music.
Though he'd been in the industry for only a few years, he was able to make a name for himself successfully.
King Von's life wasn't easy, and he had several run-ins with the law over the years. Despite this, the challenges he faced helped him grow as a person.
Explore our collection to learn more about the different lessons we can gain from his life's experiences.
Start reading here.
And don't forget to check out these Rod Wave quotes and NLE Choppa quotes.
Best King Von Quotes
1. "You gotta look out for your people, man."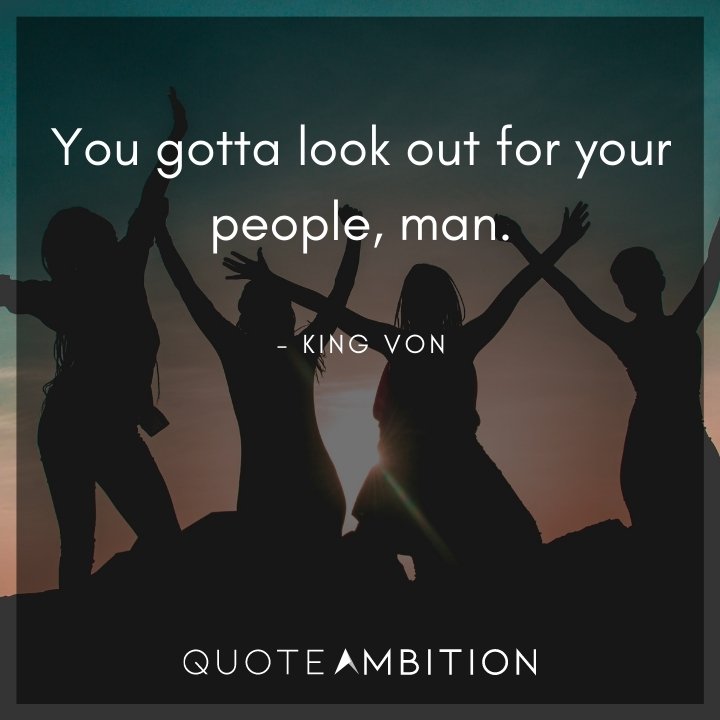 2. "I am what I am. What I'm not, see I'll never be."
3. "I'm heartless, b*tch. You can call me the 'Tin Man.'"
4. "Don't believe all that sh*t, man."
5. "A person that stands for nothing will fall for anything."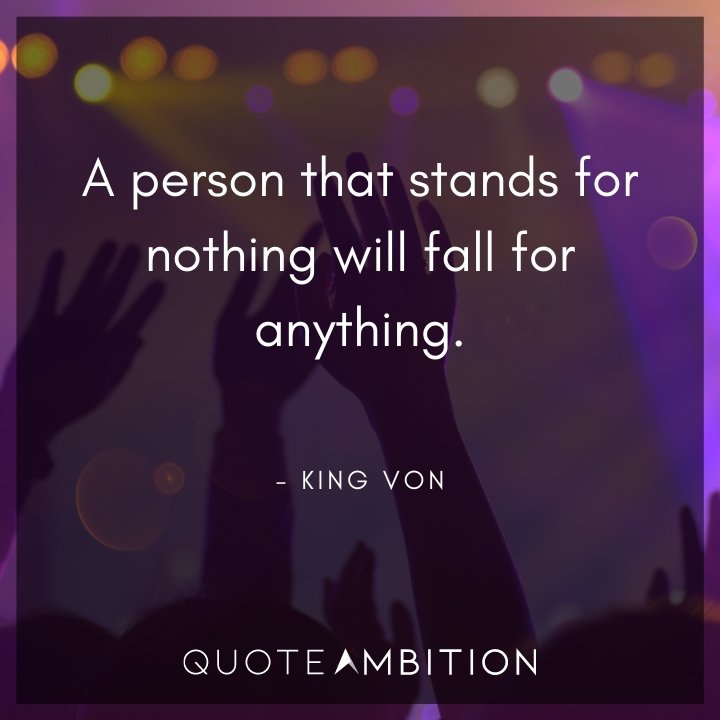 Inspirational King Von Quotes
6. "I'm not doing sh*t for anything; I don't give a f*ck about any of that sh*t. I don't care about people; I care about my people."
7. "I'll do whatever I can do."
8. "You have to go harder so everybody can talk about you. The more people know you, the more money you get."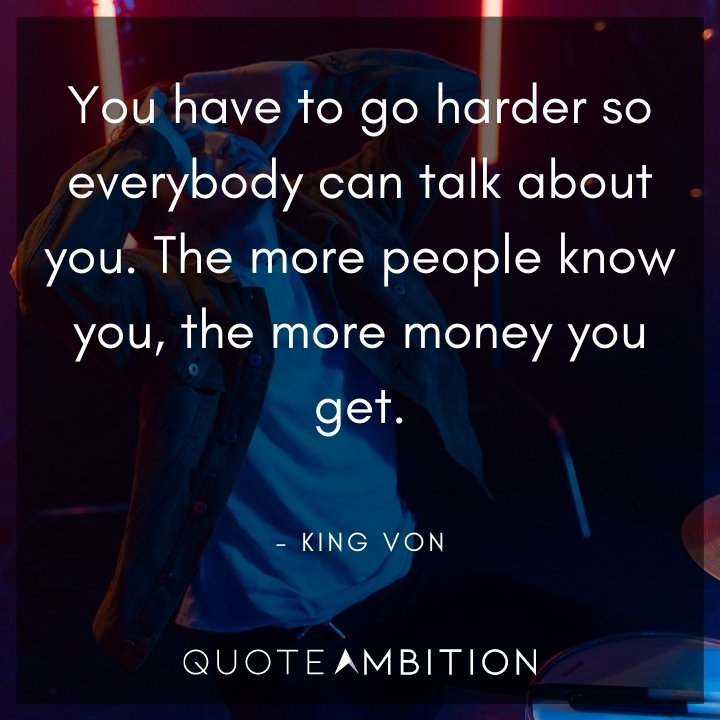 9. "Give positive vibes out even though what we rappin' about is really just entertainment right now. It's just music."
10. "We are strong, but we are stronger together."
King Von Quotes on His Views on Life
11. "That sh*t gonna figure it out in real life."
12. "You either gonna wait on it, or you gonna go and get it? The choice is yours."
13. "You gotta do what you gotta do."
14. "Time goes by, and sh*t just changes, man. People get old. People got their own sh*t going on. You know how that goes."
15. "Do you ever get that sad feeling out of nowhere?"
16. "In jail, you don't do sh*t but read, write, and think about the past sh*t that I did. In jail, you don't got nothing but memories in that b*tch. I was reading a lot of books in there. That's probably where that sh*t came from."
Also read: XXXTentacion Quotes, Rod Wave Quotes
Interesting King Von Quotes That'll Tell You More About Him
17. "I'm from the streets so I like rap music; that's what makes up the streets everywhere."
18. "I'm a player. Like I told you in the beginning. I was born a player. It's the player sh*t. Just let the window down, just a little bit, pass the hoe her phone, and sh*t. I let them handle it. Y'all take care of that sh*t. Y'all make that sh*t right. I was going to leave."
19. "When I say, 'Let me focus,' that was just me talking to the audience. I was talking to the audience. See, I was daydreaming in the car or some sh*t. Now, folks and I see what's goin' on. Oh, I'm gonna ride this n*gga. You see what I'm saying?"
20. "You know I can't do no overseas."
21. "Would've never guessed I'll be making movies."
22. "I remember the times I had nowhere to go."
23. "You know? The ladies love me."
24. "Every video I see I'm as bad as hell."
25. "I'm good at sh*t though. The first time I do something, I'll probably be good at it."
Also read: Lil Durk Quotes, Quando Rondo Quotes
King Von Quotes That Will Make You Smirk
26. "They just saying sh*t, you know."
27. "Y'all broadcasting the wrong sh*t."
28. "You've got money and the sh*t that comes with the fame."
29. "You a real n*gga and you doing this sh*t the right way. Don't let no n*gga tell you different and don't let none of these weak *ss hoes throw you off."
30. "Everybody that f*cks with me, they f*ck with me, but I have to get busy because it's all about building and going up."
31. "I drop a song and these n*ggas quote it. If he looking for me, I'm prolly where his hoe is!"
32. "Ain't got no beat? What the f*ck am I gonna do?"
33. "Sh*t just rhymes—it's just hypothetical."
34. "I'm gettin' bigger, you just got to know how to handle that sh*t. People goin' to be up in your business now."
35. "There's only so many options if a n*gga like you has felonies and sh(t. This one wasn't working for me. This one wasn't going right. I ain't good at this. This is gonna get you a lot of time, so I'ma try rapping."
Also read: Polo G Quotes, Juice WRLD Quotes
Short King Von Quotes
36. "I thought I would have a real relationship, but I guess not."
37. "Watch who you f*ck with the ones you think are real, they fake."
38. "Always watch your back for fake n*ggas."
39. "The day a n*gga try, that's the day he die."
40. "Can't trust no b*tch."
41. "Watch the people in your gang."
42. "If any n*gga want smoke, bring it."
43. "I only trust one person, and that's my Glock."
44. "I need to make something raw real quick."
45. "I gotta drop on this flexing n*gga."
Also read: Tupac Quotes, DaBaby Quotes
King Von Quotes and Lyrics to Remind You of His Music
46. "I ain't got no flaws."
47. "If I tell, 'I love you,' I mean it."
48. "I'm rich and they can't take it, I'm just happy that we made it."
49. "I done did my time, I'm chillin'."
50. "My love don't come with a price, you could put me in ice, it won't stop me from skatin' off."
Did King Von's Tenacity and Bravery Inspire You?
At the age of 16, King Von was arrested for the first time. This was the start of a long series of legal problems for the young rapper. But, with the help of Lil Durk, he pursued his career in rap and music and was able to stay out of trouble.
He was able to release several albums, which helped him become well-known in the music industry. His bravery in standing firm despite everything he had been through from childhood to young adulthood was truly admirable.
However, on November 6, 2020, King Von and his crew were involved in a fight in Georgia, and he was shot multiple times. He was then taken to a hospital in critical condition, where he died later that day.
King Von was, in fact, a good and wise man. He taught us that we must learn to see the hope within ourselves in every dark moment and use it as a starting point to rise again. Let these quotes remind you of his positive influence in the world, which he shared through his music.
So, what is your biggest takeaway from our collection? Which of his quotes are your favorites? Please, leave a comment below.
Read Next: