Here are the top 50 Sasuke Uchiha quotes that will show you the life of one of the world's favorite characters in Naruto and Naruto: Shippuden.
He was one of the characters who had a deep and complex backstory, and even as a child, Sasuke had already gone through a lot.
In the anime series and in the manga, we're able to follow Sasuke's growth from childhood to adulthood, and this collection are quotes that highlight his journey in life.
Follow Sasuke's journey through the list below.
And make sure to check out these Kakashi Hatake quotes and Obito Uchiha quotes.
Best Sasuke Uchiha Quotes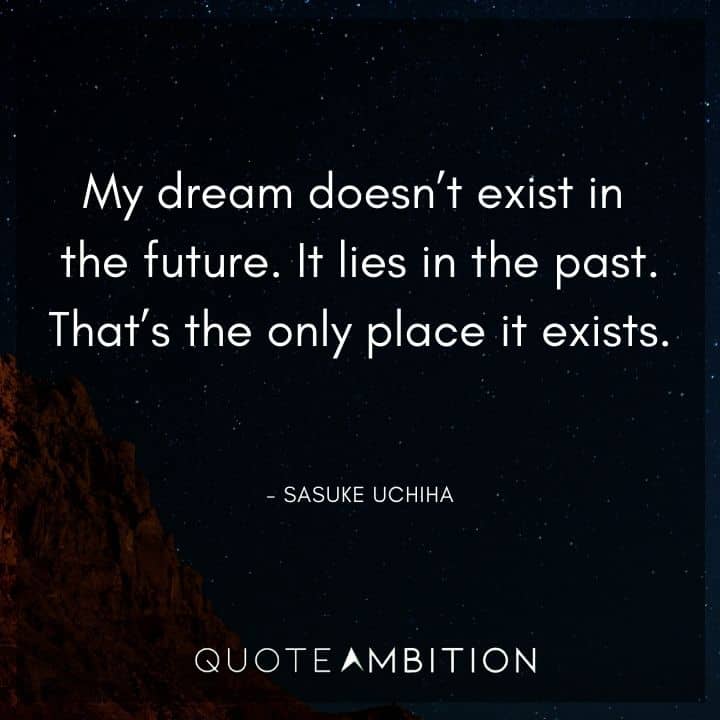 1. "My dream doesn't exist in the future. It lies in the past. That's the only place it exists."
2. "Why do you always treat me like such a pest?"
3. "Naruto, I know you're special, but I am more special than you!"
4. "Having too many bonds causes one to lose focus—weakening their strongest wish, their greatest desire."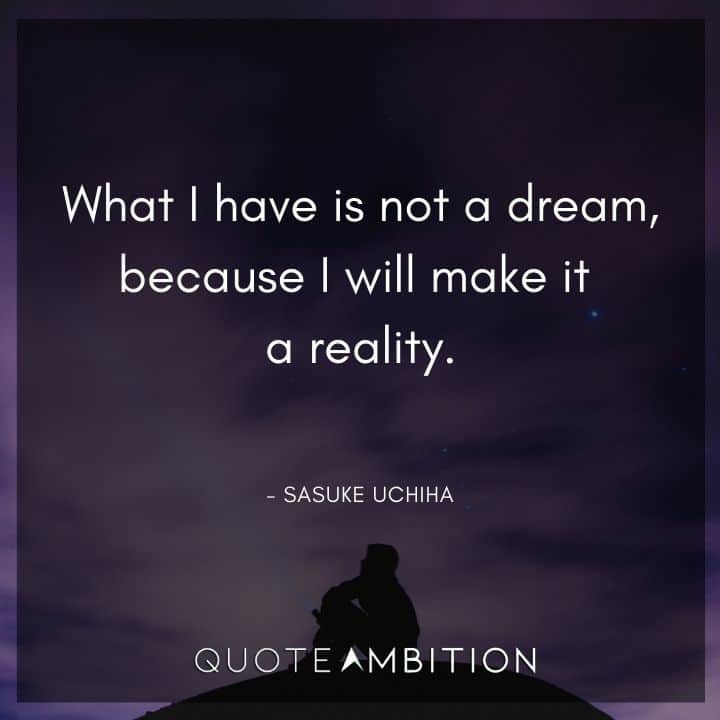 5. "What I have is not a dream, because I will make it a reality."
6. "If that's how it is, I'll just have to sever that bond."
7. "I hate a lot of things, and I don't particularly like anything."
8. "I'm trembling with excitement."
9. "I'm going to restore my clan and kill a certain someone."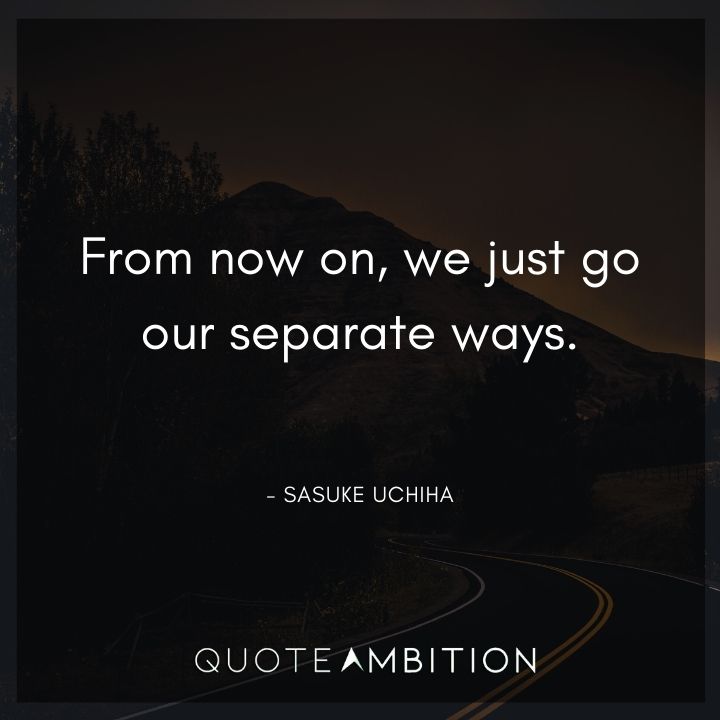 10. "From now on, we just go our separate ways."
11. "That which is destroyed can always be fixed and rebuilt."
12. "First thing in the morning and they're already driving me nuts."
13. "I have told you before, I'm an avenger. I don't care about this test, Chunin, or whatever. 'Am I strong?' That's the answer I want."
14. "Tears and rain fall down on my face. My body is unable to stay, yet my heart is unwilling to leave."
15. "This is the path I walk. Not you or anyone can change that."
16. "As for me, I have absolutely no reason to love her. And likewise, I can see no reason why she would love me."
17. "I don't know. My body just moved. There was no time to think."
18. "The gap between us hasn't narrowed in the slightest. Why?"
19. "I have long since closed my eyes. My only goal is in the darkness."
Related: Ken Kaneki Quotes, Anime Quotes
Sasuke Uchiha Quotes on Revenge and Hatred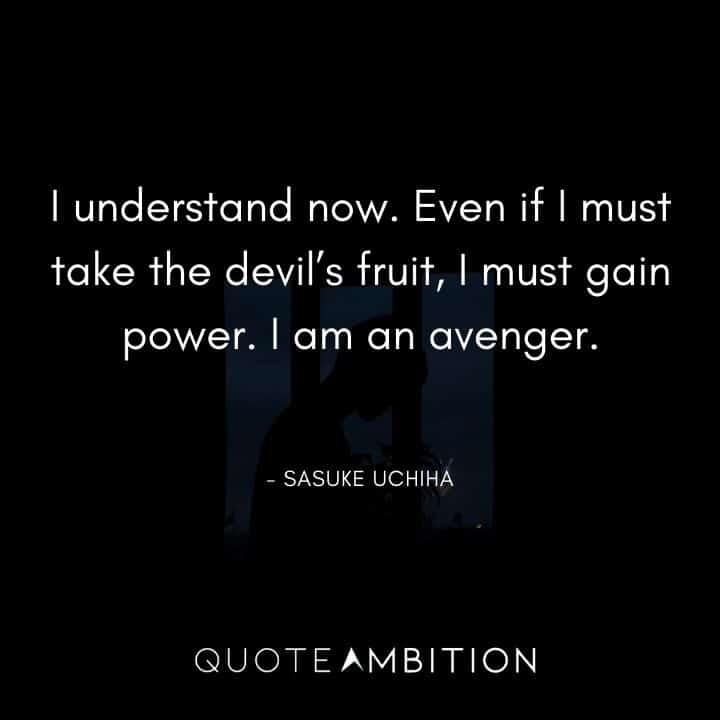 20. "I understand now. Even if I must take the devil's fruit, I must gain power. I am an avenger."
21. "I know the four of us have worked together. And for a while, I thought I could choose that path instead. But in the end, I've decided on revenge. That's always been my purpose of living."
22. "Your laughing voices sound like contempt and mocking me now, I will change those laughs to screams and wails."
23. "It's too late, nothing you can say will change me!"
24. "I'm going to kill you and every last person in your beloved village! It's time to make your choice! Kill me and become a hero, or die at my hand and become another one of my victims!"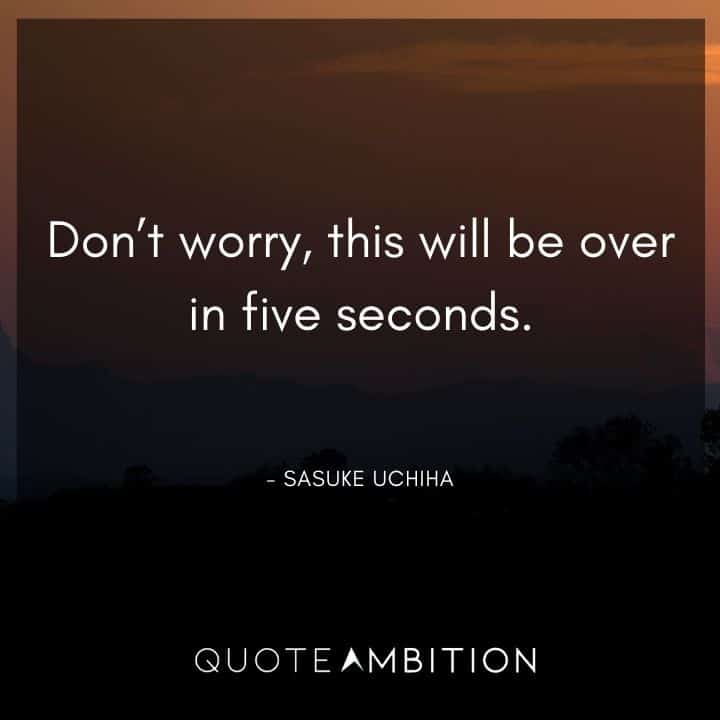 25. "Don't worry, this will be over in five seconds."
26. "If anyone who criticizes my way of life were to come forward, I'd turn around and kill every single one of their loved ones, so that they, too, can grasp what it's like to experience this hatred of mine."
27. "To accept and adopt Itachi's intention would be childish."
28. "Like I'd die. I won't die. The reason Itachi lived for—I can't—I won't let it end here."
29. "I'm not the same as you. I'm travelling a path the rest of you can't follow."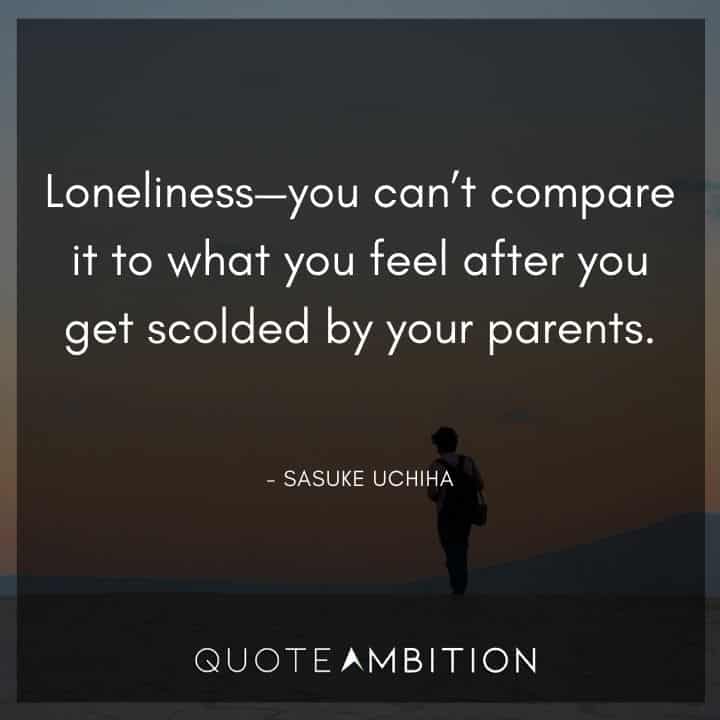 30. "Loneliness—you can't compare it to what you feel after you get scolded by your parents."
31. "I never want to see another important person die in front of me again."
32. "I will acknowledge that you are strong because you are someone who knows the same pain of loneliness as I do; and that pain makes a person stronger."
33. "I'm going to the battlefield. I won't let this village and my brother be wasted!"
34. "I don't want peace bought with Itachi's life."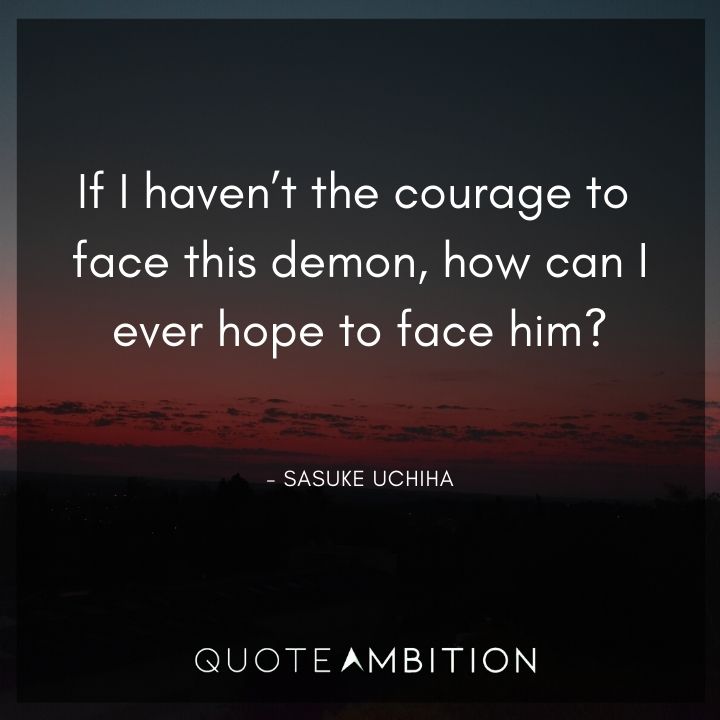 35. "If I haven't the courage to face this demon, how can I ever hope to face him?"
36. "While it's true I once desired destruction and the only goal I had was revenge, things are different now."
37. "What I desire is to reform the entire shinobi world. What I am calling for, what I am bringing forth, is revolution."
38. "I spared your life on a whim, nothing more. But this time, my whim is telling me to finish what I started."
39. "They're all laughing. You're laughing at the cost of Itachi's life laughing together, completely ignorant of everything."
Sasuke Uchiha Quotes on Wisdom and Life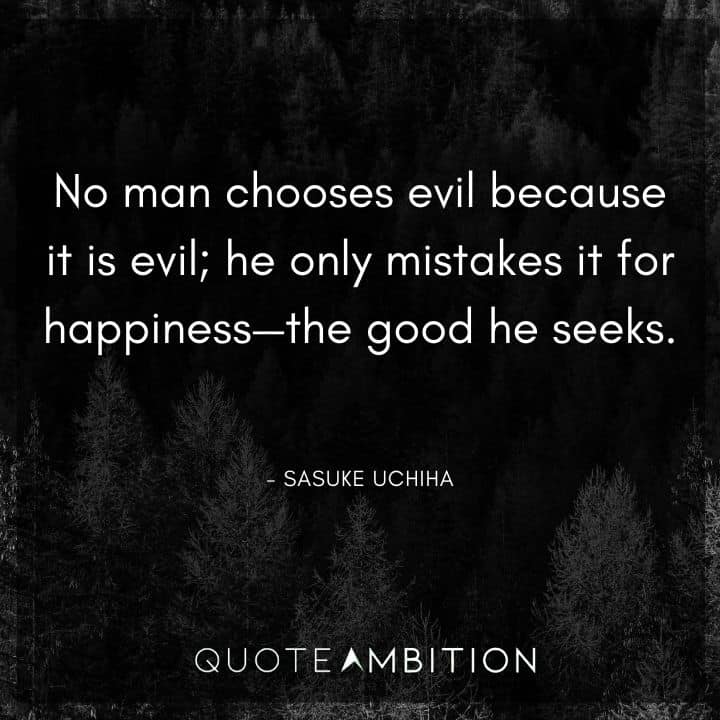 40. "No man chooses evil because it is evil; he only mistakes it for happiness—the good he seeks."
41. "Just shut up for once! What the hell do you know about it? It's not like you ever had a family in the first place! You were on your own right from the beginning, what makes you think you know anything about it? I'm suffering now because I had those ties. How on earth could you possibly understand what it feels like to lose all that?"
42. "I see. I don't even understand even one of these problems."
43. "How could I lose to that freak?"
44. "If you want to ridicule me as a brat swayed by his emotions, go ahead."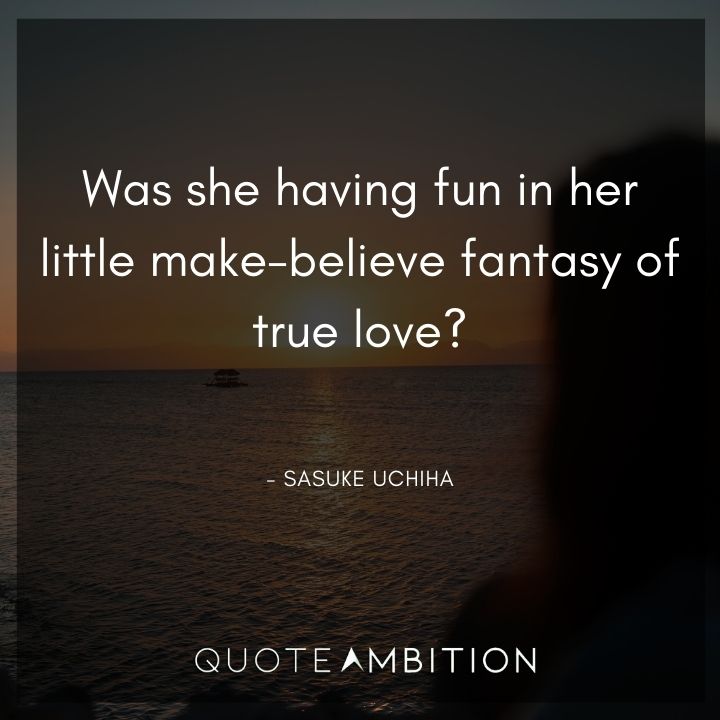 45. "Was she having fun in her little make-believe fantasy of true love?"
46. "Naruto, don't let your dream die."
47. "Instead of wasting all of that time chasing me, you should have been training."
48. "Weaknesses? Listen, he was full of weaknesses. He was a good-for-nothing, but he pulled himself up with his own strength and became Hokage."
49. "You don't need to understand who Naruto is now, you need to know the Naruto who made it all the way here."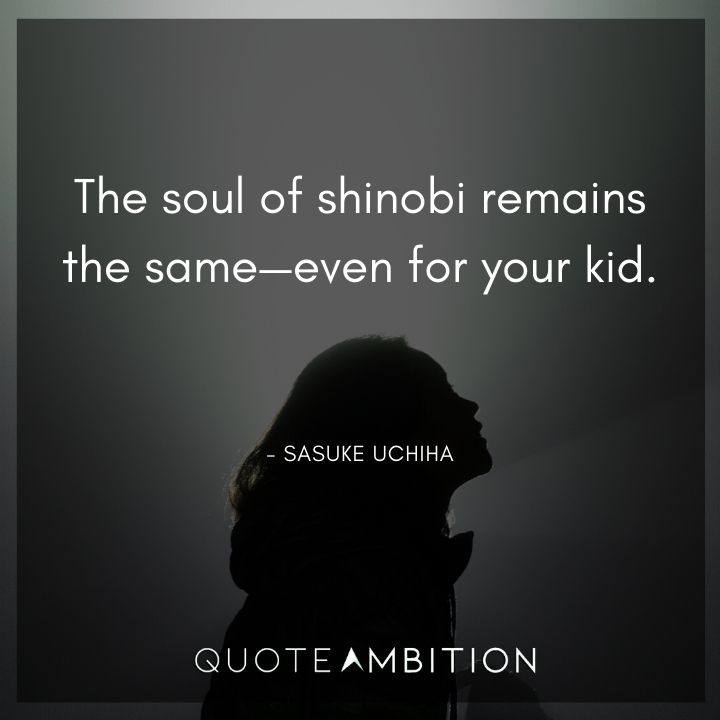 50. "The soul of shinobi remains the same—even for your kid."
Did These Sasuke Uchiha Quotes Inspire You to Develop Your Own Character and Life Story as Well?
Vengeance is one of the strongest driving forces behind Sasuke's character. His life was filled with pain and contempt ever since he was young. Thus, it influenced him to push away happiness and his friends. We learn a lot about life through Sasuke. Do not let yourself be swallowed and devoured by hatred because a lot of good things can happen in life if we just look at it from a different perspective. Always learn through the mistakes you make, and cherish your friends and those who love you. Revenge can lead you to a dark path, but with love, you can always find the brighter side of life.
Did these quotes inspire you to look at things in more ways than one? Which of these quotes moved you to cherish your loved ones more? Share your favorites down below.
Read Next: