Here are the best food quotes that will satisfy the cravings of every food lover out there!
One of the best joys in life is getting to eat delicious food! Some even travel to different countries just to get a taste of their authentic cuisine and unique dishes.
If you're someone who does the same, we can't blame you; we understand how exciting it is to travel to new places, meet new people, and taste new kinds of food! Food all around the globe is so diverse; there's healthy food, carb-loaded food, greasy food, sweet food, and more!
No matter what it is you're looking for, food will always bring you a sense of comfort and satisfaction. It's fuel for our minds and our body.
So, if you want to get an idea of what the world's greatest minds and chefs have to say about it, check out our collection below. We have the best food quotes perfect for everyone who enjoys eating!
Read through to the end and make a list of your favorites, too. Maybe you'll be motivated to cook your own comforting homemade dish afterward!
And don't forget to check out these fruit quotes.
Best Food Quotes
1. "Food is symbolic of love when words are inadequate." – Alan D. Wolfelt
2. "Food for us comes from our relatives, whether they have wings or fins or roots. That is how we consider food. Food has a culture. It has a history. It has a story. It has relationships." – Winona LaDuke
3. "Food is not rational. Food is culture, habit, craving, and identity." – Jonathan Safran Foer
4. "To me, food is as much about the moment, the occasion, the location, and the company as it is about the taste." – Heston Blumenthal
5. "I know once people get connected to real food, they never change back." – Alice Waters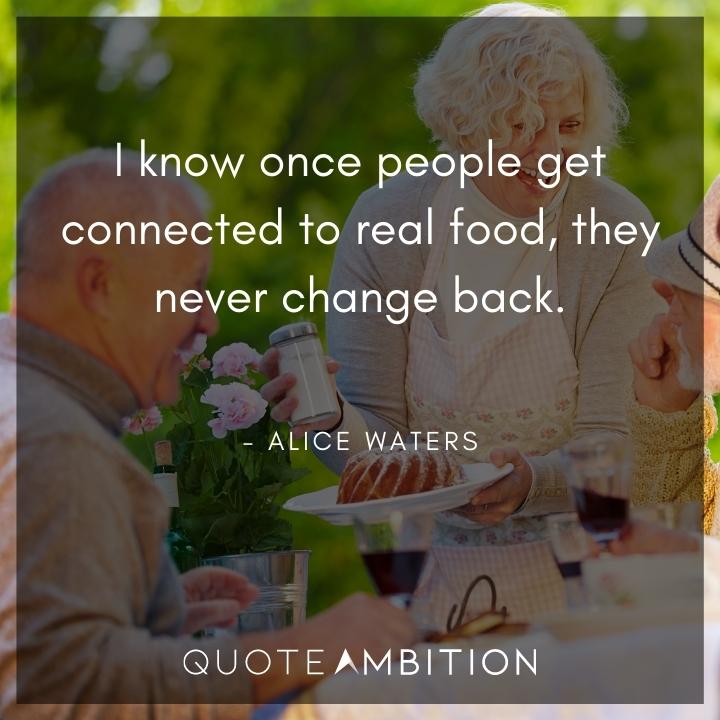 6. "Food brings people together on many different levels. It's nourishment of the soul and body; it's truly love." – Giada De Laurentiis
7. "Food can be very transformational, and it can be more than just about a dish. That's what happened to me when I first went to France. I fell in love. And if you fall in love, well, then everything is easy." – Alice Waters
8. "Cooking is all about people. Food is maybe the only universal thing that really has the power to bring everyone together. No matter what culture, everywhere around the world, people eat together." – Guy Fieri
9. "Food, to a large extent, is what holds a society together, and eating is closely linked to deep spiritual experi­ences." – P­eter Farb
10. "Food is art and magic; it evokes emotion and colors memory, and in skilled hands, meals become greater than the sum of their ingred­ients." – Anthony Beal
Famous Quotes About Food
11. "Food is our common ground—a universal experience." – James Beard
12. "Food is really and truly the most effective medicine." – Joel Fuhrman
13. "There is no love sincerer than the love of food." – George Bernard Shaw
14. "Tell me what you eat, and I will tell you who you are." – Jean Anthelme Brillat-Savarin
15. "If you really want to make a friend, go to someone's house and eat with him. The people who give you their food give you their heart." – Cesar Chavez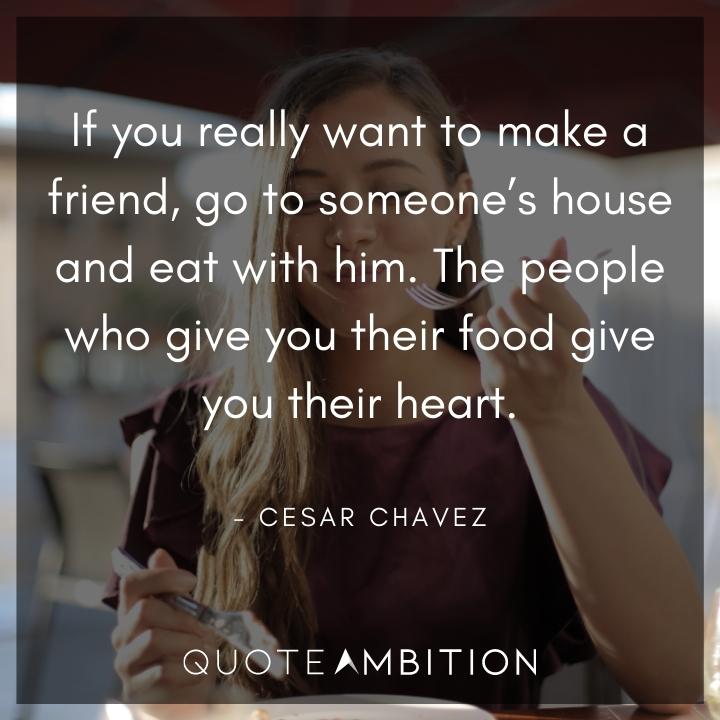 16. "Food is your body's fuel. Without fuel, your body wants to shut down." – Ken Hill
17. "Well, food's always the way to anybody's heart, I think, guy or girl." – Josh Hutcherson
18. "Food, in the end, in our own tradition, is something holy. It's not about nutrients and calories. It's about sharing. It's about honesty. It's about identity." – Louise Fresco
19. "I realized very early the power of food to evoke memory, to bring people together, to transport you to other places, and I wanted to be a part of that." – José Andrés Puerta
20. "Food is strength, and food is peace, and food is freedom, and food is a helping hand to people around the world whose goodwill and friendship we want." – John F. Kennedy
Good Food Quotes
21. "Food may be essential as fuel for the body, but good food is fuel for the soul." – Malcolm Forbes
22. "Eating good food is my favorite thing in the world. Nothing is more blissful." – Justine Larbalestier
23. "One cannot think well, love well, sleep well if one has not dined well." – Virginia Woolf
24. "You don't need a silver fork to eat good food." – Paul Prudhomme
25. "A recipe has no soul. You, as the cook, must bring soul to the recipe." – Thomas Keller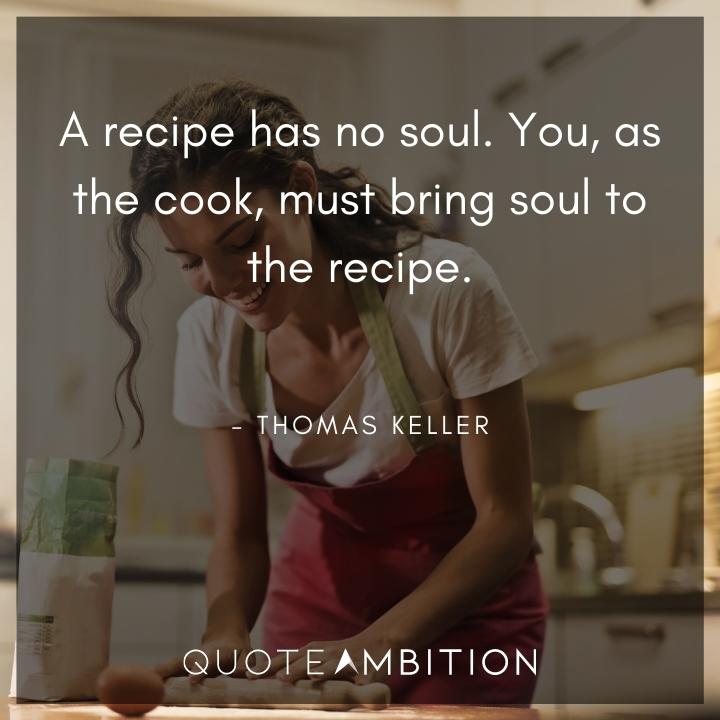 26. "The best comfort food will always be greens, cornbread, and fried chicken." – Maya Angelou
27. "Food is for eating, and good food is to be enjoyed―I think food is, actually, very beautiful in itself." – Delia Smith
28. "Great food is like great sex. The more you have, the more you want." – Gael Greene
29. "Food is a central activity of mankind and one of the single most significant trademarks of a cultur­e." – Ma­rk Kurlansky
30. "I've long believed that good food, good eating, is all about risk. Whether we're talking about unpasteurized Stilton, raw oysters, or working for organized crime associates, food, for me, has always been an adventure." – Anthony Bourdain
Short Food Quotes
31. "Life is uncertain. Eat dessert first." – Ernestine Ulmer
32. "The belly rules the mind." – Spanish Proverb
33. "Food is an important part of a balanced diet." – Fran Lebowitz
34. "Laughter is brightest where food is best." – Irish Proverb
35. "You are what what you eat eats." – Michael Pollan
36. "Only the pure in heart can make a good soup." – Ludwig van Beethoven
37. "Let food be thy medicine and medicine be thy food." – Hippocrates
38. "Food is the most primitive form of comfort." – Sheila Graham
Food Quotes and Captions for Instagram
39. "There has never been a sadness that can't be cured by breakfast food." – Ron Swanson
40. "A balanced diet is a cookie in each hand." – Barbara Johnson
41. "Life is a combination of magic and pasta." – Federico Fellini
42. "Life is too short for self-hatred and celery sticks." – Marilyn Wann
43. "Everything you see, I owe to spaghetti." – Sophia Loren
Funny Food Quotes
44. "My weaknesses have always been food and men—in that order." – Dolly Parton
45. "A party without cake is just a meeting." – Julia Child
46. "Spaghetti can be eaten most successfully if you inhale it like a vacuum cleaner." – Sophia Loren
47. "Vegetables are a must on a diet. I suggest carrot cake, zucchini bread, and pumpkin pie." – Jim Davis
48. "Life expectancy would grow by leaps and bounds if green vegetables smelled as good as bacon." – Dough Larson
49. "You better cut the pizza in four pieces because I'm not hungry enough to eat six." – Yogi Berra
50. "Strength is the capacity to break a chocolate bar into four pieces with your bare hands—and then eat just one of the pieces." – Judith Viorst
51. "Popcorn for breakfast! Why not? It's a grain. It's like, like, grits, but with high self-e­steem." – James Patterson
52. "A potato may look like a dirty stone, but cutting it and frying it will get you french fries—a side dish for any burger­." – Andrew Zimmer
53. "Ask not what you can do for your country. Ask what's for lunch." – Orson Welles
Quotes for Every Food Lover Out There
54. "People who love to eat are always the best people." – Julia Child
55. "All happiness depends on a leisurely breakfast." – John Gunther
56. "Food was a labor of love you felt by cooking it and eating it." – George Tillman, Jr.
57. "I am on a seafood diet. I see food, and I eat it." – Anonymous
58. "The only time to eat diet food is while you're waiting for the steak to cook." – Julia Child
59. "So long as you have food in your mouth, you have solved all questions for the time being." – Franz Kafka
60. "Food is the moral right of all who are born into this world." – Norman Borlaug
Food Quotes for All Foodies
61. "I am not a glutton—I am an explorer of food." – Erma Bombeck
62. "The only thing I like better than talking about food is eating." – John Walters
63. "Pull up a chair. Take a taste. Come join us. Life is so endlessly delicious." – Ruth Reichl
64. "Am I tough? Am I strong? Am I hard-core? Absolutely. Did I whimper with pathetic delight when I sank my teeth into my hot fried-chicken sandwich? You betcha." – James Patterson
65. "The secret of food lies in memory—of thinking and then knowing what the taste of cinnamon or steak is." – Jerry Saltz
Homemade Food Quotes to Comfort You
66. "Good food and a warm kitchen are what make a house a home." – Rachel Ray
67. "The home is a sacred place where you can communicate with the four elements of the universe: earth, water, air, and fire. You mix it with your love and emotions and create magic. Through cooking, you raise your spiritual level and balance yourself in a world that is materi­alisti­c." – Laura Esquivel
68. "If God had intended us to follow recipes, he wouldn't have given us grandm­others­." – Linda Henley
69. "No one who cooks, cooks alone. A cook in the kitchen is surrounded by generations of cooks past, the advice and menus of cooks present, and the wisdom of cookbook writers." – Laurie Colwin
70. "All food starting with p is comfort food: pasta, potato chips, pretzels, peanut butter, pastrami, pizza, pastry." – Sara Paretsky
71. "Comfort food is hearty. When hearts are heavy, they need gravit­ationa­l and emotio­nal equilibrium: meatloaf and mashed potatoes, macaroni and cheese, chicken pot pie, red beans and rice, creamy risotto. Food that reassures us that we will survive." – Sarah Ban Breathnach
Catchy Food Quotes to Recite Over and Over
72. "I love you like a fat kid loves cake." – Scott Adams
73. "We must have a pie. Stress cannot exist in the presence of a pie." – David Mamet
74. "Anything is good if it's made of chocolate." – Jo Brand
75. "The only thing I like better than talking about food is eating." – John Walters
What Does Food Contribute to Your Life?
Food is part of a human's basic needs; it's right up there with shelter, water, and clothing. However, aside from that, food can also sometimes be luxurious and extravagant.
There are some chefs who travel far and wide to create gastronomic meals that will no doubt burst with unique flavors in our mouths. But, it's not only world-famous chefs that could satisfy our bellies.
Sometimes, we only need a home-cooked or homemade meal to complete our day. Delicious and healthy food doesn't have to be expensive!
Beyond satisfying our tummies, food also symbolizes culture. So much of a place's or race's identity is embedded in each meal.
Food is truly the best way to get to know and build connections with others. With that, we hope the quotes above were able to satisfy your foodie heart and cravings!
Read Next: