These 120 kitchen quotes are sure to bring up some of your most nostalgic and fond childhood memories.
The kitchen is the busiest and most special place for family bonding. It is a witness to our daily conversations with our family, from breakfast to dinner and even midnight snacks! We spent our childhood memories here, learning to cook our first dish with the help of our loved ones.
Apart from this, the kitchen is the most used room in our house at every family gathering, and that's why it holds a lot of special memories.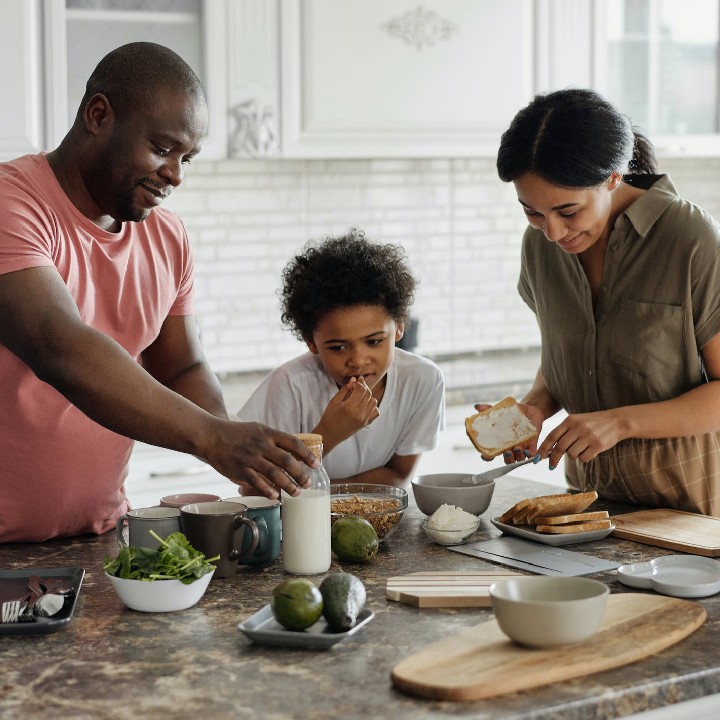 Read through the quotes below to learn more about what kitchens can mean, well, aside from good food!
Begin reading here.
And don't forget to check out these food quotes and fruit quotes.
Best Kitchen Quotes
1. "Everything happens in the kitchen. Life happens in the kitchen." – Andrew Zimmern 
2. "A kitchen is a good place to be, almost always the best place in the house." – Michael Ruhlman
3. "The kitchen is the heart of every home, for the most part. It evokes memories of your family history." – Debi Mazar
4. "Happiness is a small house, with a big kitchen." – Alfred Hitchcock
5. "The more you know, the more you can create. There's no end to imagination in the kitchen." – Julia Child
6. "I always had a fantasy of being a chef, because I like kitchen life." – Geoffrey Rush
7. "The fondest memories are made when gathered around the table." – Anonymous
8. "Good food and a warm kitchen is what makes a house a home." – Rachael Ray
9. "The kitchen is where we come to understand our past and ourselves." – Emma Reed
10. "Kitchens should be designed around what's truly important—fun, food, and life." – Daniel Boulud
11. "Kitchens are made for bringing families together." – Emma Reed
12. "Kitchens are hard environments and they form incredibly strong characters." – Gordon Ramsay
13. "My favorite room in the house is my kitchen. It's definitely the heart and soul of our home. It's where we gather in the morning as a family to start the day, and it's where we wind down at night over supper." – Kimberly Schlapman
14. "When you're the conscious captain in your kitchen, you'll feel better mentally and physically." – Kris Carr
15. "The kitchen really is the castle itself. This is where we spend our happiest moments and where we find the joy of being a family." – Mario Batali
Famous Kitchen Quotes
16. "In the childhood memories of every good cook, there's a large kitchen, a warm stove, a simmering pot, and a mom." – Barbara Costikyan
17. "They say the way to our hearts is through our stomachs, so the kitchen must be the heart of the home." – Emma Reed
18. "If you can't stand the heat, get out of the kitchen." – Harry S. Truman
19. "Their kitchen is their shrine, the cook their priest, the table their altar, and their belly their god." – Charles Buck
20. "People who love to eat are always the best people." – Julia Child
21. "I've been my mom's kitchen helper since I was a little kid." – Taylor Swift
22. "My recipe for dealing with anger and frustration: set the kitchen timer for 20 minutes, cry, rant, and rave, and at the sound of the bell, simmer down and go about business as usual." – Phyllis Diller
23. "I like to have friends in the kitchen and make a big mess and use every pot in the kitchen." – Ted Allen
24. "Kitchen. Noun—a gathering place for friends and family. A place where memories are homemade and seasoned with love." – Anonymous
25. "We are about creating a new wave of talent. We are the Manchester United of kitchens now. Am I playing full-time in the kitchen? I am a player-coach." – Gordon Ramsay
26. "Know every movement of my kitchen." – Rene Redzepi
27. "Keep it simple in the kitchen. If you use quality ingredients, you don't need anything fancy to make food delicious; just a knife, a cutting board, and some good nonstick cookware, and you're set." – Curtis Stone
28. "Perhaps the world will end at the kitchen table, while we are laughing and crying, eating the last sweet bite." – Joy Harjo
Inspiring Kitchen Quotes That Are Filled With Lessons You Can Apply in Life
29. "In the kitchen of your life, you have a choice as to what ingredients you want to use to build yourself up." – Selorm Betepe Alfred
30. "If your kitchen is out of balance, it's likely you are as well." – Brette Sember
31. "I really believe that is why my family and friends enjoy my cooking because I cook with love." – Willie Holton Halbert
32. "I think preparing food and feeding people brings nourishment not only to our bodies but to our spirits. Feeding people is a way of loving them, in the same way, that feeding ourselves is a way of honoring our own createdness and fragility." – Shauna Niequist
33. "No one is born a great cook, one learns by doing." – Julia Child
34. "God bless my kitchen as your own where I love to be, Bless me as I prepare food for my family and friends." – Catherine Pulsifer
35. "It's like a kitchen, acting. Put a chef in a kitchen and they will have different recipes. Whatever your recipe, what works for you won't work for another." – Carole Bouquet
36. "If you can organize your kitchen, you can organize your life." – Louis Parrish
37. "A good home must be made, not bought. In the end, it's not track lighting or a sunroom that brings light into a kitchen." – Joyce Maynard
38. "The kitchen is where you put all the ingredients together. The kitchen is where you prepare the plan and put your recipe together. No matter what you do in life, you have to have a plan and put it together." – Yo Gotti
39. "Don't forget, as you cook, to let those precious memories of those who you are cooking for flow. Cooking with love has been a labor of love and joy! So enjoy." – Willie Holton Halbert
40. "You don't have to be a chef or even a particularly good cook to experience proper kitchen alchemy: the moment when ingredients combine to form something more delectable than the sum of their parts." –  Erin Morgenstern
41. "As our friends and families hover in the kitchen let's remember they are hungering for more than physical food. I believe the light in a home shines brightest in the kitchen, let your light shine!" – Mary Jo Montanye
42. "If you decide to go through life without cooking, then you are missing something very, very special. You are losing out one of the greatest pleasures you can have with your clothes on." – Karen Anand
Quotes on Why the Kitchen Is the Best Room In the House
43. "Kitchen is the place where we have our best and worst conversations. It's such a dying thing, people sitting around the table and enjoying dinner together in their home. My mission is to keep that alive." – Stephen Curry
44. "The kitchen may not get cleaned, and I have to accept that. I do the important things." – Jasmine Guy
45. "The kitchen is a place I know well. It's my favorite room wherever I am living, and it has to be completely open and social." – Chrissy Teigen
46. "The place I like best in this world is the kitchen. No matter where it is, no matter what kind, if it's a kitchen, if it's a place where they make food, it's fine with me. Ideally, it should be well broken in. Lots of tea towels, dry and immaculate, where tile catches the light." – Banana Yoshimoto
47. "Personally, I like to hang out in the kitchen. That's my safe space in a party environment. I feel like it's a little quieter so you can actually have conversations with people, and anybody else who's also in the kitchen is probably someone I can have a decent conversation with." – Hannah Hart
48. "The kitchen is a very difficult place to keep clutter-free because it's filled with all the things you need for the smooth operation and functioning of your household." – Brette Sember
49. "The kitchen is the center of home life for many people, and this means that many kitchens are pulling double or triple duty as a home office, homework station, craft center, and more." – Brette Sember
50. "The kitchen is the most important place in any house. Visit your family, and that's where you'll end up. Go to a party, that's where everyone congregates." – Michelle Dockery
51. "It's the kind of kitchen people don't just cook in, they live in it. Just stepping into it reminds me of where I am, and I'm at home instantly. 'Loving summer by.'" – Kailin Gow
52. "For the socially timid, the kitchen is the place to be. At least, it is a place to start." – Laurie Colwin
53. "Oh my God, I grew up in the kitchen. Absolutely. The kitchen, for me, is home." – Princess Tatiana of Greece and Denmark
54. "Afterwards, they always had tea in the kitchen, much the nicest room in the house." – Flora Thompson
55. "Even the most avid technocrat must occasionally escape from virtual space, and what better place to do it than the kitchen, with all its dangerous knives and delicious aromas?" – Ruth Reichl
56. "I made the coffee myself in Armande's curious small kitchen with its cast-iron range and low ceiling. Everything is clean there, but the one tiny window looks onto the river, giving the light a greenish underwater look. Hanging from the dark, unpainted beams are bunches of dry herbs in their muslin sachets. On the whitewashed walls, copper pans hang from hooks. The door—like all the doors in the house—has a hole cut into the base to allow free passage to her cats." – Joanne Harris
Quotes About Food and Cooking in the Kitchen
57. "Until I discovered cooking, I was never really interested in anything." – Julia Child
58. "My favorite hobbies are cooking and eating. There is nothing I can do well if I have not eaten well." – Darnell Lamont Walker
59. "Even though I'm big on recipes, I love to make up my own dishes and when you take a risk in the kitchen, you learn a lot about food!" – Nina Dobrev
60. "The kitchen, reasonably enough, was the scene of my first gastronomic adventure. I was on all fours. I crawled into the vegetable bin, settled on a giant onion, and ate it, skin and all. It must have marked me for life, for I have never ceased to love the hearty flavor of raw onions." – James Beard
61. "Our kitchen is a kitchen that makes food designed to be tasted with the five senses and it requires concentration to appreciate all that we want to express." – Ferran Adria
62. "My life at home gives me absolute joy. There are some days when, as soon as you've finished cooking breakfast and cleaning up the kitchen, it's time to start lunch, and by the time you've done that, you're doing dinner and thinking, 'There has to be a menu we can order from.'" – Julia Roberts
63. "One cannot think well, love well, sleep well if one has not dined well." – Virginia Woolf
64. "I realized a joyful kitchen could calm me as much as the food itself." – Rachel Kelly
65. "Know your food, know your farmers, and know your kitchen." – Joel Salatin
66. "Cooking is like love. It should be entered into with abandon or not at all." – Harriet Van Horne
67. "If your kitchen smells good, your food lost something." – Nathan Myhrvold
68. "Cooking is one of the strongest ceremonies for life. When recipes are put together, the kitchen is a chemical laboratory involving air, fire, water, and the earth. This is what gives value to humans and elevates their spiritual qualities. If you take a frozen box and stick it in the microwave, you become connected to the factory." – Laura Esquivel
69. "Cooking can be passionate, creative, life-enhancing, uplifting, satisfying and downright exhilarating as anything else you can do with your life." – Karen Anand
70. "'Kitchen Confidential' wasn't a cautionary or an expose. I wrote it as entertainment for New York tri-state area line cooks and restaurant lifers, basically; I had no expectation that it would move as far west as Philadelphia." – Anthony Bourdain
71. "Thanksgiving Day is the day that your kitchen is going to turn into the most wonderful, beautiful place in the world." – Polly Ann Lewis
Quotes That Ignite Your Culinary Creativity in the Kitchen
72. "I have loved to cook since I was a child in my mother's kitchen. If I don't have time to cook, I'll just read a cookbook." – Kamala Harris
73. "It seems kind of silly, but it's really nice to chill in the kitchen with a friend and bake. It relaxes me, and mixing is probably my favorite part." – Lindsey Vonn
74. "When she goes about her kitchen duties, chopping, carving, mixing, whisking, she moves with the grace and precision of a ballet dancer, her fingers plying the food with the dexterity of a croupier." – Craig Claiborne
75. "Since my kitchen is the most important part of my home, I want to be creative and innovative, not only in its aesthetic but also in the tools that I'm using to cook." – Blake Lively
76. "The worst mistake of a woman is to go to the kitchen because then she never gets out of there." – Shakira
77. "I'm pretty handy in the kitchen. But my wife's the real genius." – Chris Diamantopoulos
78. "I never feel lonely in the kitchen. Food is very friendly." – Julia Child
79. "In the orchestra of a great kitchen, the sauce chef is a soloist." – Fernand Point
80. "I don't really have one dish. I'm a very improvisational cook. I sort of like to make things up as I go along. I'm quite creative in the kitchen." – Gugu Mbatha-Raw
81. "Despite a few exceptions, I have found that Americans are now far more willing to learn new names, just as they're far more willing to try new ethnic foods—it's like adding a few new spices to the kitchen pantry." – Firoozeh Dumas
82. "My goal as a cook has always been not so much to attain some specific sense of mastery as to be able to just go into the kitchen, take up what I find there, and make a meal of it." – John Thorne
83. "A big thing that gets people in trouble in the kitchen is not reading the recipe from start to finish before you cook it. Before you start anything, read through the entire recipe once." – Gail Simmons
Interesting Quotes About How a Kitchen's Arrangement and Style Greatly Affect One's Mood
84. "There is nothing nicer than a kitchen really made for a cook. Things that are designed to be used always have an innate beauty." – Julia Child
85. "There are times when wisdom cannot be found in the chambers of parliament or the halls of academia but at the unpretentious setting of the kitchen table." – E.A. Bucchianeri
86. "A good knife is an essential tool in the kitchen, but when you get one handmade, it becomes something special." – Brad Leone
87. "When designing a kitchen, always keep in mind the social aspect." – Michael Mina
88. "Our taste buds do somersaults over Grandma's homemade nut bread, cookies, cobblers, cakes, and pies. But a grandmother's kitchen goes beyond good aesthetics—it's like a bakery plus love." – Books Barbour
89. "My kitchen is a mystical place, a kind of temple for me. It is a place where the surfaces seem to have significance, where the sounds and odors carry meaning that transfers from the past and bridges to the future." – Pearl Bailey
Informative Quotes on How to Manage Your Activities and Rules in the Kitchen
90. "My worst habit in the kitchen is not allowing anybody to help me. I like to cook by myself." – Eva Longoria
91. "You have to run the kitchen, you can't let the kitchen run you." – Sharon Trojan
92. "I train my chefs completely different from anyone else. My young girls and guys, when they come to the kitchen, the first thing they get is a blindfold. They get blindfolded and they get sat down at the chef's table. Unless they can identify what they're tasting, they don't get to cook it." – Gordon Ramsay
93. "The pressure on young chefs today is far greater than ever before in terms of social skills, marketing skills, cooking skills, personality and, more importantly, delivering on the plate. So you need to be strong. Physically fit. So my chefs get weighed every time they come into the kitchen." – Gordon Ramsay
94. "A well-organized kitchen should have procedures in place to deal with all kinds of emergencies." – Graham Dark
95. "No one who cooks, cooks alone. Even at her most solitary, a cook in the kitchen is surrounded by generations of cooks past, the advice, and menus of cooks present, the wisdom of cookbook writers." – Laurie Colwin
96. "There's a bond among kitchen staff, I think. You spend more time with your chef in the kitchen than you do with your own family." – Gordon Ramsay
97. "If you let too many cooks in the kitchen it could cloud your vision of what you want to do." – Mary Elizabeth Winstead
98. "If you see someone in the kitchen that has good hands and a quick brain, then you need that person to be in the front of everything." – Rene Redzepi
Nostalgic Quotes That Will Take You Back to Your Childhood Kitchen Memories
99. "They love the whole process of making them, just out in the kitchen together making pancakes on a Sunday morning." – Ronda Rousey
100. "Nights alone in my yellow kitchen, I made myself hot chocolate. I missed my mother. In my window, maple leaves rusted, young fall blooming." – Aspen Matis
101. "Over the years, the kitchens I grew up in and around continued to draw me in, like a moth to a flame, as though I might recapture whatever innocence I'd lost in that warm, fragrant space." – Sasha Martin
102. "If I walked into the kitchen without washing my hands as a kid, I'd hear a loud 'a-hem!' from my mother or grandmother. Now I count on other people to do the same." – Maya Angelou
103. "My kitchen looks like the one from my childhood—very homey, with a little bit of Alice in Wonderland!" – Paris Hilton
104. "On the good days, my mother would haul out the ukulele and we'd sit around the kitchen table—it was a cardboard table with a linoleum top—and sing." – Carol Burnett
Kitchen Quotes About How Much You Can Enjoy Cooking for Your Loved Ones
105. "I believe that anyone can cook a great meal. Basically, all you need to do is get your hands on some fresh ingredients and not be afraid to make a mess in the kitchen." – Nadia Giosia
106. "Cooking well doesn't mean cooking fancy." – Julia Child
107. "There is no spectacle on earth more appealing than that of a beautiful woman in the act of cooking dinner for someone she loves." – Thomas Wolfe
108. "Cooking is at once child's play and adult joy. And cooking done with care is an act of love." – Craig Claiborne
109. "My kitchen is now a place of creativity and adventure, although I've had to learn the hard way which recipes work, which don't, and which taste awful." – Rachel Kelly
Funny Kitchen Quotes
110. "Its kitchens were enormous and capable of being put to any use except the convenient preparation of food." – Tom Holt
111. "Women should be in the kitchen, the discotheque and the boutique, but not in football." – Ron Atkinson
112. "You start out playing in kitchens, and you end up playing in kitchens." – Trisha Yearwood
113. "The kitchen oven is reliable, but it's made us lazy." – Jamie Oliver
114. "I couldn't be a supermodel, hats off. I'll stick to the kitchen!" – Rachel Khoo
115. "The best way to get rid of kitchen odors: eat out." – Phyllis Diller
116. "Always remember: if you're alone in the kitchen and you drop the lamb, you can always just pick it up. Who's going to know?" – Julia Child
Short Kitchen Quotes You'll Love
117. "Dinner is where the magic happens in the kitchen." – Kris Carr
118. "A kitchen without a knife is not a kitchen." – Masaharu Morimoto
119. "My comfort zone is in the kitchen." – Antoni Porowski
120. "The kitchen is a sacred space." – Marc Forgione
Do You Have Any Special Kitchen Memories That You Cherish?
Remember how the aroma of the food and the fresh air passing through the kitchen window made you feel at ease? The kitchen is undoubtedly nothing short of comfort, relaxation, and of course, a feeling of home.
Now that you've grown up, you're able to realize just how important the kitchen is to a home. And when you cook for your family and friends, you're just filled with immense pleasure and joy that you're able to share something with the ones you love. It is priceless just to observe their expressions and empty plates after eating.
The laughter and happiness that occur in the kitchen strengthen the bond of everyone present. It's the center of the home that brings everyone together. We hope the quotes above were able to help you reminisce about all the great memories you had with your family and friends.
Do you enjoy cooking? Which of these kitchen quotes is your favorite? Please, share your thoughts in the comment thread below.
Read Next: