This is the greatest collection of Gaara quotes you'll need to understand what really matters in life.
So, if you're in need of a little something to push you towards realizing what is truly important, then maybe this collection is all you need.
A foe turned friend—that's who Gaara is in Naruto and Naruto: Shippuden.
Through his encounters with Naruto and his friends, he was able to form bonds that went beyond hatred and suffering—and sometimes, all we need to see the important things in life are people who appreciate us for who we are.
Continue to the full list below.
And don't forget to check out these Jiraiya quotes and Sailor Moon quotes.
Best Gaara Quotes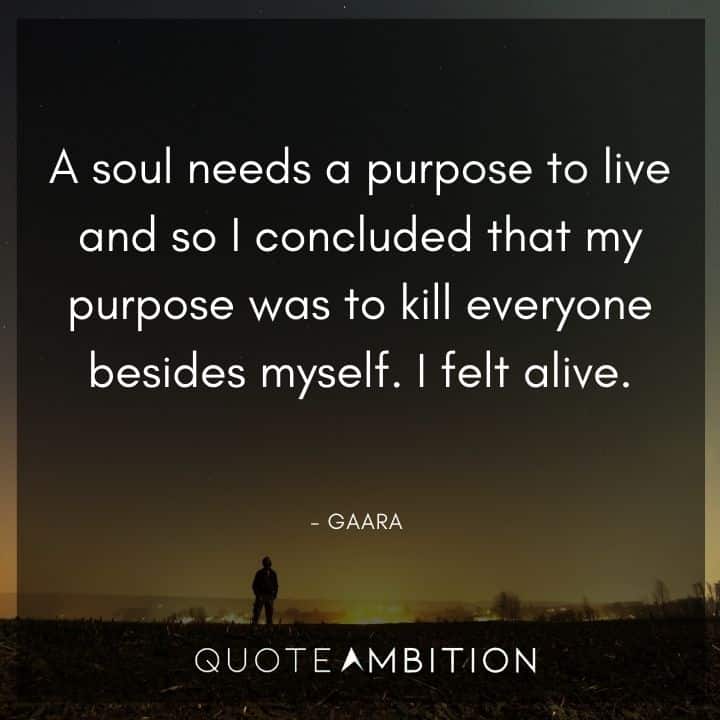 1. "A soul needs a purpose to live and so I concluded that my purpose was to kill everyone besides myself. I felt alive."
2. "Naruto, just so you know, there will be a war to protect the Eight-tails and Nine-tails. In other words, you."
3. "He knew pain like I did, and then he taught me that you can change your path."
4. "If love is just a word, then why does it hurt so much if you realize it isn't there?"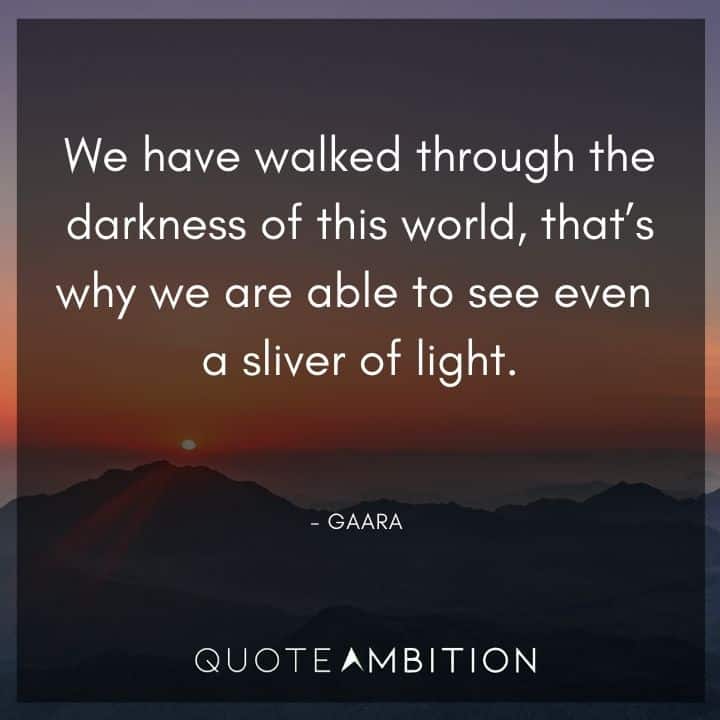 5. "We have walked through the darkness of this world, that's why we are able to see even a sliver of light."
5. "It's too bad I don't think of you as anything. If you get in my way, I'll kill you."
7. "Perhaps the companionship of an evil person is preferable to loneliness."
8. "Family? Let me tell you what kind of link I have with them. They are just lumps of meat linked by hatred and murderous intent!"
9. "Peace under an illusion is not true peace. It's only meaningful if the real world manages to accomplish it."
10. "I want to be needed. This is what I've learned from meeting and fighting Uzumaki Naruto."
11. "In order to escape a road of solitude, one has to work hard and forge a new path with their own power."
12. "One day, I'd like to become something precious to others."
13. "For the sake of the ninja world and as the Kazekage, I will guard you with my life."
14. "I think of you as a friend. I used to think 'friend' was just another word—nothing more, nothing less. But when I met you, I realized what was important was the word's meaning."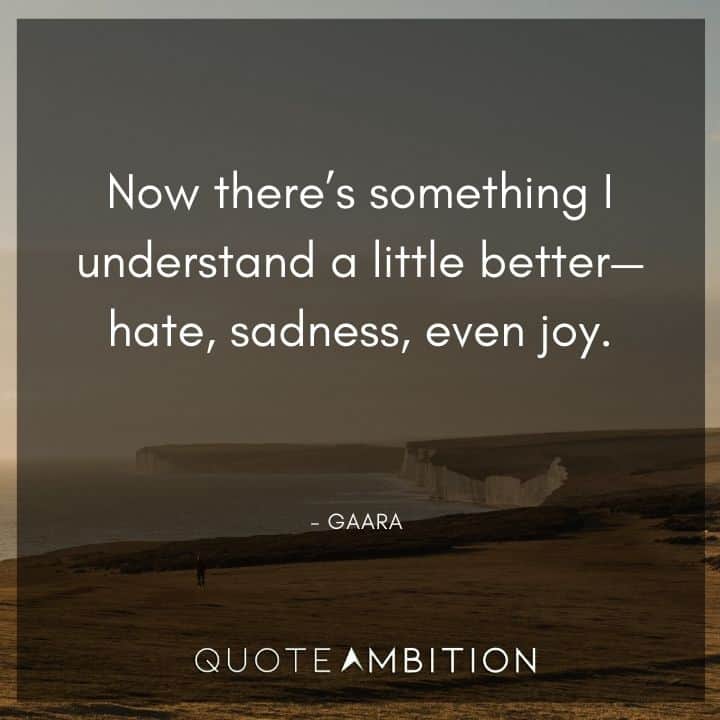 15. "Now there's something I understand a little better—hate, sadness, even joy."
16. "People cannot win against their loneliness."
17. "Up until now, my bonds with others have only been ones of hatred and murder, but seeing him fight so hard made me wonder what a bond really is."
18. "Just because someone is important to you, it doesn't necessarily mean that that person is good."
19. "You're the same then. When you feel the honor of your idol under scrutiny, you become enraged as if it were your own honor being questioned. The more precious your idol is to you, the harder you fight for him."
Also read: Famous Anime Quotes
Gaara Quotes on Pain and Suffering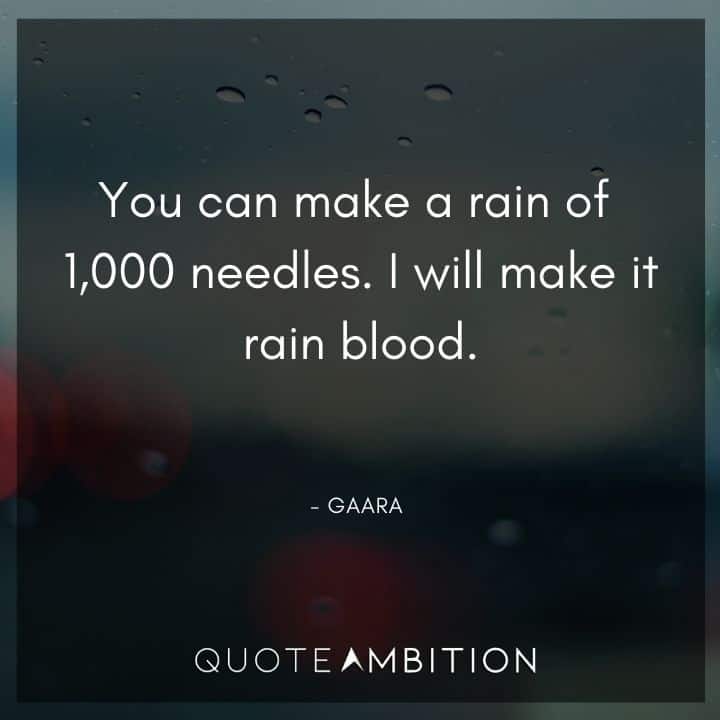 20. "You can make a rain of 1,000 needles. I will make it rain blood."
21. "There are no enemies here because we've all suffered at Akatsuki's hand! So there is no Suna, no Iwa, no Konoha, no Kiri, and no Kumo! There are only shinobi!"
22. "What does pain feel like?"
23. "You have the same eyes as I do—the eyes filled with hatred and death that long for strength, just like mine."
24. "I finally understand. I'm alone. I won't believe in anyone or love anyone. I'm alone."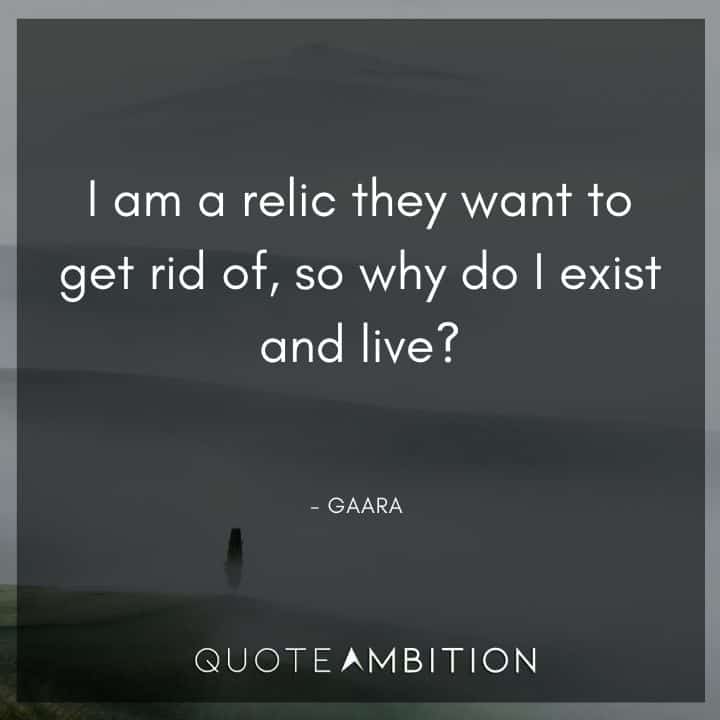 25. "I am a relic they want to get rid of, so why do I exist and live?"
26. "I took the life of the woman I was supposed to call mother in the process of being born. In order to become the world's strongest shinobi, I became the incarnation of sand."
27. "Your eyes tell me how badly you wish to kill the one who put you through the hell called loneliness."
28. "I shall kill you. I will not cease to exist."
29. "We've fought world wars for our own nations, our own villages. We've hurt one another. We've hated one another. That hatred bred a lust for power, and that lust for power created me."
Gaara Quotes on Bonds and Relationships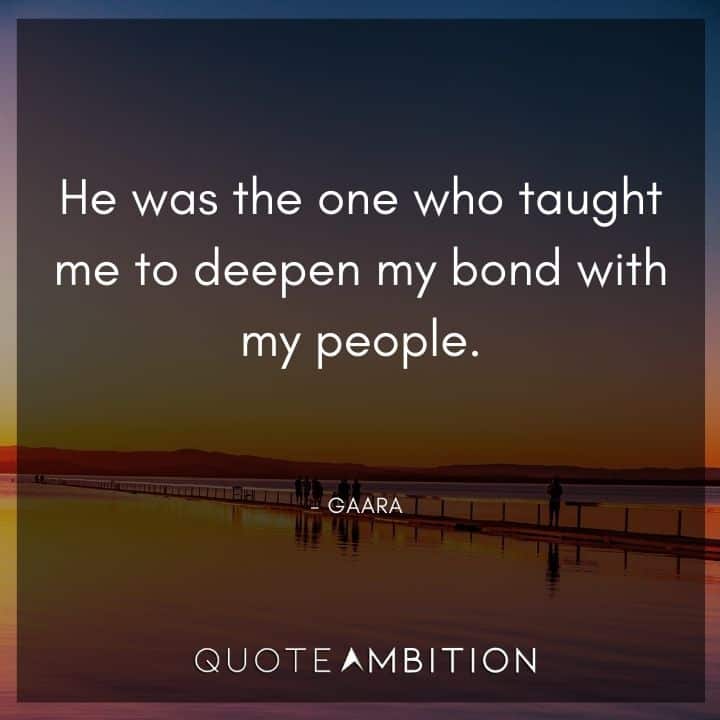 30. "He was the one who taught me to deepen my bond with my people."
31. "If all other people exist to magnify that love, then there is no more a splendid universe than this one."
32. "Thanks to him, I was able to regain my true self."
33. "I would love only myself and fight for only myself."
34. "If you're truly prepared to take up the mantle of a Kage, then as Sasuke's friend, you know what you have to do."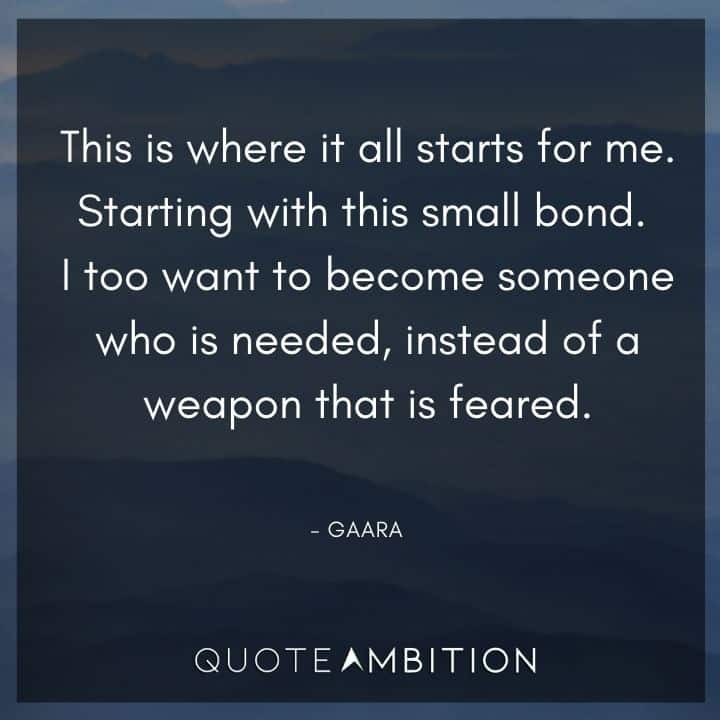 35. "This is where it all starts for me. Starting with this small bond. I too want to become someone who is needed, instead of a weapon that is feared."
36. "That village has him—the one who cherishes a friend's bond more than anyone I know. Naruto Uzumaki—knowing him and the friends he holds so dear, they will overcome this disaster and grow even stronger from it."
37. "I know him well. He takes too many risks when it comes to his friends. That's why."
38. "I hated this world, and all the people in it. I wanted to destroy it with my own hands."
39. "I was his enemy, yet he wept for me! I hurt him, yet he called me his friend! He saved me! My enemy, my fellow Jinchuuriki. He suffered the same pain as me, yet bore no ill will!"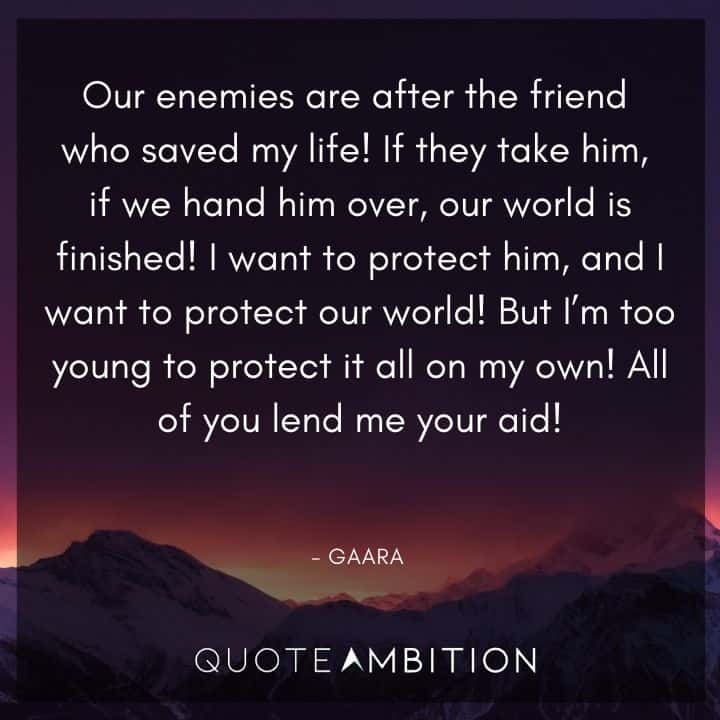 40. "Our enemies are after the friend who saved my life! If they take him, if we hand him over, our world is finished! I want to protect him, and I want to protect our world! But I'm too young to protect it all on my own! All of you lend me your aid!"
Did These Gaara Quotes Make You Realize That You're Never Truly Alone?
As a child, Gaara grew up in a lonelier environment than that of Naruto. He was hated in his community, and he felt like there was no love left for him. The environment he grew up in as a child prompted him to kill people without mercy—an act to prove his existence in his community, even if that meant harboring hate. He was blinded by pain and suffering. However, after meeting Naruto and his friends, he slowly became aware of the bonds he had with other people, and in the end, found a friend in Naruto as well. Through his journey, he was slowly able to prove to himself that he isn't alone and that he indeed had friends who cherish him. It's the same in real life—we'll see that there are people who love us if we just let go of hate and darkness.
Was there ever a time you felt alone? Did these quotes push you to cherish your friends more? Share your thoughts down below.