These hiking quotes will show you how your soul can be healed by taking a walk in nature.
Hiking is a powerful way to recharge our health and calm our minds. By doing this activity, we can appreciate nature and discover the world's beauty. Hiking will definitely test your physical and mental strength, but it will also impart wisdom and inspire us to live more.
So, if you are interested in hiking, add this to your must-read list now.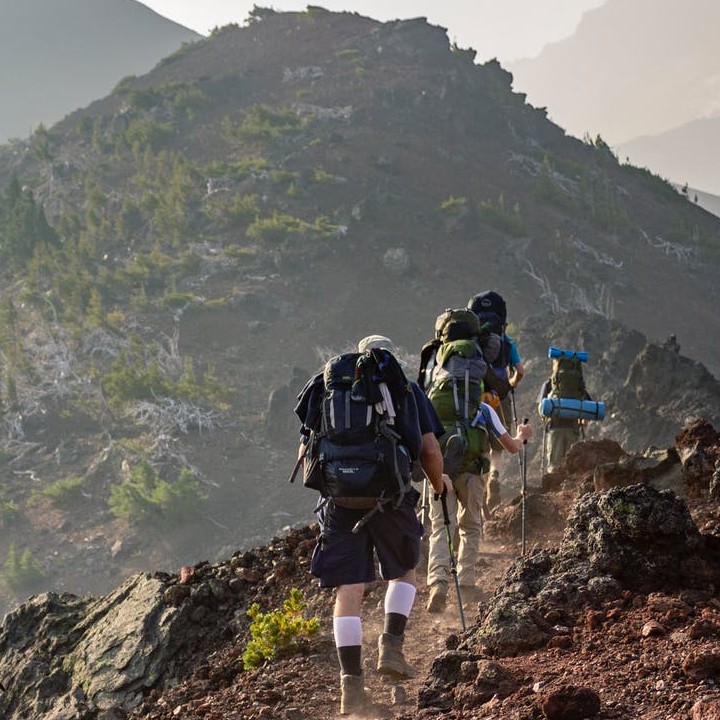 Be inspired to reach the skies or listen to the wilderness by reading our full collection below!
Let's get started.
And don't forget to check out these country quotes.
Best Hiking Quotes
1. "Hiking is a bit like life. The journey only requires you to put one foot in front of the other again and again and again. And if you allow yourself the opportunity to be present throughout the entirety of the trek, you will witness beauty every step of the way, not just at the summit." – Anonymous
2. "Climb mountains, not so the world can see you, but so you can see the world." – David McCullough Jr.
3. "We don't stop hiking because we grow old. We grow old because we stop hiking." – Finis Mitchell
4. "Hiking is not escapism. It's realism. The people who choose to spend time outdoors are not running away from anything. We are returning to where we belong." – Jennifer Pharr Davis
5. "Each fresh peak ascended teaches something." – Martin Conway
6. "You need special shoes for hiking, and a bit of a special soul as well." – Terri Guillemets
7. "When everything feels like an uphill struggle, just think of the view from the top." – Anonymous
8. "Somewhere between the bottom of the climb and the summit is the answer to the mystery why we climb." – Greg Child
9. "Climb the mountains and get their good tidings. Nature's peace will flow into you as sunshine flows into trees. The winds will blow their own freshness into you, and the storms their energy, while cares will drop away from you like the leaves of autumn." – Anonymous
10. "Don't confuse the hike with the destination. The hike is about the sounds, the smells, the sights. It's a complete sensory experience, but yes, that waterfall is also pretty freaking awesome." – Anonymous
11. "For hiking is one of those things that you can only do when you have the determination in you." – Anonymous
12. "The mountains whisper for me to wander. My soul hikes to the call." – Angie Weiland Crosby
13. "Happiness and hiking go hand in hand or foot in boot." – Diane Spicer
Inspirational Hiking Quotes
14. "You can't climb up a mountain with downhill thoughts." – Anonymous
15. "The summit is what drives us, but the climb itself is what matters." – Conrad Anker
16. "You're off to great places. Today is your day. Your mountain is waiting, so get on your way." – Dr. Seuss
17. "Everyone wants to live on top of the mountain, but all the happiness and growth occurs while you are climbing it." – Andy Rooney
18. "On a hike, the days pass with the wind, the sun, the stars. Movement is powered by a belly full of food and water, not a noxious tankful of fossil fuels. On a hike, you're less a job title and more a human being. A periodic hike not only stretches the limbs but also reminds us, wow, there's a big old world out there." – Anonymous
19. "It's not all about the views from the top of the mountain. There are so many beautiful things you pass on your journey to the top. Appreciate the beauty along your path!" – Anonymous
20. "Walk away quietly in any direction and taste the freedom of the mountaineer. Camp out among the grasses and gentians of glacial meadows, in craggy garden nooks full of nature's darlings." – Anonymous
21. "When life gives you mountains, put on your boots and hike." – Anonymous
22. "Climb the mountain not to plant your flag, but to embrace the challenge, enjoy the air, and behold the view." – David McCullough Jr.
23. "It's easier to go down a hill than up it, but the view is much better at the top." – Henry Ward Beecher
24. "Your mountain may be harder to climb, but oh the view, the view is divine." – Jennae Cecelia
25. "Distance changes utterly when you take the world on foot. A mile becomes a long way, 2 miles literally considerable, 10 miles whopping, 50 miles at the very limits of conception. The world, you realize, is enormous in a way that only you and a small community of fellow hikers know. Planetary scale is your little secret." – Bill Bryson
26. "The long-distance hiker, a breed set apart from the likes of the usual pack. He'll shoulder his gear, be hittin' the trail. Long gone, long 'fore he'll be back." – Nimblewill Nomad
27. "May your trails be crooked, winding, lonesome, dangerous, leading to the most amazing views. May your mountains rise into and above the clouds." – Edward Abbey
28. "The best view comes after the hardest climb." – Anonymous
Meaningful Hiking Quotes for Nature Lovers
29. "I took a walk in the woods and came out taller than trees." – Henry David Thoreau
30. "You need mountains. Long staircases don't make good hikers." – Amit Kalantri
31. "Hiking's not for everyone. Notice the wilderness is mostly empty." – Sonja Yoerg
32. "The experienced mountain climber is not intimidated by a mountain. He is inspired by it." – William Arthur Ward
33. "If the winter is too cold and the summer is too hot, you are not a hiker." – Anonymous
34. "In every walk with nature, one receives far more than he seeks." – John Muir
35. "Returning home is the most difficult part of long-distance hiking. You have grown outside the puzzle, and your piece no longer fits." – Cindy Ross
36. "There are two kinds of climbers: those who climb because their heart sings when they're in the mountains, and all the rest." – Alex Lowe
37. "Travelers, there is no path. Paths are made by walking." – Antonio Machado
38. "The world reveals itself to those who travel on foot." – Werner Herzog
39. "If you are on the right path, it will always be uphill." – Henry B. Eyring
40. "I'd rather be hiking in the rain than sitting inside at a desk on a sunny day." – Anonymous
41. "I love walking in the woods, along the trails, by the beaches. I love being part of nature. I love walking alone. It is therapy. One needs to be alone to recharge one's batteries." – Grace Kelly
42. "The higher you climb on the mountain, the harder the wind blows." – Samuel Cummings
43. "I slow down when hiking. The rhythm of nature is more leisurely. The sun comes up, it moves across the sky, and you begin to synchronize to that rhythm." – John Mackey
Also read: Mountain Quotes
Short Hiking Quotes
44. "Leave the roads. Take the trails." – Pythagoras
45. "To walk in nature is to witness a thousand miracles." – Mary Davis
46. "A walk in nature walks the soul back home." – Mary Davis
47. "It's impossible to walk in the woods and be in a bad mood at the same time." – Anonymous
48. "And into the forest I go, to lose my mind and find my soul." – John Muir
49. "Some of the best memories are made in hiking shoes." – Anonymous
50. "When preparing to climb a mountain, pack a light heart." – Dan May
51. "Climbing is as close as we can come to flying." – Margaret Young
52. "Fresh air and muddy boots make everything better." – Anonymous
53. "The foot that is restless will tread on a turd." – Ethiopian Proverb
54. "Life is better in hiking boots." – Anonymous
55. "I will go hiking here or there. I will go hiking everywhere." – Anonymous
56. "Hiking side effects include sweating, euphoria, and general awesomeness." – Anonymous
57. "Hike more, worry less." – Anonymous
58. "Happiest wherever I can wear hiking shoes." – Anonymous
59. "You can visit the same trail twice, but you'll never take the same hike." – Anonymous
Also read: Waterfall Quotes
Interesting Hiking Quotes That Will Motivate You to Take a Walk
60. "Keep close to nature's heart, and break clear away once in a while, and climb a mountain or spend a week in the woods. Wash your spirit clean." – Anonymous
61. "I love that moment in a hike when you snap to and suddenly realize for the last 10 minutes you've not been observing nature but have instead become a part of it." – Anonymous
62. "The man who goes afoot, prepared to camp anywhere and in any weather, is the most independent fellow on earth." – Horace Kephart
63. "We must get beyond textbooks, go out into bypaths and untrodden depths of the wilderness of truth and explore and tell the world of our glorious journey." – John Hope
64. "Because in the end, you won't remember the time you spent working in an office or mowing the lawn. Climb that goddamn mountain." – Jack Kerouac
65. "Hiking is the best workout. You can hike for three hours and not even realize you're working out. And, hiking alone lets me have some time to myself." – Jamie Luner
66. "The trail leads not merely north and south, but up to the body, mind, and soul of man." – Anonymous
67. "There may be more to learn from climbing the same mountain a hundred times than by climbing a hundred different mountains." – Richard R. Nelson
68. "A vigorous five-mile walk will do more good for an unhappy but otherwise healthy adult than all the medicine and psychology in the world." – Paul Dudley White
69. "For those who climb, the answer is both obvious and impossible to explain. The everyday concerns of livelihood, of social standing, overdue bills, and futureless romance all fall away before the vast and overwhelming absolute of the mountain." – Paul Watkins
70. "What a funny world we live in when we won't turn our phones off, but we get excited to see we've hiked far enough to lose service." – Anonymous
71. "I am happy out here. Messy hair, muddy boots, and wild water on my skin. Out here, this is where I belong!" – Brooke Hampton
72. "Trails enabled me to better see the world, to notice fine aspects invisible from an airplane, the most basic things we miss. Seeing life at a pace at which you can actually observe nuance, the speed of stepping, the beautiful, inspiring texture of 'plain' reality becomes visible. God smiling in the details." – Aspen Matis
Also read: Into the Wild Quotes
Funny Hiking Quotes
73. "Backpacking: an extended form of hiking in which people carry double the amount of gear they need for half the distance they planned to go in twice the time it should take." – Anonymous
74. "Hiking is the answer. Who cares what the question is." – Anonymous
75. "Always hike with someone in worse shape than you. The bears out there will know." – Anonymous
76. "What you were saying about hiking really peaked my interest!" – Anonymous
77. "Hiking is just walking where it's okay to pee." – Demetri Martin
78. "Climbing at altitude is like hitting your head against a brick wall. It's great when you stop." – Anonymous
79. "I might look like I am listening to you, but in my mind, I am hiking." – Anonymous
80. "Hiking, much like drinking, is something that sounds more fun to the uninitiated than it actually is." – Mindy McGinnis
81. "Hiking is the only slightly less ugly stepsister of running." – Lindy Hughes
82. "I've never understood treadmills when there are so many trails to hike." – Anonymous
83. "The view up here is breathtaking, and I know it's all downhill from here." – Anonymous
84. "I hike to burn off the crazy." – Anonymous
85. "I know I hike like a girl. Try to keep up." – Anonymous
86. "Trails are like that. You're floating along in a Shakespearean Arden paradise and expect to see nymphs and flute boys. Then suddenly, you're struggling in a hot broiling sun of hell in dust and nettles and poison oak just like life." – Jack Kerouac
Also read: Funny Quotes
Hiking Quotes to Better Appreciate the Beauty of the Countryside
87. "The woods are lovely, dark, and deep. But I have promises to keep, and miles to go before I sleep." – Robert Frost
88. "The trail is the thing, not the end of the trail. Travel too fast, and you miss all you are traveling for." – Louis L'Amour
89. "We're constantly shown the 'real world' on our screens, but we come face to face with the real world out on the trail." – Anonymous
90. "I walked slowly to enjoy this freedom, and when I came out of the mountains, I saw the sky over the prairie, and I thought that if heaven was real, I hoped it was a place I never had to go, for this earth was greater than any paradise." – Daniel J. Rice
91. "Oh, how can I put into words the joys of a walk over the country such as this. The scenes that delight the eyes, the blessed peace of mind, the sheer exuberance which fills your soul as you tread the firm turf? This is something to be lived, not read about." – Alfred Wainwright
92. "Those who travel to mountain-tops are half in love with themselves and half in love with oblivion." – Robert MacFarlane
93. "I love the fact that we are surrounded by this spectacular natural beauty that routinely strikes us dead. Hikers walk off into the woods and are never seen again, and still, we tug on our fleece and skip off into the wilderness, not a care in the world." – Chelsea Cain
More Hiking Quotes That You Will Enjoy
94. "Someone told me to take a hike, so I did." – Anonymous
95. "Hike your own hike to health." – Harken Headers
96. "If everyone in the world took care of each other the way folks do out on the trail, and if everyone approached each day with as much hope and optimism as hikers do, the world would be a better place." – Jon Tullis
97. "I go on hikes expecting to see the great outdoors but spend most of the time lost in my own head." – Anonymous
98. "Hiking is a hill of a lot of fun!" – Anonymous
99. "I don't need therapy. I just need to go hiking." – Anonymous
100. "At times hike this, you just have to get outside." – Anonymous
Also read: Hunting Quotes
What Are the Beautiful Sceneries You've Seen While Hiking?
Many people treat hiking as an extreme sport that only physically active people enjoy. However, we fail to realize that you will also be filled with happiness and delight once you start your way up. More than that, hiking changes us because of how similar it is to overcoming obstacles in life.
The whole world has experienced a mountain of troubles since the pandemic started. We are forced to be cooped up inside our homes where all our social interactions are limited to our screens. Moreover, dealing with grief and loneliness can really take a toll on our mental health.
This chapter in our lives may be one of the most challenging climbs of all. So, to continue living and have hope, we must remember the beauty and peace that will come to us once it ends. Keep hiking, and we will get there.
We hope that these quotes were able to inspire you to hike over any terrain that comes your way. Always picture the view on top to keep you motivated, and remember that we grow with every step we take.
Did you learn a lot from these hiking quotes? Which quote is your favorite? We'd love to hear from you, so leave your comments below.
Read Next: