These NBA YoungBoy quotes are must-reads, whether you're a fan of his music or not!
NBA YoungBoy is an American songwriter, rapper, and singer.
Though he's relishing in his fame and success now, it wasn't always like that for him.
When he was young, he faced several legal issues―getting arrested for a weapons violation, kidnapping, and even an alleged assault case.
Though his judgment was clouded when he was younger, time in prison gave him a chance to reset his life.
Because his music and words are so relatable, his fanbase continues to grow exponentially, showing just how broad his global reach is.
He may have had it rough, but thanks to his experiences, he also gained deep knowledge about the world, especially regarding loyalty and fame.
So, if you want to know more about this artist, make sure you read through to the end!
And don't forget to check out these Lil Wayne quotes and Kendrick Lamar quotes.
Best NBA YoungBoy Quotes
1. "Don't let your ego be your downfall."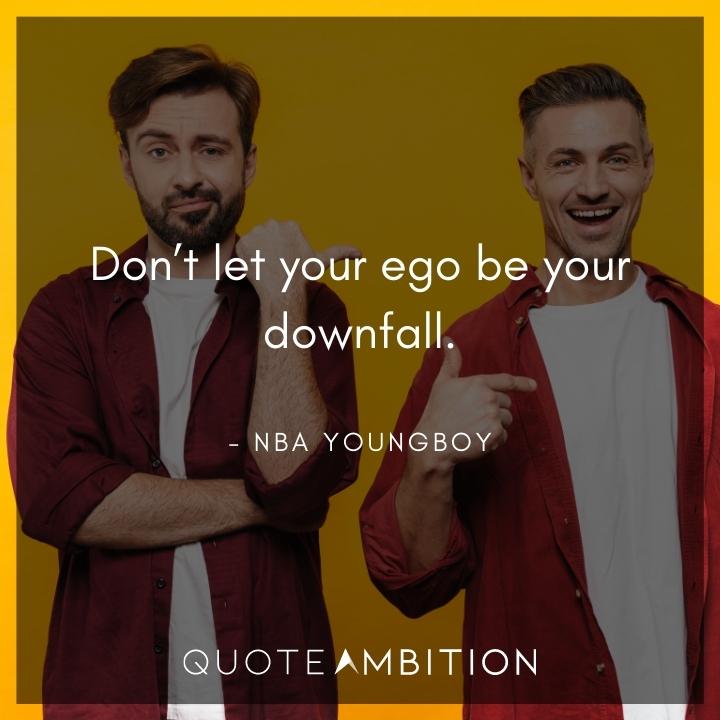 2. "Gotta keep my head above water, gotta make it through."
3. "Look what I accomplished, I know you see me shining. I know you in the sky you looking down here watching."
4. "You will never grow if you can't admit your wrongs and learn from your mistakes."
5. "You gotta struggle before you come up. It teaches you a place you never want to return."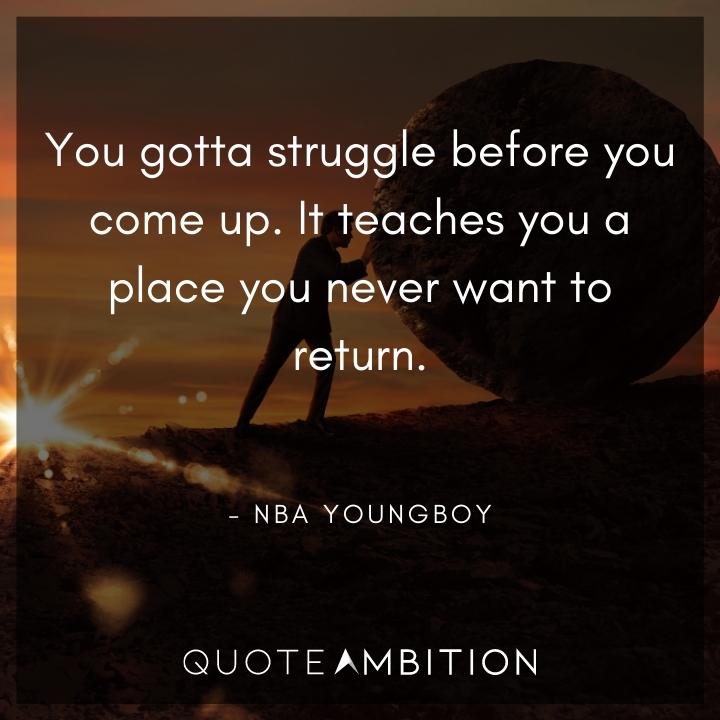 6. "What I really want, I haven't received. Maybe because I don't need it."
7. "Time is money. I ain't wasting time."
8. "I'll never let nobody else tell me what's best for me because I know my worth, I know what I want."
9. "A hustler always finds a way to figure it out, don't stress out."
10. "You can't keep choosing the same thing expecting a different outcome. All you are doing is damaging yourself when all you need to do is love yourself."
Famous NBA YoungBoy Quotes
11. "Success makes these n*ggas mad I know how it is."
12. "Unless you are me, in my position, don't ever tell me how to feel."
13. "I need nobody and I never needed nothing from nobody. I got me."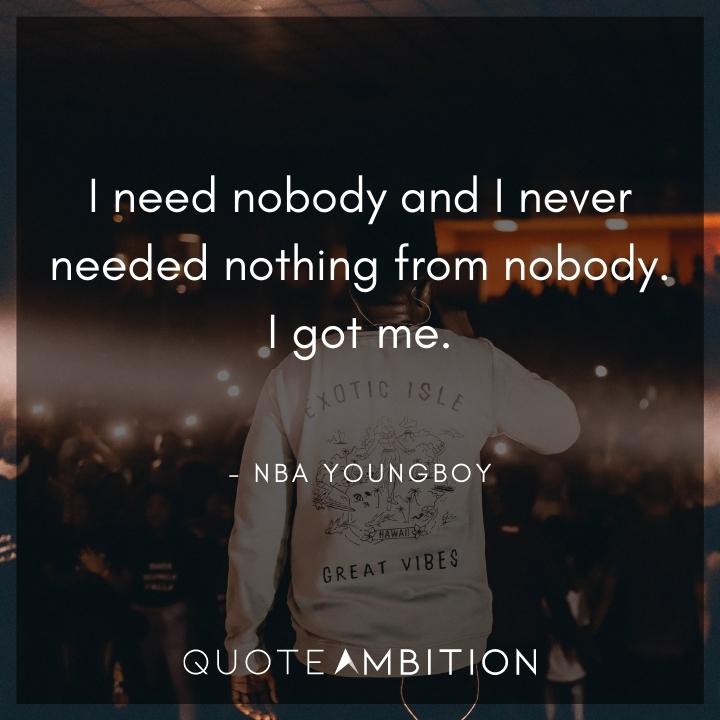 14. "I'm just trying to be myself―make music how I make music."
15. "Love yourself and never let the hate get to you."
16. "Mad respect to the people who can move on without the apology they deserve." 
17. "I just know what I go through, and I know how to speak on it in an interesting way."
Also read: Famous Quotes
YoungBoy Quotes to Inspire You
18. "All this sh*t that I go through just makes me stronger. Came out the cave now they heard me conquer."
19. "I know I'm young, but I feel like it's nothing I can't handle."
20. "One day, I'm gonna have everything I prayed for. I really believe it."
21. "To be happy, you really gotta not give a f*ck."
22. "You gotta pay the cost to be the boss. Always been my dream for me to make it to the top. They act like they don't believe me but sh*t I promise I won't stop."
Also read: Tupac Quotes, Eminem Quotes
NBA YoungBoy Quotes About Loyalty
23. "Without loyalty, you won't accomplish anything."
24. "Everybody wants loyalty but no one wants to give it."
25. "As we grow up, we realize it becomes less important to have a ton of friends, and more important to have real ones."
26. "Real friends don't ever count favors."
27. "I value loyalty too much in a world where loyalty doesn't matter."
28. "My loyalty is different from everybody else's loyalty. My loyalty is real and runs deep."
29. "Remember who had you when you were at your lowest."
30. "You gotta make sure that the person you are choosing over everybody chooses you too."
31. "Be careful how much you tolerate. You're teaching them how to treat you."
32. "Stop expecting loyalty from people who can't even be honest with you."
33. "Claim they are riding and see who's really with me. I went hard and I finally really did it."
NBA YoungBoy Quotes on Life
34. "The only thing that scares me is dying."
35. "Sometimes, you just gotta be quiet―no matter how you feel."
36. "We all got the same 24 hours. The time you spend speaking on me you could be getting yourself right."
37. "I'm broken inside, but I thug it out."
38. "Don't bite the hands that feed you, because most likely, the hands that feed you don't need you."
39. "Never speak twice on how you feel because people heard you the first time."
40. "You gotta step out of your comfort zone. Be broke for a while. Lose friends. Sleepless nights. Most people don't get it."
41. "I be pretending like I'm heartless when sh*t constantly getting to me every day."
NBA YoungBoy Quotes on Love
42. "I'm sorry that I don't know how to love."
43. "You can't help someone that doesn't want to be helped. And you can't love someone that doesn't want to be loved."
44. "Nobody is going to understand why you love someone the way you do―except you."
45. "I just wanna wrap you up and hold you in my arms for the night. You been gone for so long, let's celebrate that we unite." 
46. "A man can change his ways for you if he wants you. Remember that."
47. "Some people you thought loved you only needed you."
48. "Ain't no love out there. They only love what you can do for them."
49. "You can treat them like the most amazing people in the world. They still ain't gonna give the same love back."
Short NBA YoungBoy Quotes That'll Forever Be Iconic
50. "Gotta go through the worst to get the best."
51. "I ain't got nothing to prove to nobody."
52. "Ain't no pretending, we live like this no acting."
53. "If they don't appreciate you, they don't deserve you."
54. "Success hit differently when nobody believed you."
55. "Love, honesty, and loyalty that's all I ask for."
56. "People killed the value of friendships, relationships, and loyalty."
57. "Real isn't what someone says―it's what they do."
NBA YoungBoy Quotes That Zoom in on His Music
58. "I think music made me who I am. Music taught me what was gutter and what wasn't. Music taught me how to live."
59. "You probably can overcome what you're going through from listening to my music."
60. "I always try to make my next song better than the last."
61. "I don't know how I started rapping. The first thing I did was at school. I tried writing one. I like it. People started to like it. It was what I wanted to do."
62. "I just keep recording. You never know what you'll come up with."
63. "You can get to know me through my music."
More NBA YoungBoy Quotes for Those Curious About His Personality
64. "I don't really talk that much. I just watch and observe."
65. "I come from a rare place. It's a different culture, different atmosphere, police-crooked. Different emojis, and when I say emojis, I mean personalities."
66. "They smile in my face, but they don't know what I've been through. Whole lotta nights I went to sleep and I didn't have any food."
67. "I'm just a lonely child who wants someone to help him out."
68. "I know we got one thing in common―we both want the dough."
60. "Won't show no sympathy 'cause it's a dirty game. I know they don't feel my pain. Can't let 'em end my name." 
70. "I cannot sit here just stress about our situation. I just gotta look at the bigger picture, baby."
Did NBA YoungBoy Inspire You to Get Back Up Again After a Misstep?
We can't avoid making mistakes in life. After all, we're all humans, and no one's perfect. This is one of the essential life lessons we can learn from NBA YoungBoy.
He made many mistakes in the past, but he didn't allow himself to be stuck in that negative space. NBA YoungBoy recognized his mistakes, learned from them, and did his best to veer away from committing them again. Through this, we understand that no matter how grave a mistake we make, if we decide to change for the better, then nothing and no one can stop us.
Society often stigmatizes people's sins. But really, who doesn't make mistakes? As long as we have the courage and determination to improve, that's already a step toward the right direction.
Remember that the only person you can really rely on is yourself. Don't wait for others to hand you the opportunity to improve; grab it for yourself. Not everyone in the world would support you, but as long as you have the people who are truly loyal to you, then we're positive you can make it through.
With that, we hope these NBA YoungBoy quotes were able to encourage you to continue fighting for a better you. It doesn't happen instantly, but it'll eventually be within reach through constant effort and having the right people beside you to support you. 
Are you a fan of NBA YoungBoy? What other lessons did you learn from him? Join the discussion below.
Read Next: