We've got only the best of the best Pop Smoke quotes to teach you about ambition, hustling, and reaching for success!
Aiming for something big is easy. What truly matters is how willing you are to fight for what you want, no matter how challenging it gets.
There are many people who fail even before they get started. The reason behind this is that they get discouraged by what others have to say about their dreams.
However, for Pop Smoke, there's nothing more important than pursuing your ambitions. So, even after his death, he remains an icon that inspires people to push forward with all their strength!
Through his music, he was able to convey meaningful messages about hard work and earning your spot at the top. In his own way, he was a radical who believed there's nothing you can't do if you put your heart and soul into it!
So, revisit the best Pop Smoke quotes and lyrics by checking out the list below. We have his most inspiring words of wisdom and lyrics from songs like Dior and more!
And don't forget to check out these Juice WRLD quotes and XXXtentacion quotes.
Best Pop Smoke Quotes
1. "Don't let nobody ever tell you that you can't do nothing. Whatever you wanna do, just do it. Don't look back. Shoot for the stars; aim for the moon."
2. "Stay in your place. Wait for your turn. Respect ain't given, nigga. It's earned."
3. "Nobody innocent. If you ain't dead, better lay down."
4. "You only as real as the people you surround yourself with."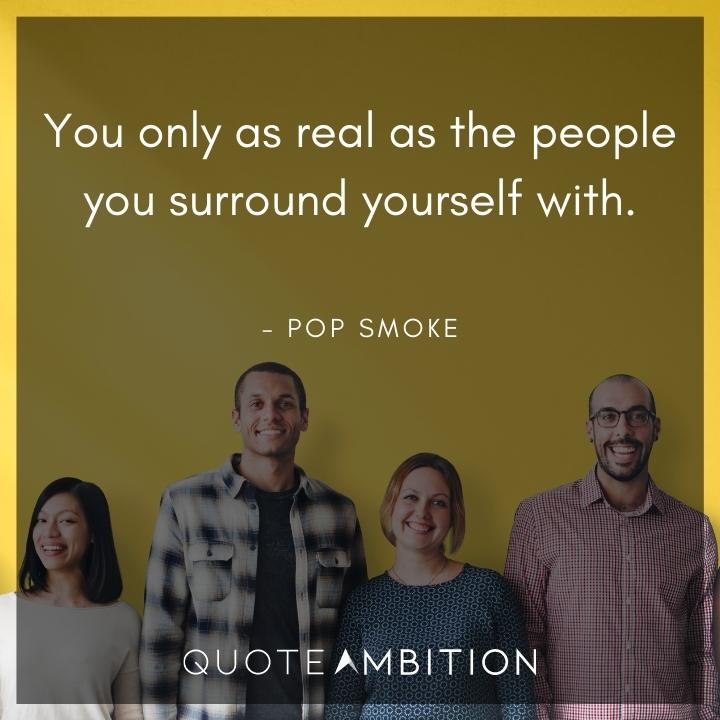 5. "Sometimes, you gotta be selfish when you tryna build an empire."
6. "Be in control of your own sh*t and your creations."
7. "Keep your eyes on nigs that always talk bad about other nigs."
8. "Dior on my body, sneakers got no creases. They limited, baby. Tell me if you've seen them."
Famous Pop Smoke Quotes for Your Motivation
9. "I don't get mad. I get money."
10. "We rich. We came from the bottom."
11. "Get money and stay aggressive. Baby, it's your world."
12. "I did some wrongs, but I'm always right. Said, I know how to shoot, and I know how to fight."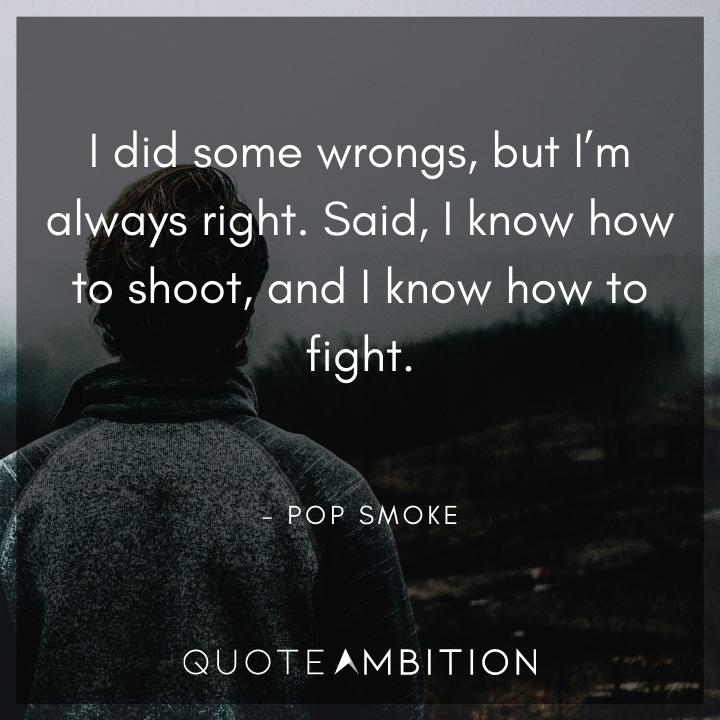 13. "I make rap. Rap don't make me."
14. "If I tell you once, won't tell you twice. I'm real discreet like a thief in the night."
15. "I'm everywhere that the dollar be, dollar be. I don't owe no apology. I'm gettin' the money. You know my philosophy."
Inspirational Pop Smoke Quotes About Life
16. "This my life, no faking."
17. "Through the storm, baby, we can make it through."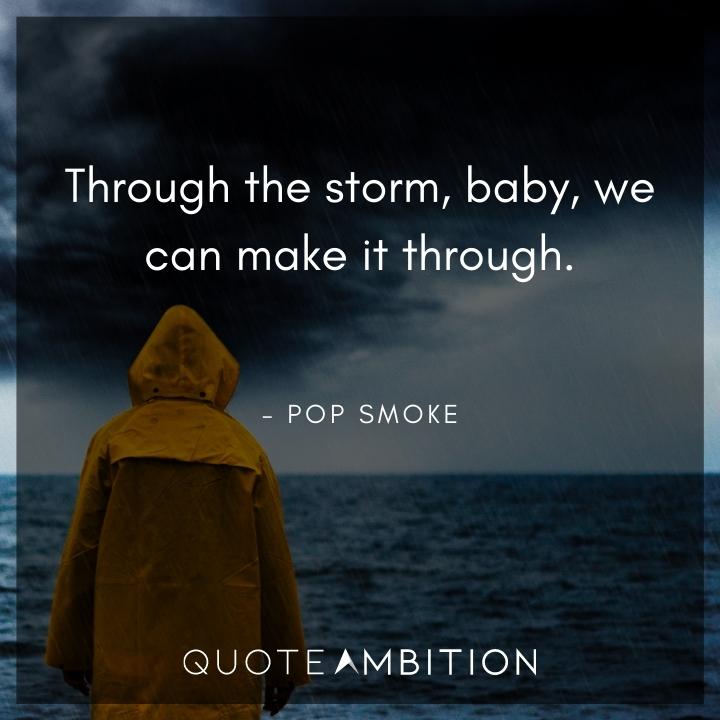 18. "I'm up in all the stores. When it rains, it pours."
19. "I'm the underground king."
Pop Smoke Quotes About Love and Friendship
20. "Have mercy on me, have mercy on my soul. Don't let my heart turn cold. Have mercy on many men."
21. "You know, I never found love until I looked between your eyes."
22. "You got my heart beating so fast to words I can't pronounce, and I be getting the chills every time I feel your touch."
23. "You don't gotta worry about nothing as long as you are with me."
24. "You always treat me right. For a fact, you never left through all the trials and tribulations. Always had my best."
25. "I ride for my brothers and only my brothers, you understand."
26. "All I need is your trust, and girl, I told you once, don't make me tell you twice."
27. "Close my eyes while I sleep, hope you be there when I wake."
28. "My whole life has changed since you came in. I knew back then. You were that special one."
Pop Smoke Captions for Instagram
29. "You cannot say Pop and forget the Smoke."
30. "They ain't in the field; they on the bleachers."
31. "I'm rich, but I'm riding. I'm low on exotic."
32. "You say you're looking for me. You got it right where you want."
33. "We living life. Don't panic. She love the life. Don't panic."
34. "I got one thing for sure. I got two things for certain."
35. "Talk to me nice, or don't talk at all. I make a call, and it's war."
Funny Pop Smoke Quotes and Lyrics That You Shouldn't Miss
36. "I make it rain on whoever. I make it rain that woo weather."
37. "You talk out your mouth. You better invest in a vest."
38. "I'd rather have my money green like kiwi."
39. "My diamonds dancin', paint her face like Marilyn Manson."
40. "Shorty a little baddy. Shorty, my little boo thang."
What Kind of Lesson Did You Learn From Pop Smoke?
One of Pop Smoke's motivational quotes goes, "Shoot for the stars; aim for the moon." This short line wholly encapsulates what he stood for.
Often, in the journey toward our dreams, we are held back by others' opinions and thoughts. Sadly, we let these stop us from working even harder toward our goals.
Thankfully, Pop Smoke taught us to just look ahead and never back. Though he's already passed on, we must all live by his words of wisdom.
We should all remember that there's no easy way to succeed. All of us must struggle—some more than others—to get one foot in the door.
And, when you've already reached the top, it will still require constant effort and determination to keep your spot. It's a never-ending struggle, but it will all be worth it if you live a life following your dreams and passions!
So, let the best Pop Smoke quotes inspire you to never give up on the grind. You'll fail countless times, but as long as you keep going, no obstacle will be impossible to overcome!
Read Next: