You'll find some of the most relatable and inspiring XXXTentacion quotes in the collection below!
XXXTentacion was an American rapper and singer who was notorious and controversial for having widely publicized his legal troubles. Even so, his music was so relatable and inspiring that he still garnered a lot of fans.
Sadly, XXXTentacion passed away in June 2018 after receiving multiple gunshots due to an attempted robbery. He was only 20 years old then, and was too young to die.
However, his music that focused on depression kept living on in the hearts of his fans. Many still look to him for inspiration and encouragement when they feel struck down by life's challenges or love's downsides.
So, if you also need some encouraging words to help you move forward, read the best XXXTentacion quotes below. Learn about kindness, life, love, and more through his most inspiring lines.
And don't forget to check out these Lil Peep quotes and Juice WRLD quotes.
Best XXXTentacion Quotes
1. "Be kind to one another, even when it's not requested."
2. "The enemy does not want you to be happy, be happy, always."
3. "Time is valuable; don't waste it."
4. "Some kill, some steal, some break your heart."
5. "The saddest thing about betrayal is that it never comes from enemies; it comes from those you trust the most."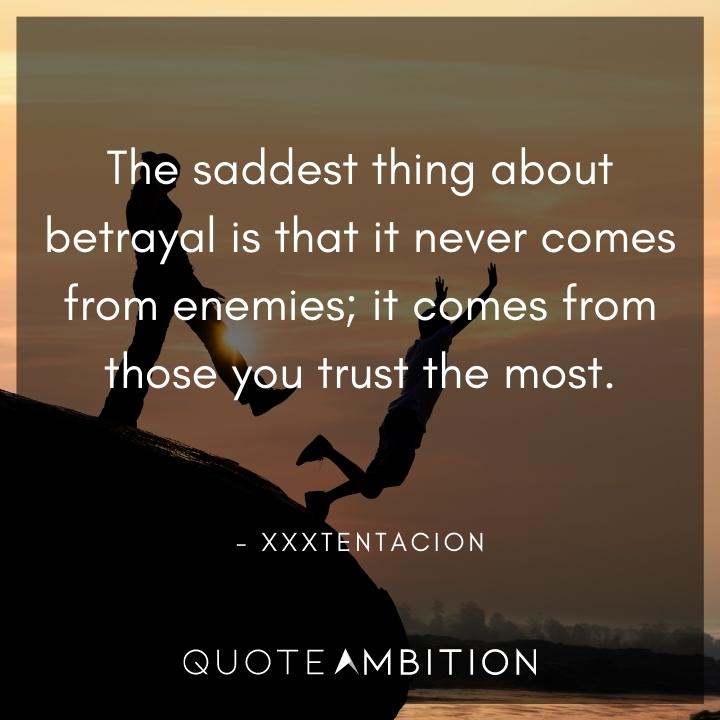 6. "Your self-respect is what matters. You cannot have a good life or have other people respect you, for that matter, if you don't respect yourself."
7. "Follow your dreams, and know that even though you have lost, you have guardian angels watching over you, day in and day out."
8. "I advise you to not hide your feelings, don't pretend to be okay when you're not okay, don't pretend to be happy when you're sad; it'll only lead to your misery."
9. "Some people just don't deserve you. They aren't ready for your level of loyalty or love. You have to always remember that not everyone was raised like you. Not everyone has a pure heart and good intentions like you. And not everyone has your best interest and wants to see you succeed."
10. "Do not let your depression make you. Do not let your body define your soul; let your soul define your body. Your mind is limitless. You are worth more than you can believe. All you have to do is dream, and all you have to do is want to fulfill that dream and have the strength."
XXXTentacion Quotes About Life
11. "Life is a matter of perception. Everything is a riddle. You can simplify if you diversify your thoughts."
12. "We're all fighting battles no one knows about."
13. "Being alone really makes you realize all you got is yourself."
14. "People always leave. Don't get too attached."
15. "Life is way too difficult to stress over people who do not care about me or benefit me."
16. "You can't do good if you're wishing bad on others."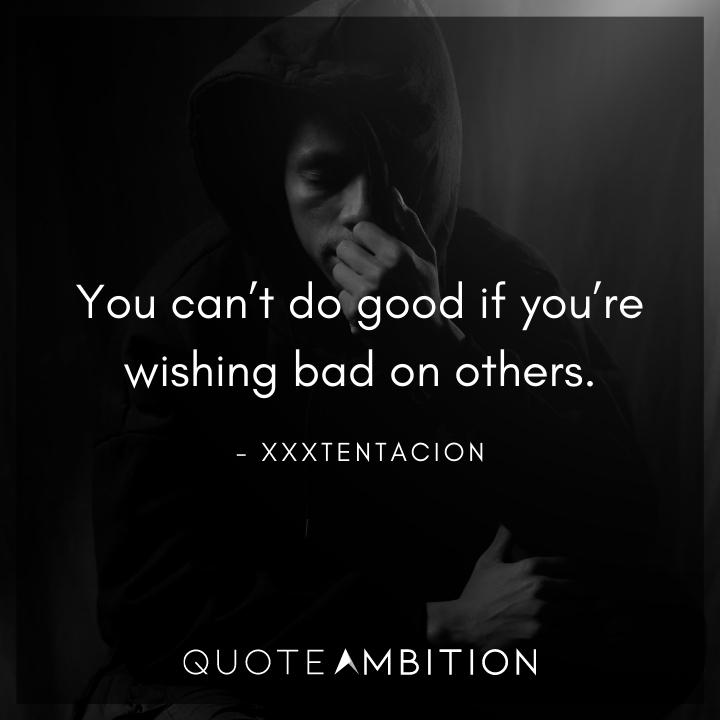 17. "So outside of my misery, I think I'll find a way of envisioning a better life."
18. "Would I change anything about my journey? Fuck no."
19. "The most important thing is that when you get knocked down, get back up."
20. "I could never say I understand how you are all feeling, nor can I find the right words to say to you, but I do want you all to know, you are not alone."
21. "If we live in a world governed by feeling and emotion, let's just make sure it's a good one."
22. "If death is what it seems, why is it so vividly portrayed within our dreams? Fear of understanding the devils running its course; fear's not a factor, it's coming straight from the source: remorse."
Related: King Von Quotes, Pop Smoke Quotes
XXXTentacion Quotes About Love
23. "What is money really worth if it ain't love?"
24. "Make sure you are being healthy in mind, being caring, compromising for the ones you love, being loyal to the ones you love. If you love someone, you're supposed to be dedicated to them, right?"
25. "Why am I so in love? Why am I so in love? Why am I so in love? I don't know why."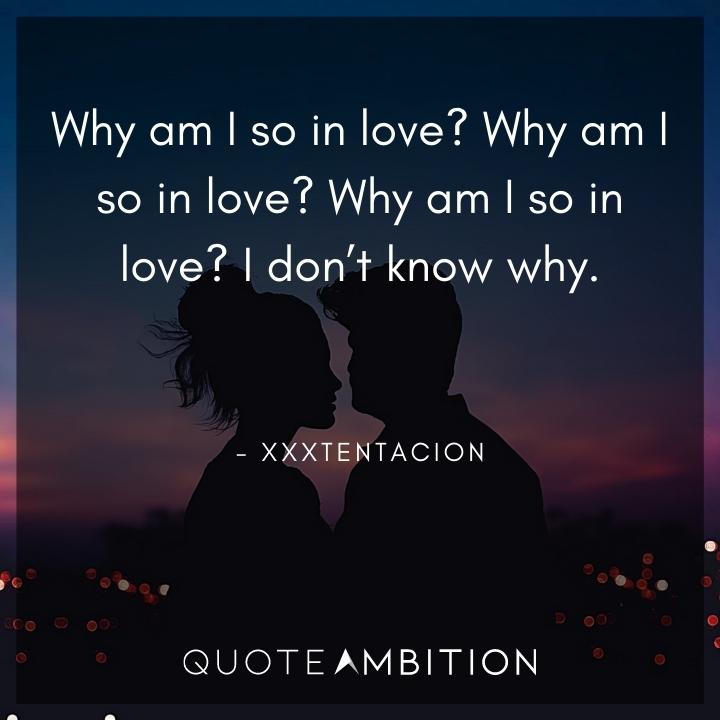 26. "I gave her everything. She took my heart and left me lonely. I've been broken, heart's contentious. I won't fix; I'd rather weep. I'm lost, then I'm found, but it's torture being in love."
27. "Rain keeps falling, tears keep falling. Darling, your love is like walking on a bed of nails, and I just can't keep on fine."
28. "You ain't even showing me the love you say you got for me."
29. "Please stop making me think you care if you don't."
30. "I don't wanna pretend we're something; we're nothing."
XXXTentacion Quotes About Depression and Pain
31. "Depression and obsession don't mix well."
32. "I'm always where the sun don't shine."
33. "You can be around a million people and still be alone. I know what that feels like."
34. "It's too much; my heart's crushed. I'm not alive; I won't allow myself happiness 'cause it's all lies."
35. "I'm sadder than most of you with the money and the freedom."
36. "Hello, from the dark side in. Does anybody here wanna be my friend?"
37. "Carry on, like flights, I just carry on with this pain inside of my chest, got no choice but to carry on."
38. "The pain in my heart just won't end. The words that I find just don't seem to compare. Awaiting my death in the end. Alone, I must seek out the end to begin. So nobody wants death, 'cause nobody wants life to end."
39. "And every single year, I'm drowning in my tears; I'm drowning in my tears again."
Deep XXXTentacion Quotes and Lyrics to Think About
40. "You're changing; I can't stand it."
41. "Is my pain your freedom?"
42. "Grow your wings, fly away, fly away, fly away."
43. "Trapped in a concept, falsely accused."
44. "Memories surface through the grapevine."
45. "I can't seem to forget the pain you seem to give—the pain you seem to give, my friend."
46. "Who am I? Someone that's afraid to let go."
47. "Only time I feel pain, when I'm feelin' love."
Funny XXXTentacion Quotes That'll Help You Understand His Personality
48. "I used to beat kids at school just to get her to talk to me, yell at me."
49. "I like to rock out like I'm a misfit."
50. "It's unfortunate because it's like, yo, when people die, that's when we like 'em, you know? 'Cause your remorse kinda makes you check 'em out."
Are You Also an Avid Fan of XXXTentacion?
Even the happiest and most successful people in the world feel sadness and pain. It was no different for XXXTentacion when he was still alive.
If you dive deep into his music, he usually spoke of his own struggles with depression. This is what made him so relatable for many, even years after he passed away.
We often go through times when we just want to give up on everything—even life itself. However, we must remember that our death is not the solution to our problems.
It doesn't end anything; instead, it just hurts and traps the people who love you in pain. So, never look at death as a solution; it'll be challenging, but you must find other reasons to keep going.
Think of your loved ones and think of yourself. If you love and respect yourself enough, you'll find that there are many other things worth living for.
XXXTentacion left the world early, but he's no doubt still an icon we look to for motivation. With that, we hope we were able to inspire you through the collection of his best quotes above!
Read Next: