Here are our favorite Juice WRLD quotes to help you shift your perspective on the world!
Juice WRLD, one of the most famous rappers of the 21st century, started his career through SoundCloud. During this time, he worked under the name, JuicetheKidd.
Later in his career, he changed his stage name to Juice WRLD, representing his goal of taking over the world through music. Though he died early, Juice WRLD certainly left an impact on the planet.
As a rapper, he voiced his frustrations on life and love through his songs. He was also incredibly open with his past, struggles with drugs, and mental health.
Sadly, he passed away at age 21 due to a drug overdose. It's ironic, too, that one of his lyrics goes, "We ain't making it past 21."
Learn from the man behind Lucid Dreams and other popular songs through this collection of Juice WRLD quotes! We've got his best lines and song lyrics below, so make sure you don't miss out!
And make sure to check out these Lil Peep quotes and XXXtentacion quotes.
Best Juice WRLD Quotes
1. "Everybody, stay positive no matter how negative life gets."
2. "Exhale depression as the wind blows. These are the laws of living in vogue."
3. "Words can be as sweet as candy or as sharp as a blade. That's the beauty of it."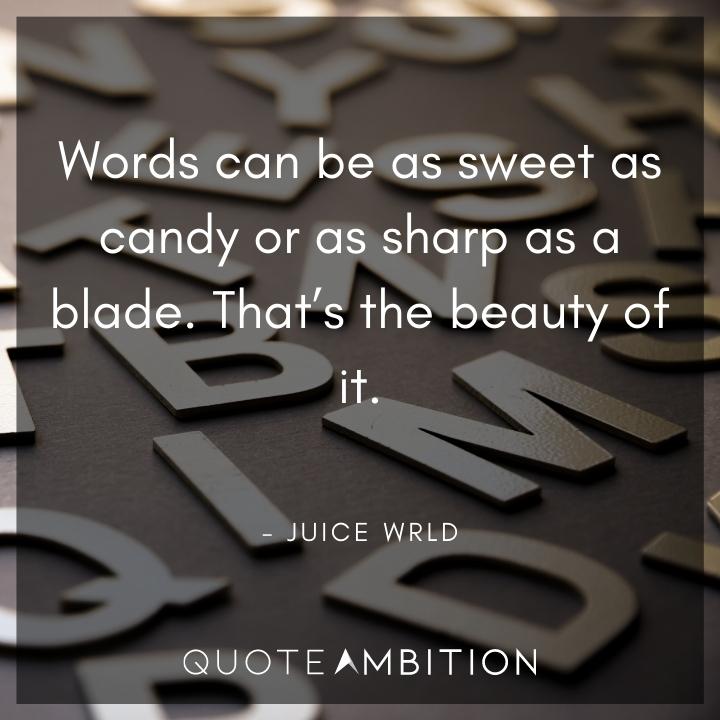 4. "It's funny how the blessed ones had the most curses."
5. "Nobody on this earth is perfect. Everybody has their flaws; everybody has their dark secrets and vices."
Famous Juice WRLD Quotes
6. "I'll never forget about the demons I conquered. I know I got a ways to go, but I still made it further than most."
7. "Telling you right now, all you'll find is a lost soul, rich and blind."
8. "We're perfectly imperfect children. Rose from the dust, all of us are on a mission."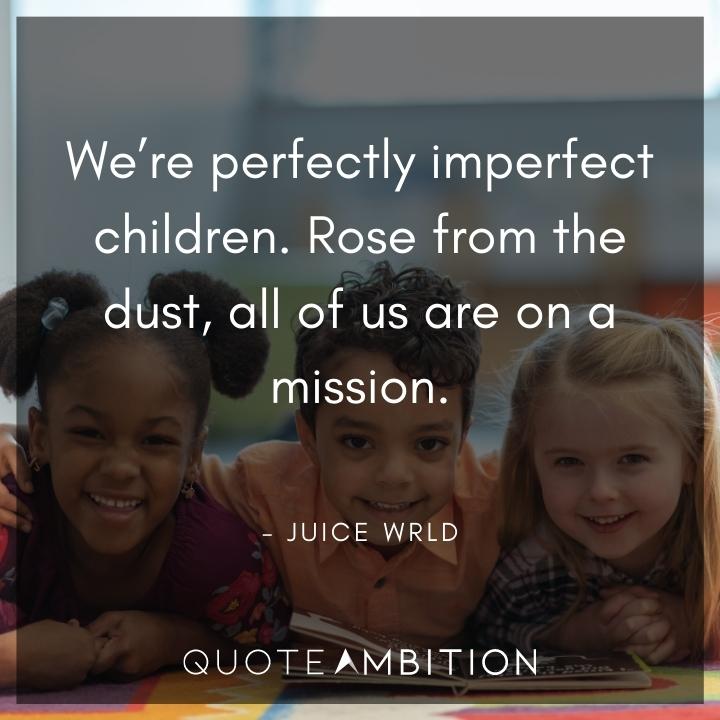 9. "Don't let the scale define you. Be active. Eat healthy. Be happy."
10. "One thing my dad told me was never let your woman know when you're insecure."
Inspirational Juice WRLD Quotes About Life
11. "If anybody's going through anything, I hope, and I pray that you get through it."
12. "Ain't nothing like the feeling of uncertainty, the eeriness of silence."
13. "I feel like I inspire more people than I think I do. I just need to remember that."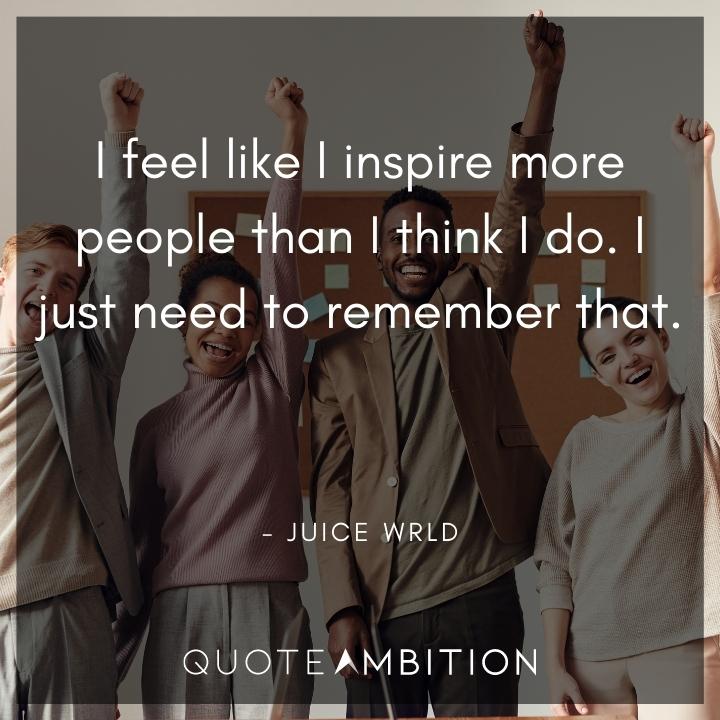 14. "Words have a lot of power."
15. "Even if I'm talking about something that's negative, I look at it as putting my mistakes out there for people to learn from it."
16. "Our heads are so imperfect, we drown ourselves in this imperfection. We don't know what imperfection is. We only know how to spell it; we don't know how it feels."
17. "Everybody has their mistakes. A mistake is a mistake. Some are more severe than others, but we're no one to judge the severity of someone's mistake. As long as we doin' wrong, as long as we sinnin', you can't judge nobody else's mistakes."
Juice WRLD Quotes About Love
18. "Once you fall in love, you fall; there's a reason why we use that word."
19. "You done woke me up from my eternal slumber; I'm the lightning; you're the thunder."
20. "When it gets dark outside, in you, I confide. You help me face my demons I won't hide."
21. "What am I to do? It seems I fell in love with you."
22. "I thought you were the one listenin' to my heart instead of my head."
Juice WRLD Quotes on Success and Money
23. "I wanna be more than a millionaire. I wanna change the world."
24. "I just walked into the building. Look like a million, but I'm worth more than a million."
25. "I'm running to the money all the time, so I can never be late."
26. "Money is gonna come regardless. If you doin' this for money, people gonna be able to tell."
Sad Juice WRLD Quotes About Death and Mental Health
27. "Never been afraid to die, but I always been afraid to die before I get where I'm going."
28. "They all always notice when you acting different, but they never see what they did to make you start acting that way."
29. "We are trying to hide our feelings, but we forgot that our eyes speak."
30. "Stuff does happen. People are sick in the head. But people take advantage of that, and then they mix that with destroying black careers and destroying black excellence."
31. "You left me falling and landing inside my grave
 I know that you want me dead I take prescriptions to make me feel a-okay
I know it's all in my head I have these lucid dreams where I can't move a thing
."
Juice WRLD Quotes and Lyrics for Your Instagram Captions
32. "You found another one, but I am the better one. I won't let you forget me."
33. "What's the 27 club? We ain't making it past 21."
34. "Why did I fall for you? I gave it all for you."
35. "I chase thrills; you still crashin' Hot Wheels."
Is Juice WRLD One of Your Favorite Rappers in the Industry?
Juice WRLD left the world early, but his songs no doubt remain in the hearts of everyone who listened to him. After all, more than just being filled with profanity like other artists' songs, his works contained profound thoughts on the world.
He poured his heart and soul into his music, especially since he knew about the power words hold. Juice WRLD knew that his presence in the industry would serve as a platform for him to inspire others.
So, he put his career to good use and made music that would change others' lives. Though some lessons he tried to embed in his song lyrics aren't as apparent, it'll only require you to think deeper about your circumstances to truly understand what he's trying to say.
For Juice WRLD, life can get pretty harsh and tiring. Though that's the case, we must always remain optimistic and look forward to another day!
He said, "Everybody, stay positive no matter how negative life gets." This is enough of an inspiration and encouragement for many to keep going, no matter how difficult life is.
Juice WRLD might have already passed on. However, we're sure it'll do you some good to live by his wisest quotes on life, love, and mental health!
Read Next: