We love collecting and sharing soccer quotes. We've compiled a list of the most inspiring and motivational quotes by famous athletes. If you love soccer then you definitely need to check out this collection.
We also have a list of baseball quotes as well as these golf quotes and sayings. Don't forget to check those as well.
186 Best Soccer Quotes
1. "I think soccer is more respected now than it ever has been. You can see that in the numbers of young kids who are playing and the numbers of people who are coming to watch." – Brandi Chastain
2. "I get asked this a lot: Why has soccer not succeeded? My answer is, soccer has succeeded. It is already the fastest growing youth participation sport in the U.S. It has already succeeded at the youth level, no question." – Lamar Hunt
3. "Soccer was the first sport that my parents put me in" – Channing Tatum
4. "When you play soccer, most of the time you got to get the ball moving, but once you get into that attacking third you gotta' be creative, you gotta' let your talent take over." – Freddy Adu
5. "I'm attracted to soccer's capacity for beauty. When well played, the game is a dance with a ball." – Eduardo Galeano
6. "Soccer isn't very social. Plus, if you don't like someone on the other team, you can do something about it." – Mia Hamm
7. "To be honest with you, I never looked at soccer as a sacrifice." – Brandi Chastain
8. "In Europe, it's different – you eat soccer, you breathe soccer, you drink soccer. Everything is about soccer." – Thomas Dooley
9. "I love soccer; I want to be on the field." – Brandi Chastain
10. "Soccer is a great game, and the rich variety of styles and passions that come with being truly global makes the World Cup a nonpareil event in the universe of competitive sport." – Serge Schmemann
11. "Over the last 10-15 years, you've seen soccer finally start to grow at a fast pace, start to get the recognition it deserves, and I think it has to do with all of the people who come to America from foreign countries." – Claudio Reyna
12. "Every soccer player can be on the edge, at the limit, be the bad guy. We have to get used to it. Sometimes I am one of those." – Luis Suarez
13. "As professional soccer players, we take our bodies to the extreme. We're the people at the gym that look like we're breaking the machines. Pushing our bodies to the limits is what makes us so strong and capable and Olympians. It's not an easy thing to consistently do over and over again to your body." – Abby Wambach
14. "Soccer is the most difficult business that we're in, because one day you're on top, and the next day you're very low." – Emilio Azcarraga Jean
15. "Soccer matches should be something special, something people eagerly look forward to, something that brightens life." – P. J. O'Rourke
16. "I wanted to be a soccer player; I wanted to do it at the highest level." – Tim Howard
17. "I love soccer. That's all I ever watch. I'll watch it all day if I can. But I'm too bloody old to play now." – Geezer Butler
18. "What we are missing over here is the life of soccer." – Thomas Dooley
19. "I like to watch soccer, no matter what teams or players are in the field." – Andres Iniesta
20. "One of my biggest influences of all time would probably be one of my soccer coaches, Coach Darlington, from high school. He was always trying to get me to push myself really hard. No excuses. I always hated him, but it paid off. I think that's what life is all about… when you push through the hard stuff and it pays off." – Jonny Weston
21. "Soccer is my life." – Ethan Zohn
22. "The aura of soccer is very different from other sports." – Dave Checketts
23. "International soccer has been a big part of my love for the sport. I love the Men's National Team. I can say that they're my favorite sports team." – Drew Carey
24. "I suppose young people think football is glamorous – soccer – it's big money and the stars of it, they look good and have a great big house and a huge Ferrari." – Bryan Ferry
25. "Playing college soccer was going to be the top of my athletic feats. I wasn't going to the Olympics. I was a decent player, but it's because of hard work, not because I was Freddy Adu." – Mark Zupan
26. "I think, really, that the only way a person can open their heart to someone who is so much another is really by knowing them… whether that's in a classroom, or a soccer team" – Elizabeth Strout
27. "I played English football – soccer – instead of American football, because we couldn't afford the equipment." – Wally Schirra
28. "To combat the monotony of gym workouts, I started playing soccer. I looked at workouts as training sessions. My soccer training includes squats, pushups, resistance-band work, and sprints. Ninety minutes of running became part of my love of the game rather than a chore." – Adam Richman
29. "I love sports, and when I was playing soccer, I was always trying to be the leader on the team and the one who takes control." – Gregg Sulkin
30. "Find a type of exercise that you love – whether it's dance, soccer, softball, anything – just as long as it keeps you active. If you love it, you'll dedicate yourself to it and stay involved." – Francia Raisa
Related: Softball Quotes
31. "Life is a soccer field, don't you think?" – Shakira
32. "I'm not sure if I'm going to get into coaching. I'm sure I'll stay in soccer somehow." – Abby Wambach
33. "Soccer presented no challenge to me. Playing felt like breathing: I always had a magical connection to the ball." – Pete Wentz
34. "As soon as I started to realize that I could make a living playing professional soccer, I went to that place where I could torture myself because I knew it would make me better for the championship game." – Abby Wambach
35. "A game of soccer induces more than enjoyment, more than entertainment." – Rabih Alameddine
36. "For me, soccer was a dance." – Rabih Alameddine
37. "People have to pay a lot of money to play soccer here." – Thomas Dooley
38. "If my soccer career were over, I would still come here because of the people." – Lorrie Fair
39. "Quite frankly, I can't get enough of soccer. I tell my jingoistic friends in the United States there's a reason why it is the world's No. 1 sport. The rest of the planet can't be wrong." – Billy Beane
40. "Soccer is my first love. I've been playing since I was 4 years old. I traveled the world doing it. I broke my leg when I was 16 or 17, and acting kind of filled the void." – Kyle Schmid
41. "The secret is to believe in your dreams; in your potential that you can be like your star, keep searching, keep believing and don't lose faith in yourself." – Neymar
Related: Inspirational Self-Esteem Quotes
42. "Football is the ballet of the masses." – Dmitri Shostakovich
43. "The game is not over till the whistle blows. Meaning don't give up. Never give up." – Unknown
44. "Some people tell me that we professional players are soccer slaves. Well, if this is slavery, give me a life sentence." – Sir Robert "Bobby" Charlton
45. "In his life, a man can change wives, political parties or religions but he cannot change his favourite soccer team." – Eduardo Hughes Galeano
46. "You don't have to have been a horse to be a jockey." – Arrigo Sacchi
47. "If you're attacking, you don't get as tired as when you're chasing." – Kyle Rote, Jr.
48. "I don't believe skill was, or ever will be, the result of coaches. It is a result of a love affair between the child and the ball." – Roy Maurice Keane
49. "Soccer riots kill, at most, tens. Intellectuals' ideological riots sometimes kill millions." – John Jay McCarthy
50. "The ball is round, the game lasts ninety minutes, and everything else is just theory." – Josef "Sepp" Herberger
51. "In football, the worst blindness is only seeing the ball." – Nelson Falcão Rodrigues
52. "The trouble with referees is that they know the rules, but they do not know the game." – William "Bill" Shankly
53. "I know more about soccer than about politics." – James "Harold" Wilson, Baron Wilson of Rievaulx
54. "Five days shalt thou labour, as the Bible says. The seventh day is the Lord thy God's. The sixth day is for football." – John Anthony Burgess Wilson
55. "The rules of soccer are very simple, basically it is this: if it moves, kick it. If it doesn't move, kick it until it does." – Phillip Abraham "Phil" Woosnam
56. "Soccer is an art more central to our culture than anything the Arts Council deigns to recognize." – Germaine Greer
57. "A football team is like a beautiful woman. When you do not tell her, she forgets she is beautiful." – Arsène Wenger
Soccer Quotes by Lionel Messi
58. "I'm lucky to be part of a team who help to make me look good, and they deserve as much of the credit for my success as I do for the hard work we have all put in on the training ground." – Lionel Messi
59. "I have many years to get better and better, and that has to be my ambition. The day you think there is no improvements to be made is a sad one for any player." – Lionel Messi
60. "Whether it's a friendly match, or for points, or a final, or any game – I play the same. I'm always trying to be my best, first for my team, for myself, for the fans, and to try and win." – Lionel Messi
Related: Best Teamwork Quotes
61. "In football as in watchmaking, talent and elegance mean nothing without rigour and precision." – Lionel Messi
62. "The day you think there is no improvements to be made is a sad one for any soccer player." – Lionel Messi
63. "What I do is play soccer, which is what I like." – Lionel Messi
Soccer Quotes by Diego Maradona
64. "When you win, you don't get carried away. But if you go step by step, with confidence, you can go far." – Diego Maradona
65. "To see the ball, to run after it, makes me the happiest man in the world." – Diego Maradona
66. "There are hundreds of Beckhams playing football (referring to soccer) all over the world." – Diego Maradona
67. "I have 23 top players and they are all ready to put on the jersey and work on the pitch and that makes you happy and then you have peace of mind." – Diego Maradona
68. "When people succeed, it is because of hard work. Luck has nothing to do with success." – Diego Maradona
Related: Hard Work Quotes
Soccer Quotes by Cristiano Ronaldo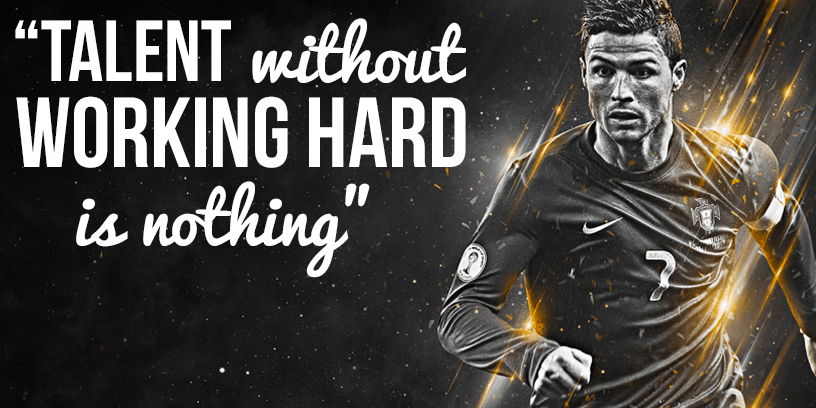 69. "I see myself as the best footballer in the world. If you don't believe you are the best, then you will never achieve all that you are capable of." – Cristiano Ronaldo
70. "Without football (soccer), my life is worth nothing." – Cristiano Ronaldo
71. "Every season is a new challenge to me, and I always set out to improve in terms of games, goals, assists." – Cristiano Ronaldo
72. "I have my flaws too, but I am a professional who doesn't like to miss or lose." – Cristiano Ronaldo
73. "I want to consistently play well and win titles. I'm only at the beginning." – Cristiano Ronaldo
74. "In football, I don't have a lot of friends. The people who I really trust, there are not many… Most of the time, I'm alone." – Cristiano Ronaldo
75. "One rule that will work if it is used everywhere, is that when you have a free-kick, the referee puts the mark on the floor to make sure the defenders keep their distance." – Cristiano Ronaldo
76. "Talent without working hard is nothing." – Cristiano Ronaldo
77. "Winning – that's the most important to me. It's as simple as that." – Cristiano Ronaldo
78. "I think sometimes the best training is to rest." – Cristiano Ronaldo
79. "I'm living a dream I never want to wake up from." – Cristiano Ronaldo
Soccer Quotes by Pelé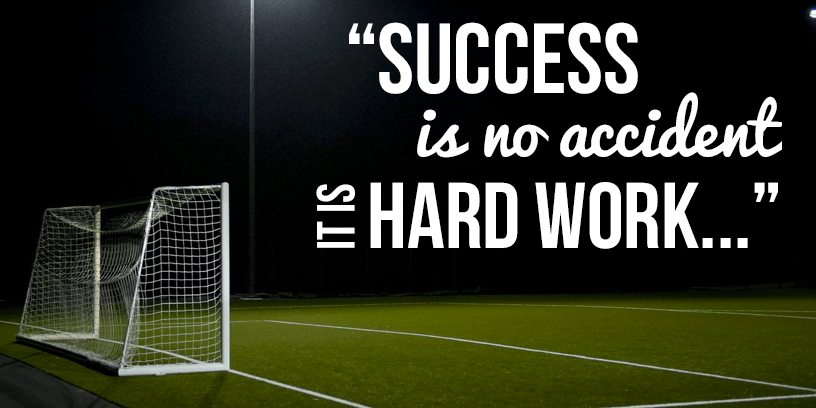 80. "Success is no accident. It is hard work, perseverance, learning, studying, sacrifice and most of all, love of what you are doing or learning to do." – Pelé
Related: Greatest Success Quotes
81. "Everything is practice." – Pelé
82. "If I pass away one day, I am happy because I tried to do my best. My sport allowed me to do so much because it's the biggest sport in the world." – Pelé
83. "I am constantly being asked about individuals. The only way to win is as a team. Football is not about one or two or three star players." – Pelé
84. "A lot of people, when a guy scores a lot of goals, think, 'He's a great player', because a goal is very important, but a great player is a player who can do everything on the field. He can do assists, encourage his colleagues, give them confidence to go forward. It is someone who, when a team does not do well, becomes one of the leaders." – Pelé
85. "I always had a philosophy which I got from my father. He used to say, 'Listen. God gave to you the gift to play football. This is your gift from God. If you take care of your health, if you are in good shape all the time, with your gift from God no one will stop you, but you must be prepared." – Pelé
86. "Enthusiasm is everything. It must be taut and vibrating like a guitar string." – Pelé
87. "Lionel Messi is a wonderful player. Very skillful. Highly intelligent. He is not good in the air." – Pelé
88. "At 17, I already had responsibility because I took care of my family, but in the football I was young; I wasn't experienced or the captain – I was just in the team." – Pelé
89. "You must respect people and work hard to be in shape. And I used to train very hard. When the others players went to the beach after training, I was there kicking the ball." – Pelé
90. "All my life I thank God. My family was very religious." – Pelé
91. "Of course, my father was a soccer player. He used to play very good. Then, when I was young, eight or nine years old, ten years old, I just want to be like my father." – Pelé
92. "I always think that I would have become an actor if I hadn't been a soccer player." – Pelé
93. "A penalty is a cowardly way to score." – Pelé
94. "Sport is something that is very inspirational for young people." – Pelé
Quotes by Zinedine Zidane
95. "We must not let ourselves get driven off course, no matter what happens we must stick to our natural game." – Zinedine Zidane
96. "I have a need to play intensely every day, to fight every match hard." – Zinedine Zidane
97. "The door can never be closed for good to any player." – Zinedine Zidane
98. "When your own fans whistle and jeer, then you have a big problem." – Zinedine Zidane
99. "Football boots are very technical and have lots of specific requirements." – Zinedine Zidane
100. "I once cried because I had no shoes to play soccer, but one day, I met a man who had no feet." – Zinedine Zidane
Quotes by Johan Cruyff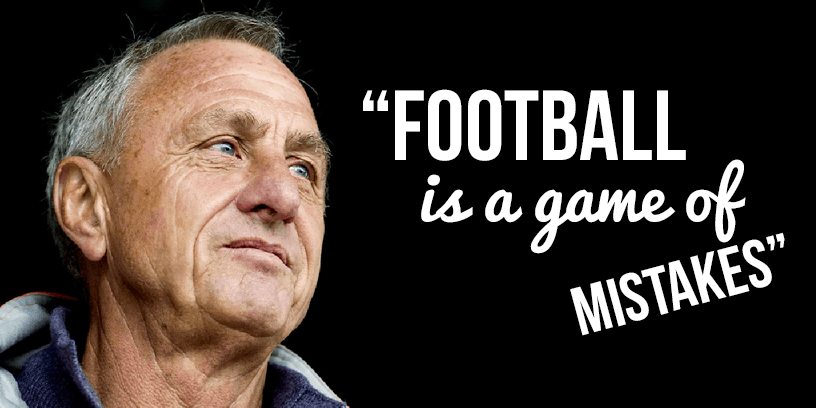 101. "Soccer is simple, but it is difficult to play simple." – Johan Cruyff
102. "Technique is not being able to juggle a ball 1000 times. Anyone can do that by practicing. Then you can work in the circus. Technique is passing the ball with one touch, with the right speed, at the right foot of your team mate." – Johan Cruyff
103. "Choose the best player for every position, and you'll end up not with a strong XI, but with 11 strong 1's." – Johan Cruyff
104. "I always threw the ball in, because then if I got the ball back, I was the only player unmarked." – Johan Cruyff
105. "Players that aren't true leaders but try to be, always bash other players after a mistake. True leaders on the pitch already assume others will make mistakes." – Johan Cruyff
Related: Leadership Quotes
106. "After you've won something, you're no longer 100 percent, but 90 percent. It's like a bottle of carbonated water where the cap is removed for a short while. Afterwards there's a little less gas inside." – Johan Cruyff
107. "You have got to shoot, otherwise you can't score." – Johan Cruyff
108. "Speed is often confused with insight. When I start running earlier than the others, I appear faster." – Johan Cruyff
109. "Football is a game of mistakes. Whoever makes the fewest mistakes wins." – Johan Cruyff
110. "Football is about having the best offensive play possible. I always like to play offensive football, and nobody will convince me otherwise." – Johan Cruyff
111. "Without the ball, you can't win." – Johan Cruyff
112. "To win you have to score one more goal than your opponent." – Johan Cruyff
113. "There is only one ball, so you need to have it." – Johan Cruyff
114. "Quality without results is pointless. Results without quality is boring." – Johan Cruyff
115. "There are very few players who know what to do when they're not marked. So sometimes you tell a player: that attacker is very good, but don't mark him." – Johan Cruyff
Soccer Quotes by Ronaldinho
116. "My heroes were always soccer players." – Ronaldinho
117. "Football is about joy. It's about dribbling. I favour every idea that makes the game beautiful. Every good idea has to last." – Ronaldinho
118. "For me soccer provides so many emotions, a different feeling every day." – Ronaldinho
119. "If you're playing for five hours you don't want to score goals all the time and I loved dribbling. I could score a goal, but I preferred to dribble." – Ronaldinho
120. "My only concern is playing. Everything else, my family looks after. In our house, everyone has a job, and my job in our house is to play soccer." – Ronaldinho
121. "It is not just about the money, it is about what you achieve on the pitch." – Ronaldinho
122. "My game is based on improvisation. Often, a forward does not have the time to think too much. You have a second, rarely more, to decide whether to dribble, shoot or pass to the right or left. It is instinct that gives the orders." – Ronaldinho
123. "I come from a family where soccer has always been very present. My uncles, my father and my brother were all players." – Ronaldinho
David Beckham Soccer Quotes
124. "Soccer is a magical game." – David Beckham
125. "I don't have time for hobbies. At the end of the day, I treat my job as a hobby. It's something I love doing" – David Beckham
126. "I just want people to see me as a hard-working footballer and someone who is passionate about the game." – David Beckham
127. "As a footballer, you always want to test yourself against the best." – David Beckham
128. "I'm a very stubborn person. I think it has helped me over my career. I'm sure it has hindered me at times as well, but not too many times. I know that if I set my mind to do something, even if people are saying I can't do it, I will achieve it." – David Beckham
129. "We stay as a team. I might be England captain, but that doesn't mean I get treated differently." – David Beckham
130. "I love scoring goals for England and playing for England. That's one of the reasons I didn't retire – I love playing for my country." – David Beckham
131. "My private life is perfect. If your private life and your life outside football is good, then it is good on the field for you." – David Beckham
132. "Impossible is just a big word thrown around by small men who find it easier to live in the world they've been given than to explore the power they have to change it. Impossible is not a fact. It's an opinion. Impossible is not a declaration. It's a dare. Impossible is potential. Impossible is temporary. Impossible is nothing." – David Beckham
Wayne Rooney Quotes
133. "I just hate losing and that gives you an extra determination to work harder." – Wayne Rooney
134. "I love football, I've never really taken an interest in anything else." – Wayne Rooney
135. "I play the game as honestly as I can. If the referee gives a penalty there is nothing you can do." – Wayne Rooney
136. "You just want to keep playing consistently now and keep working hard and I'm sure the goals will come." – Wayne Rooney
137. "Football is made up of all kinds of conflict. In a dressing room, between players, between us and the manager, between us and loads of people who don't seem to matter. It's constant and harsh sometimes." – Wayne Rooney
138. "I love football, football is my life." – Wayne Rooney
139. "As you get older you play in more important games and that is when you start thinking about what will happen if you win or lose." – Wayne Rooney
140. "I love football so when I finish playing I would like to still be involved in it somehow and a manager would be my first choice." – Wayne Rooney
141. "I train as hard as I can every time I train and I do extra training every day and I've done that since I was a young boy." – Wayne Rooney
142. "Sometimes you have to rest in certain games, but I want to play in every game." – Wayne Rooney
143. "There are many ways to grow football-wise. You go slow or are pushed to go faster, otherwise you get left behind. For me, there would be trouble in stopping learning." – Wayne Rooney
144. "If you don't score, and you have chances, you are disappointed." – Wayne Rooney
145. "I've trained all my life. I've always been one who enjoys training so it's not something that I think I can just stop doing. It might not be as regular but I want to keep training." – Wayne Rooney
Steven Gerrard Quotes
146. "In football, the hero and legend status is given out far too easily for me." – Steven Gerrard
147. "It's too easy to blame other people in football." – Steven Gerrard
148. "I was always determined to make it as a footballer, but if things hadn't worked out, I'd have maybe followed my dad into the building industry." – Steven Gerrard
149. "If you don't play well, you have a bad game or a nightmare you know that the amount of coverage is worldwide." – Steven Gerrard
Xavi Quotes
150. "In football, the result is an impostor. You can do things really, really well but not win. There's something greater than the result, more lasting – a legacy." – Xavi
151. "There are two types of football – there's physical football and football talent." – Xavi
152. "You pressure, you want possession, you want to attack. Some teams can't or don't pass the ball. What are you playing for? What's the point? That's not football. Combine, pass, play. That's football – for me, at least." – Xavi
153. "I spend the entire 90 minutes looking for space on the pitch. I'm always between the opposition's two holding midfielders and thinking, 'The defence is here, so I get the ball and I go there to where the space is." – Xavi
Thierry Henry Quotes
154. "To be a footballer was just a dream, and I don't believe in dreams. I only deal in what is real. To be honest, I've never thought about what I could get out of football or where it would take me. I just wanted to play. I'm the same now." – Thierry Henry
155. "I always think about what I missed, and I think that was my driving force – never be satisfied with what I've done." – Thierry Henry
156. "My dad always taught me to never be satisfied: to want more and know that what is done is done. That was his way of seeing the game." – Thierry Henry
157. "That's the way I've been educated: I always think about what I missed and the things that you did, you did them, so you don't have to think about them any more." – Thierry Henry
Bill Shankly Quotes
158. "If you are first you are first. If you are second you are nothing." – Bill Shankly
159. "Some people think football (soccer) is a matter of life and death. I assure you, it's much more serious than that." – Bill Shankly
160. "Aim for the sky and you'll reach the ceiling. Aim for the ceiling and you'll stay on the floor." – Bill Shankly
161. "Football (soccer) is a matter of life and death, except more important." – Bill Shankly
162. "A lot of football success is in the mind. You must believe you are the best and then make sure that you are." – Bill Shankly
163. "Football is a simple game based on the giving and taking of passes, of controlling the ball and of making yourself available to receive a pass. It is terribly simple." – Bill Shankly
164. "A football team is like a piano. You need eight men to carry it and three who can play the damn thing." – Bill Shankly
165. "If a player is not interfering with play or seeking to gain an advantage, then he should be." – Bill Shankly
166. "Pressure is working down the pit. Pressure is having no work at all. Pressure is trying to escape relegation on 50 shillings a week. Pressure is not the European Cup or the Championship or the Cup Final. That's the reward." – Bill Shankly
Christine Sinclair Quotes
167. "When I was growing up, you didn't know there was a women's national team. Now girls grow up dreaming of playing for Canada." – Christine Sinclair
168. "I think a lot of people thought women's soccer had arrived and it was here to stay and it was going to be huge, but that wasn't realistic. It has progressed slowly." – Christine Sinclair
169. "I think the thing that has sort of always separated me, even from when I was younger, is my ability to score goals." – Christine Sinclair
170. "I have a Pomeranian dog named Nutmeg – a combination of the soccer move and the colour. It's perfect." – Christine Sinclair
Motivational Soccer Quotes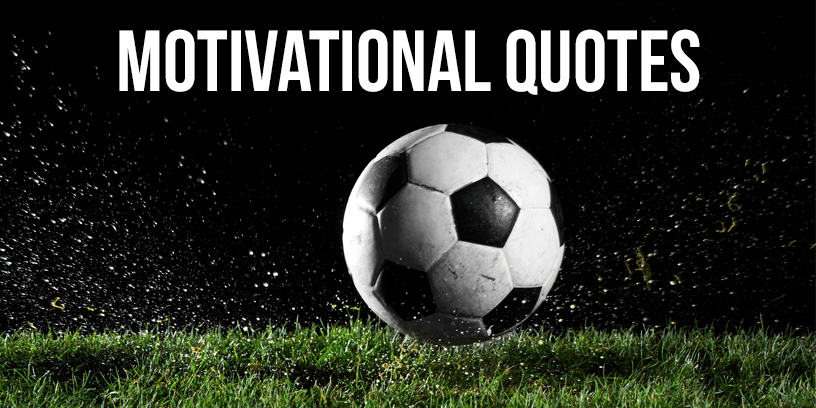 171. "You don't inspire your teammates by showing them how amazing you are. You inspire them by showing them how amazing they are" – Robyn Benincasa
172. "Play with your heart not just your feet"
173. "In football everything is complicated by the presence of the opposite team." – Jean-Paul Charles Aymard Sartre
174. "Good players practice until they get it right. But great players practice until they never get it wrong"
175. "The greatest feeling in the world is when your on that soccer field, and you know that your team is going to succeed because you look around and see your 10 best friends playing beside you."
176. "Soccer isn't something that you can fake. It's a feeling, a passion, a lifestyle. If you don't live, eat, sleep, and breath soccer, then you are not a true soccer player, you just wear the jersey."
177. "Every moment you spend not playing soccer, someone out there is getting better than you."
178. "If you ask why I play soccer, I ask you why do you breathe."
179. "Soccer is life. I was born to play soccer and I will die playing soccer, that is why I need to live it out!"
Related: Quotes To Live By
180. "I don't play soccer because it's fun, I play it because of the passion for the game, because without it there is nothing and it is like a headache when you can't play. Soccer isn't just my sport it is my way of life and my passion!"
181. "A great soccer player is never content with their performance."
182. "The pride you gain, is worth the pain."
183. "Soccer is more than a ball and some goals. Soccer is the reason I wake up everyday and breath."
Funny Soccer Quotes
184. "My boyfriend told me to choose between him and soccer… I'm really gonna miss him"
185. "If you want to see me, you must be quick. If you want to catch me, you must be fast. If you want to beat me, you must be kidding."
186. "Give a man a soccer ball, he plays for a moment. Teach a man to play soccer, he plays for a life time."