These top 240 strong women quotes will give you a glimpse into the complex and beautiful world of women.
It'll give you insight into the internal and external battles that every woman faces—those she fights within herself, and those that the world and social norms bring about.
Women are the epitome of beauty, grace, and strength, and we're sure this collection will prove to you how important women are in the balance of the world.
So what are you waiting for? Read through our full collection if you're in need of a little reminder for yourself or if you want to have something to brighten the day of the women around you.
Read the full collection below.
And make sure to check out these inspirational quotes for women.
Best Strong Women Quotes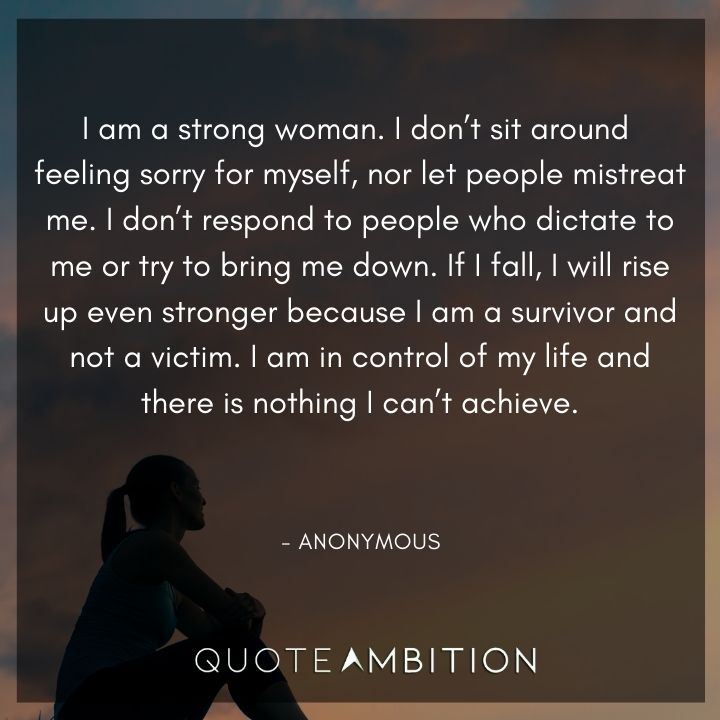 1. "I am a strong woman. I don't sit around feeling sorry for myself, nor let people mistreat me. I don't respond to people who dictate to me or try to bring me down. If I fall, I will rise up even stronger because I am a survivor and not a victim. I am in control of my life and there is nothing I can't achieve." – Anonymous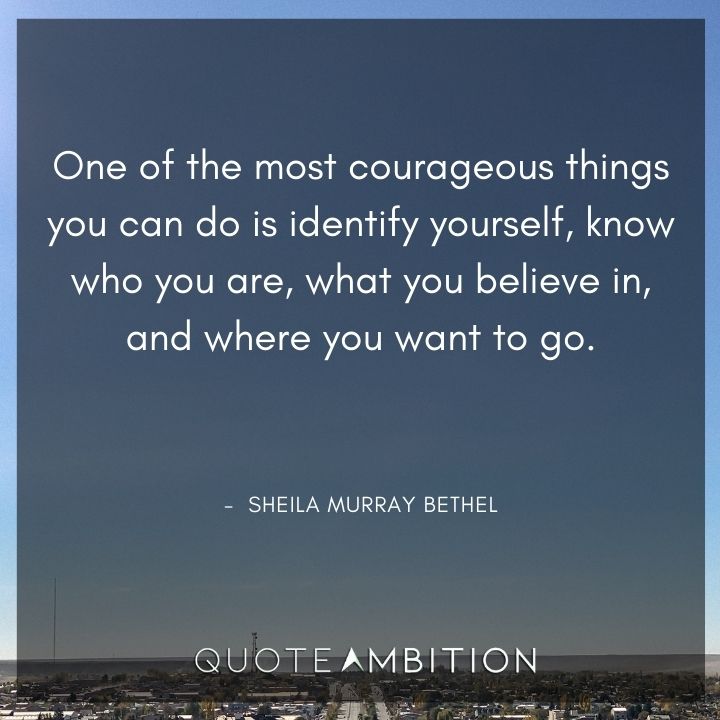 2. "One of the most courageous things you can do is identify yourself, know who you are, what you believe in, and where you want to go." – Sheila Murray Bethel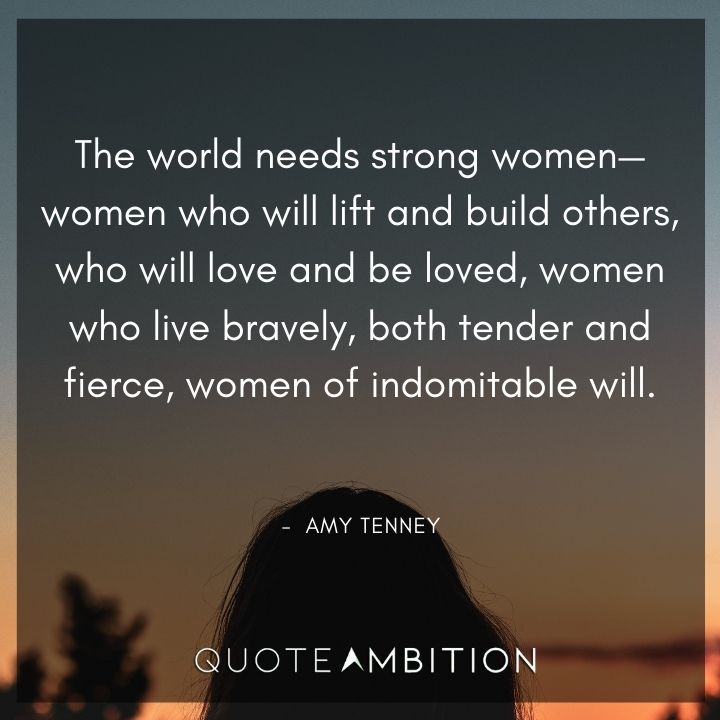 3. "The world needs strong women—women who will lift and build others, who will love and be loved, women who live bravely, both tender and fierce, women of indomitable will." – Amy Tenney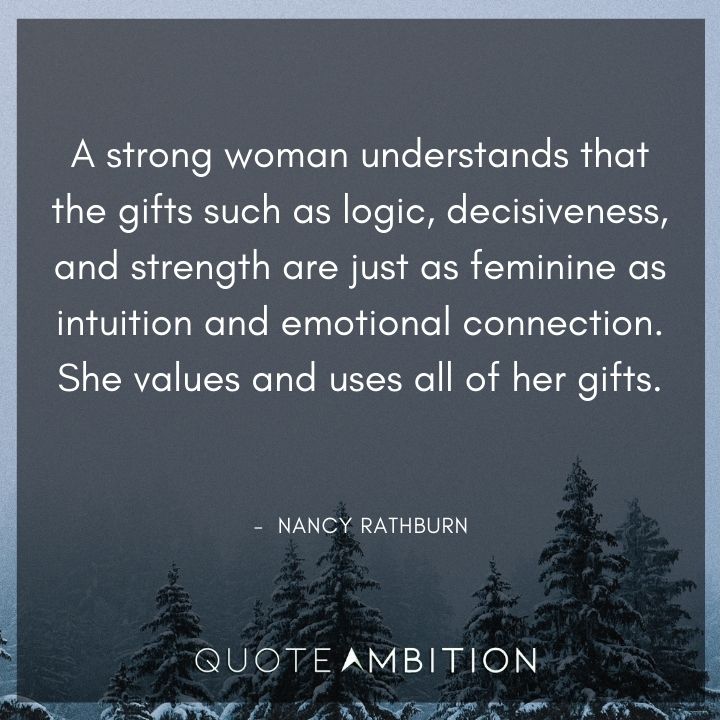 4. "A strong woman understands that the gifts such as logic, decisiveness, and strength are just as feminine as intuition and emotional connection. She values and uses all of her gifts." – Nancy Rathburn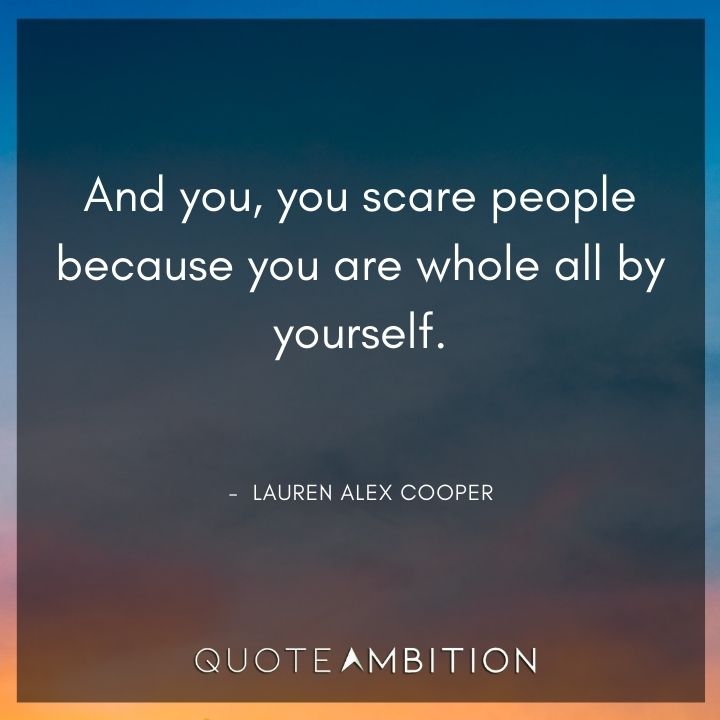 5. "And you, you scare people because you are whole all by yourself." – Lauren Alex Cooper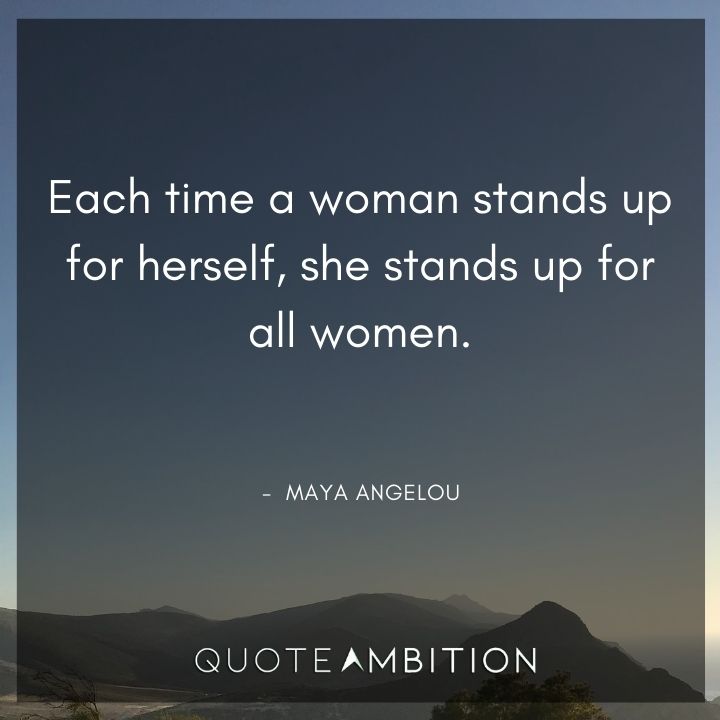 6. "Each time a woman stands up for herself, she stands up for all women." – Maya Angelou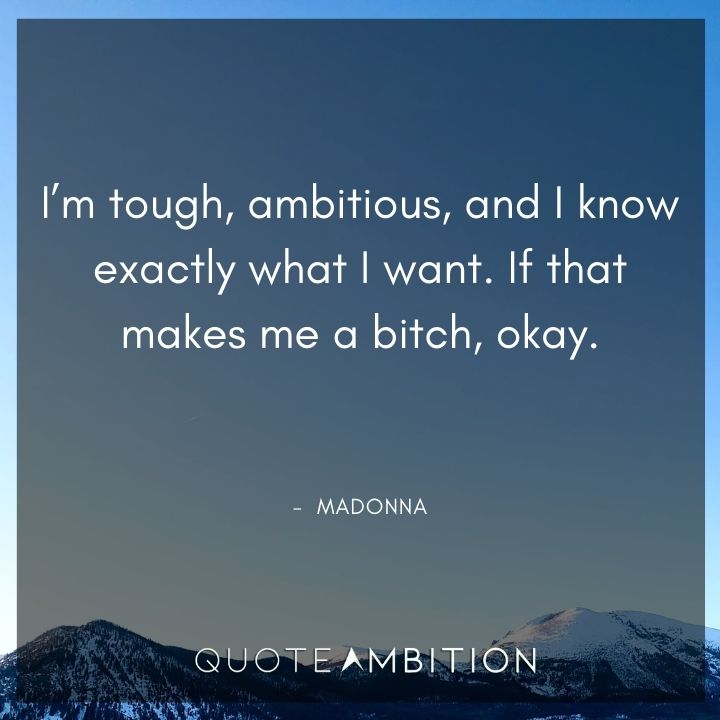 7. "I'm tough, ambitious, and I know exactly what I want. If that makes me a b*tch, okay." – Madonna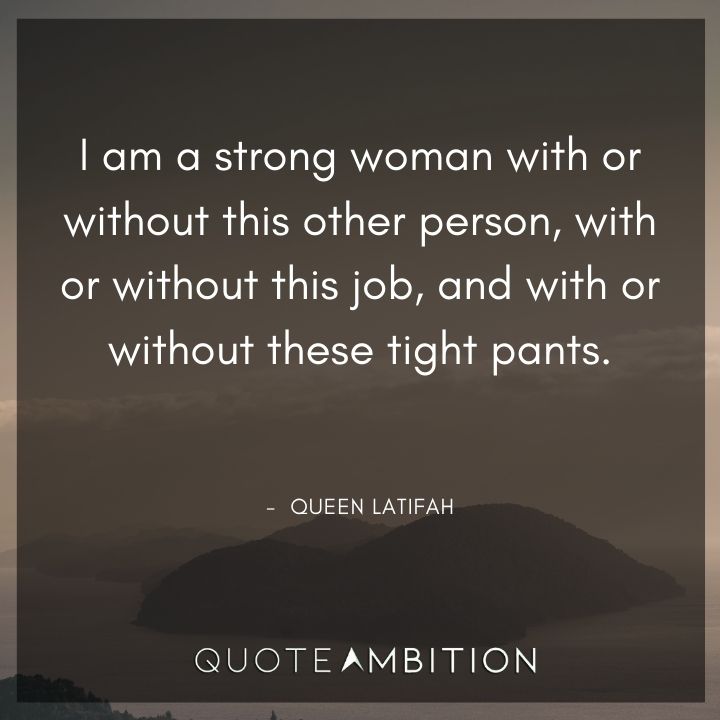 8. "I am a strong woman with or without this other person, with or without this job, and with or without these tight pants." – Queen Latifah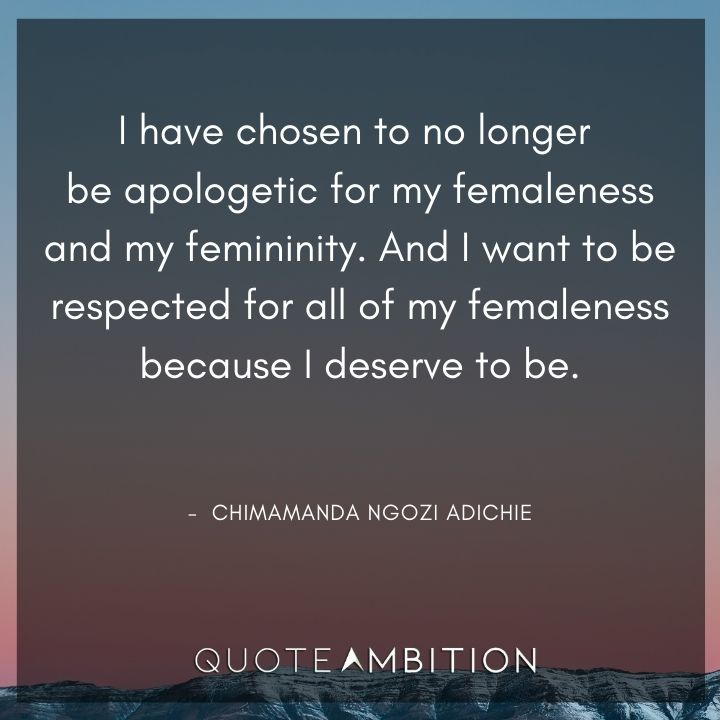 9. "I have chosen to no longer be apologetic for my femaleness and my femininity. And I want to be respected for all of my femaleness because I deserve to be." – Chimamanda Ngozi Adichie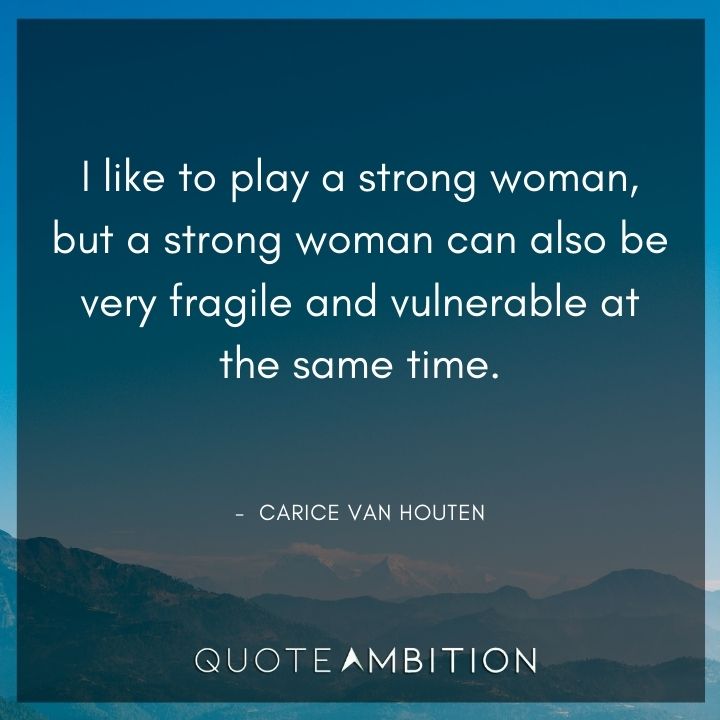 10. "I like to play a strong woman, but a strong woman can also be very fragile and vulnerable at the same time." – Carice van Houten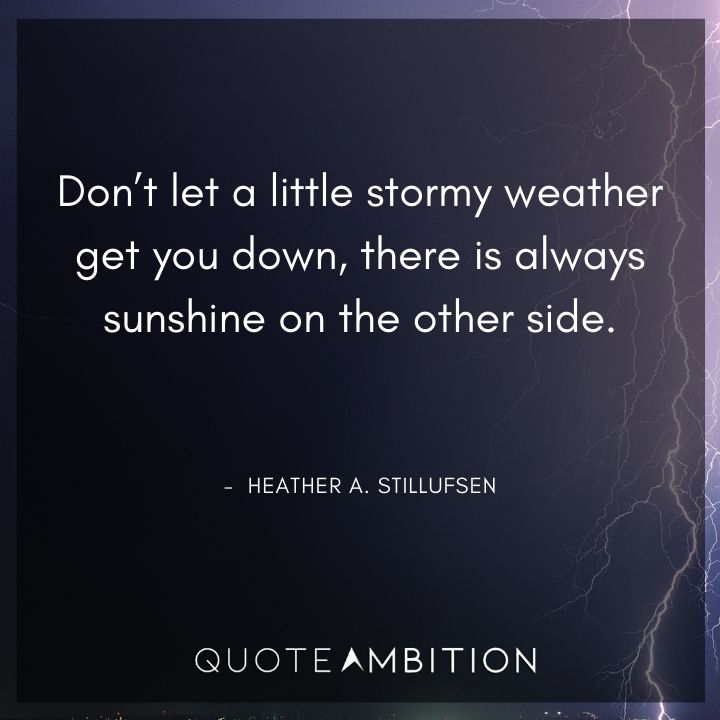 11. "Don't let a little stormy weather get you down, there is always sunshine on the other side." – Heather A. Stillufsen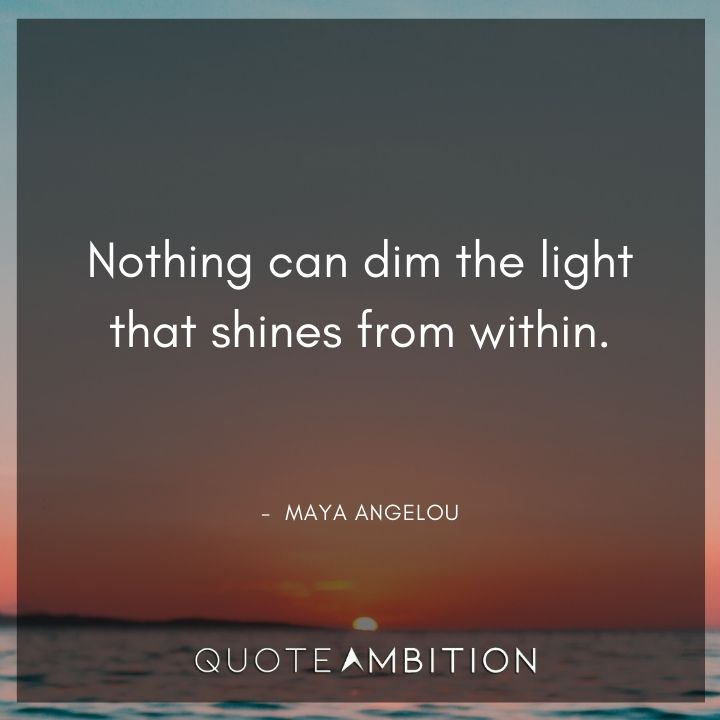 12. "Nothing can dim the light that shines from within." – Maya Angelou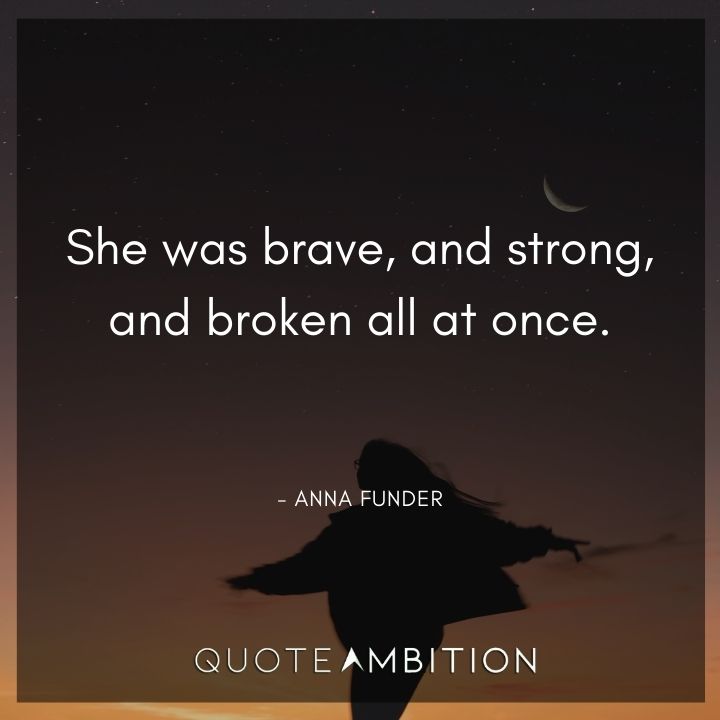 13. "She was brave, and strong, and broken all at once." – Anna Funder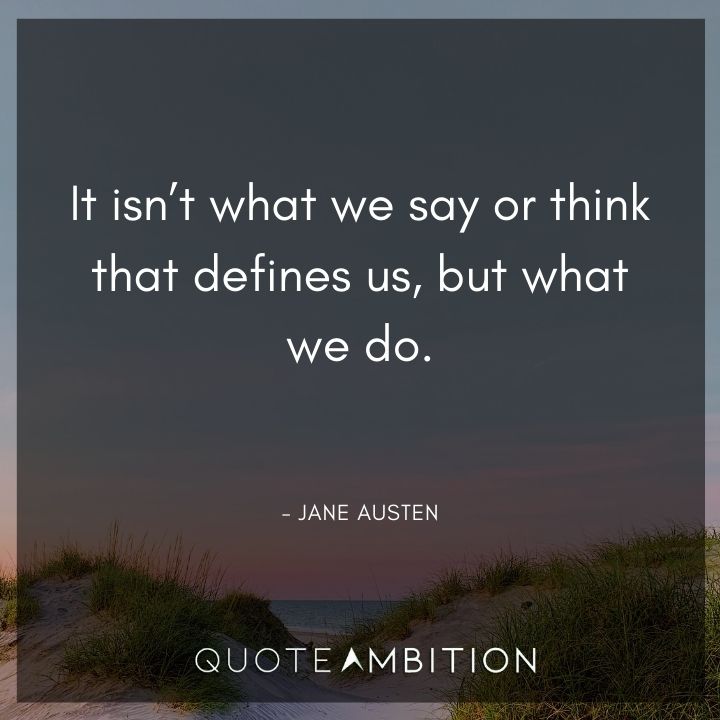 14. "It isn't what we say or think that defines us, but what we do." – Jane Austen
Famous Quotes About Strong Women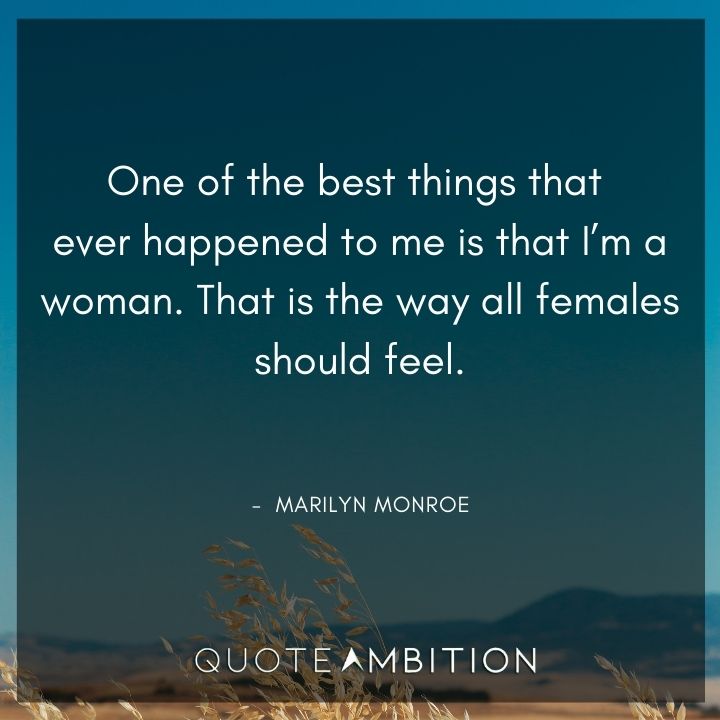 15. "One of the best things that ever happened to me is that I'm a woman. That is the way all females should feel." – Marilyn Monroe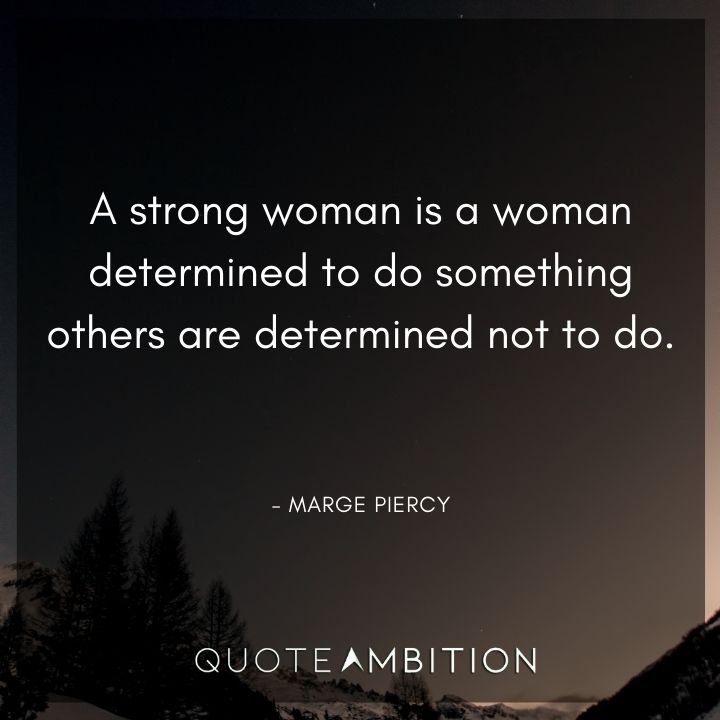 16. "A strong woman is a woman determined to do something others are determined not to do." – Marge Piercy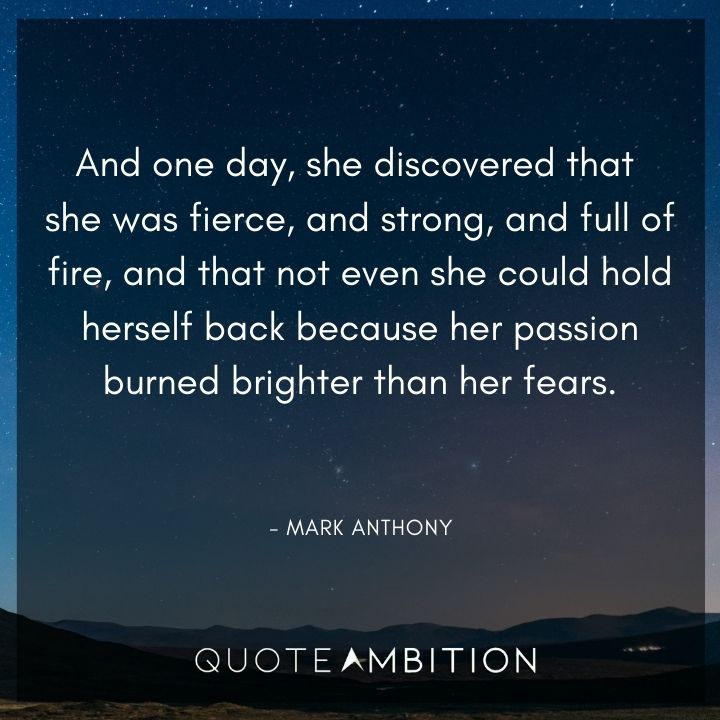 17. "And one day, she discovered that she was fierce, and strong, and full of fire, and that not even she could hold herself back because her passion burned brighter than her fears." – Mark Anthony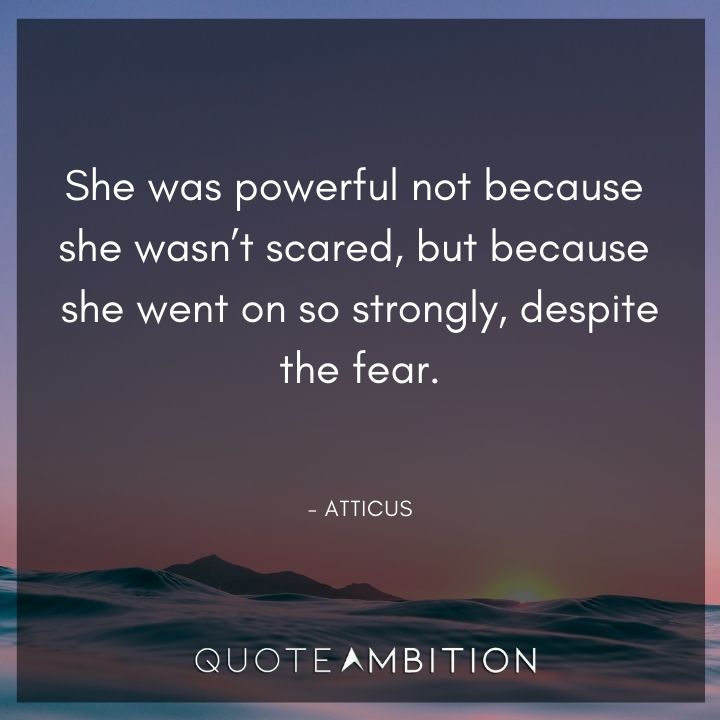 18. "She was powerful not because she wasn't scared, but because she went on so strongly, despite the fear." – Atticus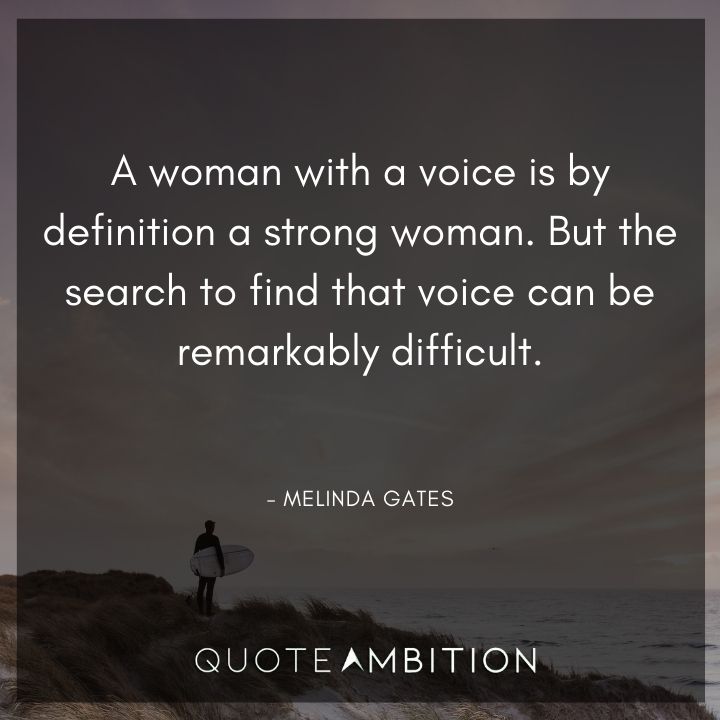 19. "A woman with a voice is by definition a strong woman. But the search to find that voice can be remarkably difficult." – Melinda Gates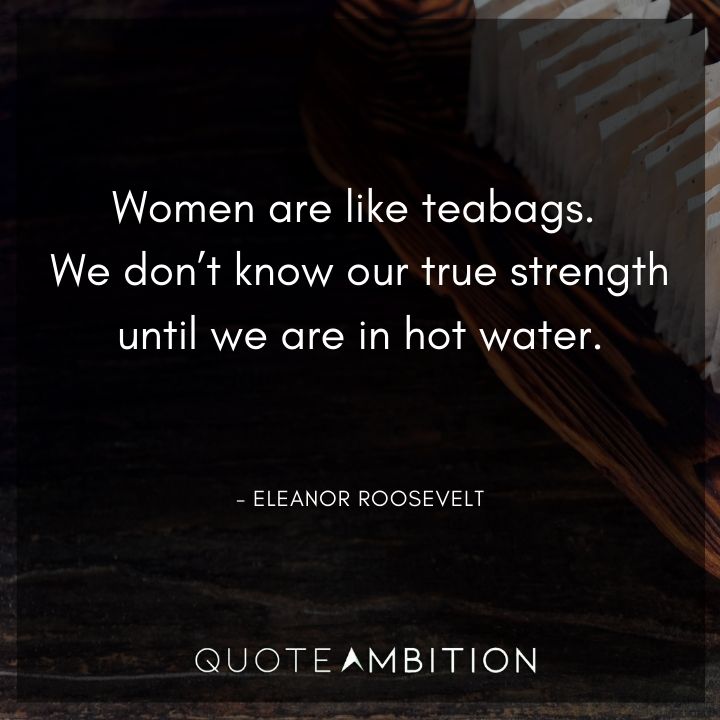 20. "Women are like teabags. We don't know our true strength until we are in hot water." – Eleanor Roosevelt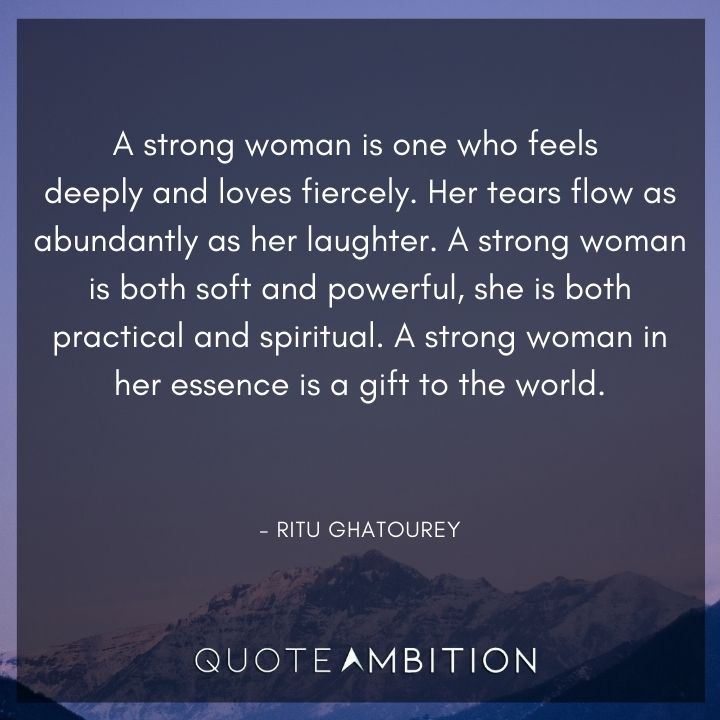 21. "A strong woman is one who feels deeply and loves fiercely. Her tears flow as abundantly as her laughter. A strong woman is both soft and powerful, she is both practical and spiritual. A strong woman in her essence is a gift to the world." – Ritu Ghatourey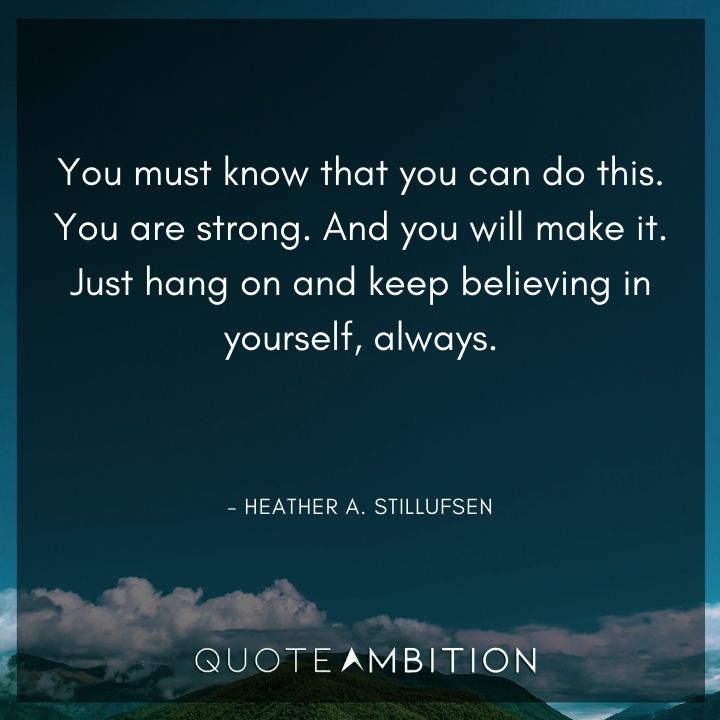 22. "You must know that you can do this. You are strong. And you will make it. Just hang on and keep believing in yourself, always." – Heather A. Stillufsen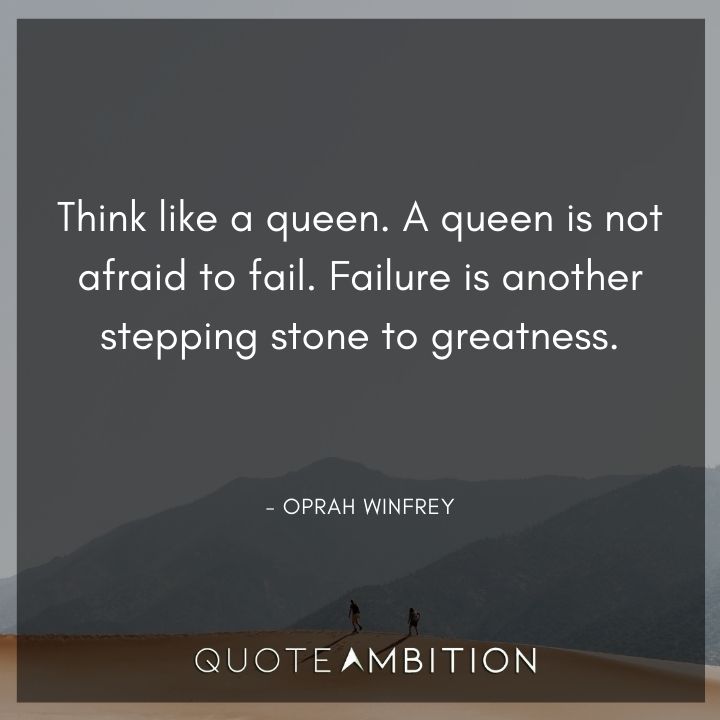 23. "Think like a queen. A queen is not afraid to fail. Failure is another stepping stone to greatness." – Oprah Winfrey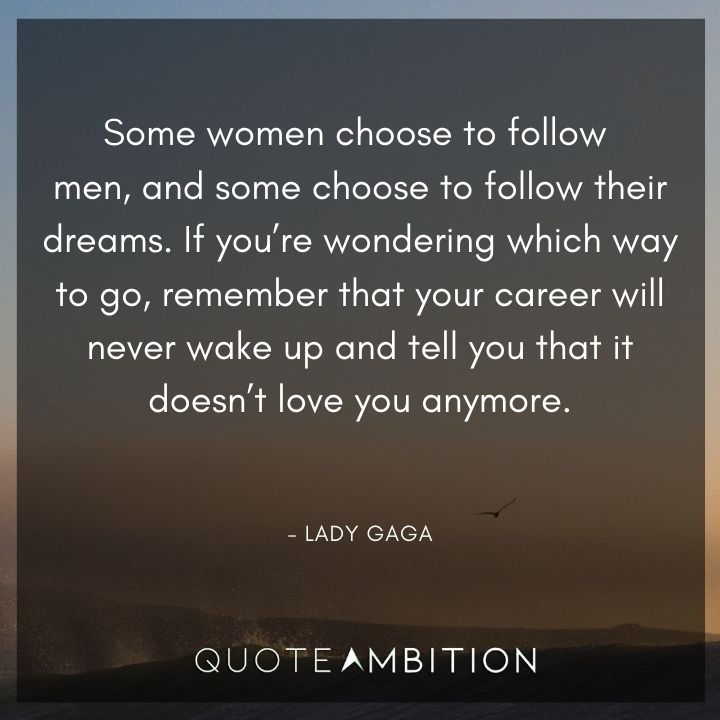 24. "Some women choose to follow men, and some choose to follow their dreams. If you're wondering which way to go, remember that your career will never wake up and tell you that it doesn't love you anymore." – Lady Gaga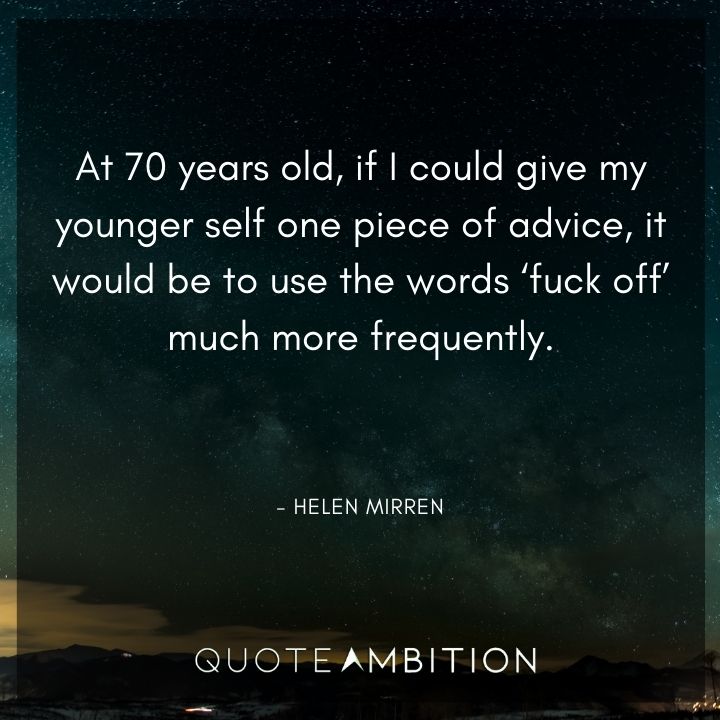 25. "At 70 years old, if I could give my younger self one piece of advice, it would be to use the words 'f*ck off' much more frequently." – Helen Mirren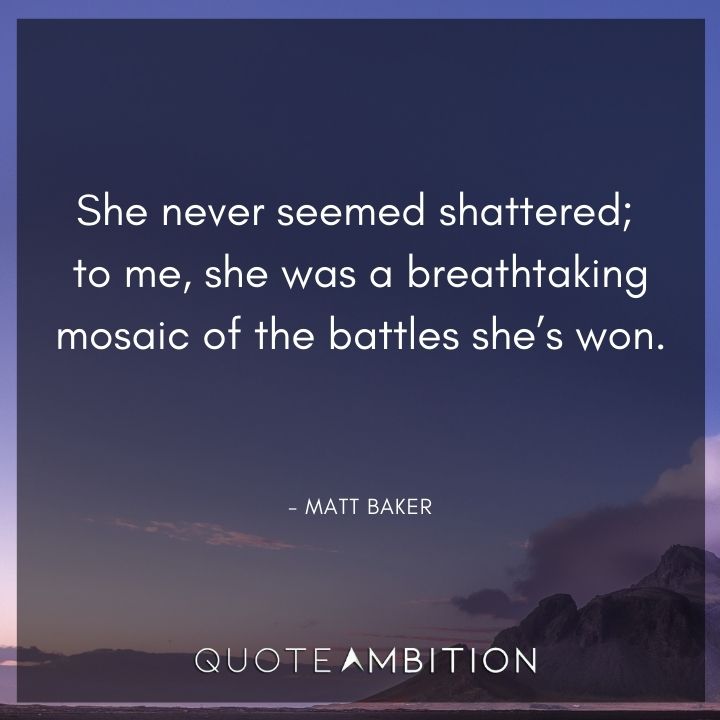 26. "She never seemed shattered; to me, she was a breathtaking mosaic of the battles she's won." – Matt Baker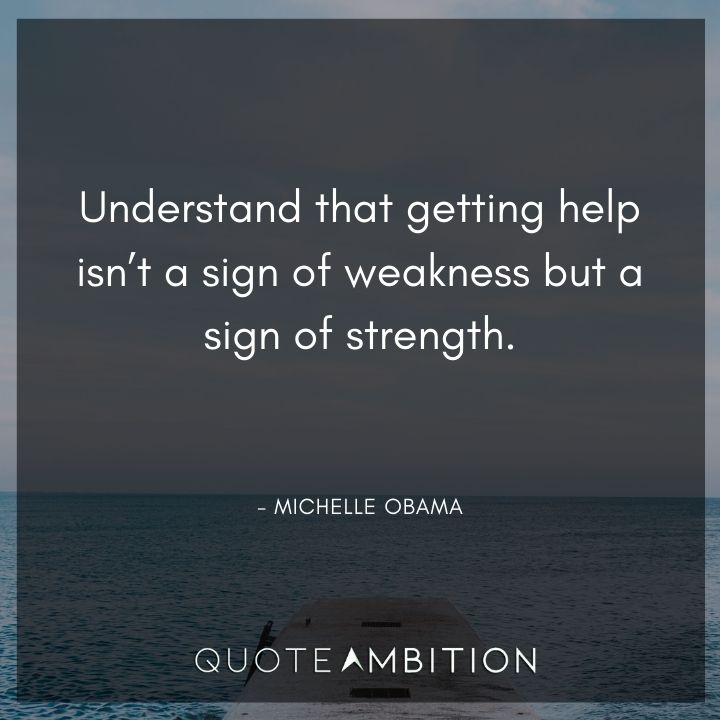 27. "Understand that getting help isn't a sign of weakness but a sign of strength." – Michelle Obama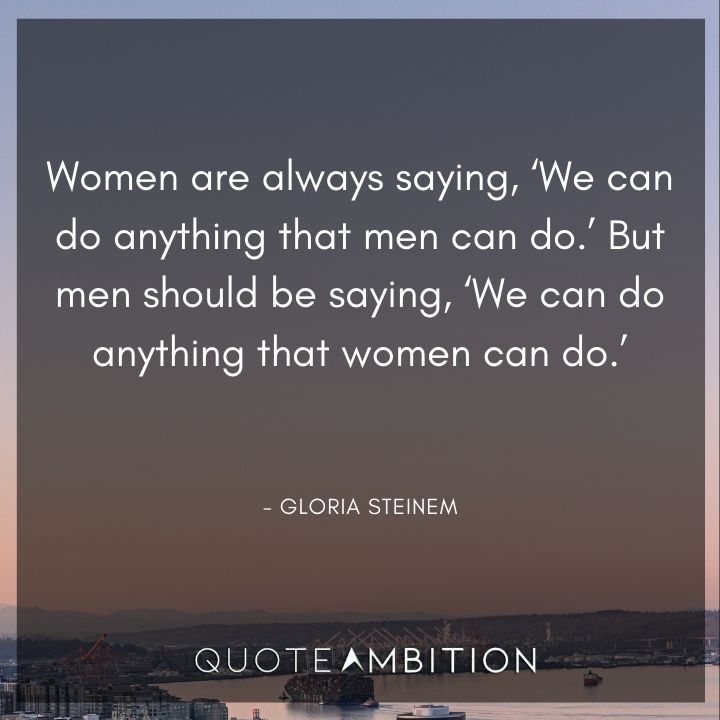 28. "Women are always saying, 'We can do anything that men can do.' But men should be saying, 'We can do anything that women can do.'" – Gloria Steinem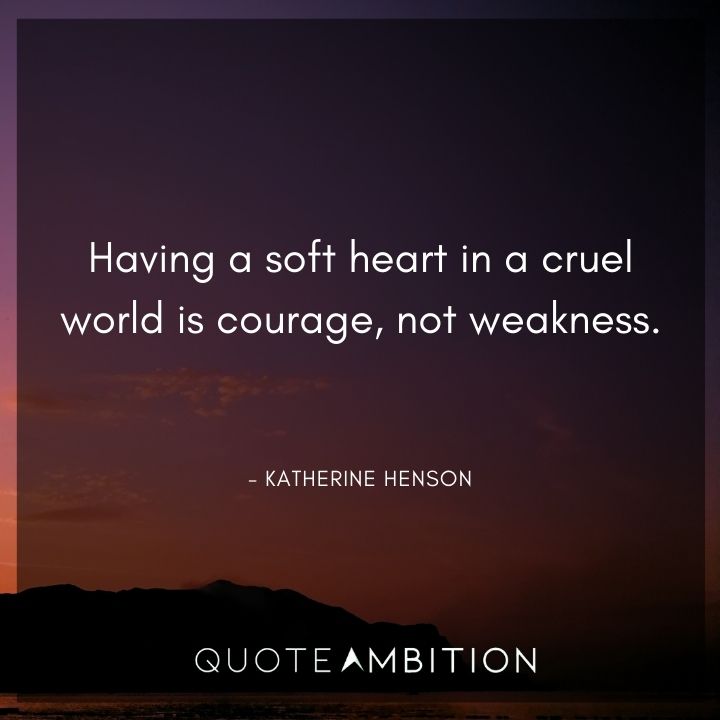 29. "Having a soft heart in a cruel world is courage, not weakness." – Katherine Henson
Quotes About Strong and Independent Women
30. "A woman is the full circle. Within her is the power to create, nurture and transform." – Diane Mariechild
31. "I just love bossy women. I could be around them all day. To me, bossy is not a pejorative term at all. It means somebody's passionate and engaged and ambitious and doesn't mind learning." – Amy Poehler
32. "Strong women don't play the victims, don't make themselves look pitiful, and don't point fingers. They stand and they deal." – Mandy Hale
33. "You have to have confidence in your ability, and then be tough enough to follow through." – Rosalynn Carter
34. "I am not a difficult woman at all. I am simply a strong woman and know my worth." – Angelina Jolie
35. "Beneath every strong, independent woman lies a broken little girl who had to learn how to get back up and to never depend on anyone." – Anonymous
36. "I know what I bring to the table. So trust me when I say I'm not afraid to eat alone." – Anonymous
37. "I am a woman with thoughts and questions and shit to say. I say if I'm beautiful. I say if I'm strong. You will not determine my story—I will." – Amy Schumer
38. "A strong woman builds her own world. She is one who is wise enough to know that it will attract the man she will gladly share it with." – Ellen J. Barrier
39. "She would rather walk alone in darkness than follow anyone else's shadow." – R.G. Moon
40. "Women must not depend upon the protection of man, but must be taught to protect herself." – Susan B. Anthony
41. "I think the truth of the matter is, people who end up as 'first' don't actually set out to be first. They set out to do something they love and it just so happens that they are the first to do it." – Condoleezza Rice
42. "I wanted to show that women are empowered and strong, and don't have to be saved by some male hero, but they can take care of themselves using their intelligence and their power." – Gal Gadot
43. "Truly powerful women don't explain why they want respect. They simply don't engage with those who don't give it to them." – Anonymous
44. "My mother told me to be a lady. And for her, that meant be your own person, be independent." – Ruth Bader Ginsburg
Short Quotes About Strong Women
45. "Above all, be the heroine of your life, not the victim." – Nora Ephron
46. "Don't let anyone speak for you, and don't rely on others to fight for you." – Michelle Obama
47. "A really strong woman accepts the war she went through and is ennobled by her scars." – Carly Simon
48. "The question isn't who's going to let me; it's who's going to stop me." – Ayn Rand
49. "Doubt is a killer. You just have to know who you are and what you stand for." – Jennifer Lopez
50. "A strong woman looks a challenge dead in the eye and gives it a wink." – Gina Carey
51. "A strong woman loves, forgives, walks away, lets go, tries again, and perseveres—no matter what life throws at her." – Anonymous
52. "She is clothed in strength and dignity, and she laughs without fear of the future." – Proverbs 31:25
53. "'You're gonna be happy,' said life, 'but first I'll make you strong.'" – Anonymous
54. "Some women are lost in the fire. Some women are built from it." – Michelle K. Some
55. "If my strength intimidates you, I hope you realize that's a weakness of yours." – Anonymous
56. "Sometimes, it takes balls to be a woman." – Anonymous
57. "I am a strong woman because a strong woman raised me." – Anonymous
58. "Let's be clear, I'm a strong woman." – Bethenny Frankel
59. "She is a queen. Her soul is royalty." – Adrian Michael
Meaningful Quotes About Strong Women
60. "She's a badass with a good heart—soft but strong, unapologetic and honest. She's the type of woman you go to war beside, the type of woman you marry." – R.H. Sin
61. "Strong women aren't simply born. We are forged through the challenges of life. With each challenge, we grow mentally and emotionally. We move forward with our head held high and a strength that can not be denied. A woman who's been through the storm and survived. We are warriors." – Anonymous
62. "Whatever women do, they must do twice as well as men to be thought half as good. Luckily, this is not difficult." – Charlotte Whitton
63. "She may be broken for a while, but that's ok. She's working on her, 'cause she's not one to leave a mess lying around." – JM Storm
64. "Pain shapes a woman into a warrior." – R.H. Sin
65. "She is a beautiful piece of broken pottery, put back together by her own hands. And a critical world judges her cracks while missing the beauty of how she made herself whole again." – JM Storm
66. "Don't underestimate me. I know more than I say, think more than I speak, notice more than you realize." – Anonymous
67. "If you ever find yourself in the wrong story, leave." – Mo Willems
68. "You must know this, there is always something out there that you can keep fighting for. So don't give up." – Heather A. Stillufsen
69. "The bravest thing she ever did was to stay alive each day." – Atticus
70. "Strong women don't have attitudes. They have standards." – Anonymous
71. "A woman becomes a reflection of how you treat her. If you don't like how she's acting, look at how you are treating her." – Anonymous
72. "Call me whatever you want. It's not going to stop me from trying to do the right thing. Because it doesn't just affect me, it affects all the other women who are in this with me, and it affects all the other men who are in this with me, too." – Emma Watson
73. "I've always wanted to be a woman who isn't afraid to tell her story." – Andra Day
74. "A girl doesn't need anyone who doesn't need her." – Marilyn Monroe
Quotes About Strong Women That Will Make You Feel Proud
75. "I'm not someone who can be controlled. I want someone who will watch me do my thing and be like, 'That's my girl.'" – Anonymous
76. "Be the kind of woman that when your feet hit the floor each morning the devil says, 'Oh crap, she's up!'" – Anonymous
77. "Instead of looking at the past, I put myself ahead twenty years and try to look at what I need to do now in order to get there then." – Diana Ross
78. "Women have to work much harder to make it in this world. It really pisses me off that women don't get the same opportunities as men do, or money for that matter. Because let's face it, money gives men the power to run the show. It gives men the power to define our values and to define what's sexy and what's feminine and that's bullshit. At the end of the day, it's not about equal rights, it's about how we think. We have to reshape our own perception of how we view ourselves." – Beyonce
79. "She's proof that you can walk through hell and still be an angel." – R.H. Sin
80. "Work hard at being the best version of yourself." – Isadora Duncan
81. "Never ever mistake her silence for weakness. Remember that sometimes the air stills, before the onset of a hurricane." – Nikita Hill
82. "I am very definitely a woman and I enjoy it." – Marilyn Monroe
83. "A strong woman builds others up because she knows what it's like to be torn down." – Anonymous
84. "As for my girls, I'll raise them to think they breathe fire." – Jessica Kirkland
85. "The weakest thing a man can do is to talk about his woman to another woman." – Anonymous
86. "We need to get women to the point where they aren't apologizing. It's time to take ownership in our success." – Tori Burch
87. "I live to succeed, not to please you or anyone else." – Marilyn Monroe
88. "A strong woman knows she has strength enough for the journey, but a woman of strength knows it is in the journey where she will become strong." – Anonymous
89. "A strong man can handle a strong woman. A weak man will say she has an attitude." – Sonya Parker
Witty Quotes About Strong Women
90. "Mirror, mirror on the wall, I'll always get up after I fall. And whether I run, walk, or have to crawl, I'll set my goals and achieve them all." – Chris Butler
91. "She's a strong cup of black coffee in a world that is drunk on the cheap wine of shallow love." – JM Storm
92. "They tried to burn her not knowing she was a flame." – R.H. Sin
93. "Strong women need not declare they can carry all the burdens in life. They just quietly do it and survive with a smile." – Anonymous
94. "Sometimes, I wake up and think I look horrible. And sometimes, I see a strong woman." – Irina Shayk
95. "You were wild once. Don't let them tame you." – Isadora Duncan
96. "Sometimes an angel, sometimes a hell raiser, always a strong woman." – R.H. Sin
97. "Rainy days are good for the soul." – Anonymous
98. "To be soft is to be powerful." – Anonymous
99. "A woman knows by intuition, or instinct, what is best for herself." – Marilyn Monroe
100. "A woman is only helpless while her nail polish is still wet, even then she can pull the trigger." – Anonymous
101. "Storms make trees take deeper roots." – Dolly Parton
102. "I can do anything when I am in a tutu." – Misty Copeland
103. "Own yourself, woman." – Toni Morrison
104. "If I was meant to be controlled, I would have come with a remote." – Anonymous
Quotes About Strong Women and Their Positivity
105. "I have learned over the years that when one's mind is made up, this diminishes fear; knowing what must be done does away with fear." – Rosa Parks
106. "I believe in being strong when everything seems to be going wrong, I believe that happy girls are the prettiest girls. I believe that tomorrow is another day, and I believe in miracles." – Audrey Hepburn
107. "Everyone has inside of her a piece of good news. The good news is that you don't know how great you can be, how much you can love, what you can accomplish, and what your potential is." – Anne Frank
108. "Take criticism seriously, but not personally. If there is truth or merit in the criticism, try to learn from it. Otherwise, let it roll right off you." – Hillary Clinton
109. "Forgive those who insult you, attack you, belittle you, or take you for granted. But more than this, forgive yourself for allowing them to hurt you." – Anonymous
110. "A strong woman is one who is able to smile this morning like she wasn't crying last night." – Harriet Morgan
111. "Today, hang in there—hold on and be strong. Keep going. You will and you can get through this." – Heather A. Stillufsen
112. "You may encounter many defeats, but you must not be defeated. In fact, it may be necessary to encounter the defeats, so you can know who you are, what you can rise from, and how you can still come out of it." – Maya Angelou
113. "If you live off a man's compliments, you'll die from his criticism." – Cornelius Lindsey
114. "Always, always, always believe in yourself. Because if you don't then who will, sweetie?" – Marilyn Monroe
Quotes About Strong Women Making a Difference
115. "I figure, if a girl wants to be a legend, she should go ahead and be one." – Calamity Jane
116. "We need women who are so strong they can be gentle, so educated they can be humble, so fierce they can be compassionate, so passionate they can be rational, and so disciplined they can be free." – Kavita Ramdas
117. "Life is not easy for any of us. But what of that? We must have perseverance and, above all, confidence in ourselves. We must believe we are gifted for something and that this thing must be attained." – Marie Curie
118. "Once you figure out what respect tastes like, it tastes better than attention." – Pink
119. "I've come to believe that each of us has a personal calling that's as unique as a fingerprint, and that the best way to succeed is to discover what you love and then find a way to offer it to others in the form of service, working hard, and also allowing the energy of the universe to lead you." – Oprah Winfrey
120. "Be a strong woman. So your daughter will have a role model and your son will know what to look for in a woman when he's a man." – Anonymous
121. "Because I am a woman, I must make unusual efforts to succeed. If I fail, no one will say, 'She doesn't have what it takes.' They will say, 'Women don't have what it takes.'" – Clare Boothe Luce
122. "If you want something said, ask a man; if you want something done, ask a woman." – Margaret Thatcher
123. "The most dangerous woman of all is the one who refuses to rely on your sword to save her because she carries her own." – R.H. Sin
124. "There will be people who say to you, 'You are out of your lane.' They are burdened by only having the capacity to see what has always been instead of what can be. But don't you let that burden you." – Kamala Harris
125. "Some people think that you have to be the loudest voice in the room to make a difference. That is just not true. Often, the best thing we can do is turn down the volume. When the sound is quieter, you can actually hear what someone else is saying. And that can make a world of difference." – Nikki Haley
126. "I don't care what you think about me. I don't think about you at all." – Coco Chanel
127. "You can say a lot of things about me, but you cannot say I don't work hard." – Kim Kardashian
128. "So many strong women start as broken girls." – Anonymous
129. "She needed a hero. So that's what she became." – Anonymous
Amazing Strong Women Quotes
130. ​​"She was a wild one; always stomping on eggshells that everyone else tip-toed on." – Kaitlin Foster
131. "I am proud of the woman I am today, because I went through one hell of a time becoming her." – Anonymous
132. "Be strong enough to stand alone, smart enough to know when you need help, and brave enough to ask for it." – Ziad K. Abdelnour
133. "Never apologize for being a powerful woman." – Anonymous
134. "Be that strong girl that everyone knew would make it through the worst. Be that fearless girl the one would dare to do anything. Be that independent girl, who doesn't need a man. Be that girl who never backed down." – Taylor Swift
135. "You can tell who the strong women are. They are the ones you see building one another up instead of tearing each other down." – Anonymous
136. "What made her strong was despite the million things that hurt her, she spoke of nothing—nothing but happiness." – J.A.
137. "She is kind but strong, and that is where so many mistake her. They interpret her kindness for weakness and force her to show her strength." – JM Storm
138. "You may not be everything you thought you'd be by now, but you can be the one who loves, serves, and gives her all, and waters and nurtures every plant in the garden that God has already given her." – Morgan Harper Nichols
139. "Beautiful girl, you were made to do hard things so believe in yourself." – Anonymous
Quotes That Will Inspire Women to Stay Strong
140. "Avoiding danger is no safer in the long run than outright exposure. The fearful are caught as often as the bold." – Helen Keller
141. "Always aim high, work hard, and care deeply about what you believe in. And, when you stumble, keep faith. And, when you're knocked down, get right back up and never listen to anyone who says you can't or shouldn't go on." – Hillary Rodham Clinton
142. "Life has knocked me down a few times, it showed me things I never wanted to see. I experienced sadness and failures. But one thing for sure, I always get up." – Anonymous
143. "A strong woman will automatically stop trying if she feels unwanted. She won't fix it or beg, she'll just walk away." – Anonymous
144. "Stay strong. Make them wonder how you're still smiling." – Anonymous
145. "Strong women are often misperceived as cold and mean simply because they refuse to be disrespected, mistreated or taken for granted." – Anonymous
146. "She overcame everything that was meant to destroy her." – Sylvester McNutt II
147. "She is full of wounds riddled with scars, but she is still standing and she is still beautiful." – R.H. Sin
148. "You have to fight through some bad days to earn the best days of your life." – Anonymous
149. "Failure is simply the opportunity to begin again, this time more intelligently." – Henry Ford
Powerful Strong Women Quotes
150. "She is both hellfire and holy water. And the flavor you taste depends on how you treat her." – Sneha Pal
151. "A strong woman may remain silent when people talk behind her back, but that doesn't mean she doesn't notice, it simply means she chooses not to waste her energy on foolishness. She has more important things to do." – Anonymous
152. "Whenever I speak to a strong woman I always want to ask, 'What demons did you have to slay?'" – Anonymous
153. "Woman is the dominant sex. Men have to do all sorts of stuff to prove they are worthy of a woman's attention." – Camille Pagla
154. "A wise girl knows her limits, a smart girl knows that she has none." – Marilyn Monroe
155. "I have to be seen to be believed." – Queen Elizabeth II
156. "A wise woman once said, 'F*ck this sh*t' and she lived happily ever after." – Anonymous
157. "I will destroy you in the most beautiful way possible and when I leave, you will finally understand why storms are named after people." – Caitlyn Siehl
158. "A queen will always turn pain into power." – Anonymous
159. "And to all of the little girls who are watching this, never doubt that you are valuable and powerful and deserving of every chance and opportunity in the world to pursue and achieve your own dreams." – Hillary Clinton
Quotes About Strong Women in the Society
160. "We need women at all levels, including the top, to change the dynamic, reshape the conversation, to make sure women's voices are heard and heeded, not overlooked and ignored." – Sheryl Sandberg
161. "Figure out who you are separate from your family, and the man or woman you're in a relationship with. Find who you are in this world and what you need to feel good alone. I think that's the most important thing in life. Find a sense of self. With that, you can do anything else." – Angelina Jolie
162. "The woman who follows the crowd will usually go no further than the crowd. The woman who walks alone is likely to find herself in places no one has ever been before." – Albert Einstein
163. "Give a woman pain and she'll turn it into power. Give that woman chaos and she'll create peace." – R.H. Sin
164. "The day will come when men will recognize women as his peers, not only at the fireside, but in councils of the nation. Then, and not until then, will there be the perfect comradeship, the ideal union between the sexes that shall result in the highest development of the race." – Susan B. Anthony
165. "Most people who meet my wife quickly conclude that she is remarkable. They are right about this. She is smart, funny and thoroughly charming. Often, after hearing her speak at some function or working with her on a project, people will approach me and say something to the effect of, 'You know, I think the world of you, Barack, but your wife, wow!'" – Barack Obama
166. "Women are leaders everywhere you look—from the CEO who runs a Fortune 500 company to the housewife who raises her children and heads her household. Our country was built by strong women, and we will continue to break down walls and defy stereotypes." – Nancy Pelosi
167. "I've often thought it unfair that women are expected to stay at home when there's a fight to be won. If a woman has the strength to bear a child, she can swing a sword as well as any man." – Karen Hawkins
168. "In the future, there will be no female leaders. There will just be leaders." – Sheryl Sandberg
169. "There's something special about a woman who dominates in a man's world. It takes a certain grace, strength, intelligence, fearlessness, and the nerve to never take no for an answer." – Rihanna
170. "If fighting for women's health care and paid family leave and equal pay is playing the women's card, then deal me in." – Hillary Clinton
171. "What I want young women and girls to know is: you are powerful and your voice matters. You're going to walk into many rooms where you may be the only one who looks like you or who has had the experiences you've had. So you use that voice and be strong." – Kamala Harris
172. "There are no hopeless situations; there are only men who have grown hopeless about them." – Clare Boothe Luce
173. "Think I finally reached the point where I don't care anymore, I'm a good person, I can't force people to see my worth." – Anonymous
174. "There's nothing beautiful than a woman that focuses on her career, goals, and her ambitions. She's not worried about being single because she knows God is going to send her husband right on time." – Anonymous
Profound Quotes About Strong Women
175. "There's fire in her. If loved correctly, she will warm your entire home. If abused, she will burn it down." – Anonymous
176. "Sometimes, the smallest step in the right direction ends up being the biggest step of your life." – Anonymous
177. "I am a strong woman. Everything that's hit me in life I've dealt with on my own. I've cried myself to sleep. Picked myself back up and wiped my own tears. I have grown from things meant to break me. I get stronger by the day and I have God to thank for that." – Anonymous
178. "The strongest actions for a woman is to love herself, be herself. and shine amongst those who never believed she could." – Anonymous
179. "I know God will not give me anything I can't handle. I just wish that He didn't trust me so much." – Mother Teresa
180. "When you are a strong woman, you will attract trouble. When a man feels threatened, there is always trouble." – Barbara Taylor Bradford
181. "Her damaged petals are what made her more beautiful than all the other flowers." – A.J. Lawless
182. "If an egg is broken by outside force, life ends. If broken by inside force, life begins. Great things always begin from inside." – Anonymous
183. "A storm was coming, but that's not what she felt. It was an adventure on the wind and it shivered down her spine." – Atticus
184. "Our backs tell stories no books have the spine to carry." – Rupi Kaur
Quotes About How Loving Yourself Will Make You Stronger
185. "Take care of yourself now that you're old enough to know how. Drink water, sleep eight hours, and don't go within 400 feet of a tanning booth or I'll slap you. Hard." – Olivia Wilde
186. "Women are never stronger than when they arm themselves with their weaknesses." – Madame Marie du Deffand
187. "We teach girls to shrink themselves, to make themselves smaller. We say to girls, 'You can have ambition, but not too much. You should aim to be successful, but not too successful. Otherwise, you will threaten the man.' Because I am female, I am expected to aspire to marriage. I am expected to make my life choices, always keeping in mind that marriage is the most important. Now, marriage can be a source of joy and love and mutual support, but why do we teach girls to aspire to marriage and we don't teach boys the same?" – Chimamanda Ngozi Adichie
188. "The girls who were unanimously considered beautiful often rested on their beauty alone. I felt I had to do things, to be intelligent, and develop a personality in order to be seen as attractive. By the time I realized maybe I wasn't plain and might even possibly be pretty, I had already trained myself to be a little more interesting and informed." – Diane Von Furstenberg
189. "She wasn't born herself. She found herself over a long and treacherous road. And the more treacherous the road became, the more of herself she found." – Atticus
190. "Chin up, child. In my experience, when a life seems to be falling to pieces, it is usually falling into place." – Beau Taplin
191. "She remembered who she was and the game changed." – Lalah Deliah
192. "She understood that the hardest times in life to go through were when you were transitioning from one version of yourself to another." – Sarah Addison Allen
193. "I am mine before I am anyone else's." – Nayyirah Waheed
194. "Someone I loved once gave me a box full of darkness. It took me years to understand that this too, was a gift." – Mary Oliver
195. "After all those years as a woman hearing 'not thin enough, not this enough, not that enough', almost overnight I woke up one morning and thought—I'm enough." – Anna Quindlen
196. "I know my worth. I've paid dearly for every ounce of it." – Alfa
197. "A woman's body makes her sexy, their smile makes her pretty but it's a good heart and soul that makes her absolutely beautiful." – Anonymous
198. "I am a woman phenomenally. Phenomenal woman, that's me." – Maya Angelou
199. "The beauty of being a feminist is that you get to be whatever you want. And that's the point." – Shonda Rhimes
Sweet Quotes About Strong Women
200. "Be good to her, she's rare." – R.H. Sin
201. "If you can make a girl laugh, you can make her do anything." – Marilyn Monroe
202. "And you were just like the moon—so lonely, so full of imperfections. But just like the moon, you shined in times of darkness." – C.W.
203. "No one ever told me I was pretty when I was a little girl. All little girls should be told they're pretty, even if they aren't." – Marilyn Monroe
204. "We are made of all those who have built and broken us." – Atticus
205. "A woman who opens her heart to love you, when it's already broken, is braver than any person you'll meet." – Steven Benson
206. "In the depths of winter, I finally learned that within me there lay an invincible summer." – Albert Camus
207. "I am good, but not an angel. I do sin, but I am not the devil. I am just a small girl in a big world trying to find someone to love." – Marilyn Monroe
208. "Nothing in this world is guaranteed, but unstoppable is she who still fights for what she wants and what she believes." – Anonymous
209. "Every woman deserves to have a partner who is proudly willing to say to the whole world, 'Yeah, she is my one and only. She is beautiful and she is mine.'" – Anonymous
Great Quotes About Strong Women Raising Each Other Up
210. "Females are the most beautiful, gorgeous creatures in the whole world. And I think that we are gorgeous no matter what size we are." – Alicia Keys
211. "Behind every great woman, I pray there will be another great woman, whispering, 'You've got this,' in her ear." – Anonymous
212. "She is dangerous when she is hurt. She can easily destroy everything around her, but she doesn't. Instead, she destroys herself." – Aletta S.
213. "When a man realizes that his woman is a teammate, not an opponent, that's when his life changes. Don't break her down. Build her up and let her help you win." – Tony Gaskins
214. "A glowing woman can help other women glow and still be lit, you know." – Anonymous
215. "Women that believe in each other can survive anything. Women who believe in each other create armies that will win kingdoms and wars." – Nikita Gill
216. "I was raised in a family where women made it happen with or without a man." – Anonymous
217. "Feminism isn't about making women stronger. Women are already strong. It's about changing the way the world perceives that strength." – G.D. Anderson
218. "I love the person I've become, because I fought to become her." – Anonymous
219. "Women are blessed with enough patience to stay and enough strength to move on." – Anonymous
Quotes About Women Who Face Adversity Head-on
220. "Don't hold back because you think it's unladylike. We shouldn't be shamed out of our anger. We should be using it. Using it to make change in our own lives, and using it to make change in the lives around us." – Jessica Valenti
221. "I admire women who could've turned cold after everything they've been through but still chose love anyway. There's strength in that." – Anonymous
222. "Be a woman that wakes up with purpose and intent. Be that woman that shows up and never gives up. Be that woman that believes anything is possible and is willing to work for it." – Anonymous
223. "I am no longer accepting the things I cannot change. I am changing the things I cannot accept." – Angela Davis
224. "They say you don't know what you have till it's gone. I say you know exactly what you had, you just thought you'd never lose it." – Anonymous
225. "She has been through hell. So believe me when I say, fear her when she looks into the fire and smiles." – Anonymous
226. "Life is tough, my darling, but so are you." – Stephanie Bennett-Henry
227. "She spent her whole life fixing broken hearts yet she didn't know how to fix her own." – Anonymous
228. "I keep my ideals, because in spite of everything, I still believe that people are really good at heart." – Anne Frank
229. "Never beg, never apologize, never low your grade. Be a woman with a classy attitude." – Anonymous
More Quotes About Strong Women
230. "She's a simple woman, made to look complicated by a man who isn't man enough to provide the things she deserves." – R.H. Sin
231. "She wore her scars as her best attire. A stunning dress made of hellfire." – Daniel Saint
232. "Strong women wear their pain like they do stilettos. No matter how much it hurts, all you see is the beauty of it." – Harriet Morgan
233. "You don't have to play masculine to be a strong woman." – Mary Elizabeth Winstead
234. "I'm lucky my wife is a strong woman. She's one of the stronger people I've ever met. It's hard for me to be away, but I know my home life is fine because my wife is there." – Darius Rucker
235. "Alone, by herself, she built the kingdom that she wanted." – R.H. Sin
236. "I didn't cause it. I can't control it. I can't cure it. But I won't condone it." – Anonymous
237. "Half woman, half warrior. Delicate and strong." – R.H. Sin
238. "You'll heal. You'll be okay. You'll let go." – PTLM
239. "You have to learn to get up from the table when love is no longer being served." – Nina Simone
240. "A smile is the best makeup a girl can wear." – Marilyn Monroe
Did These Quotes Give You a Glimpse of How Important Women Are in the World?
Women have been facing many different challenges since the beginning of history. And most of the time, women are portrayed as the 'weaker' sex. However, in truth, women are some of the strongest beings in this world.
They are the ones that bring new life into the world. But unfortunately, even with all the great things that come with being a woman, they're still being undervalued in our society even today.
Let's not forget that women are bearers of new life, light of nations—and homes, and are the voice of minorities and abused. Even though they're still being held back by a lot of normalized societal practices, women continue to fight and soldier on.
Women are strong—mind, body, and soul. And if everyone in the world believed that a little more and treated women with a bit more respect and admiration, we're sure that our world will become a better place for all.
How do you view yourself and the women around you? Is there anything you'd like to share with the women in the world? Leave your messages in the comments section below.