Here are some of the most empowering strong women quotes that will help every little girl conquer the world!
Since time immemorial, there has been an imbalance between males and females. Society, after all, dictates that men are much stronger than women.
However, that's simply not true at all. Our communities will not function without women; moreover, it's through women that we get to live on, generation after generation.
We should all start changing our mindsets and remember that women are equally strong as men. Some would even argue that women are superior, as they are much more resilient and persevering, especially when it comes to emotional aspects of life.
Women deserve to be heard and listened to. And, if you're a woman, remember that you're strong, worth it, and valuable!
Read on to find the best strong women quotes. We're optimistic the lines below will teach you what makes a strong, confident, and independent female!
And don't forget to check out these encouraging quotes and positive quotes.
Best Strong Women Quotes
1. "Women are like teabags. We don't know our true strength until we are in hot water." – Eleanor Roosevelt
2. "I believe in being strong when everything seems to be going wrong. I believe that happy girls are the prettiest girls. I believe that tomorrow is another day, and I believe in miracles." – Audrey Hepburn
3. "Women must try to do things as men have tried. When they fail, their failure must be but a challenge to others." – Amelia Earhart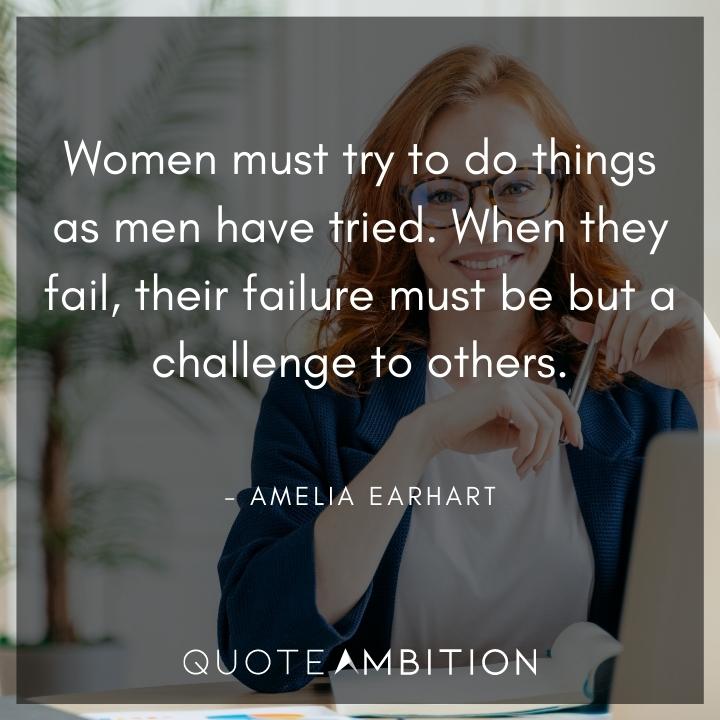 4. "Strong women don't have 'attitudes.' We have standards." – Marilyn Monroe
5. "A woman with a voice is, by definition, a strong woman. But the search to find that voice can be remarkably difficult." – Melinda Gates
6. "I've often thought it unfair that women are expected to stay at home when there's a fight to be won. If a woman has the strength to bear a child, she can swing a sword as well as any man." – Karen Hawkins
Inspirational Quotes for Strong Women
7. "A girl should be two things: who and what she wants." – Coco Chanel
8. "Think like a queen. A queen is not afraid to fail. Failure is another stepping stone to greatness." – Oprah Winfrey
9. "A strong woman knows she has strength enough for the journey, but a woman of strength knows it is in the journey where she will become strong." – Anonymous
10. "The world needs strong women. Women who will lift and build others, who will love and be loved, women who live bravely, both tender and fierce, women of indomitable will." – Amy Tenney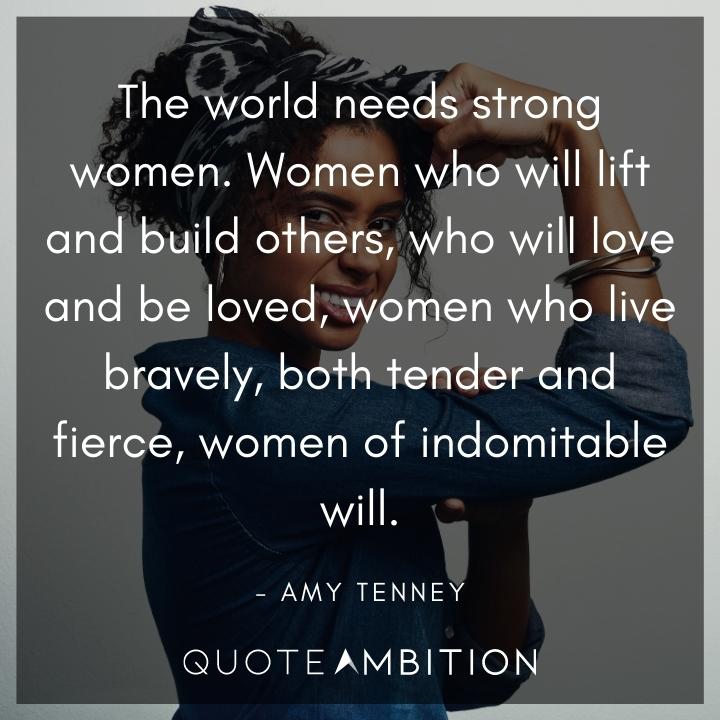 11. "You must know that you can do this. You are strong, and you will make it. Just hang on and keep believing in yourself, always." – Heather A. Stillufsen
12. "I believe in strong women. I believe in the woman who is able to stand up for herself. I believe in the woman who doesn't need to hide behind her husband's back. I believe that if you have problems, as a woman, you deal with them. You don't play victim, you don't make yourself look pitiful, you don't point fingers. You stand, and you deal. You face the world with a head held high, and you carry the universe in your heart." – C. JoyBell C.
Strong Woman Quotes
13. "There's something special about a woman who dominates in a man's world. It takes a certain grace, strength, intelligence, fearlessness, and the nerve to never take no for an answer." – Rihanna
14. "A really strong woman accepts the war she went through and is ennobled by her scars." – Carly Simon
15. "Each time a woman stands up for herself, she stands up for all women." – Maya Angelou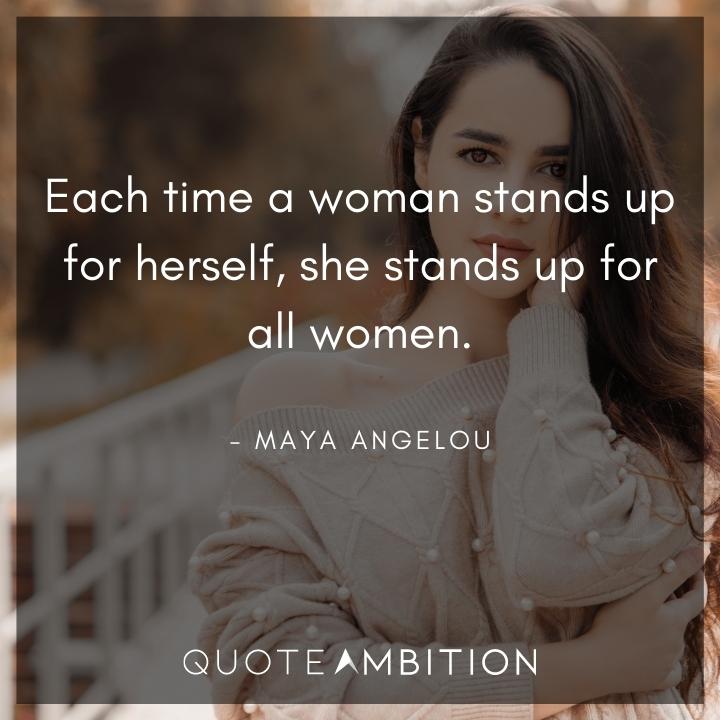 16. "A strong woman is a woman determined to do something others are determined not be done." – Marge Piercy
17. "A strong woman knows how to keep her life in line. With tears in her eyes, she still manages to say, 'Nah, I'm fine.'" – Anonymous
18. "Women that believe in each other can survive anything. Women who believe in each other create armies that will win kingdoms and wars." – Nikita Gill
19. "She is clothed with strength and dignity, and she laughs without fear of the future." – Proverbs 31:25
Powerful Women Quotes to Encourage You
20. "Don't think about making women fit the world—think about making the world fit women." – Gloria Steinem
21. "Never apologize for being a powerful woman." – Anonymous
22. "I encourage women to step up. Don't wait for somebody to ask you." – Reese Witherspoon
23. "I am not free while any woman is unfree, even when her shackles are very different from my own." – Audre Lorde
24. "Whatever women do, they must do twice as well as men to be thought half as good. Luckily, this is not difficult." – Charlotte Whitton
Strong, Confident Woman Quotes
25. "The most alluring thing a woman can have is confidence." – Beyoncé Knowles
26. "Be that strong girl that everyone knew would make it through the worst. Be that fearless girl." – Anonymous
27. "We need to get women to the point where they aren't apologizing. It's time to take ownership in our success." – Tory Burch
28. "The woman who does not require validation from anyone is the most feared individual on the planet." – Anonymous
29. "I just love bossy women. I could be around them all day. To me, bossy is not a pejorative term at all. It means somebody's passionate and engaged and ambitious and doesn't mind learning." – Amy Poehler
30. "I just want women to always feel in control. Because we're capable, we're so capable." – Nicki Minaj
Strong, Independent Woman Quotes
31. "If you want something said, ask a man; if you want something done, ask a woman." – Margaret Thatcher
32. "My mother told me to be a lady. And for her, that meant be your own person, be independent." – Ruth Bader Ginsburg
33. "Women are leaders everywhere you look—from the CEO who runs a Fortune 500 company to the housewife who raises her children and heads her household. Our country was built by strong women, and we will continue to break down walls and defy stereotypes." – Nancy Pelosi
34. "The woman who follows the crowd will usually go no further than the crowd. The woman who walks alone is likely to find herself in places no one has ever been before." – Albert Einstein
35. "Women are always saying, 'We can do anything that men can do.' But men should be saying, 'We can do anything that women can do.'" – Gloria Steinem
Short Strong Women Quotes for Instagram
36. "Women are the real architects of society." – Cher
37. "Above all, be the heroine of your life, not the victim." – Nora Ephron
38. "There is no limit to what we, as women, can accomplish." – Michelle Obama
39. "I am woman phenomenally. Phenomenal woman, that's me." – Maya Angelou
40. "Be a girl with a mind, a woman with attitude, and a lady with class." – Anonymous
Classy Quotes About All the Strong and Confident Women Out There
41. "What I want young women and girls to know is: you are powerful, and your voice matters. You're going to walk into many rooms where you may be the only one who looks like you or who has had the experiences you've had. So you use that voice and be strong." – Kamala Harris
42. "I always wanted to be a femme fatale. Even when I was a young girl, I never really wanted to be a girl. I wanted to be a woman." – Diane Von Furstenberg
43. "We need women who are so strong they can be gentle, so educated they can be humble, so fierce they can be compassionate, so passionate they can be rational, and so disciplined they can be free." – Kavita Ramdas
44. "A strong woman understands that gifts such as logic, decisiveness, and strength are just as feminine as intuition and emotional connection. She values and uses all of her gifts." – Nancy Rathburn
45. "Call me whatever you want. It's not going to stop me from trying to do the right thing. Because it doesn't just affect me, it affects all the other women who are in this with me, and it affects all the other men who are in this with me too." – Emma Watson
Strong and Beautiful Women Quotes You'll Learn From
46. "Females are the most beautiful, gorgeous creatures in the whole world. And I think that we are gorgeous no matter what size we are." – Alicia Keys
47. "You don't have to be pretty. You don't owe prettiness to anyone. Prettiness is not a rent you pay for occupying a space marked 'female.'" – Erin McKean
48. "I know my worth. I embrace my power. I say if I'm beautiful. I say if I'm strong. You will not determine my story—I will." – Amy Schumer
49. "And one day she discovered that she was fierce and strong, and full of fire and that not even she could hold herself back because her passion burned brighter than her fears." – Mark Anthony
50. "Courage, sacrifice, determination, commitment, toughness, heart, talent, guts. That's what little girls are made of; the heck with sugar and spice." – Bethany Hamilton
More Strong Female Quotes to Make You Proud to Be a Woman
51. "In the future, there will be no female leaders. There will just be leaders." – Sheryl Sandberg
52. "One of the best things that ever happened to me is that I'm a woman. That is the way all females should feel." – Marilyn Monroe
53. "She was a wild one; always stomping on eggshells that everyone else tip-toed on." – Kaitlin Foster
54. "I have chosen to no longer be apologetic for my femaleness and my femininity. And I want to be respected in all of my femaleness because I deserve to be." – Chimamanda Ngozi Adichie
55. "Women who had the strength to really stand up for something that they knew needed to be done is the best example of no matter how small you might feel, how low you may feel on the ladder or the totem pole, no matter what color you are, no matter what gender you are, you have a voice, and you certainly have the right to speak up for what is right." – Meghan Markle
Did the Quotes Above Encourage You to Shine Your Light on the World?
As a woman, you are blessed with strength that no other creature on Earth can have. You are resilient, confident, and brave; don't ever let anyone tell you otherwise!
Society might be blind to what truly makes a strong woman, but you shouldn't. Be the start of positive change in your community, and show everyone why you should be valued, heard, and listened to.
Strong women have an empowered attitude that allows them to overcome life's challenges. Like everyone else, the obstacles they'll face aren't easy.
Even so, they recognize that they have the strength within them to rise above anything. They don't cower in fear; instead, they rise to the challenge and face it head-on!
Moreover, strong women empower other women to find their strength, too. They never tear each other down; they work together to build a more accepting and positive community for everyone.
With that, we hope we were able to inspire you through this collection of strong women quotes. Remember that the power to change your and others' lives lies within you!
Read Next: