Take advantage of these Thomas Shelby quotes, which are full of life lessons that will help you survive life's challenges.
Thomas Shelby is one of the main characters in Peaky Blinders. In the series, he is portrayed as a ruthless gang leader who knows what he wants and how to get it. 
Despite his reputation as a gang boss, Tommy's life has been rough—he experienced a difficult childhood and the death of his beloved wife. But, he didn't give up; instead, he worked hard to achieve his life goals.
These quotes from Thomas Shelby are essential if you want to be inspired by his drive to succeed in life. Make sure you don't miss out!
And check out these Peaky Blinders quotes and Sons of Anarchy quotes.
Best Thomas Shelby Quotes
1. "Those of you who are last will soon be first. And those of you who are downtrodden will rise up."
2. "You have to get what you want your own way."
3. "Lies travel faster than the truth."
4. "I can f*cking be scared and carry on."
5. "You strike when your enemy is weak."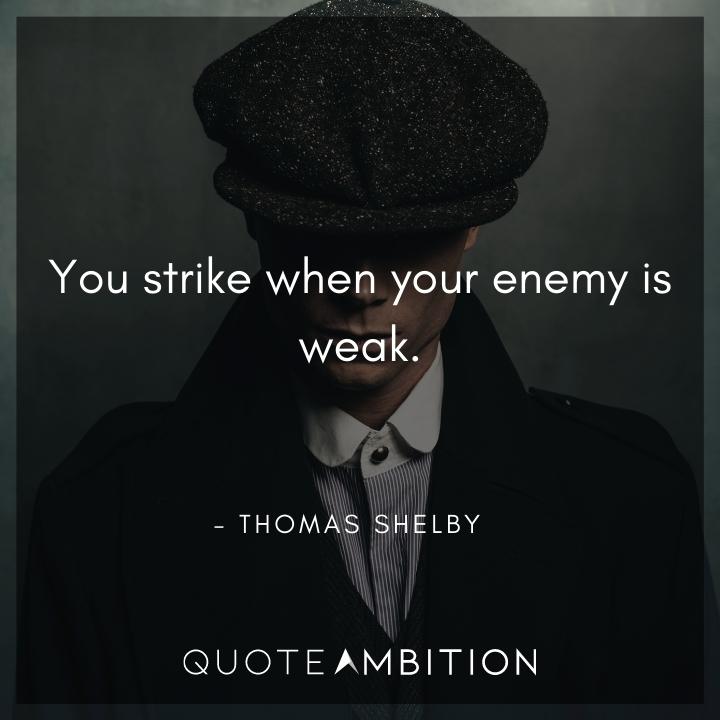 6. "When you plan something well there's no need to rush."
7. "The one who keeps causing you pain can never be your peace."
8. "I don't pay for suits. My suits are on the house or the house burns down."
9. "I'm not a traitor to my class. I am just an extreme example of what a working man can achieve."
10. "You can change what you do, but you can't change what you want."
Famous Thomas Shelby Quotes
11. "Conviction introduces emotion, which is the enemy of oratory."
12. "The only way to guarantee peace is by making the prospect of war seem hopeless."
13. "A good man needs to hold out sometimes."
14. "Five for peace, two for truce, one abstention. Let's get on with the war."
15. "Pain changes people. It makes them trustless. Overthink more, and shut people out."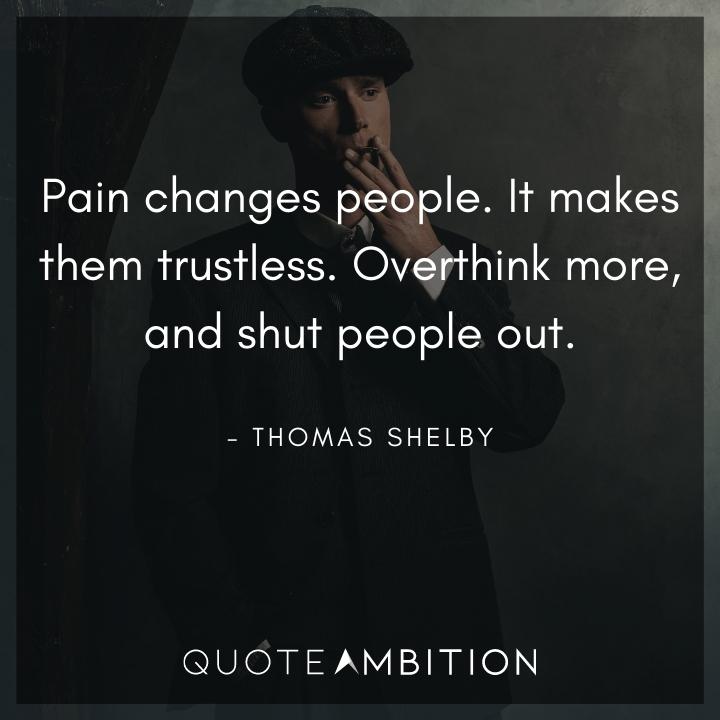 16. "Get yourself a decent haircut, man. We're going to the races."
17. "I can charm dogs. Gypsy witchcraft. And those I can't charm, I can kill with my own hands."
18. "Fortune drops something valuable into your lap, you don't just dump it on the bank of the cut."
19. "I have made arrangements with men I trust. If I should die, then you will die, know that."
20. "I imagine being shot by a woman hurts the same as being shot by a man. Just a bit more shameful."
Also read: Yellowstone Quotes, The Sopranos Quotes
Short Thomas Shelby Quotes That Are Noteworthy
21. "There is no rest for me in this world. Perhaps in the next."
22. "Good taste is for people who can't afford sapphires."
23. "If you make the wrong choice you won't see 11:44."
24. "It's not a good idea to look at Tommy Shelby the wrong way."
25. "You don't parley when you're on the back foot."
Thomas Shelby Quotes About Life
26. "Do I look like a man who wants a simple life?"
27. "In France, I got used to seeing men die. I never got used to seeing horses die."
28. "Sometimes death is a kindness."
29. "Today, it will be me dead or you. But whoever it is, he'll wake up in hell tomorrow."
30. "You know, gentlemen, there is hell, and there is another place below hell."
Thomas Shelby Quotes About Love
31. "I learnt long ago to hate my enemies, but I've never loved one before."
32. "You are still the one that I love, the only one I dream of."
33. "A real man chooses to honour, love, respect, adore, and be faithful to one woman."
34. "Oh, and there's a woman. Yeah. A woman I love—and I got close. I nearly got f*cking everything!"
35. "You once said to me, that men like us can never be loved. She loves me, she told me—she loves me."
36. "A few days without you and I completely lost my mind."
37. "We used to come here, she'd wait for hours for me, when I couldn't make it. And I'd wait for her if her family kept her in."
38. Grace: "I warn you, I'll break your heart."
Tommy: "Already broken."
Deep Thomas Shelby Quotes That Will Make You Think
39. "If you're soft on rebellion, it'll grow."
40. "Everyone's a wh*re, Grace. We just sell different parts of ourselves."
41. "She's in the past. The past is not my concern. The future is no longer my concern, either."
42. "All religion is a foolish answer to a foolish question."
43. "A man needs to prove he is better than me, rather than show me his birth certificate."
44. "If you apologize once, you do it again and again and again. Like taking bricks out of the wall of your f*cking house."
45. "Now, why would I shake the hand of a man, who didn't even fight for his country?"
46. "The one minute. The soldier's minute. In a battle, that's all you get. One minute of everything at once. And anything before is nothing. Everything after, nothing. Nothing in comparison to that one minute."
47. "I know that you all want me to say that I'll change, that this f*cking business will change, but I've learnt something in the last few days. Those bastards. Those bastards are worse than us. Politicians, f*cking judges, lords, and ladies. They're worse than us, and they will never admit us to their palaces, no matter how legitimate we become because of who we are."
More Tommy Shelby Quotes to Read Whenever You Need a Drink
48. "Drink the f*cking wine and smile, that's what I'm doing."
49. "Whiskey is good proofing water. It tells you who's real and who isn't."
50. "In pubs sometimes people say things and sometimes it's the whisky talking. It's hard to tell which is which."
Which of These Thomas Shelby Quotes Motivated You to Persevere, No Matter What?
Thomas Shelby is a ruthless gangster who has been through a lot. When he was a young boy, he was adopted by the Shelby family and became the leader of their gang known as the Peaky Blinders.
As the organization's leader, he faced many dangers and made innumerable sacrifices. He rose to become the most powerful gangster in town, but alongside that came his wife's death. This made him realize that you can't have it all and that your actions have consequences.
Life is full of challenges that will force you to make difficult choices and make sacrifices to survive. And, like Tommy, you must learn to deal with life's challenges and grow as a person. Share these Thomas Shelby quotes with your friends and family to motivate them to improve their lives and be more conscious of the decisions they make.
Read Next: