Embrace the fourth month of the year with warm hearts and happy feelings by reading these top April quotes.
April is the period associated with spring, beauty, and bliss. It is a month of blooming flowers, sunshine, and cool wind. Just spending time outdoors or taking a walk in the park will please your eyes and ease your mind and heart.
Indeed, it is a month worth remembering, so make it more special by reading our entire collection.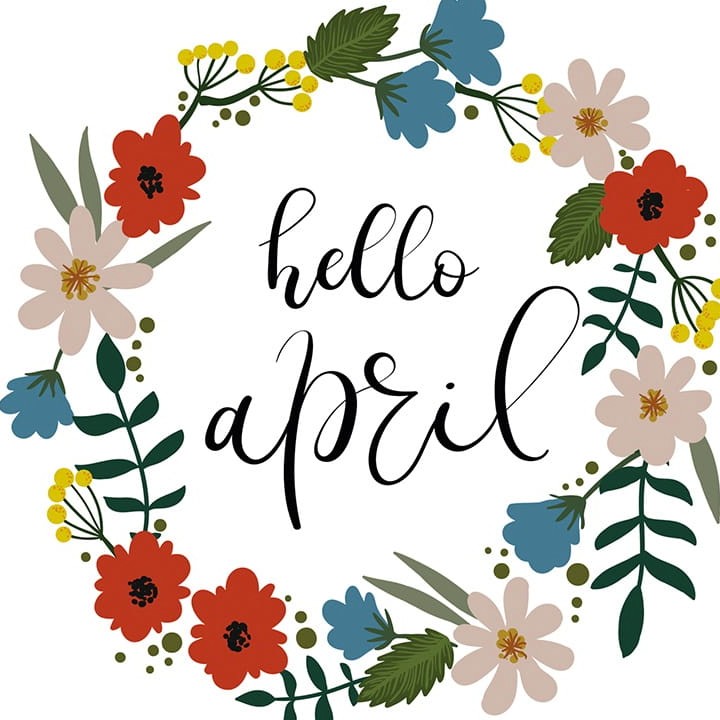 These quotes feature beautiful and inspirational words to help you thoroughly enjoy April.
Let's get started.
And don't forget to check out these May quotes and June quotes.
Best April Quotes
1. "April, the angel of the months, the young love of the year." – Vita Sackville-West
2. "The first of April is the day we remember what we are the other 364 days of the year." – Mark Twain
3. "Our spring has come at last with the soft laughter of April suns and shadow of April showers." – Byron Caldwell Smith
4. "If April showers should come your way, they bring the flowers that bloom in May." – Buddy DeSylva
5. "April is the kindest month. April gets you out of your head and out working in the garden." – Marty Rubin
6. "April in Paris, chestnuts in blossom, holiday tables under the trees." – Yip Harburg
7. "But it is a sort of April weather life that we lead in this world. A little sunshine is generally the prelude to a storm." – William Cowper
8. "April weather, rain and sunshine both together." – English Country Saying
9. "April is a promise of what's to come." – Gladys Taber
10. "They came on one of April's most brilliant days, a day as sparkling as a newly-washed lemon, a day when even the shadows were a melange of blue and orange and jade, like the shadows that poured from the tipsy brush of Monet." – Beverley Nichols
11. "Shining through tears like April suns in showers that labour to overcome the cloud that loads 'em." – Thomas Otway
12. "The April winds are magical and thrill our tuneful frames. The garden walks are passional to bachelors and dames." – Ralph Waldo Emerson
13. "Plunge into the deep without fear, with the gladness of April in your heart." – Rabindranath Tagore
14. "The sun was warm, but the wind was chill. You know how it is with an April day when the sun is out, and the wind is still. You're one month on in the middle of May." – Robert Frost
15. "April, pride of woodland ways, of glad days. April, bringing hope of prime to the young flowers that beneath their bud sheath are guarded in their tender time." – Remy Belleau
Inspirational Quotes for the Month of April
16. "April hath put a spirit of youth in everything." – William Shakespeare
17. "April this year, not otherwise than April of a year ago, is full of whispers, full of sighs, dazzling mud, and dingy snow. Hepaticas that pleased you so are here again, and butterflies." – Edna St. Vincent Millay
18. "April prepares her green traffic light, and the world thinks, 'Go!'" – Christopher Morley
19. "April comes like an idiot, babbling and strewing flowers." – Edna St. Vincent Millay
20. "Rain soaks the earth, prompting growth and preparing the flowers of the season. And we find ourselves shedding our winter coats on the first warm spring day. This is April!" – Sharon Leah
21. "A gush of bird song, a patter of dew. A cloud and a rainbow's warning suddenly sunshine and perfect blue. An April day in the morning." – Harriet Elizabeth Prescott Spofford
22. "When April steps aside for May, like diamonds, all the raindrops glisten. Fresh violets open every day to some new bird each hour we listen." – Lucy Larcom
23. "April now walks the fields again, trailing her tearful leaves and holding all her frightened buds against her heart. Wrapt in her clouds and mists, she walks, groping her way among the graves of men." – Leonora Speyer
24. "Sweet April showers do spring May flowers." – Thomas Tusser
25. "Long stormy spring-time, wet contentious April, winter chilling the lap of very May, but at length, the season of summer does come." – Thomas Carlyle
26. "During the rainstorms of April, the oyster rises from the sea and opens its shell, rain enters it. When it sinks, the raindrops become the pearl." – Anne Sexton
27. "April with its haunting joy and swift-stinging tears. The month of mist and music and the old moon-madness. The month of magic fluting, the spirit only hears." – Virna Sheard
28. "Every tear is answered by a blossom, every sigh with songs and laughter blent. April blooms upon the breezes toss them. April knows her own, and it's content." – Susan Coolidge
29. "Oh, the lovely fickleness of an April day!" – William Hamilton Gibson
30. "April was just beginning, and after the warm spring day, it turned cooler, slightly frosty, and a breath of spring could be felt in the soft, cold air." – Anton Chekov
Also read: March Quotes, February Quotes
Quotes That Will Motivate You for the Month of April
31. "April will not fail to turn out as it should be, and as it generally is, one of the sweetest, dearest, loveliest months of the year." – Joseph Grimaldi
32. "April is in the world again, and all the world is filled with flowers. Flowers for others, not for me! For my one flower I cannot see, lost in the April showers." – Richard Le Gallienne
33. "April is a promise that May is bound to keep." – Hal Borland
34. "Yes, April is a lovely, soul-inspiring, life-invigorating month." – Joseph Grimaldi
35. "April is the cruelest month, breeding lilacs out of the dead land, mixing memory and desire, stirring dull roots with spring rain." – T.S. Eliot
36. "Again, the blackbirds sings, the streams wake, laughing from their winter dreams and tremble in the April showers. The tassels of the maple flowers." – John Greenleaf Whittier
37. "When April comes with softly shining eyes and daffodils bound in her wind-blown hair. Oh, she will coax all clouds from out the skies, and every day will bring some sweet surprise. The swallows will come swinging through the air when April comes!" – Virna Sheard
38. "Sweet April time, o cruel April time! Year after year, returning with a brow of promise, and red lips with longing paled, and backward-hidden hands that clutch the joys of vanished springs, like flowers." – Dinah Craik
39. "The air soft as that of Seville in April, and so fragrant that it was delicious to breathe it." – Christopher Columbus
40. "April, by thy hand, caressed from her breast. Nature scatters everywhere. Handfuls of all sweet perfumes, buds, and blooms, making faint the earth and air." – Remy Belleau
41. "Oh, 1994, April 27. There won't be a day like that ever again. I mean, the sky was blue, with a blueness that had never been there before." – Desmond Tutu
42. "April's rare capricious loveliness." – Julia Caroline Dorr
43. "April mark as the real end of winter. Daffodils pop open and nod their yellow heads. Grass starts to recover from its frozen cover of snow. Trees bud, forsythia shows its yellow cloak, tulips display their lips, and the animals—chipmunks, squirrels, rabbits, and other animals, wake up from their winter sleep." – Sharon Leah
44. "An April day is born. Winter's done, and April's in the skies, Earth, look up with laughter in your eyes!" – Sir Charles George Douglas Roberts
45. "Daffodil and eglantine, and woodbine. Lily, violet, and rose, plentiful in April fair. To the air, their pretty petals do unclose." – Remy Belleau
Quotes to Fill Your April With Happiness and Love
46. "There is something magical about April that makes us want to feel its warmth." – Anonymous
47. "April can make old things new." – Anonymous
48. "When you see flowers start blooming, believe spring has come to meet April." – Anonymous
49. "April is the month of setting goals. Dream big this month to achieve them, as your dreams have the power to turn the impossible into the possible." – Anonymous
50. "Happy April! Here's to longer days, warmer temps, and no more snow." – Anonymous
51. "Good things take time. That's probably the reason April is the fourth month of the calendar." – Anonymous
52. "No matter how long April stays, the spring is sure to come." – Anonymous
53. "April, like a child, writes hieroglyphs on dust with flowers, wipes them away, and forgets." – Rabindranath Tagore
54. "Well-apparel'd April on the heel of limping winter treads." – William Shakespeare
55. "It is one of those April days when the sun shines brighter, the wind blows cooler, and the summer comes nearer." – Anonymous
April Quotes to Remind You of the Warmth of Spring
56. "Spring is in the air certainly in this merry month of April, and with April showers, there are May flowers." – Summer Bacon
57. "April, all to welcome thee, spring sets free. Ancient flames, and with the low breath, wakes the ashes grey and old that the cold chilled within our hearts to death." – Remy Belleau
58. "Spring in April is just like a child on earth that knows his favorite poem by heart." – Anonymous
59. "They who meet on an April night are forever lost in love if there's moonlight all about and there's no moon above." – Yip Harburg
60. "How the rain showers come in the month of April, bringing nourishment to the flowers so they can bloom in the spring." – David C. Reyes
61. "The April sun glints through the rain in fitful splendor, and in grey shaw and woodland dun, the little leaves spring forth and tender." – Mathilde Blind
62. "Summer is only the unfulfilled promise of spring, a charlatan in place of the warm balmy nights I dream of in April. It's a sad season of life without growth. It has no day." – F. Scott Fitzgerald
63. "With the coming of spring, I am calm again." – Gustav Mahler
64. "Now, the noisy winds are still April's coming up the hill. All the spring is in her train, led by shining ranks of rain. Pit, pat, patter, clatter. Sudden sun and clatter patter. All things ready with a will, April's coming up the hill!" – Mary Mapes Dodge
65. "In April, the first soft, tender, delicate green of spring salutes the eye in every direction." – Joseph Grimaldi
66. "The most beautiful springs are those that come after the most horrible winters!" – Mehmet Murat İldan
67. "You can cut all the flowers, but you cannot keep spring from coming." – Pablo Neruda
68. "I have seen the Lady April bringing the daffodils, bringing the springing grass, and the soft, warm April rain." – John Masefield
69. "Daffodils, blossom, and tulips jostle to the front of the stage in April. I love these early perennials. They may be more modest, but they nearly all have that one special quality that a plant needs to transform your affections from admiration to affection, charm." – Monty Don
70. "The coming of April heralds the time to plant seeds of magic and fill the heart and home with the joy of light and life." – Lotuswulf Satyrhorn
Quotes That Describe the Beauty of April
71. "April is a month of melody. In April, you can hear the warbling of mockingbirds and the chattering of squirrels." – Ellen Jackson
72. "And at the break of morning, we will hear the piping of the robin's crystal clear, while bobolinks will whistle through the days when April comes!" – Virna Sheard
73. "One never knows the idyllic charm of our northern woods who has not seen them in April when it is all a feast of birds and buds and waking life. This month belongs to the birds and flowers, but most of all to the robin." – Fannie Hardy Eckstorm
74. "April again! The willow wands are yellow, rose-red the brambles that the passing wind knows comes a robin's note like the note of a cello, and across the valley, the calling of the crows, April again!" – Virna Sheard
75. "But April always, as I find thee now, a constant freshness unto me be thou and not the ripeness that must soon be sere. Why should I be time's dupe and wish more near." – Alfred Austin
76. "April, the joy of the green hours, clothes with flowers over all her locks of gold. My sweet Lady, and her breast with the blest birds of summer manifold." – Remy Belleau
77. "The month of April often brings the rains needed to stimulate growth in the earth, and fertility is reaching for its peak." – Lotuswulf Satyrhorn
78. "In late April, when the water spreads out and out 'till everything is lilies and seepage, there is only the mystery of tracks, a rustle receding in the many reeds." – Charles Rafferty
79. "O sweet wild April came over the hills. He skipped with the winds, and he tripped with the rills. His raiment was all of the daffodils." – William Force Stead
80. "So sweet love seemed that April morn. When first we kissed beside the thorn, so strangely sweet. It was not strange. We thought that love could never change." – Robert Bridges
Short April Quotes
81. "I shine in tears like the sun in April." – Cyril Tourneur
82. "April splinters like an ice palace." – Ruth Stone
83. "Oh, to be in England now that April's there." – Robert Browning
84. "Welcome, April! Fill everyone's life with showers of blessing." – Anonymous
85. "Spring is April's way of saying, 'Let's bloom.'" – Anonymous
86. "Special people are those who were born in April." – Anonymous
87. "May you get everything you want and need this April." – Anonymous
88. "April distance brings May existence." – Anonymous
89. "April brings the primrose sweet, scatters daisies at our feet." – Sara Coleridge
90. "Sweet April's tears dead on the hem of May." – Alexander Smith
91. "Spring is incomplete if it's not in April." – Anonymous
92. "April Fools' gone past and you're the biggest fool at last." – Anonymous
93. "April is a time of growth, magic, and joy for the otherkin coven." – Lotuswulf Satyrhorn
94. "Who says February is the only month of flowers when we have Aprils too." – Anonymous
95. "Some people can't be fooled because they were already born in April." – Anonymous
Funny April Quotes That Will Make You Laugh
96. "Here cometh April again, and as far as I can see, the world hath more fools in it than ever." – Charles Lamb
97. "It's the hottest April in living and dead memory. So hot that the crows are flying with their tongues hanging out of their heads." – Jess Kidd
98. "March was a long year, but it's finally April." – Anonymous
99. "The key to April is the end of March." – Anonymous
100. "Why are people so tired on April first? Because they just finished a 31-day March." – Anonymous
Quotes to Enjoy the Lovely Month of April
101. "It dances like water in the stream, my dear friends, the water of April showers that bring the May flowers of your soul to life." – Summer Bacon
102. "April showers could bring a cold winter mood when it poured. Then when it was gone, it wasn't warm or cold but stayed in a residual flavor of both." – R. Lupi
103. "You will feel the intoxication if you live life very consciously in this beautiful, merry month of April." – Summer Bacon
104. "The sweet small clumsy feet of April came into the ragged meadow of my soul." – E.E. Cummings
Poetic April Quotes
105. "Old April wanes, and her last dewy morn, her deathbed steeps in tears to hail the May. New blooming blossoms beneath the sun are born, and all poor April's charms are swept away." – John Clare
106. "When bullying April bruised my eyes with sleet-bound appetites and crude experiments of green, I still was wise, and kissed the blossoming rod." – Cecil Day-Lewis
107. "You spend so much time hating the fact that April behaves more like a mother than a sister, but you're the one who's holding onto the apron strings every time she tries to cut them." – Nicola Sinclair
108. "The children with the streamlets sing. When April stops, at last, her weeping, and every happy growing thing laughs like a babe just roused from sleeping." – Lucy Larcom
109. "In April, God speaks to us in the seas whose rhythmic murmuring fills our ears from a long way off." – Eugene Kennedy
110. "For April sobs while these are so glad. April weeps while these are so gay. Weeps like a tired child who had, playing with flowers, lost its way." – Helen Hunt Jackson
111. "Every limpid brook is singing of the lure of April days. Every piney glen is ringing with the maddest roundelays." – Lucy Maud Montgomery
112. "It was only a hopeless fantasy. It passed like an April day, but a look and a word and the dreams they stirred, they have stolen my heart away." – George Orwell
113. "There is no glory in star or blossom 'till looked upon by a loving eye. There is no fragrance in April breezes 'till breathed with joy as they wander by." – William Cullen Bryant
114. "To what purpose, April, do you return again? Beauty is not enough. You can no longer quiet me with the redness of little leaves opening stickily. I know what I know." – Edna St. Vincent Millay
115. "If only we could touch the things of this world at their center, if we could only hear tiny leaves of birch struggling toward April, then we would know." – Sam Hamill
More Quotes to Celebrate the Month of April
116. "I had not thought of violets of late. The wild, shy kind that springs beneath your feet in wistful April days." – Alice Dunbar Nelson
117. "Some people can't be fooled on April Fool's Day because they were fooled too many times during their entire lifetime." – Akash B Chandran
118. "Snow in April is abominable like a slap in the face when you expected a kiss." – Lucy Maud Montgomery
119. "There is a saying about April. It is a wonderful month filled with love, happiness, and various fools." – Anonymous
120. "The roofs are shining from the rain, the sparrows twitter as they fly, and with a windy April grace, the little clouds go by." – Sara Teasdale
Did These Quotes Inspire You to Make April a Fruitful Month?
April is full of sunlight, energy, and optimism. It is the perfect period where people are inspired and motivated to enjoy nature and live life to the fullest.
With the end of the cold season, April serves as the start of uplifting and cheerful days. So, don't hesitate to dream big and be productive for the month. These beautiful quotes from our collection are a reminder of the abundance and prosperity that the days bring.
We hope that the fourth month of the year brings you hope for the future and love in your heart. Think positive, be determined, and reach your goals for April.
Which April quote tugged at your heartstrings? Did you enjoy this April quote collection? We'd love to hear from you in the section below! 
Read Next: