These Eric Thomas quotes will prove that everyone is destined for greatness, and his little bits of wisdom might just be perfect mental notes that show you're not alone in life's journey.
We've rounded up 40 quotes from Eric Thomas that portray his creative approach on how to live a successful and satisfying life.
Let's get started.
And don't forget to check out these Grant Cardone quotes and Dale Carnegie quotes.
Best Eric Thomas Quotes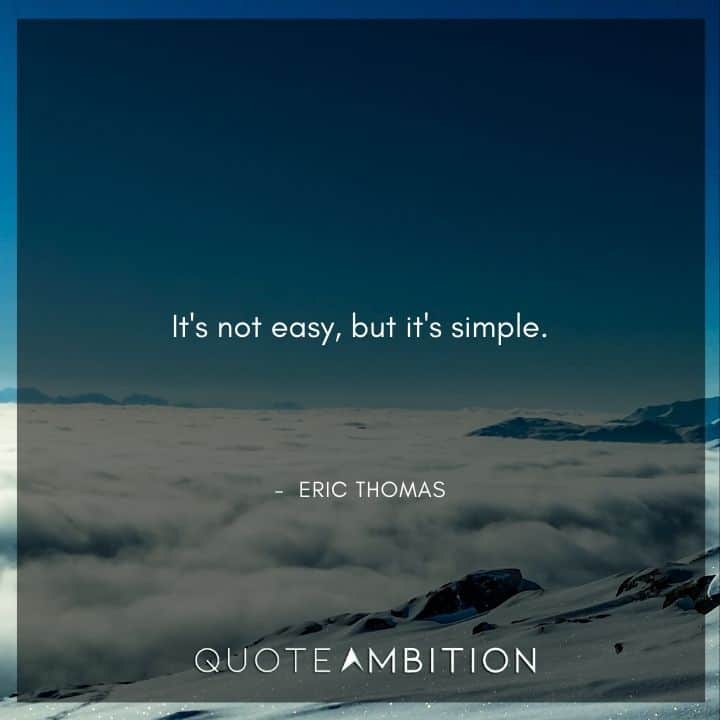 1. "It's not easy, but it's simple."
2. "When you want to succeed as bad as you want to breathe, then you'll be successful."
3. "Don't make a habit out of choosing what feels good over what's actually good for you."
4. "Don't think about what can happen in a month. Don't think about what can happen in a year. Just focus on the 24 hours in front of you and do what you can to get closer to where you want to be."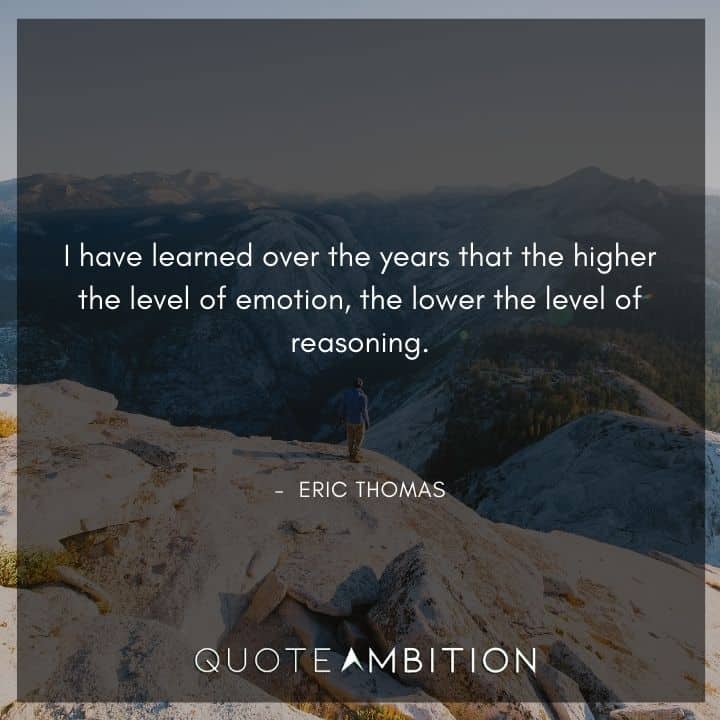 5. "I have learned over the years that the higher the level of emotion, the lower the level of reasoning."
6. "The most important thing is this—to be able, at any moment, to sacrifice what you are for what you will become!"
7. "People either inspire you to greatness or pull you down in the gutter—it's that simple."
8. "The only way to get out of mediocrity is to keep shooting for excellence."
9. "You can't cheat the grind. It knows how much you've invested. It won't give you nothing you haven't worked for."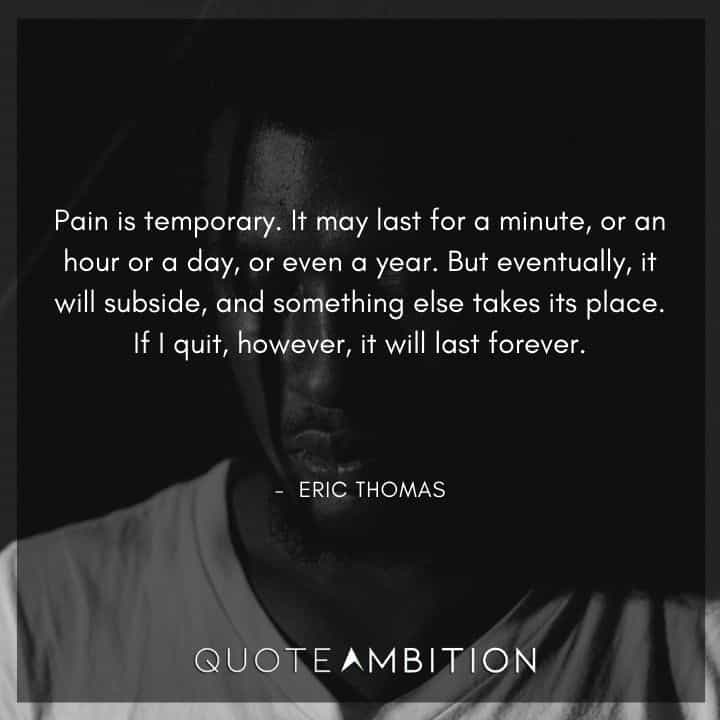 10. "Pain is temporary. It may last for a minute, or an hour or a day, or even a year. But eventually, it will subside, and something else takes its place. If I quit, however, it will last forever."
11. "You can get through this. You are bigger than your pain. Don't give up. Don't give in."
12. "You can't sleep. Broke people sleep. You have to be willing to sacrifice sleep. If you sleep, you may miss the opportunity to be successful."
13. "Don't cry to quit! You are already in pain, you already hurt! Get a reward from it!"
14. "I wanted to surround myself with the kind of people who could help me turn my life around—people whom I could rub up against like iron and be sharpened."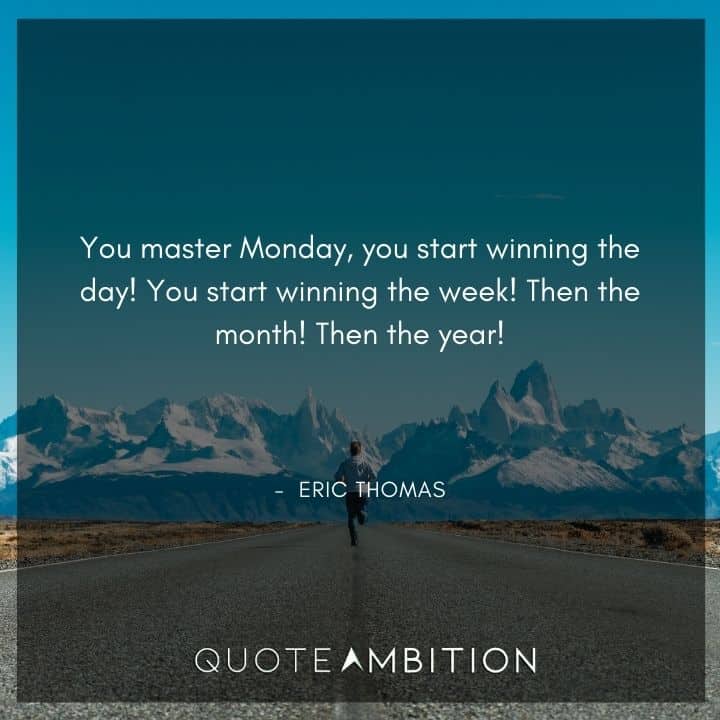 15. "You master Monday, you start winning the day! You start winning the week! Then the month! Then the year!"
16. "I use pain to push me to greatness."
17. "Your relationships will either make you or break you, and there is no such thing as a neutral relationship."
18. "I am not suggesting that emotions don't have their place, but taking actions based purely on emotions is dangerous and could cost you everything."
19. "I learned that a real friendship is not about what you can get, but what you can give."
Related: Inky Johnson Quotes
Inspirational Eric Thomas Quotes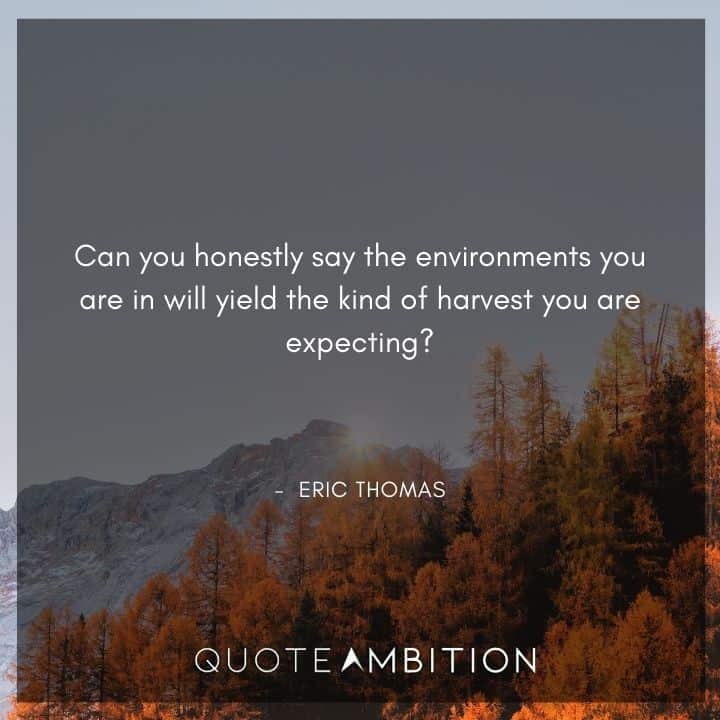 20. "Can you honestly say the environments you are in will yield the kind of harvest you are expecting?"
21. "Everybody has a dream, but not everybody has a grind. Stop whining, start grinding."
22. "Stop being average. You're not even good. You were born to be great."
23. "Success is never on discount. Greatness is never on sale. Greatness is never half off. It's all or nothing. It's all day, everyday. Greatness is never on discount."
24. "You want to be a millionaire, but your value system says you believe in sleep more than grinding!"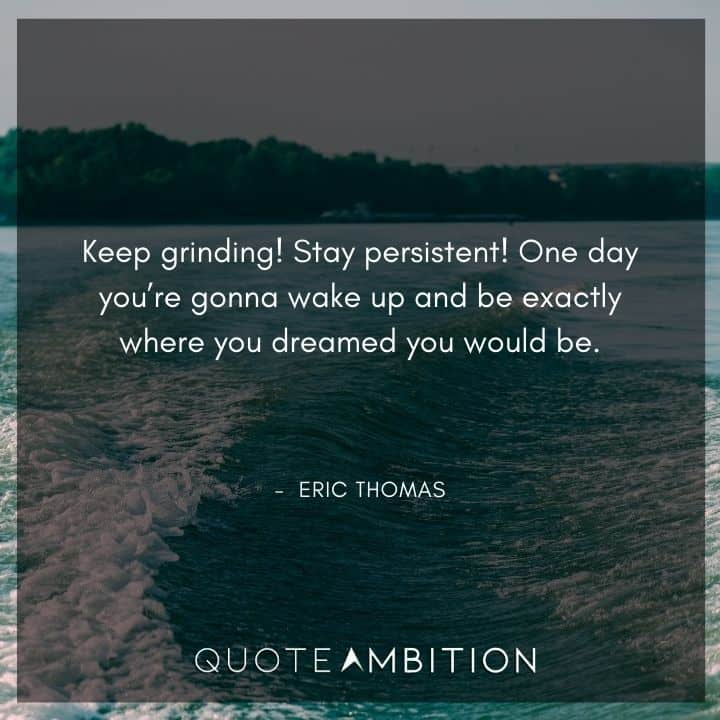 25. "Keep grinding! Stay persistent! One day you're gonna wake up and be exactly where you dreamed you would be."
26. "Listen to me, even when you lose, it's okay to lose; but you can never get comfortable with it. You can never be satisfied with losing. When you lose, it's got to hurt."
27. "You gotta decide to be happy. Where you wanna live, what you wanna drive—you have to make a decision!"
28. "Stop the blame game. Stop! Stop looking out the window and look in the mirror!"
29. "Sometimes it ain't about being the most talented. Sometimes it ain't about being the smartest. Sometimes it's not even about working the hardest. Sometimes it's about consistency. Consistency!"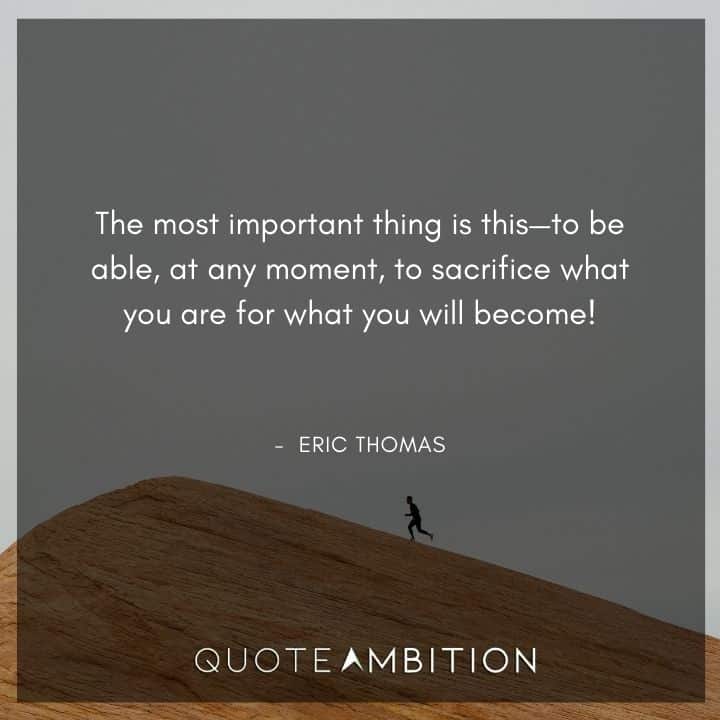 30. The most important thing is this-to be able, at any moment, to sacrifice what you are for what you will become!
31. "God has a purpose for your pain, a reason for your struggles, and a reward for your faithfulness. Don't give up."
32. "I'm not the smartest. But you will not outwork me! I wake up every morning at 3 o'clock!"
33. "You gotta stay hungry! Stay focused! And you better have heart—the heart of a champion!"
34. "You can start from the bottom, and by the grace of God, work your way all the way up to the top man."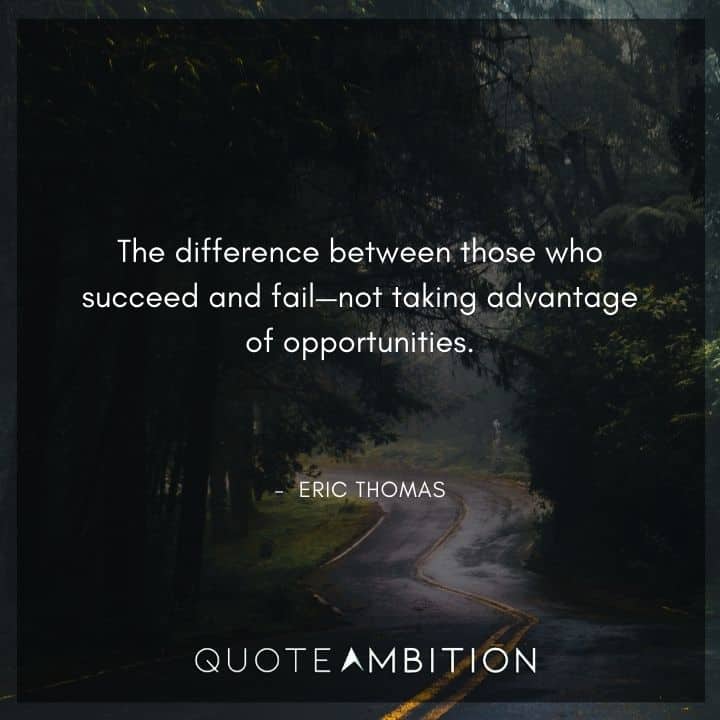 35. "The difference between those who succeed and fail—not taking advantage of opportunities."
36. "Things change for the better when we take responsibility for our own thoughts, decisions, and actions."
37. "Stop hanging out with people that tell you what you want to hear. Hang out with people who tell you the truth."
38. "Every trial you go through, every tribulation you go through, every setback you go through, God is redesigning you and putting more dimples on you baby, so you can go farther!"
39. "I dare you to take a little pain. I dare you!"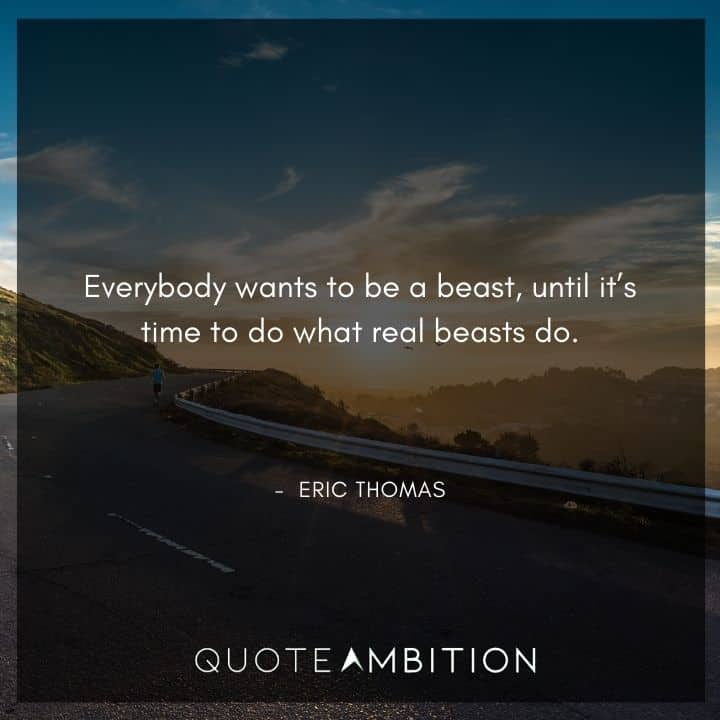 40. "Everybody wants to be a beast, until it's time to do what real beasts do."
Did These Eric Thomas Quotes Awaken the Promise of Greatness Within You?
As Eric Thomas put it, no matter where you are in life, there's always an opportunity for you to restart and begin your journey to achieving what you're meant to achieve.
It doesn't matter how many times we fail, because overcoming adversities and rising above them is the true measure of success. For Eric Thomas, it is his mission and purpose to help everyone cultivate the promise of greatness within them.
Read Next: