We've rounded up hilarious South Park quotes we're sure are embedded in your mind and heart!
One of the main foundations of pop culture is South Park, a sitcom with 26 seasons and more than 300 episodes. With this, it's clear that South Park is a household name for many.
It's a comedy that satirizes almost everything about American society, from politics to youth to media. South Park does this by allowing us to dive deep into the lives of four central characters: Eric, Stan, Kenny, and Kyle.
South Park has other secondary characters, but the main plot revolves around these grade-school kids. Their misadventures lead to many things; some make us reflect and think deeply about life, while some are just downright funny!
The perfect balance between serious and comical can be found in South Park. Whether you want a good laugh or inspirational lessons, the list below would be perfect for you!
And make sure to read these Big Mouth quotes and King of the Hill quotes.
Best South Park Quotes
1. "Living is having ups and downs and sharing them with friends." – Larry
2. "If you want to find some quality friends, you gotta wade through all the dicks first." – Eric Cartman
3. "Don't lie, Stan. Lying makes you sterile." – Herbert Garrison
4. "Sometimes the things we do don't matter right now. Sometimes they matter later. You have to care more about later sometimes, you know?" – Stan Marsh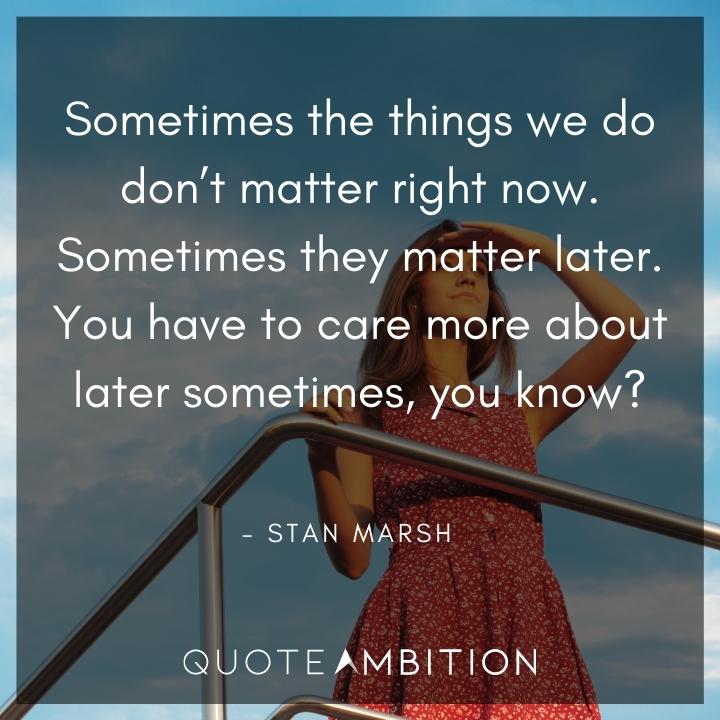 5. "All animals kill, and the animals that don't kill are stupid ones like cows and turtles and stuff." – Kyle Broflovski
6. "Don't do drugs, kids. There is a time and place for everything. It's called college." – Chef
7. "It never fails to amaze me how I manage to overcome adversity." – Mayor Mary McDaniels
8. Stan Marsh: "Oh my god, they killed Kenny!"
Kyle Broflovski: "You bastards!"
9. "Family isn't about whose blood you have in you. Family's about the people who cared about you and took care of you. We're not the same blood, but I love my little brother. We've taken care of him because he needed us to, and that makes us more family than anything." – Kyle Broflovski
10. "Without evil, there could be no good, so it must be good to be evil sometimes." – Satan
Famous South Park Quotes
11. "Hippies. They're everywhere. They wanna save Earth, but all they do is smoke pot and smell bad." – Eric Cartman
12. "I am a cop, and you will respect my authoritah!" – Eric Cartman
13. "Don't you know the first law of physics? Anything that's fun costs at least eight dollars." – Eric Cartman
14. "I'm not fat; I'm festively plump." – Eric Cartman
15. "You know, I've learned something today." – Kyle Broflovski
Funny South Park Quotes for Words That'll Cheer You Up
16. "Kenny's family is so poor that yesterday, they had to put their cardboard box up for a second mortgage." – Eric Cartman
17. "Hell, everything's legal in Mexico. It's the American way!" – Jimbo Kern
18. Kyle Broflovski: "You're late, Cartman."
Eric Cartman: "I've had to ride my bike here; my behind is killing me."
Kyle Broflovski: "Your behind?"
Eric Cartman: "I have to say behind because I get shocked if I say, '*ss.'"
19. "As you get older, boobs will start becoming a major part of your life. But you can't let them get in the way of your friends. There are a lot of boobs out there. But they're just boobs. Your friends are forever." – Randy Marsh
20. Wendy Testaburger: "Dude, dolphins are intelligent and friendly."
Eric Cartman: "Intelligent and friendly on rye bread, with some mayonnaise."
South Park Quotes About Life
21. "I just realized that there's a lot of painful times in life, so I better learn to deal with it the right way." – Stan Marsh
22. Stan Marsh: "Dad, you like to drink. So have a drink once in a while. Have two. If you devote your whole life to completely avoiding something you like, then that thing still controls your life, and you've never learned any discipline at all."
Randy Marsh: "But, maybe I'm just the kind of person who needs to have it all or nothing."
Stan Marsh: "All or nothing is easy. But learning to drink a little bit, responsibly, that's a discipline. Discipline comes from within."
23. "No, that's wrong, Cartman. But don't worry. There are no stupid answers, just stupid people." – Herbert Garrison
24. "Follow your dreams, and you can reach your goals; I'm living proof." – Eric Cartman
25. "If you want it to go away, all it takes is a little self-control and personal responsibility." – Kyle Broflovski
26. "Just because your parents can afford toys more than ours, doesn't make you better than us!" – Stan Marsh
27. "You know, I think that if parents would spend less time worrying about what their kids watch on TV and more time worrying about what's going on in their kids' lives, this world would be a much better place." – Stan Marsh
28. "The best thing is to act nice, Eric. The best thing is to be genuinely nice." – Jimmy Valmer
29. "I'm afraid us adults just let you children down. We didn't take care of our earth, and now you've inherited our problems." – Randy Marsh
South Park Quotes About Love
30. "I love life. Yeah, I'm sad, but at the same time, I'm really happy that something made me feel that sad. It's like it makes me feel alive, you know? It makes me feel human. The only way I could feel this sad now is if I felt something really good before, so I have to take the bad with the good. So I guess what I'm feeling is like the beautiful sadness." – Butters Stotch
31. "Saying goodbye doesn't mean anything. It's the time that we spent together that really matters, not how we left it." – Mr. Adler's Fiance
32. "I know your first love seems like the only love, but trust me, it's not. You have so much life ahead of you." – Kyle Broflovski
Short South Park Quotes and One-Liners to Use as Instagram Captions
33. "The only way to fight hate is with even more hate!" – Eric Cartman
34. "I haven't taken the time to be secure with myself." – Satan
35. "You know what they say, 'You can't teach a gay dog straight tricks.'" – Chef
Who Do You Think Is the Most Impactful Character From South Park?
When we're young, most cartoons we watch seem to be only about laughs. Because of this, it's easy to think we won't learn anything valuable from them.
However, once you get older, you realize there is much more than meets the eye regarding your favorite series; the same could be said about South Park. Everything about it is inherently funny, but it doesn't mean there aren't any morals embedded in it.
South Park's satirical take on the world helps open our eyes to reality and what we need to change or improve about our perspective. A repeated quote in the series is, "You know, I've learned something today."
This line is usually inserted when an episode comes to a close, and it's followed by the character's realizations from the misadventures they've gone through from the day. This unique little fact about South Park helps us realize that something valuable can be learned through everything we experience.
We should never take things at face value. Success isn't the only thing that can teach us something; sometimes, we learn even more from our mistakes and failures!
Though South Park dives deep into other social topics, learning something from everything we experience is one of its main morals. With that, we hope we were able to help you open your eyes to what this iconic sitcom is truly about!
Read Next: